Waterfalls are a mystical and stunning element of nature. If you love water and nature, there is no way you won't enjoy finding a waterfall in the most unexpected of places. If you love the charm and fascination of waterfalls, you'll love my suggestions.
This post is about all of Antalya's waterfalls; some of them are popular while others are hidden from the eyes of crowded tourist groups.
1) Manavgat Waterfall
Whenever I go to Manavgat Waterfall, I see that it deserves the popularity it has gained. It's really fascinating to see running water all year round. You can go there with friends, family, or by yourself. It's always enjoyable and peaceful.
Located in Manavgat, the second largest district in Antalya, the name is derived from the district. Being 4 km from the center of Manavgat and 72 km to Antalya, it's really easy to reach. Don't miss the chance to see the Manavgat waterfall if you' will be visiting Antalya.
Manavgat Waterfall is the result of water falling over a cliff 3 or 4 meters high in the course of Manavgat River, an important river, referred to as Til and Melas in historical texts.
What to do?
There are a lot of options in and around Manavgat Waterfall. You can have a picnic there or enjoy the food served in the restaurants and cafes. There are many of them around, and they are all good.
If you're the adventurous type, why not take a rafting trip on the river? Jeep safaris, treks, boat tours, or a nature walk are only some of the options of which you can take advantage.
Whatever you do, don't miss the chance to take a seat and give yourself over to the inspiration the flowing water offers.
2) Düden Waterfalls
Would you be surprised to hear that there are two separate waterfalls in Düden? I used to think of them as a single waterfall, but there are actually two, named the Upper and Lower Düden Waterfalls.
Their source is the Kepez Hydroelectric Power Plant, which divides it into two sections through Düden Stream, both of which flow into the Mediterranean Sea.
Lower Düden Waterfall
 Also known as Karpuzkaldıran (Watermelon-Lifter) Waterfall, the environment is a haven for those who want to escape the heat of Antalya's summer.
Only 8 km to the center of Lara District, the water falls over cliffs 40 meters high. It's so marvelous, you'll be glad you went.
Upper Düden Waterfall
Also known as Iskender (Alexander) Waterfall since Alexander the Great spent some time there, letting his horses drink on his voyage to Pamphylia during a military expedition.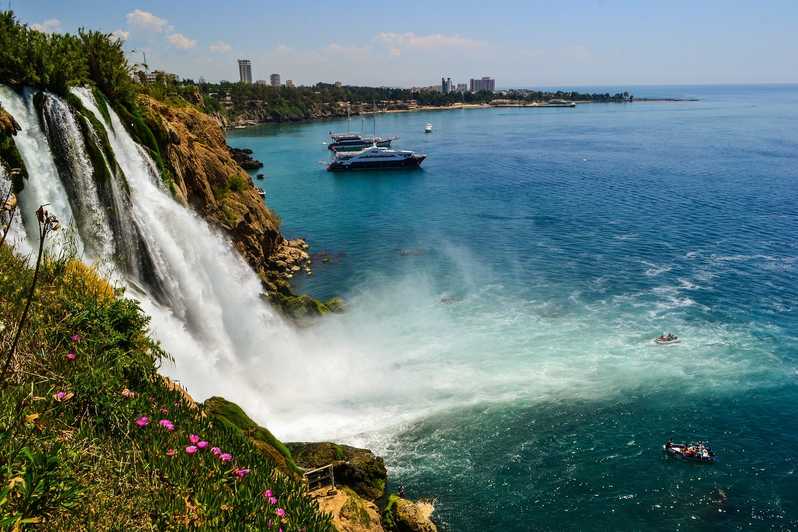 You can enjoy the waterfall by taking a short walk or drinking tea at the tea gardens. You'll also find picnic areas and restaurants around this natural park. While you're there, smell the cool air, listen to the bubbling water, and enjoy the greenery around you.
3) Kurşunlu Waterfall
One word: Magnificent! I'm really looking forward to getting back to this green and blue heaven; I enjoyed every minute spent there.
With its small lakes and waterfalls, Kurşunlu Waterfall promises to be an enjoyable, peaceful day or weekend out. There are some accommodations there you might want to check out.
The main waterfall runs over a cliff, 18 meters high. There are also several smaller waterfalls. This setting incorporates 7 small, connected lakes.
Kurşunlu Waterfall is located near the center of Antalya, only 22 km away. You can find it along the Antalya-Isparta Main Road or take a minibus from the city center.
There are More than Waterfalls
The area was turned into a natural park by the authorities in 1986. Since then, visitors can enjoy the area with safety and comfort. It's always more comfortable when you know there will be facilities around at which to enjoy yourself.
The park's flora is very rich and contains red pines, eastern sycamores, bays, carobs, wild olives, gum trees, willows, and fig trees. Also, waiting for you to discover are myrtle hawthorns, oleanders, blackberries, wild roses, euphorbia, tamarisks, spruces, kermes oaks, thyme, wild mint, records, ferns, and aquatic plants and vines, such as buckthorn, water mint, water reeds, water chandeliers, green algae, and waterlilies.
If you take a walk in the park, you might also see plenty of wild animals. You can see foxes, rabbits, squirrels, wild boars, turtles, carp, water turtles, dogs, snakes, and lizards walking, jumping, or swimming; and bats, hoopoes, and woodpeckers in the trees or flying around you–be alert!
4) Sapadere Waterfall
When I went to Sapadere Canyon, I felt a bit silly that I'd been to Antalya a million times and hadn't seen it before. It's okay. No harm done! Now's the time.
This canyon hosts a waterfall, called Sapadere. Karstic Canyon is 360 meters long and 400 meters high, located in the village of Sapadere in Alanya District, 45 km from the city center. The only way to get there is to use your car or to join a tour–there is no public transportation. If you love camping, you'll be thrilled to learn it's an option here!
Walk toward the fountain and it's a gorgeous pool, accompanied by a stream. When you finally reach the fountain through the exciting canyon road, be prepared to swim in the cold water of this natural pool.
You don't have to worry about meals while visiting. While a nice picnic is always an option, there is a restaurant there, serving natural village foods. Enjoy!  
5) Değirmendere Waterfall
Located in Antalya's Manavgat District is Değirmendere Waterfall, also known as Gizli Cennet (Hidden Heaven) Waterfall. The name is an accurate one. When you get there, it'll feel like you've arrived in Heaven.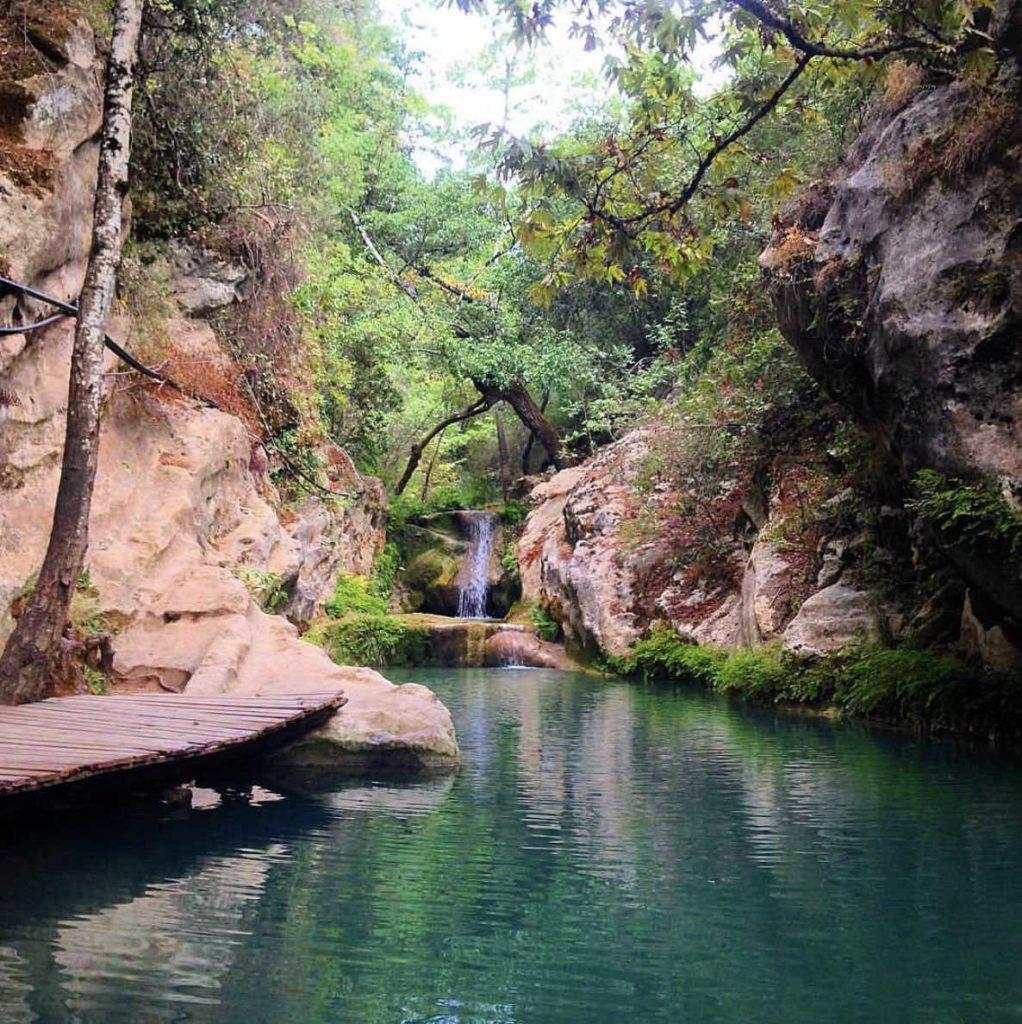 The name Değirmendere (Mill Stream) comes from the stream with the same name, around which many water mills were settled.
It really is a hidden heaven because it's not known by many people outside of the locals in neighboring villages, so there won't be a crowd in the park when you get there.
The water comes from its source and falls over the rocks from 3 to 4 meters above. After a nice walk inside the park (which is very nicely organized) you can take a swim in the beautiful, natural lake.
Why not spend the whole day there with friends and family? We all know how enjoyable it is to be around and inside the water. Even if you aren't a swimmer, you can still walk in the shallow waters.
When you get hungry, the cafe around the natural lake is a great place to go to listen to the burbling water while enjoying your Turkish coffee or tea.
6) Uçansu Waterfalls
The Upper and Lower Uçansu Waterfalls aren't easy to get to, but it'll be worth your effort to try.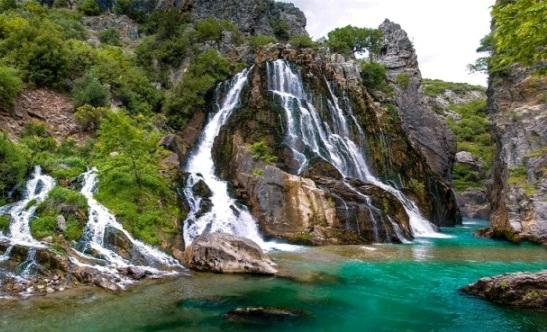 These waterfalls are located in the village of Akçapınar in Antalya's Serik District. It's 57 km to Antalya, and 54 km to Serik. The source of the waterfalls is Uçandere Stream, formed by the Havutlu and Bal Streams.
You'll probably see many people around, especially in the summer season. This beautiful site is on the Saint Paul Route, an important pilgrimage trail for Christians.
The water density depends on the season, and there's limestone everywhere. Rafting is always an option if you're looking for some adventure.
Upper Uçansu Waterfall
Between these two, the more difficult to reach is the Upper Uçansu Waterfall. You can only drive so far before you'll have to follow a walking trail to get there. It might take an hour or so to get there, but don't let that stop you.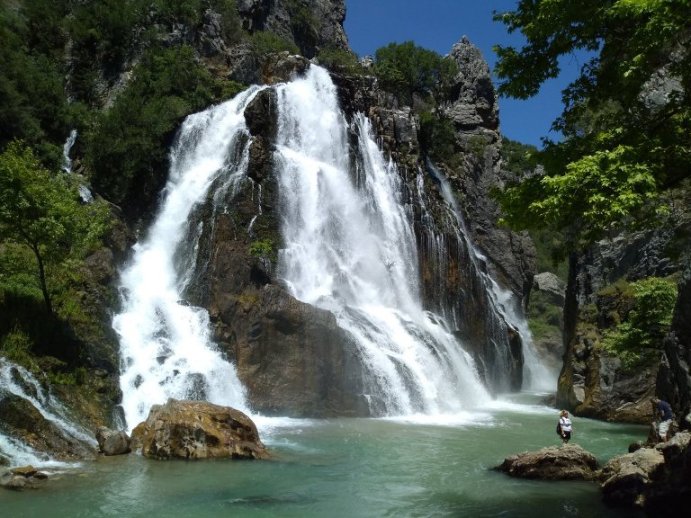 The Upper Uçansu Waterfall falls from a cliff 70 m high into a natural lake, 2.5 meters deep.
Another hidden area there is the King Pool, located behind a rocky structure on the falling waters. Fortunately, there's a path through the forest, leading to the King Pool. It's a bit complex and uphill, so be aware.
Don't forget to bring snacks with you, since you won't find any food outlets there.
Lower Uçansu Waterfall
The Lower Uçansu Waterfall falls from a cliff 51.5 meters high into a lake 4 meters deep. What's different with this waterfall pool is that it's not as cold as the others, so you can enjoy its green waters without shivering.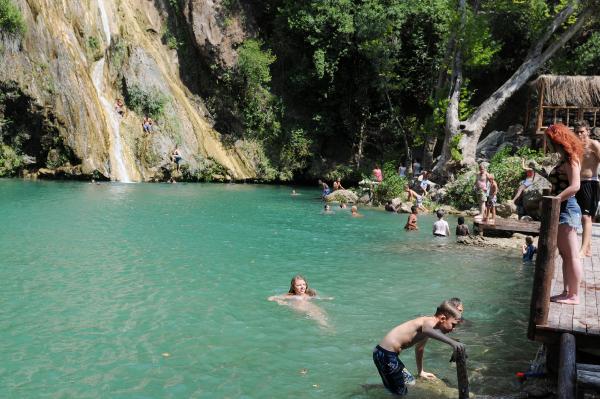 If you plan to have a meal on this trip, you should plan to take it there–there's a great restaurant on-site with plenty of good options on the menu.
7) Gömbe Uçarsu Waterfall
This place is just marvelous. It differs from the ones mentioned above in that it's full of surprises. For instance, you may come across a wish tree in the neighborhood.
Located in the important, mystical Gömbe Plateau, it's been a significant site since ancient times.
If you really want to go to Uçarsu Waterfall (and Yeşilgöl–surprise! ) you should be careful: there are directions on the road, but the signboards are tiny and easy to miss. Don't forget to bring comfortable shoes with which to walk on the rocky ground.
Gömbe is 70 km from Kaş and has a nice view of Akdağ Mountain, which is 3000 meters high. Following the path to Uçarsu Waterfall, one of Akdağ's three sources of spring water.
Uçarsu Waterfall was created by melting snows falling over the 60 meter-high hill. This is different than the other waterfalls because the water isn't dense. Its clear water flows over and around the rocks, adding to the fascinating scenery.
And yes, Yeşilgöl (Green Lake) is close to the fountain. It's a crater lake and really green, making it suitable for a picnic. So, if you go there, come prepared to enjoy a nice afternoon next to the lake.
Walk around the plateau until you reach Uçarsu Waterfall. Don't forget to take in everything around you to enjoy the rich flora of this area.
You can get to the Gömbe Plateau by taking a car or joining a tour from the center of Kaş. Either way, be prepared to walk.
You'll always find a place in the villages to have lunch or drink tea while listening to the water and finding inner peace. Bringing snacks with you is a must, even if you don't plan to have a picnic in Gömbe's hills.
Summary
This has been all about Antalya's Waterfalls. I'm sure you were already aware of some of them, but I hope I've helped you to discover some of the others.
You can go to Antalya for a sun-and-sand-holiday, but you should definitely save some time to enjoy this magnificent aspect of nature.
The world is full of surprises, and there's a lot to discover. I hope we all have the opportunity to do so.
Related Posts