Antalya is one of those magical places, offering everything at the same time. I always try to do everything on a single holiday, but if I'm not well-organized, it's almost certain to turn into a big failure.
That's why I mostly leave the organizational part to the tour companies who arrange everything for me, and I just enjoy the moment. Still, I have to confess: it's really hard to choose from the different tours you'll find in Antalya.
Here are some of my suggestions for an efficient and fantastic holiday. Since Antalya is a natural beauty, sightseeing and adventure tours dominate the tourism companies' services. Pack some comfortable clothes and shoes because you're about to set out on an incredible journey. 
Sightseeing Tours
Antalya is home to some really important ancient sites such as Perge, Aspendos, and Olympos. Since there are a lot of places to visit, choosing a good company with a program suitable for your needs is important.
I enjoyed my day with Cicerone Travel in Kaş, Myria, and Kekova. The guide was super-knowledgeable, able to answer all of my ridiculously curious questions about the histories. He also had a great sense of humor and managed to catch my interest of what could have been boring and encyclopedic. 
I went to Perge and Aspendos with Antalya U Can Travel Company. They had a pickup service from the hotel and arranged a great lunch on the trip. The guide was well-educated and obviously experienced leading crowded groups like ours.
Daily tours are around 55EUR, and most include pickup services, a guide, and lunch. The cars and minibusses are really comfy and have air conditioning. In some historical sites or museums, an additional entrance fee may be required.
Places Outside of Antalya
If you don't want to miss the chance to visit different cities in Turkey, you can find tours that will take you to tourist attractions close to Antalya. I suggest you try Pamukkale and Cappadocia.
Pamukkale means "cotton castle" in Turkish. The place actually looks like its made from cotton due to the region's white mineral structure. This mineral structure hosts a lot of thermal pools, attracting tourists. Don't miss Kleopatra's Pool. You'll also have to visit the ancient ruins and theater.
Visiting Pamukkale requires a whole day. Be ready for traveling a long way and getting tired. You'll be picked up from your hotel early in the morning and come back at night. Be ready for a long day.
Cappadocia is another must-see when in Turkey. Here, you'll see the "fairy chimneys," the unique rock formations that make this place famous and magical. You should also see the monasteries, churches, and chapels dug out of the rock.
Since it is a huge landscape, it's not possible to see everything in one or even two days, so I suggest you take a hot-air balloon flight to see the entire valley. Tours from Antalya usually take two or three days, and the tour companies arrange all of the transfers for you.
Lycian Way Trekking Tours
This is the first long-distance trekking route in Turkey. The route follows the coastline from Antalya to Fethiye over 550 km. It passes through the ruins of many ancient Lycian cities and alcoves housing a variety of civilizations, pirate landings, and important historical characters.
Middle Earth Travel is one of the oldest trekking companies in the area, so it's really reliable. They organize different trekking tours that take approximately 7 days in which you walk the trail for 4 to 5 hours a day and then sleep in a hotel (they arrange for your luggage to be transferred).
I like the route starting at Pirates' Bay that follows Phaselis and ends in Adrasan. There will be a lot of opportunities to go swimming on this trek since it mostly follows the coastline. You also be climbing up small hills, so it won't be easy.
I also like the trail that starts in Kayaköty and ends in Patara. Different the first one, this trail stays closer to the mountains, so it's a bit harder since you'll be climbing up steep hills, and you won't be swimming that much.
During these treks, you stay in small but really nice hostels. You'll also eat great food, especially at lunchtime when meals are served in authentic village houses and made by villagers. Don't forget to carry at least 2 liters of water and fruit and small snacks while walking.
The prices are similar to other companies. You'll pay around 700EUR per person, which includes all transportation and luggage transfers, accommodations, a guide, and all meals. Don't forget that tips are important in the guides' incomes in Turkey, so please tip well.
Boat Tours
If you're in Antalya, you should certainly take a daily boat trip to explore the wonders of nature and the history of the region. This is the best way to swim in wild bays that have no access from the land. Be ready for an unforgettable day on the sea.
There are a lot of different boat companies, and most leave from Kaleiçi Harbor. Even if you aren't looking for a boat trip, there are a lot of men around the harbor that'll try to sell you a trip.
All companies have different routes, and all of them are magical. Most of them pass through Kaş and Kekova. You can also land in Kaş and visit Kaş Castle. They also stop in the bays along the way so you can swim in the bluest waters with the turtles and over sunken cities.
I do have to warn you: the boats tend to play loud music during all of the trips. I personally like to enjoy the silence from time to time, and that's why I ask if they play music before I board. Mavi Kaş Daily Tours seems really careful about not playing music.
If you want to party on your trip, I suggest you take the Barbossa boat, which looks like a pirate's ship straight out of a Hollywood movie. They also take a different route that includes the beautiful, antique city of Phaselis that I love so much.
MaviKaş Turizm serves a great lunch on board. You'll be amazed by the fact that they can cook that well, and hygienically so, on a ship! They also serve tea constantly.
Most boats have no fixed departure times, but you'll need to wait until the boat fills with people. Filling a boat with 40 to 50 people can take about 30 minutes. There are, however, fixed hours for some of the boats, with tours usually staring around 10:00 and ending at 15:00.
Scuba Diving
Antalya is one of the most famous places for diving in Turkey. When diving, you'll see exotic fish, colorful corals, and underwater ruins in the depths of the Mediterranean Sea. It doesn't matter if you never dived or if you're experienced, you won't be disappointed.
Companies offer full-day cruises from Antalya during which you can dive 3 to 5 times a trip. I find the Derin Diving Center really professional, and it offers nice spots for diving. One of my favorite spots is Turtle Bay, where it's almost certain you'll see some turtles.
If you don't want to spend your whole day diving, you should go to the Deep Walker Diving Resort in Lara Beach, near Kaleiçi. They don't use boats or zodiacs there; instead, they have a diving center, so you can do a number of shorter dives.
I had a great diving session with Deep Walker, lasting almost an hour. I saw a sunken cargo plane and a cave with plenty of fish and corals. The staff was super-professional and made safety a priority but were also unbelievably friendly and patient.
I think one of the most important things when deciding on a diving company is that they have clean, safe, and new equipment. Also, you have to make sure the instructors have the necessary certificates. Insurance is also important, and the price you pay for a tour should include it.
For a full-day diving trip–including the price of the boat and lunch–I paid around 150 TL, and for short sessions, I paid almost half. You can always barter for the price, but don't forget that the instructors are doing their best job, and each coin is worth their great effort.
River Rafting
If you are bored of the hot weather and water, consider giving river rafting a try. You'll have a great time paddling in Antalya's cool canyons and getting wet from the cold, wild, running river.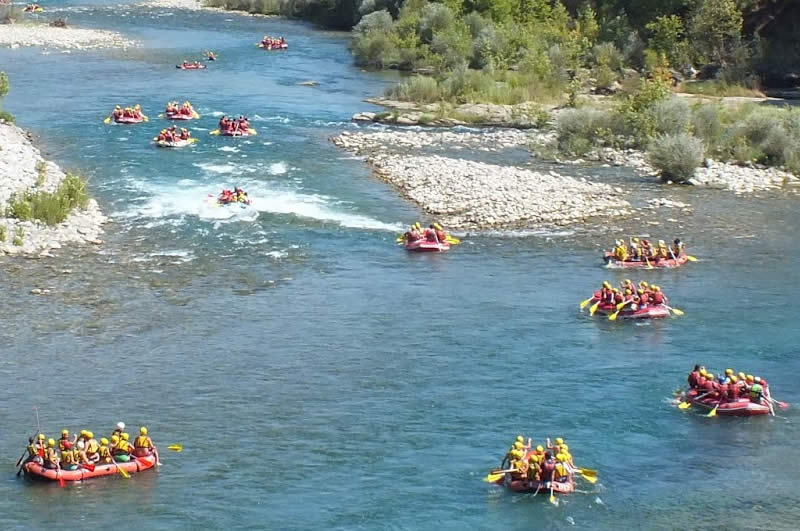 I have to warn you: this is not a smooth ride or relaxing activity. It can provide a real adrenaline rush! Half of the river is quite calm and slow but then you hit the small waterfalls that gradually grow larger and larger and have strong rapids. You'll traverse 12 big rapids on the trip.
They let you jump from the raft to swim in calm waters, but they're exceptionally professional when in dangerous territory, protecting you from falling out while letting you experience the adrenaline rush as much as they can.
I tried the Novaraft Tour, organized inKöprülü Kanyon, formed by water running down from the Taurus Mountains. You won't believe it, but my reservation was only 15 EUR, including the rafting tour, lunch, equipment use, a guide, and insurance.
Since you'll get totally wet by the end of the tour, I suggest taking extra clothes with you. I don't like rafting in only with my swimsuit because the plastic boat can be uncomfortable, and you can get burned under the strong sun.
Rock Climbing
Antalya is known worldwide as a climbing haven, given the interesting, good quality rock structures there. There are thousands of routes, ranging from beginner to hardcore.
Olympos is a great spot for rock climbing, offering a unique combination of blue water and vertical rocks. You can also try deep water, solo climbing, which means climbing without a rope and falling into the sea if you slip. Yes, I know it sounds a little scary.
Kadir's Tree House is one of the first hostels built in Olympos, and the people who built it were climbers. That's why it is still the best place to take climbing courses. Here, you'll be instructed by the best rock climbers in Turkey living in the area.
Another excellent rock climbing area is Geyikbayırı. Here, you'll find great camping sites. One of the oldest is JoSiTo, built by rock climbers who have opened many–and are still opening–climbing routes in the area. I like staying there to support the local climbing community.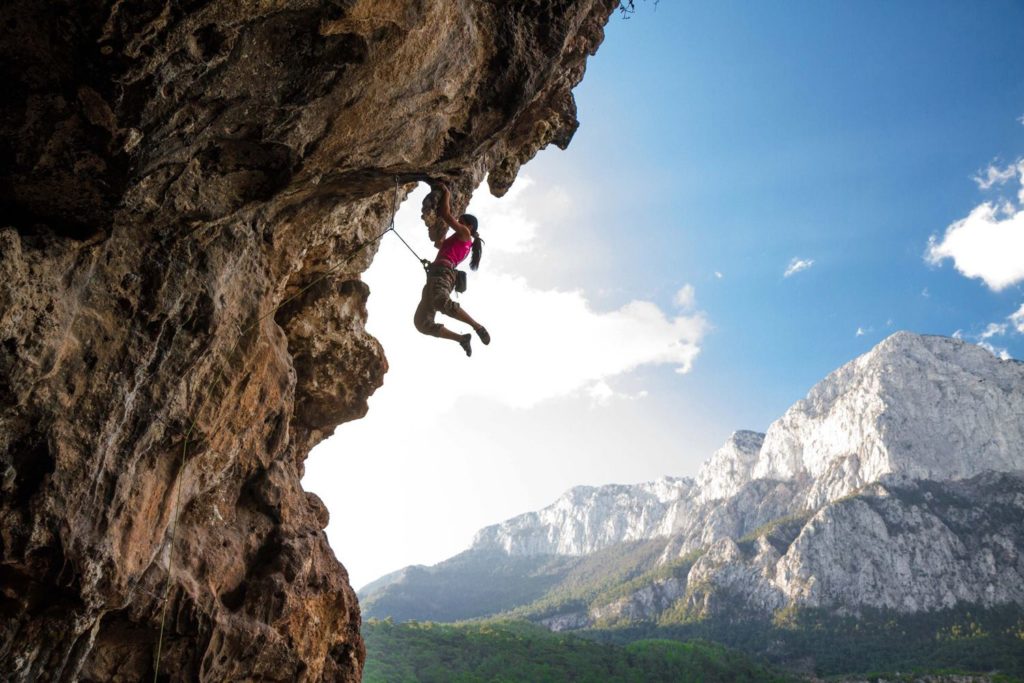 At both JoSiTo and Kadir's Tree House, a 2- to 3-hour climbing course costs around 350 TL. In addition to this price, you'll need to rent special climbing shoes. You'll also be given a helmet and harness before the instructor arranges the other rope work.
Paragliding Tours
I had a breathtaking experience of my first paragliding experience in Kaş. If you want to see the world as if you were a bird gliding through the wind and clouds while watching the endless sea, you should certainly try this.
Don't worry–you won't be flying alone. Instead, you'll fly in tandem with an experienced pilot possessing international certification. Be sure to listen to their short briefing, let them prepare the equipment and wings, take a deep breath…and fly.
My first great experience was with a company named Fly Lycia. We met in their office in Kaşi, where they picked me with a car and took me to Asas Mountain at a height of 700 meters. The flight was around 30 minutes, ending in the old port of Kaş.
I was addicted to paragliding after this experience, which is why I tried it again, this time in Alanya. The name of the company was Ulusky. We flew over Alanya Castle and Cleopatra's Beach. Once more, the flight was almost 30 minutes.
These paragliding tours cost around 60 EUR and include transfer costs, a pilot, insurance, and equipment. You don't need to wear anything special, but it should be comfortable. I forgot to take my sunglasses on my first experience, and if you'd like to watch…well, just don't be like me.
What's Next?
I'd be really tired if I did all of the activities suggested above, but if you're still looking for something new, you can go to any of the small-office companies in Antalya's center or in towns like Kaş orKekova. 
Some companies organize mixed tours, combining cultural sightseeing tours with trekking and paragliding. Some of them combine boat tours, canoeing, and diving. Don't forget: you're on holiday, and from time to time, you might also want to rest.
Related Posts