I am one of those travelers who want to experience the most relaxing and adventurous things in a single holiday. If you also look for the perfect combination of beach holiday and adventure in nature with great food and a taste of ancient Mediterranean history, consider Alanya as a destination.
What's all the fuss about Alanya?
A beautiful tourists' haven, the town of Antalya is located on Turkey's southern coast at the foot of the magnificent Taurus Mountains. It spans the Mediterranean landscape and is filled with forests and the scent of orange trees. 
While enjoying its beauty, one can't help but understand why so many civilizations tried to rule this place. The founding of this town dates back to 4th century BC and is now a home for around 300,000 locals and ex-pats in the winter, and is a destination for almost 1,000,000 tourists.
Which season is the best to visit?
After the cold, harsh days of winter and spring, May brings mild weather, and the temperature rises to 31°C. Sea temperatures also rise, reaching up to 28°C as September approaches.
If you'd prefer cooler temperatures, consider visiting in spring, when the temperature is around 9°C to 20°C during the day, and the water is cooler. Don't forget to pack your raincoat if you plan to visit before May or after August.
What to do during the high season?
I enjoy the vast beaches, visiting ancient sites with great views, taking a cable lift to the famous castle, joining adventure tours like Jeep Safari, exploring caves, gardens, and rivers in and around the city. After, I grab a well-earned beer before jumping over to the dance hall.
How to Get to Alanya?
The easiest way is to take a flight to Alanya-Gazipaşa Airport. Another solution is to find a flight to Antalya and transfer to Alanya.
Personally, I prefer the first choice since I find it harder to transfer to Antalya–which takes approximately two hours–with all of my luggage in such warm weather.
How to get to Alanya from Gazipaşa Airport?
Everybody asks me how the transportation system is in Turkey. My answer is, "great." There are even several options to transfer from the airport to the city and even directly to your hotel if you'd like. All of these options are reliable and fast if you ask me.
Taking the Airport Shuttle Bus
If you are traveling on a budget, use the shuttle bus service. Shuttle buses leave the airport approximately every 25 minutes after any flight lands. The journey from the airport to the center takes around 45 minutes and costs 15 TL per person. You will need to pay cash for this service.
Arranging a Private Airport Transfer
For a more comfortable and faster transfer (and so you won't lose time while looking for your hotel), I highly recommend ordering a private airport transfer. This service will cost you around 35 Euros. You pay with a credit card or cash.
Should I Take a Taxi?
You can also get a yellow cab at the taxi stop in front of the arrival terminal. Look for the yellow cars with the "TAKSİ" sign on top. Taxi drivers are kind, and they understand and speak basic English. The travel time is approximately 25 minutes, and the price is around 30 Euros.
How can I get Around in Alanya?
I find Alanya's transportation services quite comfortable. First, I suggest you buy an "Alanya Kentkart"–a rechargeable, electronic ticket–to take the bus. It will wind up costing you less in the long run. Alternately, you can pay the driver cash.
How to Take a bus
The most common lines you will use are the 101, 1, and 2 to go to the beaches and the harbor. For the Castle, just take line 4 from the station behind the Grand Bazaar. You can find maps and information about bus routes to know which bus you should take.
Interesting Dolmuş Trip with Locals
I also like to make contact with the locals while on holiday. To do this, take a dolmuş (dolmush) to visit some of the smaller towns and villages surrounding Alanya. I would be remiss if I didn't tell you that the local, small buses are usually crowded and without air-conditioning.
Yellow Cab
You can always find a TAKSİ wherever you look, but as I mentioned before, don't forget to barter prices for far off destinations.
Freestyle Walking
I mostly like to spend the early morning and afternoon, walking around Alanya. Most touristy places in the city center are within walking distance. You can walk from your hotel to the harbor or beaches and then climb up to the Castle.
To visit the natural beauty in the around villages and mountains, you can join an adventure tour instead of taking a dolmuş. There are a number of adventure and sports agencies and tours–which generally include transportation, adventure, sports, and lunch–in the town.
7 Must Things You Must Do in Alanya
Here is a short, self-guided, relaxing, morning-through-night itinerary I've prepared in case you'd like to follow in my footsteps while in Alanya.
1) Relax and Have Fun at Kleopatra Beach
I love to begin my day early in the morning on the beach. Kleopatra Beach is my favorite. Named after the Egyptian queen Cleopatra who was fascinated with this beach, it was one of her favorite stops on her voyages.
A popular tourist attraction, the beach is really long. I always look for a quiet, less-crowded spot and rent a comfortable pergola. The sand is stone-free and so soft, it virtually beckons you to lay on it.
You can enjoy a delicious lunch and a refreshing drink in the facilities next to the beach. Take bus 1, 2, or 101 to Kleopatra Beach. There is no entrance fee to gain access to the beach.
Are There Other Beaches Comparable to Kleopatra?
Smaller beaches–like Damlatas and Keykubat–are just next to Kleopatra. Mahmutlar and Incekum Beaches are a 20-minute drive from the city center.
All of these beaches have great quality sand and similar facilities, such as pergola rental, cafes, and showers.
How About Fun on the Beach?
If you want to relax, try some of the water sports like jet-skiing, pedalos, parasailing, and banana boating. You can also grab a drink from the bars next to the beaches.
2) Cool Down in the Dim Çay River
After a warm morning sunbath and swim, I generally long for "cooler" activities. If you feel the same, you'll feel lucky that Alanya is located at the foot of the Taurus Mountains.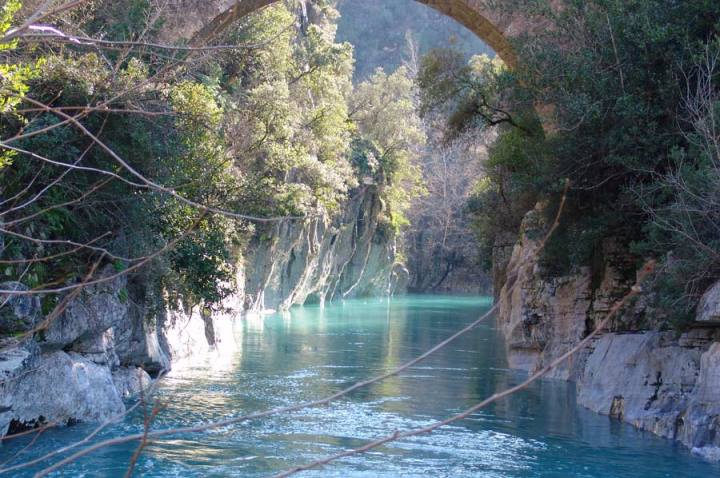 Go up to the Dim Çay River and settle into one of the numerous restaurants surrounding the river. You can swim in the cool water or enjoy the shade on the Turkish-style seats which are located directly over the flowing river
3) Enjoy a Tour of the Mountains
I once joined a Jeep Safari Tour and found it to be a great way to explore the surrounding landscape, including the caves. A hiking tours around the valley is perfect if you're feeling energetic.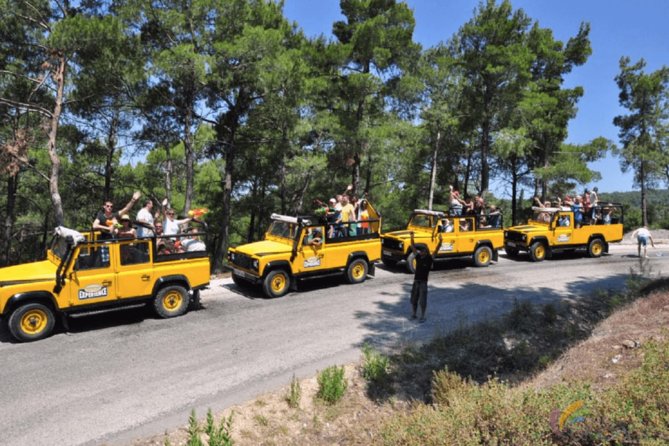 These tours plan for a lunch break in restaurants offering delicious cuisine. You won't need to arrange anything–they do it all for you, except for the walking, of course!
4) Freshen Up and Get Healed in Damlataş Cave
If you don't feel like spending time climbing mountains, you can visit Damlataş Cave, located next to Kleopatra Beach. The cave is famous since it is known for healing sicknesses like asthma due to the high humidity levels inside, which can reach up to 98%.
Besides its fame for health tourism, it is also a natural beauty, given its amazing columns, colors, and passages that have been formed over the past 15,000 years. The cave is actually one of Alanya's most important tourist attractions, visited by thousands of tourists each year. 
What I found kind of funny is that this important site was actually discovered by accident when builders used dynamite to opening a stone pit during the construction of the port in 1948.
You may want to have an extra warm cloth with you during your visit because regardless of the season, the inside temperature is always 22 degrees. The entry fee is 5 TL, and the cave is open every day between 09:00-17:00. You can take bus lines 1, 2, or 101 to visit.
5) Watch the Sunset from the Castle
Most people visit sites to cross them off of their bucket lists, but Alanya Castle is a place you'll want to visit repeatedly. It's THE spot to watch the sunset. Wait for the afternoon just before sunset, and take the cable cab to add a taste of adventure and romanticism to your day. 
You can also take a taxi or bus 4 up to the Castle. I prefer to walk down from the Castle to enjoy the historical town, souvenir shops, crafts shops, and eating gözleme, a special Turkish meal, on my way.
6) Shop in the Bazaar
Shopping in local bazaars is a great way to explore different cultures. Alanya's Bazaar is located between the harbor and the center. You will know you're there when you see the carnivalesque colors and hear the sellers' chants.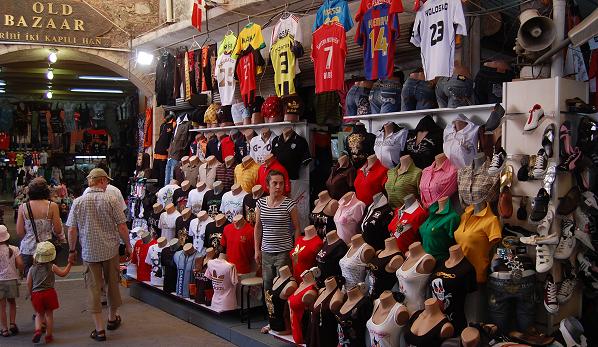 In the bazaar, you'll find fresh vegetables, fruit, Turkish coffee, black tea, and souvenirs like jewelry, clothing, Turkish carpets, handmade decorations, and cheaper items like candles, magnets, and cups.
Bargaining is a Turkish tradition, so don't forget to bargain, but please, be nice. If you're an aggressive bargainer, be advised that they might not want to sell you what you want, no matter what you do.
7) Stop by Alanya Gardens for a Short Rest
It doesn't matter if I'm feeling sporty, I always tire easily during my visit to Alanya because of hot, humid weather. Between walking around the Castle and the beach, I like to grab an ice cream and see the Alanya Gardens.
This my favorite spot to rest during my daily routine, and the locals like it, too. If you need to take a rest during your visit or if you'd like a night away from the busy center, you can go there to walk among the vines.
Watch the flowing water next to the pools and pet the cats (who obviously love the place, too). I like to sit on one of the seats next to a fountain and take in the greenery and watch the cable car as it goes to and from the Castle.
What and Where to Eat in Alanya?
The streets of Alanya are filled with the smell of crunchy gözleme with Anais and kebabs, which draw you by flirting with your hunger. I want to share things with you that are prominent in Turkish cuisine and indispensable for any visitor.
The Holy Trinity: Fish, Meze, and Raki
Fish, raki, and meze are inseparable in Turkish culture.
Despite the fact that Alanya is a coastal town, fish restaurants are not widespread, and there are only a couple of them in the center.
To enjoy a view overlooking the harbor, I suggest you try the Red Tower Brewery Restaurant. For excellent meze, really nice music, perfect service, and the best fish served in restaurants around the Dim Çay, go to the Red Tower Brewery Restaurant.
A Turkish Classic: Kebab
More common than fish, kebab is a generic name for meat meals.
If you are looking for fast food, order a döner kebap, a "spinning" meat you'll see everywhere in town. I don't recommend trying cheap kebabs since they can be fatty, which might make you feel sick under the sun.
For a fine dining experience, go to Mezze Grill Ocakbaşı Restaurant. Be sure to order a mixed kebab, so you can taste everything in a single bite.
Gözleme: a Must Taste
If you see women working like crazy on a black, circular cooking stone, they are making gözleme!
A flat Turkish pancake filled with cheese, spinach, or potatoes, gözleme is cheap and super tasty. You'll find it everywhere in town and around Dim Çay.
The Nightlife: Where to Party in Alanya
Although it's small, Alanya is actually a party town with plenty of events, concerts, dance shows, and discos.
Whenever I go to the bar district at the harbor, I can't decide if I want to go to a cocktail bar to chill or join in, dancing at the open-air discos under the light and laser shows.
I suggest Robin Hood and Summer Garden, if you have a taste for great music played by international DJs, or if you like plenty of space to dance.
If you long for interesting cocktails, go for the Havana Club. The music there is great, even without the dancing. If you'd prefer to try a taste of the Turkish culture (rather than Cuban), check out a belly dancing show in the Hotel Hamburg.
Alanya is an easy-to-travel holiday destination for those who want to experience the Mediterranian culture, walk among ancient remains, swim in the warm, blue sea and rivers, climb mountains, taste great, local cuisine, and join in the party.
Related Posts