If you like to know about where you're visiting in detail, then you'll love this post. Here's how to explore Antalya's history, culture, and biodiversity in a single holiday.
Antalya is famous for its natural beauty, but we can't forget that there have been people, flora, and fauna living here for thousands of years. These people and creatures had their own culture and way of life.
There are a lot of great museums in Antalya where you can learn all of these details. If you can just spare an hour or two from your day, then go visit them. Here's a list of my favorite museums in Antalya.
Antalya Museum
This museum is one of Turkey's best archaeological museums. It has a grand collection of statutes and sarcophagi, collected in the surrounding ancient cities, shedding light on the different periods of history in the region.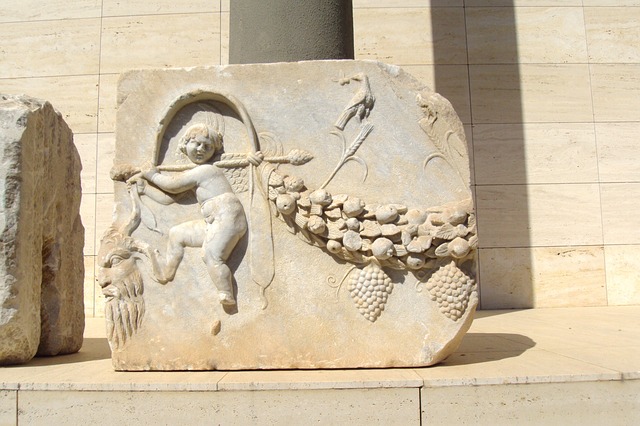 To go inside the museum is to realize the history of the cultural landscape upon which modern-day Antalya is built. So many civilizations and cultures have lived in Antalya, and they've all left traces of themselves behind for us to see and admire.
Besides its natural beauty and activities, Antalya has a deeper significance buried beneath history's dust of history, and this museum will unveil the city's secret meaning and soul for you.
In the museum's holdings are artifacts, sculptures, statues, and coins from the Ancient Greek, Roman, and Byzantine periods. You will see tributes to Zeus, Atenea, Aphrodite, Artemis, Apollo, and Alexander the Great inside. The collections date back more than 3,000 years.
Even though some of the statues and sarcophagi are partially destroyed, most are in good condition. Also, they arrange them perfectly in the exhibits, to emphasize their impressive majesty. If you're interested in archaeology, you'll be surprised by Turkey's archaeological wealth.
The museum feels small upon entering, but as you wander about, you'll see that it consists of several larger halls. The exhibits are arranged chronologically, making it feel like you're traveling back in time as you go.
Today, the museum covers 30,000 square meters with 14 exhibition halls, an outdoor sculpture garden, and galleries showcasing the exhibits.
Since it's a grand museum, you'll need at least an hour to visit. If you're really interested in ancient history, try to spare at least 2. Every exhibit has an extensive explanation of its significance beside it, which is also available in English.
The museum is really close to the old town. Take the tram from the old town, head west, stay on until the last stop, and you'll be at the museum within 20 minutes. The entrance fee is 30TL, but believe me: it's worth it.
Opening time in summer is 08:30, and closing time is 19:30. It opens at the same time in winter but closes at 17:30. The museum–open every day–is located at Konyaaltı Cad. No. 1 07050, Antalya.
You can also visit the museum's website at kulturturizm.gov.tr to get more detailed information about the exhibits.
Suna and İnan Kıraç Kaleiçi Museum 
This is a small museum, but it's one of the greatest ones in Antalya. It was opened by two people–named Suna and İnan Kıraç–who wanted to preserve Antalya's culture and history. The museum highlights the tradition and art of the city.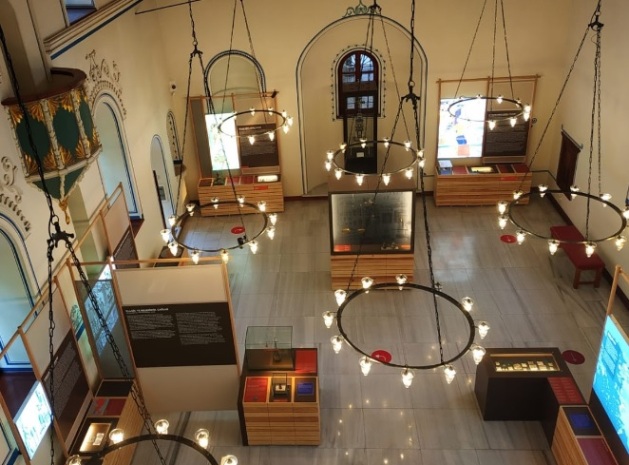 It's really easy to reach this museum because it's in Kaleiçi. When you're swimming, shopping, or eating in Kaleiçi, take a short break to visit this museum. The museum is in a small, old Kaleiçi-style house and the Greek Orthodox Church of St. George.
The exhibition consists of 19th-century Ottoman artifacts as well as some from the 20th century, shedding light on the Greek population at the time. There are a lot of paintings, photographs, rare maps, costumes, pottery illustrations, and other objects detailing life in Antalya.
The exhibition is not focused on royalty, but average people and life during and after the Ottoman period. I loved the exhibition on craftsmen and street sellers in Antalya.
What's also nice is that the museum building itself is an exhibit. The traditional Kaleiçi house is decorated so you can see what life was like in the city in the 19th and 20th centuries. The church is also beautiful, with a ceramic cross inside and its gorgeous mosaic courtyard.
What's surprising is the presence of a traditional air conditioning system in the garden. It's interesting to know that everyone in history has suffered from the same hot weather in Antalya and found different ways to deal with it.
There are a lot of information panels in both Turkish and English. The entrance fee is cheap at 5TL. There's a small shop inside in which you can buy books and souvenirs. Though it's inexpensive to visit and small, I guarantee that you won't be disappointed.
Sandland Open Air Museum
This is one of the best open-air exhibits I've ever seen. When someone says, "museum," you might think you'll only see historical artifacts or contemporary art, but this one's totally different. These exhibits consist of sculptures made from sand!
When you visit, you're sure to recognize historical and mythological figures–there are almost 20 of them from across history. There are also detailed descriptions next to the sculptures, which were really interesting.
You can also watch a short movie, showing how the super-talented artists created the sculptures. You'll watch as artists from different countries create sculptures of national legends in their countries.
The museum is located next to the Lara Beach, so you can go swimming in Lara and then take a 10-minute walk to visit the exhibition in the evening.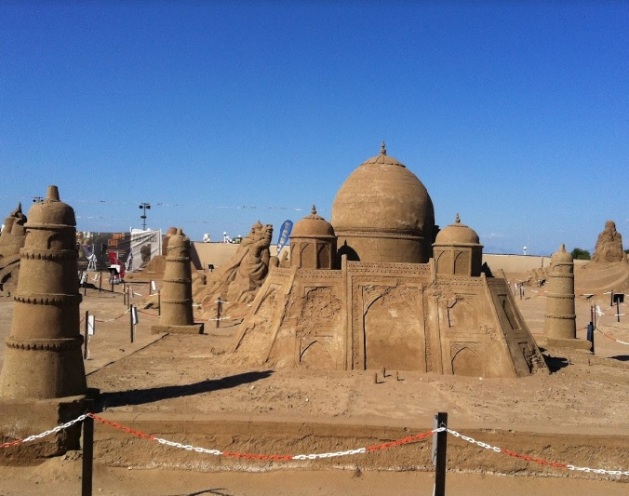 I suggest you visit this place in the afternoon, when the sun isn't as strong, or during the sunset, as the light creates beautiful contrasts on the figures, making them incredibly realistic.
I spent almost an hour trying to see all the sculptures. I also took a break to have a drink at a café next to the beach, since I got tired in the middle of my visit. The entrance fee is 15 TL, and just like the other museums in Antalya, it's really worth it.
Atatürk House Museum
If you want to learn about the person who shaped Turkey's history, this is the best place to start. Atatürk stayed in this building when he visited Antalya, which is why it's Atatürk House.
When you enter the museum, you'll feel as if you've entered a time capsule. They've successfully recreated a real-life experience here, so you'll feel like you're back when Atatürk stayed here.
Here, you'll find newspaper and journal clippings and photos about Atatürk's visits to Antalya. You can also find a documentary about Atatürk and Antalya. Also on display are coins, banknotes, and stamps produced since the Turkish Republic's establishment.
There are two office rooms and a bedroom in the building. You can also see Atatürk's personal belongings, like his clothes and furniture.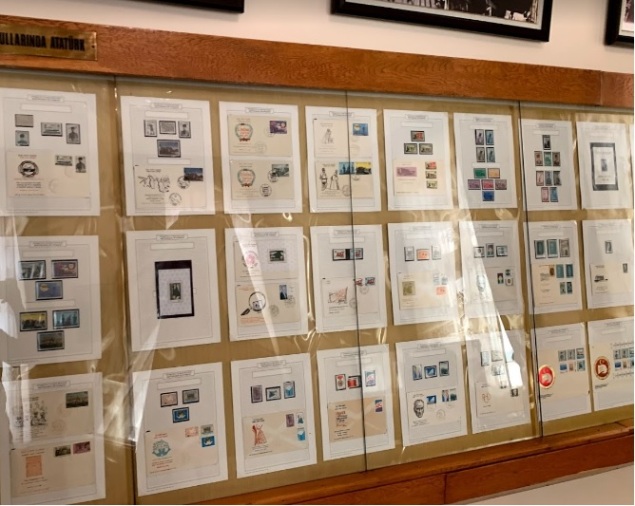 Most of the descriptions are in Turkish, but there's a free leaflet available in English. Due to the lack of information, you probably won't need more than a half an hour to explore.
The museum opens at 08:30 in summer and winter. It closes at 19:30 in the summer and 17:30 in the winter. The museum is open every day, and there is no entrance fee.
There's also a park you can visit next to the museum, which is located at Haşimişcan Mah. Fevzi Çakmak Cad. No. 11 Muratpaşa /Antalya.
Antalya Toy Museum
This museum is one of the cutest places I've ever visited.  It's in the Kaleiçi Region and close to the harbor, so it's easy to reach.  You should definitely visit here–you'll love it.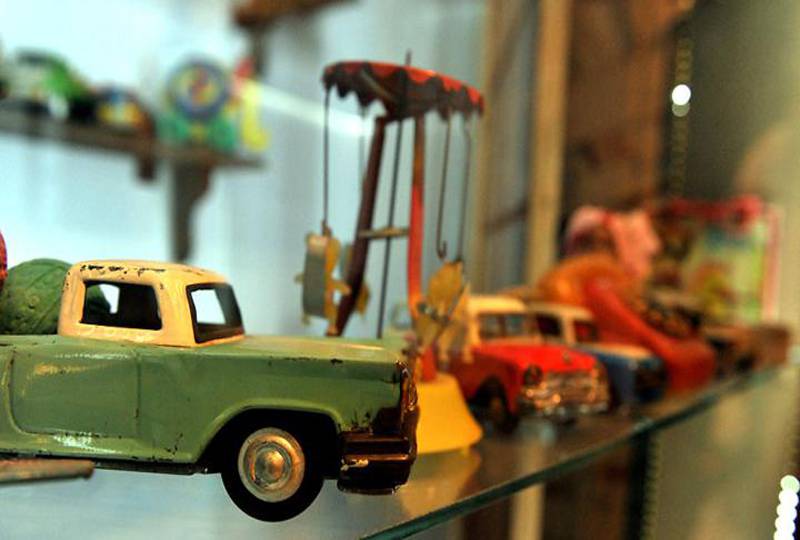 You can go to the museum by yourself, but it's also a great place to visit with your children. Here, you'll see toys made from a variety of materials throughout history.
The toys in the exhibits aren't only from Antalya–they're from all over the world and date back to the middle of the 19th century. Curators have divided the toys thematically, so Western-style toys are on one side, and electronics on the other.
All of the toys will evoke memories from your childhood, making you realize that humans have always wanted to have fun by playing with and creating toys.
Unfortunately, there aren't many explanations next to the displays besides the place of origin and time of manufacture, but this might be the curators' strategy, inviting visitors to wax nostalgic while using their imaginations.
The entrance fee for the museum is only 6TL. It took me almost an hour to see everything, even though the museum is a small one.
Antalya Marine Biology Museum
This is the first museum in Turkey showcasing rare and endangered sea creatures in the Mediterranean Sea. The museum's aim is to raise social awareness about marine protection.
I was amazed at Antalya's rich ecology. It was something I'd never thought about while swimming alongside these amazing creatures. After visiting the museum, I enjoyed my swims more, knowing that I was surrounded by the water's diverse inhabitants.
There are 500 different species exhibited in the museum, 15 of them endangered species, such as angel shark (Squatina cicuvelatata), guitar fish (Rhinobathos Cemiculus) and angular rough shark (Exynatus Centrina)along with sea turtles (Caretta caretta).
There are various species of sharks and flat sharks, many species of octopus, coral shellfish, bony fish, sponges, shrimp, lobsters, crabs, squid and cuttlefish, and starfish on exhibit.
It took the collectors 15 years to build this museum, and their effort is visible in the museum through the variety of species and quality of curation.
I loved the design of the museum, which is shaped like a sunken pirate ship, so from the moment you enter the museum, you'll believe you're undersea.
There are activities here for both children and adults that teach about undersea life.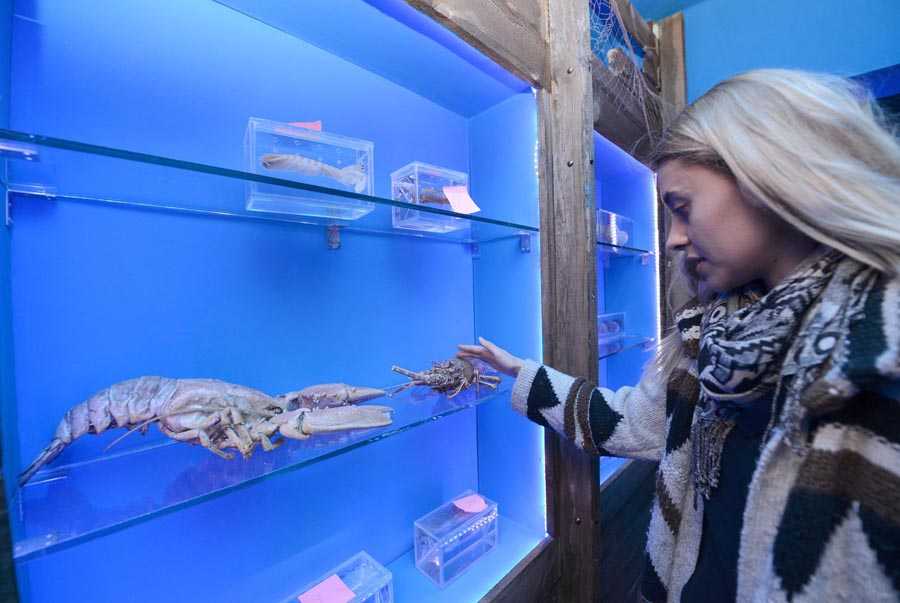 If you have enough time, you can also take in a lecture or seminar on protected marine areas, sustainable fisheries, endangered species and their conservation measures, marine pollution, and alien species and their ecological and economic impact.
The museum is open every day–except for Mondays–at 09:30 and closes at 16:30. The entrance fee is 6TL, and similar to other museums in the area, it's a small price to pay to see some great exhibits.
A Short Summary
This post has shown you some of my favorite museums in Antalya, where you can learn about the history, culture, and civilizations of the area, as well as the creatures living in and around Antalya.
You'll see beautiful sculptures, paintings, and photographs from different periods in history. You'll also see toys from around the world. In one short hour, you can get a closer look at the creatures with which you've been swimming on your vacation.
Enjoy your visit.