Welcome to our guide on the best Raki restaurants. Here are our top picks for places to eat and enjoy Raki cuisine.
1) Mahkeme Lokantası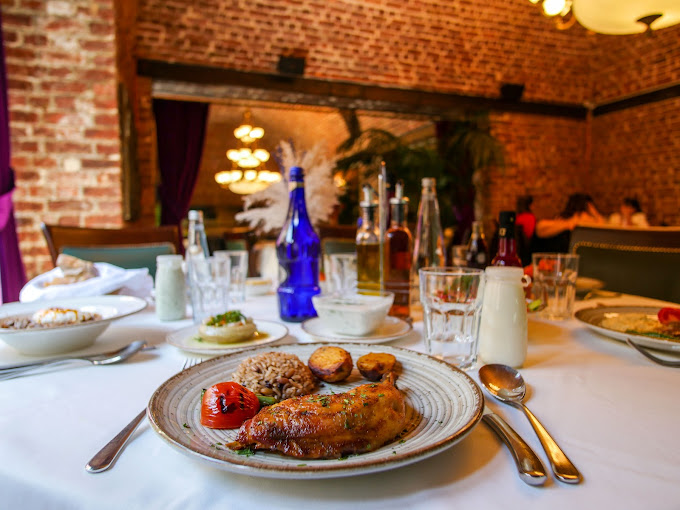 Mahkeme Lokantası in Istanbul is a remarkable restaurant with a charming ambiance, excellent food, and great service. Housed in a beautifully renovated historical building, it offers a unique dining experience. The specialties include meze, grilled dishes, lamb, seabass, and the standout grilled eggplant. With a menu catering to both locals and tourists, there is something for everyone. Located near Perşembe Pazarı Cd., it provides a quiet respite with options for both alfresco and indoor dining. The staff is attentive and friendly, and the high-quality service is worth the slightly higher prices. Overall, Mahkeme Lokantası is a must-visit restaurant in Istanbul, perfect for a romantic evening or a gathering with friends.

Perşembe Pazarı Cd. No:14 Beyoğlu İstanbul, Phone: +90 532 295 69 05
2) Asmalı Cavit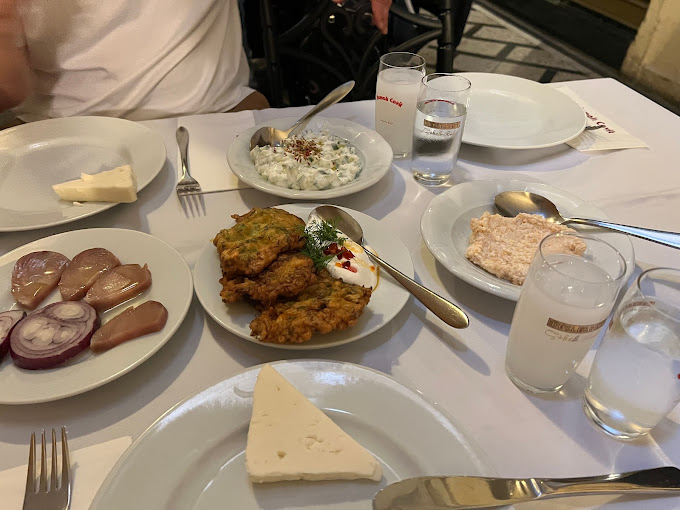 Asmalı Cavit in Istanbul is a gem, offering a memorable dining experience with its warm ambiance, exceptional cuisine, and top-notch service. Specializing in traditional Turkish dishes, must-try items include grilled liver, eggplant salad, and anchovies. The menu also features calamari, lamb, and mezes to share. Situated on Asmalı Mescit Street, the restaurant offers lovely street views and moderate prices. What sets it apart is the outstanding attention to detail and service, making it a must-visit in Istanbul.

Asmalı Mescit Cd. 16/D Beyoğlu İstanbul, Phone: +90 212 292 49 50
3) Demeti Meyhanesi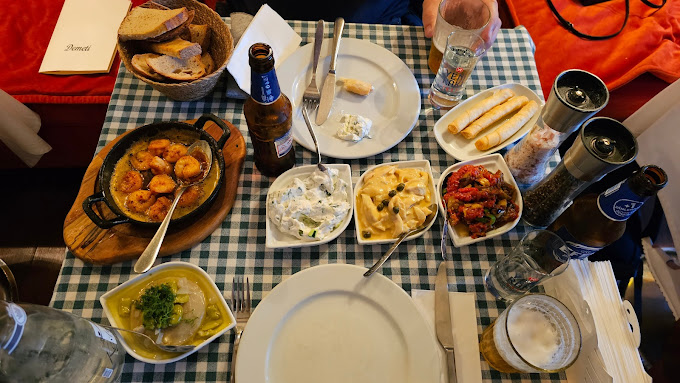 Discover Demeti Meyhanesi, a charming Turkish restaurant in Istanbul's Beyoğlu district. Known for its authentic ambience, mezze selection, and breathtaking balcony views, this hidden gem offers a diverse menu of classic dishes and house specialties. Pair your meal with rakı or wine for an elevated experience at reasonable prices. Located on Şimşirci Sk, near attractions and the Bosphorus, the balcony area provides a stunning city view. Book in advance to secure a spot and enjoy friendly service throughout your stay. Demeti Meyhanesi offers a unique dining experience that immerses you in Istanbul's vibrant flavors and atmosphere. Don't miss out on a memorable evening here!

Şimşirci Sk. No:6 Beyoğlu İstanbul, Phone: +90 212 244 06 28
4) Karaköy Lokantası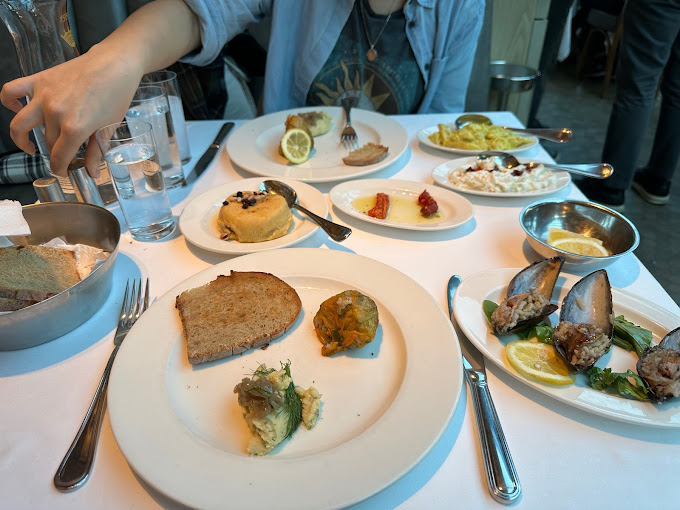 Karaköy Lokantası in Istanbul offers a traditional Turkish dining experience with delicious grilled octopus, veal, and sea bass. The restaurant has Michelin recognition and a wide range of authentic Turkish dishes. While it can be moderately expensive, the food is high-quality and flavorful. Situated in the vibrant Beyoğlu neighborhood, Karaköy Lokantası is a must-visit for those seeking a true taste of Turkey. It is popular among both locals and tourists, so reservations are recommended.

Kemankeş Cd. No:57 Beyoğlu İstanbul, Phone: +90 212 292 44 55
5) Eleos Restaurant
Eleos Restaurant on İstiklal Street provides an enchanting seafood experience. With a cozy terrace overlooking the Bosphorus, impeccable service, and a diverse menu, it's a top choice for seafood lovers. Grilled octopus and marinated sea bass are standout dishes, along with fresh mussels and jumbo shrimp. Prices are mid to high, but the quality and complimentary dishes make it worth it. Its strategic location near shopping areas makes it ideal for exploring Istanbul. The attentive staff ensures a remarkable dining experience. Reservations are highly recommended for a sea view. Overall, Eleos is a must-visit for seafood aficionados with its delicious dishes, incredible atmosphere, and unmatched service.

İstiklal Cd. No:231 Beyoğlu İstanbul, Phone: +90 212 244 90 90
6) Agora Meyhanesi 1890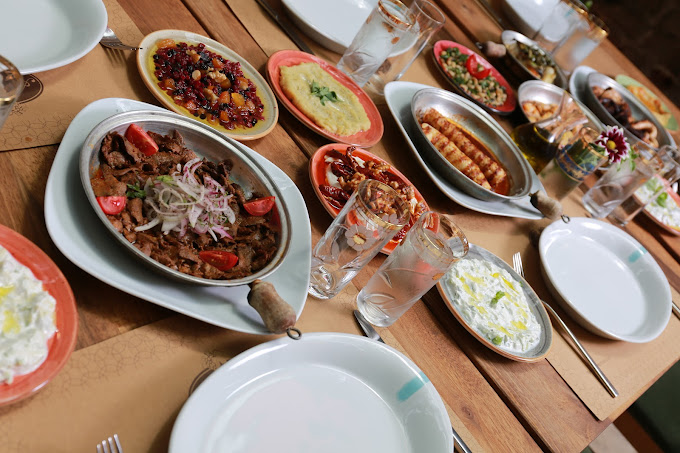 Agora Meyhanesi 1890 is a historic restaurant in Istanbul that takes you back in time. It has a charming ambiance and serves delicious traditional Turkish cuisine, particularly their famous mezes. The seafood dishes are fresh and well-prepared, but they also offer grilled lamb chops and steak. The prices are reasonable considering the quality. The restaurant is vibrant, with traditional music playing in the background. The only drawback is indoor smoking, but it doesn't take away from the overall experience. Overall, Agora Meyhanesi 1890 is a must-visit for an authentic Turkish dining experience, especially for their Raki and flavorful mezes.

Mürselpaşa Cd. no:185 Fatih İstanbul, +90 541 890 18 90
7) Hadi Karaköy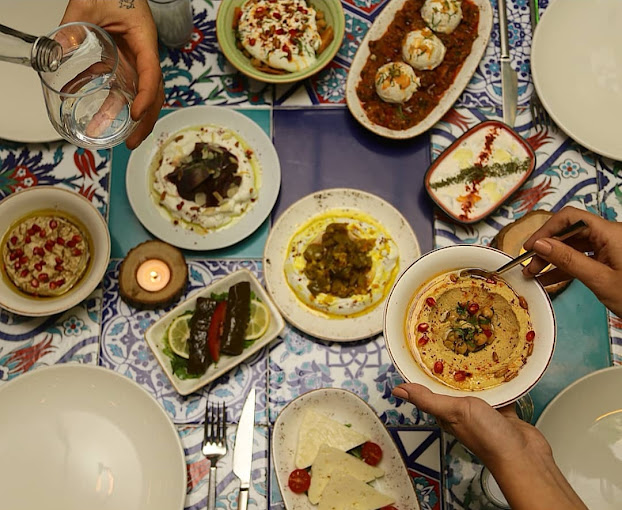 Hadi Karaköy – Yeni Nesil Meyhane is a lively restaurant in Beyoğlu, Istanbul, known for its unique take on traditional Turkish meyhane culture. The dimly lit ambiance and tasteful décor add to its charm. The menu offers flavorful mezze, grilled dishes, and iconic raki. Though reviews on service are mixed, the restaurant guarantees an unforgettable experience with good music and energetic vibes. However, it may not be suitable for those seeking a quiet meal. Overall, Hadi Karaköy is worth a visit for a night of indulgence and joyful surroundings.

Kemankeş Mahallesi, Rıhtım Caddesi, Yuva Sk. no:6 Beyoğlu İstanbul, Phone: +90 543 227 00 24
8) Balat Sahil Restaurant
For an authentic meyhane experience with delicious seafood, visit Balat Sahil Restaurant. Located in the historic district of Balat, this hidden gem offers a cozy atmosphere, helpful staff, and beautifully decorated interiors. With a view of the surroundings, it's the perfect spot for a relaxing meal. The extensive menu includes flavorful mezes, fresh fish, and must-try dishes like the baked Turbot. Pair your meal with a wide range of rakis, such as the Beylerbeyi Mavi. Prices are reasonable but inquire about fish prices to avoid surprises. The only suggestion is to expand the selection of local wines. Overall, a memorable and satisfying experience that is highly recommended for both locals and tourists. Just ask about prices beforehand for the best value.

Mürselpaşa Cd. No:245 Fatih İstanbul, Phone: +90 212 525 61 85
9) Tarihi Cumhuriyet Meyhanesi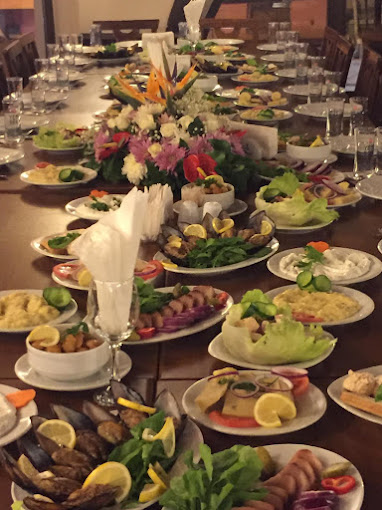 Tarihi Cumhuriyet Meyhanesi in Istanbul's Beyoğlu district is a top spot for authentic Turkish dining. The popular restaurant has a cozy ambiance with live music and traditional decor. It offers a variety of Turkish dishes, including fresh seafood and raki, the national drink. The menu has cold and warm starters, hearty mains, and delicious desserts at reasonable prices. The restaurant is in a vibrant area with attractions nearby, and the staff ensures a pleasant experience. While some reviews are mixed, most diners praise the food, atmosphere, and live music. Dining here is highly recommended for a genuine Turkish experience.

Kamer Hatun Sahne Sokak, Kamer Hatun Cd. No:27 Beyoğlu, Istanbul. Phone: +90 212 252 08 86
10) Yirmibir Kebap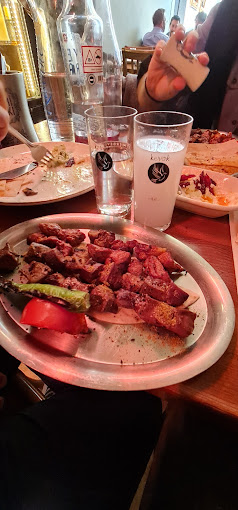 Yirmibir Kebap in Istanbul offers an authentic Turkish dining experience with a lively open-grill atmosphere. Their menu features delicious Turkish cuisine, including creamy hummus, aubergine-tahini starter, and a variety of kebabs. Prices are mid-high range but worth it for the generous portions of mezzes and complimentary vegetable platters. While service may be inconsistent, the overall atmosphere and helpful staff make up for it. Yirmibir Kebap is a must-visit in Istanbul, but be cautious of opportunists and double-check your bill.

Han Geçidi Çk. No:3 Beyoğlu, İstanbul Phone: +90 212 244 38 73
11) Yakup2 Restaurant Beyoğlu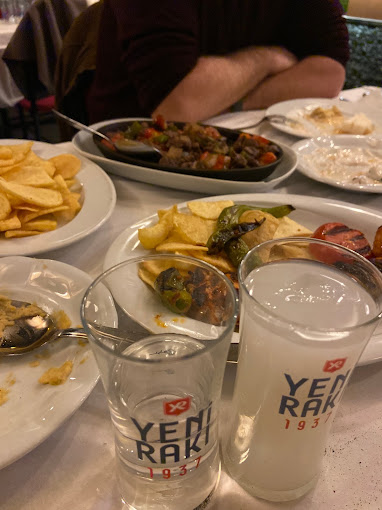 Yakup2 Restaurant Beyoğlu in Istanbul offers an amazing Turkish meze experience with live music. The cozy ambiance and outdoor terrace are perfect for enjoying a warm evening. Specialties like pastrami hummus and marinated seabass are delicious. The menu includes classic meze dishes and seafood options. The staff is friendly and attentive. It's a must-visit spot for food lovers seeking an authentic Turkish dining experience.

Asmalı Mescit Cd. No:21 D:B Beyoğlu İstanbul, Phone: +90 212 249 29 25
12) Madam Despina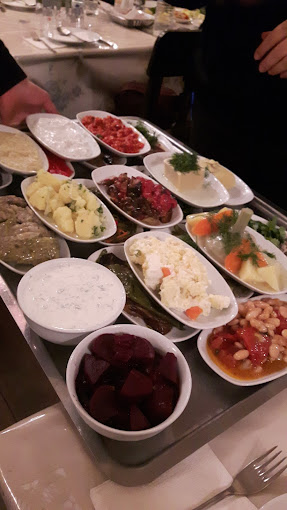 Madam Despina, located in Şişli, İstanbul, offers a captivating dining experience that combines history with delectable dishes. The restaurant's warm atmosphere and unique charm make it famous, with a folk song dedicated to it. Madam Despina's specialties include traditional mezes and satisfying entrées with a modern twist. Their selection of raki complements the delicious food. The menu is extensive and reasonably priced. Although some reviews mention mediocrity, others commend the food quality and ambiance. Situated at Açık Yol Sk. No:22, the restaurant is easily accessible to locals and tourists. Wi-fi is not mentioned, but the main attraction is the restaurant's historic charm and enchanting ambiance. Despite paying for toilet use, Madam Despina delivers exceptional cuisine and a welcoming atmosphere. I personally recommend gathering friends or family to enjoy a delightful evening at Madam Despina.

Açık Yol Sk. No:22 Şişli İstanbul, Phone: +90 212 247 33 57
We hope you enjoyed our selection of top Raki restaurants. Stay tuned for more gastronomic guides and reviews. Bon appétit!