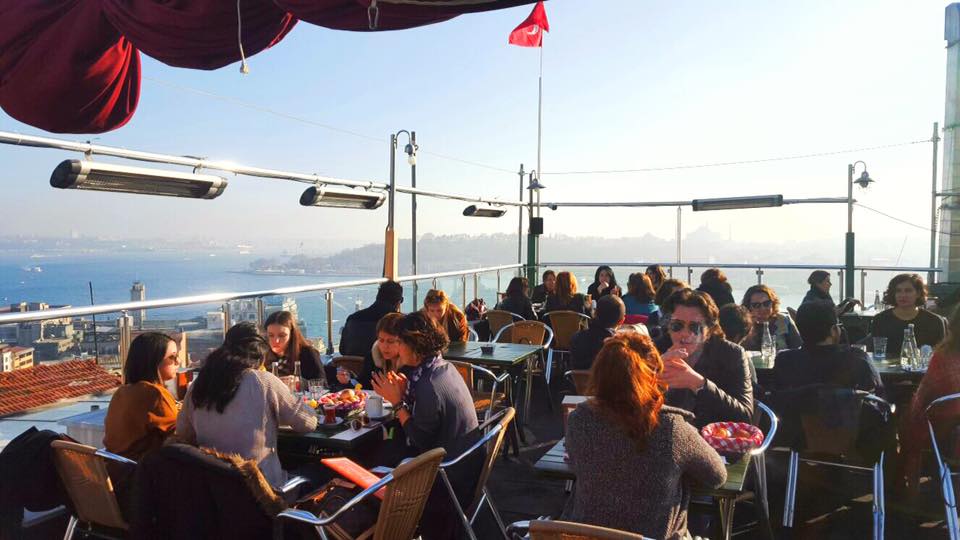 Coffee/Kahve
In addition to Istanbul's historical and cultural heritage, the city is a mecca for coffee-lovers. Here, you'll find a variety of cafés, both old and new, serving a plethora of coffee outlets with methods dating back to the Ottoman era to instant, sold in the city's chain stores and specialty coffee cafés.
Coffee was introduced to Istanbul via Yemen to the Ottoman Empire and quickly became popular with the ruling classes in the era of Sultan Süleyman the Magnificent. Later, the rituals and ceremonies surrounding coffee culture were perfected in the Sultan's palace.
The Ottoman coffee culture was later introduced to society and eventually, Europe. There are still some coffeehouses dating back to the Ottoman era operating in Istanbul, where you can experience a cup of authentic, strong, dark Turkish coffee.
Here are my top 15 picks for coffee café picks in Istanbul. While some of these locales provide the chance to experience history first hand, others are paragons of serenity, offering coffee aficionados a brief escape from hectic city life. Though you won't be able to visit all of them in a single trip, do try to sample a few–you won't be disappointed.
1- Galata Konak Café and Restaurant
The Aki family opened Konak Patisseries in 1975 in Nişantaşı. They are well-known for their crispy cakes and patisserie delicacies baked fresh daily. They broadened their scope in 2006, turning the place into a restaurant/café with a wider menu to include some international favorites. Galata Konak Café is located on a terrace roof–with seating for about 150 people–in the historic city center.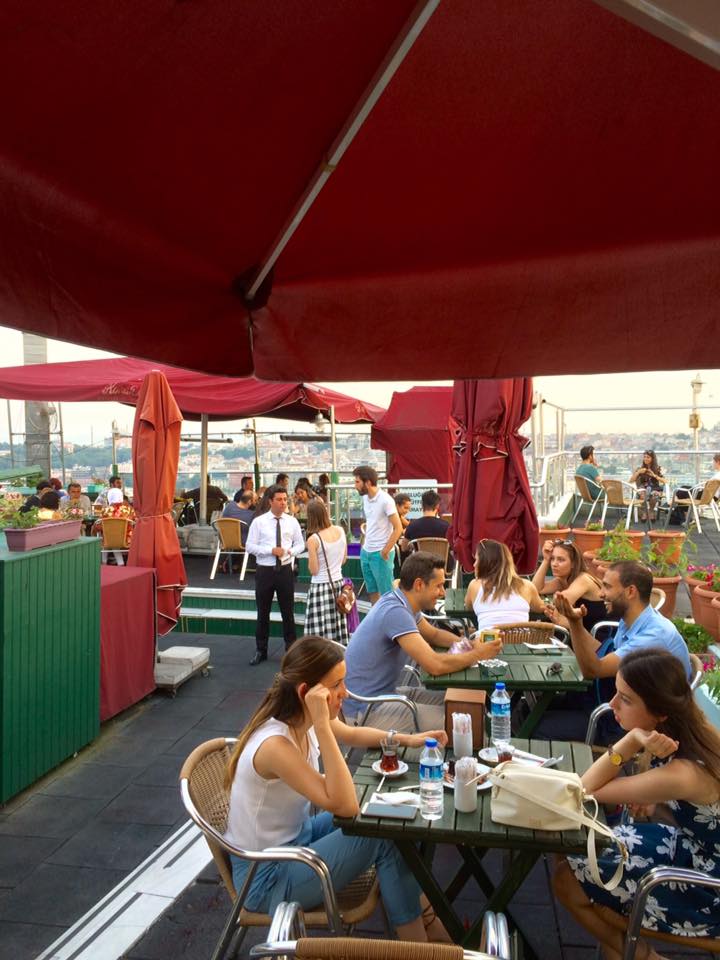 The terrace offers a magnificent 360-degree view of the Galata Tower, the Bosphorus and its bridge, the Golden Horn, and the Galata Bridge, which connects the peninsula to the five city hills, Tokapi Palace, Yeni Camii, Hagia Sophia, and the Süleymaniye Mosque. They are open from 8 am to 12 am, serving brunch on Sundays.
Beverages
Iced Mocha
Iced Latte
Frappe
Taze Sikma Meyve Suyu (Orange, pomegranate, apple, and carrot juice)
Caramel Macchiato
Mocha
Turk Kahve (Turkish Coffee)
Filter Coffee
Turkish Coffee with milk
Espresso Macchiato
Latte
Americano
Bitki ve Meyve Çaylar (Turkish herbs and fruit tea)
Karışık Bitki Çayı (Herbal tea with a French press)
Breakfast and Appetizers
Elma dilim Patates (Fried apple slices)
Patates Tava (Fries, potato platter)
Su Böreği (Cheese rolls)
Kaşarlı Gözleme (Melted yellow cheese and cherry tomatoes wrapped in Lavash)
Patatesli Gözleme (Baked potato and vegetables with cherry tomatoes wrapped in Lavash)
Beyaz Peynir Sandviç (Feta cheese, cherry tomatoes, vegetable sandwich with fries platter)
Kaşarli Sandviç (Yello melted cheese, tomatoes, herbs sandwich with fries platter)
Sahanda Sucuklu Yumurta (Scrambled egg with Turkish sausage)
Menemen (Turkish omelet with tomatoes, egg, and green pepper)
Peyniri Omlet (Cheese and egg omelet with tomatoes and cucumbers)
Breakfast Tray (Tea, jam, honey, bread, tomatoes, cucumbers, fries, egg)
Desserts
Çilekli Tartolet (Strawberry Tartlet)
Sufle
Triliçe (Triple flavors)
Katmer
Profiterole
Dilim Pasta (Chocolate, strawberry, and banana pie)
Brownie
Address: Bereketzade, Hacı Ali Sk. No:2, 34425 Beyoğlu/Istanbul
2- Çorlulu Ali Paşa Nargile
Residing in a school building built in 1709 and adjacent to Çorlulu Ali Paşa Mosque, this café is named for Çorlu's Grand Vizier Ali Paşa. Stepping into the historic atmosphere of this establishment will make you feel as if you have stepped back in time.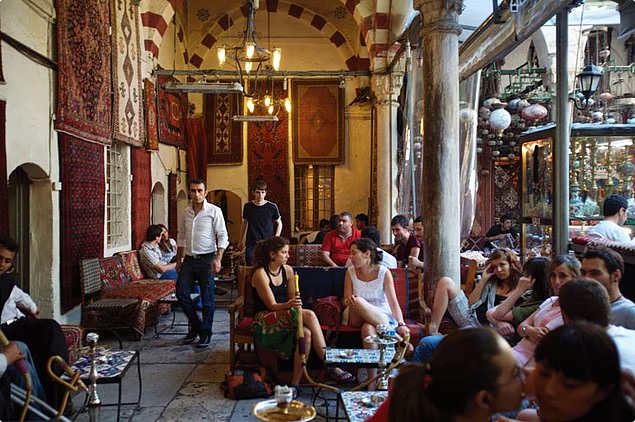 Once you enter the café, you leave the city behind. Inside, you will be met by the welcoming regulars and the warm ambiance. Many would argue this is the best place to smoke a water pipe or sheesha ("nargile" in Turkish).
Menu
Su (Water)
Soda
Çay (Turkish tea)
Türk kahvesi (Turkish coffee)
Nargile Çeşitleri (Traditional snacks with sheesha)
Address: Mollafenari, Yeniçeriler Cd. No:38, 34120 Fatih/Istanbul
3- Kronotrop Cihangir
Kronotrop Coffee Bar and Roastery aims to take specialty coffee up a level with light and fruity notes. More and more people are starting to appreciate the flavors of specialty coffees, which have become increasingly trendy, as more cafés pop up around the city.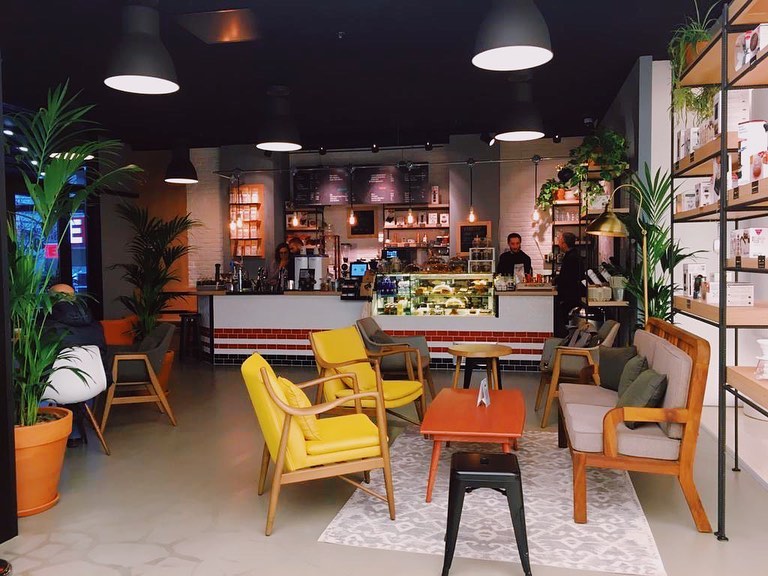 Starting out as a small, sidestreet coffeeshop in Beyoğlu, Kronotrop has quickly become a mecca for coffee enthusiasts. There are many options for customers to find a place, flavor, or atmosphere to their liking. Each shop uses its own unique blend of coffee, beans, and roasting techniques to develop a loyal clientele.
Hot Beverages
Espresso
Americano
Mocha
Latte/Cappuccino
Flat White
Cortado
Vegan Latte
Rooibos Cortado
Filter Coffee
Aeropress
Turkish Coffee
Chai Tea Latte
Turkish Tea
Cold Beverages
Affogato
Iced Vegan Latte
Espresso Milkshake
Nitro Brew
Coffee Kombucha
Iced Chai Latte
Orman fruit tea
Japanese Iced Tea
Desserts
Banana Cake
Granola and Yogurt
Apple and Carrot Cake
Walnut Brownie
Gluten-free Chocolate Cake
Vegan Cupcakes
Hazelnut Cookies
Address: Kuloğlu, Firuzağa Cami Sk. No:2/B, 34433 Beyoğlu/Istanbul
4- Mum's Café
With an atmosphere evolving the French Passage, Mum's Café also serves delicious homemade jams that are not to be missed while visiting Karakoy.
Their homemade milk jam is legendary on the streets of Istanbul. Created in-house in the café, the jam is available in cute, tiny jars if you want to take some home.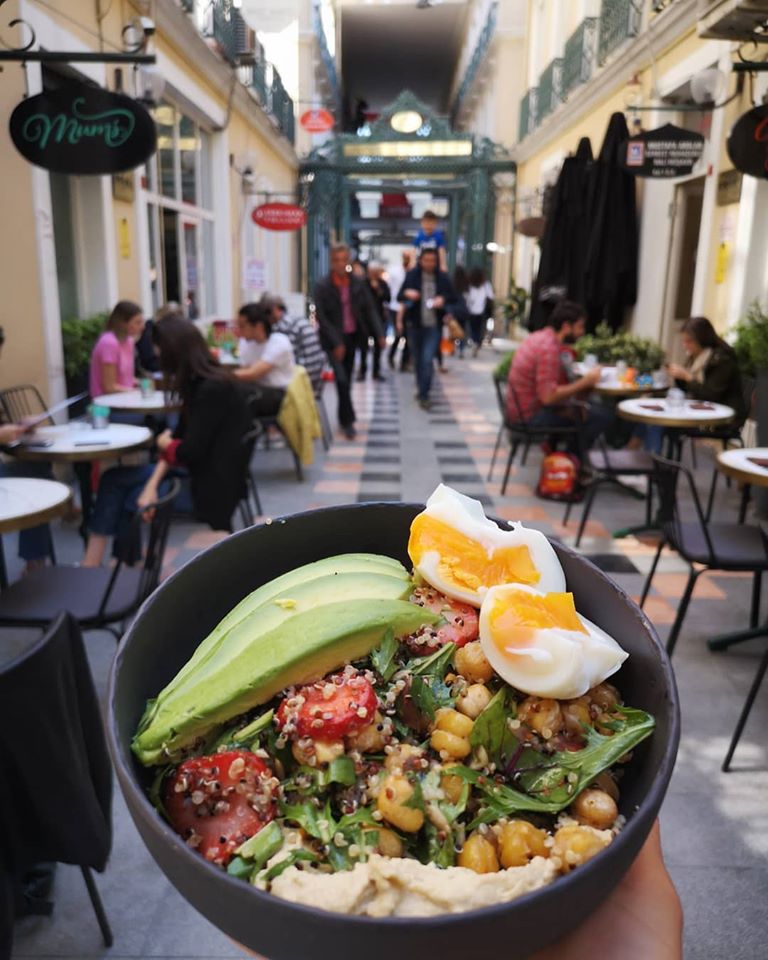 The smoked salmon and asparagus is perfect for those who love original flavors, and it pairs well with tea. Mum's menu is simple when compared to others. The owners' 15 years' experience in Sweden has played a large role in creating the space which caters to those caught up in a fast-paced lifestyle.
Mum's decor helps to create a more intimate atmosphere.
The continuous presence of Yıldız Dural's beloved mother at Mum's makes the place even more intimate. Where this café is concerned, Mum's is synonymous with "mother" and "flavor."
Breakfast
Protein Bowl (Hummus, quinoa, avocado, black beans, and fresh pistachio)
Egg Benedict (With or without bacon)
Sahanda Sucuck (Scrambled eggs and Turkish sausage)
Omelet
Chia Pudding
Kruvasan (Nutella, banana or cheese, cherry tomatoes)
French Toast
Menemen (Normal and cheese)
Smoothie Bowl (Fresh fruit, almonds, and fruit yogurt)
Sweet Banana Bread
Pytti Panna (Sausage, onions, eggs and baked potatoes)
Pistachio Hummus and Avocado (Eggs, bread, and onions)
Grilled onions and Spinach (Eggs and bread)
Food
Izgara Bonfile (Grilled meat, onions, and parsley)
Izgara Somon (Grilled salmon, parsley, and fries)
Vegan Burger (Quina, mustard, and spinach)
Chicken Schnitzel Burger
Grilled Chicken
Isveç Kofte (Potato puree with mustard and special sauce)
Caprese Sandviç (Mozarella, cherry tomatoes, lettuce, and pesto)
Somon Sandviç (Salmon sandwich)
Tuna Salad (Corn, black olives, cucumber, cherry tomatoes, red onion, lettuce, and olive oil)
Chicken Sezar Salad (Homemade sauce, parmesan, crouton, eggs, and cherry tomatoes)
Address: Kemankeş Karamustafa Paşa, Fransız Gç Sokağı 1/16-17, 34425 Beyoğlu/Istanbul
5- Fil Books Café
With space dedicated to books, coffee, cake, and workshops, this cross between a bookshop and coffee shop offers publications by artists, books on history, and the theory of photography, journals, independent publications, and cute accessories as well as great coffee. The concept of the Fil Café is to provide a place for people to meet while hosting workshops, artist talks, and panel discussions in addition to other group activities.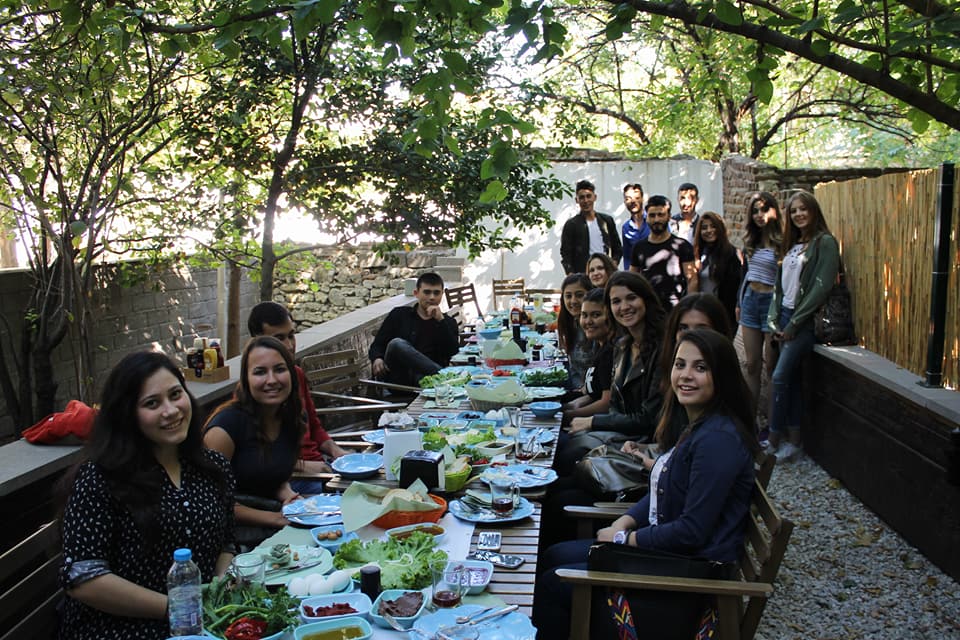 The Fil Café is designed as a collaborative space. Its main focus is photography and the philosophy behind the printed photographic image, but they are open to exploring other topics. They are primarily interested in giving talks and workshops by national and international artists, photographers, and publishers who come to Istanbul for book launches, screenings, pop-up events, fairs, and to participate in other projects. More importantly, Fil sells delicious coffee, cake, and sandwiches! 
Hot Drinks
Turkish Tea
Latte
Espresso
Mocha
Turkish Fruit Tea
Americano
Turkish Coffee
Roobios Tea
Lemon and Honey Tea
Hot Chocolate
Ristretto
Flat White
Red Velvet Latte
Fil Honey
Cold Drinks
Seasonal Fruit Juice
Red Fruits Smoothie (Yogurt, strawberry, cherries, and milk)
Yellow Fruits Smoothie (Pineapple, mango, yogurt, and milk)
Detox Power Smoothie (Cucumber, ginger, parsley, and lemon)
Affogato
Frappe
Homemade Ice Tea (Lemon, peach, or mango)
Frozen (Strawberry/Lemon/Apple/Blackberry/Melon/Blueberry)
Milkshake (Banana/Chocolate/Strawberry)
Breakfast
Fil Breakfast Tray (Boiled egg/Aged gouda cheese/Feta cheese/String cheese/Olives/Smoked turkey/Butter/Jam/Tomatoes/Herbs/Fresh fruits/Bread/Pretzel/Granola, and Turkish tea)
Pancakes (Chocolate, cream, fruits, syrups, yogurt, honey, or milk)
Cakes
Red Velvet
Chocolate Cake
Chocolate Cookies
Fresh homemade seasonal cake
Address: Kemankeş Karamustafa Paşa, Ali Paşa Değirmeni Sk. 1/1, 34425 Beyoğlu/Istanbul
6- Han Karaköy
Not only does Han Karaköy have a huge, exciting menu, but its also a charming spot if you want to feel the city's unique history. Here, you can explore the streets through photographic scenes depicting graffiti, colorful umbrellas, and stairs. The hosts always have a huge smile for patrons when they come through the old, giant gate at the entrance.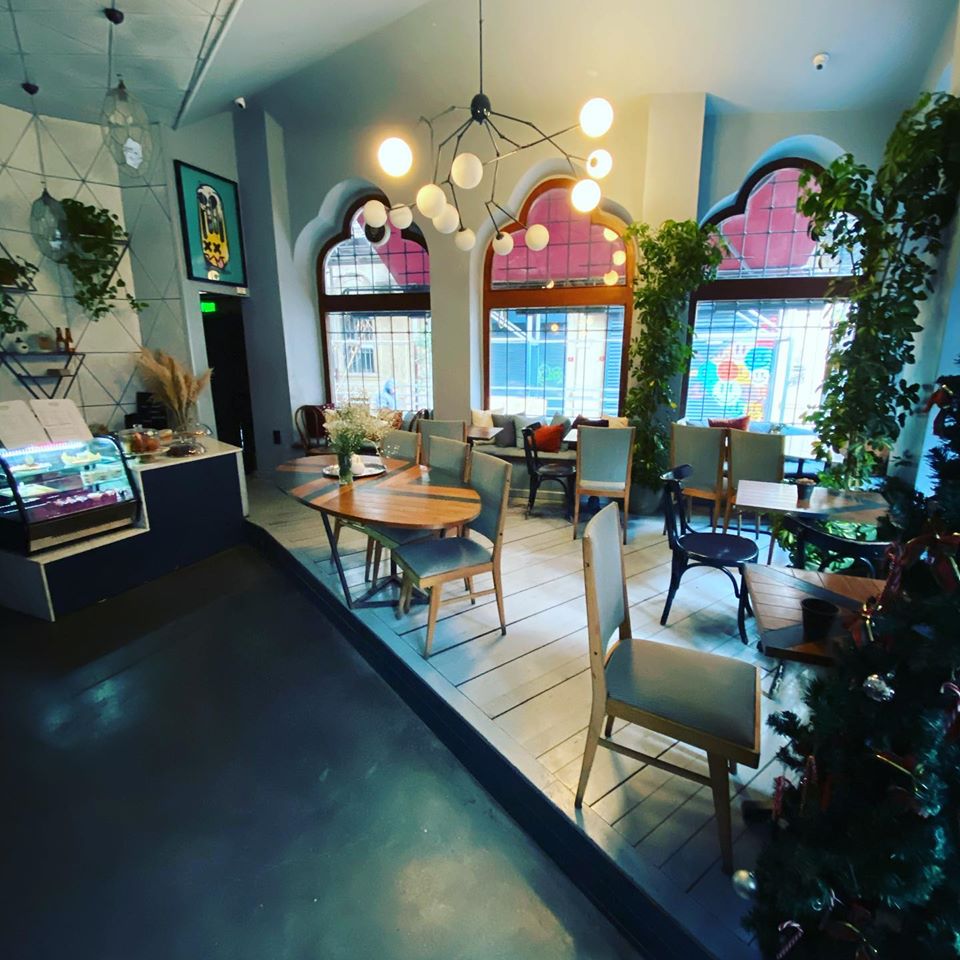 Each floor of the café has a different design. The entryway is spacious and bright, while the second floor will make you feel like you're at home. Seating–covered with soft, brightly colored fluffy cushions–is available beneath the long bank of windows, along with small coffee tables and chairs.
This is a great place to sit and read a book, enjoy the music they play in the background, or get lost in your thoughts, especially while drinking a cup of Han's hot herbal tea.
Breakfast
Menemen
Scrambled Egg
Tahini-Molasses
Grilled Haloumi Cheese
Scrambled Eggs with Turkish sausage
Hot Beverages
Jasmine Green Tea
Apple Tea
White Tea
Linden Tea
Honey Clove Tea
Blackberry Tea
Chamomille Tea
Sage Tea
Vanilla Latte
Hazelnut Latte
Turkish Coffee
Sahlep
Cappuccino
Flat White
Cookie Latte
Address: Kemankeş Karamustafa Paşa, Hoca Tahsin Sk. No:17, 34425 Beyoğlu/Istanbul
7- Forno Fırın
Forno is cozy and graceful, located in the lovely Balat neighborhood. On weekdays, enjoy the decor, which is designed to resemble a traditional bakery and lunch/dinner place of old. On weekends, celebrate with their buffet-breakfast, featuring local ingredients.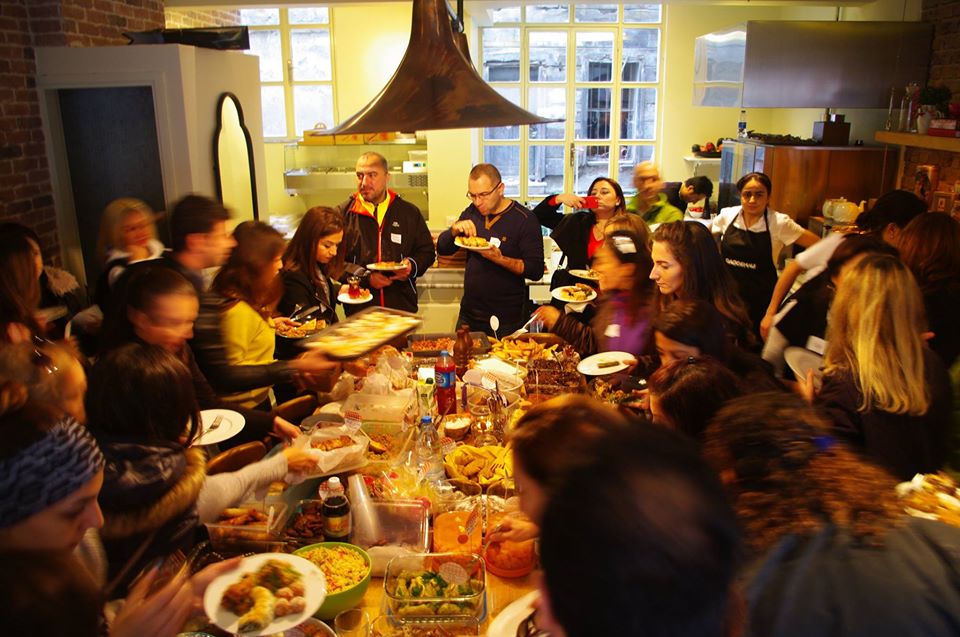 With a homey atmosphere away from the busy city of Istanbul, time seems to stand still in the Balat quarter, where Forno remains the place for people who love good things, authentic tastes, and quality ingredients. 
Breakfast
Buffet Breakfast (Butter croissants, warm pide, homemade bread, bagel, buffalo clotted cream, honey, organic jams, feta cheese, traditional Turkish kasseri, braided Turkish cheese, butter, green olives, black olives, olive paste, chocolate spread, muesli, fruit salad, olive oil, stone oven-baked eggs with toppings of your choice, and tea)
Alacarte Breakfast (Warm pide, homemade bread, cream, honey, organic jams, feta cheese, traditional Turkish kasseri cheese, braided Turkish cheese, butter, green olives, black olives, olive paste, chocolate spread, muesli, olive oil, stone oven-baked eggs with toppings of your choice, and tea)
Pide
A traditional Anatolian dish, boat-shaped dough, and toppings of your choice.
Pide with spicy Turkish Sausages and Black Sea Cheese
Pide with Special Sirloin Meat and Black Sea Cheese
Pide with Minced Meat, Tomatoes, Parsley, and Red Pepper
Mixed Pide with Beef, Sausages, and Cheese
Drinks
Homemade Lemonade with ice and Fresh Mint
Fermented Turnip Juice
Turkish Coffee
Cappucino
Homemade Ice Coffee
Address: Balat, Vodina Caddesi, Fener Kireçhane Sk. No:13/A, 34087 Fatih/Istanbul
8- Café Naftalin K
Café Naftalin K is a paradise for cat lovers. Here, you'll be surrounded by the purring creatures that want nothing more than to be petted by you–or ignore you if they aren't in the mood. They are cats, after all. In this vivid, spacious café, they serve great coffee, healthy juices and smoothies, and tasty snacks.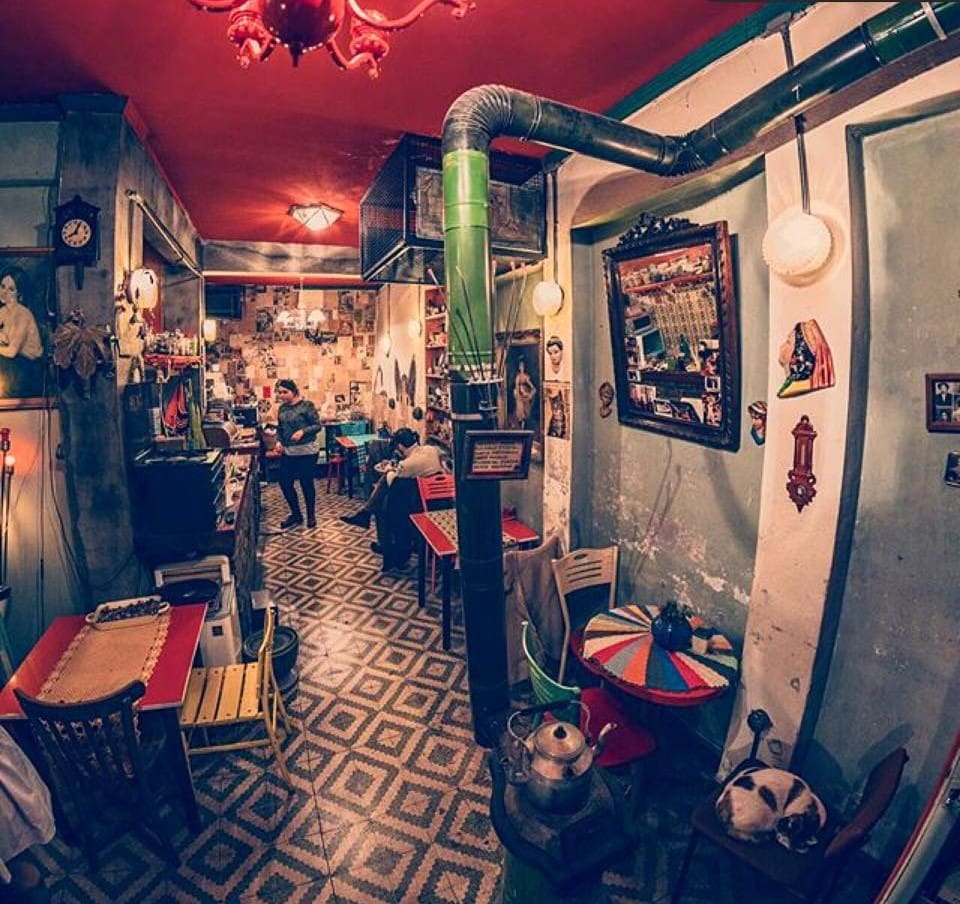 Though the menu is vegan and vegetarian, so the selection is limited to a few simple and popular vegan dishes along with a few innovative options developed in-house, Naftalin isn't just about the food. People go there to spend quality tie with friends in a hipster atmosphere, socialize, relax, and enjoy the crowd.
Drinks
Turkish Coffee
Latte
Espresso
Cappuccino
Flat White
Turkish Tea
Fruit Tea
Cold Brew
Mocha
Hot Chocolate
Iced Coffee
Apple Tea
Green Tea
Jasmine Tea
Pomegranate Tea
Food
Omelet
Toast (Tomatoes, cheese, and mint)
Naftalin Breakfast (Bread, cheese, mint, and tomatoes)
Grilled Stuffed Eggplant
Stuffed Green Pepper
Address: Balat, Yıldırım Cd. No:27/A, 34087 Fatih/Istanbul
9- Cooklife Balat
This little café is a must-try, given its delicious menu, chill atmosphere, and charming staff. Here, you can enjoy a traditional Turkish breakfast or European-style food. They serve the best smoothie bowls in the city alongside great artisanal coffee and an impressive lunch menu. The atmosphere is great for relaxing or socializing with the other guests and your friends.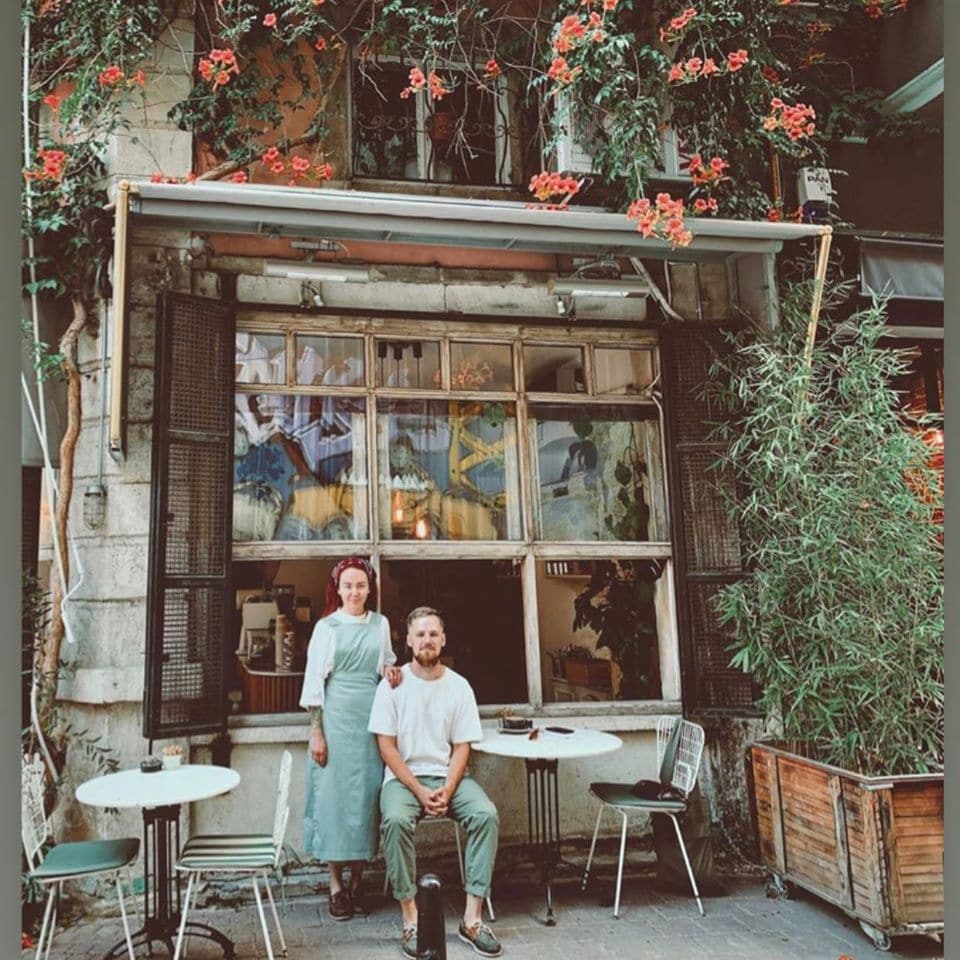 Cooklife Balat melds our interest in lifestyle and food. It's a known hangout for hipsters and artists from around the world, who gather in the bright, spacious, chic environment.
Breakfast
Croissants Breakfast (Two croissants, seasonal jam, and gouda cheese)
The Garden Breakfast (Cheese, olives, cream, butter, honey, jam, honey, eggs, hazelnut, cucumber, tomato, fruits, and tea)
Pancake with Forest Fruits
Egg Benedict
Omelet with Herbs
Norwegian Breakfast (Poached egg, salmon fillet, and special sauce)
Granola Bowl
Avoblanca
Scrambled Eggs with Sauteed meat
Turkish Egg Bread
Food
Zucchini Balls
Goat Cheese Balls
Goat Cheese Salad
Pesto Fettuccini
Beer Wheat Salad
Three Cheese Tortellini
Salmon and Avocado Salad
Smoked Rib Steak
Address: Balat, Akçin Sk. D:No: 3/B, 34087 Fatih/Istanbul
10- Cumbalı Kahve
Cumbalı Kahve exudes an air of informed Turkish coffee culture. They do not sell anything but coffee here–no tea, no breakfast…nothing but coffee and water; that and thehistory of the neighborhood of Balat.
Cumbalı Kahve is located on the corner of the street. Its design is elegant, and the books they sell will catch your attention right from the start. Most of the books are about Balat and coffee, such as Fener-Balat-Ayvansaray by Ahmet Faik Özbilge and Topraktan Fincana Kahve (Coffee from the Soil to Your Cup) by Cenk R. Girginol. Serhat.
Address: Ayvansaray, Kürkçü Çeşmesi Sk. No:12, 34087 Balat/Fatih/Fatih/Istanbul
11- Velvet Café
This small café has only five or six tables, but they serve an authentic Turkish breakfast. It is decorated like your grandmother's living room in the '60s, and has artifacts from the era on display, such as the owner's grandmother's wedding dress and antique teacups.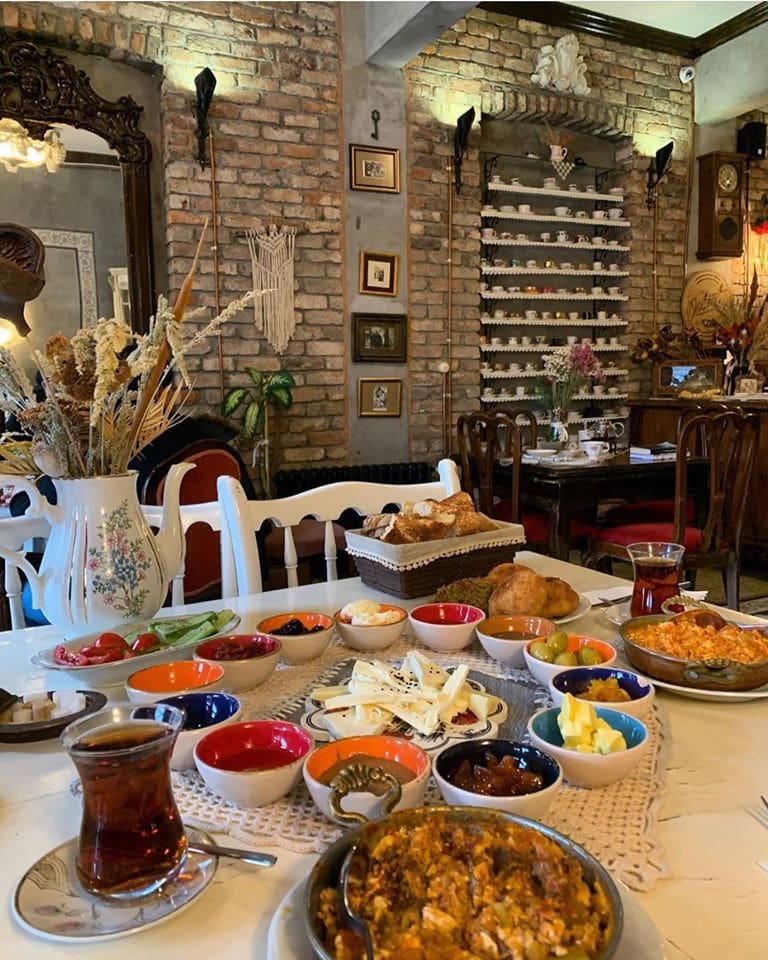 The interior is vivid and warm. The wooden doors and window coverings give the place a tinge of nostalgia to enjoy as you drink your favorite variety of authentic Turkish coffee.
Drinks
Turkish Tea
Turkish Coffee
Detox Smoothie (Apple, lemon, parsley, and ginger)
Filter Coffee
Hot Chocolate
Fresh Seasonal Juice
Latte
Food
Omlet ( Cheese, egg, and herb omelet)
Menemen (Scrambled egg, green pepper, and tomato)
Cheese Toast
Yogurt and Fresh fruit
Address: Büyük Hendek Cd kule Çukmazı S 7a, 34421 Beyoğlu/Istanbul
12- Montag Café Kadıköy
Established in November 2014 in the neighborhood of Kadıköy, Montag qualifies as both a coffee shop and roasting house. Montag's roasting philosophy ensures its roasters achieve "taste clarity," and this dedication is reflected in the beans' unique gastronomic properties.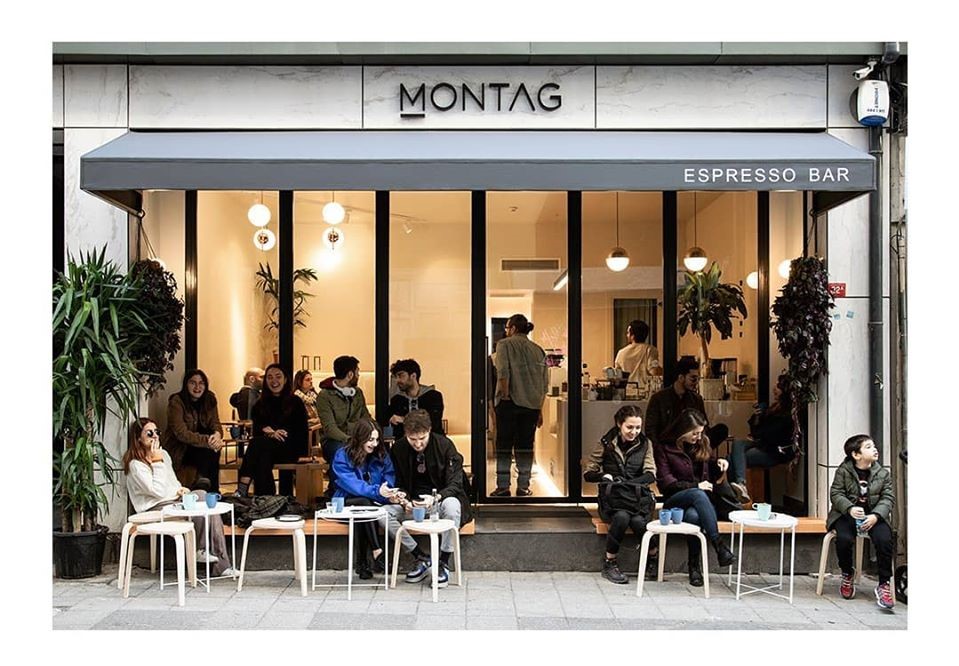 Montag knows what it's doing when it comes to top-quality beans, and clean, bright, aromatic, sweet coffee. This is the place to go if you want gorgeous bespoke, hand-roasted, drip coffee in Istanbul.
Desserts
Cheesecake
Cinnamon Roll
Brownie
Olive Salty Cake
Granola
Cookies
Beverages
Turkish Coffee
Latte
Flat White
Mocha
Cold Brew
Iced Americano
Ethiopian Coffee
Peruvian Coffee
Brazilian Coffee
Iced Chai Latte
Kombucha
Address: Caferağa Mah. Muvakkıthane Caddesi No:16/A D:Kat:1, 34710 Kadıköy/Istanbul
13- 180° Coffee Bakery
Feel the spirit of modern Istanbul here when you try the fresh daily milk or latte along with the lovely service. Pick your coffee here before setting out on your Sunday walk, or come in and settle at a table inside. The staff is friendly, they speak English, and they are more than happy to help you with tips or suggestions about what to order during your visit.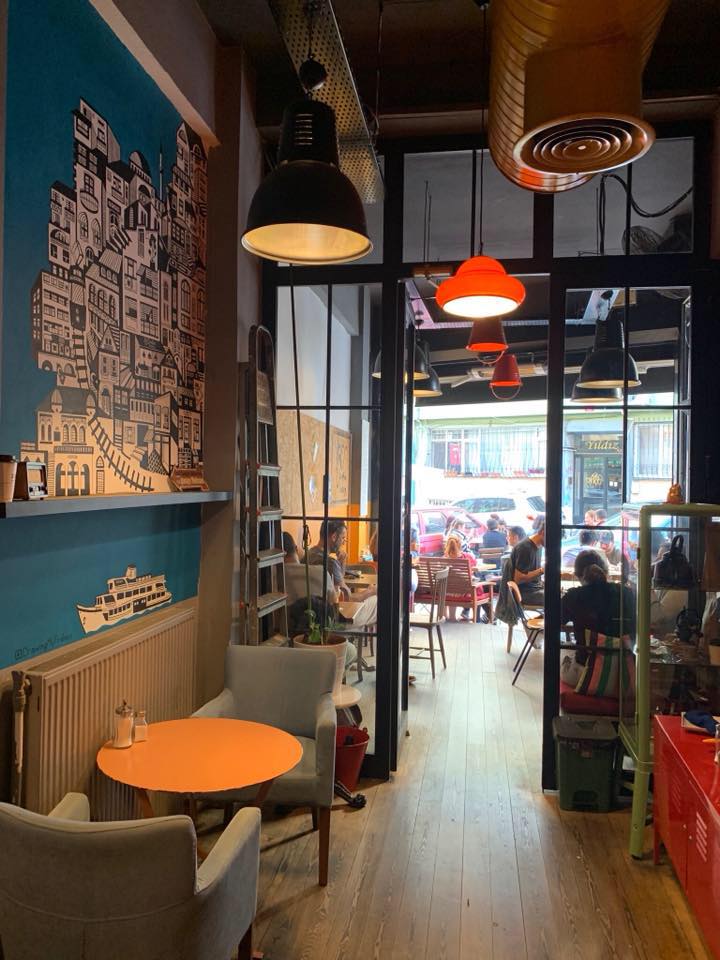 The menu has both Turkish and international items–remember: this place also serves bacon!
Breakfast
English Breakfast (Sausage, egg, mushrooms, beans, and bacon)
Eggs Benedict (English muffin, bacon, eggs, and a special sauce)
Eggs Florentine (Spinach, eggs, English muffin)
Avocado Mash (Bread, eggs, and herbs)
Avocado Scrambled Eggs
Croque Madame (Baloney, cheddar cheese, and eggs)
180 Eggs (Scrambled eggs and bacon)
Hash Brown Plate (Potato, Turkish sausage)
Egg & Bacon Muffin (English muffin and cheddar cheese)
Pancakes (Fresh forest fruits and honey)
Eggs & Hummus (Turkish sausage, special sauce)
Drinks
Cappucino
Latte
Turkish Coffee
Fuse Tea
Balm Tea
White Tea
Camomile Tea
Apple Tea
Jasmine Tea
Green Tea
Linden and Honey Tea
Caramel Mocha
Iced Chai
Address: Caferağa, Dr. Esat Işık Cd. Erdal Apt. 36/a, 34710 Kadıköy/Istanbul
14- Yer Café
One of Moda's coziest café, Yer Café's charm lays in its mismatched vintage furniture and framed local art. Let's not forget that the bathroom door is hidden behind a thick velvet curtain! Serving everything from breakfast,  midday coffee, and evening cocktails, this café also serves delicious Turkish comfort food.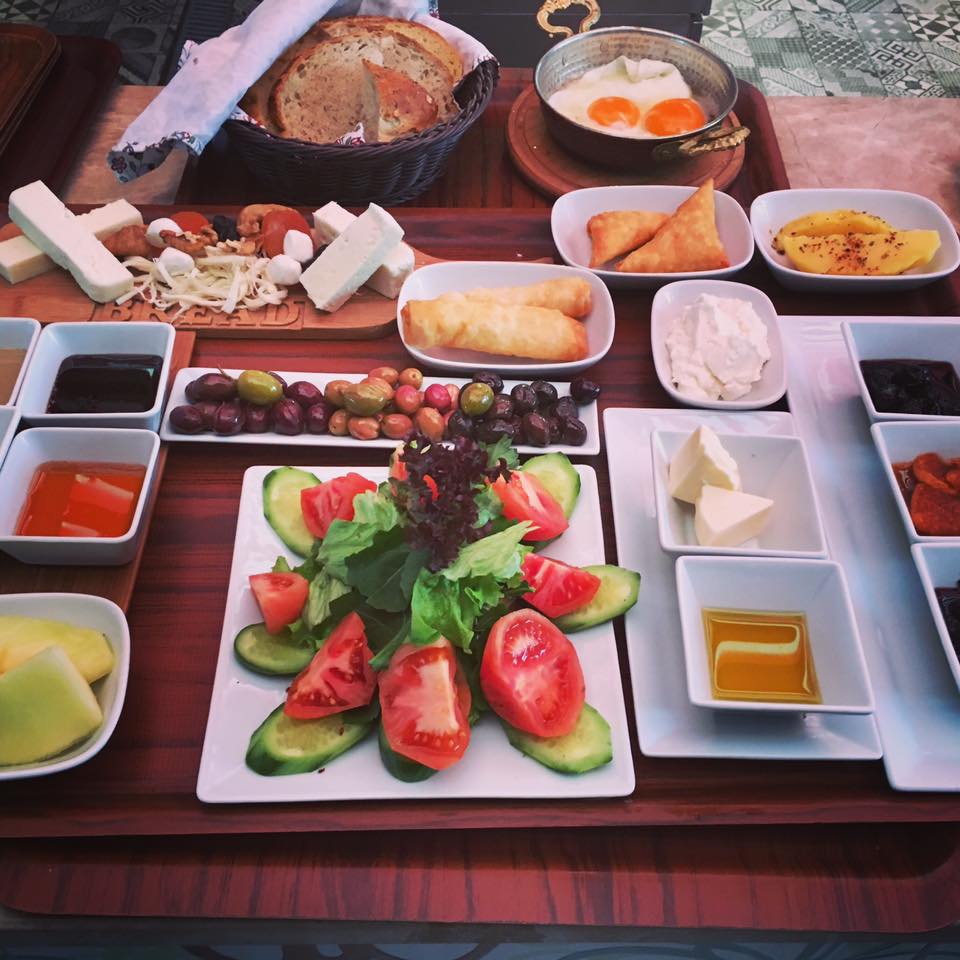 Moda has been called the coolest neighborhood on Istanbul's Asian side. This is evident in its abundance of hip boutiques, small cafés, and trendy restaurants, each of which contributes to Kadıköy's bohemian vibe.
Breakfast
Yer Breakfast (Olives/Eggs/Cream/Honey/Jam/Chocolate/Fresh fruits/Yogurt/Eggplant)
Hot Breakfast (Bacon/Cheese/Olives/Eggs/Hummus/Grilled mushrooms)
Egg Bread (Olives/Jam/Cheese)
Menemen (Turkish omelet with eggs, pepper, tomatoes)
Mushroom Plate (Grilled cheese/ String cheese/Tomato)
French Toast (Cheese/Vegetables)
Kreps (Hazelnut cream/Banana/Chocolate)
Food Courses
Grilled Chicken and Avocado
Spinach and Grilled Mushroom
Bonfillet Plate
Chicken Schnitzel
Salmon fillet
Bacon Burger
Quinoa burger and vegetables
Address: Caferağa, Ferit Tek Sokagi 25/A, 34710 Kadıköy/Istanbul
15- Blum Coffee House
This small coffee shop serves quality coffee and delicious and healthy bakery products, including sugar- and gluten-free options. The interior decor is charming, bright, and inviting, and it's hipster-meets-industrial vibe pairs perfectly with the health-conscious menu.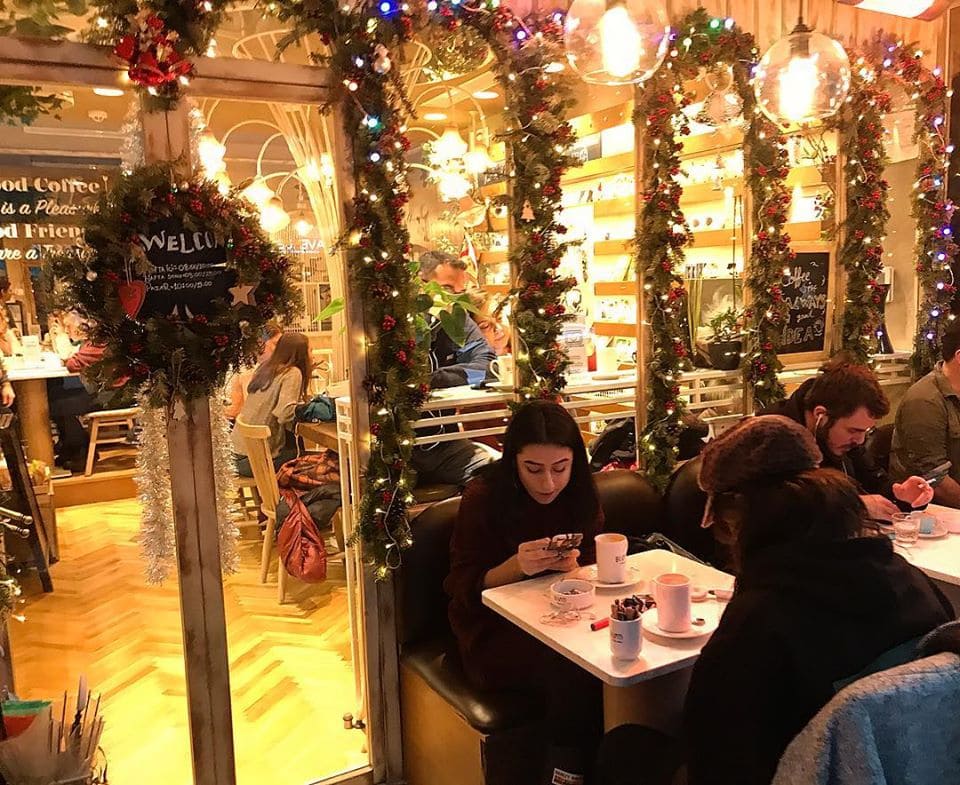 Blum Coffee House is located in Maçka near Nişantaşı. Here, you will find excellent service and reliable Wi-Fi in a quiet space that's distraction-free.
Given its swing chairs and other decorative features, Blum Coffee House is the perfect place for Insta-worthy photographs, sure to attract a ton of "likes."
Breakfast
Breakfast Tray (Tomatoes/Cheese/Egg/Cream/Chocolate/Butter/Bread/Jam/Honey/Olives/Fruits)
Indian Cheese Sandwich
Pretzel Cheese Sandwich
Blum Scrambled Egg
Kruvasan Cheddar Sandwich
Granola Dish
Drinks
Flat White
Espresso
Macho
Latte
Lavender Tea
Fruits Tea
Affogato
White Chocolate Mocha
Turkish Coffee
Turkish Tea
Milkshakes
Smoothies
Mushroom Latte
Address: Vişnezade, Süleyman Seba Cd. 64/A, 34357 Beşiktaş/Istanbul
Istanbul remains a popular tourist attraction. Though the city is always evolving, it continues to protect and preserve its cultural and social heritage. This ideal provides an infrastructure for new businesses–especially cafés–to emerge in the city that can be enjoyed by people of all ages. Enjoy!