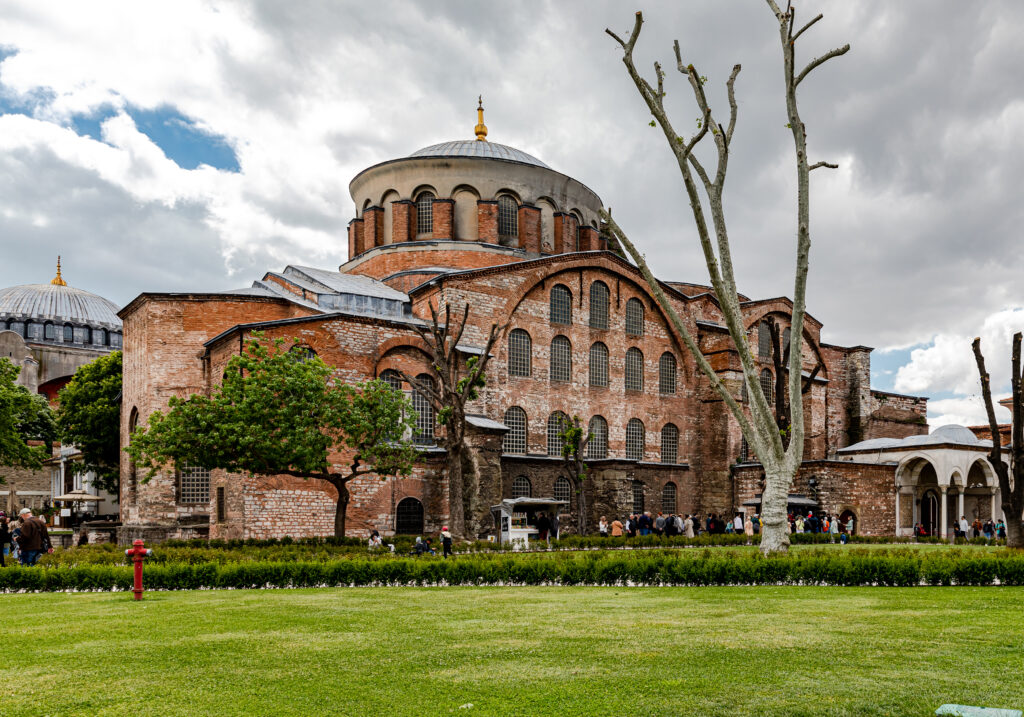 Welcome to the guide to one of Istanbul's hidden gems, the Hagia Irene. While overshadowed by its more famous neighbor, the Hagia Sophia, this historic church-turned-museum offers a unique and intimate experience for visitors. In this comprehensive guide, we will delve into the rich history of Hagia Irene, explore its architectural wonders, and provide practical information to help you plan your visit.
Brief History of Hagia Irene
The origins of Hagia Irene can be traced back to the 4th century AD when it was first built on the site of a pagan temple. Emperor Constantine I, the founder of Constantinople, commissioned the construction of the church. Over the centuries, Hagia Irene underwent various restorations due to earthquakes and fires. It survived the Nika Riot in 532 AD, which also led to the destruction of the Hagia Sophia.
What to See and Do in Hagia Irene
As you step inside Hagia Irene, you'll be greeted by its simplistic yet captivating architecture. The three-nave basilica layout, typical of Byzantine churches, exudes a sense of grandeur. Take a moment to marvel at the standing atrium, the only surviving example from the Byzantine period. Although the mosaics have been replaced during restorations, a large cross above the main narthex serves as a reminder of its past.
One of the highlights of visiting Hagia Irene is the opportunity to appreciate its exceptional acoustics. If you happen to be in Istanbul during the Istanbul Music Festival, make sure to attend a concert here. The combination of the historic setting and the captivating performances creates a truly unforgettable experience.
Practical Information
Opening Hours
Hagia Irene is open to the public from 9 am to 5 pm every day, except Tuesdays. Plan your visit accordingly to make the most of your time at this historic site.
Entrance Fee
To enter Hagia Irene, you will need a separate ticket as it is not included in the Topkapi Palace Museum ticket. The entrance fee is 120 TL per person if purchased individually. Alternatively, you can opt for a guided tour that includes the museum.
Location of Hagia Irene
Hagia Irene is conveniently located within the first courtyard of Topkapi Palace in Sultanahmet. If you're already visiting Hagia Sophia or other attractions in the area, it's just a short walk away.
Best Time to Visit
To avoid crowds and have a more intimate experience, it's best to visit Hagia Irene during weekdays, particularly in the morning or late afternoon. This will allow you to explore the museum at your own pace and fully appreciate its architectural beauty.
Insider Tips
Take your time to explore the museum and read the informative plaques that provide insights into the history and significance of Hagia Irene.
Don't forget to bring your camera to capture the unique architectural details and the serene atmosphere of the church.
If you're interested in classical music, check the schedule of the Istanbul Music Festival to catch a performance at Hagia Irene.
Nearby Attractions
While visiting Hagia Irene, take the opportunity to explore other nearby attractions. Just a stone's throw away, you'll find the iconic Hagia Sophia, renowned for its architectural splendor and historical significance. The Blue Mosque, with its stunning blue tilework, is another must-visit attraction in the area. Don't miss the chance to wander through the vibrant Grand Bazaar, where you can immerse yourself in the bustling atmosphere and find unique souvenirs.
Conclusion
Hagia Irene may be lesser known compared to its famous neighbor, but it offers a captivating journey through history and architecture. From its ancient origins to its transformation into a museum, this hidden gem in Istanbul invites visitors to explore its storied past. Plan your visit, immerse yourself in the serene atmosphere, and discover the wonders of Hagia Irene.
We hope you have an enlightening and memorable experience at this remarkable Istanbul landmark. Share your experiences or ask any questions in the comments below. Safe travels!
FAQ
Q: Is Hagia Irene included in the Topkapi Palace Museum ticket?
A: No, Hagia Irene requires a separate ticket for entry. The Topkapi Palace Museum ticket does not grant access to the church.
Q: Can I visit Hagia Irene on a guided tour?
A: Yes, guided tours are available that include a visit to Hagia Irene. This can be a convenient option to learn more about the history and significance of the church.
Q: Are there any restrictions on photography inside the museum?
A: Photography is generally allowed inside Hagia Irene. However, it's always best to check with the museum staff for any specific restrictions or guidelines.
Q: Can I attend concerts at Hagia Irene throughout the year?
A: While regular concerts are not held throughout the year, the best time to experience performances at Hagia Irene is during the Istanbul Music Festival, which takes place annually. Check the festival schedule for upcoming events.
Q: What is the difference between Hagia Sophia and Hagia Irene?
Hagia Sophia and Hagia Irene are two historic buildings located in Istanbul, Turkey. They are both important examples of Byzantine architecture, and they were both originally built as Christian churches.
Hagia Sophia (meaning "Holy Wisdom" in Greek) is one of the most famous and iconic buildings in the world. It was constructed between 532 and 537 on the orders of the Byzantine Emperor Justinian I, and it served as an Eastern Orthodox cathedral for nearly a thousand years. In 1453, following the Ottoman conquest of Constantinople, it was converted into a mosque. It remained a mosque until 1935 when it was converted into a museum by the Turkish Republic. In July 2020, it was re-converted into a mosque. The Hagia Sophia is renowned for its massive dome, its beautiful mosaics, and its overall architectural grandeur.
Hagia Irene (meaning "Holy Peace" in Greek) is less famous but still historically significant. It is believed to have been built in the 4th century, making it older than the Hagia Sophia. It was rebuilt by Justinian I after a fire in 532. Unlike the Hagia Sophia, Hagia Irene was not converted into a mosque after the Ottoman conquest. Instead, it was used as an arsenal and then as a military museum. Since the 20th century, it has been used as a concert hall due to its excellent acoustics. It's one of the few churches in Istanbul that never converted into a mosque.
Q: What is the purpose of the Hagia Irene?
A: The Hagia Irene was originally built as a Christian church and served as a place of worship during the Byzantine era. After the Ottoman conquest of Constantinople, it was not converted into a mosque as many other churches were. Instead, it was used for various purposes, including an arsenal and a military museum. Today, it is mainly used as a concert venue, due to its excellent acoustics, and as a museum.
Q: Is Hagia Irene a mosque?
A: No, unlike the Hagia Sophia, the Hagia Irene was never converted into a mosque. It is one of the few Byzantine-era churches in Istanbul that has remained a church throughout its history, although it has been used for various other purposes, including as an arsenal, a museum, and a concert venue.
Q: How to get to Hagia Irene?
A: Hagia Irene is located in the Sultanahmet district of Istanbul, Turkey, within the grounds of the Topkapi Palace. It's quite close to the Hagia Sophia.
To get there, you can take the T1 tram line and get off at the Sultanahmet stop. From there, it's a short walk to the Topkapi Palace and Hagia Irene. Remember to check the local transportation schedules and guidelines, as they may have changed.