As Alacati has many kinds of different activities, it also has a wide range of restaurant options to choose from. You can find every food you want within Alacati's eating options.
Even if the foods are a bit expensive here rather than its main city, Izmir, the foods here are delicious. The expensiveness of the foods are because of the attention that Alacati got over the past years. The more people came in, the more expensive it got. Sorry folks, we locals still love you!
In this article, you can find the most appealing restaurant options in Alacati. Enjoy!
1- One of the Oldest and the Finest of the Neighborhood: Tuval Restaurant Alacati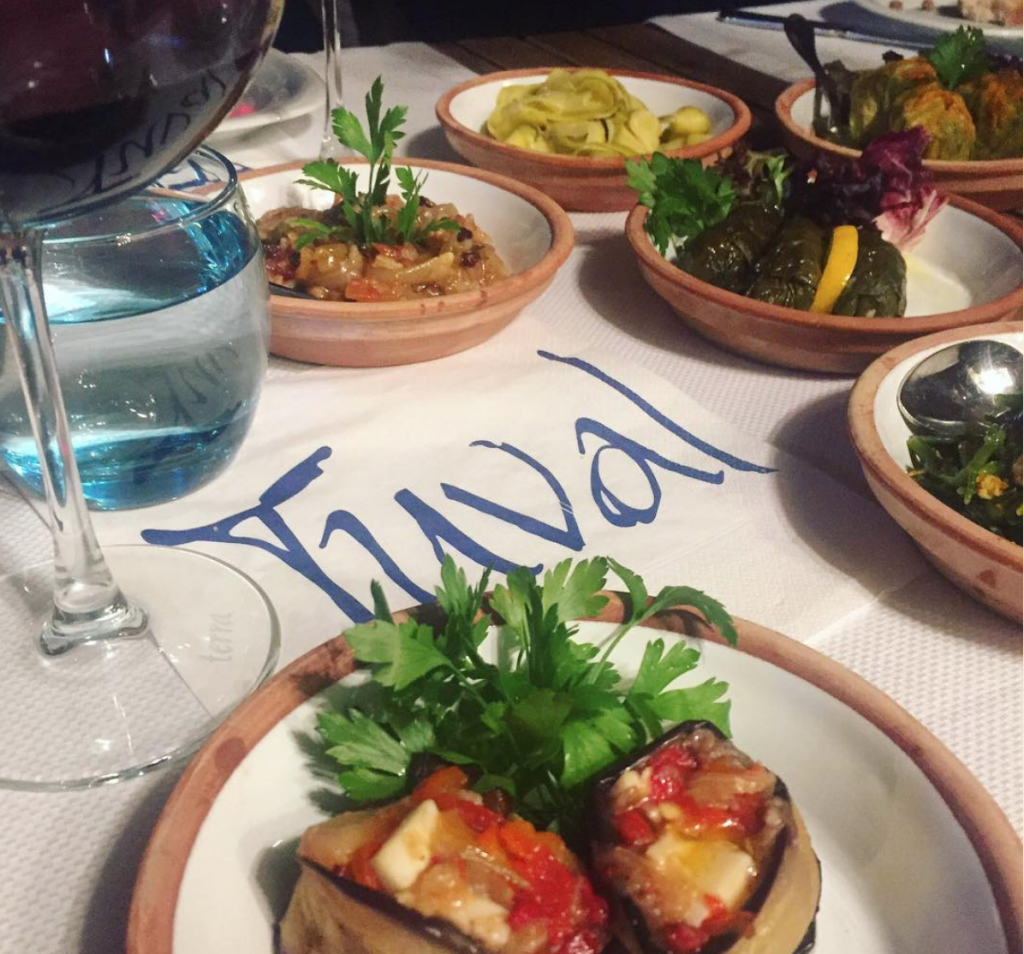 Tuval Restaurant is one of the oldest restaurants in the Alacati region. It has been serving in Alacati since 2002, during these years Alacati was not yet popular. That's why the first customers of this place are actually the locals of Alacati.
There is a small detail that distinguishes Tuval from other restaurants. Here they invest in staff.
For example, studies gourmet herbs in Turkey knows best Gokcen Island, or cooks experts from England, the experts recognized by Turkey from the famous wine brands such as Doluca and Kayra are providing training to businesses.
Of course, Tuval, which has not lacked anything from its service since the past, receives the award. Since its opening, Tuval continues to be a highly preferred restaurant in Alacati.
Another striking situation in Tuval is that they provide personalized service. The staff here keep track of your favorite food and drink. Thus, when you make your reservation, special preparations are made in the kitchen for your preferences.
Tuval's menu consists of a brand new cuisine adapted to the Turkish cuisine of the Northern Mediterranean. They are very famous for their specially marinated meats, especially their tenderloin, fajitas, lamb chops, and yogurt kebab, and they do not recognize any rivals.
You may have a delicious meal for $30 for two people.
Tuval is at your service every day from 11 AM to 2 AM.
Address: Alacati Mah. 12500. Sokak No: 46 Alacati / Cesme
2- Family Seafood Restaurant: Iyonya Restaurant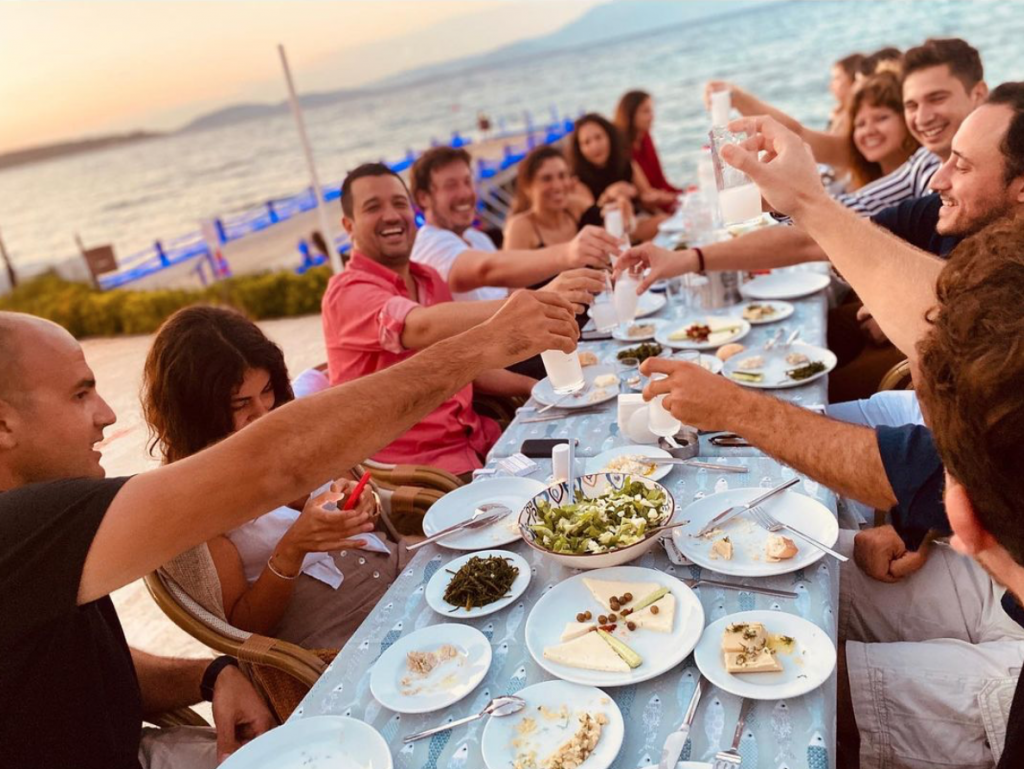 Iyonya Restarant is a nice family restaurant in Cesme. This place, like many Cesme restaurants, has fish and seafood cuisine, opened in the summer of 2019.
This place is located in the oldest sites of Cesme, Deniz 1, and Deniz 2 Holiday sites. It is located on the pier side of Deniz 1 Sitesi.
It is a nice choice for those who want to eat in a more isolated place with plenty of seafood, more affordable than other fishermen.
I recommend you to go to this restaurant especially during the sunset hours, it is an invaluable pleasure to consume delicious seafood in a calm and pleasant environment while watching the sunset against the sea.
You should definitely try sea bass in here. It will cost you around $20 to have a delicious fish meal in Iyonya Restaurant.
Address: Deniz Tatil 1 Sitesi Cesme / Izmir
3- Enjoy Your Meal with an Art in Kirmizi Ardic Kusu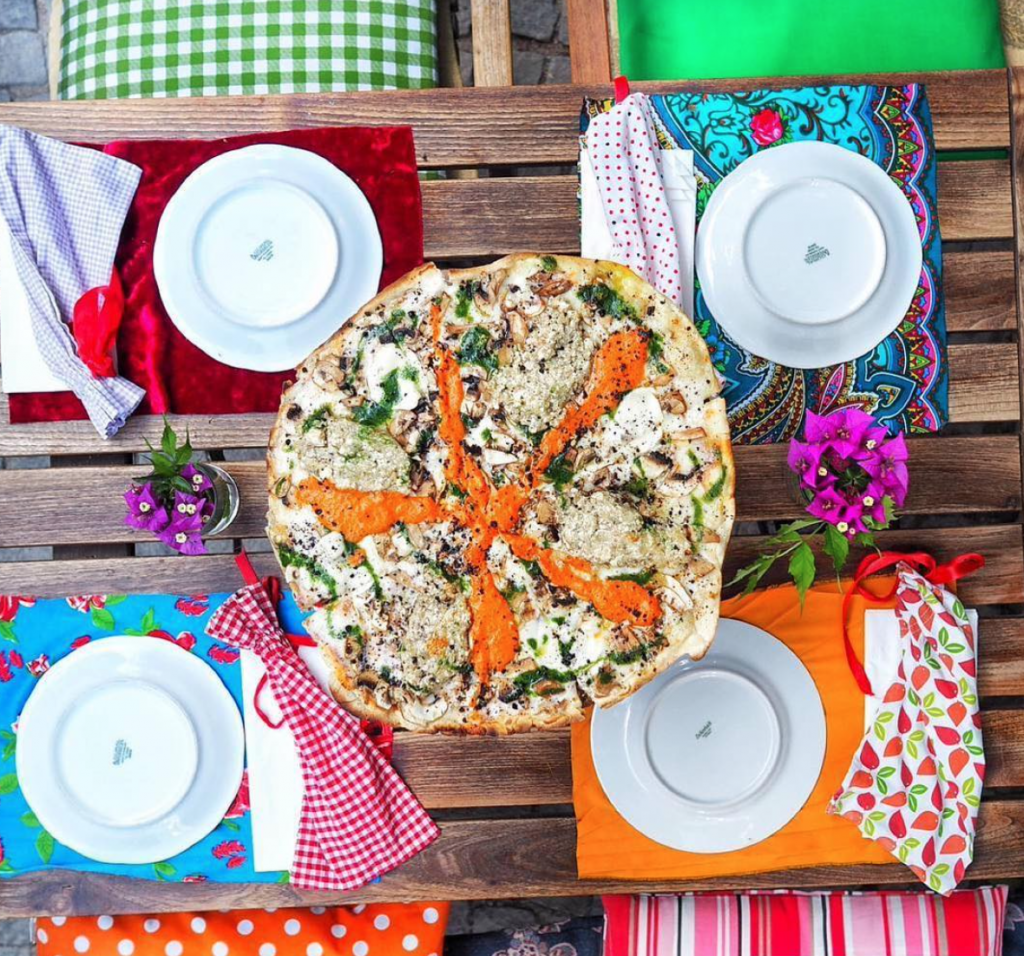 Have you ever seen a place that is both an art gallery and a restaurant? Maybe you've seen it, but I think it's pretty creative and unconventional.
Kirmizi Ardic Kusu Restaurant will welcome you with its red wooden door and friendly atmosphere. Here, the thing I particularly recommend you try is pizza.
You can find different kinds of pizzas here. Like with eggplant or BBQ chicken wings. Thin crust pizza lovers should meet at this point right away!
If you are looking for a chirpy, colorful, city center and lively but at the same time friendly place, do not forget to go to the Kirmizi Ardic Kusu. In fact, take a look at the art gallery, I think.
Your address for a beautiful meal full of art is Kirmizi Ardic Kusu Restaurant! It will cost you around $20 to have a tasty meal for two.
Kirmizi Ardic Kusu serves from 4 PM to 3 AM every day.
Address: Kemalpasa Cad. No: 96 No.96, Alacati / Cesme
4- The Best Combination of Soil and Water in Kapha
Kapha is literally a variant of the Ayurvedic diet. There are three different types of this diet; Vata, Pitta, Kapha.
The elements of the Kapha type are also soil and water. In fact, their slogans confirm my thesis, and when I enter their website, it says "From the ground and from the sea …" under the name of the restaurant.
Since this word is nutritional type, I don't know for sure, but I think the name of this restaurant comes from here. Kapha is a place with the fine-dining concept.
Both the main dishes and the starters are extremely delicious. Besides, their cocktails are delicious. Some customers even state that they leave the choice of food to the chef and that the chef makes choices in the style they love. I think it's a great talent, I appreciate it.
I say don't leave Alacati before you come to this musical and enjoyable environment. It has a wonderful atmosphere and you can eat different, original dishes that you can not eat anywhere else.
Kapha is open every evening from 8 PM to 2 AM. So the sad news is that this place can only be an option for dinner. It will cost you $35-40 per person.
Address: Alacati Mah. Cumhuriyet Caddesi No: 13 Alacati / Cesme
5- An Amazing Ambiance in Garden: 2 Kapi Restaurant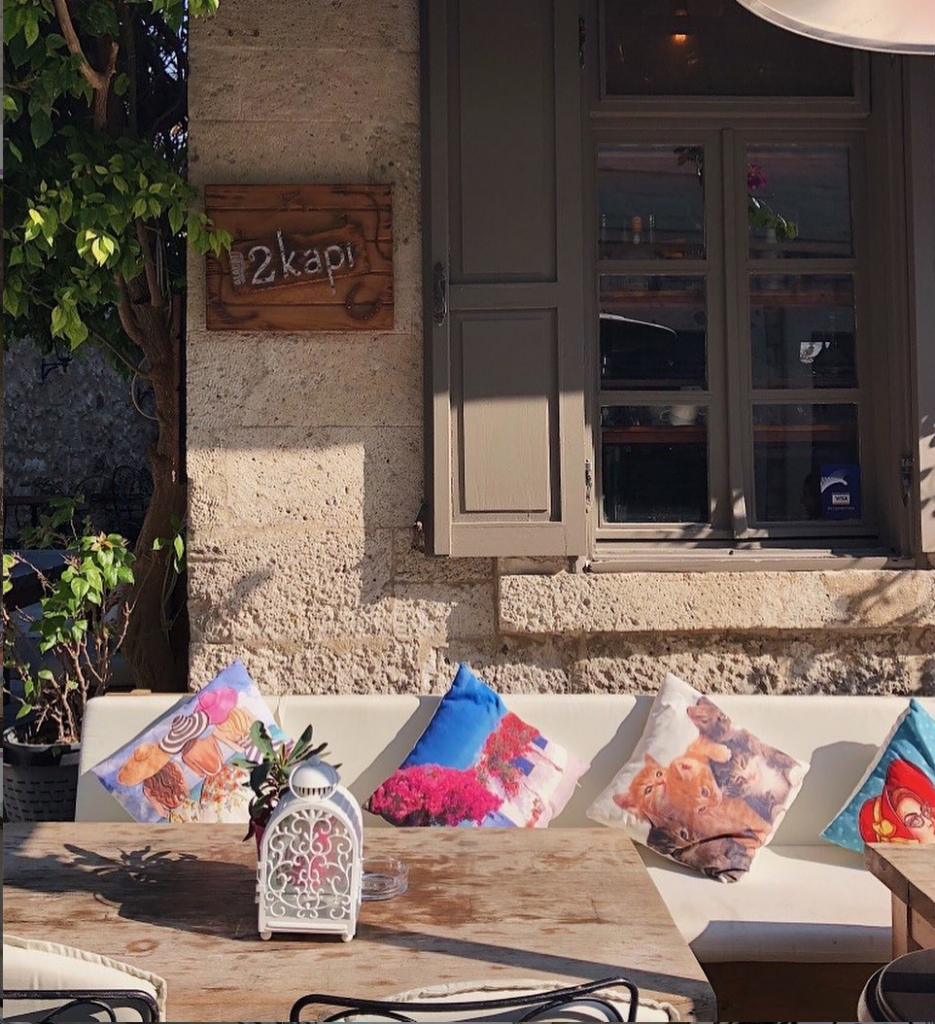 2 Kapi Restaurant is located in Hacimemis, one of the busiest neighborhoods in Alacati and has a very pleasant environment to sit in with its garden.
If you want to eat in Alacati and are tired of seafood, there are also delicious steaks here. But of course, since the most famous dish in this region is seafood, it is also available here, if anyone prefers it. It is a fact that the shrimp with kadayif is very delicious.
Apart from that, halloumi in vine leaves in the snack menu is also a highly preferred dish. I am sure that the music here and the sympathy of the employees will make you want to come again.
2 Kapi Restaurant opens at 12 PM from Monday to Thursday, and opens at 9 AM on the weekend. But the closing is the same every day, it closes at 2.30 in the morning. You can have great food by spending $20.
Address: Hacimemis Mah. 2012 Sokak No: 7 Alacati / Cesme
6- An Amazing Local Dine-out Place: Avula Alacati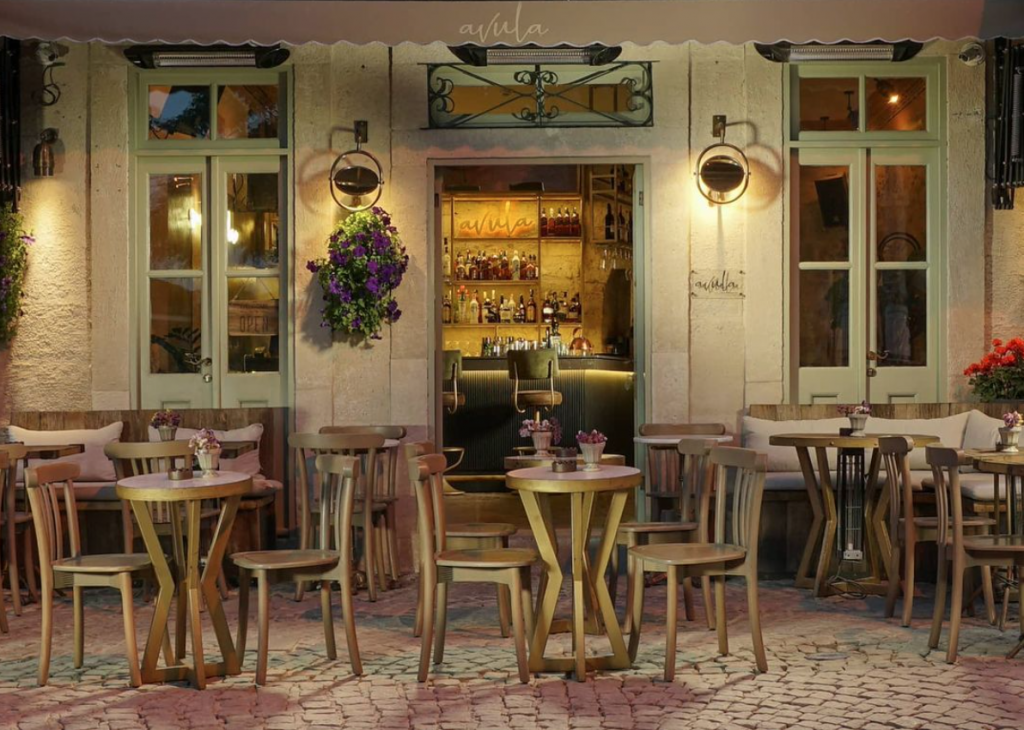 Avula Alacati is a successful restaurant and bar in the very center of Alacati, just like Paris cafes; It is one of the best places in Alacati with its interior design and friendly staff.
It stands out, especially with its cocktails. In addition, the gingerbread steak, one of its main dishes, is quite delicious and is not like the meat of the most famous steakhouses.
You can stop by Avula Alacati at any time of the day. For example, you can have breakfast in the morning, sip your coffee at noon, try alcoholic/non-alcoholic cocktails and have a nice meal in the evening.
Avula won the hearts of many visitors with its location in the center of Alacati and its backyard. This place is also ranked as # 1 on TripAdvisor as the best restaurant in Alacati right now.
You may have a great dinner in Avula Alacati for $15 per person.
Avula Alacati provides service from 8 AM to 10 PM every day.
Address: Kemalpasa Cd. No: 47 / A, Alacati / Cesme
7- Cheers People! in Perdix Wines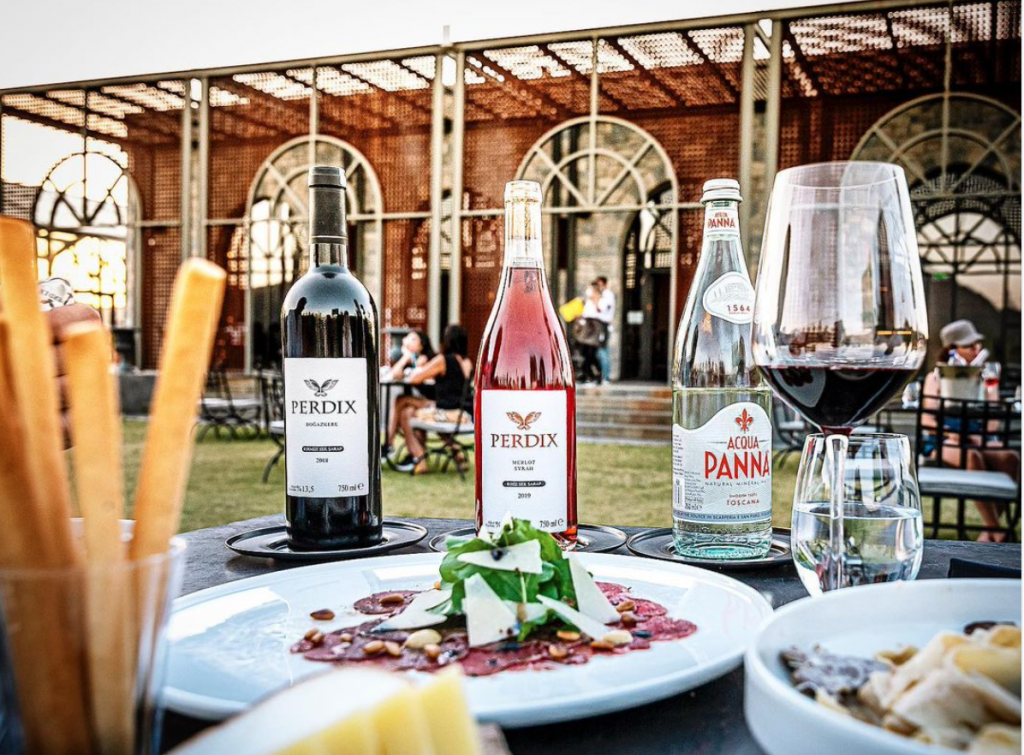 Perdix Wines is located in Urla's Zeytinler region. Urla is another summer place located about half an hour from Alacati. But it is quieter and calmer than Alacati.
Perdix Wines gave me an incredible experience with the impressive architecture of the place and the wines that remain on my palate, the flavors accompanying the wines, the friendly staff, and many more elaborate details.
They choose the word Perdix, which means 'partridge' in Greek, as the name for their own wines. Perdix Wines produces wine in a completely organic way from naturally grown grapes in 90 decares of vineyards.
The delicious, quality and long-lasting wines of this place are made from many grape varieties: Cabernet Franc & Petit Verdot, Bogazkere, Pinot Noir, Sauvignon Blanc, and Bornova musket.
Perdix Wines is so beautiful, especially at sunset, that it can be experienced inexplicably. I strongly recommend you to go here in autumn and winter, which are the best times of Urla.
You can experience a great appetizers with wine for $35.
But, don't forget to make a reservation before you go, that their kitchens are closed on Mondays and Tuesdays, and take some thick things on your way, it can be cold!
The place is open every day from 11 AM to 11 PM except for Mondays and Tuesdays.
Address: Izmir – Cesme Yolu No 14, Urla / Izmir
8- An Unforgettable Night on the Sand: Veranda Alacati
Veranda is a place with the raki-fish concept, which is very popular in Istanbul. This place opened in Alacati in 2018, when it became very popular in Istanbul.
Veranda has a wide and varied appetizer menu. It is one of the right places especially for those who like the cold appetizer concept! Among the cold appetizers, I recommend you to try Stuffed Stuffed Mussels, Cretan Zucchini, and Salmon Bacon.
If you say I like hot appetizers, there are many flavors you should taste. You should definitely try the Shrimp Saganaki, Crispy Ravioli, and Smoked Pacanga in Baklava Dough.
The biggest difference between Veranda from other raki-meze places in Cesme is that you can take off your shoes in the sand, dance for hours, and have fun. So it offers you a completely different experience.
There are two different fixed menus in Veranda Alacati. Standard Menu charges $40 per person, while Chef's Menu charges $47 per person. This place opens at 6 PM every evening and the entertainment continues until late at night.
Address: Alacati Mahallesi, Cark Plaji, Liman Mevkii, 18010 Sokak No:11,
Alacati / Cesme
9- Delicious and Different Seafoods in Fahri'nin Yeri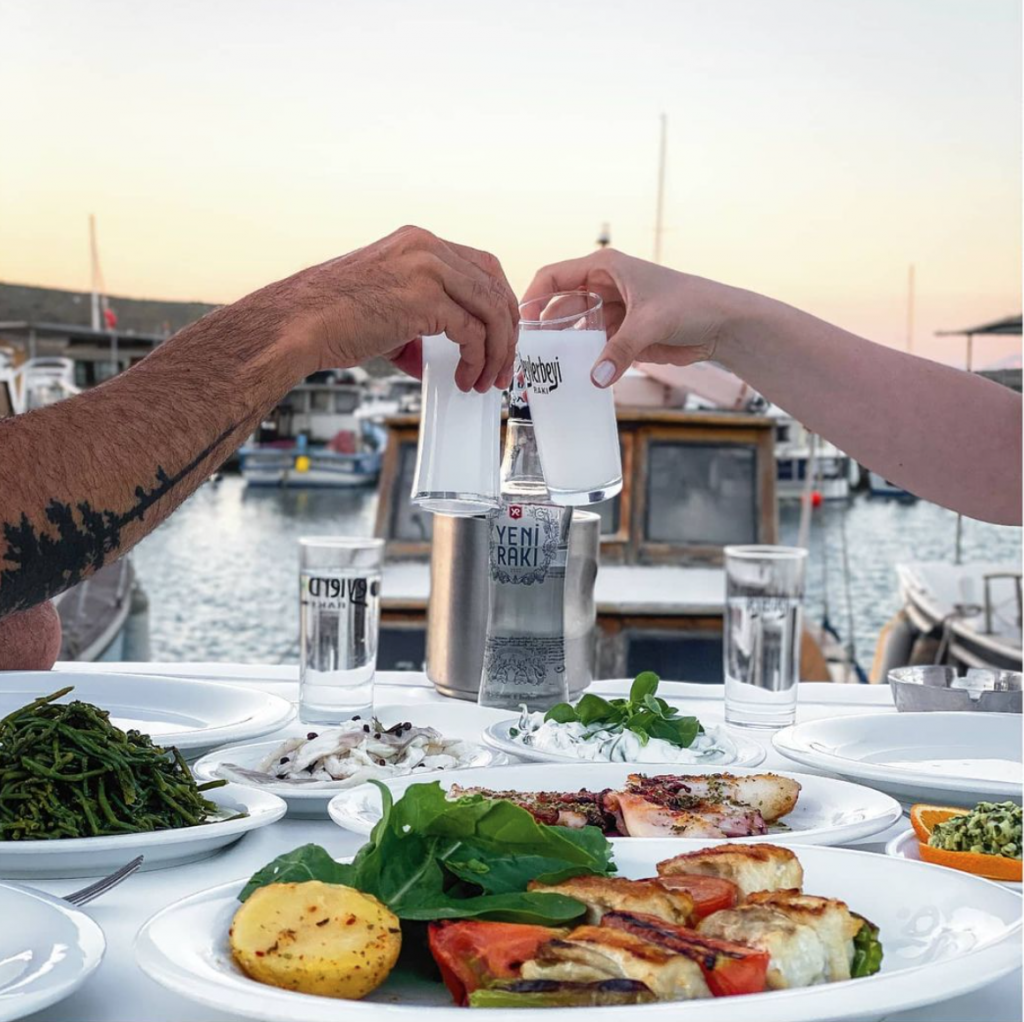 Fahri'nin Yeri is located in Port Alacati's Fisher's Port area. This is a family business that has been operating since 1993.
This place is a place that has been mentioned frequently in recent years. It became very popular in the Alacati region, especially with celebrities and influencers going here many times.
But of course, the reason why it is popular is its delicious food. Here you can find a wide variety of aperitif seafood. My favorites are; sea bass bagel and fried shrimp.
This place is a bit expensive than other fish restaurants but, believe me, it's worth it. Fahri'nin Yeri will cost you around $25 per person with alcohol.
Fahri'nin Yeri is located right by the sea and offers its customers a wonderful ambiance. The venue is open every day from 12 PM to 12 AM.
Address: Alacati Mah., Port Alacati Balikci Limani, Alacati / Cesme
10- Amazing Cocktails and Atmosphere in Kapari Garden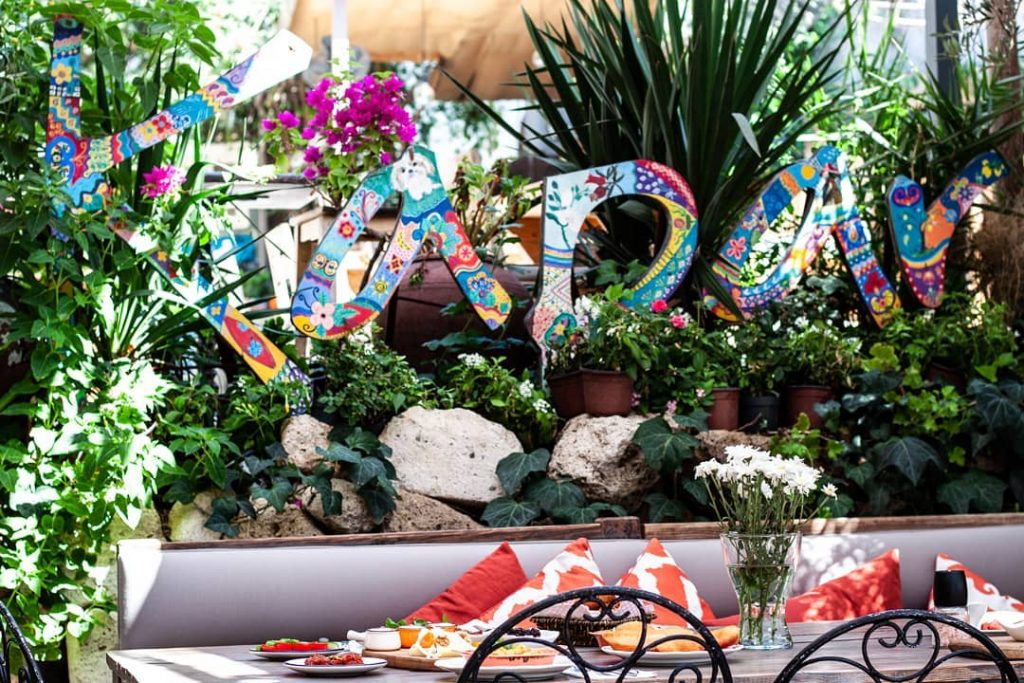 Kapari Garden is located in Hacimemis region, one of the most active areas of Alacati's center. As the name suggests, the entire space consists of an open space.
Here, there are 2 separate menus for lunch and dinner service. Kapari Garden is a Mediterranean cuisine restaurant with a selection of Turkish cuisine. Even they have a Turkish cuisine, their sushi is really famous, you should try it!
Since this place is only in the open area, it is generally preferred in the evening and in the evening rather than the midday heat.
Shrimp Saganaki, one of the Greek cuisine dishes, is one of the prominent dishes in Kapari Garden. Here, warm starters and main courses are more popular than cold starters.
I don't know if the variety of red wines at the place is a bit more than other wines, but especially red meat options are quite high on the menu. But I suggest you try their delicious cocktails!
Consider spending an average of $30 per person to have dinner at the restaurant. Kapari Garden is a little higher than the usual pricing of Alacati restaurants.
Kapari Garden opens at 12 PM on weekdays and at 9 AM on weekends, but the closing time is the same as 2 AM every day.
Address: Alacati, 2012. Sk. No:10, Alacati / Cesme
11- The Name Gives Us the Hint Where It's Located: Adi Memish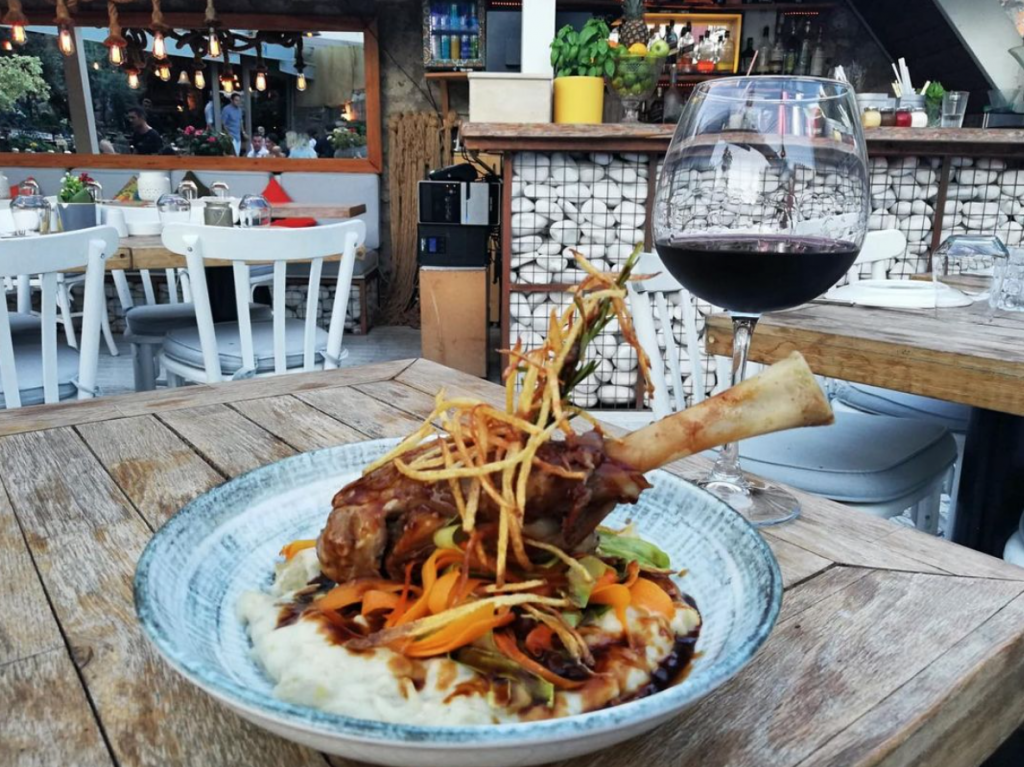 Another favorite of Hacimemis Neighborhood is Adi Memish Restaurant. Located at the entrance and the corner of the neighborhood, this restaurant opened 5 years ago.
Adi Memish, offering a variety of Mediterranean cuisine options, conquers everyone's hearts with its delicious dishes. You know, the road to the heart passes through the stomach, at least we Turks have such an expression.
Although the Hacimemis region is generally preferred during nightlife, Adi Memish is busy at all hours of the day.
So my advice to you is that if you decide to come here, you should make a reservation before coming here. Especially if you come during the summer season, I cannot think that you will find a place without reservation.
While you're here, you can choose to try the steak with Cafe de Paris sauce and sea bass on the piyaz. Besides, the cocktails are also very tasty, I recommend.
Consider to spend around $20 per person for a great night with alcohol.
Adi Memish is open every day from 12 PM to 2 AM.
Address: Hacimemis Mh. 2012 Sk. No: 5, Alacati / Cesme
12- A Local Place with Delicious Tapas: Dutlu Kahve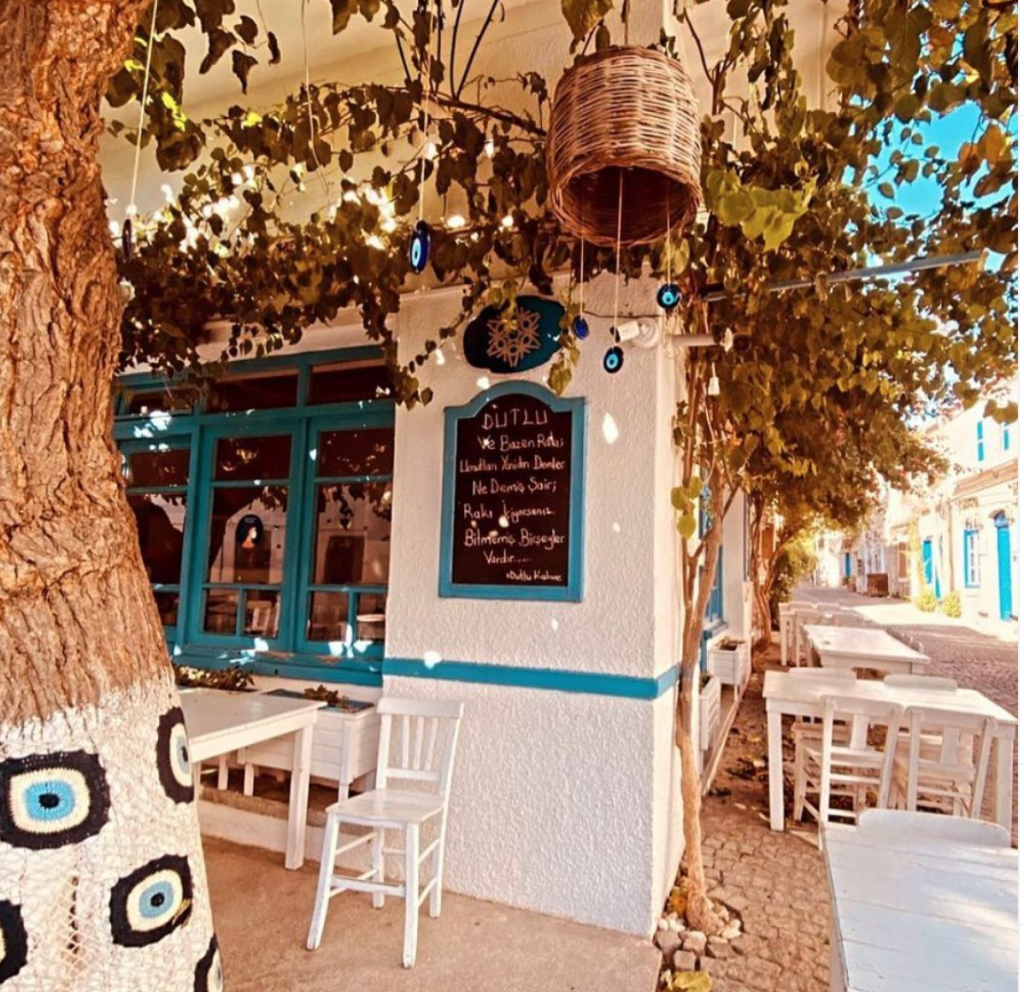 Dutlu Kahve looks like a tea garden with blue wide doors on both sides and small square tables in front of these doors. But it's actually a tavern in the evenings.
This place has really turned from a village tea garden to a restaurant. There is a large rectangular table indoors and another table where olive oil dishes are served at the open buffet. You can order the appetizers you want from here.
This place is located in Hacimemis region just like Kapari Garden.
Dutlu Kahve offers us a cozy atmosphere with its cute and low-key decoration, delicious olive oil dishes, and pleasant tavern atmosphere. Obviously, many people want to go again.
Their calamari and shrimp is worth to try. As Dutlu Kahve is a tavern, the food isn't really cheap but it's not really expensive either. You may spend $45 for two by having tapas and alcohol.
Dutlu Kahve is open every day from 11 AM to 4 AM.
Address: Alacati Mahallesi Hacimemis 12001 Sokak No:85, Alacati / Cesme
13- Burger Time in 1973 Eskiden Burger & Sandwich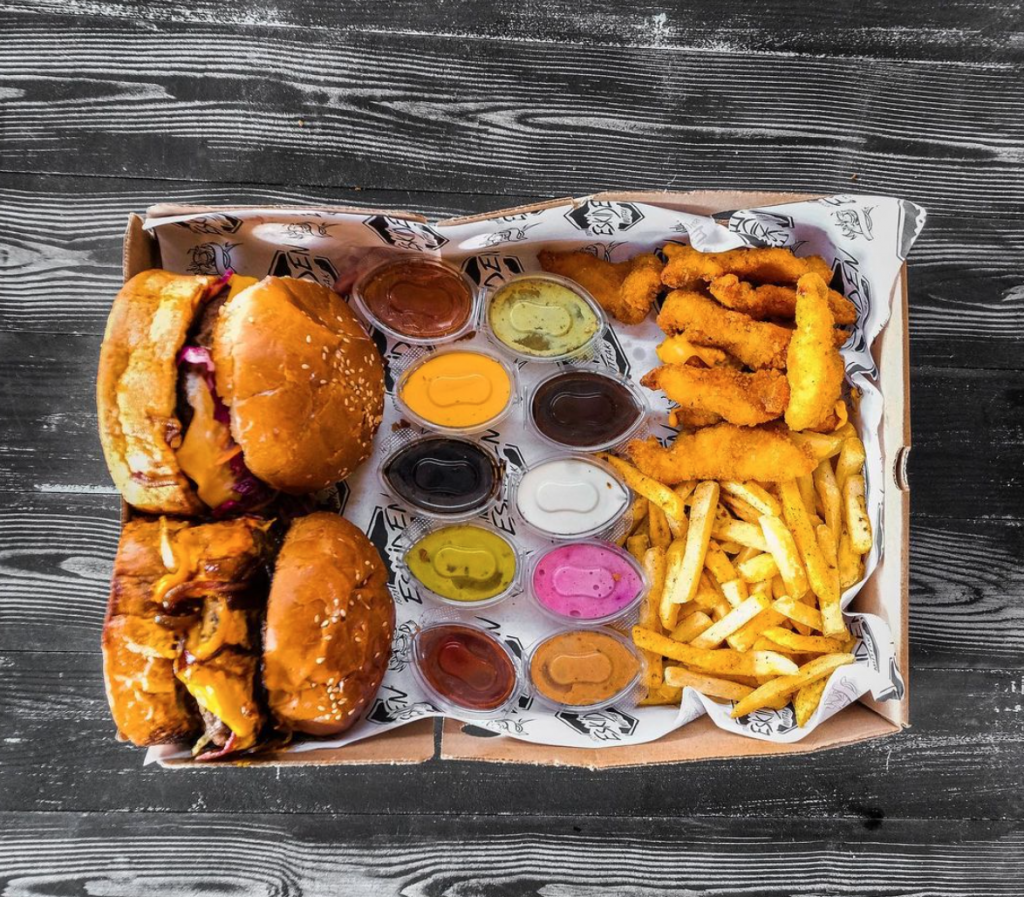 One of the fastest meals on the list is here! A choice that will make burger lovers happy will be the 1973 Eskiden Burger.
You ask why? As you know, Alacati is famous for its seafood because it is located near the sea. Therefore, it is very difficult to find places other than seafood restaurants. But I think this is the best burger place in Alacati.
Don't look for a burger, there are also food options like pasta and chicken with curry. But of course there are more types of burgers and their fries are also very tasty.
1973 Eskiden Burger will cost you around $10 per person by having a delicious hamburger and an alcohol-free drink.
It is located in the center of Alacati Bazaar. This place is open every day from 12 PM to 1 AM.
Address: 1048 Sok. No: 3E, Alacati / Cesme
14- Seafood, That's What it's About in Horasan Balik
Horasan Balik is located in the center of Cesme, in a house with citrus and lemon trees. This place is a fisherman but it can never be compared to classic fishermen. There are many different appetizers and fish here.
Ahmet and Kezban Horasan are the owners of the family business Horasan Balik. They also have a large kitchen where they moved. In the old place, there was a very little sitting area and the kitchen was small.
They show the worth of a great kitchen with their delicious dishes. Especially, grilled octopus, sea beans, pepper tarator, orange shrimp, zucchini tarator, and zucchini flower stuffed are great tastes which you should try as an appetizer.
Grilled Barbun and sea bass with basil is among famous main courses in here.
It is difficult to find a place in the summer season, especially forget the weekends. You have to make a reservation well in advance. Because it is a very popular and popular fisherman.
As an additional note; Unfortunately, we cannot pay by credit card here.
This place is also a bit expensive for Alacati standards but the food is worth it. It will cost you around $25-30 per person.
Horasan Balik provides service from 8 PM to 12 AM every day except Tuesday.
Address: Inonu Mahallesi, 2022. Sk. no:16, Cesme / Izmir
15- Let's get Those Tapas in the Middle: Ortaya Alacati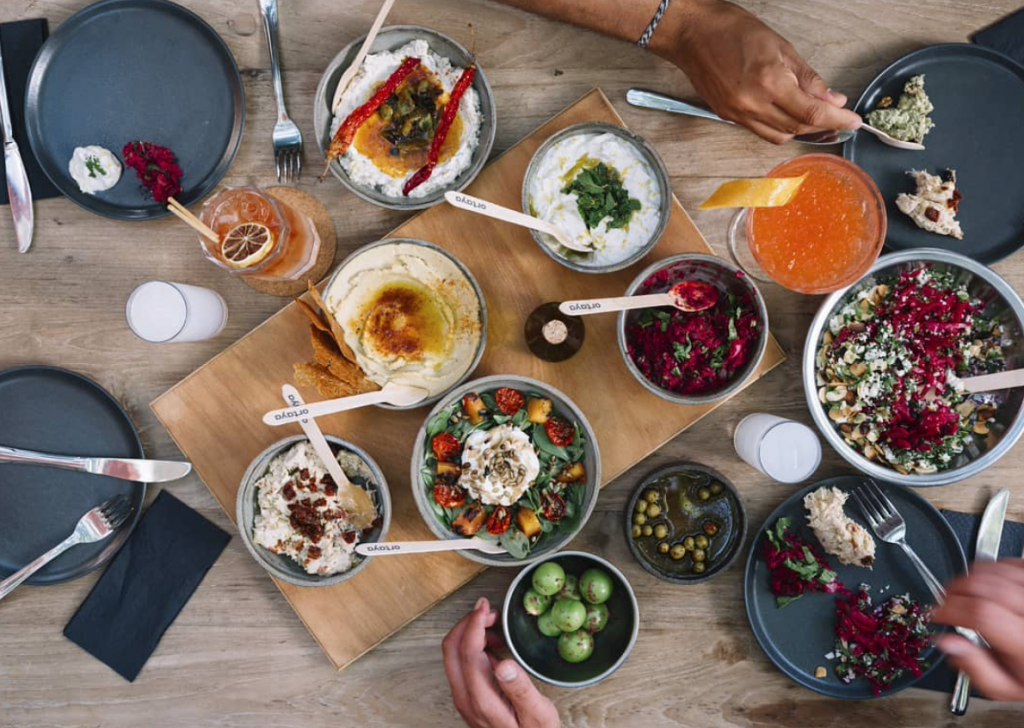 I came with a great advice for those who do not want to enter the crowded areas of Alacati!
Before you end your trip, you need to add this place to your list. With its simply designed menu, delicious appetizers, and meat dishes, Ortaya Alacati is definitely a place you should go.
Some customers also say that they have successfully adapted Turkish cuisine to the European taste. Actually, I think even that thought might be a reason for you to try this place.
The appetizers you order come to your table instantly and you have not only appetizers but also options such as meat meal and pasta. In fact, I have to say that seafood pasta is very successful.
But of course, if you are tired of seafood, I would like to say that Ortaya Alacati may be the right choice for appetizers and meat dishes, which are full of seafood everywhere in Alacati.
There are some different dishes in Ortaya Alacati such as goat cheese in baklava dough, which you need to try as it's famous!
Ortaya Alacati is open every day from 8 PM to 2 AM. Eating in Ortaya Alacati will cost you around $20 per person.
Address: Alacati Mahallesi, 12015 Sokak No: 6 Pasadayi Meydani, Alacati / Cesme
As a local of Alacati, I have mentioned some popular places to eat and to drink in the neighborhood. Maybe it already got your attention that I mostly shared fish restaurants for dinner. That's because Alacati's main specialty as food is kinds of seafood.
As a result, these are my recommendations for you to try during your trip to Alacati. I hope you liked it!