Top 3 Asian side tours we recommend:
#1 Best Overall Yacht Cruise: Bosphorus with Stopover on Asian Side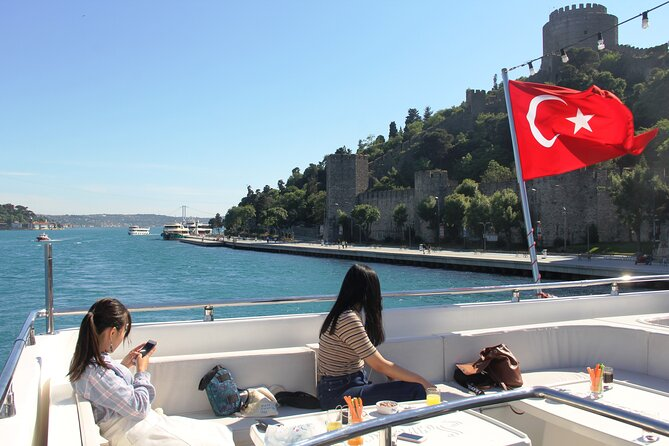 Starting your morning with an awe-inspiring cruise, watch the city wake up as you drift along the Bosphorus strait. Marvel at the architectural wonders grace Istanbul's skyline, such as the magnificent Blue Mosque and the opulent Dolmabahce Palace. As the yacht anchors at a lively area on the Asian side, take advantage of the opportunity to immerse yourself in local customs and traditions. This tour, perfect for families and culture enthusiasts, helps you maximize your time in Istanbul by showcasing a lesser-known side of the city. Every excursion element is designed for comfort and learning, ensuring an unforgettable experience of Turkey's timeless charm.
Why Join this Tour?
Cultural Immersion: This tour offers an opportunity to experience Istanbul's unique cross-cultural landscape, where the East meets the West.
Exclusive Vantage Point: Sailing on a yacht offers an unrivaled panorama of Istanbul's magnificent skyline, taking in sights like the Blue Mosque and Dolmabahce Palace.
Uncharted Territory: The stopover on the lesser-known Asian side of Istanbul offers authentic exposure to local culture and lifestyle, stepping off the typical tourist trail.
Family-friendly Adventure: The tour caters to all age groups, making it a perfect choice for families seeking to create shared memories.
Informative Guide: The onboard commentary ensures a richer understanding of Istanbul's historical and cultural context, enhancing the overall experience.
Time-efficient Exploration: The tour is designed to maximize your limited vacation time, offering a comprehensive overview of Istanbul's beauty and history.
Flexible Cancellation: The tour's cancellation policy allows participants to cancel up to 24 hours in advance for a full refund, providing added flexibility and peace of mind.
It amalgamates leisure and learning perfectly, promising an unforgettable experience of Istanbul's multifaceted allure. Whether you are a history buff, a culture enthusiast, or someone seeking a unique family adventure, this tour offers something for everyone, topped with the convenience of flexible planning. Don't miss the chance to witness Istanbul's full glory from a unique perspective and immerse yourself in its intriguing diversity.
#2 Asian Side of Istanbul: Uskudar and Kadikoy Full-Day Tour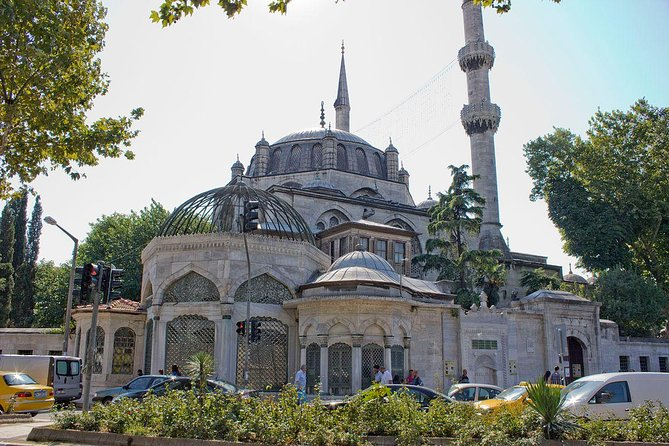 Delve into the vibrant culture and history of Istanbul's Asian side with our comprehensive full-day tour of Üsküdar and Kadıköy. This exciting journey begins with a ride on the Marmaray train beneath the Bosphorus, transporting you to a world away from Istanbul's familiar European side. First, you'll explore Üsküdar's splendid Ottoman architecture and dynamic fish markets. Enjoy a sumptuous 3-course traditional Turkish lunch before moving on to the trendy districts of Kadıköy and Moda. Stroll through bustling markets and immerse yourself in local life before concluding your day with a relaxing 20-minute Bosphorus cruise. Limited to 15 participants, this tour offers a personalized, intimate experience of Istanbul's lesser-known but equally charming Asian side.
Why Join the Tour?
Cultural Divergence: Experience the contrast between Istanbul's European and Asian influences, each side of the city offering its own unique flavor.
Historic Exploration: Discover architectural gems in Üsküdar, including marvelous Ottoman-era mosques and the Mimar Sinan bathhouse.
Local Cuisine: Enjoy a 3-course traditional Turkish lunch, providing a delightful gastronomic adventure.
Shopping Experience: Browse through lively fish markets and Kadıköy's bustling local markets, perfect for those seeking authentic souvenirs.
Trendy Neighbourhoods: Visit the stylish Moda district, an emerging hotspot of fashion and culture in Istanbul.
Breathtaking Cruise: Wind down your day with a tranquil 20-minute Bosphorus boat ride, taking in the beautiful coastal scenery.
Small-Group Advantage: With a maximum of 15 people, receive personalized attention from your guide, ensuring a richer experience.
The blend of history, culture, cuisine, and scenic beauty makes this tour a standout choice for those seeking to understand the soul of Istanbul beyond its typical tourist facades. With limited group size ensuring personalized attention and an itinerary covering a broad range of experiences, this tour is your ticket to the enchanting world of Istanbul's Asian side. Explore, taste, and shop your way through this captivating part of the city, all while gaining invaluable insight into Istanbul's multifaceted identity.
#3 Time to Stop by the Asian Side: Bosphorus Guided Yacht Cruise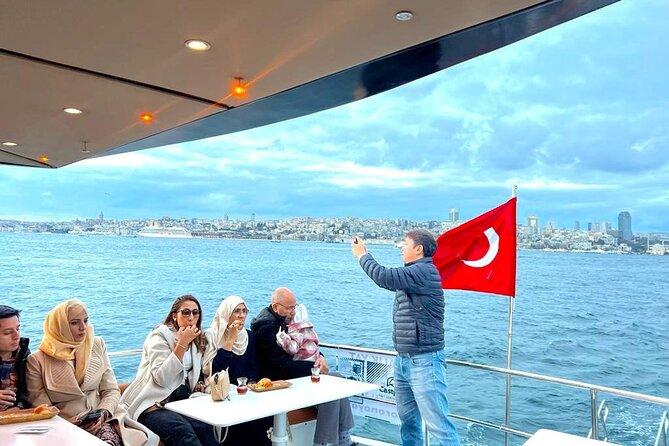 Experience the magical blend of east and west on the Bosphorus Guided Yacht Cruise with a unique stop on the Asian side of Istanbul. This 3-hour journey invites you to enjoy Istanbul's rich history and vibrant culture from a new perspective, right from the heart of its bustling waters. As you navigate the shimmering Bosphorus, witness the breathtaking sights of Dolmabahçe Palace, Bosphorus Bridges, Rumeli Fortress, and more. Additionally, the tour extends a unique opportunity to set foot on the Asian side, allowing you to savour the world's tastiest yogurt in a picturesque village, thus providing an extraordinary blend of scenic beauty, culinary delight, and historical depth.
Incredible Panoramic Views: On board the double-deck yacht, you'll enjoy unobstructed vistas of Istanbul's iconic landmarks such as Dolmabahçe Palace, the Bosphorus Bridges, and the Maiden's Tower.
Transcontinental Experience: Unique opportunity to traverse two continents in a single trip. The tour combines the best of the European and Asian sides of Istanbul.
Gourmet Delights: You'll get to savor the world-renowned yogurt in a charming village on the Asian side, enriching your culinary journey.
Historical Perspective: Gain an intimate understanding of Istanbul's history as you pass by majestic palaces and fortresses that tell tales of the city's illustrious past.
Unforgettable Photography Opportunities: With the constantly changing scenic backdrop, photographers will find endless opportunities to capture the city's beauty.
Guided Experience: This is a guided tour, ensuring you don't miss any significant highlights and providing you with enriching insights about the landmarks and Istanbul's history.
It's more than just a sightseeing tour; it's an intimate embrace of the city's history, culture, and geography. From panoramic vistas to culinary delights, this tour encapsulates the true essence of Istanbul. Whether you're a history enthusiast, foodie, photography lover, or curious traveler, this unique transcontinental voyage promises a captivating and memorable experience for all.
#4 Best Half-day Asian Side Tour: Small Group Tour on the Asian Side of Istanbul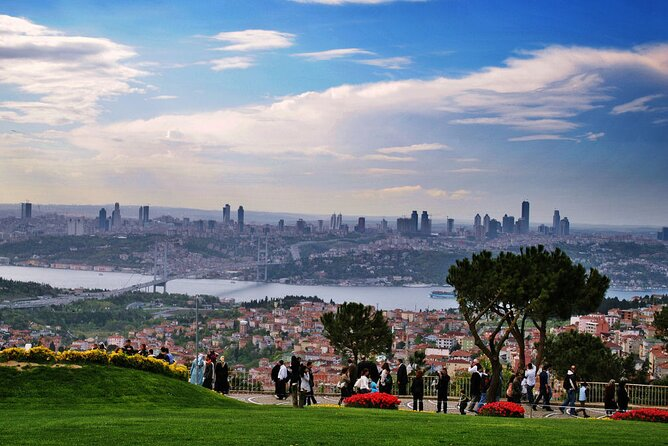 Immerse yourself in a unique fusion of history, culture, and modernity with our half-day Asian Side of Istanbul Tour. Starting with a scenic drive across the emblematic Bosphorus Bridge, the tour offers an unrivaled bird's-eye view of Istanbul from Çamlica Hill, the city's highest point. The tour then transports you back in time with a visit to the opulent Beylerbeyi Palace, a shining example of Ottoman grandeur. The journey concludes with a taste of Istanbul's contemporary pulse at Baghdad Street, known for its bustling boutiques and enticing cafes. As you explore the city with a local guide, you will truly absorb the rich heritage and vibrant rhythm of Istanbul's Asian side.
Why Join this Tour?
Panoramic City Views: A trip to the peak of Çamlica Hill offers an unmatched panoramic view of Istanbul, making it a haven for photographers and sightseers.
Architectural Beauty: Witness the engineering marvel of the Bosphorus Bridge and the opulence of the Beylerbeyi Palace, two iconic symbols of Istanbul's blend of modern and historical architecture.
Cultural Immersion: Navigate the energetic streets of Baghdad Street, experiencing the modern-day culture of Istanbul through its trendy boutiques and cozy cafes.
Guided Exploration: The presence of a local guide ensures a deeper understanding of the city's heritage, history, and lifestyle, making your visit more enriching.
Convenient Transportation: With pick-up included in the tour, enjoy a hassle-free journey to and around Istanbul's Asian side.
To conclude, the Asian Side of Istanbul Tour enriches the city's Asian quarter, revealing the vibrant contrast between its historic grandeur and contemporary charm. Whether you're an architecture enthusiast, history buff, or avid shopper, this tour promises diverse experiences to satisfy all interests. Through this journey, you will gain a unique insight into the rich heritage, dynamic culture, and captivating beauty that make Istanbul a city unlike any other.
#5 Best Private Guided Tour: 3-Day Istanbul European and Asian Side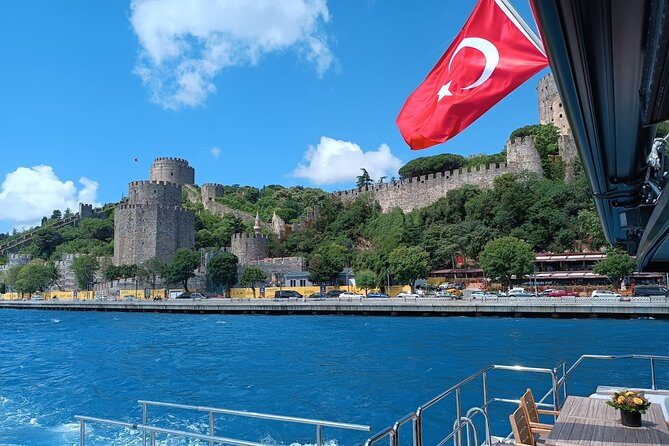 Step onto the allure of Istanbul through a comprehensive 3-Day Private Guided Tour that spans both the European and Asian sides of the city. Led by an expert guide, this immersive journey brings you to the heart of the city's most iconic landmarks, including the Blue Mosque, Hagia Sophia, Topkapi Palace, and the vibrant Grand Bazaar. As you easily traverse the continents, take the opportunity to marvel at the enchanting Bosphorus Strait and its surrounding attractions. This tour offers you the personalized experience of a private tour. It ensures a thorough overview of Istanbul's top sights, revealing corners of the city that often remain unexplored by tourists.
Why Join this Tour?
Comprehensive Exploration: With three full days to explore, you'll delve into the European and Asian sides of Istanbul, ensuring a well-rounded view of the city.
Personalized Experience: Being a private tour, you'll enjoy a more intimate, tailored experience, allowing you to engage with the city at your own pace.
Iconic Landmarks: You'll visit Istanbul's most notable attractions, such as the Blue Mosque, Hagia Sophia, Topkapi Palace, and the bustling Grand Bazaar.
Insightful Guidance: A personal guide will give you a deeper understanding of the city's rich history and vibrant culture.
Unique Views: The tour provides the opportunity to marvel at the mesmerizing Bosphorus Strait and the many attractions that border it.
This comprehensive journey provides a rare opportunity to deeply see, feel, and understand the city, allowing you to truly appreciate its historic grandeur, vibrant culture, and geographical uniqueness. Whether you're a seasoned traveler or a first-time visitor, this meticulously curated tour promises to enrich your Istanbul experience beyond expectations.
#6 Visit to Kanlica on Asian Side: Bosphorus Yacht Cruise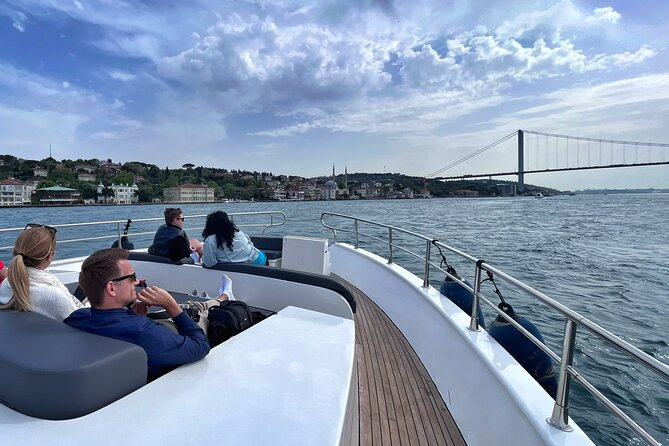 Indulge in elegance on the Bosphorus Yacht Cruise with a Visit to Kanlica on the Asian Side. This 2.5-hour journey offers a welcome escape from the bustling cityscapes, placing you amidst the tranquil rhythm of the Bosphorus. The small-group setting ensures a personalized and relaxed atmosphere. From the comfort of a luxury yacht, you'll gain a fresh perspective on Istanbul, appreciating its unique charm and beauty from the water. This sought-after cruise is more than a sightseeing tour; it's an opportunity to embrace Istanbul in a new light.
Why Join this Journey?
Luxury on the Bosphorus: The tour promises an exquisite journey on a luxury yacht, offering a sophisticated way to explore Istanbul.
Breathtaking Views: This cruise provides a fresh perspective of Istanbul's unique beauty, best appreciated from the waters of the Bosphorus.
Cultural Insight: The tour includes a visit to Kanlica, a quaint district on the Asian side of Istanbul, allowing you to delve into the local culture.
Intimate Setting: With its small-group design, the tour ensures a personalized and relaxed experience.
Escape from the City: This cruise provides a refreshing break from the hustle and bustle of big city life, immersing you in the tranquil beauty of the Bosphorus.
The unique vantage point offered by the cruise allows you to appreciate the distinctive beauty of Istanbul, while the visit to Kanlica offers a delightful dive into local culture. This tour is perfect for those who seek a relaxed, personalized, and stylish exploration of Istanbul, taking you beyond the typical tourist trail and offering a memorable journey on the enchanting Bosphorus.
#7 Istanbul Unleashed: A Fascinating 2-Day Exploration of History and the Asian Side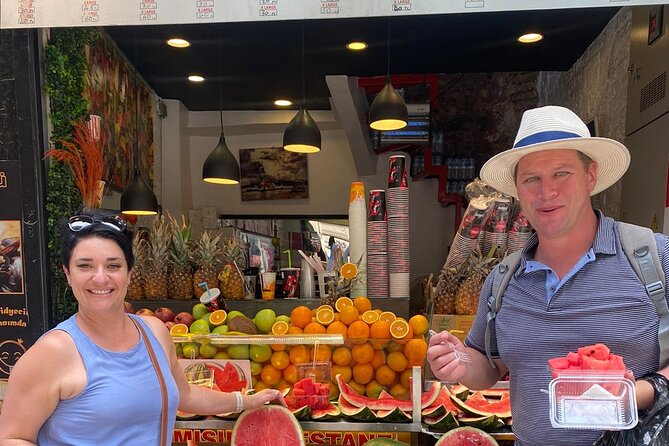 Immerse yourself in the captivating tales of Istanbul during a remarkable 2-day adventure, delving into the city's rich history and uncovering the hidden treasures of its Asian side. With a knowledgeable local guide by your side and private transportation at your service, experience the essence of Istanbul's European and Asian sides through its iconic historical sites and captivating local spots.
Why Join This Tour?
Historical Marvels: Discover the captivating legacy of Istanbul as you visit its most renowned historical sites, unraveling the stories of past civilizations.
Asian Side Discovery: Venture beyond the familiar and embrace the allure of Istanbul's Asian side, exploring its lesser-known cultural gems with the assistance of a private guide and driver.
Expert Local Guidance: Benefit from the wisdom and expertise of a professional and licensed tour guide who will enrich your experience with fascinating insights and anecdotes.
Convenience and Comfort: Enjoy the convenience of private transportation and a dedicated guide, ensuring a seamless and personalized tour tailored to your preferences.
All-Inclusive Experience: This comprehensive tour includes all taxes, providing a hassle-free way to immerse yourself in the wonders of Istanbul.
Unleash the magic of Istanbul as you embark on a 2-day journey, experiencing its rich tapestry of history and venturing into its lesser-explored Asian side. With every step, you'll unveil the city's secrets, forging a deeper connection with its past and immersing yourself in its vibrant local culture. By the end of this unforgettable exploration, Istanbul will leave an indelible mark on your heart, forever etched as a city of boundless wonder and intrigue.