Top 3 Turkish Bath Experiences we recommend:
#1 Best Private Soothing Splendor: Istanbul's Hammam Escape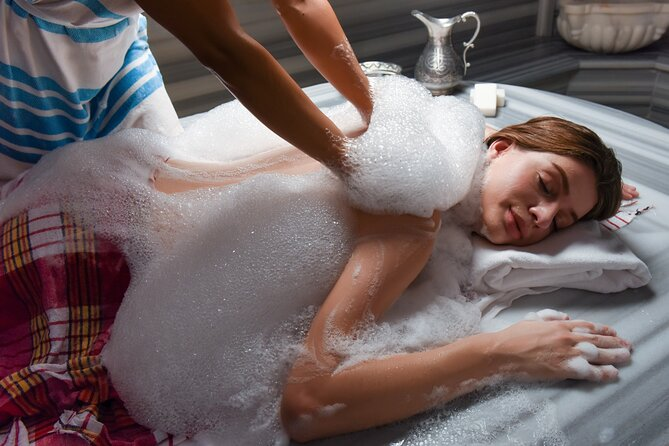 Step into a world of tranquility and tradition with our exclusive 'Soothing Splendor: Istanbul's Hammam Escape' package. Immerse yourself in the authentic experience of a Turkish bath at a 600-year-old hammam, a masterpiece crafted by the architect of the famed Topkapi Palace. This private session is specially arranged for your group in a space that is thoroughly sanitized before every appointment, guaranteeing a secure and hygienic encounter. With round-trip private transfers included, sit back and soak in the ambiance, enriched by a signature steam and scrub session. Refreshments like soft drinks, tea, and coffee are provided to elevate your rejuvenation. For those seeking an extra touch of relaxation, an upgrade for a massage service is available.
Why Join This Tour?
Delve into the Rich Heritage: Bathing in a hammam that's been standing for over six centuries is an unmatched cultural dive into Turkey's rich history.
Bespoke Luxury: The privacy offered is ideal for groups or couples who appreciate a personalised, intimate experience.
Comprehensive Package: From signature steam and scrub to the provision of towels, slippers, and bathing products, every need is catered for.
Flexible Timings: Multiple departure times allow you to choose a slot that best suits your schedule, making it a seamless addition to your day.
Convenience at its Best: The inclusion of round-trip private transfers from your hotel means you can focus on relaxation, without the hassle of navigating transport.
Culinary Delight: The offer of local teas, coffee, and soft drinks adds a flavorful twist to your experience.
This tour is not just a spa experience; it's a doorway into history, culture, and unrivaled relaxation, delivered in a comprehensive and comfortable package. As you step out of the hammam, expect to feel a deep sense of rejuvenation, not just of your body, but of your spirit too.
#2 Relax, Revive, and Revel: An Authentic Turkish Bath Adventure at Aga Hamami, Istanbul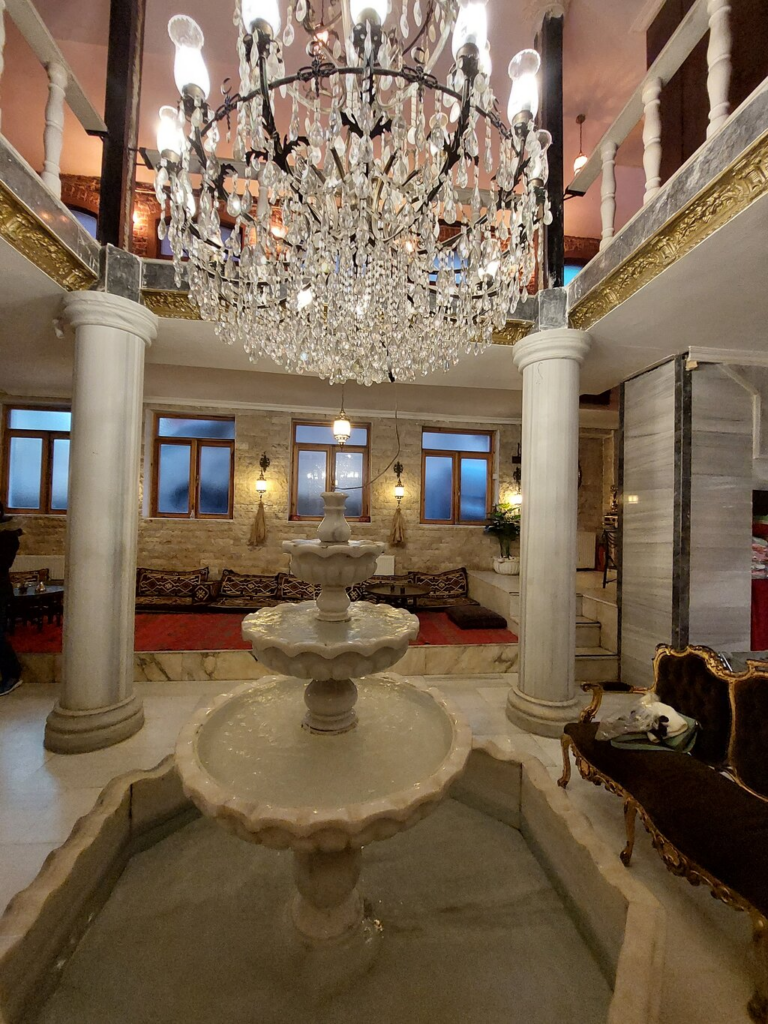 Unveil the mystique of traditional wellness with this authentic Turkish Bath Adventure at Aga Hamami, Istanbul. This quintessential Turkish bath experience gives you the flexibility to choose from three distinct options: standard, massage, or full package. Opting for the full package gifts you a holistic indulgence, featuring a complete body scrub and foam bath, a soothing 20-minute oil massage, and a revitalizing face mask, spanning over two hours. With essentials like towels, slippers, and a comforting cup of tea provided, all you need to do is surrender yourself to this invigorating journey that transports you back to the golden era of the Ottoman Empire.
Why Join This Tour?
Historical Depth: Engage with a tradition dating back to the Ottoman Empire, enhancing your connection to Turkey's rich cultural past.
Tailored Relaxation: Choose from a variety of options, from a basic foam bath and scrub to a comprehensive wellness experience including a massage and face mask.
Perfect Respite: The hamam provides an excellent antidote to the fatigue of travel, offering rejuvenation for both body and spirit.
Accommodating Schedules: With a variety of time slots, it's easy to fit this invigorating experience into any travel itinerary.
Cultural Treat: The inclusion of traditional Turkish tea adds an authentic local flavor to the overall experience.
This unique Turkish bath experience is not just about relaxation, it's a journey through history, into the heart of Turkish traditions. With its diverse range of options, you can tailor the experience to perfectly meet your needs, whether you're looking for a simple, rejuvenating bath or a full package of treatments. As you step out of the hamam, you'll be refreshed and revitalized, carrying with you a tangible piece of Istanbul's enduring history and culture. Embrace this extraordinary wellness ritual and let it be the highlight of your visit to Istanbul.
#3 Dive into Serenity: Experience Istanbul's Timeless Turkish Bath Ritual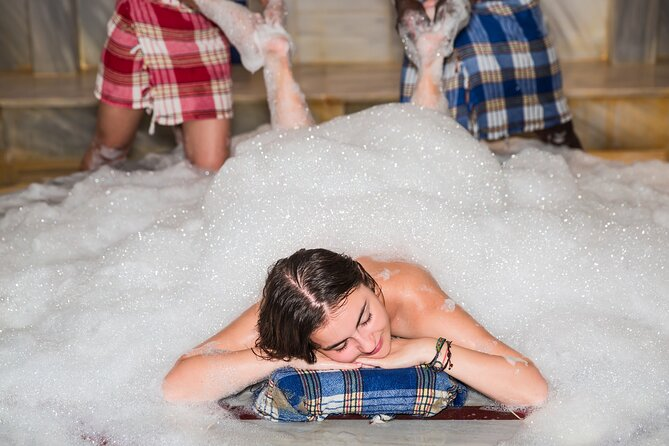 This serene tour offers a captivating immersion into a traditional Turkish bath, popularly known as a hamam. This experience, located in the heart of the city, includes a comprehensive suite of treatments designed to rejuvenate and refresh. These include a thorough body scrub with a special peeling glove to remove dead skin, a pore-opening face mask, a foam massage, and a relaxation-focused aromatherapy oil massage. This offering lets you partake in a deeply-rooted local tradition and unwind like a true Istanbulite.
Why Join This Tour?
Authenticity: This experience provides a genuine immersion into the Turkish hamam culture, a must-try when in Istanbul.
Complete Skincare: The body scrub, using a special peeling glove, ensures effective removal of dead skin, leaving you with a radiant glow.
Face Mask Benefit: The face mask is designed to open up your pores, resulting in a fresh and revitalized complexion.
Relaxing Massage: The aromatherapy oil massage aids in relaxation, helping soothe any tension or stress.
Traditional Foam Massage: Experience the unique sensation of a traditional foam massage, a distinguishing feature of a hamam visit.
With this tour, you not only get to experience the enchanting city of Istanbul but also immerse in one of its most deeply cherished traditions. The Turkish bath experience has been meticulously curated to offer a comprehensive wellness journey, from skincare to deep relaxation, mirroring the practices of local Istanbulites. As you conclude this journey, you will not only feel refreshed and rejuvenated but also connected to the city's culture in a unique and intimate way. Make this timeless ritual a part of your Istanbul story.
#4 Unwind in Tradition: The Magic of Turkish Hammam Bath Journey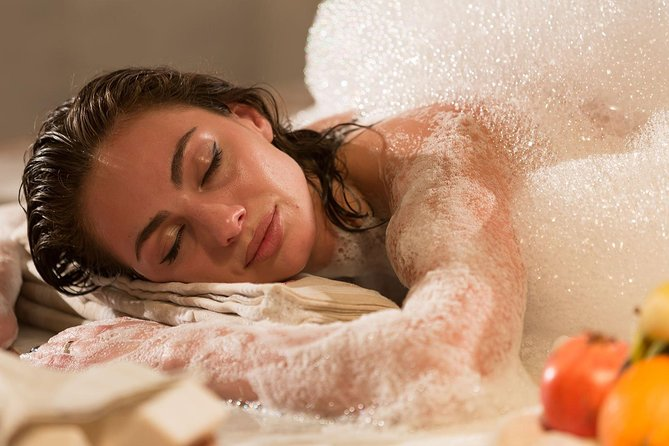 Experience the age-old tradition of a Turkish hammam bath at the historic Çemberlitaş. Indulge in an intimate, 30-minute bathing ritual, performed in gender-segregated quarters by an experienced bath attendant. This authentic practice includes a revitalizing scrub and a relaxing massage, leaving your skin silky smooth and your muscles completely relaxed. Post-treatment, bask in the steam room's warmth and soak in the hammam's stunning architecture for as long as you desire.
Why Join This Tour?
Architectural Splendor: Appreciate the historic and visually striking Çemberlitaş hammam architecture.
Expert Guidance: An experienced bath attendant ensures your comfort and maximum enjoyment throughout the bathing ritual.
Relaxing Ritual: The combined effects of the scrub and massage provide deep relaxation and rejuvenation.
Time Flexibility: The hammam offers the flexibility to linger and relax post-treatment in the beautiful steam room for as long as you wish.
Skin Rejuvenation: The invigorating scrub, followed by a soothing massage, leaves your skin feeling renewed and silky soft.
This Hammam Bath Experience offers more than a relaxing escape; it's an exploration into centuries-old Turkish traditions. The revitalizing scrub and massage, performed by a seasoned bath attendant, ensures you enjoy the utmost comfort and relaxation. After your treatment, the hammam's warmth and architectural beauty offer a tranquil space to rest and reflect. This immersive experience provides an insight into the local culture, ultimately creating a connection that goes beyond the usual touristic encounters.
#5 Elevate Your Relaxation: Experience the Luxury of a Traditional Hamam with Convenient Transfer Included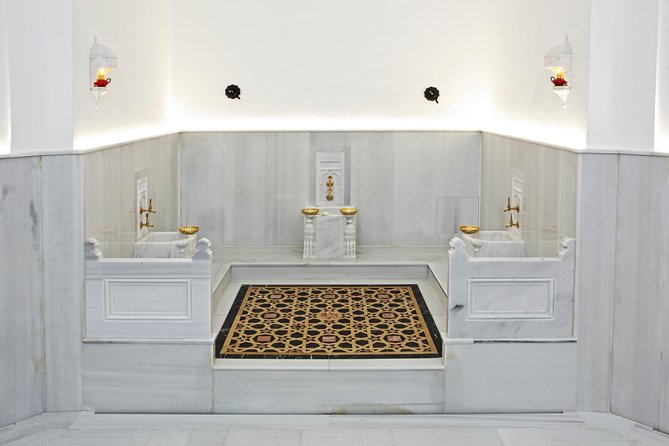 Embark on a journey of tranquillity and heritage with our unique Turkish Hammam offering. This intimate experience allows you to unwind in a historic bath chamber, whose charm and architecture remain untouched since its creation during the 16th-century Ottoman rule. The package includes an invigorating scrub and soothing foam massage. After your treatment, feel free to spend some time at your leisure, enjoying the hot water facilities. The convenience of hotel pick-up from Istanbul's European side is included in your experience.
Why Join This Tour?
Historic Setting: The Hammam is situated in Istanbul's culturally rich neighborhood, Fatih, offering you a deeper sense of connection with the city's history.
Architectural Splendor: Experience relaxation within a bath chamber dating back to Suleiman the Magnificent's era, an opportunity to soak in authentic Ottoman heritage.
Luxurious Treatment: The package includes an exfoliating scrub and a comforting foam massage, designed to invigorate and soothe simultaneously.
Leisure Time: Post-treatment, enjoy the freedom to linger within the hot water facilities at your own pace.
Convenient Transfer: Your convenience is our priority; hence, we include hotel pick-up from Istanbul's European side in our offering.
With this luxurious Hammam experience, you'll dive into a world of ultimate relaxation and rich Turkish culture. Whether you're indulging in an invigorating scrub, unwinding with a foam massage, or basking in the serenity of the historic bath chamber, you'll find peace and rejuvenation at every turn.