#1 Discover Istanbul: The Ultimate Private Guided Architecture Tour Experience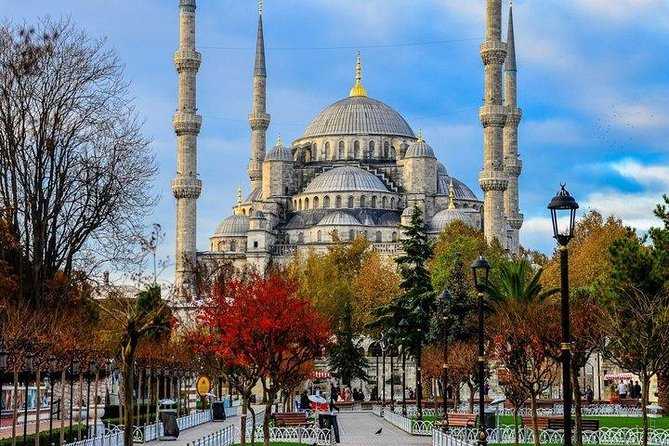 Experience the grandeur of Istanbul's architecture, delve into its captivating history, and immerse yourself in its vibrant bazaars during our 'Best of Istanbul' private guided tour. Whether you have 1, 2, or 3 days to spare, this tour is meticulously crafted to showcase the unmissable highlights of the Old City. Marvel at the majestic Hagia Sophia, uncover the secrets of the Blue Mosque, and explore the ancient Basilica Cistern. Gain insights into Ottoman opulence at Topkapi Palace, and wander through the legendary Grand Bazaar. With flexible daily itineraries, you can customize your tour to suit your preferences and schedule.
Why Join This Tour?
Exclusive Exploration: Enjoy the exclusivity of a private guided tour, allowing you to uncover Istanbul's treasures at your own pace and with personalized attention.
Comprehensive Journey: Discover the best of Istanbul over one, two, or three days, ensuring you don't miss any of its iconic landmarks and cultural gems.
Local Insight: Benefit from the expertise of a professional local guide who will offer in-depth knowledge and fascinating stories, enriching your understanding of Istanbul's past and present.
Authentic Experiences: Explore the local streets on a walking tour, immersing yourself in the city's vibrant atmosphere and uncovering hidden corners not found in guidebooks.
Flexible Itineraries: Customize your itinerary to suit your schedule and interests, ensuring a personalized and tailored experience of Istanbul.
From awe-inspiring architecture to ancient treasures and bustling bazaars, this immersive experience will leave you with a profound appreciation for the city's rich heritage. With a knowledgeable guide leading the way, prepare to create memories that will last a lifetime as you unravel the captivating tales of Istanbul's past and embrace its vibrant present.
#2 Exploring the Aesthetic Epochs: A Self-Guided Audio Tour through Kadikoy's Historic Heart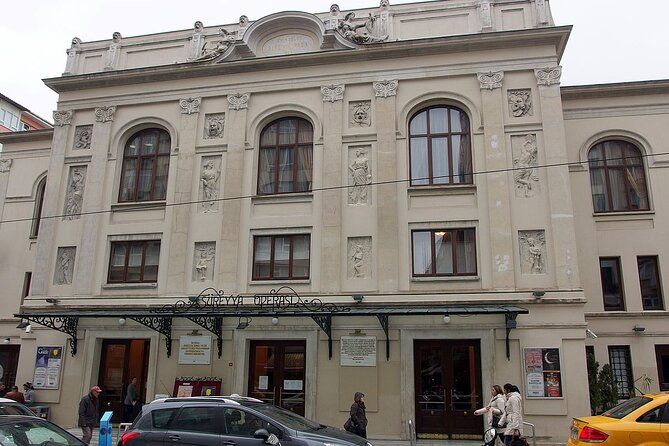 Embark on a self-guided audio tour and voyage through the pages of Kadikoy's vibrant history, capturing the essence of the Ottoman period, the inception of the Orthodox church, and the transformative tide of the 20th century. Traverse through a captivating labyrinth of quaint streets, each hosting unique Turkish sweet shops, echoing tales of saints and stirring revolutions. Concluding at the iconic Bull statue, Kadikoy's beloved mascot, this journey allows you to appreciate Turkey's multicultural past while simultaneously experiencing the thrumming pulse of contemporary Istanbul.
Why Join This Tour?
Historical Tapestry: Experience an era-spanning journey, from the Ottoman period to the modern-day Istanbul, uncovering Kadikoy's eclectic history.
Culinary Adventure: Explore traditional Turkish sweet shops, offering a delightful gustatory experience.
Immersive Storytelling: Learn about the historic and cultural evolution of the district through an engaging audio narration.
Flexible Timing: With lifetime access to the tour in English, you have the freedom to embark on this journey at your own pace.
Offline Accessibility: The provision of offline access to audio, maps, and geodata ensures a smooth and uninterrupted experience.
Cultural Exposition: Uncover the rich tapestry of Turkish culture, witnessing their passion for music, literature, cinema, and theatre.
This tour isn't just an exploration of Kadikoy's historic charm; it's an immersive plunge into the heart of Istanbul's cultural heritage. As you walk down the memory-laden streets, you'll uncover stories of the past and present that breathe life into the cityscape. Expect to emerge from this experience with a newfound appreciation for Istanbul's history and culture, intertwined beautifully in Kadikoy's captivating narrative. This self-guided audio tour makes the perfect addition to your Istanbul adventure, bringing history to life in the most engaging way possible.
#3 The Ultimate Istanbul Expedition: An All-Inclusive Historical Tour Coupled with a Bosphorus Cruise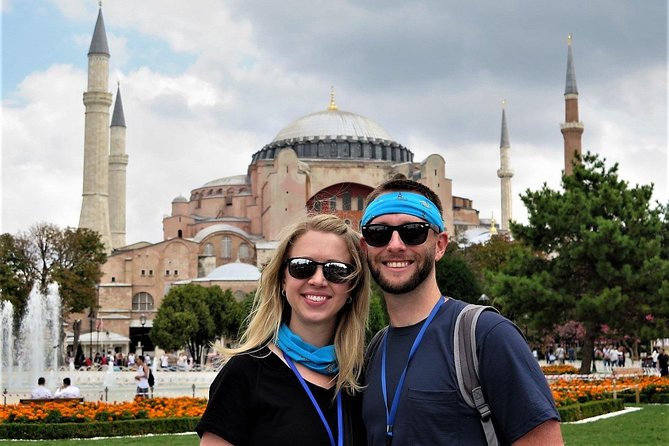 Experience the essence of Istanbul in one unforgettable day with our premium 'All-In-One Day Istanbul' package. This comprehensive journey encompasses the city's iconic landmarks, including the historically rich Sultanahmet district with its majestic Blue Mosque and Hagia Sophia, the vibrant Grand Bazaar, the opulent Dolmabahçe Palace, and offers exclusive skip-the-line access to the renowned Topkapi Palace. As the day winds down, relish a serene sunset yacht cruise on the Bosphorus, making your Istanbul exploration truly memorable.
Why Join This Tour?
Historical Grandeur: Visit iconic landmarks such as the Blue Mosque, Hagia Sophia, and Topkapi Palace, among others, all packed into a single day.
Convenient Access: Skip-the-line access to Topkapi Palace means no long queues and more time to appreciate the splendor of Ottoman architecture.
Bosphorus Cruise: Experience the mesmerizing Istanbul sunset during a luxury yacht cruise on the Bosphorus, a perfect ending to an eventful day.
All-Inclusive Package: With lunch, snacks, and fresh seasonal fruits served during the sunset cruise, all your culinary needs are taken care of.
Effortless Experience: Enjoy door-to-door pickup and drop-off from your hotel, making this tour convenient and hassle-free.
A day with 'All-In-One Day Istanbul' is not just a sightseeing tour, it's a luxurious journey through time and culture. This immersive experience offers a unique blend of history, architecture, and natural beauty. As the day concludes with the calming Bosphorus cruise, you'll be left with a profound sense of Istanbul's grandeur and an unforgettable memory of the city's vibrancy and charm. It's truly the best way to discover Istanbul in all its glory.
#4 Unraveling the Historical Tapestry: The Istanbul Sites Self-Guided Audio Tour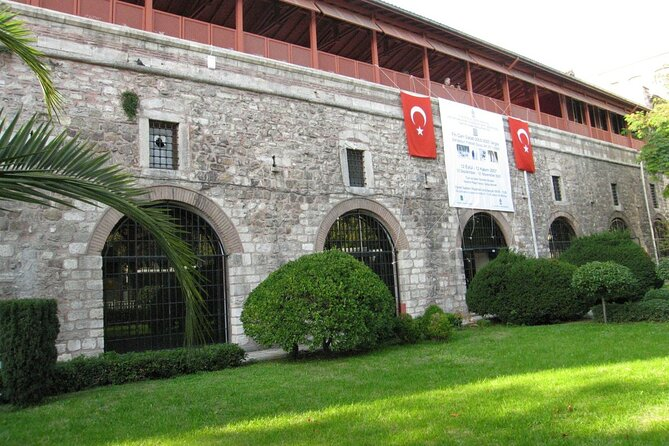 Step into a world filled with rich history and culture with our 'Istanbul Sites: Peel Back the Layers of Turkish History' audio tour. Wander through the heart of Istanbul, Sultanahmet, at your own pace, absorbing the many fascinating stories the city has to offer. This insightful tour, curated by local tour guide Arzu Altinay, unravels Turkey's layered history, guiding you through intriguing landmarks and revealing riveting tales from the past.
Why Join This Tour?
Dive into History: Delve into Turkey's complex past, exploring Sultanahmet's historical landmarks and learning about captivating incidents like the saga of Kaiser Wilhelm and the Sultan.
Control Your Journey: As a self-guided audio tour, you have the liberty to explore the city's treasures at your leisure, pausing and resuming the tour as per your preference.
Informed Guidance: Arzu Altinay, a skilled local tour operator and storyteller, provides a captivating and knowledgeable narrative.
Easy-to-use App: With the VoiceMap app, gain effortless access to the tour, maps, and geodata, even offline.
Lifetime Access: Enjoy unlimited access to the tour in English, allowing you to revisit Istanbul's enchanting past anytime you wish.
This audio tour is more than just a leisurely stroll through the city. It's an engaging expedition through time, taking you into the heart of Istanbul's vibrant past. Whether you're a seasoned historian or a casual traveler, this tour offers an unforgettable exploration of Istanbul's heritage, providing you with a deeper appreciation of Turkey's historical journey.
#5 Hidden Wonders and Iconic Marvels: Private Tour of Hagia Sophia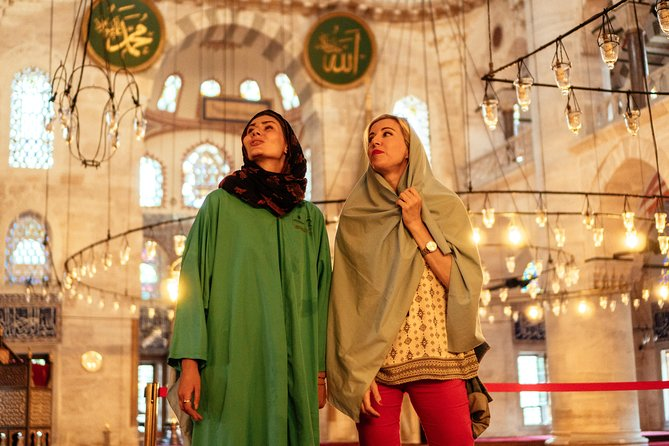 Embark on an extraordinary journey into Istanbul's vibrant history and culture with the 'Treasures of Istanbul: Hagia Sophia Private Tour'. This private tour introduces you to the awe-inspiring Hagia Sophia while also guiding you through some of Istanbul's most interesting cultural corners. From taking you through a less frequented mosque to tasting baklava at a traditional pastry shop and winding down with a refreshing Turkish tea, this tour offers an immersive cultural experience.
Why Join This Tour?
Deep Dive into History: Gain a comprehensive understanding of Istanbul's renowned landmark, the Hagia Sophia, with a personal guide to answer all your questions and ample time to capture memorable photos.
Uncover Hidden Gems: Discover a charming, lesser-known mosque and enjoy a more offbeat side of Istanbul's rich culture.
Indulge in Local Delicacies: Treat your taste buds to authentic baklava at a traditional pastry shop, and sip on refreshing Turkish tea to cap off the experience.
Enjoy a Private Experience: Revel in the exclusivity of a private tour that allows you to customize the start time as per your convenience.
Skip-the-Line Access: Avoid the crowds with priority admission to Hagia Sophia.
Carbon Neutral Tour: Travel responsibly, knowing this tour is carbon neutral.
The tour offers an intimate exploration of Istanbul's historical and cultural highlights, with personal guidance from a local expert. As you unravel the city's rich heritage and savor local delicacies, you also contribute to a sustainable travel culture. This tour promises an authentic and eco-friendly journey through the heart of Istanbul.
#6 Istanbul Unveiled: Full-day Voyage through Istanbul's Main Attractions
Take a deep dive into the heart of Istanbul with our meticulously curated day-long excursion. This comprehensive tour, designed by local experts, covers all the major attractions of the city, making it the perfect introduction for anyone keen to experience the true spirit of Istanbul. Return to your ship with unforgettable memories and a wealth of knowledge about this city straddling two continents.
Why Join This Tour?
Witness Architectural Wonders: Tour the magnificent Blue Mosque and the historic Hagia Sophia, famed for its stunning Byzantine mosaics.
Delve into History: Explore the Ottoman-style architecture and the rich collections of Topkapi Palace, a testament to Istanbul's glorious past.
Shop 'Till You Drop: Enjoy a shopping spree at the Grand Bazaar, one of the oldest and largest markets in the world, and bring home unique souvenirs.
Benefit from Expert Guidance: Learn the nuances of Istanbul's history and culture from a professional English-speaking guide.
Worry-free Experience: This tour ensures timely return to your ship and includes air-conditioned transport and all entrance fees, so you can explore Istanbul with ease and comfort.
On our 'Istanbul Unveiled' tour, immerse yourself in the city's splendid architectural beauty, its storied history, and vibrant bazaars. With seamless organization and an experienced guide at your side, you'll navigate the city like a seasoned traveler, uncovering the very essence of Istanbul.
#7 Palatial Grandeur: A Tour through Dolmabahçe Palace & Istanbul's Asian Side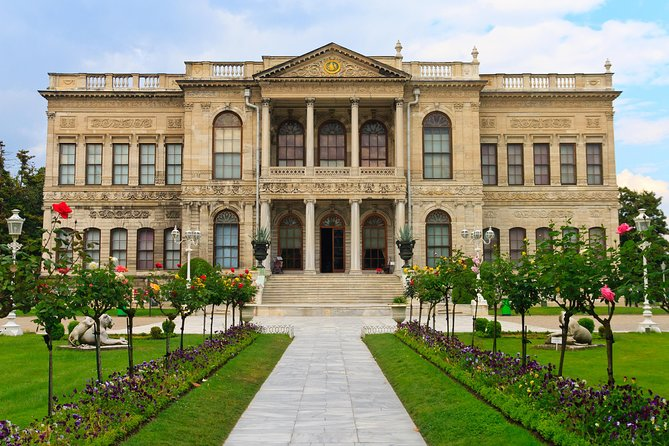 Immerse yourself in the opulence of Ottoman royalty with our comprehensive tour of Dolmabahçe Palace, an astonishing symbol of Istanbul's regal past. This 3-hour guided journey transports you into the lives of former sultans and nobility, showcasing the splendor of the palace's luxurious rooms and its fusion of Ottoman and European architectural styles. Cap off your experience with a scenic drive over the Bosphorus Bridge, revealing the distinct charm of Istanbul's Asian side.
Why Join This Tour?
Experience Opulence: Marvel at the grandeur of Dolmabahçe Palace, from the glittering Crystal Staircase to the majestic Medhal Hall.
Learn from the Past: Gain insights into the life of Mustafa Atatürk, the first president of the Republic of Turkey, who resided and passed away in the palace.
Capture Iconic Views: Cross the iconic Bosphorus Bridge by luxury coach, and seize the opportunity to capture breathtaking cityscapes from Çamlıca Hill or Yeditepe.
Comfort and Convenience: With an air-conditioned vehicle and a local guide, explore these landmarks in ultimate comfort.
Our 'Palatial Grandeur' tour presents a spectacular blend of history, architecture, and panoramic views, delivering a thoroughly engaging journey through Istanbul's regal era and the unique cultural mosaic of its Asian side.