Once someone has wisely noted that 'A cup of Turkish coffee is remembered for 40 years'. With its deeply-rooted history, an entangled place in Turkish cultural and social principles, and its unique aroma and blend, Turkish coffee has been included in 'Representative List of Humanity's Intangible Cultural Heritage' by UNESCO in 2013.
Coffee has entered the Ottoman lands in the early 16th century, and it were Turks who invented a unique preparation technique which disclosed its true aroma and flavor. So, that is the reason why it started to be called Turkish coffee. In fact, this technique is the world's first brewing method for preparing coffee, and even European countries took this method from Turkey and later on developed new styles over time.
Turkish coffee is traditionally prepared in a special copper vessel called a cezve, where boiled slowly over-heated sand and made from carefully blended high-quality coffee beans. Once prepared perfectly, Turkish coffee is served in small cups, usually accompanied by Turkish delight and water. I would highly recommend you to drink some water before as it allows the coffee to pass easily through the throat. Also, the coffee must be left to stand for a while after being served, to let the grounds settle down at the bottom of your cup.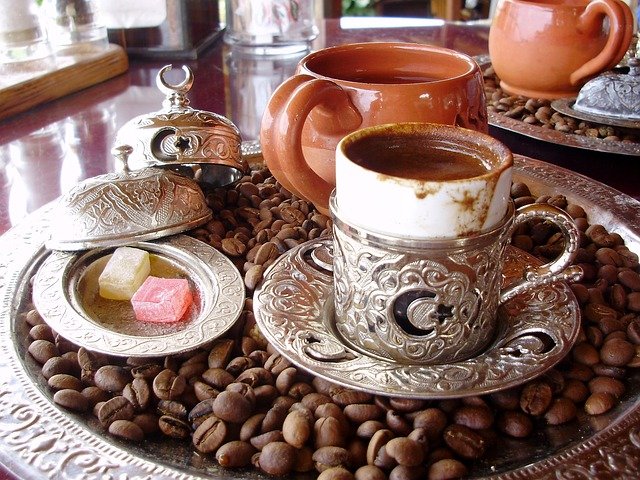 And here is the best part. The settled coffee grounds in the cup can be read to tell one's future, and this practice is literally an indispensable part of Turkish culture.
Besides, Turkish coffee is a symbol of conversations, friendship, respect, and hospitality. Moreover, it has become such a must-have aspect in our social and cultural life, that a bride has to serve Turkish coffee to her future husband and his family in pre-marriage ceremonies.
Apart from its unforgettable flavor and aroma, Turkish coffee contains less caffeine compared to other types of coffee and does not cause bloating as it is being served in small portions. Having a long conversation between friends over a cup of Turkish coffee in Istanbul coffeehouses is one of the best experiences you could ever imagine. Without further ado, discover below the best Turkish coffeehouses in Istanbul and get your caffeine fixed.
1 – Mandabatmaz serves authentic Turkish coffee since 1967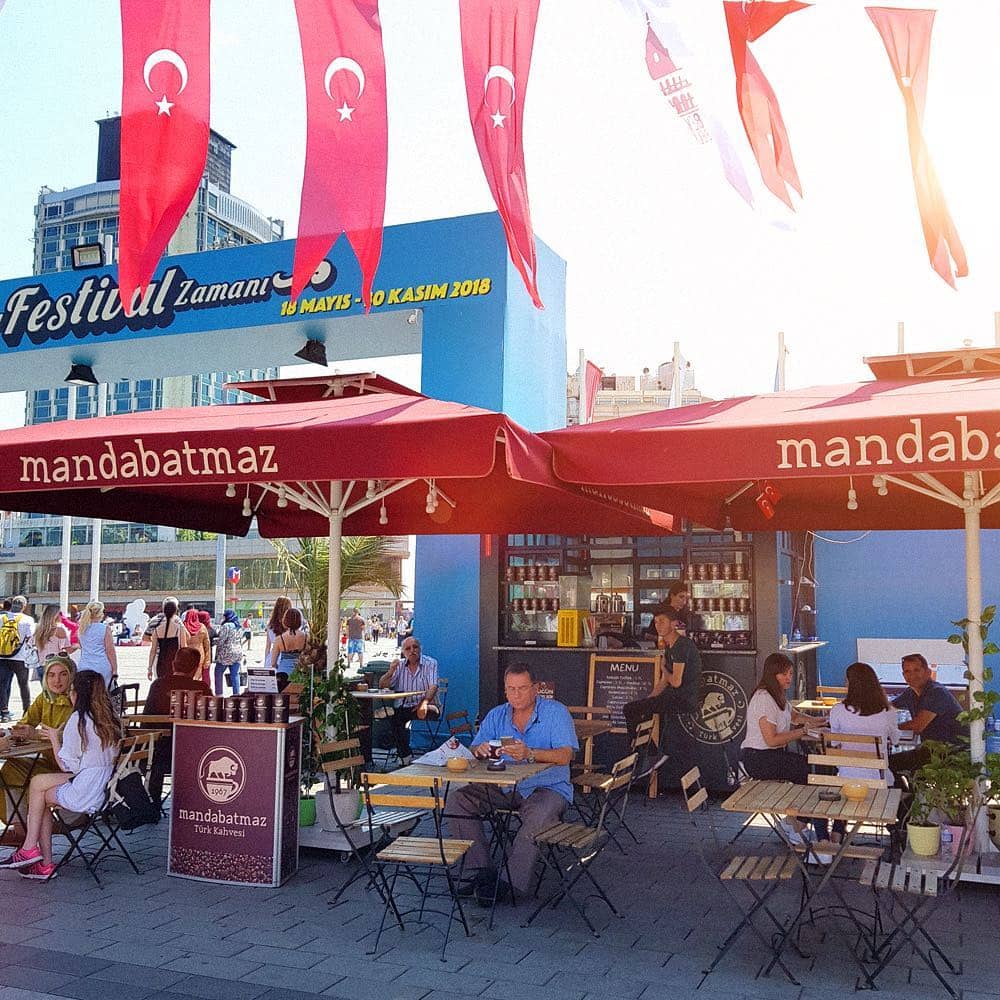 Located in the eminent Istiklal Street (İstiklal Caddesi) of Beyoğlu, Mandabatmaz is known for its excellent Turkish coffee, cost-effective, expert staff, delicious Turkish delights and cakes, and beautiful decor – you would happily spend hours together with your friends or family here.
Mandabatmaz is serving authentic Turkish coffee daily to hundreds of coffee-lovers since 1967. The place has got its name from the thick velvety foam of its enticing coffee. It is said that 'The coffee prepared at Mandabatmaz has such a dense foam that even a buffalo could walk over it without sinking (manda means buffalo, and batmaz means unsinkable)'. The appealing logo of Mandabatmaz reflects the above saying.
The Turkish coffee of this place is produced by selecting and roasting special beans with unique methods that are confined only to Mandabatmaz. This classic cafe, which prepares thick creamy coffee in copper cezve on its traditional stove, has already earned the title as one of the best Turkish coffee in the world.
When you ask any local frequent visitors about Mandabatmaz, they would say Istiklal Street got rid of cars, it lost its tram and regained it, cinemas, patisseries, etc. were destroyed, but Mandabatmaz is at the same place, serving its amazing coffee, uninterruptedly from morning till evening.
Address: Asmalı Mescit, Olivia Gecidi, No: 1/A, Beyoglu, +90 212 243 77 37.
2 – Fazıl Bey's Turkish Coffee where coffee beans are selected, roasted, and brewed in front of your eyes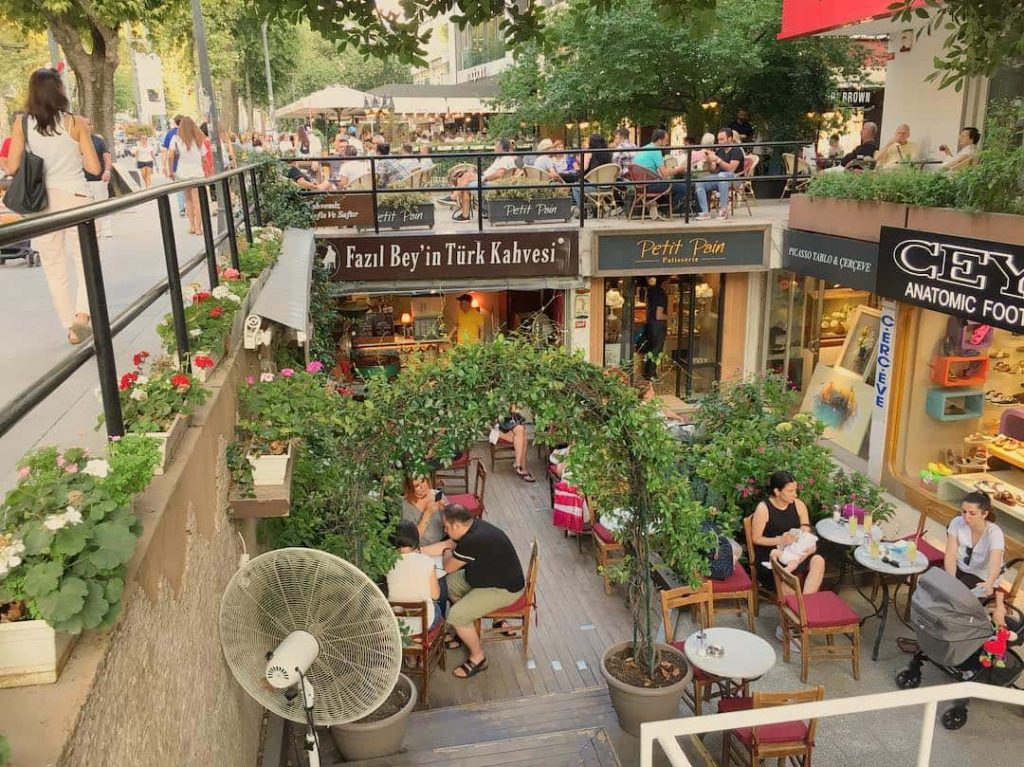 Operating since 1923 in the middle of historical Kadıköy, this compact little venue still roasts and grinds their specially chosen beans in a fully traditional way, using their antique brewing machines. The distinctive smell of coffee from Fazil Bey's Turkish Coffee enchants you from distance and brings you inside by pulling your arms. The essence of the authenticity of Fazil Bey's Turkish Coffee can be speculated from the fact that your coffee beans are selected, roasted, and brewed in front of your eyes and, finally transformed into a winsomely creamy and intensely aromatic cup of coffee.
I have experienced no better place with such a caffeine hit and grainy taste using excellent home-roasted beans to fully energize you all-day-long. The cafe offers Turkish coffee in different flavors like cardamon, gum mastic, bitter chocolate, and normal coffee, all of which are better than the other. You can even buy special ground coffee from Fazil Bey's Turkish Coffee and prepare it at home.
If by chance you step in Fazil Bey's Turkish Coffee during hot summers, I recommend you refresh yourself with their tamarind syrup and ginger lemonade. This cafe is an ideal place to sit and enjoy the best Turkish coffee with your friends. The staff and the owner are extremely kind and professional, offering amazing service, reasonable pricing, and highly authentic Turkish coffee. If you are on the European side of Istanbul and craving coffee, just take a ferry and try this local favorite.
Address: Serasker Cad., No: 1/A, Tarihi Kadikoy Carsisi, Kadikoy, +90 216 450 28 70.
3 – Pioneer of preparing Turkish Coffee – Kurukahveci Mehmet Efendi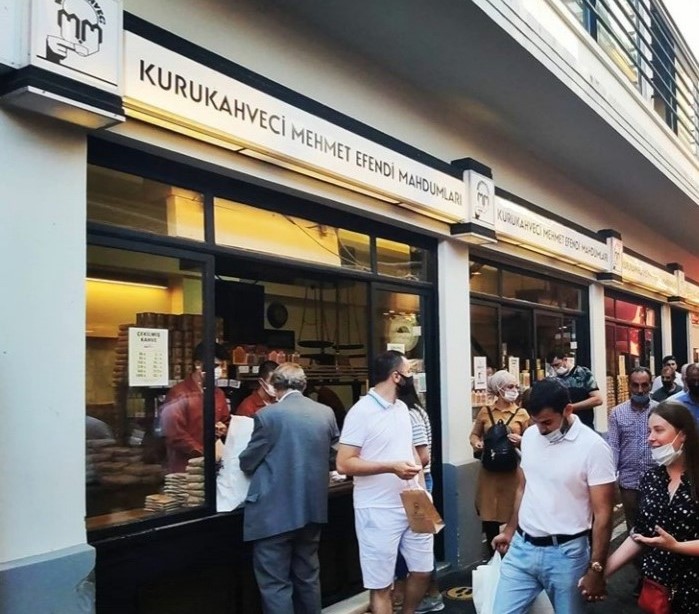 What could be better than tasting a cup of Turkish coffee right from its pioneers and that too near the legendary Spice Bazaar in Eminönü? This is the place where the dignitary Mehmet Efendi started to sell roasted coffee beans in 1871 and his skills and legacy passed on from generation to generation.
This small cafe which is the central branch of the internationally renowned Turkish coffee producer Mehmet Efendi has always uphold its aim of providing superior quality in every sip of their coffee. The tranquillity and fascination one gets visiting this antique store, which is adorned by aromatic Arabica beans, are beyond any description. You will always notice a long queue outside this small coffee house which itself speaks of the quality and authenticity of Turkish coffee here.
If one cup does not bring off your coffee desire, take home Mehmet Efendi's freshly ground coffee packages available everywhere in markets, as well as online. Do not know how to brew? All right! This world-famous Turkish coffee producer will guide you on how to brew your coffee in cezve, and even how the leftover dregs at the bottom of your cup can be read to tell your future.
Besides, Kurukahveci Mehmet Efendi has been actively promoting Turkish coffee at various trade fairs and festivals both in Turkey and abroad.
Address: Rüstem Paşa, Tahmis Sok., No: 66, Eminonu, +90 212 511 42 62.
4 – Pierre Loti one of the best historical coffee shops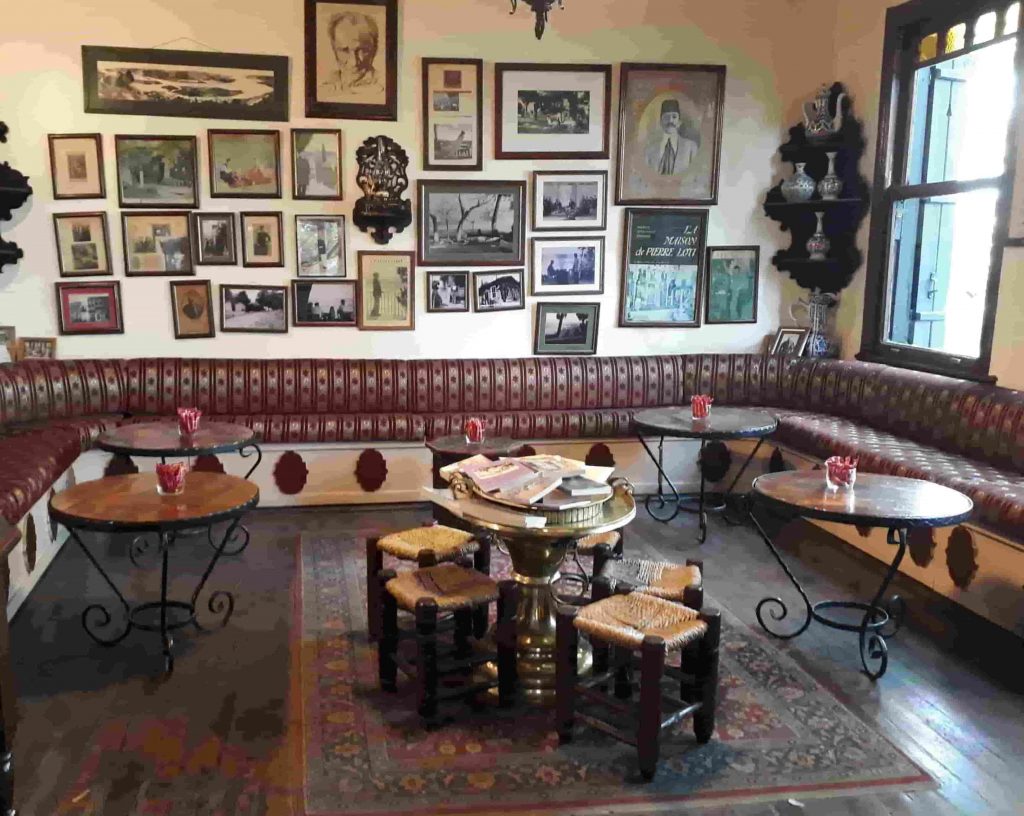 Pierre Loti cafe is considered as one of the best historical coffee shops located at the Pierre Loti hill, with exceptional views and accessible through cable cars. The hill and hence, the Pierre Loti cafe are named after a French writer and naval officer who has spent most of his time there and expressed a lot of love and affection for Istanbul through his novels.
Drinking a cup of Turkish coffee at this open-air cafe together with aesthetic conversations with friends and enjoying the panoramic sceneries of the Golden Horn estuary and Sarayburnu is truly a high-priority adventure in Istanbul. Along with the frothy and dark coffee to taste, a lot of things will already be covered with Pierre Loti cafe's visit, like Eyüp Sultan Mosque, Eyüp-Pierre Loti hill cable car trip, all-encompassing city and Golden Horn views with the telescope.
Pierre Loti Hill is a perfect tourist attraction, especially in summers, where you can spend a good leisure time and capture amazing photographs. The warm-hearted staff of Pierre Loti wearing traditional Ottoman garments and colorful fez, all always seen busy serving coffee in adorned cups.
Address: Gumussuyu Balmumcu Sk., No: 1, Eyüp, +90 212 497 13 13.
5 – Bebek Kahve – a blend of authenticity, spectacular views of Bosphorus, and funky decor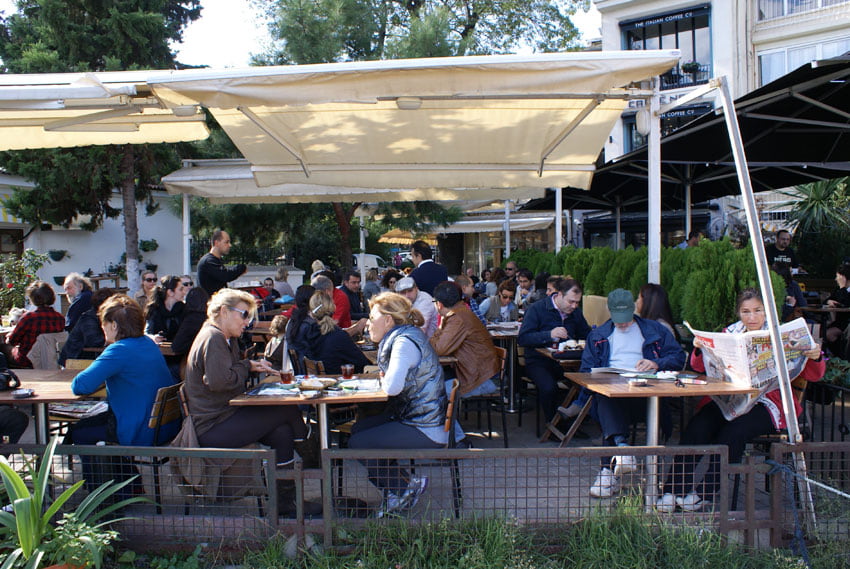 With the motto of providing persistent taste and a cozy atmosphere for more than 65 years, Bebek Kahve is an ultimate blend of authenticity, spectacular views of Bosphorus, and funky decor. Bebek Kahve is a serene place for slowing down your time playing Rummikub or Backgammon with your friends over a cup of strong aromatic coffee.
The best thing about Bebek Kahve is that you can talk for hours with your friends without feeling pressured to constantly order something. The local frequenters usually come to Bebek Kahve for reading, playing traditional games, and simply, chilling out. What makes this place noteworthy is the ambiance created by its renovated interiors with wooden chairs, which occasionally attracts even some Turkish celebrities. In addition to its incredible coffee, Bebek Kahve also offers some well known Turkish breakfast courses, like menemen, gözleme, small dumplings, and fresh Turkish tea.
The prices here would be a bit upscale, but, considering its prime location and the striking Bosphorus view, plus exceptional service, such little inflations are desirable.
Address: Bebek, Cevdet Paşa Cd., No: 20, Beşiktaş, +90 212 703 78 87.
6 – Feel the Aegean spirit at Tarihi Bagdat Kuru Kahvecisi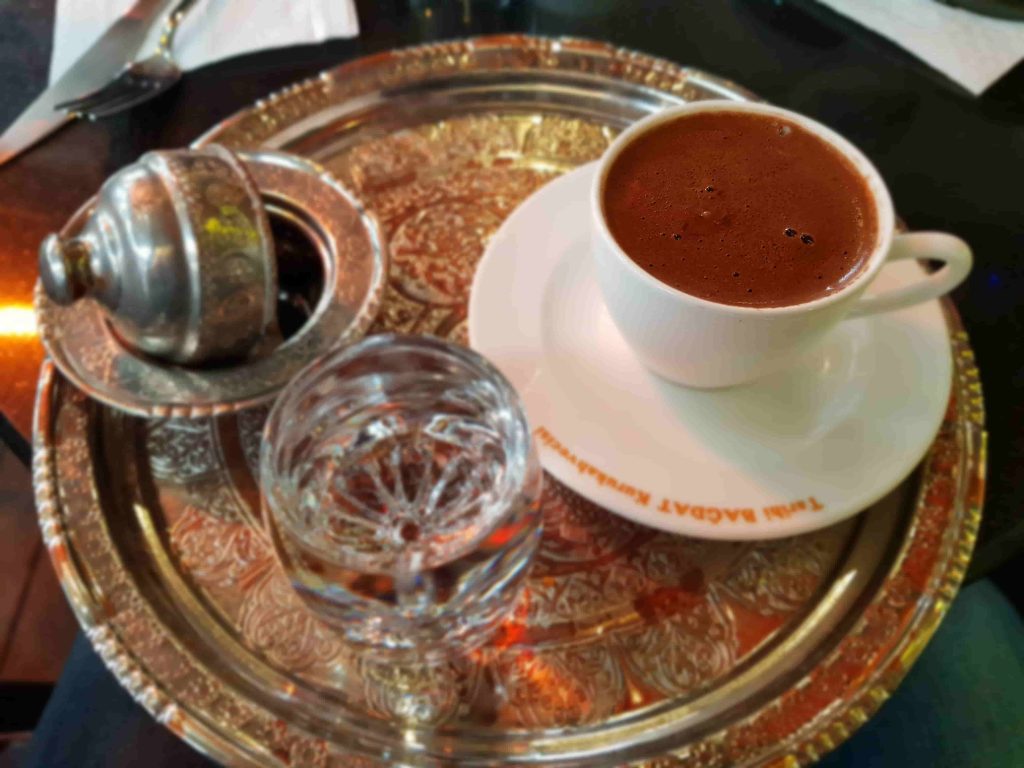 Tarihi Bagdat Kuru Kahvecisi is yet another famous historical cafe which blends Turkish coffee in its own special way and enriches its taste with diverse flavors, like gum mastic, cardamom, and chocolate. The natural gum mastic ingredient is supplied directly from Chios island in Greece.
Tarihi Bagdat Kuru Kahvecisi simply gives you a feel of Aegean spirit in its products, music, as well as decorative delicacy. The cafe is located in Bagdat avenue, which is a notable high street in the Anatolian region of Istanbul. Having a cup of extra-foamy Turkish coffee in your hands and listening to the calm Greek music resonating in the background gives unique hope and tranquillity in your spare time.
All the flavors of Turkish coffee here are equally amazing and do not get up without tasting the appetizing Turkish delights they provide. Tarihi Bagdat Kuru Kahvecisi also prepares a special caffeine-free coffee, resembling Turkish coffee, which is made from wild pistachios. This distinct coffee locally called menengiç kahvesi is a must-try liquid refreshment.
With its pleasant atmosphere, this place is suitable both for friends gatherings, as well as spending inspirational moments on your own. The place is also famous for its gum paste, Turkish delight varieties, and Kavala cookies. One more amazing thing about this place is its Book Exchange Project, where you can simply bring the books you read and exchange them with the books in its library.
Address: Suadiye, Bağdat Cad./Kazım Özalp Sok., Kazım Kulan Pasajı, No: 371, D: 6, Kadıköy, +90 216 363 69 64.
7 – Sade Kahve charming coffee house near the Bosphorus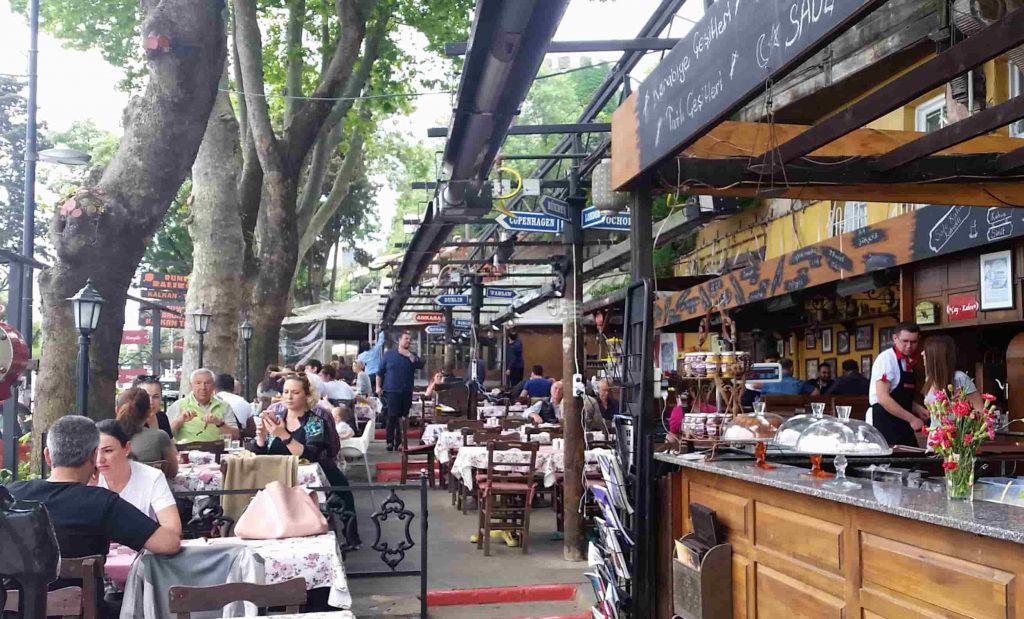 Sade Kahve is another charming coffee house, situated near the Bosphorus waterfront just adjacent to the historical Rumeli Hisarı fortress, that still prepares Turkish coffee slowly on ash. On top of its flavorful Turkish coffee, the place is also very prominent for its superb breakfast, available all along the day, served in its signature style.
Rendering its service in the garden of an ancient wooden house, the coffeehouse offers a comfortable environment and far-reaching water views. Sade Kahve is truly endured as a coffee-tea-chatting triangle aiming to provide quality service at reasonable pricing. I really enjoy their traditional way of preparing coffee, their menemen (spicy Turkish omelet) in copper pans, and also the freshly aromatic tea in which they add spring water.
Address: Rumeli Hisarı, Yahya Kemal Cd., No: 20, Sarıyer, +90 212 358 23 24.
8 – Şark Kahvesi with the traditional and distinguished atmosphere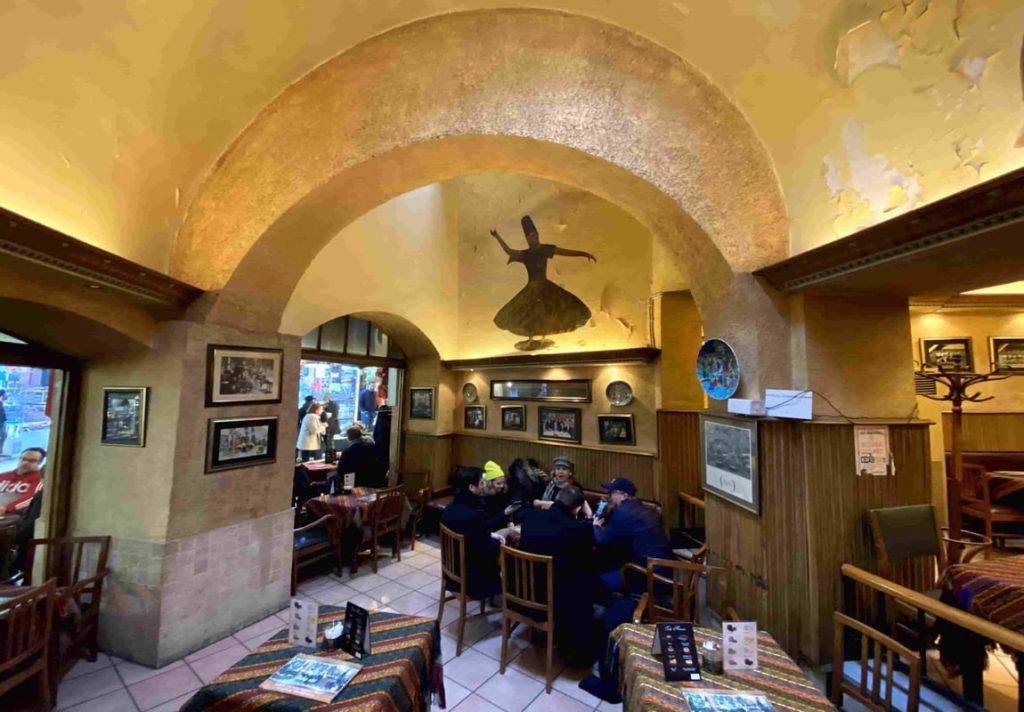 Although Şark Kahvesi is a more touristic place, operating in Istanbul's historical Grand Bazar, we still like its true traditional and distinguished atmosphere very much. The place, which was originally established to serve the artisans of the Grand Bazaar, has quickly gained a good reputation and emerged as a benchmark of the authenticity of Turkish coffee and a hotspot for tourists to hang around.
Şark Kahvesi is famous for three things: its unique way of brewing coffee slowly in copper cezve over hot sand, its classic old-school interiors filled with wooden furniture, and its prime touristic location. The service is extremely quick, however being a small place and always busy, sometimes you might have to wait to find a good place to sit.
Şark Kahvesi is best suited for having a short break while exploring the Grand Bazaar and enjoying your revitalizing cup of Turkish coffee with baklava or other Turkish delights.
Address: Beyazıt, Yağlıkçılar Sk., No: 134, Fatih, +90 212 512 11 44.
9 – Okkalı Kahve a tiny gem in the center of Beşiktaş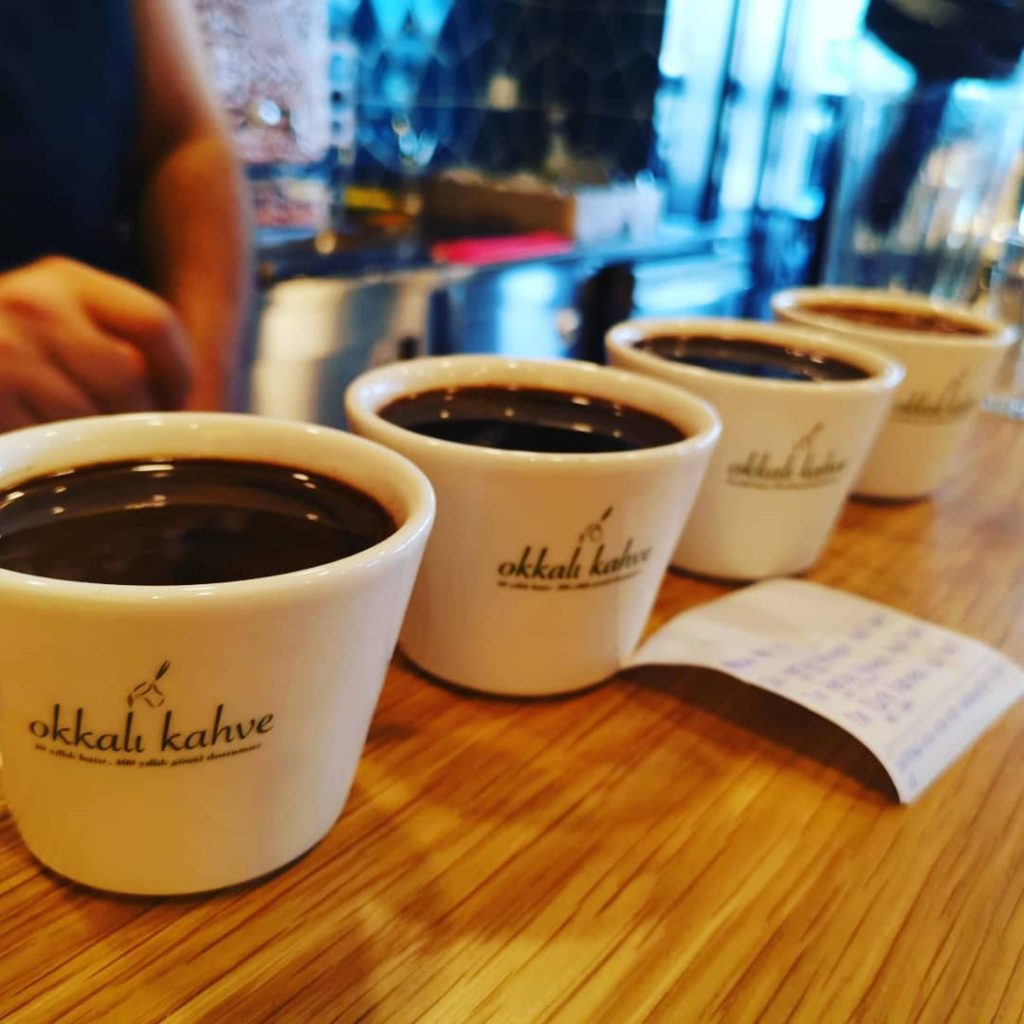 Okkalı Kahve, which means 'strong coffee made with plenty of coffee', is a charming tiny gem in the center of Beşiktaş highly praised and loved both by locals and tourists. If you are around Beşiktaş, one of the oldest and historical districts of Istanbul, and craving for coffee, just head towards the Okkalı Kahve and enjoy its whooping Turkish coffee.
Okkalı Kahve's menu extends over an entire page, with sixteen different types of Turkish coffee, only you would definitely find it difficult to choose one. The most prominent ones include Adana Gar Coffee, Carvansaray Coffee, Gum Mastic Turkish Coffee, Dibek Coffee, and Menengiç Coffee.
The place provides such a unique coffee experience that encompasses different cultures into a single Turkish coffee. I love the atmosphere of Okkalı Kahve as much as the Turkish coffee with gum mastic flavor when served together with a delicious carrot cake.
Address: Sinanpaşa, Yeni Hamam Sk., No: 3, Beşiktaş, +90 212 236 95 06.
Our coffee remains attached to us at the office, in meetings and gatherings, chatting with friends, etc. So, knowing good places to try Turkish coffee will be an advantage for you. Hope, once you crave after coffee, you will check the cafes I listed here. Indeed, nothing refreshes us more than to start our day with a cup of forthy and velvety Turkish coffee.