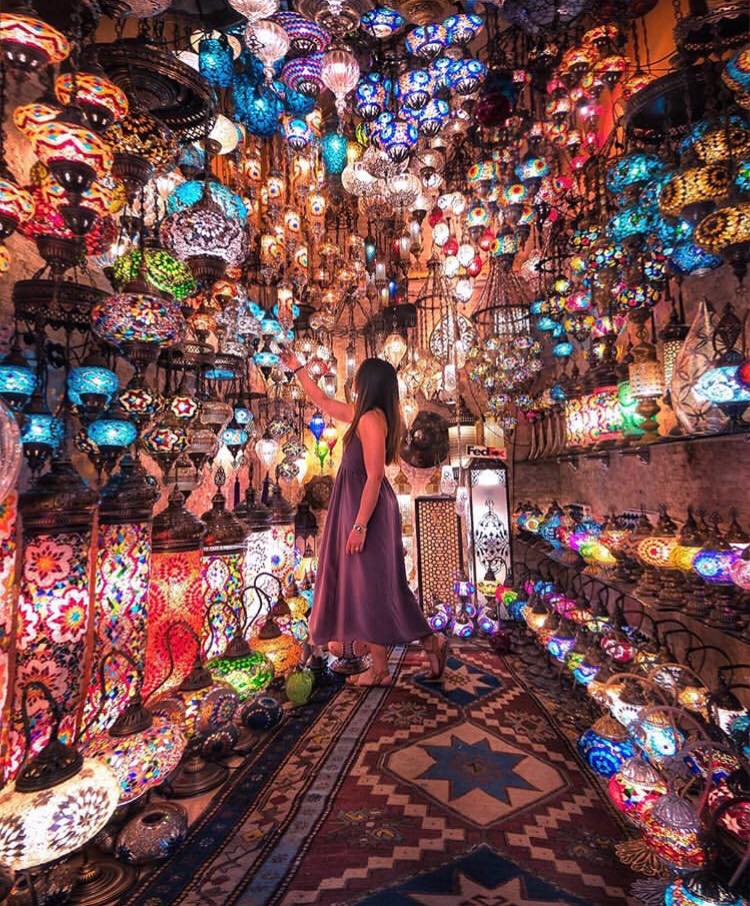 Keep some souvenirs of your past, or how will you ever prove it wasn't all a dream?

Ashleigh Brilliant
Personally, I love shopping for souvenirs even more than traveling itself.
I'd love to explore the city, visiting it like a local and buying a small handmade craft in a cozy little shop somewhere quiet, finding a significant café accidentally on my walking.
Istanbul has a very rich and unique heritage, several ethnicities and nationalities have been living together for a long time.
There are marks and influences of their presence all around this city. Naturally, there are lots of fascinating folk products out there, but when you are traveling, you have to choose insubstantial objects that are easy to carry.
You would not want to overpack or purchase heavy fragile items.
That's right, having a piece of memento that takes you back in time is precious. It's adventuring and you support the locals whilst having fun, you also might like to get a gift or something that shows you were thinking about your loved ones, who didn't have a chance to be there with you.
I have been living in Istanbul for two years now and to be honest, I do a lot of shopping all the time!
So I decided now it's time to share my souvenir wisdom and hunting experience with you guys!
Here are some important topics for a better gift shopping experience that I'm going to share with you,
I hope you'd find them helpful.
Ideas and items for shopping
Best places to buy them
Turkish names and synonyms for easier purchasing
1-Turkish Black Tea (Siyah Çay)
Oh yes! This exotic hot beverage is a big part of Turkish culture.
They show their hospitality skills by offering and making tea, and everywhere you walk, you can see people sitting around tables together chatting and enjoying their time with a simple cup of tea.
If you look up, you can see families and friends on balconies of their houses drinking while watching the view.
Many restaurants serve you tea for free after you are done with your meal! You can even ask for more than one cup and it is fine.
The most traditional way to serve tea is pouring it in very tiny glasses called (Cam) with a small plate under and one sugar cube and a very small teaspoon. The displays usually come in sets and they're painted or designed with eastern patterns. It's all very authentic.
Just remember you can never have too much tea! Very powerful and refreshing.
It's very easy to make and only takes half an hour to brew a really strong tea. Also, directions are easy to follow, you can just look it up on Youtube channels and do as they say.
Turkish tea is available in various packaging, sizes, and brands.
There are a bunch of high-quality goods in them and you can ask the shop owners for the best ones.
Places to buy:
Every grocery shop
Grand Bazaar Address: Beyazıt, Kalpakçılar Cd. No: 22, 34126 Fatih/İstanbul
Souvenir shops
Price: TRY 9 – TRY 40 ($ 3 – $ 9)
2-Turkish Delight (Lokum)
These delicate sweet bites are mostly made of sugar and usually added different types of dried nuts like almonds, pistachios, hazelnuts and sometimes pieces of fruits.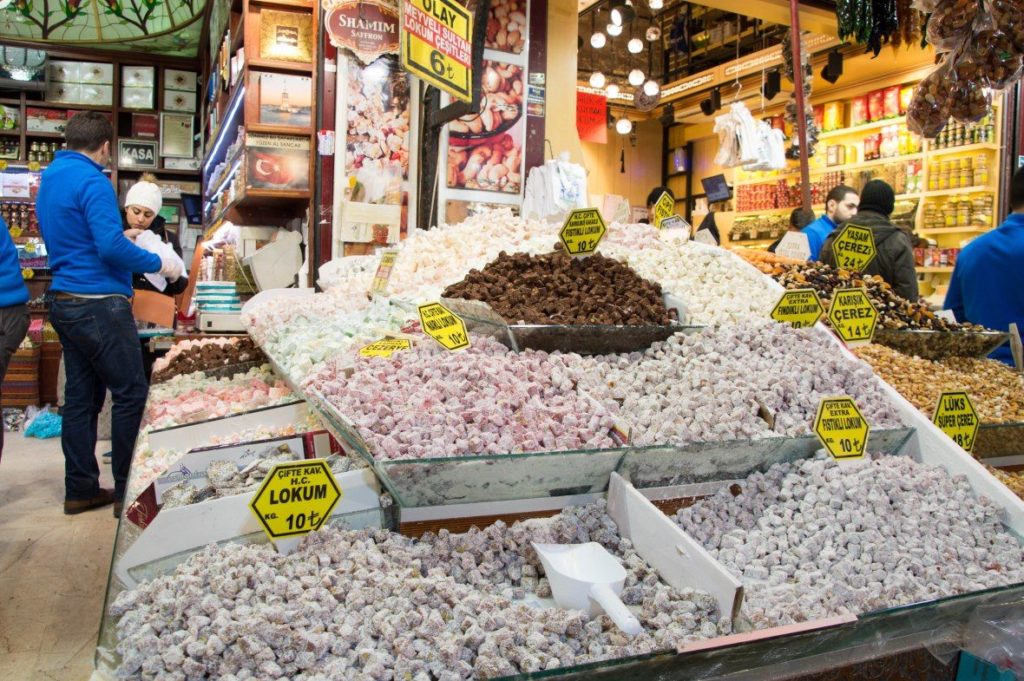 They are often flavored with rosewater, mastic or lemon, their texture is gummy and chewy. They are popular even out of Turkey like in Europe and Greece, and are available in any size, shapes, and packs,
of course, some flavors are more popular so if you didn't have time to try them all, just ask the shop owners and they help you pick the best one.
There are samples available at most of the stores so you can taste them beforehand. There is a big price range on these delights, around Istiklal street could be expensive so just try the Bazaar for a fair fee.
Best places to buy:
-Efezade restaurant cafe Turkish Delight Address: Cankurtaran, Alemdar Cd. No: 22, 34122 Fatih/İstanbul
Grand Bazaar Address: Beyazıt, Kalpakçılar Cd. No: 22, 34126 Fatih/İstanbul
Arasta Bazaar Sultan Ahmet, Mimar Mehmet Ağa Cd. No: 2, 34122 Fatih/İstanbul
Souvenir shops
Price: TRY 25 – 70 ($ 5 – $ 14)
3-Blue Evil Eye (Nazar Boncugo)
The very popular and beautiful blue eye is originally a symbol of protection and keeping the bad and evil away from you.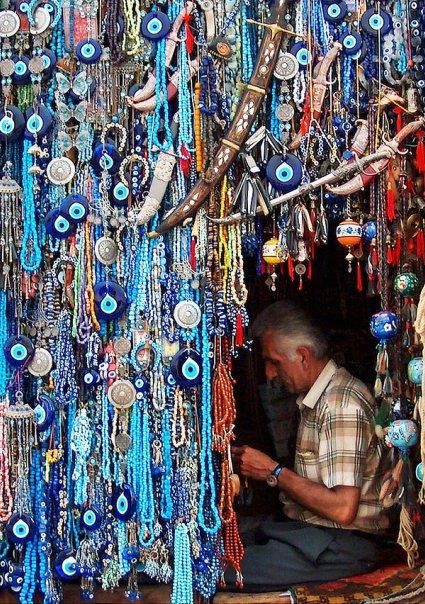 I know it sounds superstitious but nowadays it's more than that. Some celebrities in Hollywood even use them as pieces of jewelry. The blue evil eye is part of the Middle East culture, they use it in fashion, designing and clothing. They are often used in decorations such as furniture or shades.
You even see them in the buildings, placed there for good luck. They are on refrigerator magnets, key chains, on necklaces and jewelry.
They have very vivid blue colors and conventionally, available in different shapes, usually, are light and easy to carry, and wouldn't lose their quality and colors in time. They make great gifts for your loved ones plus the very fair price range.
Places to buy:
Every souvenir shops
Airports
Price: TRY 5 – TRY 200 ($ 1 – $ 40)
4-Turkish Spice
Let me tell you one thing first about these tropical magic workers; there are many sorts of spices in Istanbul that there is a Bazaar dedicated just to them!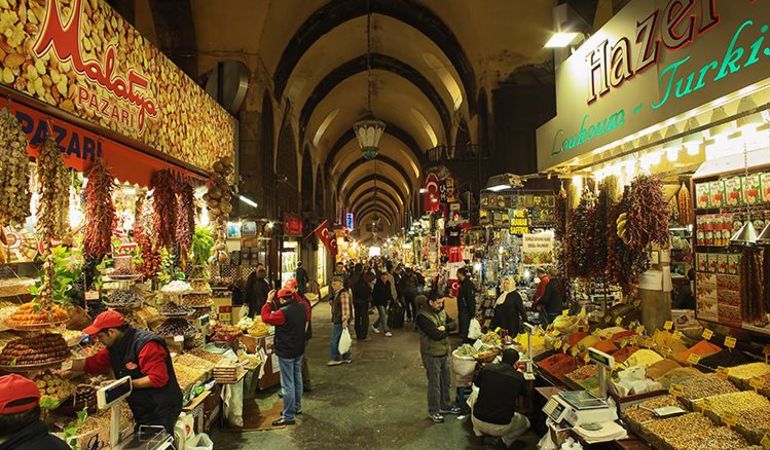 There are some intense and freshly ground seasoning and herbs in the Bazaar. Elegantly displayed in those big old hallways, and the powerful scent combined with sharp colors will tremble your senses.
There are some very rare products you might find exciting to try.
If you love food and who doesn't?! You must try at least some of them, especially the famous Red Pepper (Pul Biber)
There are many options you can choose and the shop owners will also help you, even if you don't cook Turkish food, you can still use them for all your home meals and give them new exciting tastes.
The only thing you need to do is going to the Egyptian Bazaar.
Also, the prices are very reasonable.
Places to buy:
Spice Bazaar Address: Rüstem Paşa, Erzak Ambarı Sok. No: 92, 34116 Fatih/İstanbul
Grand Bazaar Address: Beyazıt, Kalpakçılar Cd. No: 22, 34126 Fatih/İstanbul
Price: TRY 3 – TRY 35 ($ 1 – $ 6)
5-Turkish Coffee (Turk Kahve)
Turkish coffee is not just about Turkey anymore, it's now very popular and trending all around the world and why shouldn't it be?!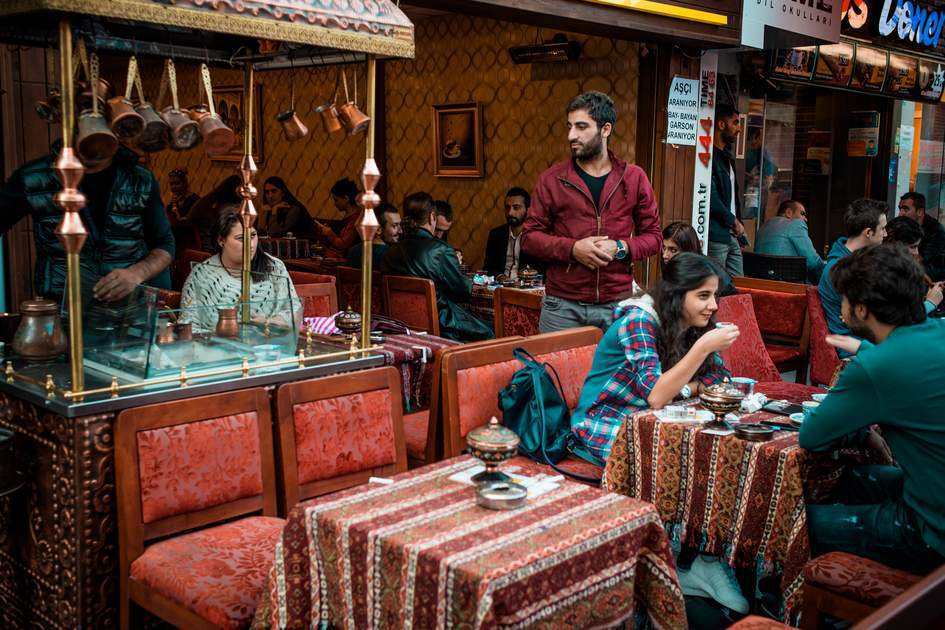 It's strong and has a unique way of preparation and displays. The whole process needs special skills and it's a lot of details involved.
The ritual of serving it makes you feel special while having Turkish coffee. You may just take a walk in the city and you notice the shiny loud cafes making the coffee on the fire and using their special tricks.
You can hear them calling and inviting people in. You can drink the best Turkish coffee almost everywhere in Istanbul, it's served with or without sugar based on how you like it with a glass of water.
You need to drink the water before coffee that helps you taste your coffee better. You also find the best brands of it in Istanbul and just with a little practice from Youtube, you can make it at home.
One of the top brands of coffee in Turkey is:
Mehmet Efendi Kurukahveci
Best places to buy:
Every supermarket
Grand Bazaar
Çadircilar Caddesi
Price: TRY 15 – TRY 40 ($ 2 – $ 7)
6-Turkish Instruments
Traditional Turkish music has a very rich history. You would notice the musical and lingual impacts of neighbor countries, such as Iran, Greece, and Armenia.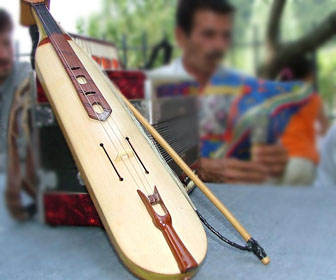 That's why it could be very nostalgic, especially after a little bit of drinking the famous Turkish drink called(Raki)you can see people enjoying or singing together with the songs in the bars or Meyhane.
Traditional music is very popular in Istanbul and there are numbers of artists like Bariş Manço, Cem Karaca and… who are loved prejudicially.
You can hear their songs in a lot of places even coming out of cars! Turkey has some of the best historical instruments and if you enjoy them, I suggest you check out the places below and find yourself authentic pieces of Eastern culture. Ney, Kudum, and Kemençe are some of the instruments that are light and easy to carry around.
Best places to buy:
Salsa Music Address: Murat Reis, Gazi Cd. no 131A, 34664 Üsküdar/İstanbul
Turkish Folk instruments Address: Sarıgazi, Fırtına Sk. No:22, 34785 Dudullu Osb/Sancaktepe/İstanbul
Istiklal Street, Tunnel
Prices are negotiable sometimes ($ 3 – $ 60)
7-Ceramic Wares (Iznik)
You might have seen the old artwork of ceramics in the historic mosques and palaces in Istanbul, like Topkapi, Sultanahmet, Hagia Sophia and ancient landmarks in Istanbul.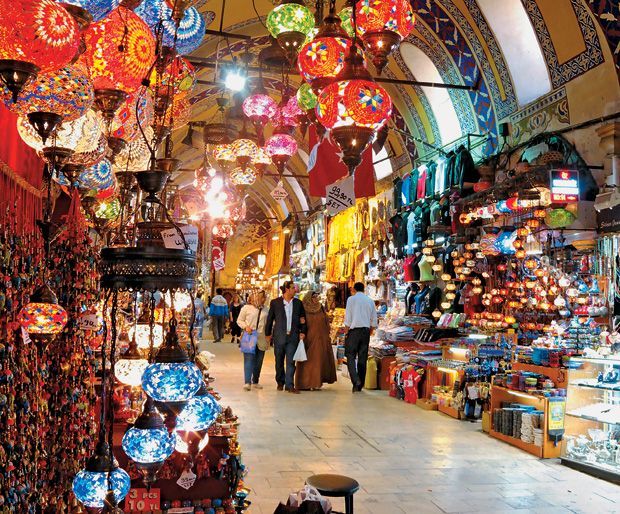 If you enjoy them as I do, those ceramics are produced with the same patterns and colors in shapes of plates, bowls, vases and sometimes ashtrays, although they are not ancient or historical but still have the same colors and arts.
There are numerous creative designs available in mini shapes, so you have options. Also a great idea for gifts!
They could be pricey around Istiklal street but you can easily avoid that by shopping at the Grand Bazaars!
If you are traveling the shop owners will wrap them up properly for easy carrying and safe transfer.
Where to buy:
Grand Bazaar
Spice Bazaar
Price: TRY 25 and above ($ 5 and above)
8-Turkish Coffee Pot (Cezve)
Well if you are a coffee drinker or you are looking for a gift for someone who is, this could be a great choice. Since you are buying Turkish coffee why not buying a proper pot for it as well? So you can make real Turkish coffee at home in like ten minutes.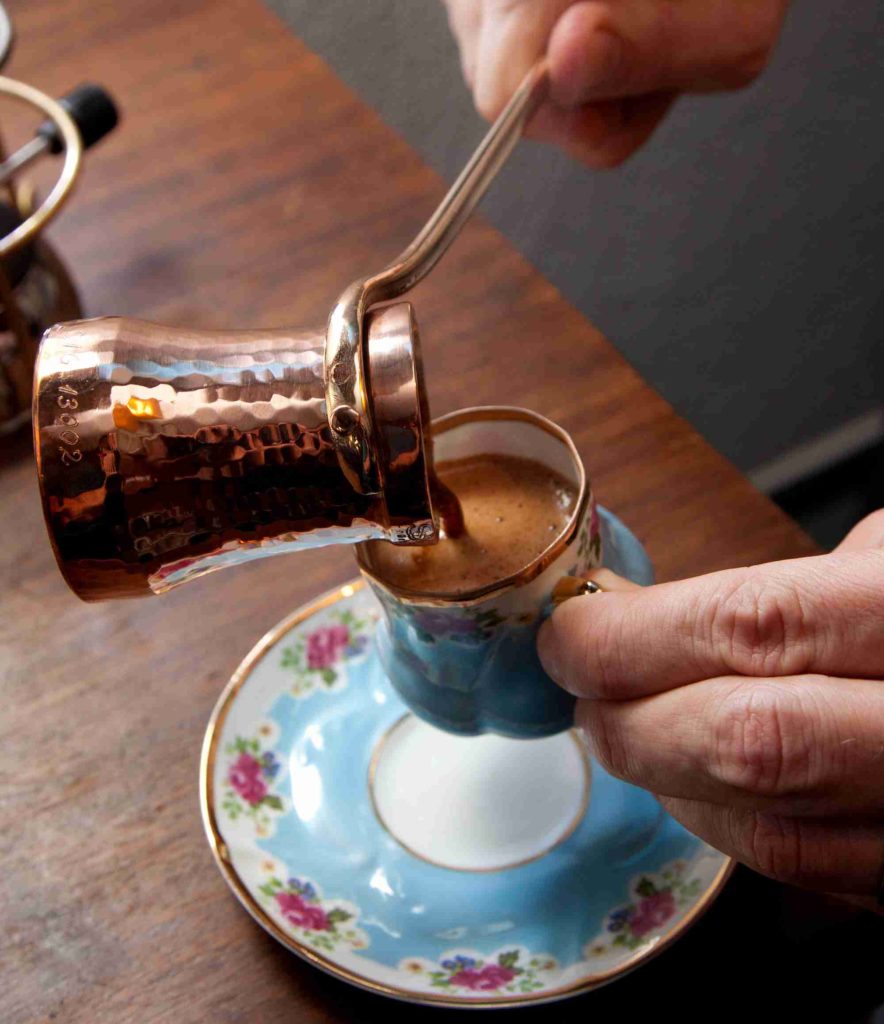 Although there are variant types of Turkish coffee pots, the best pot is made of copper. A high-quality pot and the material can make a real difference in your results. You can find a good quality one anywhere but I'm going to give you some suggestions anyway for a better price or better deals probably.
Where to buy:
Grand Bazaar
Spice Bazaar
Çadircilar Caddesi
Price: TRY 25 – TRY 70 ($ 5 – $ 15)
9-Handmade Crafts
There is a large number of options in this category and personally, it is my favorite part of shopping, you have so many choices, let's start with small handmade pieces of jewelry like necklaces, bracelet, earrings, rings and…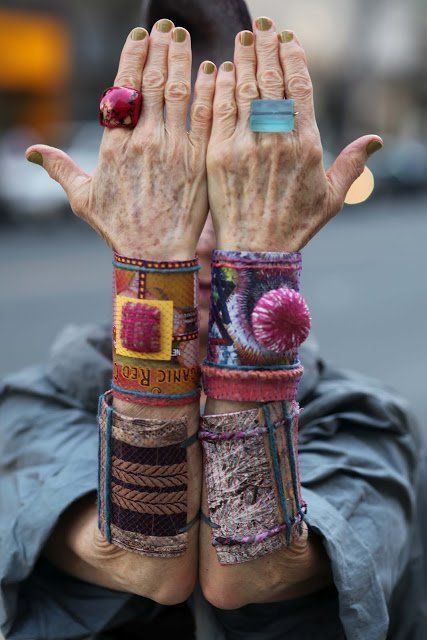 These items are made with a lot of different materials like steel, silver, wood, crystals, some of them with stones or even leather.
Or you might want to try small cheerful paintings or postcards, refrigerator magnets, candleholders.
Most of them have symbols and signs of the city you are visiting.
You might even like to see the fluffy cushions with charming printings on them of cute cats, historical places or the famous Istanbul sunset over the Bosphorus Bridge.
There is something for every taste.
Also, they are very easy to wrap up for packing and wouldn't take that much space.
Places to buy:
Taksim Meydani
Istiklal Caddesi
Kadikoy Mahallesi
Most Malls and shopping centers
Grand Bazaar
Price: it depends on the material also TRY 10 – TRY 100 ($2 – $ 12)
10-Bath Essentials
Turkish traditional bathing or (hamam) is an experience you cannot miss when you're traveling in Istanbul, besides the exclusive bathing culture, there are glorious bath products that you want to try.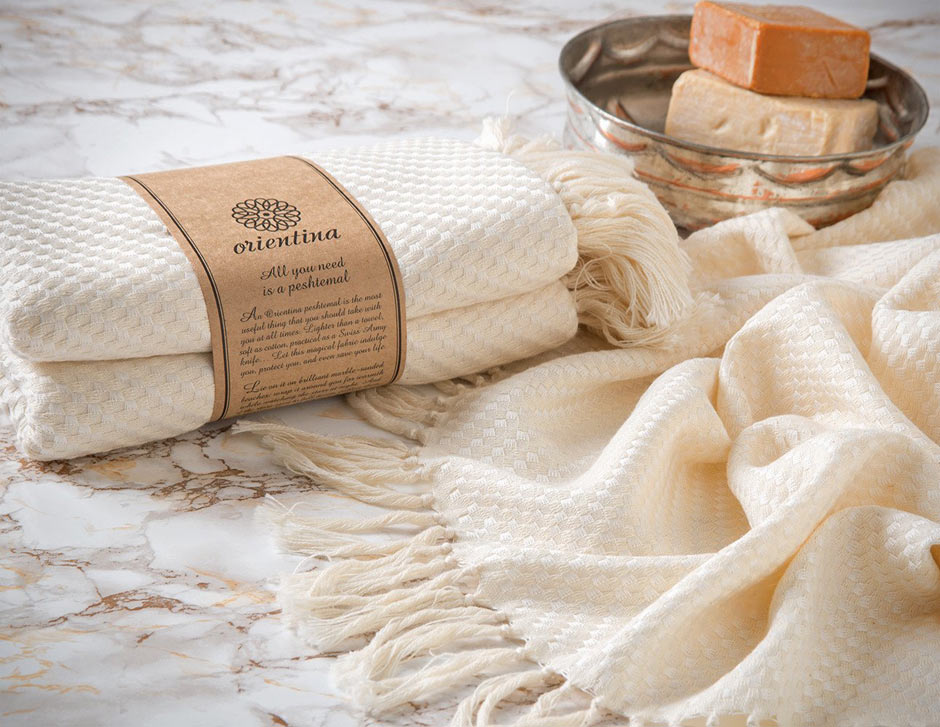 There are these colorful stores all over the city especially in touristic areas that you should check out.
The famous handmade olive soap is natural and eco-friendly and it makes your skin silky soft, you might find them in green or brown colors sometimes.
Towels made of cotton are extra soft and completely natural with high quality and they are very light to pack if you're traveling.
Handmade organic loofah in soft and medium textures, natural different colors and they are herbal.
Where to buy:
Shopping malls
Grand Bazaar
Spice Bazaar
Arasta Bazaar
Price: TRY 15 – TRY 70 ($ 3 – $13)
Of course, Turkish legacy in gifts is unlimited, once you get here there are tons of legitimate options to choose, mostly in touristic places like Grand Bazaar, Taksim square, and Eminonu. So shop away my friends! 🙂