Top 3 wine-tasting tours we recommend:
#1 Discover the Richness of Turkish Wine: Private Istanbul Wine Tasting Tour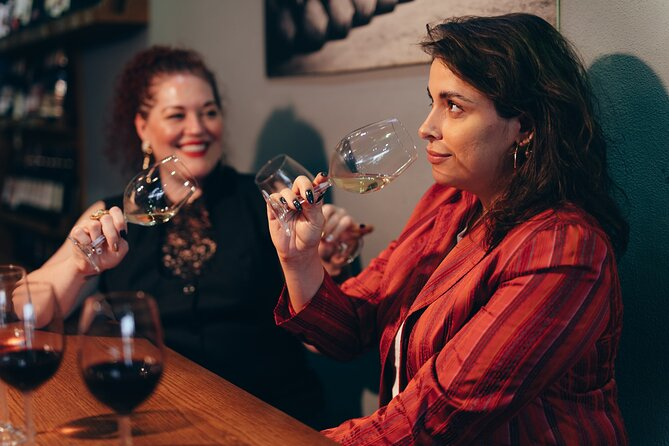 Embark on a private wine tasting tour in Istanbul that takes you on a delightful journey through three charming city wineries. Hosted by certified wine experts, this exclusive experience allows you to uncover the unique flavors and characteristics of local Turkish grapes. Indulge in a curated selection of six handpicked wines, expertly chosen by your personal sommelier. Alongside the tastings, savor local bites and a cheese platter that perfectly complement the wines. Your knowledgeable sommelier will share fascinating insights into the wine-making traditions of Turkey and the distinct characteristics of different regions. As you sample wines from across the country, you'll also receive valuable recommendations on choosing your personal favorite Turkish wine bottle and pairing it with traditional Turkish dishes.
Why Join This Tour?
Private Wine Tasting Experience: Enjoy the exclusivity of a private wine tasting tour, where you can immerse yourself in the world of Turkish wine at your own pace. Your private experienced guide and sommelier will provide personalized attention throughout the tour.
Discover Local Grapes: Uncover the richness of Turkish wine as you taste wines made from local grape varieties specific to Turkey. Expand your palate and gain a deeper appreciation for the unique flavors and characteristics of these indigenous grapes.
Expertly Curated Tastings: Indulge in a selection of six carefully chosen wines, handpicked by your sommelier. Each wine has been thoughtfully selected to showcase the diversity and quality of Turkish wines, providing you with a comprehensive tasting experience.
Perfect Pairings: Learn about the art of wine and food pairing as you enjoy local bites and a cheese platter alongside the wine tastings. Gain insights into the flavors and textures that harmonize best with Turkish wines, enhancing your overall tasting experience.
Insights into Turkish Wine Culture: Gain valuable insights into the centuries-old wine culture of Turkey, a hidden gem often overlooked by travelers. Learn about the unique wine-making traditions, regional variations, and the rich history that has shaped Turkish wines.
Indulge in this private Istanbul wine tasting tour to discover the richness and diversity of Turkish wines in an intimate setting. Allow your personal sommelier to guide you through a sensory exploration, and unlock the secrets of Turkish wine culture that will leave a lasting impression.
#2 Thrace Wine Trail: Full-Day Wine Tour from Istanbul
Step into a full-day guided wine tour from Istanbul and embark on a captivating journey through the historical region of Kirklareli. Experience the heart of Thrace and its beautiful foothills beside the Strandja Mountains as you indulge in a delightful exploration of three boutique wineries. Discover the unique flavors and qualities of Turkish wines as you sample four wines at each stop, including renowned varietals such as cabernet sauvignon, merlot, and Zinfandel. Let your palate be refined as you uncover the secrets of each grape varietal and learn about the ideal food pairings. Immerse yourself in the region's rich wine-making tradition and uncover its Thracian roots through the insightful narratives of your knowledgeable guide.
Why Join This Tour?
Captivating Wine Tasting Experience: Delve into the world of Turkish wines on a full-day wine tour from Istanbul. Visit three boutique wineries in the Kirklareli wine region and indulge in a comprehensive wine tasting experience. Sample a selection of four wines at each stop, including esteemed varietals like cabernet sauvignon, merlot, and zinfandel.
Discover the Flavors and Qualities: Expand your wine knowledge and refine your palate as you learn about the unique flavors, qualities, and characteristics of each wine. From the bold and robust notes of a cabernet sauvignon to the smooth elegance of a merlot, explore the diverse range of Turkish wines.
Ideal Food Pairings: Gain insights into the art of food and wine pairing as you discover the ideal culinary companions for each wine varietal. Learn about the flavors, textures, and dishes that complement the wines, enhancing your overall tasting experience.
Immerse in Wine-Making Traditions: Immerse yourself in the rich wine-making traditions of the Kirklareli wine region, deeply rooted in the ancient Thracian heritage. Hear captivating stories and anecdotes about the region's wine production and the influence of its Thracian roots.
Convenience and Expert Guidance: Enjoy the convenience of hotel pickup and drop-off, and travel in comfort in an air-conditioned vehicle. Your professional tour guide will provide informative commentary throughout the tour, enriching your understanding of Turkish wines and the Kirklareli wine region.
This full-day wine tour promises a delightful journey through boutique wineries, where you'll uncover the unique qualities of each wine varietal and deepen your appreciation for the rich wine-making heritage of the region.
#3 Taste the Essence of Tradition: An Unforgettable Tekirdag Wine Tasting Journey from Istanbul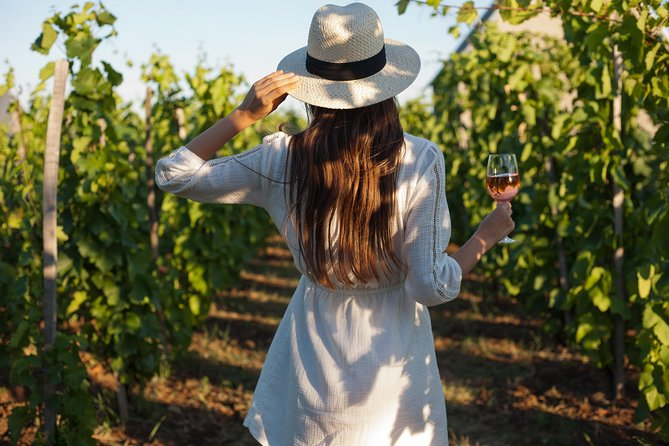 Embark on a fulfilling escapade from Istanbul to the verdant vineyards of the Tekirdag region with our 'Tekirdag Wine Tasting Journey.' As dawn breaks, you'll depart from a central Istanbul hotel and venture into Tekirdag, the heartland of Turkish viticulture. In this comprehensive day-long wine tasting tour, visit three premier vineyards: Chateau Kalpak, Barbare Vineyard, and Chateau Nuzun. At each location, you will unravel the mysteries of winemaking, traverse the lush vineyards, and savor the diverse array of wines, each with its own unique character. Lunch, accompanied by tastings, is set in the picturesque landscape of Barbare Vineyard, while refreshments and snacks are provided throughout the day.
Why Join This Tour?
Discover Turkish Viticulture: Learn about the historical and contemporary practices of winemaking in Turkey's prominent wine region, Tekirdag.
Unmatched Variety: Taste an array of wines at three distinguished vineyards, each offering unique flavor profiles and techniques.
Scenic Vineyard Walks: Enjoy the breathtaking views and serene environment of the vineyards, a perfect way to enhance your wine tasting experience.
Delicious Pairings: Relish a delectable lunch, thoughtfully paired with wines, amidst the beautiful setting of Barbare Vineyard.
Organic Wine Knowledge: Gain insight into the production and taste of organic wines during your visit to Chateau Nuzun.
From the lush vineyards to the carefully crafted wines, each aspect of the tour is curated to provide you a unique insight into the world of viticulture. As you step back into Istanbul, you'll carry with you an enriched appreciation for Turkish wines and a palate fine-tuned to the subtleties of their character. Make this wine-tasting journey a highlight of your Istanbul visit.
#4 Savor Istanbul: An Exquisite Food and Wine Journey Across Two Continents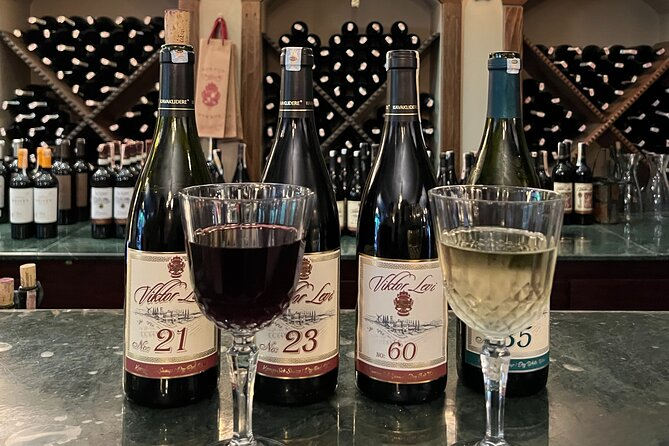 Experience the flavors of Istanbul in an entirely new light with our 'Exquisite Food and Wine Journey'. This private and guided food tour bridges the culinary divide between Istanbul's Asian and European sides. Under the guidance of a local expert, you'll venture into lively streets and bustling markets off the typical tourist trail. Here, you'll taste regional products and authentic Turkish dishes, including pickles, baklava, kokorec, stuffed mussels, and the famed Turkish coffee.
Why Join This Tour?
Unique Culinary Adventure: Your local guide will lead you beyond the common tourist trails of Istanbul, unveiling an intimate and authentic culinary experience.
Taste of Authenticity: Indulge in an array of regional and authentic Turkish foods that provide a genuine flavor of Istanbul's diverse culinary landscape.
Traditional Market Exploration: Engage with the lively atmosphere of an authentic Turkish market, teeming with fresh produce and local culinary treasures.
Food Traditions and Insights: Gain a deeper understanding of Turkish cuisine, the traditional practices, and the cultural significance embedded in every dish and drink.
All-Inclusive Culinary Delights: The tour includes coffee, tea, snacks, and lunch, providing a well-rounded culinary experience that caters to all your needs.
The 'Exquisite Food and Wine Journey' across Istanbul offers more than just a meal; it's a voyage through the city's culinary heritage. As you traverse vibrant streets and bustling markets, tasting the delights that Istanbul has to offer, you'll gain a new appreciation for the city's food culture. This food and wine tour provides a connection to Istanbul's culinary roots, a delightful experience you won't soon forget.
#5 A Seven-Day Private Wine Exploration Through the Heart of Turkey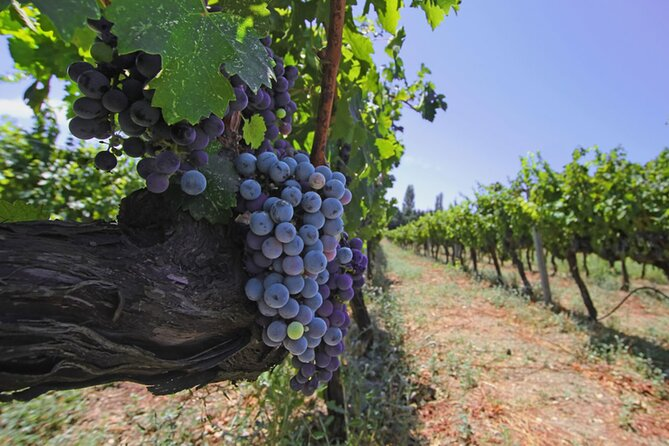 Join us on a 'Seven-Day Private Wine Exploration' as we journey through Turkey's iconic destinations including Istanbul, Pamukkale, Ephesus, and Cappadocia. This exclusive expedition couples the rich historical experiences of these cities with a unique exploration of their vinous offerings. With private tours, local guides, and transportation, we'll visit world-renowned landmarks, marvel at the spectacular natural beauty of Pamukkale, wander through the storied streets of Ephesus, and immerse ourselves in the wonders of Cappadocia.
Why Join This Tour?
Comprehensive Journey: Traverse through some of Turkey's most coveted sites, enriching your understanding of this captivating country.
Wine Tasting: Experience Turkey's blossoming wine industry first-hand in various iconic locations, making this tour a feast for both the palate and the mind.
Expert Guidance: Accompanied by local guides, you'll glean in-depth knowledge and insights about each destination and their respective wine cultures.
Travel Ease: With private tours and transportation, domestic flights, and airport transfers included, enjoy a hassle-free, seamless travel experience.
Cultural Immersion: From Istanbul's bustling Grand Bazaar to Cappadocia's otherworldly landscapes, you'll get a taste of the diverse and rich cultural tapestry that Turkey offers.
Our 'Seven-Day Private Wine Exploration' tour is more than just a travel itinerary; it's a pathway to the heart of Turkish culture, history, and wine. As you journey through each city, you'll unearth its unique narrative, all while savoring the country's diverse vinous expressions. As you depart from Istanbul on the seventh day, you'll carry with you an enriching experience that transcends the conventional boundaries of travel, painting a vivid picture of Turkey that lingers long after the journey ends.