Antalya is a great place, as I've been explaining to you in this blog, but there are also some great places to visit near Antalya.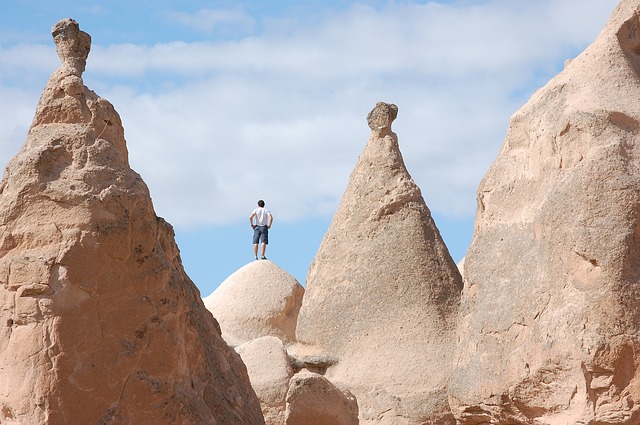 This article is about day trips and excursions you can do take around Antalya. Pamukkale, Fethiye, Dalaman, Dalyan, Nevşehir, Denizli, Aydın, Uşak, Kula are only some of my favorites.
Cappadocia–A City of Valleys and Hot Balloons
Nevşehir is a must-visit spot in Antalya. It will take a bit of time to get there, but it's definitely worth it. If you don't mind taking the bus, it will take 9 hours to get there, and only 6-7 hours by car.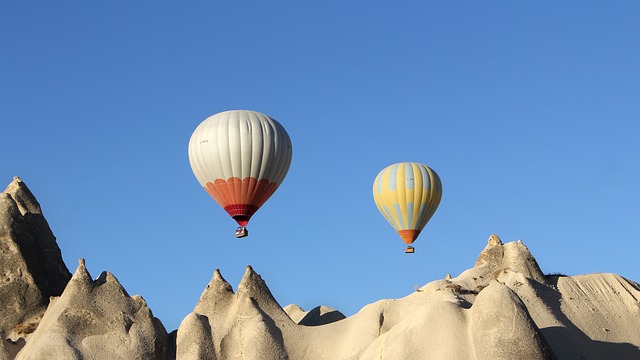 Bus tickets are between 15-20USD. If you'd rather chart your own route and rent a car, it will cost 30-50USD. In any case, you'll pass Konya, the land of the dervishes, which is another beautiful place to discover.
I love to walk around new places, and if you're like me, you should definitely have a walk in the Kızılvadi (Red Valley), which is only a 30-minute drive from Nevşehir's center. Because of the minerals in the reefs, this place turns incredibly red at sunset and sunrise.
They charge you 1USD at the entrance. Cafes or peddlers can be touristy and pricey here, so be sure to bring your own snacks and drinks. This is one of the most beautiful things to see in the region–you even can see the entire valley and hot air balloons taking off or coming back.
After Red Valley, you can reach the Valley of Lovers, which takes 30 minutes by car and 1 hour on foot. This is another great spot in which to watch a romantic sunset or sunrise. Be sure to hang out on the heart-shaped swing here, and hang your wishes in the trees.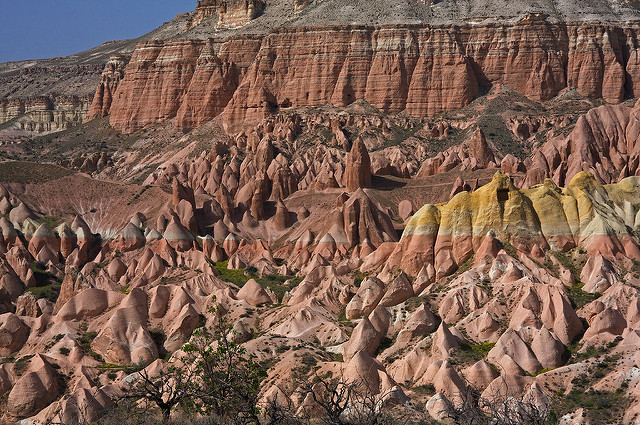 If you are wondering how people lived in these fairy chimneys (residents stayed there until 1954), you should visit the Zelve Open Air Museum, which takes 30 minutes by car or 1 hour on foot.
I recommend taking transportation there since you'll end up doing a lot of walking in the open-air museum. Don't forget to put on comfy hiking shoes and clothes before hitting the road.
You can still see remains from the ancient city to learn how people lived back then. The entrance fee here is 3USD. If you spend a lot of time outside walking, you can fortify your strength by enjoying some pancakes at the entrance.
The area is no longer open to residents due to an extreme landslide. This tough hike may seem more like parkour, but if you're interested in discovering the history beneath the surface of the view, this place is for you.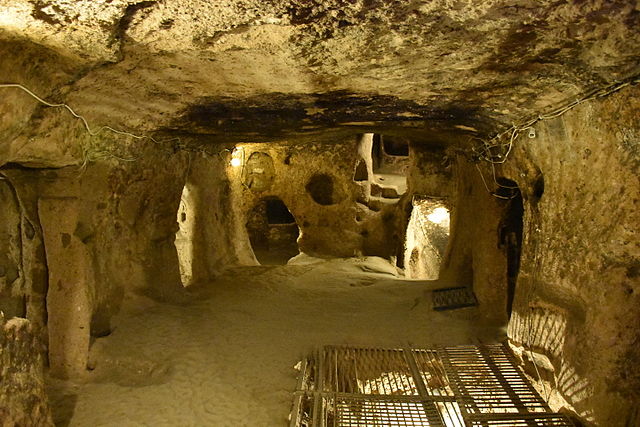 Around spot for history lovers in the area is the Özkonak Underground City. This one is small, compared to other underground cities, but it will impress you with its labyrinth-like structure. We have been told that this was a part of a larger city that might have been excavated by the staff there.
Göreme National Park is one of the largest tourist attractions in the area. Here, nature and history blend harmonically. You take a walk to enjoy this harmony and buy souvenirs, from traditional rugs to evil eyes and pottery, among others.
The entrance fee is 10USD, and you can ask for a 30-45-minute guided tour. Göreme is one of the few places presenting history from 2 aspects: as a residence and as a religious center.
The Ürgüp Museum is another spot the historically-minded. It's not in the Göreme area, so it will take a half-hour ride to get there. This museum was designed to explain the area's culture, how Cappadocia was formed, and disseminate general historical information.
I admire the pottery art present here, and I think you will do the same. It's free to enter the museum, but make sure you arrive before lunchtime, or they may be closed.
After you've had your cultural fill, you might consider doing some souvenir shopping.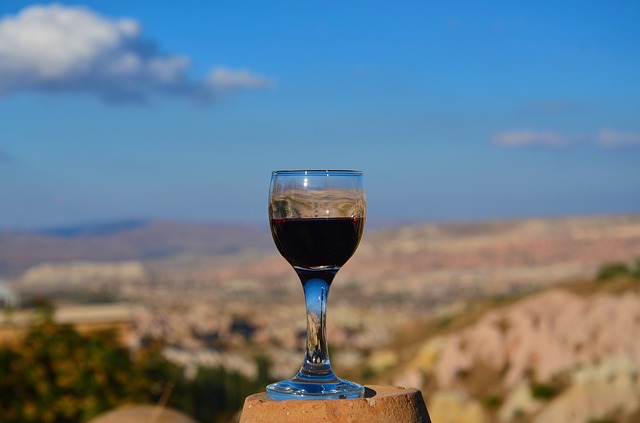 I recommend you have some Capadoccia wine and buy some pottery here, rather than shop for traditional things like key chains or magnets. There are options enough to suit many different budgets.
Nevşehir is approximately 545 km from Antalya, and it will take around 6 hours and 30 minutes to get there when driving by car.
Fethiye–Harmony of Green and Blue
The closest summer destinations to Antalya is Dalaman, Dalyan, and Fethiye. I prefer to begin my route at Antalya and get to Fethiye via the Lycian Way. This is one of the most interesting and longest hiking areas with 500 km.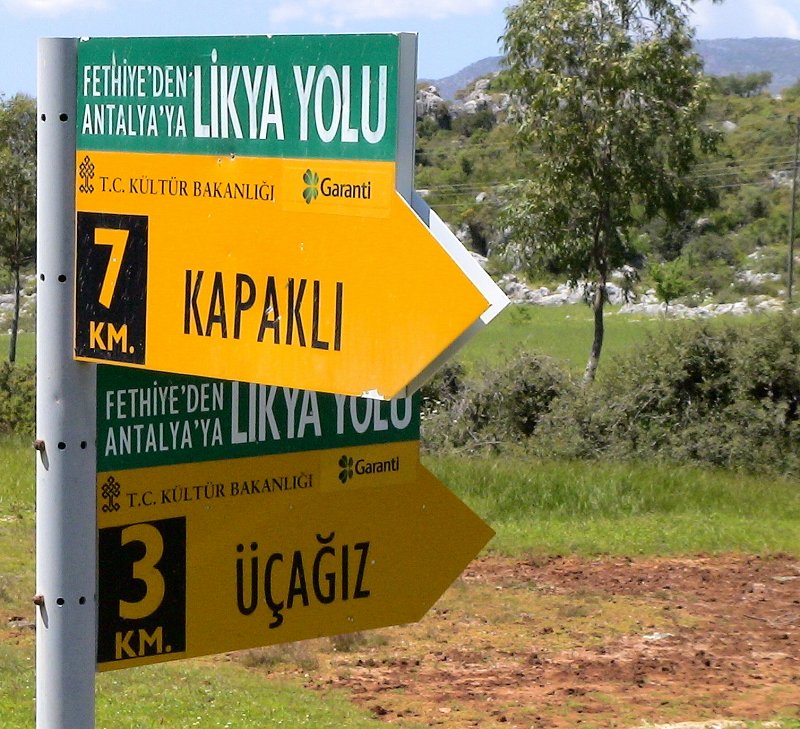 This is where nature and history come together. I prefer to walk on the Lycian Way between the Blue Lagoon and Fethiye since it's shorter. The water here is clean and clear, but it can sometimes be warm because of the streams.
I'm always good to hang out at the beach, but if you'd like to experience more nature, Saklıkent Nature Park, Gizlikent Waterfalls, and Kıdrak Natural Park are good choices!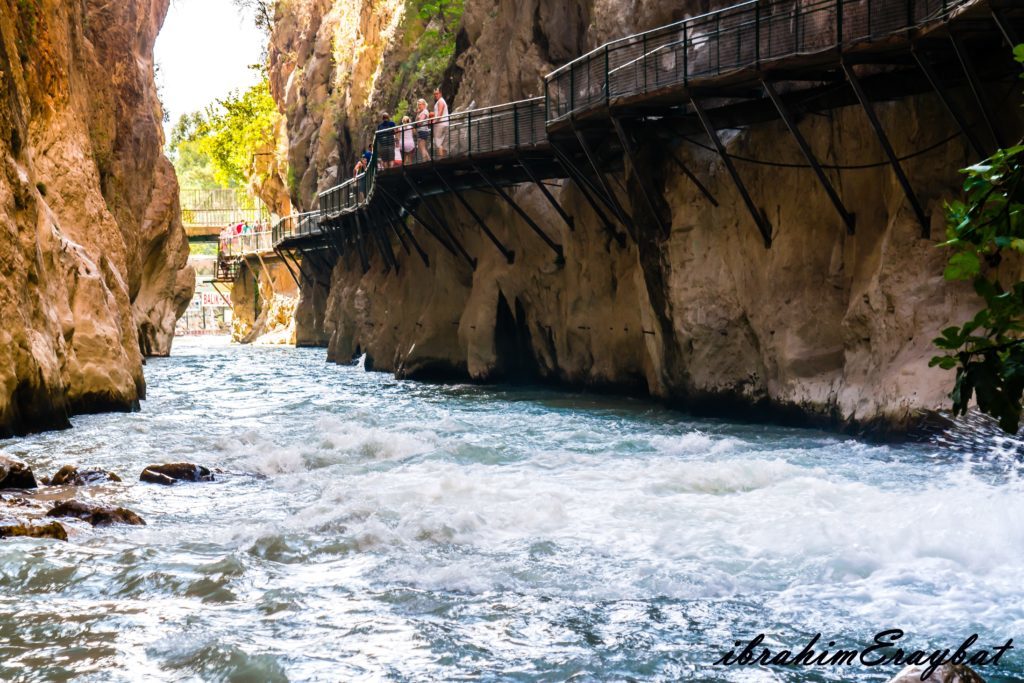 There's a reasonable fee of 20-30TL to enter or use the sunbeds at all locations. The water is pretty cold in Saklıkent, and there's a rocky surface on the bottom, so be sure to have dry towels and beach shoes with you when you go.
Fethiye is 200 km from Antalya's city center. If you prefer to drive, it'll take around 1 hour 40 minutes to get there. Be careful on the road because there are a lot of sharp curves!
Dalaman–A City with Mountains and Sea
After Fethiye, head toward the Aegean side. Dalaman is the perfect summer vacation, with its broad beaches and small caves around Göcek, İztuzu, Sarıgerme. It might be easier to go on a boat trip to see all of these beauties.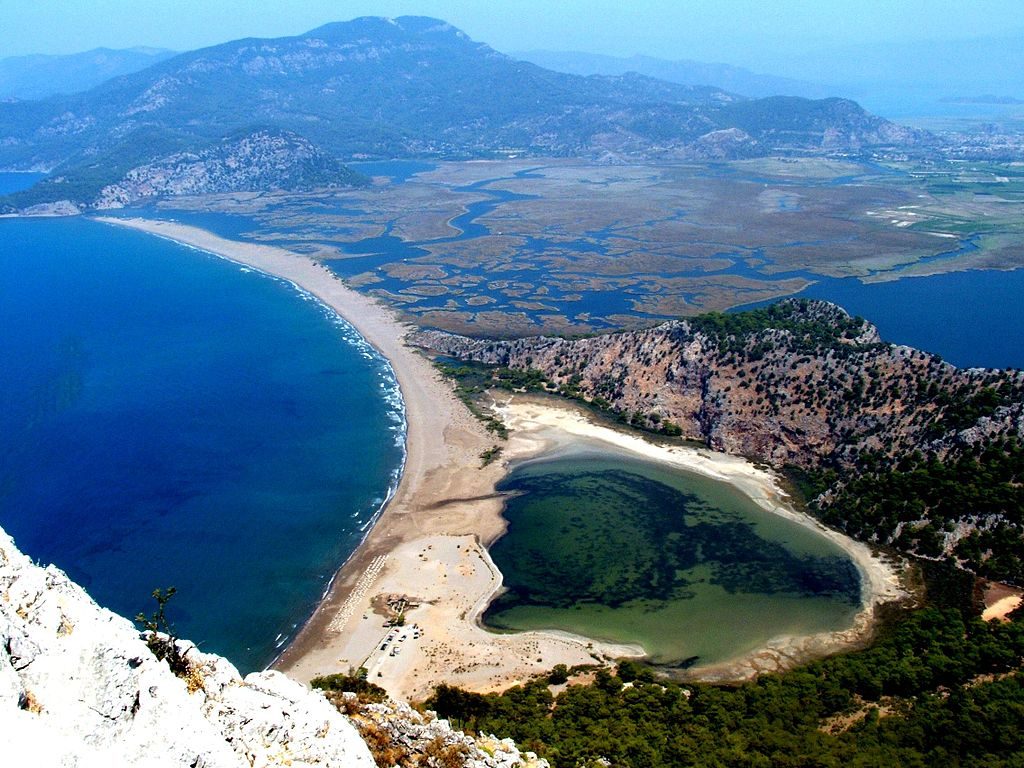 You can also try rafting on Dalaman Creek. To finish the entire trek will take 2 hours.
For lunch or dinner, I suggest trying Agora Restaurant. I like its design and mood. It has a tavern-like façade, but the food options are varied, as they serve dishes like schnitzel and pasta.
My other choice is Akkaya Garden Restaurant. It's spacious and located inside a cute garden. Although it's not in the city's center, this is a great place to seek shade during the summer.
There's also the inevitable fish restaurant here, since Dalaman is famous for its varieties of fish, due to its location.
When I first discovered Göbün Restaurant, I thought it might be a great location to have fish. It is pricey compared to other places, but it's located in a small, closed cove, so there's a feeling of intimacy.
If you feel like diving into history, the Ancient City of Hippokome is outside the Dalaman Center (approximately 30 km). You can rent a car or take a minibus to get there.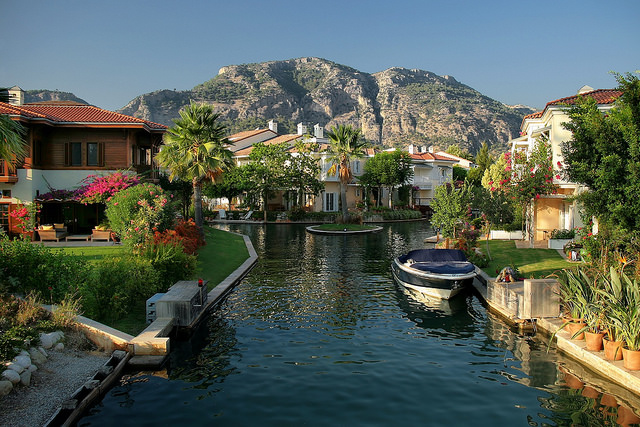 The minibus is 2USD, but if you'd like the freedom to go where you want, when you want, you can rent a car for about 30USD. Here, I saw rock graves from the Roman and Byzantine periods while taking a long walk between the ruins of the ancient city.
Dalaman is 240 km from Antalya's city center. If you take a car, it's around a 3-hour-and-30-minute drive.
Dalyan–A Cute Beauty with History
Grab your towel, put on your flip-flops, and head to İztuzu Beach after arriving in Dalyan. You can get there with a small boat or car. The water in Iztuzu is generally wavy, but the beach is long, with labyrinth-like fishpond on one side and smooth sand on the other.
Blue crabs and Caretta caretta turtles inhabit this part of the fishpond, so if you happen to wind up here during the hatching period, you may be restricted from entering the area. There is a turtle rehabilitation center nearby, however, so you can see them there.
Dalyan is the canal tying Lake Köyceğiz and İztuzu Beach together, where people tend to fish. You can take a ferry tour on the Dalyan for approximately for 15USD to go sightseeing.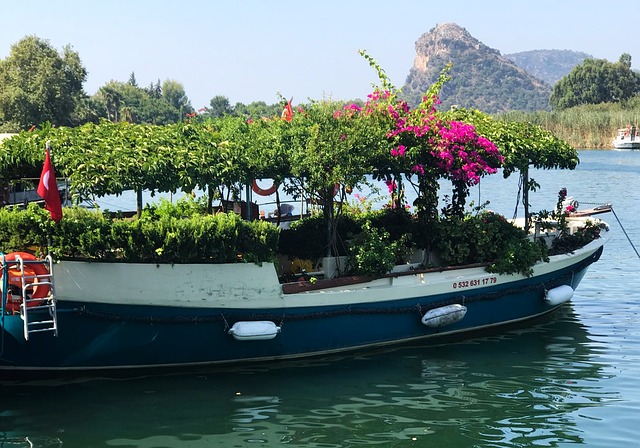 If you wake up early the next day, you can check out Sülüngür Lake (Sülüklü Lake). This is like a secret haven in the mountains. You'll pass this location by on the way to İztuzu Beach. I like to enjoy the sunset here while watching others picnic, bike, or hike.
The Efe Bar is located near the fishpond–the Turkish word, dalyan translates to "fishpond." They have great cocktails here, and they're animal-friendly if you happen to have your pet with you. The only downside is that you'll have to watch football on TV.
If you're looking for a night out after a long day on the beach, Mustang is a good option. It's in the center, so it's easy to get to. The Mustang cocktail is a "must" here, the staff is hospitable, and the service is super fast.
After chilling out in nature and at the bars, you might be ready to experience some of Dalyan's history, and the ancient city of Kaunos fills the bill. This place–located on the Dalyan shore–has been host to 5 civilizations.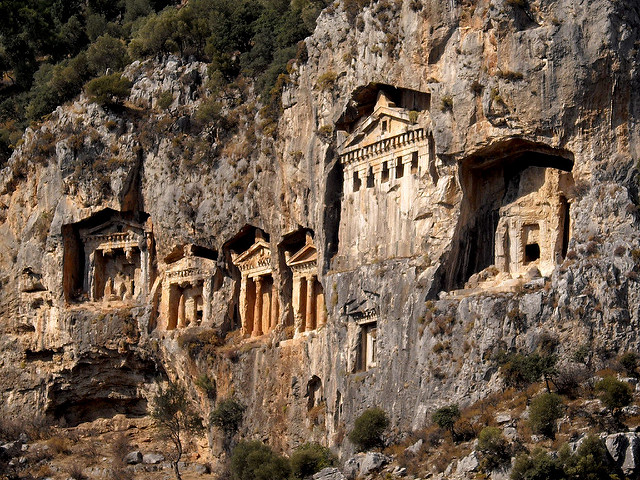 If you don't have transportation to take you around the lake, be prepared to walk. Or you can take one of the small boats that travels to the other side of the fishpond. These small boats are run by Dalyan's locals, and a round trip will cost 1 USD.
Once you're across the lake, you'll need to walk 2 km or so to reach the Kaunos ruins. If you have a Turkish Museum Card, you'll get in for free. If not, it's 2USD.
This ancient city has a huge theater. Be sure to bring water, sunscreen, and a hat to protect yourself from the summer heat.
After Dalaman, drive 10 more kilometers to Dalyan. It's 260 km from Antalya, and it will take around 3 hours and 45 minutes to get there when driving.
Pamukkale–The White Miracle
You can easily explore the Pamukkale Travertines, located between the Aegean Region (Denizli) and Antalya, by taking a bus for 10USD. Once you get to Denizli, you'll need to transfer to a smaller minibus that's better suited for sightseeing.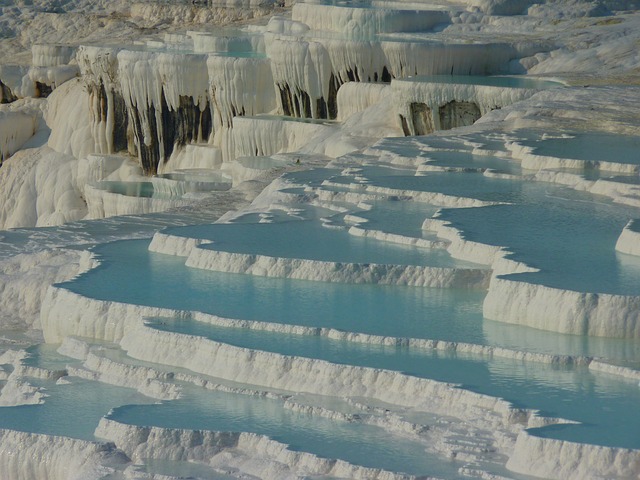 You can also rent a car and drive there if you feel like taking your own route. I like to relax in the hot springs here after a tiring journey. The hot springs here are classified as a UNESCO World Heritage Site, and it's been used for healing and recreation since ancient Roman times.
Hierapolis is another gorgeous spot to check out before going back to your home base. This ancient city's streets are well-preserved, along with its necropolis, tombs, basilica, and huge entrance doors. The city was named after Amazon Queen Hiera by Pergamon King Eumenes II.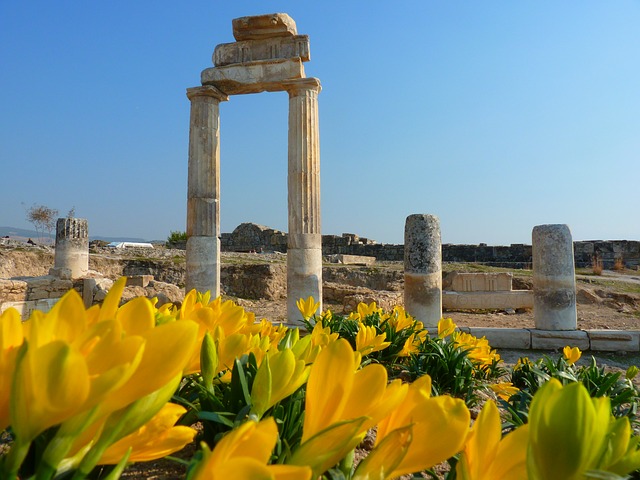 There is also has a huge temple to Apollo and an amphitheater with the capacity to hold 10,000 people here. I like to sit here and think about the history and people who went before us.
Hierapolis also has a museum with the tombs and engravings of stories depicting gladiator fights. There are also many sculptures of Greek gods.
Pamukkale is 240 km from Antalya and will take a little more than 3 hours to get there when driving.
Denizli–the Center of Leblebi
Denizli is on the way to Pamukkale. It's 230 km from Antalya and 10 km from Pamukkale. Why not spend time in Denizli before or after you visit Pamukkale? It's only a 3-hour drive.
If you're looking for a trip through nature, Denizli is a great option. It's close to the Pamukkale area and close to Hierapolis. I walked through beautiful national parks containing caves, huge valleys, and waterfalls.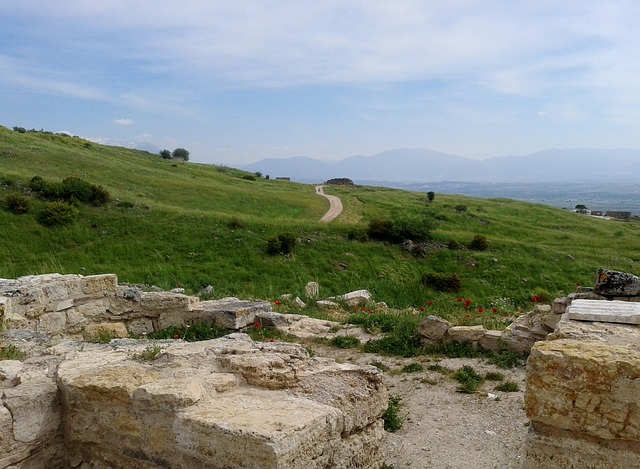 Since you're there, you should definitely taste some regional delicacies, like isli yogurt, dondurmalı irmik helvası, and leblebi. Denizli is one of Turkey's largest producers of chickpeas– leblebi–so it's the perfect spot to eat them here. Leblebi can be seasoned with salt or sugar. It's a must-try taste when in Denizli. You can even bring some home with you as a souvenir.
Aydın–An Ancient City
When you're done in Denizli and Pamukkale, head over to Aydın, 300 km from Antalya, and 90 km from Pamukkale. Driving, the trip will take around 1 hours and 40 minutes from Pamukkale. From Antalya, it takes 4 hours.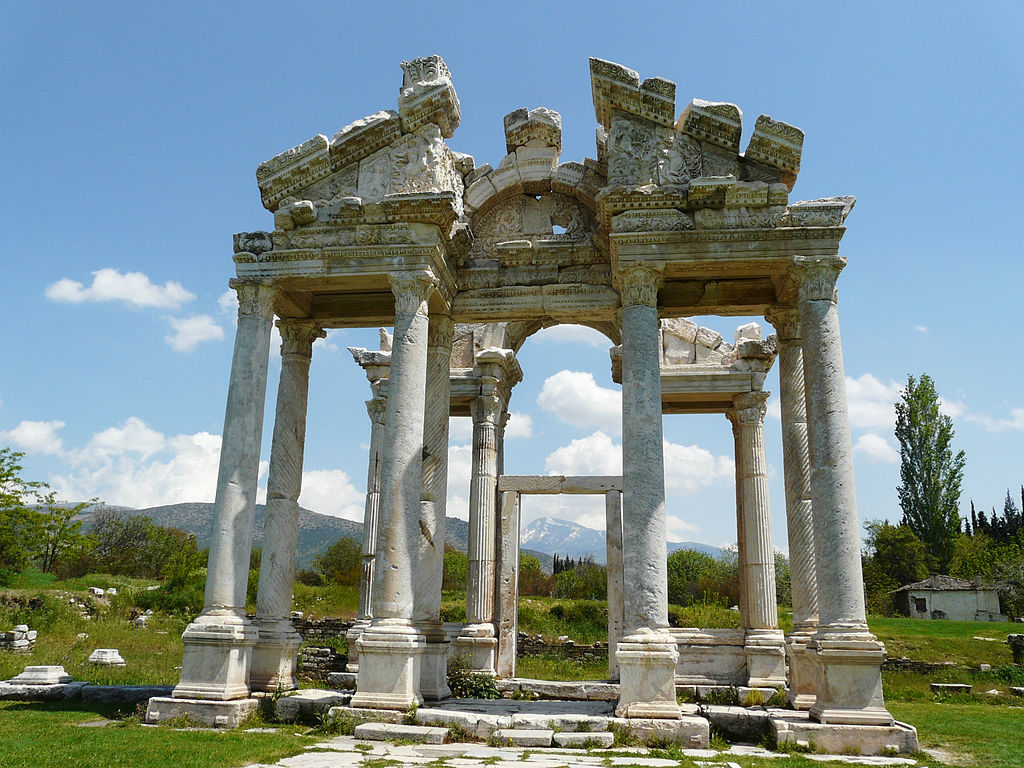 It's 2 hours away by bus (costing 8USD). Between these 2 beautiful cities is the ancient city of Aphrodisias, photographed by Ara Güler, who brought it to the public's attention in the 1960s.
The remains of the ancient city are impressive. Tetrapylon–the city's main entrance–has been restored to look as it did all those years ago.
The ancient stadium has also been restored so you can see the greatness of it. The Aphrodite Temple–which gave the ancient city its name–was built in 8 B.C.
Uşak–A Great City with a Canyon
Uşak Ulubey Canyon, the second biggest canyon in the world, was opened to the public 5 years ago. Clandras Bridge and the waterfall there are great to see, as well.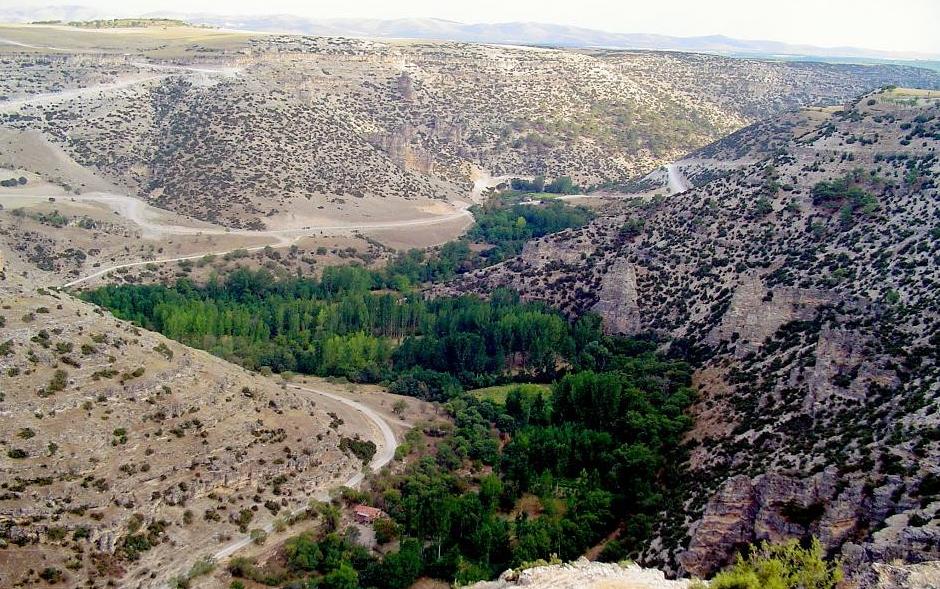 I like to hike down to Banaz Creek and come back hungry, so I can eat a huge breakfast in the cafe there. If you bring your picnic basket with you, it's always better to spend some time in nature. There are options for sports-lovers as well, like rafting.
Uşak is 300 km from Antalya, a 4-hour drive from Antalya.
Kula–Another Fairy City
Since we're in the region, why not check out Kula's fairy chimneys and Kula Volcano near Manisa. It's pretty accessible on the route between Kula and Uşak. The site is on the small-scale, but it's still impressive and surprising to see.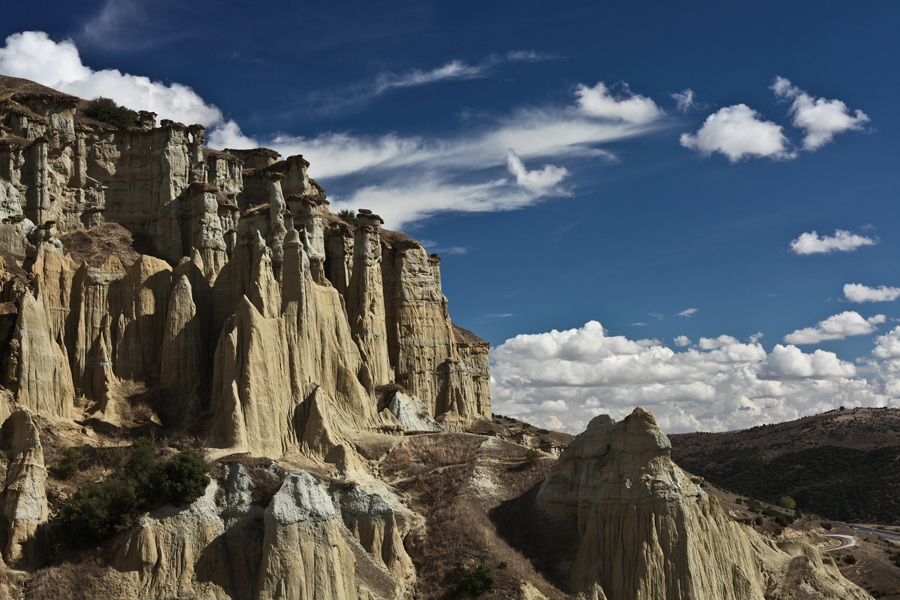 Other culturally-loaded stops include Burmalı Mescit Mosque, built in the 1600s, and Lydia King Croesus' Treasures and its magnificent artifacts in the archeology museum.
Kula is approximately 370 km from Antalya, so it's a little far for a day-trip. With a car, it will take almost 5 hours to get there from Antalya.
Summary
Even if you mainly plan to spend your trip in Antalya, you can find the time to enjoy all of the beautiful places I've mentioned in this article.
If you want to see some really interesting landscapes and get to know the history and local culture, you can head directly to Cappadocia. If you also like to swim but in pols instead of the sea, you should go to Pamukkale, Aydın, and Denizli.
If you're a lover of the sea, head for Fethiye and Dalyan. Uşak and Manisa/Kula are also options if you want to see gorgeous landscapes with canyons and volcanic structures.