If you are planning a visit to the historic city of Edirne in Turkey, we've prepared a list of twelve essential experiences you shouldn't miss. These attractions blend history, culture, gastronomy, and outdoor pursuits in an exciting mix that truly represents Edirne.
11 Things to Do in Edirne
1) Selimiye Mosque
Selimiye Mosque, a UNESCO World Heritage site, is perhaps the most iconic landmark in Edirne. This architectural masterpiece, designed by the famed Ottoman architect Mimar Sinan, is known for its breathtaking domes and minarets. The intricacies of the Islamic art and calligraphy decorating its interior are sure to mesmerise you. The mosque symbolises the zenith of Ottoman architecture and is an unmissable part of any trip to Edirne.
2) Beyazid II Kulliyesi Health Museum
Experience a unique blend of history and medicine at the Beyazid II Kulliyesi Health Museum. Housed in a 15th-century hospital, the museum narrates the history of medicine during the Ottoman Empire. A fascinating collection of medical instruments, therapies, and treatments provides a glimpse into the evolution of medical science.
3) Karaagac
For some downtime amidst nature, visit Karaagac, a charming park located on the banks of the Meric River. With lush green landscapes, walking paths, picnic areas, and a playground, Karaagac is an ideal spot for families. A stroll along the river offers magnificent views, and it's the perfect place to unwind after a day of sightseeing.
4) Meric River Bridge
The historic Meric River Bridge is a sight to behold. This monumental bridge, connecting Turkey with Greece, is a testament to the strategic location of Edirne. The bridge, especially at sunset, offers an unforgettable sight as the sun's golden hues hit the water.
5) Eski Cami
Eski Cami, the Old Mosque, is a 15th-century mosque renowned for its unique architectural style that blends Ottoman and Byzantine elements. The mosque's giant calligraphy on its interior walls and the serene ambiance makes it a must-visit spot for history and architecture lovers.
6) Sultan Beyazıt II Mosque Complex
A prime example of the splendor and genius of Ottoman architecture, the Sultan Beyazıt II Mosque Complex is an impressive landmark in Edirne. The complex, dating back to the 15th century, comprises a mosque, a hospital, and a medical school, reflecting the sophisticated and integrated nature of community planning during the Ottoman era. The mosque's exquisite design is an artful blend of harmony and proportion, with impressive domes, tranquil courtyards, and intricately decorated interiors.
7) Grand Synagogue of Edirne
The Grand Synagogue of Edirne, standing as one of Europe's largest synagogues, is a poignant reminder of the city's rich multicultural past. Constructed in the late 19th century, this striking edifice reflects the Moorish Revival style, with intricate patterns, grand arches, and a magnificent dome. The synagogue, recently restored to its original grandeur, has witnessed the ebb and flow of history and has served as a beacon of hope and resilience.
8) Ali Pasha Bazaar
A bustling hub of activity, the Ali Pasha Bazaar, is a treasure trove of diverse goods and an essential stop for shopping enthusiasts. As you wander through this covered market, you are greeted with a plethora of vibrant textiles, exquisite jewellery, and an array of delightful souvenirs. The bazaar, alive with haggling vendors, captivating sounds, exotic smells, and a spectrum of colours, presents a unique sensory experience. It is a microcosm of Edirne's lively commerce and craftsmanship and offers a peek into the daily life of its locals.
9) Kaleiçi District
Credit: Source link
Immerse yourself in local culture by taking a stroll around the Kaleiçi District. The narrow streets, traditional Ottoman houses, and historic buildings in the district paint a vivid picture of the city's past.
10) Kırkpınar Oil Wrestling Festival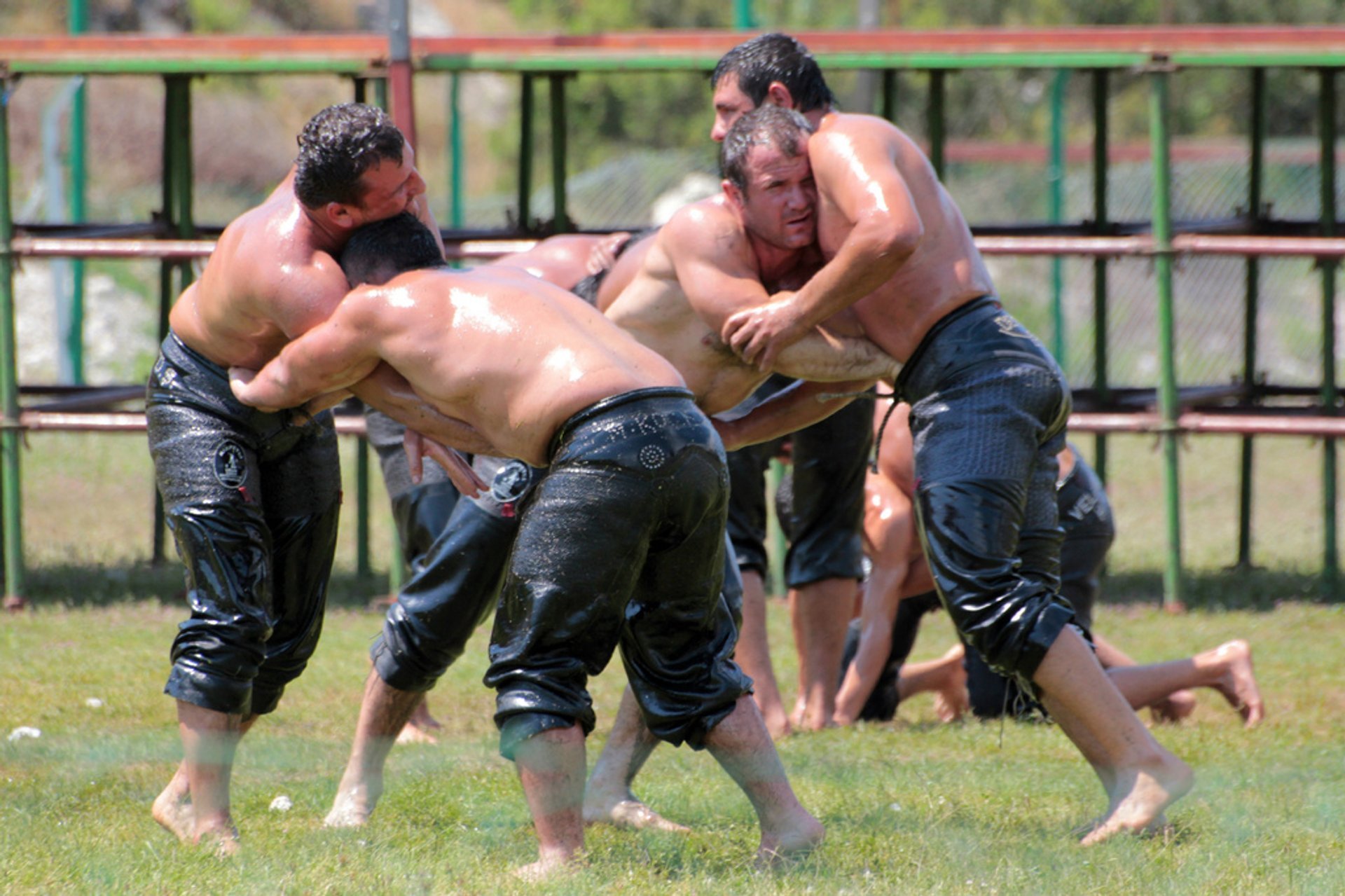 Credit: Source link
If you're visiting Edirne in summer, don't miss the Kırkpınar Oil Wrestling Festival. This centuries-old competition is one of the oldest sporting events in the world. The festival, full of vibrant music, dance, and traditional rituals, is a colorful spectacle to behold.
11) Arcadia Vineyards
Finally, venture just outside of Edirne to the Arcadia Vineyards. This winery offers a wide variety of local wines, and a tour will provide insight into the wine-making process. Complete your visit with a wine tasting, a perfect end to your Edirne journey.
Each of these places represents a unique facet of Edirne, blending history, culture, nature, and gastronomy. So why wait? Pack your bags and get ready to be enchanted by the charm of Edirne.
Frequently Asked Questions
What is Edirne known for?
Edirne is primarily known for its rich history and stunning Ottoman architecture. The city was the capital of the Ottoman Empire before Constantinople (Istanbul) took over, making it an important historical hub. The most iconic landmark is the Selimiye Mosque, a UNESCO World Heritage site renowned as an architectural masterpiece of the Ottoman period. Edirne is also known for the annual Kırkpınar Oil Wrestling Festival, the oldest wrestling event in the world, and its vibrant bazaars like Ali Pasha Bazaar.
Is Edirne worth visiting?
Absolutely, Edirne is well worth a visit. If you are a history buff or architecture lover, the city offers a plethora of attractions to discover. The array of Ottoman-era mosques, the Grand Synagogue, and the Health Museum provide deep insights into the rich cultural and historical heritage of the region. Beyond history and architecture, the city's parks, local bazaars, vineyards, and the Meric River provide diverse experiences for different kinds of travelers. Lastly, the city's cuisine, particularly its famous liver dish "Edirne Ciğeri", is a treat for food enthusiasts.
What are the best outdoor activities in Edirne?
Edirne offers several outdoor activities that allow visitors to enjoy the city's natural beauty and historical sites.
Walking along the Meric River
Visiting Karaagac
Exploring the Ali Pasha Bazaar
Touring the Arcadia Vineyards
Attending the Kırkpınar Oil Wrestling Festival
What are the most popular things to do in Edirne with kids?
Edirne offers several kid-friendly activities that can make your family trip enjoyable and educational:
Karaagac Park
Beyazid II Kulliyesi Health Museum
Exploring the Grand Synagogue of Edirne
Strolling through the Ali Pasha Bazaar
Visiting the Selimiye Mosque
Attending the Kırkpınar Oil Wrestling Festival