Taksim by the words of millions is a well-known area to experience the mystery of Istanbul nightlife, pinned by the diversity of Turkish bars, nightclubs, Irish pubs, gin mills, and saloons.  People from all over the world must have a visit and step in here, from the Middle-eastern youngsters who crave a free lifestyle, the Germans who are obsessed with order, to the post-soviet Union citizens, and English Gentlemen, of course. The travelers gather here to get drunk with Turkish Raki, Scottish Whiskey, and Russian Vodka, dance with the waves of cultural, traditional, or electronic music inherited from postmodernism, to let the cherish go.
The introduction aside, here in this blog, you will get familiar with the most wanted cocktail bars in the Taksim, who you never forget the time you passed there and the cocktail you moisturized your lips with.
1. Mikla: A highly Luxurious and an Unforgettable View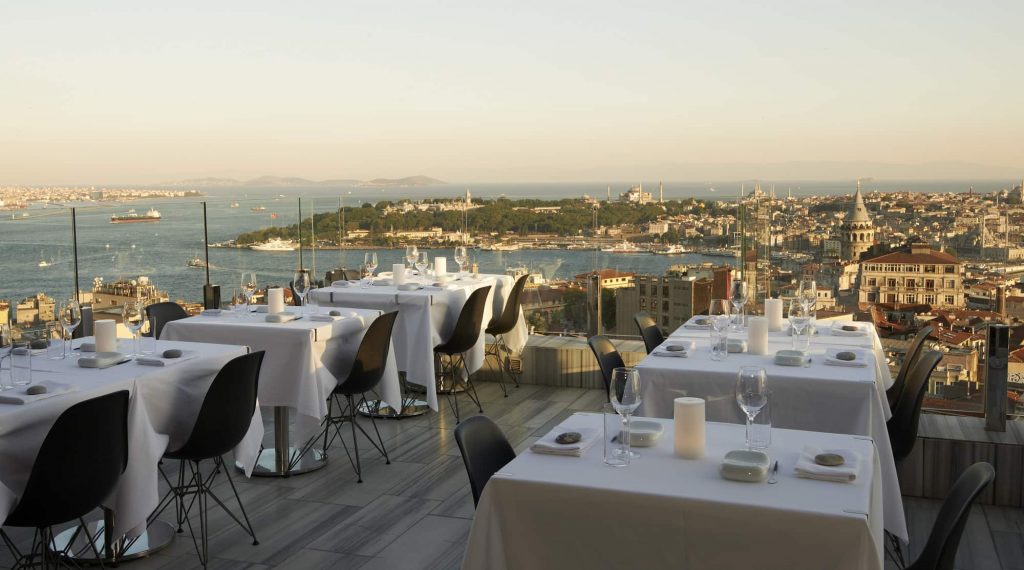 Located on the rooftop Marmara on the 15th floor of Pera Hotel, widens an outstanding view of the Galata Tower, Sent Antuan Kilisesi(saint Antuan church), and the Golden Horn strait. Milka offers a mixed range of cocktails and Turkish and international cuisines. It has a  great night view that makes a night to remember.  The rooftop is fantastic for sightseeing and enjoying the Turkish emperor at its most.
The preferable time to be here is before sunset so you can chill, listen to ambient music and get a few of your lamb ribs. You want to lick an amuse bouches and tack your throat with a super fine wine or a master-made cocktail that barely could find a competitor around Taksim.  There are plenty of good reviews and applauses, especially for the food and the view, the music and the atmosphere. Never gets too ordinary to come back if your pocket has enough cash.
Address: Asmalı Mescit, The Marmara Pera, Meşrutiyet Cd. No:15, 34430 Beyoğlu/İstanbul
2. 16Roof: A Swiss Styled Restaurant Bar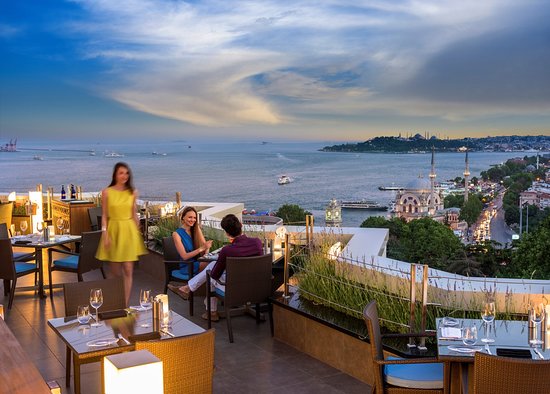 Undoubtedly, one of the most luxurious places to be is the 16roof, with a great atmosphere that gazes at each audience. To enter you should follow the dress code and lose your wallet as the cocktails' prices skyrocket at weekends.
The area is sightseeing for itself, from the Bosporus strait to the Anatolia sides, all bend over under your knees. Baris, the bartender is really an expert in his profession and creates an incredible cocktail which without it, your night will consider incomplete. The waiters really speak good English and the food, which is based on the ownership of the rooftop bar, has an inclination toward Western European.
The place consists of three levels, and the third one is mainly a DJ and bar area. It's a must-see to enjoy the pure fresh air with a great symphony of colors in the sky. If you got a chance, maybe some shopping stars welcome you. For those who are not seeking a loud environment, it is said to choose level one or two. Do not forget that energetic and extroverted guests should not leave the third floor unattended.
Location: 16 ROOF – Swissotel the Bosphorus, Istanbul
3. Endam: A Traditional Turkish Hospitality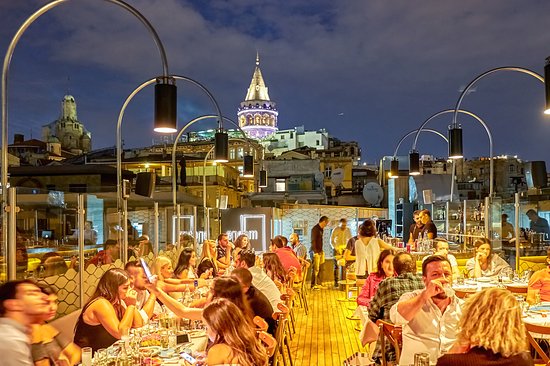 The name of this restaurant bar itself determines that the Turkish traditions are highly praised here. It means the seaside, with the open roof seats with old school tables, spreads the expectation of having a Turkish drinking experience. Not too far from Şişhane, you will be surprised here with a long list of Raki drinks, a milky-colored Turkish drink, red and white wine, and spiced mezes of Marine foods and treats.
A place is more a family place, with tea and a good menu containing various types of marine foods and Turkish cuisines. The prices are not cheap, nor expensive, but the experience is plausible.
The waiters and the manager are getting the best experience to be provided, but somehow, you might experience human errors, like forgetting to bring the orders as they requested. With the view of the pure seaside, you may not leave the place soon and tend to order more to stay as long as possible, so be careful and not make too drunk!
Location: Şahkulu, Kumbaracı Ykş. No:57 Kat:5, 34425 Tünel/Beyoğlu/Beyoğlu/İstanbul
4. Citylights Bar – Taksim: It's a City Lightbar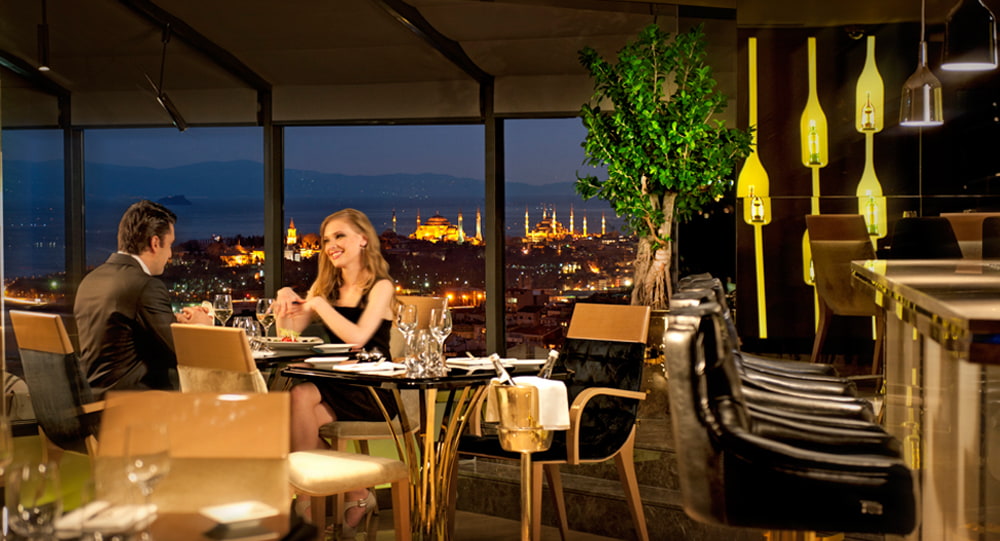 With a great view from the Bosporus strait, an interior designed with fine wooden arts and contemporary styles, and dark lightened, this night bar and restaurant do not require to exaggerate itself. 
Kissed the northeastern of the Taksim Gezi Park, it grinds your vision to have a sip of your drink by the window. While it is highly suggested to taste it, your ears are intoxicated by the sound of music, filled with the charm of gorgeous waiters and bartenders. Just as advice, do not forget to book in advance, or otherwise you might find yourself wondering on a seat far from the window.
I should strongly state that it was one of my best experiences and the view is the best among the rest rooftops in Taksim, and in general, in Istanbul.
The food is praised and the services from waiters to the bartender seem to be super professional, and you should accept what he offers you. The prices especially the cocktail prices somehow could reach more than 50$ which might be too much but the experience you are getting and the music that is not too loud to irritate, make it totally worthwhile.
Location: Gümüşsuyu Mahallesi, Asker Ocağı Cd. No:1, 34435 Beyoğlu/İstanbul
5. Flekk: A Most Satisfying Cocktail Bar in the Town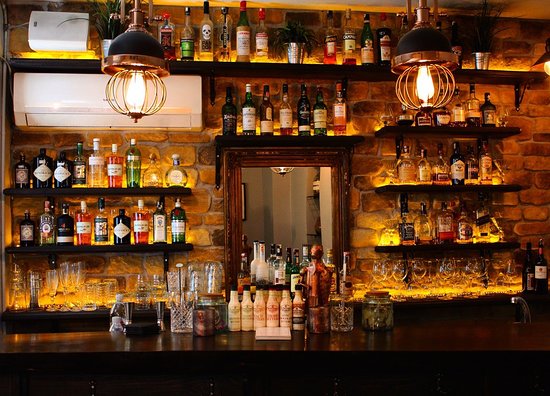 If it's fine to say, according to my experience, this is the best place to experience fine cocktails and the bartenders do know what to offer you. Just look at the cocktail menu and you will find a range of cocktails from sour to sweet and to bitter. Not to forget to add, more flavors tasted in wines, dried fruits, and herbs. It might not have an eye-catching view, but the interior design reminds you of the glorious byzantine centuries, with walls that each hug a tabloid. Darkness is dominant here, salute it.
The reviews of European and American travelers who came to visit Istanbul have one thing in common, the cocktails here are better than the cocktail bars in New York. I must confess something here, they were right!
 That might sound exaggerating if you hear it from one person or two, but when all of them are confessing a similar thing, so then, here is a place to be. Many of the visitors suggested Forstar and Juliette, and some advice that to tell your tastes to the bartender and he knows what to do, literally! The candle shape lights which creep you out have their own purpose to be there and I will go here again and again if I tend to beat the sip of the hell!
Location: Tomtom, Yeni Çarşı Cd. 54/A, 34433 Beyoğlu/İstanbul
6. Moretenders' Cocktail Crib & Sushi: A Souvenir from the Far East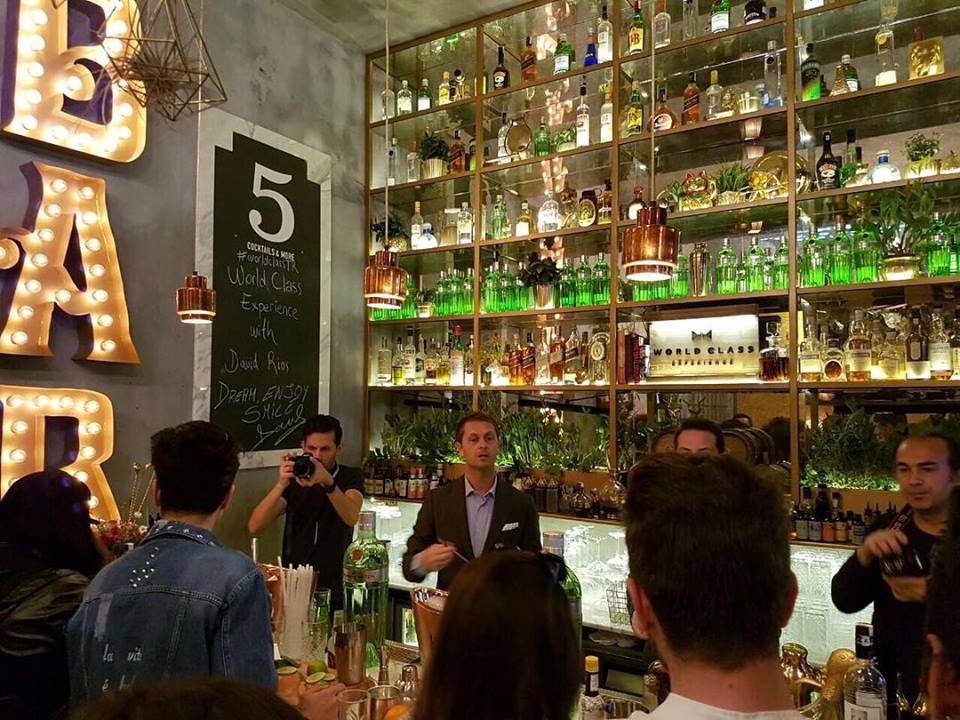 You will find it in a Sofyali jurnal sok, a collection of cocktail bars, a sushi bar, and artwork, a different experience for cocktail lovers that might not be mutual for everyone. Located in the building of RUZ hotel, it is sort of a far east experience in meals and cocktails, whether for herbal flavors, whether or sushi.
 It is safe to say that being in a cozy place makes it more wanted for introverted visitors. Many of the foreign visitors suggest that this area despite being pricy, makes one of the best cocktails with Sushi which might not the best, but good in Istanbul. The place could not be known for its view as it's in an alley. But you would have an atmospheric area with cozy and ambient treatment by the waiters. They offer good things, but not perfect. The best cocktails offered by many were boots call and smooth crush. Not to mention to come early as it gets crowded, and disadvantage of it is the price, which is slightly high.
Location: Asmalı Mescit, Müeyyet Sk. No:5, 34430 Beyoğlu/İstanbul
7. Monkeyistanbul : A Rooftop for Working Class Heroes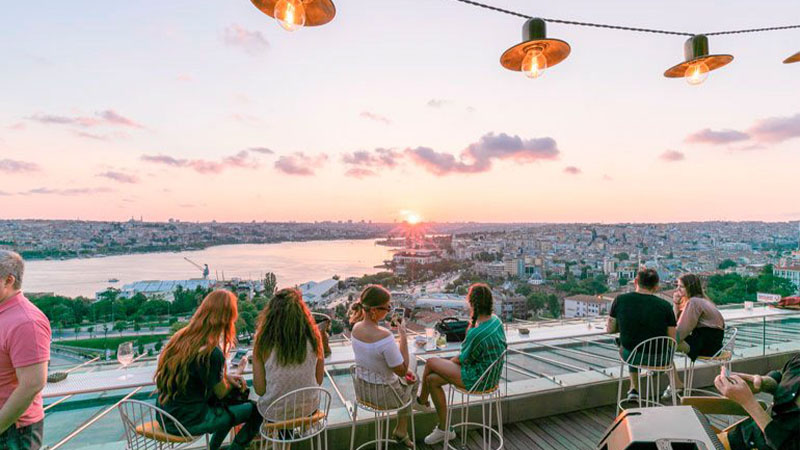 You may find it so fast and easy, as it in the sidewalk of Istiklal Street, a rooftop open bar with extraordinary 180-degree sightseeing of the Bosporus strait. it has its own potential to be a competitor to other roof bars in Taksim. A glassy wall of 50-centimeter height is the only barrier between you and the beauty of Istanbul at its most. 
Although it's open from 18 Pm to 2 AM only, I strongly suggest you go there as early as possible. I am saying it to do not lose the sunset watching while drinking a quite expensive cocktail and a piece of deep music run by the best DJs. It is of course crazy crowded on the weekend, so in case looking for an experience to remember and not get frustrated, book in advance.
As someone who went there a couple of times, mostly with my friends here, you will understand that the guests who are looking for a strong cocktail never get empty-handed. The Black Russian with a tonic that I ordered was really a heavy one and kicked me so hard. One of the things that could be a bit bothering is the smaller number of chairs for the guests and that is understandable when you are enjoying the sunset while all up in the air.
Location: Nejat Eczacıbaşı Binası Şişhane, 34433 Beyoğlu
8. Eftalikus Pera: Best Choice for not Vegans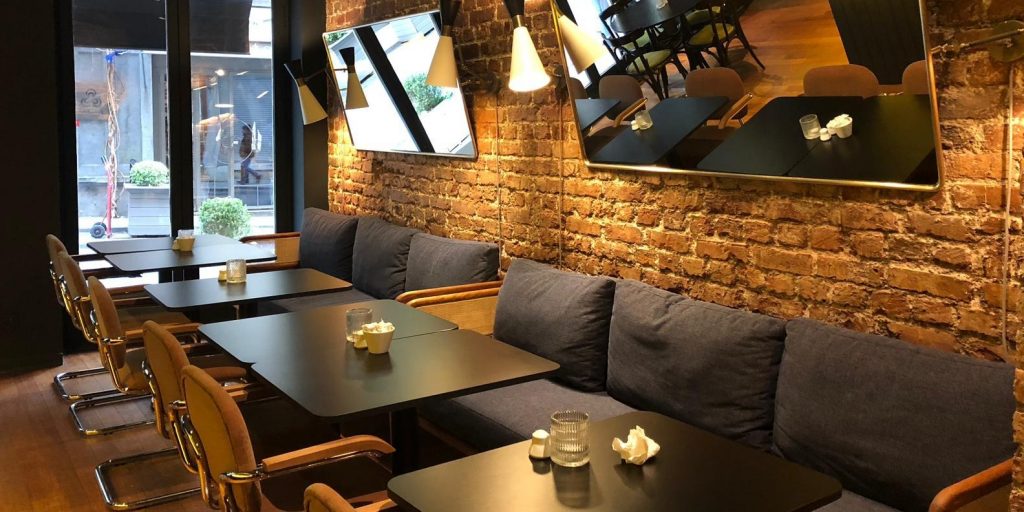 Although it is known for its Buffalo joints and amazing coffees, this bar never gets underestimated for its cocktails, mostly western tastes. It got many 5 stars reviews from UK and EU travelers who seeking a relaxing place, with peaceful music and a high-quality environment in the literally central side of Taksim is something that could not be ignored. That is why I gave it a try, and I must say, it was quite worth the time and money I spent.
Location: Evliya Çelebi, Meşrutiyet Cd. no: 68 / A, 34430 Beyoğlu/İstanbul
9. Pera Adalı Restorant Yeni Nesil Meyhane: A modernized Turkish style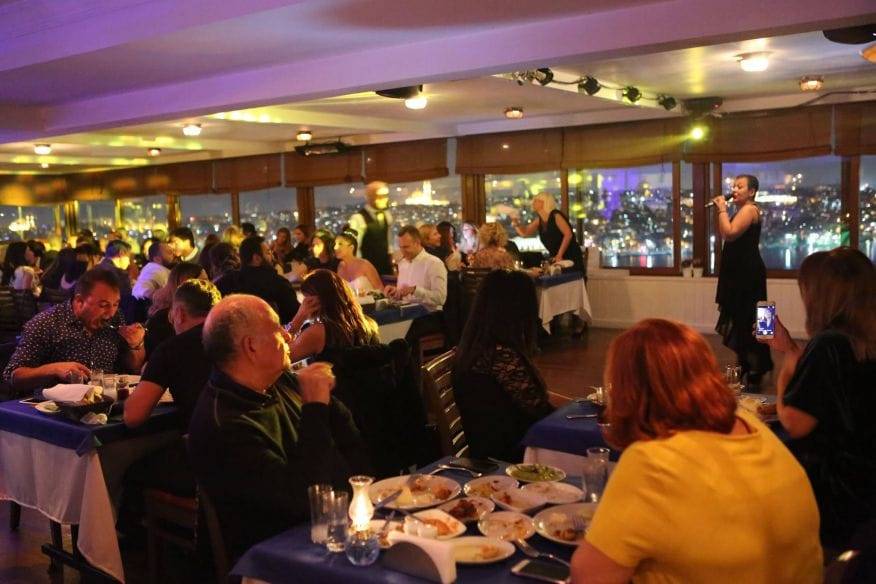 One of the prominent cocktail bars and restaurants around the Taksim area seated on a terrace floor of the Grand Haliç Hotel gives you the pleasure of looking at the enchanting view of the Bosporus strait, the Ataturk Bridge, and the Old Town Istanbul.
A truly high-class bar and restaurant with a diversity of Greek and Turkish cuisines. They are carried by the most powerful Turkish alcohol, the Raki, to the wines in newer and older reposited years and the soft drinks. The bar offers the guests the pleasure of professional services, a stage for dance, and absolutely family-style environment. No need to mention the booking is advised specifically on Weekends.
Location:  Evliya Çelebi, Grand Hotel Haliç, Refik Saydam Cd. No:37 D:Kat 8, 34430 Beyoğlu/İstanbul
10. Montreal Café: Why Montreal! Scientists Still Wondering!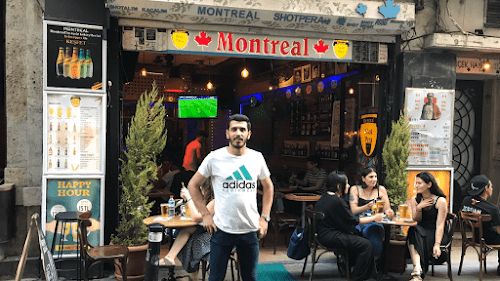 A tiny, cozy, and passing cocktail bar, in one of the crowded alleys, branched from Istiklal street, Asmalı Mescit Cd, that drunks European travelers and Russians for over a decade. It has ups and down reviews and opinions about the quality of its services, but keep in mind that you will get a respectable hangover level here as the cost of drinks is considerably lower than in other pubs and bars.
Still, no one knows why the name Montreal is chosen, because they do not offer Canadian beer! But their music is modern enough, and of course, you get charged for it. One of the good experiences that can sweets the mood of the travelers especially those who are on a budget.
Location: Asmalı Mescit, Asmalı Mescit Cd. No:11, 34430 Beyoğlu/İstanbul
11. Geyik: A Taste from the Africa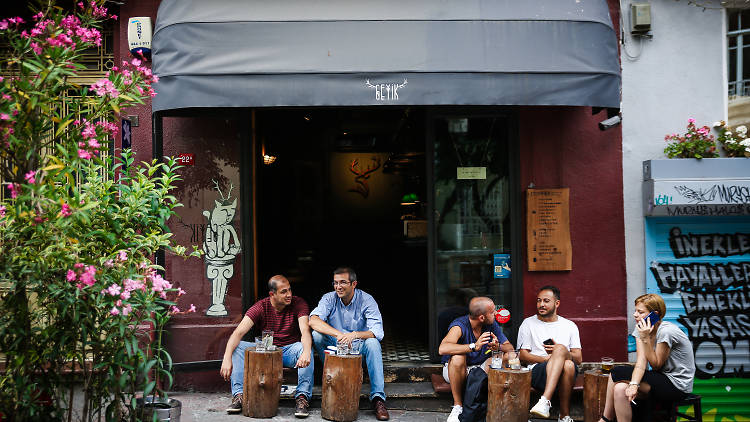 Although their cocktails, which are greatly made by a bartender who knows the stuff, with cocktails ingredients imported from the Middle East to Africa, graze an outstanding level of a different taste. If you accept my words, the cocktails with a price of just around 5$, blast inside you. Hence, you are not just drinking alcohol, you are gifting your stomach an adventure. The deep house disco music in its loudest volume might be preferable for some. However, not everyone might enjoy it. One of the advantages points is the bartender who not just does a great job, he speaks English fluently as well. It's a must-be-experienced bar for sure.
Location: Cihangir, Akarsu Ykş. Sok. No:22, 34425 Beyoğlu/İstanbul – Avrupa
12. Ispanak Café: If You are Home Sick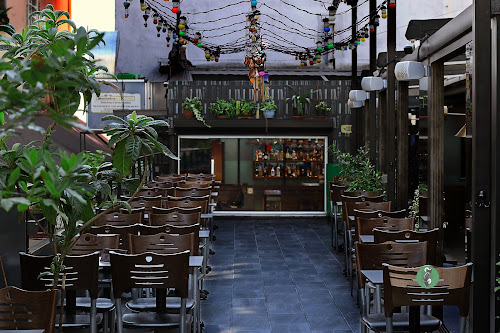 This cafe bar has a long history. The neighborhood of Beyoğlu where the bar is placed now used to be a hot spot of textiles and cloth workshops and wholesalers. The bar then got them all the tea, in its finest as it was a family business, which still is.
Years after year, they changed, reinvented, and now become a friendly style, or better to say, a mom house, surrounded with flowers and street herbs, which refresh your soul and nostrils. The Spinach Cafe bar does sophisticated cocktails, as simple as it gets, with a mellow environment that is spiced with music not too loud, to let the friends discuss the issue of the day. You most likely get a happy experience here more because of the atmosphere, not just its tasty drinks.
Location: Katip Mustafa Çelebi, Tel Sk. No:7 D:No:7, 34433 Beyoğlu/İstanbul
13. ZIBA: It Translated Gorgeous in Persian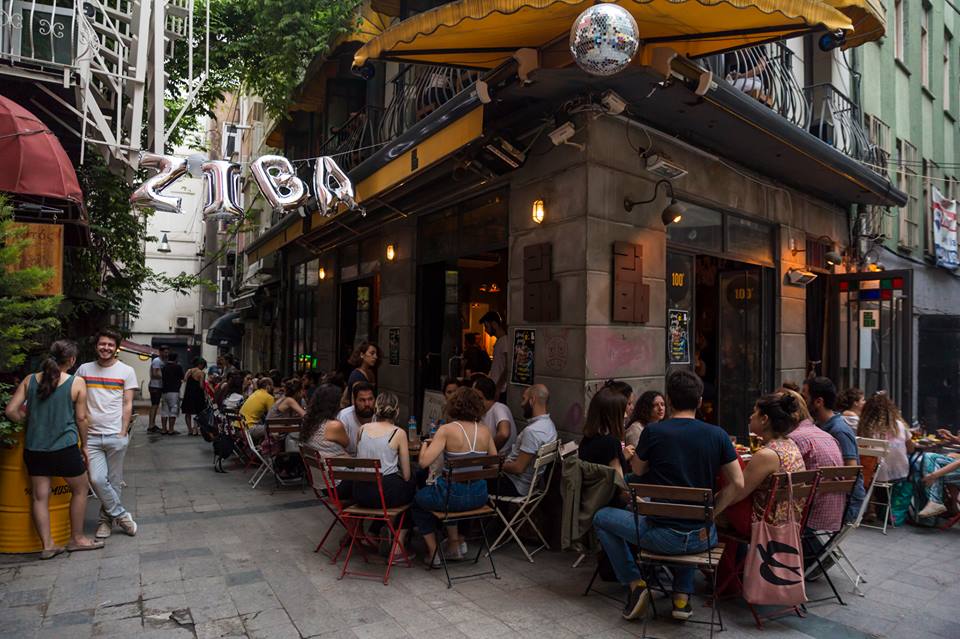 A cocktail bar that could not be found easily, hidden from the ever-busy Istiklal street, welcomes you with great Russian Mules, and Irish beers, the dark ones. There are saying that you need to have girls with you, and this means the place is safe for a group of travelers who are not looking for trouble, however, might anguish the gang of brothers.
The hot drinks, from Espresso to black tea are severed until 8 PM, and it has a long opening time, much longer than others. You must check them out for their great Margaritas if you want to ignore the Black Russian, a fine Russian cocktail. Less stressful and more rehabilitating than those in the main area.  The wave of the music is not that loud, nor that low, and the DJ is good enough if you are not seeking for perfection.
Location: Tomtom, Akansu Sk No:10, 34433 Beyoğlu/İstanbul
14. Absürt: You Feel Absurd Here!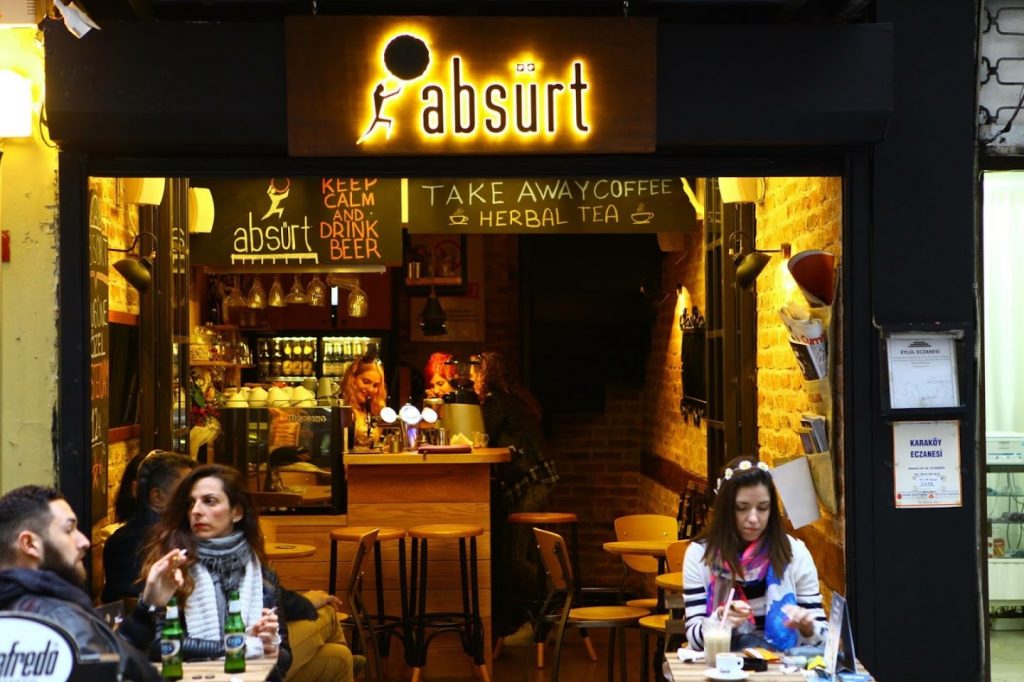 One of the affordable places to seat and chat outside, and smoke your cigarettes while drinking a good mojito. The bar is for metal fans, so in case you are not a scream music type, then better to find another place.
 The DJ is an old-style music lover, apparent from the taste of the music he has. The cocktail bar got good and bad reviews, from a great atmosphere and kind manager to some awful feedback for the cocktails.
Based on the reviews, not the best place to taste a great cocktail, but a good place to chat and enjoy the winds, and I might agree or disagree with them, because I had a great time with my girlfriend here, and the cocktail was good enough. It's in narrow alley ends to the Istiklal, flowed by the outsiders, cool motor gangs, and Hitchhikers. Not hurt to try it once.
Location: Katip Mustafa Çelebi, Hasnun Galip Sk. No:3 D:B, 34433 Beyoğlu/İstanbul
15. Bubble Pub: A Bubble of Imagination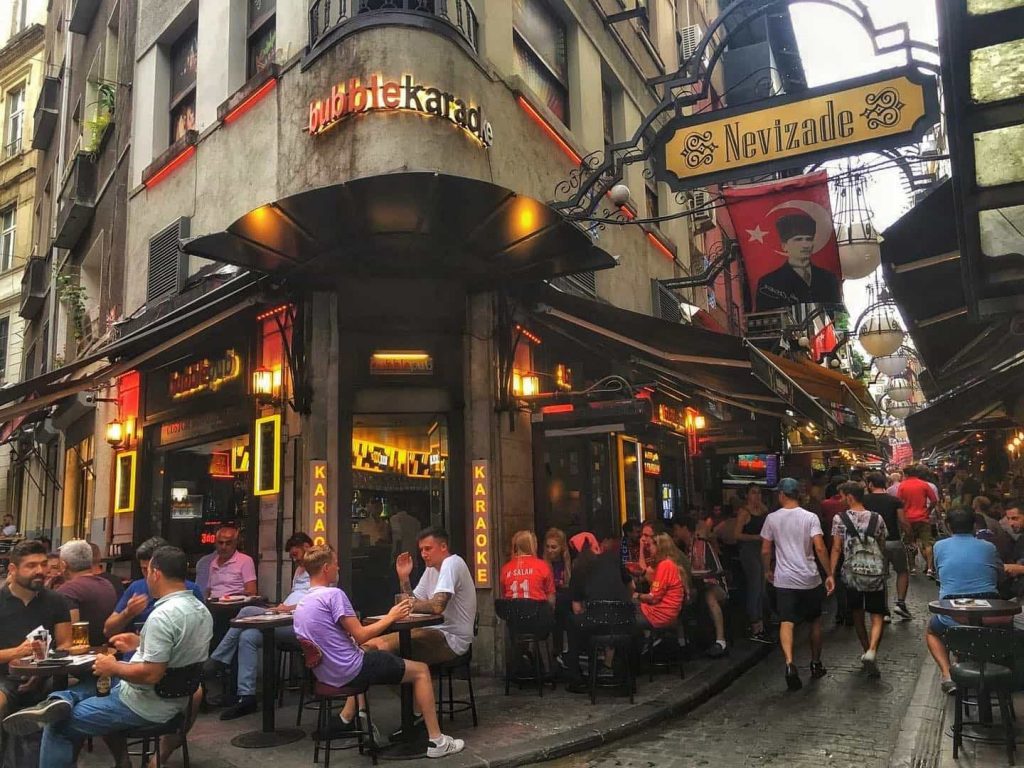 Not too bad, not too good, but it gets you well. The staff says to be somehow moody, but they do the stuff, even if you cannot speak Turkish at all. The cocktails are said to be of good quality in general and the customers are getting a mixed experience, some happy-ended and some not. One of the good things about this place is the seats that are almost in the middle of the alley, and your surrounding gets busier and busier as the night is coming.
Location: Hüseyinağa, Nevizade Sk. No:18/B, 34435 Beyoğlu/İstanbul
16. Yuri Gagarin Bar: You Should be the First Man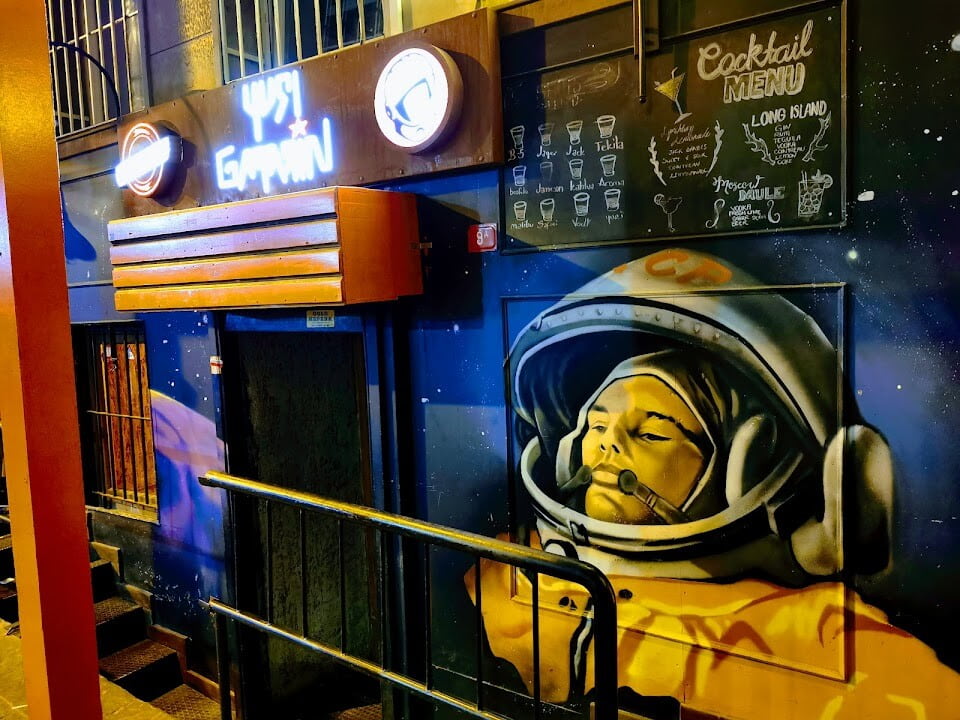 The last but not the worst, one of the best places to get drunk and enjoy the music here. The atmosphere is great, and the food and cocktails, are great at an affordable price. Many Eastern European travelers choose this place somehow because of its name, for the hope to reach the space, and kind of they do.
 To add it that, some others choose here because of the affordable prices, with a live DJ, with a mixture of rap and hip hop, tingling their body to get up and shake some!! The reviews are positive enough to be sure the manager knows how to run the cocktail bar in town. Nested too close to Istiklal Street, it will ensure that you do not miss any events or shouts from outside. A good place to go for hitchhikers. One of my favorite places because of the sense of connection that I have because of my ancestors.
Location: İstiklal Cad, Ayhan Işık Sk. No:18/B, 34433 Beyoğlu/İstanbul