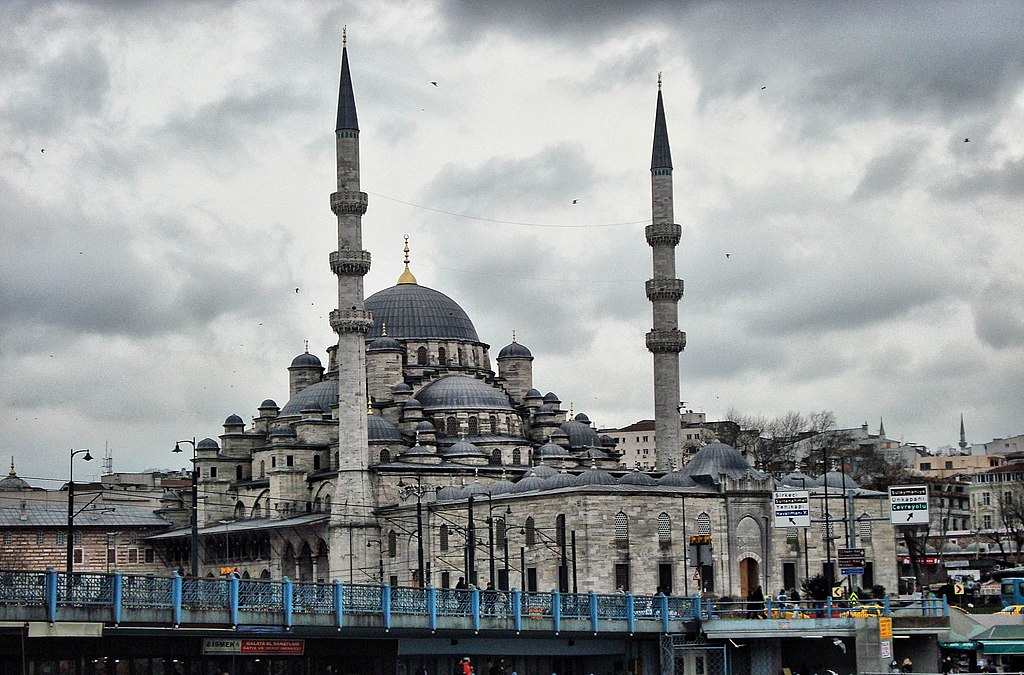 The New Mosque Istanbul, also known as Yeni Cami, is an Ottoman imperial mosque situated in the bustling Eminönü quarter of Istanbul, Turkey. With a rich history and captivating architecture, this notable monument offers visitors a fascinating experience.
Brief History
Construction of the New Mosque commenced in 1597, initiated by Safiye Sultan, the mother of Sultan Mehmed III. Following an intriguing series of events, including the execution of the architect and Safiye's displacement after her son's demise, the construction faced a long pause. The mosque was ultimately finished between 1660 and 1665, under the patronage of Turhan Hatice Sultan, mother of Mehmet IV.
Intriguing Facts About the New Mosque
An awe-inspiring masterpiece, the New Mosque represents the last of the grand mosques built by the Ottoman Sultans. The mosque's central dome rises 36 meters high, embraced by four semi-domes, all encircled by multiple small domes, presenting a mesmerizing pyramid-like silhouette.
Inside, the mosque reveals a grandeur that leaves visitors spellbound, with luxurious gold and marble elements highlighting its magnificent prayer niche. The mother-of-pearl inlays, accentuating the mosque's windows and doors, symbolize the zenith of elegance in Ottoman art.
Essentials for Tourists
Perched by the Golden Horn, at the southern end of the Galata Bridge, the New Mosque forms a part of the vivacious Eminonu district, neighbored by the famed Spice Bazaar.
To get the most out of your visit, it's best to arrive early to sidestep the hustle and bustle that develops as the day advances. Remember, the mosque is not open to non-Muslims during prayer times. Dress modestly during your visit, with women recommended to cover their heads, shoulders, and knees.
Explore the area after your visit to the mosque as the Eminonu district is teeming with famous local eateries and dessert shops.
Frequently Asked Questions About the New Mosque
What is the best time to visit the New Mosque? For a peaceful visit, it's best to reach the New Mosque early in the day before the crowds pour in.
Is the New Mosque open to non-Muslims? Absolutely! Non-Muslims are welcome to visit the New Mosque; however, it's closed to visitors during prayer times.
What should I wear when visiting the New Mosque? Respecting the mosque's sanctity, women are advised to cover their heads, shoulders, and knees, while men should wear long pants and avoid sleeveless shirts.
What other attractions are nearby the New Mosque? The Eminonu district, home to the New Mosque, also houses the Spice Bazaar. Other attractions close by include the Galata Bridge, the Grand Bazaar, and the Suleymaniye Mosque.
How can I get to the New Mosque? The New Mosque is easily accessible via public transport. Take the Tram Line T1 and alight at the Eminönü stop.
May your visit to the New Mosque be a memorable and enlightening one! Enjoy your exploration of Istanbul's rich history and vibrant culture.