Istiklal Street in Istanbul stretches approximately 1.4 kilometers or 0.87 miles, from Taksim Square to Tunel Square. It is one of the most famous avenues in Istanbul, visited by nearly 3 million people in a single day.
The Beauty of Istiklal Street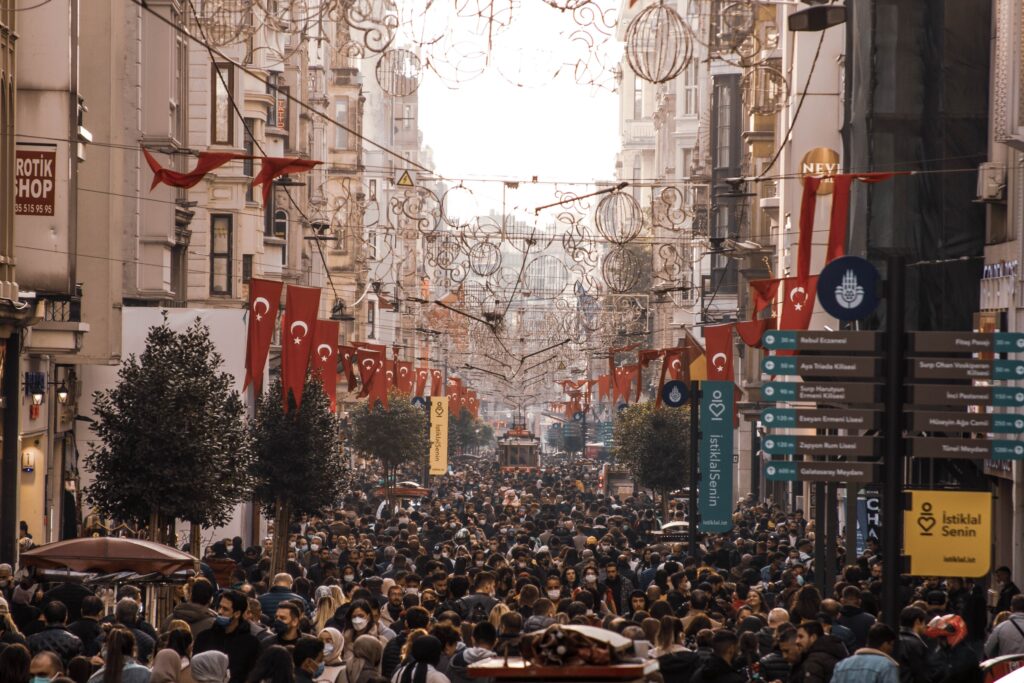 Istiklal Street, also known as Independence Avenue, is a vibrant and bustling pedestrian street located in the historic Beyoğlu district of Istanbul. The street, with its approximate length of 1.4 kilometers, is a dynamic blend of old and new. It is lined with several 19th-century buildings that house international consulates, churches, theaters, cinemas, boutiques, music stores, bookstores, art galleries, cafés, pubs, night clubs, historical patisseries, chocolatiers, and restaurants.
Historic Landmarks Along Istiklal Street
Istiklal Street is a treasure trove of historic landmarks. The Galatasaray High School, situated near the middle of the street, is one of the most famous. Further, the nine-story building is home to the Cercle d'Orient, a social club established in 1890. The street also encompasses Churches such as the Hagia Triada Greek Orthodox Church, the largest Greek Orthodox shrine in Istanbul, and the St. Antuan Church, the largest Roman Catholic Church in Istanbul.
Shopping and Dining on Istiklal Street
With numerous boutiques, antique shops, bookstores, and modern retail stores, Istiklal Street is a shopaholic's paradise. It also houses the famous Demirören Istiklal Shopping Center, offering multiple international brands.
For food lovers, Istiklal Street is a gastronomical delight. From traditional Turkish cuisine to international delicacies, the street is dotted with numerous cafes, restaurants, and patisseries catering to every palate.
Cultural Scene on Istiklal Street
Istiklal Street is also home to several cultural institutions. The street is the heart of Istanbul's art scene, with several art galleries and museums, including the Istanbul Modern Art Museum. It also hosts the Pera Museum, showcasing one of Turkey's most significant art collections.
Nightlife on Istiklal Street
When the sun sets, Istiklal Street transforms into a hub of nightlife, with a plethora of pubs, music clubs, and rooftop bars. It is a popular party destination for both locals and tourists.
FAQs
How many people walk on Istiklal Street daily?
Istiklal Street is one of Istanbul's busiest streets, with nearly 3 million people traversing its length daily.
Why is Istiklal Street famous?
Istiklal Street is famous for its historic landmarks, shopping, dining, cultural institutions, and vibrant nightlife. It offers a blend of modern and traditional experiences making it a must-visit destination in Istanbul.
Conclusion
Whether you are a history buff, a shopping enthusiast, a foodie, or a night owl, Istiklal Street in Istanbul has something for everyone. Its lively atmosphere, myriad of experiences, and the rich tapestry of history and culture make it an emblem of Istanbul's spirit of unity in diversity. The 1.4 kilometers of Istiklal Street, therefore, present a microcosm of Istanbul's vibrant life and make it a must-visit for any traveler to the city.