Welcome to the enchanting coastal town of Side, Turkey, where a delightful culinary journey awaits you. Renowned for its captivating history and breathtaking views, Side also boasts a vibrant dining scene that caters to every taste and preference. This article explores the "Best Restaurants in Side, Turkey," each offering a unique blend of local flavors and international influences.
From traditional Turkish ocakbaşı grills serving succulent kebabs to cozy Mediterranean bistros showcasing fresh seafood and from sophisticated fine-dining establishments to charming family-run eateries, this guide will take you on an adventure through the town's most beloved culinary gems. Prepare to indulge your senses and discover the true essence of Side through its diverse and delectable dining experiences.
Best Restaurants in Side
#1. Surf Bar Restaurant Turkey: Where Turkish Delights Meet the Sea!
The Surf Bar Restaurant is a casual dining establishment that primarily serves a variety of seafood dishes inspired by local and international cuisine.
The menu at Surf Bar Restaurant is predominantly centered around fresh seafood, including local fish, shrimp, oysters, clams, and more, prepared in various ways to cater to diverse palates. A popular selection includes the freshly caught fish of the day, grilled, baked, or fried as per customer preference.
Additionally, the restaurant offers a range of Mediterranean-inspired dishes, such as seafood paella and pasta with seafood, utilizing the rich flavors and spices typical of this region. For those not particularly fond of seafood, Surf Bar Restaurant caters to their needs with a selection of non-seafood items, including local meat dishes, a variety of pasta, and vegetarian options, making it an inclusive menu for diverse dietary preferences.
Address: Side, Sarmaşık Sk. No:18, 07330 Manavgat/Antalya, Türkiye
#2. Side Orfoz Restaurant & Bar: Where Culinary Delights Meet Coastal Charm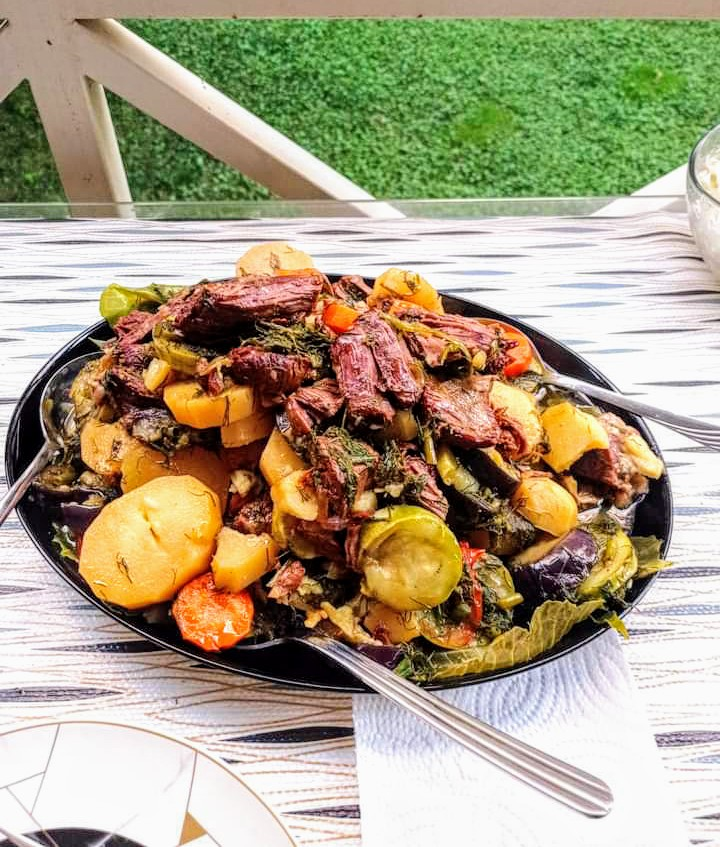 Side Orfoz Restaurant & Bar is a well-established eatery, centrally located, that has been serving customers for several years. The establishment is primarily a seafood restaurant known for its vast assortment of ocean-fresh selections. The seafood menu boasts a variety of dishes that are a testament to the sea's bounty, with options such as grilled fish, prawn cocktails, calamari, oysters, and mussels. However, the signature dish of Side Orfoz is its traditional fish stew, simmered to perfection and served with warm, crusty bread.
In addition, the restaurant also serves a selection of meat and vegetarian dishes to cater to non-seafood eaters. Customers can choose from a range of steaks, poultry, and lamb dishes, all expertly cooked and presented. Although not as extensive, the vegetarian menu offers a choice of salads, pasta, and vegan-friendly options.
The bar at Side Orfoz complements the food menu, serving an array of alcoholic and non-alcoholic beverages. The wine list is particularly impressive, featuring both local and international bottles carefully chosen to pair well with the various dishes.
Address: Nar, Side mah. Liman Cad, sok No:5, 07330 Manavgat/Antalya, Türkiye
#3. Elia Restaurant & Lounge: Where Greek Gastronomy Takes Center Stage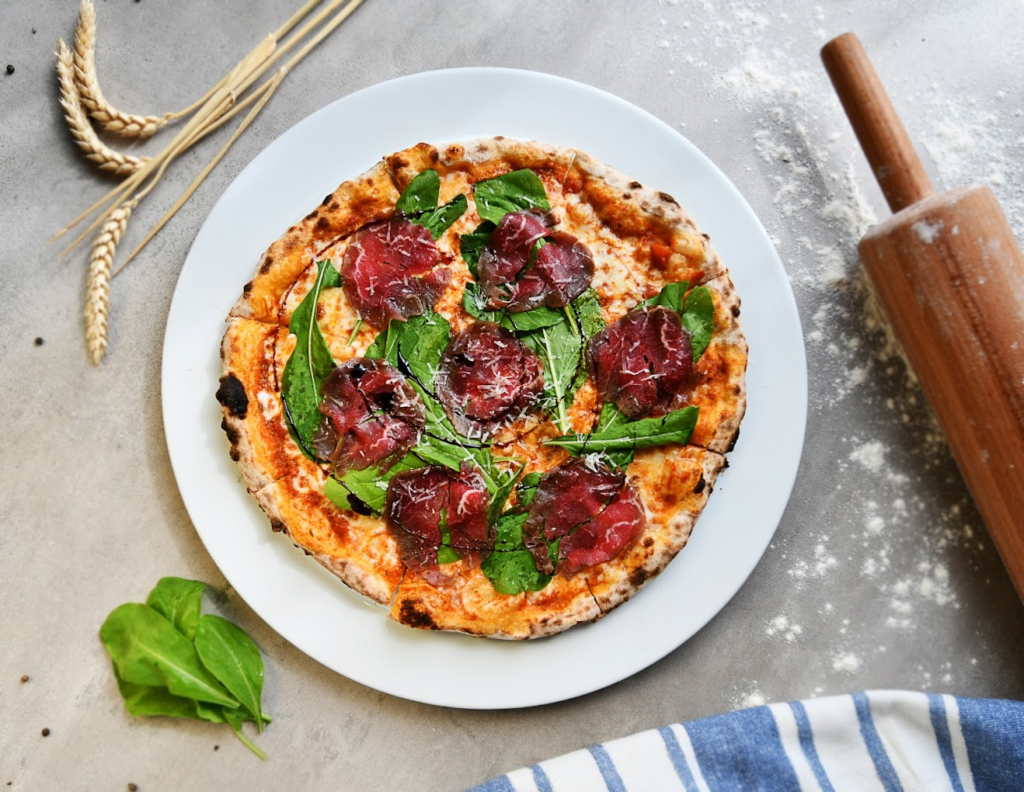 Elia Restaurant & Lounge strikes a balance between tradition and innovation. Renowned for its Mediterranean fare, Elia's menu showcases the rich, bold flavors of the region, creatively presented with a modern twist.
Elia is committed to honoring the region's culinary heritage as a Mediterranean restaurant. The menu features an array of dishes that spotlight the best of Mediterranean cuisine, ranging from Greek salads, Spanish tapas to Italian pasta. The main attractions include a selection of savory mezze, hand-stretched pizzas, succulent kebabs, and grilled seafood, using fresh ingredients, locally sourced and seasonal.
Despite the emphasis on Mediterranean dishes, Elia's culinary team isn't afraid to incorporate global flavors where it suits, creating fusion dishes that surprise and delight. Innovative offerings like Mediterranean-Asian fusion dishes are not uncommon, adding an unexpected but appreciated diversity to the menu. It offers a broad selection of beverages, with an extensive list of wines from some of the world's most esteemed vineyards, craft beers, and signature cocktails.
Address: Side Mahallesi Nar Sokak 15/4, 07330 Manavgat/Antalya, Türkiye
#4. Meşhur49 Pide Kebap Salonu: A Legendary Journey Through Turkish Flavors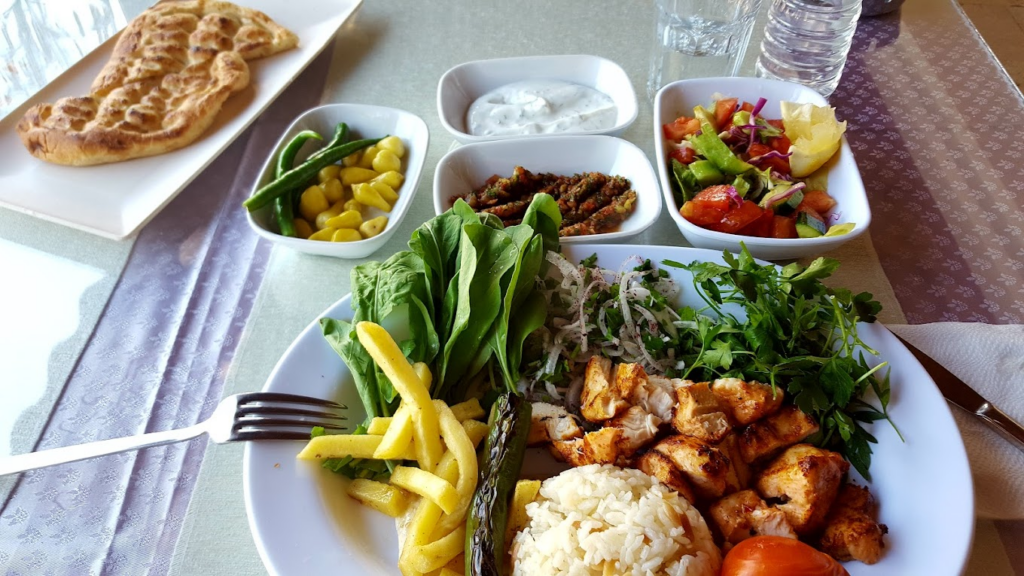 Meşhur49 Pide Kebap Salonu is well-known for its Turkish cuisine, particularly its Pide and Kebap offerings. At Meşhur49, Pide is the star of the menu. Pide, often called Turkish pizza, is a boat-shaped flatbread topped with various ingredients such as cheese, meat, vegetables, or a combination. The restaurant offers a wide range of Pide varieties, each freshly baked in a traditional oven, which gives them a distinct, smoky flavor.
In addition to Pide, Meşhur49 is renowned for its Kebab dishes. Kebaps at the restaurant are available in many forms – from the traditional skewered and grilled meats to the more elaborate dishes like 'Iskender Kebap', which features thinly cut grilled lamb topped with hot tomato sauce over pieces of pita bread and generously slathered with melted sheep butter and yogurt.
Aside from Pide and Kebab, the menu at Meşhur49 also includes an array of other Turkish staples such as Meze – a selection of small dishes served as appetizers, Dolma – stuffed vegetables, and a variety of soups and salads.
Address: Side, Manavgat/Manavgat Antalya TR, 07330, Türkiye
#5. Cihan Pide Kebap Restaurant: A Celebration of Timeless Turkish Pide and Kebap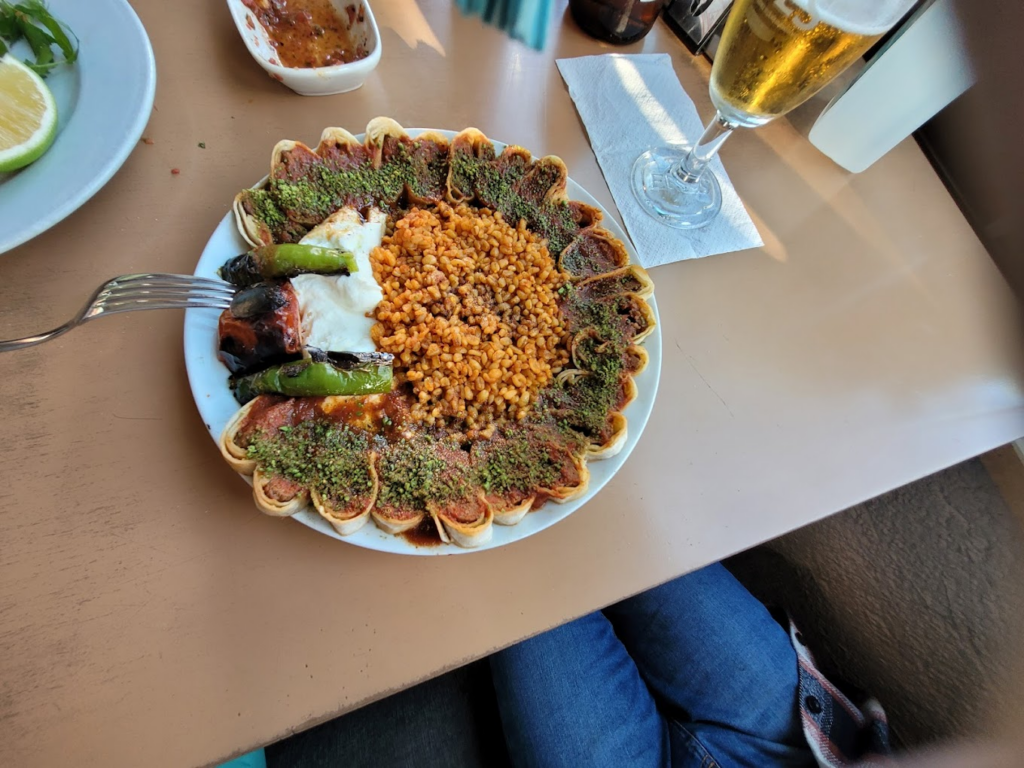 Cihan Pide Kebap Restaurant is a popular dining spot known for its authentic Turkish cuisine, with a particular focus on Pide and Kebap dishes. Located conveniently, it's a go-to place for locals and tourists looking to enjoy traditional Turkish flavors in a relaxed, welcoming atmosphere.
The menu at Cihan Pide Kebap features a wide variety of dishes, but the stars of the show are undoubtedly its Pide and Kebap offerings. Beyond its signature Pide and Kebap dishes, the restaurant also serves a range of other Turkish culinary classics. These include a variety of Meze – small dishes served as starters, a selection of Dolma – vegetables stuffed with rice and spices, and traditional soups and salads.
To pair with the food, Cihan Pide Kebap serves traditional Turkish beverages, such as Ayran, a cooling yogurt-based drink, and a variety of teas and coffees. The dessert menu at Cihan Pide Kebap includes a delightful range of Turkish sweets, with favorites like Baklava, Sutlac (rice pudding), and Turkish Delight, offering a sweet conclusion to the meal.
Address: Side, Side Bulvari No:13, 07330 Manavgat/Antalya, Türkiye
#6. Norden Kebap Restorant Bar: Where Turkish Kebap Finds its Northern Soul'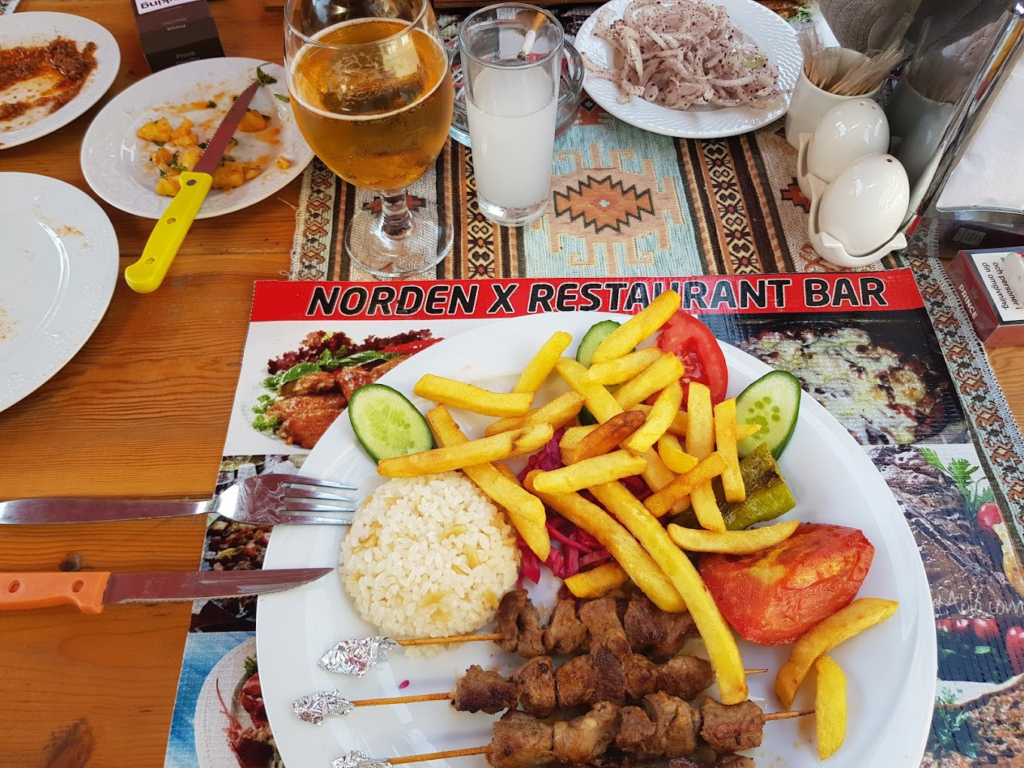 Norden Kebap Restaurant Bar specializes in serving delicious kebap dishes and an assortment of another Turkish and Middle Eastern fare. At Norden Kebap Restorant Bar, kebap is the main attraction, with several variations available to suit different tastes.
But the menu doesn't stop at kebap. The restaurant also serves a range of other traditional Turkish dishes, including flavorful mezes, hearty soups, and mixed grill platters. Vegetarian-friendly options such as Dolma (stuffed vegetables), salads, and a variety of cheese and vegetable Pides (Turkish flatbreads) are also available, ensuring a broad range of choices for all diners.
The 'Bar' in its name implies that Norden Kebap Restorant Bar also offers a variety of beverages. The drinks menu includes traditional Turkish tea and coffee, Ayran (a refreshing yogurt-based drink), and a selection of local and imported beers, wines, and spirits. Ending the meal on a sweet note, the dessert menu at Norden Kebap includes popular Turkish sweets like Baklava, Kadayif, and Sutlac (rice pudding). These traditional desserts provide a fittingly sweet conclusion to a meal rich in Turkish flavors.
Address: Side, Sarmaşık Sk. No: 19, 07330 Manavgat/Antalya, Türkiye
#7. Déjà Vu Restaurant Side: Relive Unforgettable Flavours in a New Light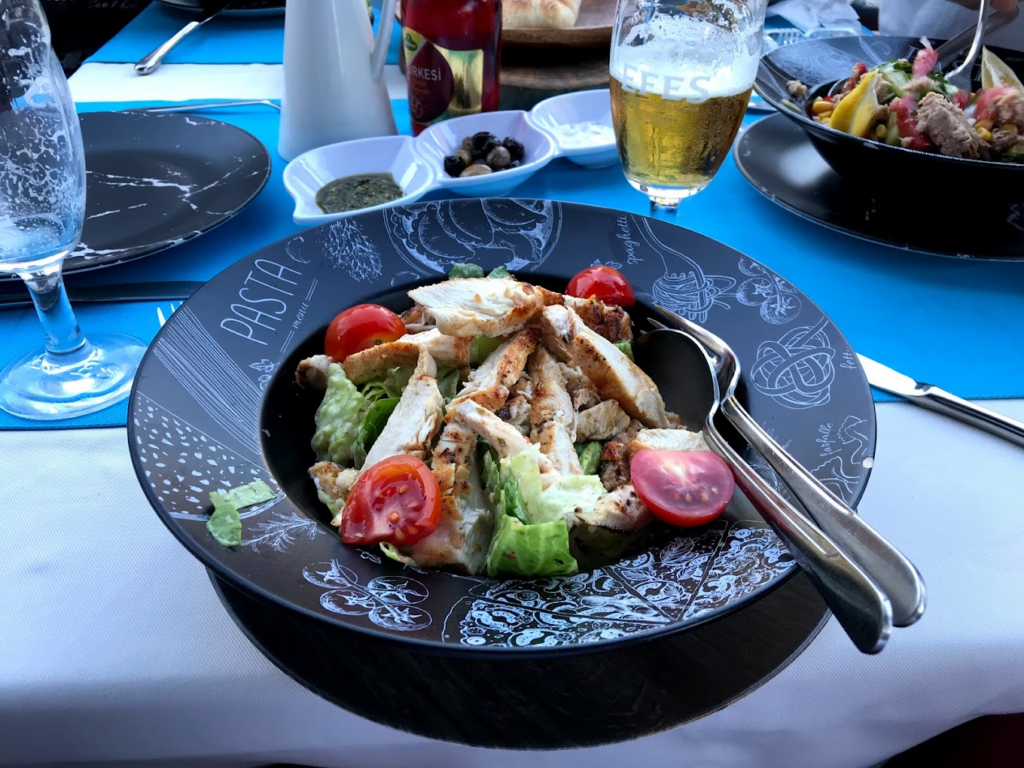 Déjà Vu Restaurant Side serves a wide array of dishes to accommodate a range of palates. It's identified mainly as a fusion restaurant known for blending different cooking traditions and techniques to create unique and innovative dishes.
The menu at Déjà Vu Restaurant Side is extensive, offering patrons various choices. The restaurant serves breakfast, lunch, and dinner; each time slot presents its unique menu. Breakfast consists of traditional staples like eggs, bacon, and toast, but it also offers a variety of international breakfast dishes such as shakshuka and French toast. The lunch and dinner menus offer many local and international dishes, ranging from salads, pasta, and sandwiches, to more sophisticated main courses like steaks, seafood, and poultry dishes.
In addition, the restaurant also provides a notable vegetarian and vegan selection, making it inclusive for those with varying dietary preferences. Gluten-free options are also available upon request. The restaurant has a well-stocked bar offering an impressive selection of local and international wines, craft beers, and cocktails. Non-alcoholic beverages, including tea, coffee, and soft drinks, are also readily available.
Address: Side, 507. Sk. No:13, 07330 Manavgat/Antalya, Türkiye
#8. Alma Restaurant Side: A Culinary Journey Infused with Soulful Turkish Flavours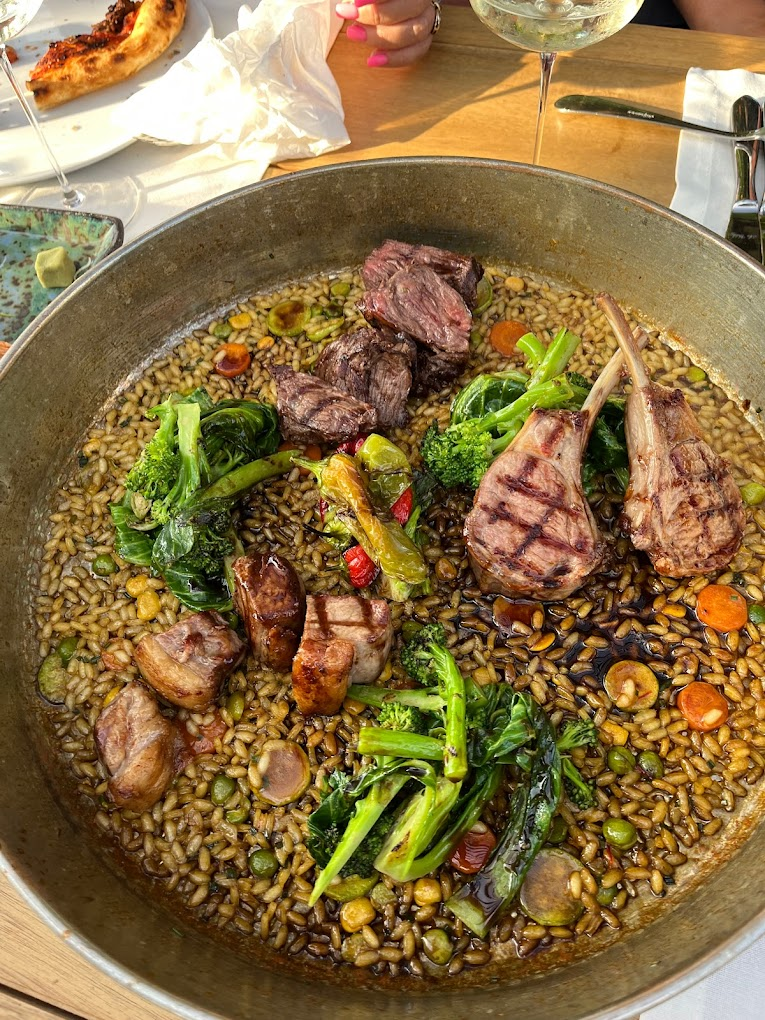 Alma Restaurant Side is an eatery that mainly identifies as a Mediterranean restaurant, showcasing the vibrant and flavorful cuisine of the region. Alma's menu provides a wide variety of dishes built around the traditional Mediterranean diet known for its health benefits.
A particular highlight of Alma Restaurant Side's menu is its seafood selection, including fresh fish, shrimp, calamari, and mussels, often served with aromatic herbs and spices typical of the Mediterranean region. For meat lovers, there are options like grilled chicken, lamb kebabs, and succulent steaks, prepared following traditional Mediterranean cooking methods.
In addition to its non-vegetarian options, Alma offers an extensive array of vegetarian dishes. These include a variety of vegetable stews, legume-based dishes, and salads that make use of fresh, locally sourced produce. Vegan and gluten-free options are also available, accommodating different dietary needs.
Address: Side, 606. Sk. no:2, 07600 Manavgat/Antalya, Türkiye
#9. Olive Restaurant: A Mediterranean Tapestry of Flavors and Warmth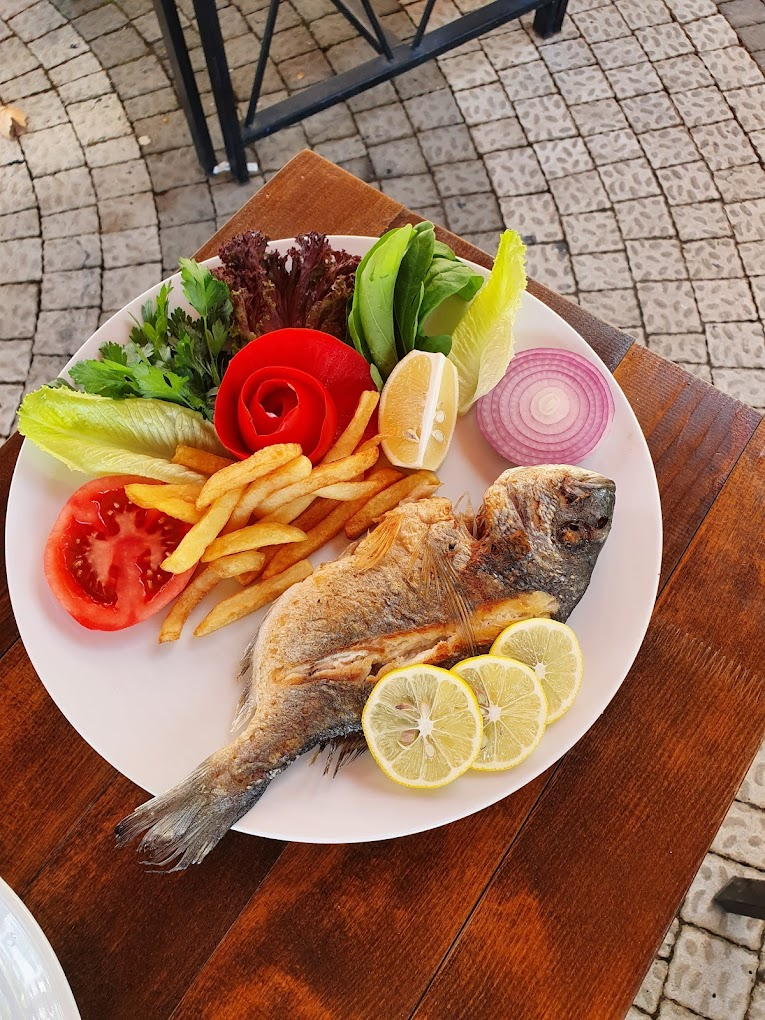 Olive Restaurant in Side, Turkey, is a dining establishment specializing in Turkish and Mediterranean cuisine. The menu at Olive Restaurant is diverse, offering a wide selection of dishes to cater to different tastes. Traditional Turkish dishes such as kebabs, mezes, and stews are prominently featured. Mezes, small dishes served with drinks at the beginning of multi-course meals, include options like hummus, dolma (stuffed vine leaves), and various yogurt-based dips.
One of the highlights of the Olive Restaurant menu is the kebab selection, which includes varieties like the Adana kebab (spicy minced meat skewer), Shish kebab (grilled meat skewers), and Döner kebab (rotisserie-cooked meat), among others.
In addition to the traditional Turkish dishes, the menu incorporates other Mediterranean classics, such as fresh seafood dishes, pasta, and a selection of salads using locally sourced vegetables. To accompany the meal, Olive Restaurant offers a range of local Turkish wines, spirits, and non-alcoholic beverages. Traditional Turkish tea and coffee also feature on the menu, offering an authentic local dining experience.
Address: Side Fatih Sultan Mehmet Bulvarı No:25 D:2Manavgat, 07330 Manavgat/Antalya, Türkiye
#10. Side Friends Restaurant: Where Great Food and Good Times Unite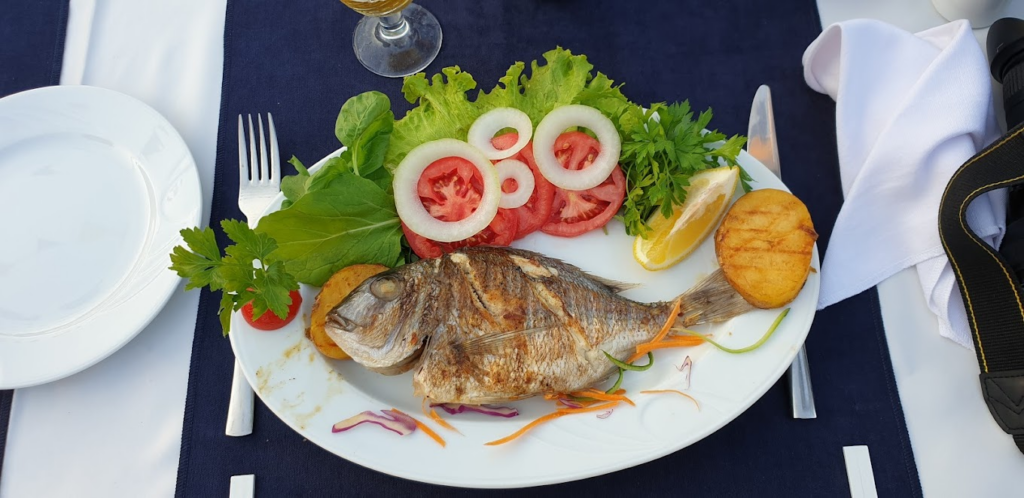 With a focus on international cuisine, Side Friends Restaurant in Side, Turkey, offers a global dining experience. Turkish classics are honored on the menu, allowing visitors to indulge in dishes like flavorful kebabs, assorted mezes, and traditional stews. For those seeking tastes from further afield, the restaurant also features a variety of Italian dishes, such as pasta and pizza, along with American favorites like burgers and sandwiches.
Side Friends Restaurant's commitment to diversity also extends to its dietary accommodations. They offer vegetarian and vegan options, ensuring that everyone can find something to enjoy.
To round out the meal, patrons can choose from local Turkish wines and spirits or non-alcoholic beverages like traditional Turkish tea or coffee. Desserts also feature on the menu, offering Turkish sweets and international favorites.
Address: Fatih Sultan Mehmet Bulv. Sok. 1523, Side, Manavgat Turkiye.
#11. Kamer Ocakbaşı Restaurant: A Sizzling Journey into Turkish Grill Delights
Renowned for its ocakbaşı style of cooking, which refers to a traditional Turkish barbeque method, Kamer Ocakbaşı Restaurant offers a unique dining experience in Turkey. Grilled meats hold a central place on the menu at this restaurant. Patrons can savor offerings, from skewered lamb and chicken to beef steaks and minced meat kebabs. These dishes are cooked on an open fire, giving them a smoky flavor typical of ocakbaşı cuisine.
In addition to the meat-based dishes, Kamer Ocakbaşı Restaurant also serves an assortment of mezes or appetizers, such as hummus, babaganoush, and tzatziki, which are perfect for sharing. Salads and grilled vegetables are also available, offering a delightful complement to the grilled meats.
Beverages at the restaurant include an array of Turkish wines and traditional non-alcoholic drinks like ayran, a yogurt-based drink, and Turkish tea. For dessert, Kamer Ocakbaşı offers a selection of traditional Turkish sweets, providing a sweet end to a savory meal.
Address: Side, Barbaros_1 Caddesi No:25, 07330 Manavgat/Antalya, Türkiye
Conclusion
Side Turkey boasts a vibrant and diverse culinary scene that leaves visitors with an unforgettable dining experience. From traditional Turkish ocakbaşı grills to charming Mediterranean bistros, the town offers a delectable array of flavours that cater to every palate. Whether you crave authentic Turkish kebabs or fresh seafood, the best restaurants in Side deliver exceptional dishes coupled with warm hospitality. The blend of local and international influences creates a culinary journey that reflects the town's cultural richness.