Welcome to the culinary delights of Ankara, a vibrant city in Turkey renowned for its rich gastronomic heritage. From traditional Turkish dishes to international delicacies, Ankara's diverse culinary scene offers tempting flavors and tastes to please every palate. Whether seeking authentic kebabs, delectable mezes, or exploring the fusion of global cuisines, Ankara has something special.
Join us on a gastronomic journey as we uncover the best restaurants in Ankara, each a testament to the city's passion for food and its commitment to preserving culinary traditions. Get ready to embark on a delightful adventure where every bite tells a story of culture, history, and the art of culinary craftsmanship.
Best Restaurants in Ankara
#1. Trilye Restaurant – Where Culinary Excellence Meets Authentic Mediterranean Charm.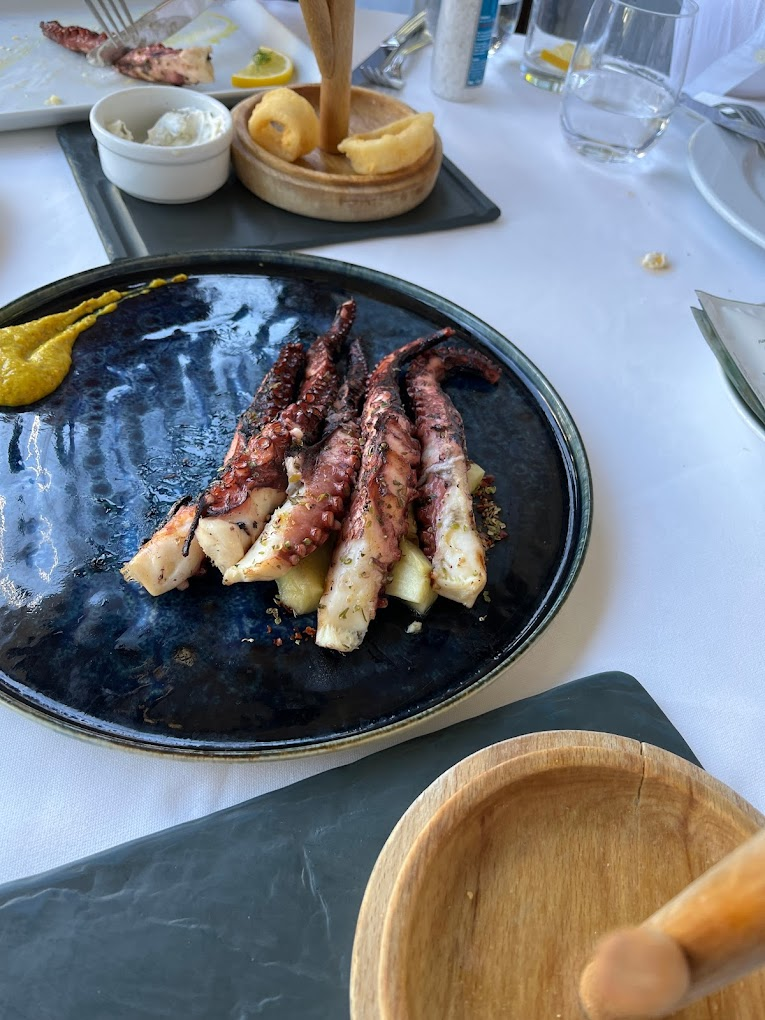 Trilye Restaurant is a well-regarded dining establishment located in Ankara, Turkey. It's renowned for its Mediterranean cuisine, with a particular emphasis on seafood dishes, which is somewhat unique for the inland location of Ankara.
The restaurant offers a broad and diverse menu, catering to various tastes and dietary requirements. While the restaurant's specialty is fish and other seafood, it also serves a selection of meat dishes, vegetarian options, and a variety of meze, the small plates often served at the beginning of meals in Mediterranean cuisines.
One of Trilye's standout menu items is fish soup, a house specialty many diners recommend. Their dessert menu includes classic Turkish sweets like baklava and kunefe and a variety of seasonal fruit. Trilye Restaurant also boasts an extensive wine list with a range of local and international options to complement its food offerings.
Address: Kazım Özalp, Kuleli Sokağı No: 32, 06680 Çankaya/Ankara, Türkiye
#2. Günaydın Kebap & Steakhouse Çankaya – The Unrivaled Taste of Traditional Turkish Delights.
Günaydın Kebap & Steakhouse restaurant is celebrated for its classic Turkish kebabs and steakhouse-style offerings, combining traditional flavors with contemporary culinary techniques.
The menu at Günaydın Kebap & Steakhouse is a testament to the rich food culture of Turkey. It features a wide range of kebabs, including options like lamb shish, Adana, and Urfa, all seasoned and grilled to perfection. The restaurant takes pride in its sourcing, focusing on the quality and freshness of its meats to ensure robust flavors.
Steak enthusiasts will appreciate the extensive steak menu, which includes cuts like T-bone, ribeye, and sirloin. The steaks are carefully selected, aged appropriately, and grilled to the customers' preference, embodying the steakhouse element of the restaurant. Alongside the meat-centric offerings, the menu also includes a variety of Turkish meze, salads, and other vegetarian-friendly dishes, catering to diverse dietary preferences.
Address: Gaziosmanpaşa, Attar Sk. No:6, 06700 Çankaya/Ankara, Türkiye
#3 Fige Restaurant – Indulge in a Symphony of Flavors from the Mediterranean.
Fige Restaurant is recognized for its creative blend of Turkish and international cuisine. This fusion approach results in an eclectic menu that brings global flavors to the capital city.
Fige's menu includes dishes inspired by traditional Turkish fare but executed with a contemporary twist. There's also an array of international dishes ranging from pasta and risotto to steaks, offering patrons a well-rounded global gastronomic experience.
The extensive menu features appetizers, main dishes, salads, desserts, and a wide selection of drinks. Among the standout items are their creative meze, a variety of bite-sized appetizers, and local and global flavors. The dessert section features traditional Turkish sweets and a variety of international desserts, like cheesecake and tiramisu. Patrons have an opportunity to pair their meals with an array of wines, both local and imported, along with a variety of non-alcoholic beverages.
Address: Eski, , Çankaya Mahallesi, Prof. Dr Aziz Sancar Caddesi No:15, 06690 Çankaya/Ankara, Türkiye
#4. Meşhur Tavacı Recep Usta – A Celebration of Tradition, Quality, and Irresistible Taste.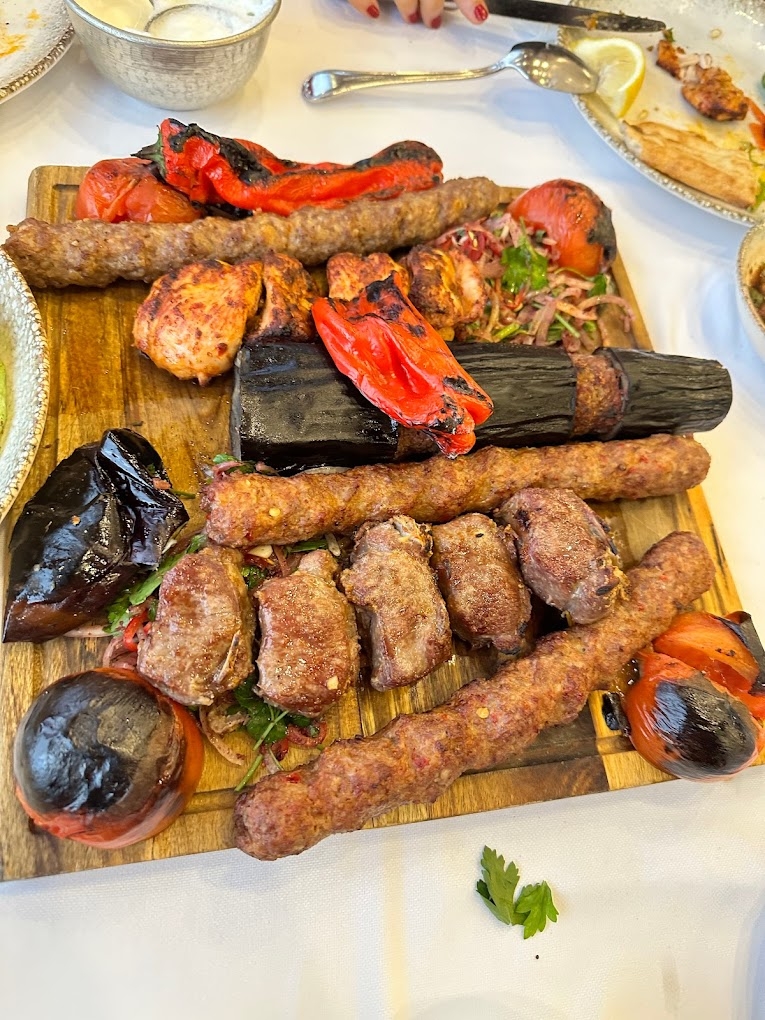 Meşhur Tavacı Recep Usta is best known for its traditional Anatolian cuisine. It has gained a reputation for its exceptional tavas (clay pot dishes), hence the title "tavacı," which translates to "tava maker."
The core of the restaurant's menu revolves around hearty and robustly flavored dishes, cooked using time-honored techniques. One of the highlights is the variety of tawa dishes, cooked and served in clay pots or pans. These include classics like lamb tava and chicken tava, where the meat is slow-cooked with vegetables and herbs, resulting in a deeply flavorful and comforting dish.
However, Meşhur Tavacı Recep Usta isn't just about tava. The restaurant also serves traditional Turkish dishes, including kebabs, stews, and rice dishes. There are also plenty of meze options, such as ezme (a spicy tomato salad), and other cold starters, showcasing the diversity of Turkish cuisine.
Address: Güzeltepe, Dikmen Vadisi 3. Etap No: 2, 06450 Çankaya/Ankara, Türkiye
#5. Uludağ Kebapçısı – Savor the Timeless Art of Authentic Turkish Kebabs.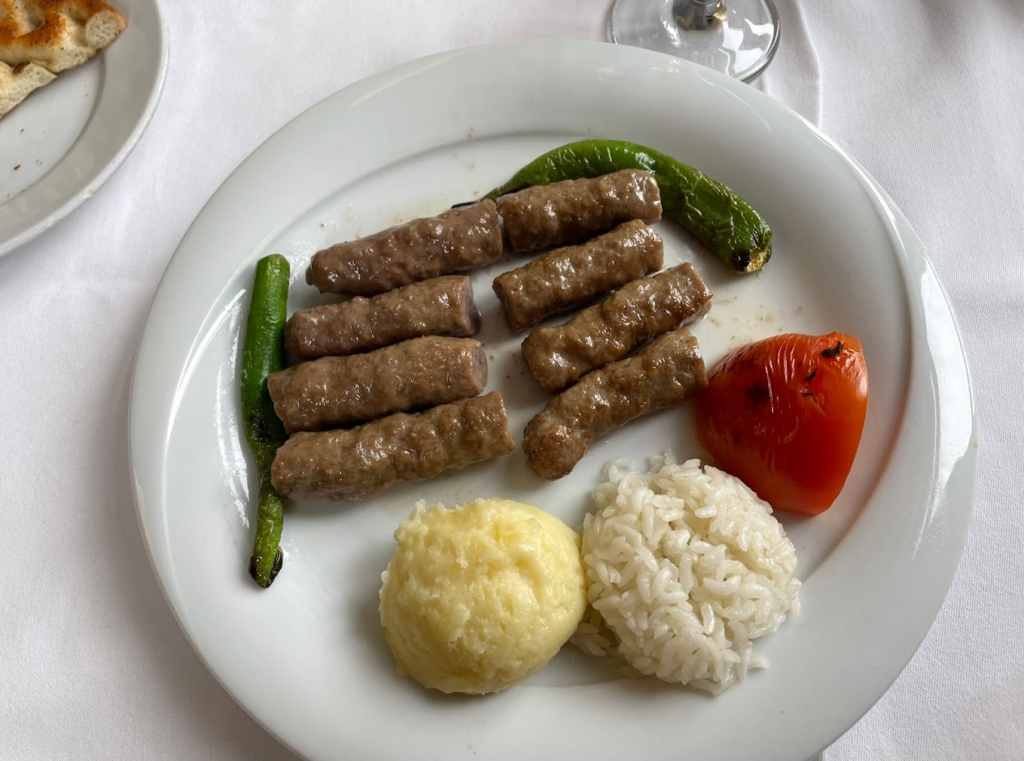 Uludağ Kebapçısı offers patrons a culinary journey centered around iconic Turkish grill preparations. With a traditional menu, the establishment serves diverse interpretations of the famed Turkish kebab.
From skewered delights such as shish kebab to the intricately seasoned ground meat of the adana kebab, Uludağ Kebapçısı presents an array of choices to meat enthusiasts. Beyond kebabs, the restaurant also presents regional favorites like lahmacun, a thin and crispy flatbread topped with minced meat and vegetables, and pide, often called Turkish pizza.
Vegetarians are not overlooked, with various vegetable dishes and salads, ensuring the dining experience is inclusive. You'll also find a range of meze, and Turkish appetizers, which complement the main courses beautifully.
Address: Anafartalar, Denizciler Caddesi No:54, 06030 Altındağ/Ankara, Türkiye
#6. Bogazici Lokantasi – Where Timeless Flavors Meet Breathtaking Views.
Boğaziçi Lokantası is notable for its traditional Turkish 'lokanta' style cooking, which offers a variety of home-style dishes in a cafeteria-like setting. This dining style is cherished for its daily rotating menu that includes a selection of stews, grilled meats, vegetables, and legumes.
Within this framework, Boğaziçi Lokantası excels at serving a variety of regional favorites. Notable dishes include dolma, stuffed grape leaves; güveç, a hearty stew cooked in an earthenware pot; and a variety of 'zeytinyağlı' dishes, where vegetables are cooked in olive oil and often served cold.
Another highlight is their range of pilavs and bulgur dishes, each prepared with special seasonings, providing a delicious alternative to standard rice. Traditional Turkish beverages, including tea and ayran, feature prominently on the drink list.
Address: Ulus, Denizciler Cd. no 1/A, 06050 Altındağ/Ankara, Türkiye
#7. Jale Turk Muftagi – Discover the Richness of Turkish Cuisine, Handcrafted with Love.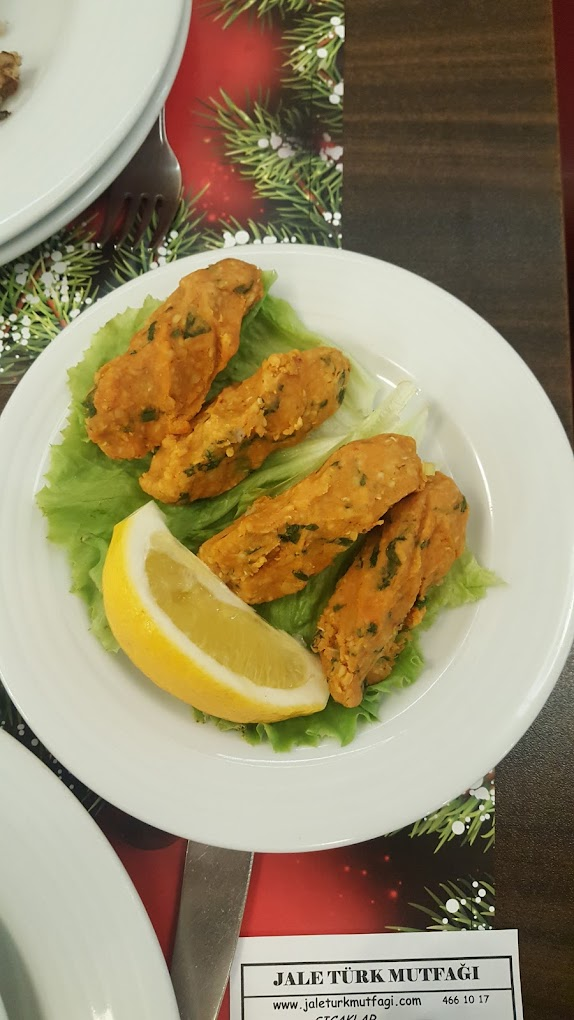 Jale Türk Mutfağı specializes in traditional Turkish cuisine. The restaurant's name, "Jale's Turkish Kitchen," signals its commitment to preserving the authentic flavors of Turkish culinary traditions.
What makes Jale Türk Mutfağı unique is its menu which captures a wide spectrum of Turkish regional dishes. From the succulent kebabs of southeastern Turkey to the olive oil-dressed vegetable dishes (zeytinyağlılar) from the Aegean coast, the restaurant offers diverse meals that represent the multifaceted nature of Turkish cuisine.
Frequent offerings include grilled meats, a variety of meze or starters, and casseroles cooked in earthenware pots (guvec). There are also traditional Turkish pastries such as börek and pide and a selection of rice and bulgur dishes.
Address: Kavaklıdere, Bülten Sk. No:1 D:C, 06540 Çankaya/Ankara, Türkiye
#8. Develi1912 Ankara – A Timeless Journey through Turkish Gastronomy.
Develi1912 Ankara got its name from its founding year and is celebrated for its commitment to authentic Turkish cuisine. Over the years, it has garnered a reputation for preserving traditional recipes and offering diverse dishes that showcase the breadth of the Turkish culinary landscape.
The menu at Develi1912 Ankara is comprehensive, offering customers a wide range of selections. There's an array of options, from the classic Adana kebab, made from minced meat on a skewer, to more regional selections like Urfa and Siirt kebabs.
Beyond kebabs, Develi1912 Ankara's menu also features other traditional Turkish dishes. This includes a selection of hot and cold mezes, like hummus, babaghanoush, and various stuffed vegetables (dolma). One of their noteworthy offerings is the lamb shank cooked in a tandoor, known for its tender meat that falls off the bone. For seafood lovers, the restaurant serves various dishes, including grilled sea bass, calamari, and various seasonal fish options.
Address: 100. Yıl, Nenehatun Cd No:73, 06700 Çankaya/Ankara, Türkiye
#9. Hattena Hatay Sofrası – A Gastronomic Expedition to the Heart of Hatay's Authentic Flavors.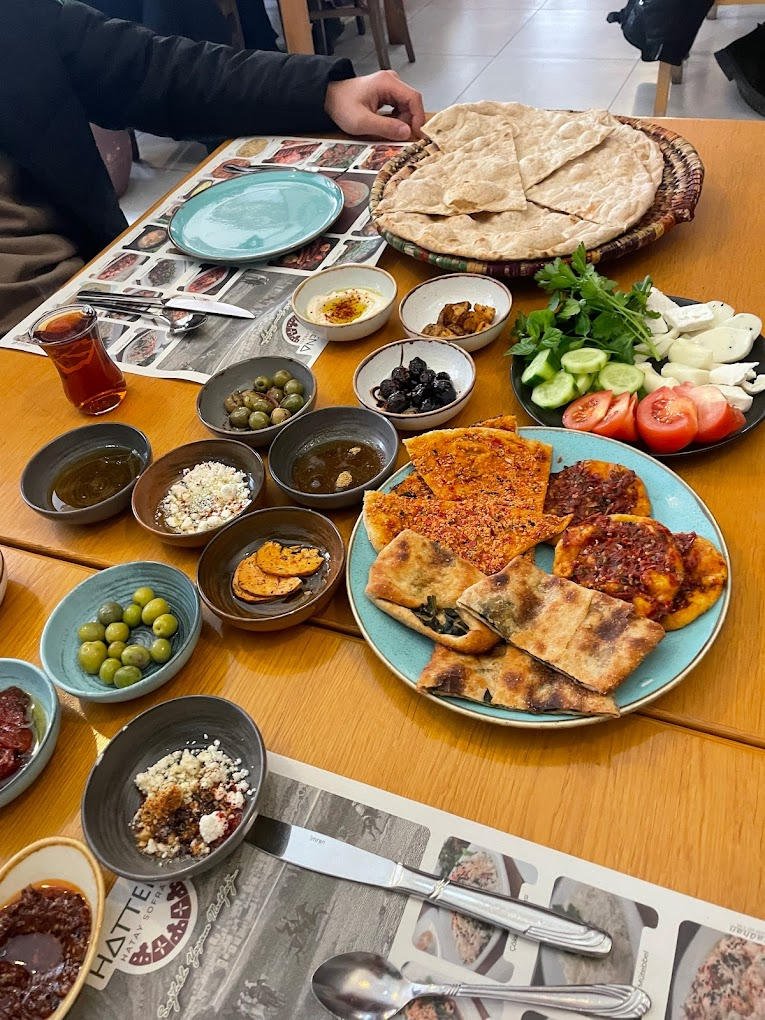 Hattena Hatay Sofrası is renowned for serving food from the Hatay region of Turkey. One of the standout features of the restaurant is its selection of kebabs, including the signature Hatay-style kebab made from finely ground meat, peppers, and spices.
Another highlight is their wide assortment of mezes, small dishes served before the main meal. This includes hummus, muhammara (a spicy red pepper dip), and a selection of olives and cheeses. For those preferring a lighter fare, there are various soup options like the traditional lentil soup or the more unique sour Kelle soup.
The restaurant also boasts a selection of unique regional dishes such as the "oruk", a special kind of meatball, and "tepsi kebabi", a minced meat dish baked in a tray. A must-try is the "kunefe", a traditional Hatay dessert made with cheese and shredded wheat soaked in syrup, typically served hot with a topping of ground pistachios.
Address: Nasuh Akar, Süleyman Hacıabdullahoğlu Cd. 41/A, 06520 Çankaya/Ankara, Türkiye
#10. Kibris Evi Restaurant – Embark on a Cypriot Culinary Voyage, Where Tradition Meets Delight.
Kibris Evi Restaurant translates to "Cyprus House," the restaurant stays true to this by serving a menu full of traditional dishes from the island of Cyprus, which carries both Greek and Turkish culinary influences.
Known for its variety of grilled dishes, the restaurant is particularly famous for its selection of kebabs. These include the traditional sheftalia, a Cypriot sausage made from minced pork, onions, and spices wrapped in caul fat, and the souvlaki, tender pieces of grilled meat served on skewers.
In addition, the menu also features an array of other Cypriot specialties. The moussaka, a layered dish of eggplant, potatoes, and minced meat topped with béchamel sauce, is popular among patrons. Another favorite is the halloumi cheese, a semi-hard, unripened, brined cheese often served grilled or fried. For seafood enthusiasts, the restaurant offers a selection of dishes such as calamari and various grilled fish, reflecting Cyprus's location in the Mediterranean.
Address: Fidanlık, Halk Sk. No:17, 06370 Çankaya/Ankara, Türkiye
Conclusion
Ankara's dining scene is a treasure trove of culinary delights that cater to diverse tastes and preferences. From authentic Turkish kebabs and mezes to a fusion of international flavours, the city's restaurants offer an array of gastronomic experiences. Throughout this exploration, we have witnessed the passion of skilled chefs and the warm hospitality that makes dining in Ankara truly memorable. Whether you're a local or a visitor, indulging in the city's culinary wonders is a must. The blend of tradition and innovation in Ankara's restaurants ensures that every meal is a journey through culture, history, and the artistry of food.