Top 3 Izmir Day Trips we recommend:
#1 Izmir Awaits: Discover the City's Highlights on the Izmir City Tour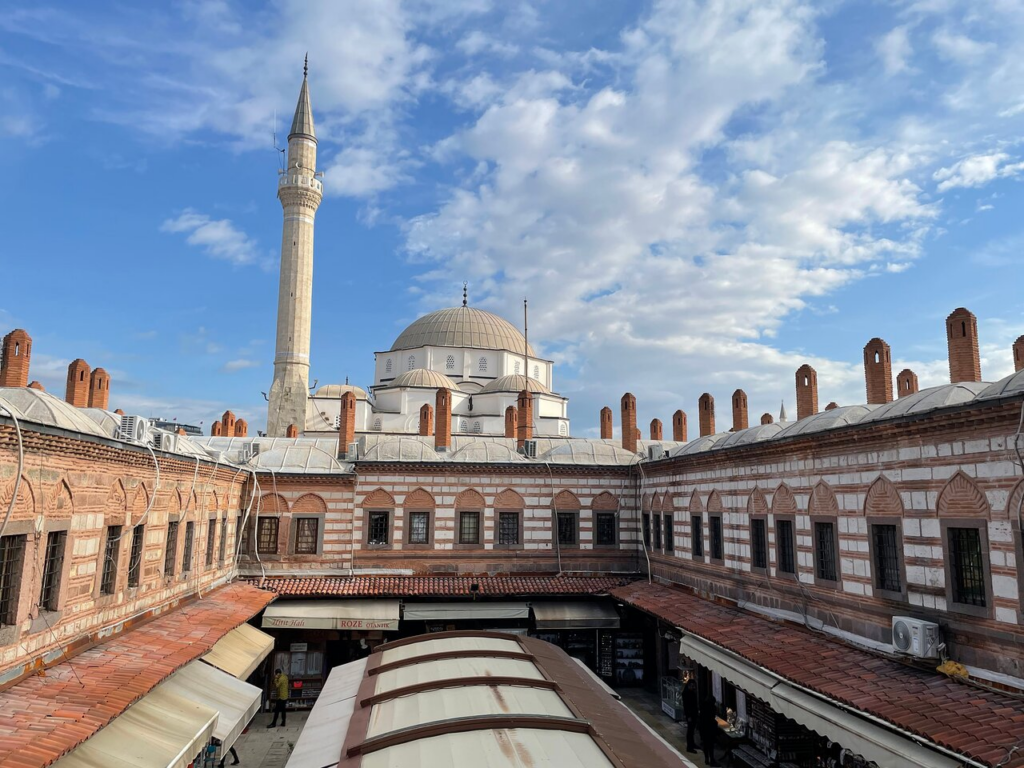 Embark on an unforgettable journey through the heart of Izmir with our 'Izmir City Tour.' This full-day group tour is designed to introduce you to the city's top attractions while offering a unique perspective from a local's point of view. Using public transportation, you'll effortlessly explore Izmir's landmarks, including the historic Kadifekale, the iconic Izmir Clock Tower, and more. Perfect for first-time visitors, this tour provides an ideal orientation to the city, allowing you to later delve into independent exploration.
Why Join This Tour?
Expert Guided Exploration: Benefit from the expertise of our professional tourist guide, who will unravel the city's history and hidden gems.
Local Insights: Embrace the authentic experience of exploring Izmir like a local, using public transit to navigate the city's vibrant streets.
Comprehensive Itinerary: See the best of Izmir's top sights and landmarks, making the most of your limited vacation time in Turkey.
Small Group Experience: Enjoy the personalized attention and camaraderie of a small group, fostering a more intimate and enjoyable tour.
Hassle-Free Transportation: Let public transport take the stress out of traveling between attractions, providing a convenient and efficient tour.
Unveil the essence of Izmir as you stroll through its historical and cultural landmarks with our expert guide. From ancient ruins to modern marvels, this city tour offers a perfect blend of old and new, allowing you to grasp the true spirit of Izmir. Capture memories of iconic sites and immerse yourself in the vibrant ambiance of this captivating city. Whether you're a history enthusiast or a curious explorer, the Izmir City Tour promises a delightful adventure filled with knowledge, charm, and unforgettable experiences.
#2 Izmir Unveiled: Small-Group Shore Excursion for a Half Day of Splendor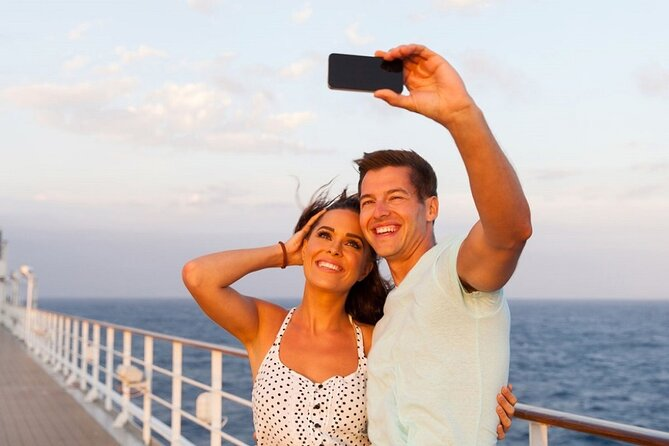 Experience a whirlwind adventure with our 'Izmir Shore Excursion,' specially curated for cruise ship travelers seeking a glimpse of the city's top highlights. Step off your cruise ship and meet your knowledgeable guide, who will lead you on an unforgettable journey. Explore the ancient Agora, marvel at the beauty of Konack Square, and delve into the wonders of the Archaeological Museum. With seamless port pickup and drop-off, this half-day tour ensures you make the most of your time in Izmir before setting sail for your next destination.
Why Join This Tour?
Expert Local Guide: Our experienced guide will unlock the city's secrets, enriching your visit with fascinating stories and historical insights.
Effortless Transportation: Travel in comfort with our air-conditioned vehicle, ensuring a stress-free and enjoyable exploration.
Time-Optimized Itinerary: Experience Izmir's top highlights in just half a day, allowing you to make the most of your cruise stopover.
Small-Group Intimacy: Enjoy a personalized experience in the company of a small group, fostering camaraderie and engagement.
Seamless Port Logistics: Leave the details to us, as we ensure punctual pickup and drop-off, maximizing your time on land.
Uncover the essence of Izmir as you journey through its iconic landmarks and historical sites. This small-group shore excursion promises a taste of the city's splendor, offering a perfect blend of history, culture, and captivating sights. Immerse yourself in the vibrancy of Izmir and create cherished memories before setting sail on your cruise adventure. Join us for a half-day of splendor, where every moment counts and the beauty of Izmir awaits your discovery.
#3 Izmir City Gourmet Tour: Savor the Rich Flavors of Turkish Culinary Culture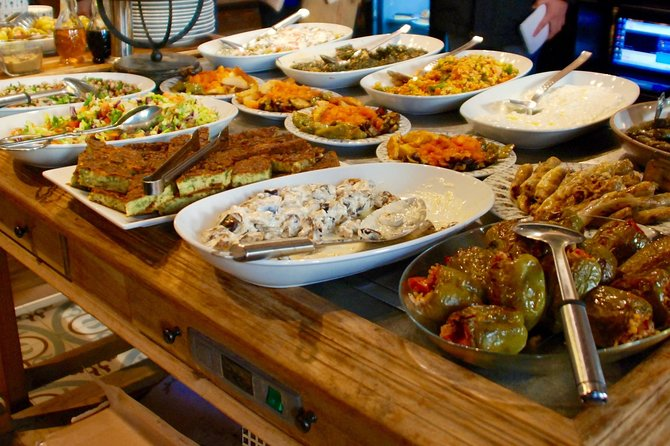 Indulge in a delectable culinary journey through Izmir on our 'Izmir City Gourmet Tour.' From local sherbet and hand-made ravioli to traditional nut pastes and köfte, immerse yourself in the authentic taste of this city's exquisite cuisine. Led by helpful guides, this walking tour offers exclusive access to tasty snacks and local gourmet dishes, while also taking you to some of Izmir's most popular tourist attractions. From Konak Square to Yalı Mosque, Hasan Tahsin Monument, Opera Buildings, and more, you'll savor every moment and every flavor.
Why Join This Tour?
Expert Guided Exploration: Our knowledgeable guides will introduce you to the secrets of Turkish culinary culture, providing insights and background to each dish.
Exclusive Tastings: Enjoy privileged access to a variety of traditional treats, from börek (pastry snack) to mulberry sherbet, pickles, pide, köfte, and sambali (a local dessert).
Insider's Perspective: Observe the preparation of signature dishes and gain a deeper understanding of the flavors and techniques that define Turkish cuisine.
Cultural and Historical Insights: Along with culinary delights, you'll also witness some of Izmir's iconic landmarks, combining food and history in a unique experience.
Authentic Turkish Coffee: Delight in the tradition of Turkish coffee at the charming courtyard of Kızlarağası Hanı, immersing yourself in the rich coffee culture.
Embark on a gourmet adventure through Izmir, tasting your way through its culinary treasures and absorbing the city's vibrant culture. This walking tour is a feast for all your senses, where every bite tells a story and every landmark unfolds a rich history. Join us and savor the finest flavors of Izmir, as we celebrate the essence of Turkish culinary culture and the joy of shared dining experiences.
#4 Afternoon Odyssey: Ephesus and Virgin Mary's House Tour in İzmir Province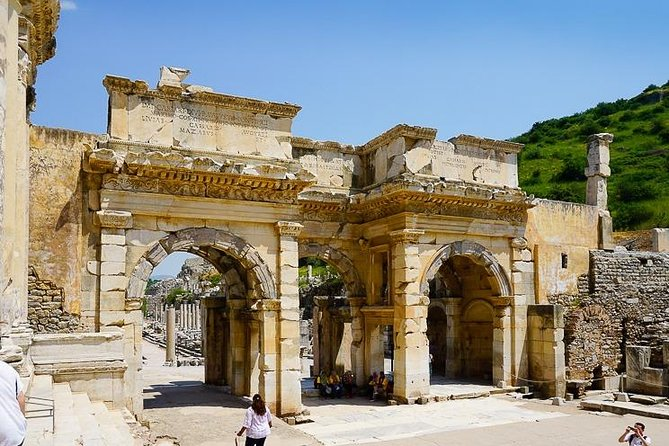 Embark on an enchanting journey through history with our 'Afternoon Odyssey: Ephesus and Virgin Mary's House Tour' in İzmir Province. Avoid the morning crowds and set off on an unforgettable exploration of ancient Turkey's historic areas. Discover the majestic ruins of Ephesus, a UNESCO World Heritage Site steeped in the grandeur of ancient Greece, featuring iconic landmarks like the Temple of Hadrian and the Ephesus Odeon Theater. Your adventure continues as you visit other highlights, including the Isa Bey Mosque, Selçuk Castle, and the sacred House of the Virgin Mary.
Why Join This Tour?
Expert Guided Exploration: Follow your knowledgeable guide and delve into the fascinating history of ancient Greek and Turkish culture.
Comprehensive Highlights: Immerse yourself in the wonders of Ephesus, while also discovering remarkable sites like Selçuk Castle and the House of the Virgin Mary.
Hassle-Free Transfers: Enjoy the convenience of round-trip transfers from your İzmir or Kusadasi hotel, as well as available transfers from airports and cruise ports.
All Ages Welcome: This history tour caters to all ages, with special discounts for children aged 12 and under.
Unveil the magnificence of ancient Turkey on this unforgettable afternoon tour, where every step leads to extraordinary stories from the past. From the architectural wonders of Ephesus to the spiritual significance of the Virgin Mary's House, this excursion promises to leave you with cherished memories and a deeper appreciation for Turkey's rich cultural heritage. Join us for an afternoon odyssey through time, as we explore the echoes of history that still resonate in the heart of İzmir Province.
#5 PRIVATE Ephesus Classic: A Full-Day Time Travel Experience from Izmir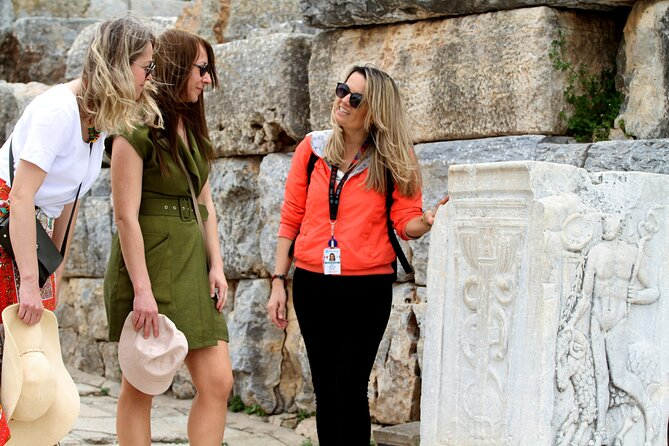 Unveil the splendors of the past with our PRIVATE Ephesus Classic Tour, a time travel adventure covering the most iconic sights of the Ephesus area. This exceptional tour is our best-seller, offering an exclusive Skip-The-Line experience with pre-purchased tickets. Spend a full day immersing yourself in history with the freedom to customize your journey alongside your private guide.
Why Join This Tour?
Licensed Local Tour Guide: Enjoy the expertise and personalized attention of your licensed local tour guide with an archaeological background, providing rich insights into the historical significance of each site.
Comfort and Convenience: Experience the comfort of your private vehicle and the convenience of hotel/port pickup and drop-off, ensuring a seamless journey.
Tailor-Made Exploration: Customize your tour with the guidance of your private guide, adapting the itinerary to suit your interests and pace.
Embark on a full-day adventure through the annals of time, where every step leads to awe-inspiring stories and the echoes of ancient civilizations. Our PRIVATE Ephesus Classic Tour promises an unforgettable experience, where history comes alive, and you become a witness to the wonders of the past. Join us for a day of discovery, as we unveil the timeless treasures of Ephesus, transporting you through centuries of human history and cultural heritage.
#6 Izmir Synagogues Tour: Unravel the Tapestry of Jewish Heritage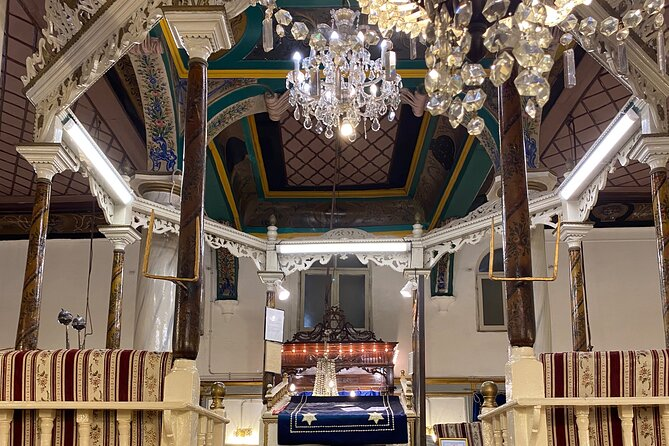 Embark on a captivating expedition through time and culture with our 'Izmir Synagogues Tour,' a unique opportunity to explore six historic synagogues nestled in the heart of this enchanting city. Originally belonging to the Jewish community, these sacred sites have graciously opened their doors to our esteemed guests. With the necessary documents and permissions, we offer you an exclusive glimpse into the rich heritage of Jewish life in Izmir, a legacy dating back to the 16th century.
Why Join This Tour?
Architectural Gems Unveiled: Marvel at the impressive architecture of each synagogue, a testament to the fusion of history, culture, and faith that shaped their design.
Immersive Narratives: Your knowledgeable guide will weave captivating tales of the significant events and stories that unfolded within the hallowed walls of these revered spaces.
A Glimpse into Jewish Life: Gain profound insights into the vibrant history and cherished traditions of Izmir's Jewish community, fostering a deeper appreciation for their enduring legacy.
Traverse the sacred halls of six historic synagogues, where history and culture intertwine, weaving a tapestry of Jewish heritage in the heart of Izmir. Our Izmir Synagogues Tour promises an immersive experience, where you will witness architectural marvels and uncover profound stories etched in the hearts of each sacred space. Celebrate the enduring spirit of the Jewish community and embrace the harmonious blend of cultures that have contributed to Izmir's vibrant identity. Step into the footsteps of history and immerse yourself in the living legacy of Jewish life that thrives in this captivating city.