Top 3 Troy day trips we recommend:
#1 Tales of Troy: A Timeless Journey into History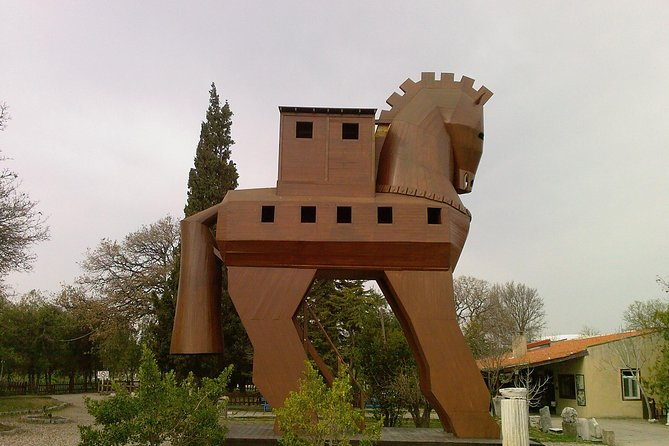 Embark on an enlightening full-day exploration of the legendary city of Troy, seamlessly executed from Istanbul. Travel in comfort within our air-conditioned minibus, accompanied by our expert guide, as you journey through time. Explore landmarks like the mythical Trojan Horse, the ancient city walls, and the ongoing archaeological excavations. Break for a delectable local lunch midway and relish the convenience of pick-up and drop-off from your Istanbul hotel.
Why Join This Tour?
Historical Excursion: Immerse yourself in the timeless tale of the ancient city of Troy, a legendary setting in Homer's Iliad.
Expert Insight: Gain from the profound knowledge of our guide, who can enrich your understanding of Troy's intriguing history.
Culinary Experience: Savor a delectable local lunch, included in your tour, adding a flavorful break to your day.
Ongoing Excavations: Witness archaeology in action at the current excavation sites in Troy.
Hassle-Free Journey: Enjoy the comfort and convenience of hotel pick-up and drop-off in Istanbul.
The 'Tales of Troy' tour takes you on a fascinating journey into the heart of a legendary city from the comfort of Istanbul. As you navigate the ruins, your expert guide will bring to life the epic tales of heroes and gods, battles and deceit. The addition of a local lunch offers a flavor of Turkish cuisine to complement your historical adventure. This is your chance to live the legend and experience Troy like never before.
#2 Dine with the Divine: A Mythical Night at Troy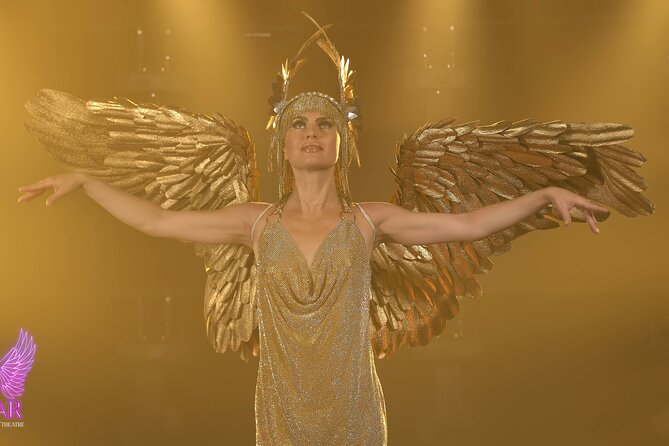 Enter a realm where the legendary heroes, gods, and goddesses of Greek mythology come alive during this unique dinner-show experience, aptly named 'Troy'. Marvel at our cast of talented sculptural acrobats, dancers, and singers as they weave an immersive narrative. As one of the most innovative dinner-shows in the world and the only one of its kind in Europe, 'Troy' erases the line between audience and performer. You'll find yourself stepping into the vibrant world of Troy and even influencing the course of history! Will you stand with the Greeks of Achilles or the Trojans of Hector? The choice is yours!
Why Join This Tour?
Mythological Journey: Experience Greek mythology's most famous event, the Trojan War, in a theatrical spectacle.
Interactive Entertainment: Influence the story's course with your choices, adding an engaging interactive element.
Culinary Delight: Enjoy a delicious dinner as part of your experience, enhancing the evening's enjoyment.
Unique Show: Partake in a dinner-show unique in Europe and one of the most innovative in the world.
Immersive Atmosphere: Be a part of the show, embodying either a Greek or a Trojan, immersing yourself in the world of Troy.
The 'Dine with the Divine' show is a feast for all senses. It merges enchanting narratives from Greek mythology with spectacular performances, all set against the backdrop of the legendary city of Troy. As you enjoy your meal, you'll be absorbed in the unfolding drama and have a say in its outcome. This exceptional dinner-show presents an evening filled with excitement, entertainment, and delicious cuisine. Experience a night like no other and decide the fate of Troy!
#3 Trojan Treasures: Step into the Legends of Troy from Istanbul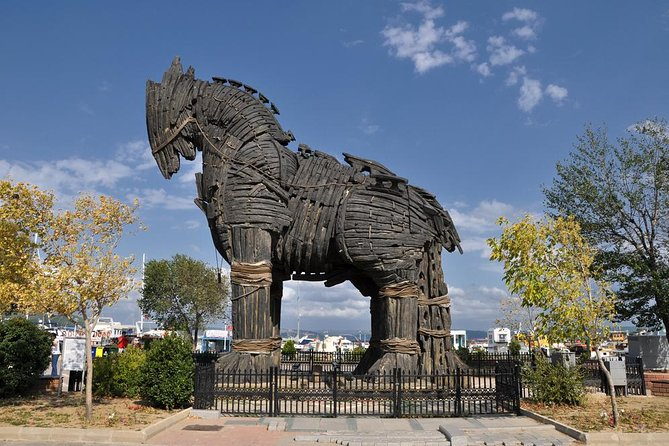 Join us on an enlightening full-day tour to Troy from Istanbul, an opportunity to unearth the allure of ancient Greek mythology and the captivating history of the Trojan War. This guided journey encompasses an immersive walking tour through the renowned archaeological site of Troy, replete with its iconic Trojan Horse replica. The saga of Troy, its transformation across time, and the pivotal role it played in antiquity unfurls before you. The tour also includes a pleasant detour to the charming coastal town of Eceabat, known for its delightful lunch offerings.
Why Join This Tour?
Historical Insight: Explore the UNESCO-listed archaeological site of Troy and delve into its rich mythology and history.
Professional Guidance: Benefit from the knowledge of our professional English-speaking guide throughout the tour.
Culinary Experience: Savor a delicious lunch in the picturesque coastal town of Eceabat.
Comfortable Journey: Relax with our fully air-conditioned, non-smoking vehicle, ensuring a comfortable tour experience.
Convenience: Enjoy hassle-free pickup and drop-off to and from your hotel in Istanbul.
Our 'Trojan Treasures' tour is a journey into a time of legends and epic battles. It brings you face-to-face with the famed city of Troy, its captivating history, and the towering Trojan Horse. The scenic detour to the charming town of Eceabat for a delightful lunch is the cherry on top. This day tour from Istanbul blends history, mythology, and delectable cuisine, all wrapped in a journey you'll remember long after you've returned. Join us to step into the pages of history!
#4 Echoes of Ancient Heroes: Immerse in Troy's Mystique with a Self-Guided Audio Tour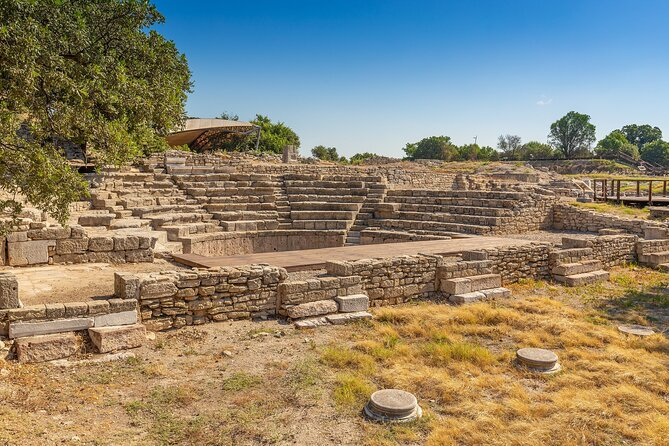 Embark on a self-guided exploration of Ancient Troy with our convenient skip-the-line ticket and comprehensive audio guide. With no queues to worry about, lose yourself in the charm and grandeur of Troy's age-old allure. Download our interactive app on your smartphone and marvel at the splendor of attractions like the Walls, Gate, and Ramp of Troy II, Schliemann's Trench, and the Fortification Walls of Troy I, among others.
Why Join This Tour?
Hassle-Free Visit: Skip-the-line service ensures your visit is seamless and free from long waits.
Flexibility: Enjoy the freedom of exploring at your own pace with our self-guided audio tour.
Comprehensive Coverage: Our audio guide provides you with insightful narratives about each highlight.
Interactive Learning: The audio guide for your smartphone enhances the educational aspect of your visit.
Accessibility: With our smartphone app, access the tour anytime, whether on Android or iOS.
The 'Echoes of Ancient Heroes' tour delivers an immersive experience that transcends time. It allows you to unravel the secrets of the ancient city of Troy at your own pace, free from the restrictions of traditional guided tours. The inclusion of a detailed audio guide ensures that you won't miss out on the historical and cultural significance of each site. Unearth the hidden gems of this ancient city and gain deeper insights into its rich tapestry of history. Come, relish the liberty of exploring Ancient Troy on your own terms.
#5 Footsteps of Legends: Traverse Troy's Mythic Grounds with an Expert Guide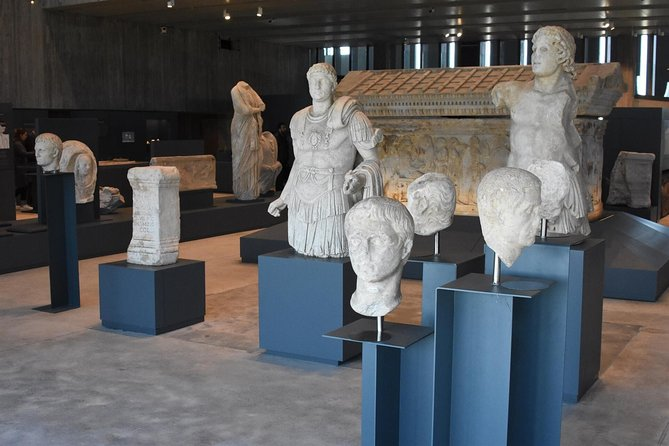 Join us on a full-day deep-dive tour into the world of myths, legends, and ancient heroes in the enigmatic city of Troy. Designed for the discerning visitor, this tour takes you through the UNESCO World Heritage site of Troy and the newly opened Museum of Troy. Led by a local expert guide, you'll walk the paths once tread by Achilles and Hector, and marvel at the artifacts unearthed from the surroundings of Troy.
Why Join This Tour?
Detailed Insight: Traverse the historical city of Troy with an expert guide who'll provide fascinating insights.
Museum Visit: Discover unique artifacts from around Troy in the newly opened Museum of Troy.
Mythological Narrative: Gain an understanding of the captivating mythology that envelopes Troy.
Convenience: Enjoy the convenience of pick-up and drop-off from your hotel in Canakkale.
Inclusive Package: Tour includes all entrance fees to the Museum of Troy and the ancient site of Troy.
The 'Footsteps of Legends' tour offers a unique blend of mythology, history, and archaeological exploration. You'll step into the world of epic tales, marvel at the artifacts that form the fabric of these narratives, and understand the extensive archaeological efforts that have gone into the rediscovery of this mythic city. As we transport you back to your hotel in Canakkale, you'll leave with a trove of knowledge, unforgettable experiences, and the thrill of having walked in the footsteps of legendary figures. Join us in uncovering the captivating story of Troy.
Immerse Yourself in the Ancient World of Troy from the Comfort of Your Home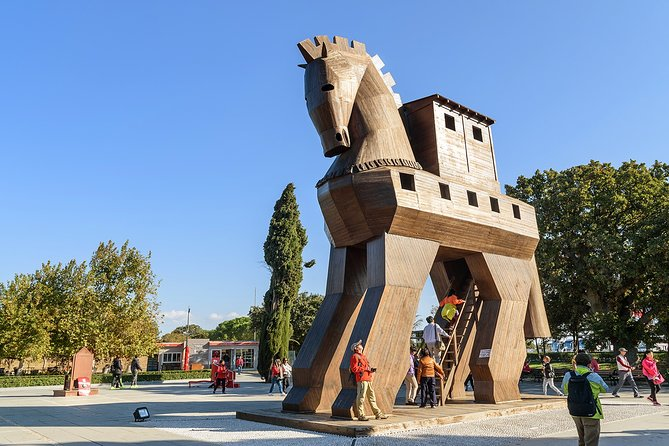 Delve into the mysteries of the ancient city of Troy, right from the comfort of your home, with this engaging self-guided virtual tour. Accessible from your PC or smartphone browser, this innovative and informative tour transports you to the epic past without leaving your couch. Our in-depth research is transformed into brief intriguing stories, beautifully narrated in English, to provide you with an engaging and comprehensive understanding of Troy's history.
Why Join This Tour?
Remote Accessibility: Explore Troy's ancient wonders from the comfort of your home.
Engaging Narration: Enjoy comprehensive narration in English, recounting historical facts, unknown stories, and tales of ancient and modern times.
Convenience: Access the tour repeatedly, anytime online.
In-depth Insight: The tour's content results from extensive research, offering valuable insights into the mysteries of ancient Troy.
Immersive Experience: This tour uniquely combines storytelling with street and satellite views for a fully immersive experience.
The 'Self-guided Virtual Tour of Troy' is an opportunity to journey back in time and experience the grandeur and mystery of ancient Troy in an entirely new way. Be it the Trojan War or the intriguing tales of ancient heroes, this tour offers an extensive virtual exploration that will leave you with a profound understanding of this legendary city. Don't miss out on this chance to immerse yourself in the captivating world of Troy. Join us for an unforgettable virtual adventure.
#7 Walk in the Footsteps of Heroes: A Journey Through Gallipoli and Troy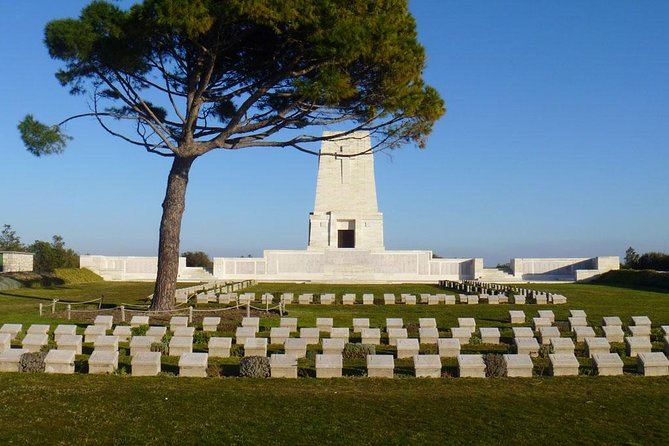 Embark on a journey through time, traversing two of Turkey's most iconic historical sites on this 2-day guided tour from Istanbul. Begin by visiting the hallowed grounds of Gallipoli, the site of a significant World War I battle. Here, walk through memorials at Chunuk Bair, Lone Pine, Anzac Cove, and Brighton Beach, each echoing with the memories of those who fought bravely in 1915. Following an overnight stay in a 3-star accommodation in Çanakkale, journey to the ancient city of Troy. Uncover its archaeological marvels and the stories of the Trojan War under the guidance of an expert, with the legendary Trojan Horse awaiting your arrival.
Why Join This Tour?
Historical Journey: Experience firsthand the sites of pivotal moments in history, from the battlefields of Gallipoli to the ancient city of Troy.
Immersive Experience: Spend a night in Çanakkale, the gateway to both these historical sites, enhancing your connection to the region.
Expert Guidance: Benefit from the knowledge of a professional guide, deepening your understanding of these important sites.
Comfortable Travel: Enjoy the ease of travel with air-conditioned vehicles, including all fees and taxes, for a hassle-free journey.
Memory of War: Visit memorials at Lone Pine, Chunuk Bair, Anzac Cove, and Brighton Beach, silent reminders of the price of war.
The 2-Day Troy and Gallipoli Tour from Istanbul is not just a visit, but an immersive journey into the pages of history. Explore the echoes of the past at Gallipoli, and walk through the fabled streets of ancient Troy, all brought to life by our expert guides. Join us to delve into a time of heroism, tragedy, and legendary tales, for an experience you will never forget.