Shopping is an important activity for anyone visiting a place with a different culture. When I go shopping, I like to learn about the local culture and bring some of it home with souvenirs.
Another advantage of shopping in different places is that you can buy famous international brands much cheaper. More importantly, you can find a lot of crafts in local shops that you can't find anywhere else.
Here are my suggestions when shopping for affordable, quality merchandise in Antalya. You won't be able to resist some of these products.
Kaleiçi
Kaleiçi is already a must-see touristy, historical site you'll want to go to on your trip. I advise that you to go there on a day when you have a lot of time since you'll spend it deciding on which bag or ring to buy and from which store.
What I love about shopping in Kaleiçi is that not only do the shops sell antiques, the shops themselves are antiques. You'll walk on the cobblestone streets, passing stalls full of quality souvenirs, carpets, bags, and paintings, and when you enter a shop, you realize it's an old, Ottoman-style house.
The sellers are all experts in their merchandise. I once bought a small kilim, Turkish-style carpet from a seller who was an archaeology teacher at a university. He taught me some really interesting things about the kilim I'd bought.
Don't miss Lidya's Carpet Store. It is one of the largest in Kaleiçi, carrying thousands of choices, patterns, and colors. The seller is a real professional who also speaks good English.
Kaleiçi will offer you an experience you won't get at shopping malls. You're sure to feel as if you've been transported back to shop in the tien of Hadrian or the Ottomans. Grab your wallet, and get ready to walk in this quaint area.
Lara Saturday Bazaar
If you'd like to visit a local bazaar at which they sell souvenirs like jewelry, you can go to the Lara Cumartesi Bazaar. It's similar to a flea market, since it's cheap, and they also sell secondhand and knock-off brand clothing.
They sell vegetables at a good price, and the product couldn't be better. My favorites are turunç (a small, yellow, sweet fruit), orange marmalade, and local honey with thyme and eucalyptus.
You'll also find really good, quality merchandise, like leather bags and clothing, too. Also, the vegetables and fruit are really delicious. You'll find the fresh and dried herbs together. They also sell gözleme! It's worth the visit if you're not looking for designer brands.
Lara Saturday Bazaar is open from 08.00 to 18.00 every Saturday.  The market is on the LC38 bus route, opposite the Laura and She shopping malls. Don't forget to bring your bargaining skills with you.
Antalya Bazaar
If you're looking for souvenirs for your loved ones, funny or cheap things for your friends, or something to represent the great Turkish tastes, this giant, local bazaar is where you'll find anything you might be looking for.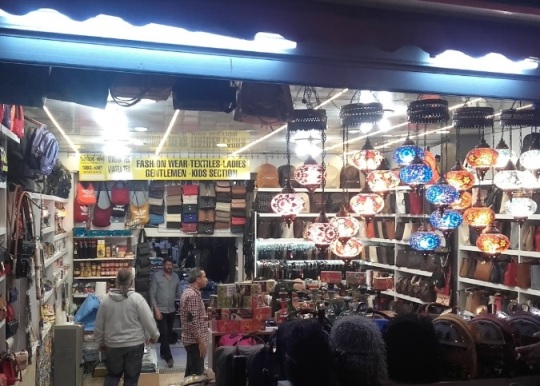 Trying to talk, bargain, and joke with locals is the best part of this bazaar. Most sellers are willing to haggle on a price, but some of them may feel hurt when you try to bargain since they're already offering a good price. So, bargain, but use empathy, too.
If you don't want to buy plastic souvenirs–depicting sunset and beach views that you'll find everywhere else, shop for Nazar boncuğu, leather bags or wallets, and small carpets. They're not only beautiful, but they're functional, too. I also like to buy herbs and interesting fruit as gifts.
This is one of the best open bazaars you'll find in Antalya's city center. Remember–these bazaars are the ancestors of modern shopping malls, and walking among the stalls will give you a sense of how people lived thousands of years ago.
Shopping Malls
When I'm tired of walking in the crowded, noisy, local bazaars, but I still want to shop, I go to shopping malls, of which you'll find plenty in Antalya
To confess, I'd wander around inside the malls even when I don't want to buy anything just to enjoy the cool, air-conditioned environment, compared to the boiling, local bazaars on the streets.
Terra City Shopping Mall
Terra City is Antalya's largest shopping mall, with around 150 stores and a great variety of products, great quality textiles, and well-known, national and international brands.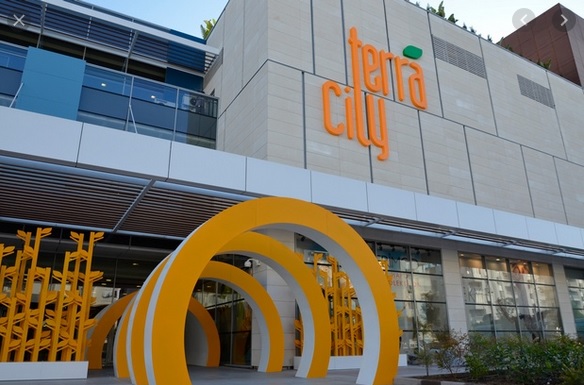 You'll also find great restaurants and cafes inside, varying from Turkish to world cuisine. My favorite is Midpoint, with its world-class dishes and a wide variety of choices.
My guilty pleasure is the Pandora Bookstore. If you finish your book too quickly on the beach, you can go to buy one in Turkish or English in Pandora.
Migros Shopping Mall
This was the first shopping mall in Antalya, originally built as a supermarket, selling mostly food. It has since transformed into a contemporary mall with stores, cafes, and restaurants.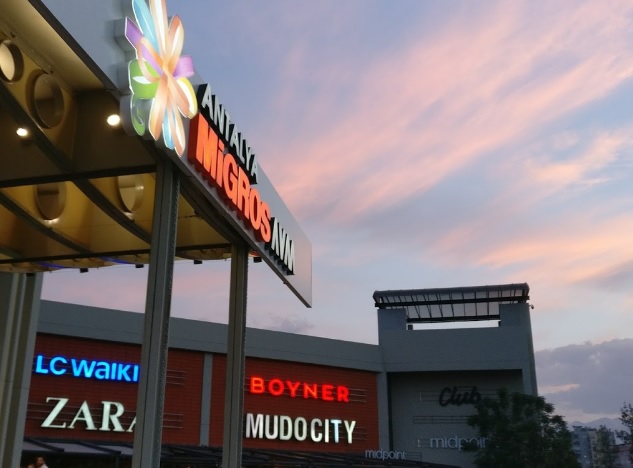 There are 130 stores inside where you'll find local and international brands. You can also buy great snacks, fast-food, or enjoy a nice meal in the open-air restaurants.
There is also a small cinema where you can watch movies on 3-D screens in English. In Migros, you can have fun and buy nice clothes, but more importantly, you can buy all the food you'll need in a short amount of time.
Mark Antalya
The third-largest shopping mall in Antalya, Mark Antalya is close to the Kaleiçi Region. After you spend a day in Kaleiçi, you can go there, keep shopping, or rest in one of the restaurants or cafes.
There are 4 floors of fashionable stores here. The shops sell mostly Turkish brands, but some also sell international ones. There's even a children's play area on the first floor, so if your child gets bored shopping, you can pay it a visit.
There is a great variety of restaurants, too. Here, you'll find fast-food, Turkish cuisine, and fine dining in an environment less crowded than in Antalya's other shopping malls.
I personally like the malls in which I can have some fun. Mark Antalya satisfies all my needs. For example, there's also a cinema in the mall, in which you can watch 3-D movies, mostly in English with Turkish subtitles.
Reaching it is really easy–take the tram or any bus from Kaleiçi that goes through the old city, walk five minutes, and there you are.
Deepo Outlet Center
This is another of the largest malls in the area, with over 38,000 square meters containing hundreds of stores. What makes this mall special is that it's full of outlet stores, offering lower prices for famous brands.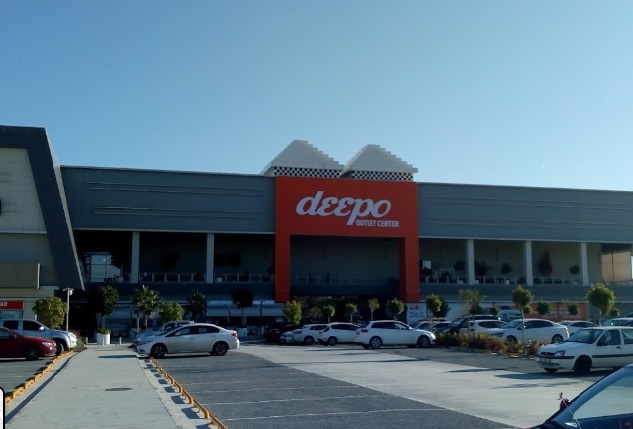 There is a great variety of shops and restaurants here. There's a cinema, too. For transportation, take the AC42, AC03, or AF04 bus.
Çağlayan Bazaar
One of the best neighborhood bazaars in Antalya, this bazaar is located in the Çağlayan neighborhood. In this traditional bazaar, the producers sell vegetables, fruit, fish, herbs, olives, honey, and marmalade themselves.
They bring it all their own village or house to sell them here. If you're looking for a real, local experience, this is the place you should go.
There aren't a lot of tourists, and the prices are reasonable, so there's no need to haggle. You'll spend almost nothing and return home with a pile of delicious food.
Marina Leather Bags and Accessories
This is one of the best leather shops you'll find in Antalya, a secret gem, hidden in Kaş. Here, you'll see a lot of shops selling leather bags of exceptionally good quality. There's also a wider variety here than at the other shops.
All the bags seem like they were designed by famous stylists but with a touch of Turkish style.  You'll find leather handbags, purses, and larger backpacks. I once entered this shop to buy souvenirs but ended up buying more things just for myself.
The owner was unbelievably friendly. Sometimes, sellers can be too friendly, talking too much and distracting you while you shop, but here, the owner is amazingly respectful to the shopping experience. He even ordered me a Turkish coffee so I could spend some time relaxing while wandering around the shop.
He was also really nice when negotiating a price. I bought 4 items and only paid for 3 of them, then I realized he'd given me the fourth one as a gift for the friend that was with me. The prices are comparable to other shops, but as I said before, the quality is the difference.
The owner told me that there were a lot of people from around the world who came back to Antalya just to see him. This is understandable, as I plan to go back, too. If you plan to go to Kaş, this is a must-visit shop.
Otantik Hamam Store
The Turkish Baths are one of the most important places you should visit in Antalya. Here, you'll stay in a marble Turkish sauna for hours before being massages until your skin begins to shine.
Since the Turkish Baths are kind of chic and with great ornamentation, why not wears some stylish, Turkish bath clothes. This shop offers the best authentic Hamam items. You can buy them to wear in the Baths or take them home as souvenirs.
The shop is located next to the Yivli Mosque Minaret in Kaleiçi's old town area. As most of the owners do in Antalya, he'll probably offer you a Turkish tea so your experience will be relaxing rather than hurried.
I personally love the elegant textiles and patterns they use in the towels. Besides the towels, you'll find bathrobes, bath mats, lounge clothes, bedding, blankets, bed sets, and small souvenirs made from the same, traditional textiles.
Summary
Whether you're looking for great produce, antique carpets, leather bags, Hamam clothes, souvenirs, famous international brands, or secondhand clothes, Antalya offers you great deals on all this and more.  
If I were you, I'd bring some extra luggage along to carry everything you'll buy back to your homeland.
Enjoy your shopping!