Antalya is one of the more lively areas in Turkey when it comes to nightlife. I've never had to search for all-night parties, dances, great shows, performances, or a great atmosphere when I stay in Antalya.
You're sure to have a wonderful time. Here are my suggestions for spending wonderful evenings in Antalya without spending too much money. I also have a couple of suggestions for those who want to spend money for a chic night out.
Bars and Pubs in Kaleiçi
There are a lot of bars in and around the old town of Kaleiçi, each of them based on a different concept. For instance, you can have cocktails while listening to rock classics, watch live performances by local musicians, or just grab a cold beer and watch football.
I'm sure you'll find a bar to your liking. What's nice is that most of the bars are located close together, so after having a beer in one place, you can go somewhere else for a change of mood.
Sheffield Pub
I went there after a long, hot day of shopping in Kaleiçi. I was looking for something that didn't look expensive-looking, and that was fairly quiet since I wanted to chat. That's when I came across Sheffield Pub, located slightly off Kaleiçi's beaten path.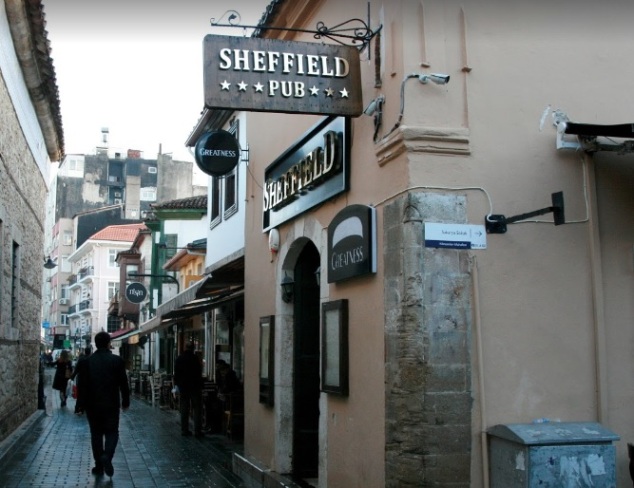 The menu is extensive, with a lot of alcoholic drink choices. I, personally, love drinking whiskey, but it's hard to find good ones in Turkey. Here, you'll find some of the best whiskey brands in the world.
They serve more than 20 beer options, which is something rare in Turkey. You can also find great food, whether you want to have a small snack or a proper dinner. When you ask for drinks, they also give you free appetizers like pickles and peanuts.
For sports enthusiasts, there's a television, playing the Eurosport channel on mute. You can watch football, tennis, and plenty of other tournaments. They also show UEFA and Champions League games, also on mute.
On cold days, you can sit inside, but sitting at the tables and barrels outside the bar is the better choice on hot summer days. The owners and waiters here are really pleasant and welcoming.

If you're looking for the pub experience with quality drinks and having a chat with friends while being served by friendly waiters, head over to Kılınçarslan Mahallesi, Yenikapı Sokak, No. 23.
Çello Café Bar
This is another nice small bar in old town Kaleiçi. Just pass the Yivli Minare Mosque, walk along the İskele Caddesi, and stop when you see the cello in front of this cute bar.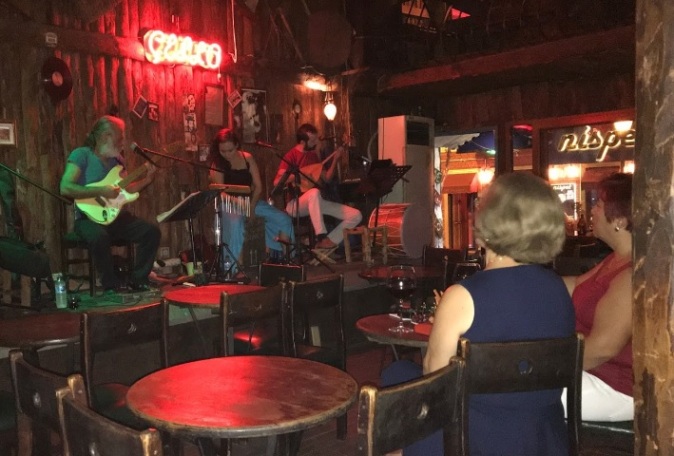 This is a great spot for chatting with the locals. You'll find a lot of people hanging out in front of the bar and filling the tables here.
As the name suggests, music is an important part of this place. There are local musicians performing almost every night, playing classical or Turkish rock cover songs or Turkish traditional music. Sometimes, there are even famous Turkish musicians. The music starts around 9 p.m.
The architecture and design of the place are really beautiful–the bar is in an old wooden house with two floors, transporting you back to Ottoman times.
The beer is relatively cheap when compared to the chic, expensive restaurants and bars, but they have limited beer options. In any case, they serve pickles with the beer, so I think they can be forgiven.
You can find the bar at İskele Cad., Çarşı Mahallesi, No. 36.
Raven Pub
This is one of the best places to listen to great live music in a pub environment in Kaleiçi, playing genres like country, rock, pop, post-rock, and even funk and jazz. Even if there is no live music, you'll still want to get up and dance.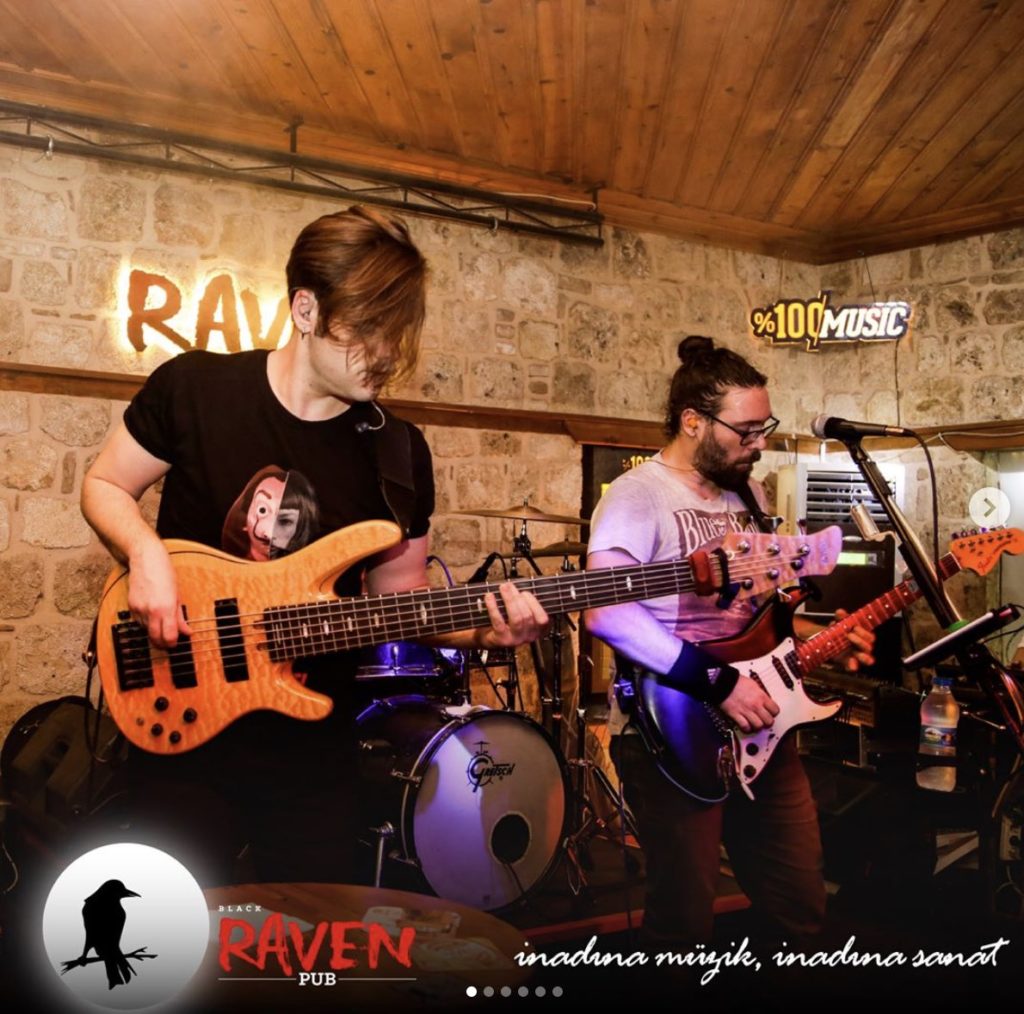 They also have a garden in which you can drink a cold beer. The garden is quieter for those times when inside the bar is too noisy, crowded, or chaotic to relax.
What I love the most is that they serve free, fresh, warm popcorn with the drinks. The beer is served in frozen glasses, which I like. The prices aren't that high, but I so wish there were more drink options.
I found the service super-fast, even though I went there on a crowded night. If you're looking fora great live music–but not great alcohol–you should try this place. Just go to Kaleiçi, Paşa Cami Street, No. 29.
Up Shot Bar
This is another nice bar in Kaleiçi where you'll find quality music with well-known DJs. Just walk down the stairs from the Watchtower, head toward the marina, and you'll see the bar. It's one of the oldest bars in the area, so if you ask someone, they'll be able to point you in the right direction.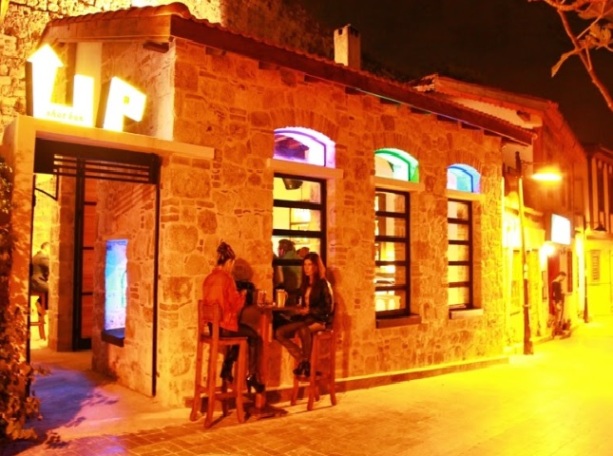 If you're looking to party, this is the place to be. The DJ performances are great. They play mostly electronic music which is–as far as I'm concerned–the best music for dancing like crazy rather than trying to dance to rock classics in other pubs.
The bar is great when it comes to drinks since they serve internationally-known brands, and they don't water them down–you'll soon realize they're selling almost pure alcohol here.
If you want to dance with the coolest locals and tourists to music played by great DJs you should definitely go there to dance and drink like crazy until morning.
Nightclubs in Kemer
Kemer is another important area for the nightlife. Here, the clubs cater to the elite, so the performances and the quality of drinks and food is high, but so are the prices, which can be more expensive than the bars and clubs in Kaleiçi.
These clubs and bars are huge, designed for hundreds of patrons at a time. Each night features a different, amazing DJ or dance performance. Most of them are located in Kemer's town center, a 15-minute drive from Antalya's center.
Club Aura
There are some clubs that you can't explain with words. I'll try my best, but it won't do it justice. My suggestion is that you have to go there to see it for yourself. Many holiday-goers prefer this spot to really party.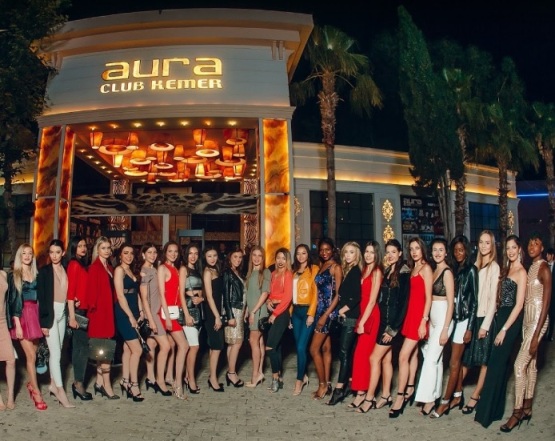 There are some things that distinguish this club from others. Firstly, this club is giant, so big that you'll be able to dance without worrying about the space to do so. That's my dancing style to a T! I don't like small clubs where people might accidentally hit me or spill their drinks on me.
Secondly, the performances in Aura are absolutely magnificent, featuring amazing light shows while professional dancers entertain the audience.
One disadvantage of visiting a mega-big club is that you're constantly in danger of losing your friends. At the same time, this might prove an advantage if you want to meet new people without the pressure of having to hang out with the others in your party.
To visit this club, go to Merkez District to find Deniz Street in Kemer.
Club Inferno
This is another super popular club in Kemer District, where they put on grand parties with magnificent shows. You won't want to leave this club until the sun comes up.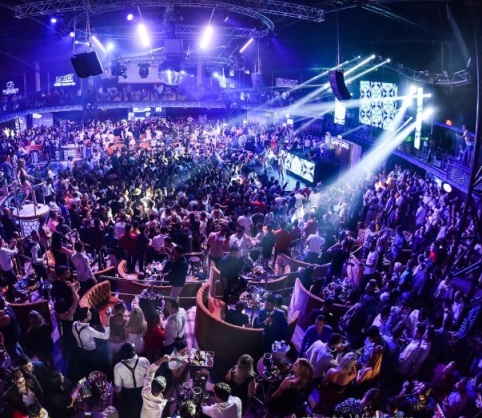 It's located in the center of Kemer in the Merkez District. Walk along Deniz Street, and you'll see the crowd and get pulled in by the great music at Inferno's doors.
The club officially opens at 10 p.m., but the real party starts after midnight. This place has a capacity of 3,000 people, and when I went there, it was almost full. Even though it was really crowded, the waiters were always coming by to asking if I wanted more drinks.
Their stage hosts local and internationally famous singers and DJs. Don't be surprised if you find yourself watching the unbelievable dance shows instead of dancing yourself.
Patrons of this place are mostly tourists and/or people with high-profiles. You can be sure that you won't have a problem with security once inside, and you'll safely dance and party until morning.
The drinks there are also amazing. I'd bet they have the largest stock of alcohol of all the clubs in the region. The music is so good, and the waitresses are so attentive that you won't be able to say no to just one more drink.
If that's not enough to convince you to visit, the club ranked fourth in the Sennheiser list of top 100 clubs worldwide, and according to its manager, more than 250,000 party here each year.
Seraser Fine Dining Restaurant
Everyone needs some energy before partying. I like to eat well if I want the rest of my outing to be great. On the other hand, it is possible to spend an amazing night without partying while enjoying great dishes and service.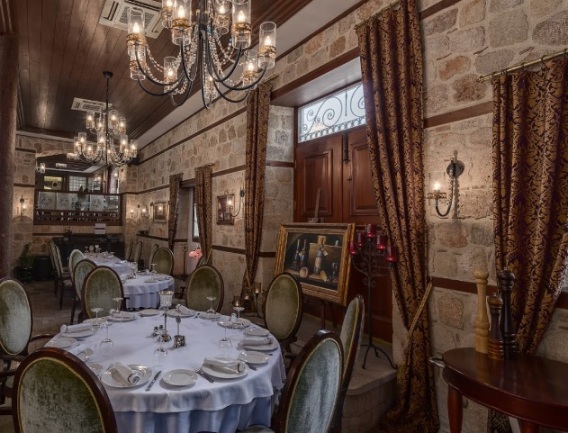 This is one of the most elegant restaurants you'll find in Kaleiçi. You'll be captivated by the fabulous atmosphere in the place from the moment you enter. When you order your food, you'll understand what a beautiful experience you have in store.
Located in a courtyard among the old town's ancient buildings, the courtyard has many trees and flowers, making it feel like the Garden of Eden. The tables are also beautifully decorated. It's obvious that they pay attention to every detail.
The food is incredibly delicious and served in big portions. I never guessed I'd discover fois-gras in Turkey, and they do a great job of it. I also had the sea bass stuffed with salmon, and it was one of the best things I've ever tasted in my life.
This place is expensive, but believe me, you won't spend less than if you'd gone to a club or bar to drink until morning. There's a lot of drinking in Turkey due to the variety of alcohol available–here you can spend your money on good food rather than drinking until you're drunk.
Antalya State Opera and Ballet at Aspendos
Aspendos is a well-known ancient city, built around 1,000 B.C., when it was the center of trade and industry due to its great location among other Pamphilian cities and due to its abundance of wool, salt, and oil.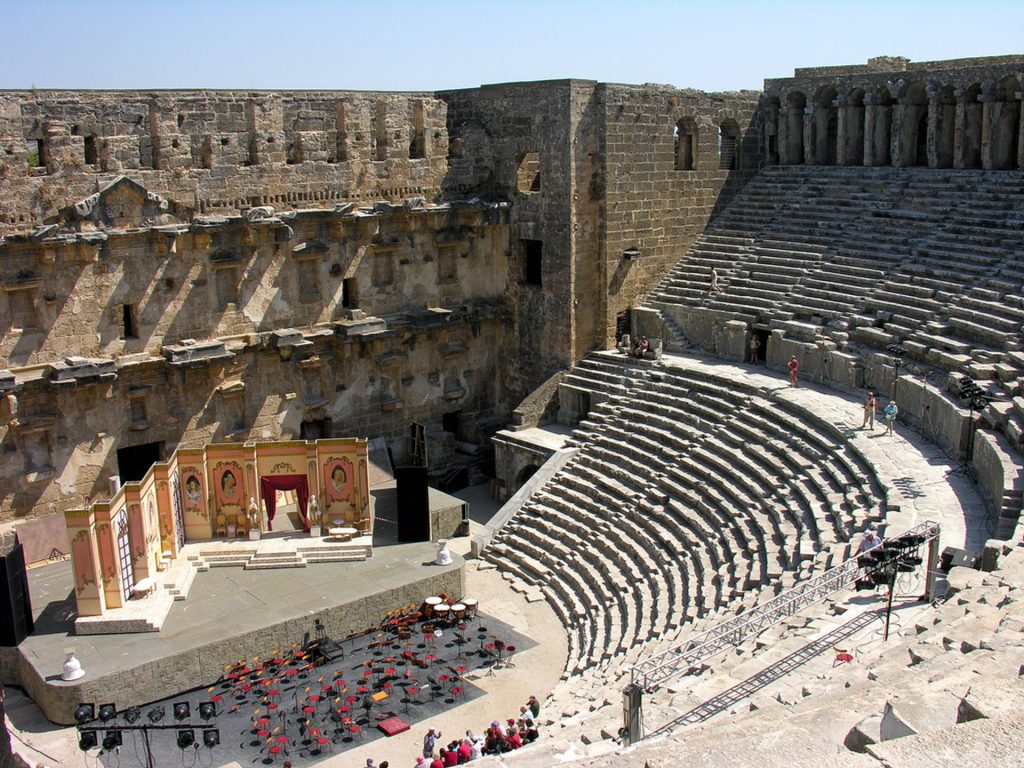 The ancient city has one of the biggest Roman theater in the region. Its structure–like the theater walls and seats–reaches a height of almost 100 meters. This theater is also one of the best-preserved antique theaters in the world.
The Aspendos Theater also hosts ballet and opera performances. There are international operas and ballet festivals that takes place each year in September in which you can see both internationally- and nationally-known artists and shows.
Check out the Turkish State's Opera and Ballet website for a schedule of performances and to buy tickets online.
The journey to Aspendos is around a 50-minute drive from Antalya's center. You can also join a cultural tour to visit Aspendos. From Antalya, take the highway to Serik, and drive 5 km north after leaving Serik.
Summary
As you can see, Antalya is a vibrant place where you can always find great parties, performances, and fine dining. You won't be bored or stuck in your hotel because you can't find anything fun to do.
Get dressed up, bring your wallet, have some drinks in Kaleiçi, listen to great music, have a delicious dinner, and head up to the clubs in Kemer. Or, if you're not a party person, get your tickets and watch a world-class performance in Aspendos. Enjoy the nightlife!
Related Posts