Antalya is a place for swimming and enjoying the sand and sun on long summer days. It strange to associate it with cold winter days, but it's not that cold in winter.
Depending on where you live, you might find Antalya's mild winter weather enjoyable. It's a great place to escape from winter, even if it's just for a week or so.
There are plenty of things you can do while on vacation in Antalya in the winter. Don't forget that Antalya is a center of culture and archaeology. It also possesses a unique natural environment. I could spend a month in Antalya over the winter and wouldn't be bored, even a bit.  
You can enjoy landscapes across the city and its districts, visit historical and archaeological sites, participate in adventure sports, go shopping locally, even swim if you're brave.
1) Landscape and CityScape Tours
Whether your first day in Antalya or you want to take a break after a couple of busy days, go to a beach for fun with others like you or drive up to the mountains to enjoy a peaceful day with your fellow travelers.
You can also enjoy the streets at the center of Antalya, surrounded by beautiful palm trees. The town is quiet at that time of the year, but you won't feel alone with all of the locals and other vacationers as you walk around.
If you like cloud-watching, you'll enjoy sunsets in Antalya, where you'll see the beautiful sky on your voyages, no matter where you go.
I recommend visiting spots like Lara and Konyaaltı Beaches to enjoy the landscape with the sea, sand, sky, and mountains. There'll be the change to go swimming here, so bring your swimsuit with you (and of course, a towel).
2) Why don't we go for a Swim?
If you're a sea-addict like me, you're going to want to swim, even in the wintertime.
We all know that seawater heats and cools later in the year, meaning that in November, the temperature is warmer than in June or even July–how about that?
In nice weather, don't miss the chance to take a swim in the water of the warm Mediterranean Sea.
Possible spots to go swimming include Konyaaltı and Lara Beaches (at the center), Cleopatra Beach (3 km to Alanya), Çıralı Beach (70 km to Antalya), Papaz Bay (close to Adrasan), Korsan Bay and Kaputaş Beach (4 km to Kalkan), and Patara Beach (17 km to Kalkan).
For more information, check out my article on Antalya Beaches.
3) Adventure Sports: Sea Kayaking in the Sunken City of Kekova
If you want to see the ancient city of Kekova and have fun with extreme sports, this is a must-see! Sea kayaking is one of my favorite activities, especially in such a stunning place like Kekova, which only makes it more entertaining.
Sea kayaking is popular in both summer and winter. You'll get wet, but the water is generally warm, so it won't be a problem.
It's located 170 km from Antalya and 35 km from Kaş. I recommend going to Kaş to arrange for sea kayaking there. Dragoman Diving and Outdoors is a good choice for professionalism and security. Wake up in the early morning to begin your trip to Kekova.
If you'd rather go to Kekova to enjoy the scenery, just to go Kaş and take a boat to Kekovawhich. The trip i nice for lovers of the sea.
4) Adventure Sports: How deep is your Love?
Let's talk scuba diving! Even if you're already a diver and know the beauty of Kaş's diving spots, be sure to try it in winter. Diving suits will be enough to protect you on a short dive.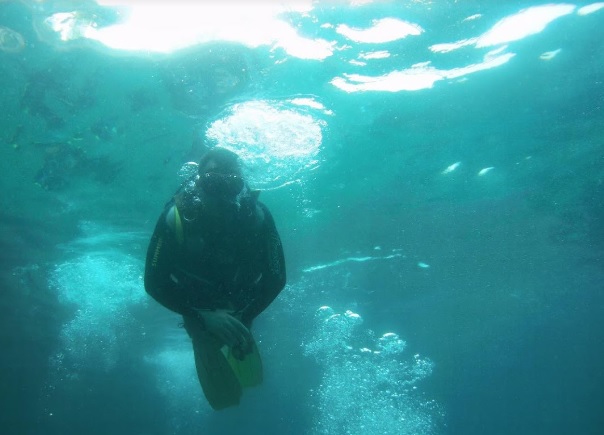 If you're not a certified diver, there are still options for you to try, called try-diving (or discovery diving). Even if you don't plan to be a diver, you should definitely try this at least once to experience the underwater beauty.
Kaş is a haven for divers. There are many diving boats out there, but I recommend Dragoman Diving and Outdoors. Their office is located in Uzun çarşı, and they're open for business year round.
5) Adventure Sports: Feel like a Bird
Paragliding is another sport you can experience any time of the year, except, of course, days with too much wind.
Kaş, Alanya, Tekirova, and Kalkan and Konyaaltı Beaches are the options of your choice. Wherever you go, you can enjoy 30 minutes in the sky.
6) Adventure Sports: Skiing in Saklıkent
Believe it or not, Antalya has skiing spots, too. Saklıkent is 50 km from Antalya's city center, located in the hills of Toros, Beydağları, west of Antalya.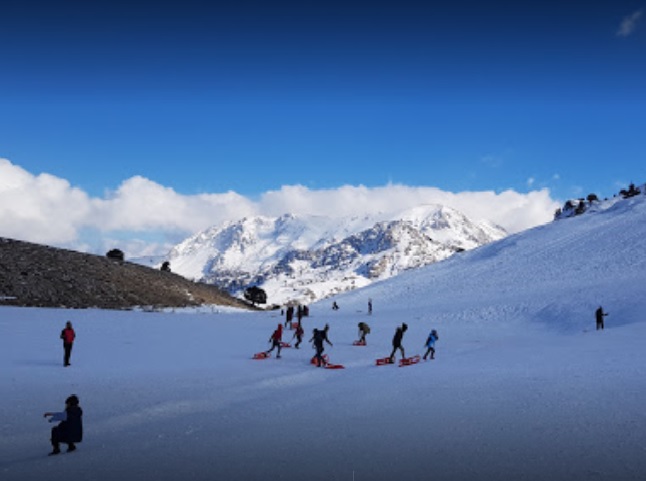 A one day trip to Saklıkent can make you feel kind of disoriented because you'll experience two seasons in a single day: a warm, spring-like weather, and a cold winter day, covered with white snow.
Skiing season in Saklıkent runs from December to April. If skiing's a priority for you, checking that the snow has arrived before you go would be a good idea.
If you're more of a landscape person, you can go there with a tour and spend the day in the exciting mountain atmosphere.
7) A Cool Day in Kaleiçi
Antalya is a good holiday destination if you've never spent time in the city's center.
Every street narrates a chapter of Antalya's story. Ancient, original structures help explain life in Antalya, past and present.
I like to wander about without a destination in mind, enjoy the old and restored houses with their bay windows, and talk to people while shopping or stopping at a café to grab a cup of tea.
What's There to See? Yivli Minare Mosque
Also known as the Alaaddin or Ulu Mosque, the Yivli Minare Mosque (Fluted Minaret) is quite interesting to see.
One of the first Islamic constructions in Antalya, it was built by Seljuk Sultan AlaaddinKeykubad I. Its minaret is decorated with turquoise tiles. Since it's a part of the külliye created by Seljuks, there are several other historical buildings around it to visit.
Madrasah of Gıyaseddin Keyhüsrev, Seljuk Lodge, Mevlevi Lodge Dervish lodge, Türbes of Zincirkıran and Nigar Hatun are the other Seljuk architectural constructions you might want to visit on your trip.
Wow! Hadrian's Gate
Hadrian's Gate is quite impressive, so don't miss the chance to see it's walls surrounding the city.
Also known as Üçkapılar (the Three Gates) and Mermer Kapı (the Marble Gate), it was built in 130 AD as a sign of respect to Roman Emperor Hadrian, who visited the city that year.  
Constructed in the Corinthian style, Hadrian's Gate has three arches and two colonnaded facades. It is seen as the most beautiful gate in Pamphylia and definitely deserves this reputation. I have two words for you: go there!
7) Tick-tock, Tick-tock–Clock Tower
Another beautiful and interesting construction in Antalya is the Clock Tower, located in Kale Kapısı.
The Clock Tower was built by Grand Vizier Küçük Sait Pasha in the year 1901. Built in the name of Abdulhamit II, it's square in shape and made of stone. There are clocks on each side–four clocks in total.
The clocks aren't the originals, having been changed to suit the times.
8) How about Cultural Stops at Museums?
If you're a museum-lover, there are several museums waiting for you in Antalya, namely, the Suna İnan Kıraç Kaleiçi Museum (AKMED), Atatürk's Museum, the Musee d' Antalya, and the Antalya Archaeology Museum.
9) Have Fun with Children or be a Child Yourself
Whether on holiday with your children or if you just enjoy zoos, there's something for you in Antalya. Though it might not feel good to see animals outside of their natural zones habitats, it is interesting to see some creatures you wouldn't ordinarily see.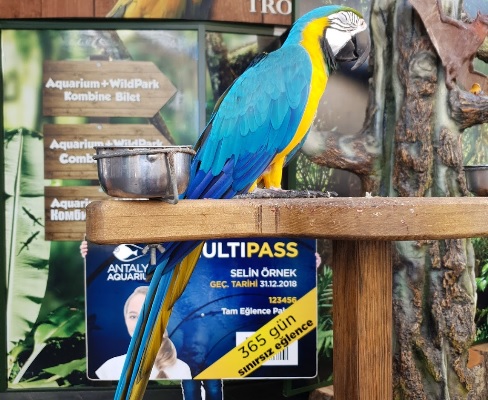 Antalya's Aquarium and Zoo in the Nebiler neighborhood are good choices.
Another option for families with children or people seeking excitement is Sandland. There, you'll see huge monuments made completely of sand, and trust me: they are gorgeous!
10) Alanya Castle
Be sure to visit Alanya Castle. It's become a symbol of Alanya that's worth going to see.
Built by Alaeddin Keykubad I,who conquered the city in 1220, it is 6.5 km long and surrounds the city on three sides–it's marvelous.
In the last part of the castle, you'll see the Kızıl Kule (Red Tower). Built in an octagonal shape, the name is derived from the red bricks used in construction.
What's the Weather like?
This is a good question. This is Antalya, after all, which reaches 45 degrees in the summer. The average temperature in the winter will not be lower than 16 to -17°C, so you can forget about taking a heavy coat.
You might need to bring a sweatshirt if you're going on a boat. Bringing a number of t-shirts with you will help make it more comfortable on sunny days.
Don't forget to bring a raincoat and waterproof shoes as there's always a probability of rain. Antalya's rain can last for more than a week. Checking the weather 10 days before you go will help you be prepared for whatever Mother Nature throws at you.
Forget Finike Orange? Never.
Antalya is famous for Finike oranges, imported to the region near the end of the 1960s. They're incredibly yummy and delicious. Think about adding oranges to your fruit menu while you're there.
Where to Stay?
You might already know that there are plenty of options for accommodations in Antalya, differing from luxurious, five stars to boutique hotels, and from cozy, little hostels to nice, comfortable camping areas.
What I recommend on a winter holiday in Antalya is to stay close to the city's center. Doing so gives you the opportunity to go out to experience the city anytime you want. It will also make it easier to get anywhere you choose by using public transportation.
Related Posts