Are you planning to take your children with you on your holiday in Antalya? Here are some suggestions for activities and some things of which to e aware.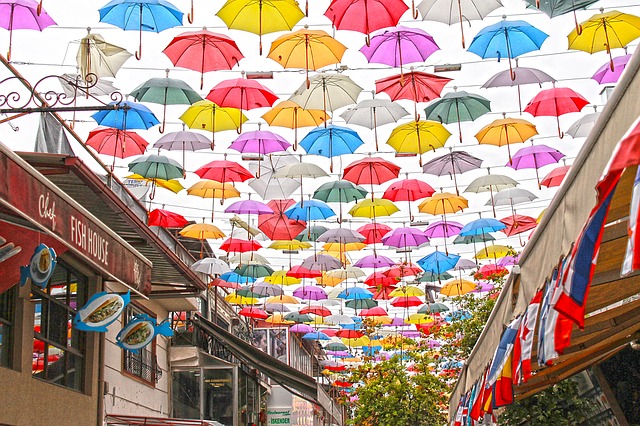 How to travel to Antalya with your family
Expect to bring a lot of luggage and a little bit of chaos if you plan to travel with small children. Book a direct flight to the airport closest to Antalya's center to avoid stress. Antalya Airport is great because it's close to the city and there are lots of flight options.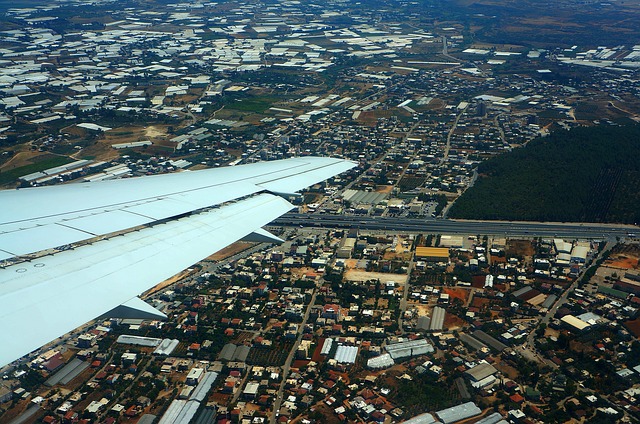 When you take a direct flight, you avoid the possibility that you'll have to run around a busy airport with children and luggage to make a connection, and Antalya Airport is well-organized. You won't have to wait for your baggage, and the airport is easy to navigate. Still, things can get complicated with children in tow, and you might have to look for practical solutions to problems as they arise.
Before coming to Antalya, check to see if you'll need an e-visa to enter Turkey. Apply for an e-visa for your children and babies, even if they're registered on your passport.
Making an application is easy, just go to https://www.evisa.gov.tr/tr/apply/.
Airport Transfer
Even though there are public buses and trains from the airport to the city center, you'll need to walk and change vehicles at some point. Count on the fact that anything that would be simple when traveling alone can become complicated when traveling with family.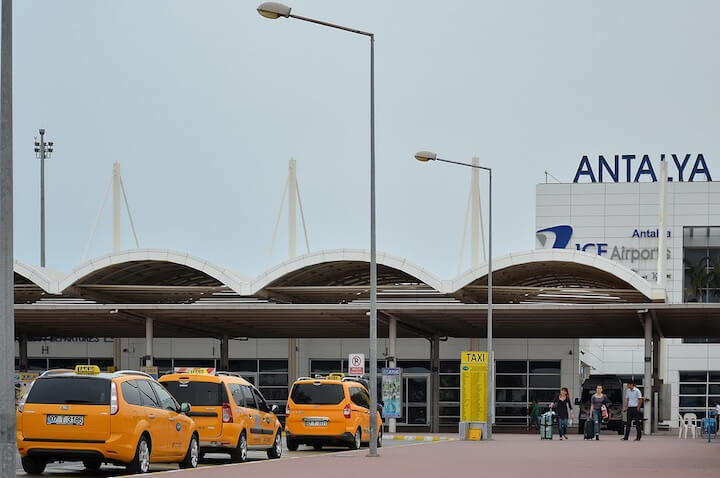 I suggest taking a taxi, arranging a private transfer, or renting a car at the airport for use throughout your holiday. No matter the option, you'll have time to rest before arriving at your hotel easily without expending energy along the way.
I have to warn you that taxis are hesitant about taking 5 people, but if your children are small, you can probably convince the taxi driver. Taxis can usually take 2 big pieces of luggage and 1 small, along with some small bags.
To find a taxi, just go to the front of the airport and signal a yellow cab with a "TAKSİ" sign. From the airport to the city center, it will cost around 10USD. If there is no traffic, expect it to be about a 20-minute drive to arrive at your hotel.
You make private transfer reservations through your airline. If they don't provide this option, you can make online reservations. Search "Antalya Airport transfer" online–there are a lot of them.
If you don't want to make reservations online, you can go to any transfer company at the airport. There are a lot of them, but I still suggest making reservations beforehand so your driver can meet you at the exit and help carry your luggage to the car.
How to travel inside Antalya with your family
I've found that renting a car is the best option when traveling with the family. Because it's always hard to get organized in a crowd, it may be hard to catch a bus that leaves at a specific time, and even getting onto a public bus with children can be hard.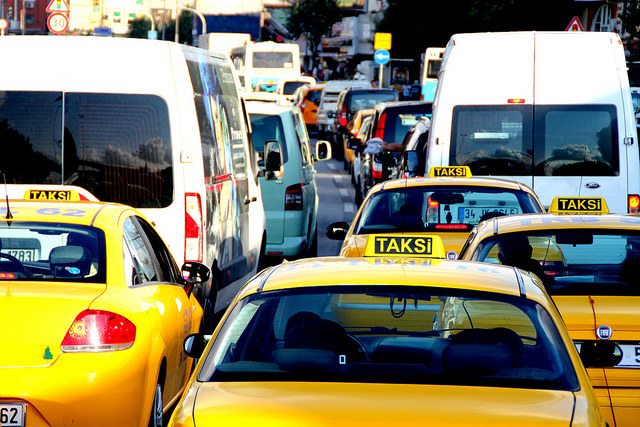 Rent a car through your airline or check online. There are some world-renowned car rental companies operating in Antalya. Select the best model for your family's needs, and ask them to bring the car to the airport. This way, you'll be able to drive wherever and whenever you want. Renting a car will give you more freedom in the city, and you won't have to hurry to catch a bus or stress over fitting everyone into a taxi.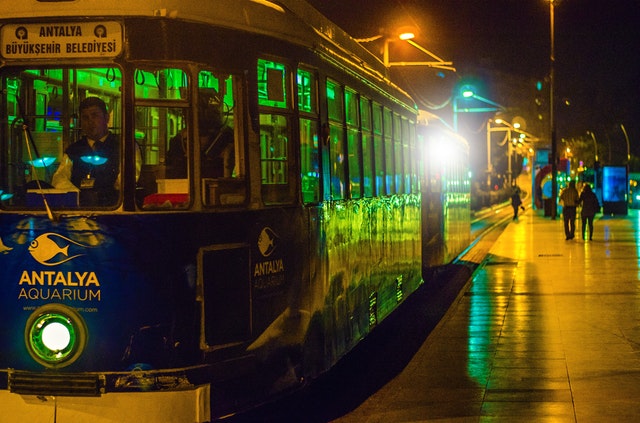 If you don't want to rent a car, you can always find a taxi in the city. Like most of Turkey's main cities, the streets of Antalya are overcrowded with taxis, so you won't have any hardship finding one.
What to do with your family
There are many activities you can do as a family in Antalya. Even if you're looking for a calm holiday, your children are likely to get bored at some point. Here are some suggestions for things you can do with your children.
Dinopark Antalya
If your children are going crazy, take them to Dinopark Antalya. You'll need at least 2 hours to see the park and all of the dinosaurs. What's great is that the dinosaurs move and make sounds, which drives the kids a different kind of crazy.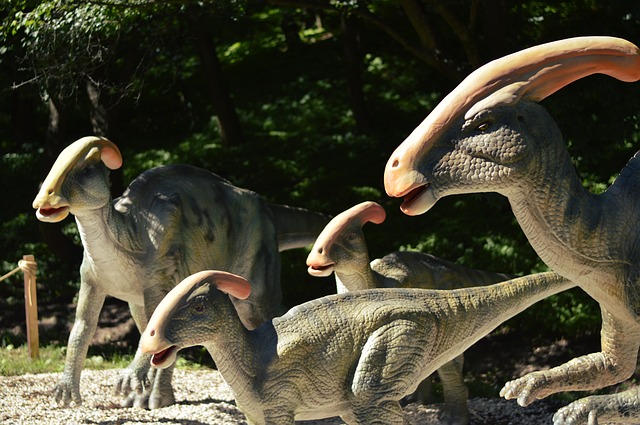 In addition to having fun, your children will learn a lot about dinosaurs, thanks to the simple but attractive signage in the park. The staff is also really attentive and more than happy to answer questions.
They also have horseback riding, trampolines, swimming pools, a 5-D cinema, and zip-line for adults for an extra fee, in addition to some small cafes and a restaurant inside the park.
The entry fee is 25USD per person, but I have to warn you that this is a park for children, and you might be disappointed if you're expecting a more mature experience.
The park is in Göynük Region, in the southern end of Antalya's city center and close to Kemer. It will take around 2 hours to drive there.
Antalya Aquarium
This is another super-adventurous place for your children to enjoy and learn new things. There are 40 thematic aquariums here with interesting, real sea creatures.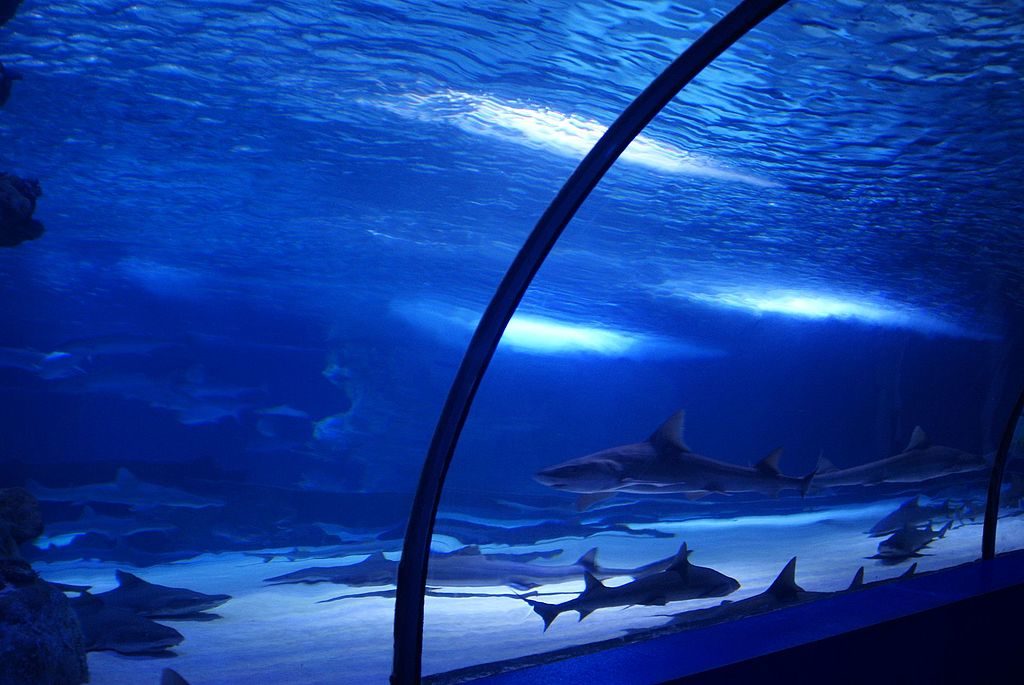 You and your children can walk through the exhibits to see the colorful, tropical creatures and local sea animals living in the Antalya area. You can also take a virtual tour and travel the oceans the world over in the X-D Cinema.
There's also a Snow World Ice Museum inside the Aquarium, featuring igloos and Santa's house, and it really snows at night. You can enjoy playing with snow at -5 C degrees while people are melting outside in the summer heat.
You'll find open-air cafes and restaurants here, so you can sit and rest while having refreshments and a snack or meal if the kids are hungry.
Antalya Aquarium is located in the city center near Cam Piramit (Glass Pyramid), 15 km from Antalya Airport, so it's really easy to get there.
Go to any travel agency selling tours in Antalya's city center, and them to arrange for a tour of the Aquarium or taxi or drive there yourself.
The Land of Legends Theme Park
This is the Disneyland of Antalya. Your children will go crazy when they see sea lions and dolphins in the shows. They can also have an adventure on roller coasters, slides, and in the pools. You can also go to the Dragon's Gate and take a boat to the castle–your children will love it.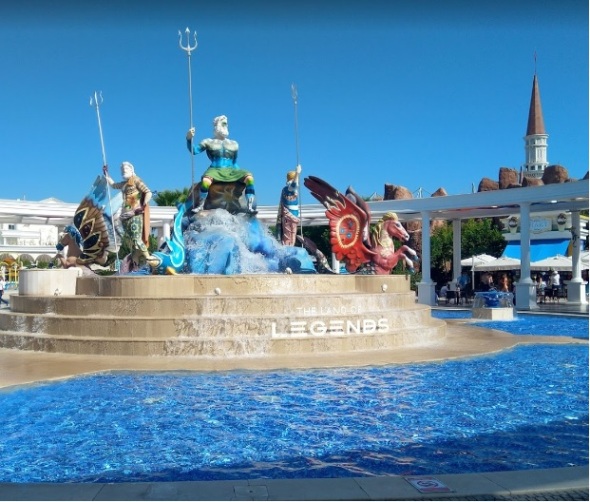 There's nothing better on a hot day in Antalya than having to carry an umbrella; you'll need it in the park. Bring a hat at the very least, and don't forget to reapply sunscreen every hour, especially on your children.
You can make online reservations before you come to the park and get a discount. It will also prevent you from an hour's wait in line at the park's entrance.
I suggest making reservations through one of the travel agencies in the city's center because they have priority on the slides and getting to the front of the lines.
The park is located in Serik, a bit outside Antalya's center. It takes around 40 minutes to get there in a car, but booking with a tourist agency is still the better choice. It will cost around 80USD, which includes transfers and a priority pass.
They'll give you a bracelet at the entrance, which works like money inside the park. If your party of 4 plans to eat something inside, you upload around 200TL to your bracelet.
Sandland and Lara Beach
This is an open-air exhibition, showing some of the greatest sculptures made from sand. Children are always surprised by the fact that you can make such giant things out of sand.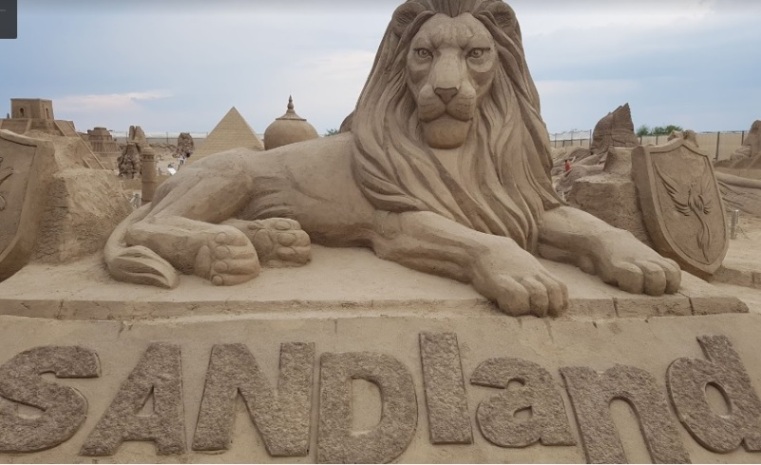 Show them that they can improve their talent making sandcastles so they can turn their talent into a genuine work of art!
The sculptures are of characters from the mythologies of different cultures and important figures in history. You'll learn some history while having fun by reading the detailed descriptions next to each sculpture.
Sandland is located next to Lara Beach, so take your children for a swim and when they're tired of playing on the beach, retire to the museum.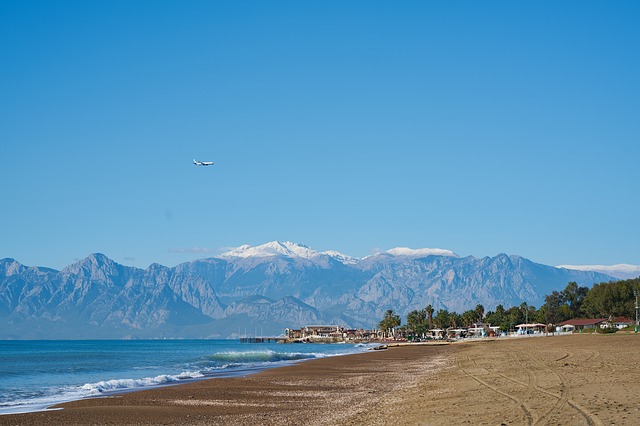 They'll keep occupied here for close to an hour for the entry fee of 3USD.
Where to stay with your family
When you have an entire family to take care of on your holiday, choose accommodations that are practical. Staying at a holiday resort is the best option for those who don't want to be overwhelmed by a lot of stress organizing their trips.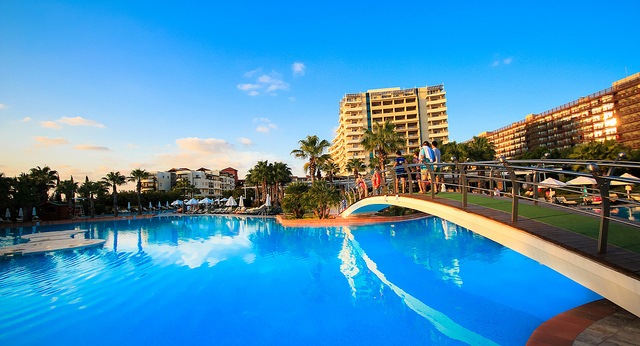 Hotels like the Royal Holiday Palace and Barut Lara are super-luxurious options. You can read my detailed explanations about these hotels in some of my previous articles, but I want to give you a little information here as to why they're the best choice for families.
First, hotels like these have great service, so you'll have nothing to do but enjoy time with your family. They have pools, they're close to the sea, and have facilities like showers, making taking your kids swimming a breeze.
There are no long walks, and they can easily change from their swimsuits or go back to your room if you need an urgent bathroom break.
The food is great, and you can eat breakfast, lunch, and dinner without leaving the hotel, so you won't need to go through the process of getting ready to go out, getting into the car, and looking for a restaurant.
You can just leave your room and eat anything you see in the open, all-you-can-eat buffet. This is a great experience for children because they can try new things. If they're picky eaters, they're bound to find something they like.
What's best about these hotels is that there are plenty of activities for children and youth. There are animation teams organizing shows and games during the day. There are also activities you can do as a family. For example, you can see plays and shows in the theater at night.
Instead of staying in a crowded hotel, you can choose to rent a villa or cottage to have some privacy, but this will mean there are fewer services provided.
My suggestion is to rent a place close to the sea so you won't need to spend a lot of time in the car; children tend to get super-bored in the car.
I like the Seki Cottages I mentioned  in my previous article, which are based on a concept between a private villa and a hotel. Here, you can stay in one of the Seki Cottages and have private rooms, a bath, and a balcony.
Even though the cottages are private, you'll still have some services available to you. There's a nice shared pool and spa sauna in the main building. Since there are also shared spaces, your children can find friends or spend time by themselves.
The sea is only an 8-minute ride from the cottages. The only problem with this option is that there is nowhere to buy food, but there is a kitchen in the cottage. To buy food, you'll need to drive around 15 minutes to the restaurants nearby.
When you travel with children, camping or staying in a bungalow may not be the first thing that comes to mind, especially if you're looking for luxury accommodations, but if you want your children to appreciate nature while having an adventurous holiday, Antalya is the best place to make it real.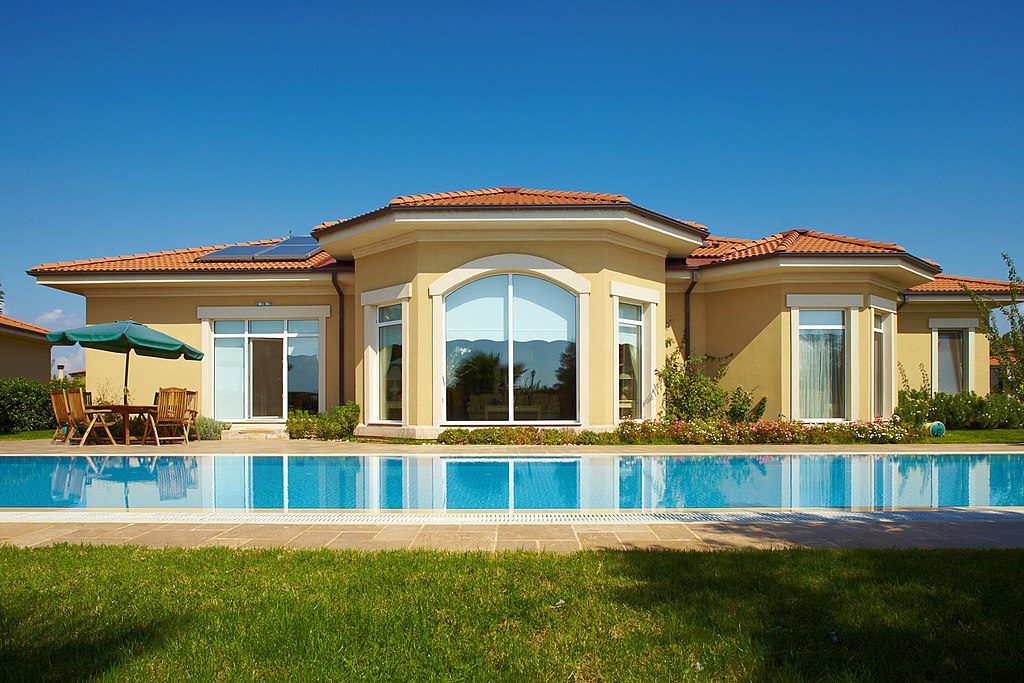 There are a lot of bungalows and tent-camping places in Antalya. My favorite location is Olympos. I suggest to choose a campsite close to the sea, so you won't have to walk much to get there. You can also stay in the Tree-houses of Kadir, but that's a little far from the beach.
The bungalows can be luxurious and have air conditioning, or they can be simple and tent-like. You can also bring your own tent or rent one at the campsite. All campsites have facilities like showers, restaurants, and bars.
I'm sure your children will have fun on such a rustic holiday, sleeping in the middle of nature and under the stars.
Summary
As you can see, there are a lot of different activities for you to do in Antalya with your children. They'll never get bored, and you'll be able to have some time to yourself and your partner while they're having fun.
You also have a number of different choices for your accommodations. You can choose to stay in a luxurious hotel at which everything is included, and therefore, easy to organize, or you can enjoy a simpler holiday with your family by renting a private villa, staying in a bungalow, or sleeping in a tent. Whatever you choose, you're sure to enjoy some down-time with your family.
Related Posts