Known for its picturesque beaches and vibrant nightlife, Cesme, a charming coastal town in Turkey, also offers a culinary adventure with a mesmerizing view. This article explores the best restaurants in Cesme that combine delicious food with stunning vistas. Whether it's overlooking the sparkling Aegean Sea, the beautiful marina, or the historic castle, these establishments provide a feast for the senses. We'll introduce you to local gems serving traditional Turkish cuisine, contemporary venues with international menus, and everything in between. So, prepare your palate for a gastronomic journey as we dive into the delights of Cesme's dining scene paired with an unmatched view.
9 Best Restaurants With View In Cesme
#1. Rihtim Restaurant: "Seafood with a View."
Rihtim Restaurant is a waterfront dining establishment located in Cesme, primarily known for its seafood offerings. One can expect a range of dishes on their menu, with a special emphasis on fish, zeama, and octopus. For those who appreciate beverages with their meals, the restaurant offers rakia, a drink that complements the seafood well and enhances the overall dining experience.
Nestled along the picturesque shoreline, the restaurant is renowned for its stunning views of the surrounding seascape. The focal point of Rihtim Restaurant undoubtedly lies in its scenic vistas. Around the restaurant, the town's buildings and streets give a glimpse into everyday life in Çeşme. With its prime waterfront location, diners can indulge in their meals while gazing out at the sea, creating an atmosphere that's both serene and captivating.
Address: 16 Eylül, 16 Eylül Hürriyet Cad, 310. Sk. 42/B, 35930 Çeşme/İzmir, Türkiye
#2.Ferdi Baba Restaurant – Çeşme Marina: A Culinary Voyage with a Marina View
Nestled near the picturesque Çeşme Marina, the Ferdi Baba Restaurant serves as a culinary landmark in close proximity to the Cesme Museum. Focusing on Mediterranean cuisine, one of the standout offerings at Ferdi Baba is its lokum, which has garnered appreciation from many visitors.
Patrons of the restaurant are treated to an impressive backdrop, consisting of boats gently swaying in the marina waters and the occasional distant sail dotting the horizon. As the sun sets, the reflections off the marina waters provide a calming dining ambiance, making the restaurant an ideal spot for both daytime and evening outings. Whether one is a history enthusiast visiting the nearby museum or a traveler seeking authentic Mediterranean flavors, Ferdi Baba Restaurant is a significant spot to mark on the Çeşme map.
Address: Musalla, 1016. Sk. No:2/22, 35930 Çeşme/İzmir, Türkiye
#3. Lara Prime Steak: A Carnivore's Paradise of Premium Cuts.
Lara Prime Steak is a restaurant located in Cesme, known for offering a carnivore-friendly meal . The menu primarily features a variety of high-quality steaks, prepared and cooked to perfection. From ribeye to filet mignon, the restaurant aims to provide a selection of different cuts to cater to diverse preferences.
The restaurant boasts a unique dining environment with scenic views of Cesme. Patrons can enjoy their meals while taking in the picturesque sights that the location offers. The streets in the vicinity are often lined with local shops, cafes, and restaurants, giving visitors and residents an authentic experience of daily life in the region.
Address: 16 Eylül, 3053. Sokak No 16A, 35930 Çeşme/İzmir, Türkiye
#4. Yücel Balık: A Fresh Seafood Journey to Delight Your Palate
Yücel Balık is a seafood restaurant located in Cesme, offering a diverse selection of fresh seafood dishes to satisfy your food desires. With its stunning views of the surrounding area, this restaurant provides an inviting atmosphere for both locals and visitors to enjoy.
At Yücel Balık, you can expect a variety of seafood options prepared with care and expertise. From grilled fish to succulent shellfish, the menu caters to seafood enthusiasts seeking a memorable dining experience. From its vantage point, diners can enjoy panoramic views of the azure Aegean Sea. The gentle lapping of waves and the distant sight of sailboats drifting by create a serene and enchanting backdrop for a meal. On clear days, the horizon stretches far, with the mingling of the deep blue sea and the sky creating a mesmerizing vista.
Address: 16 Eylül, 3264/1. Sk. No:3-4, 35930 Çeşme/İzmir, Türkiye
#5. Ayasaranda İmren Restaurant: Where Scenic Beauty Meets Culinary Delights.
With a prime location that offers breathtaking views, Ayasaranda İmren Restaurant specializes in Turkish cuisine. Visitors can expect a menu filled with a range of dishes such as kebabs, steaks and omelettes. One of the notable items on their menu is the simit, which is notably well-prepared and comes highly recommended. In addition to the food, the restaurant also serves a delightful tea which many patrons enjoy.
As you dine, you'll be treated to panoramic views that showcase the area's coastal charm, enhancing your overall dining venture. Proximity to local landmarks and shops make it a convenient location for both residents and tourists alike.
Address: 16 Eylül, 3014. Sk. No:81, 35930 Çeşme/İzmir, Türkiye
#6. Istakozcu Canbaba Restoran: Delighting Palates with Lobster Perfection.
Istakozcu Canbaba Restoran is a dining establishment located in Cesme that specializes in offering a variety of dishes centered around lobster. The restaurant provides a menu that highlights the exquisite flavors of lobster prepared in different culinary styles.
Set against the backdrop of Cesme's picturesque surroundings, Istakozcu Canbaba Restoran offers guests the opportunity to enjoy their meals while taking in the scenic views. The restaurant's location adds to the allows patrons to savor their lobster-based dishes in a serene and inviting atmosphere. From vantage points, there are views of the sea or nearby marinas.
Address: Çiftlik, 8. Sk. 1/A, 35930 Çeşme/İzmir, Türkiye
#7. Levent'in Yeri: Where Flavor and Warmth Meet in Perfect Harmony.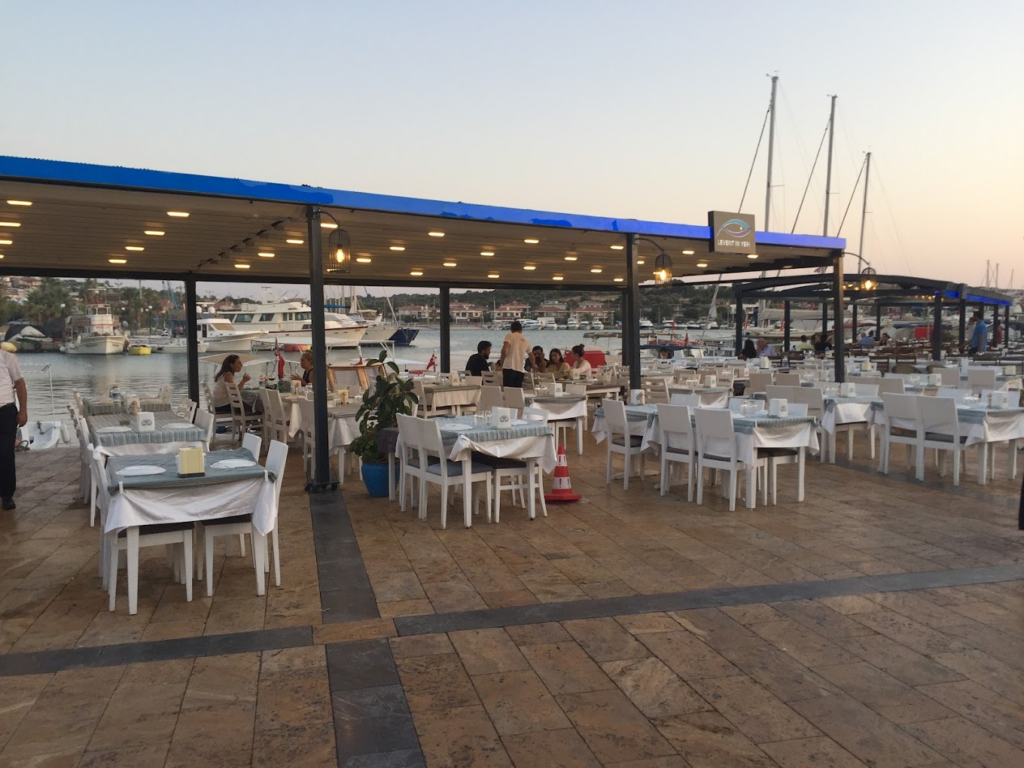 Levent'in Yeri is a restaurant that specializes in a variety of dishes, with a notable emphasis on Guvec, fish, and seafood. Nestled in a location that offers captivating views, this establishment ensures that diners not only relish their food but also the visual ambiance.Visitors can end their meal with the tasty lokma or perfectly cooked lokum, both of which are traditional desserts.
Perched in a location that overlooks Cesme's stunning landscapes, diners are treated to a visual feast that complements their meal. Visitors to Levent'in Yeri will see the calm surroundings of Dalyan, with its peaceful waters and coastal scenery.
Address: Dalyan, 4226 Sokak No: 15 A, 35930 Çeşme/İzmir, Türkiye
#8. Çeşme Balıkçısı Tektekçii Meyhanesi: A Quintessential Fisherman's Taverna.
Set against the backdrop of Çeşme's shoreline, the restaurant offers breathtaking views of the crystal-clear waters and stunning sunsets. This restaurant captures the essence of traditional Turkish coastal cuisine, specializing in an array of fresh seafood dishes that showcase the flavors of the Aegean Sea.
The menu boasts a variety of seafood options, ranging from grilled fish and shrimp to calamari and octopus, all sourced from the local fishing boats. Traditional Turkish mezes, salads, and side dishes complement the seafood selections. Çeşme Balıkçısı Tektekçii Meyhanesi offers a memorable setting to indulge in fresh, flavorful seafood while soaking in the captivating coastal views.
Address: 16 Eylül, Hürriyet Caddesi, 3053 Sokak no:10/A, 35930 Çeşme/İzmir, Türkiye
#9. Cevat'in Yeri: Where Every Dish Tells a Story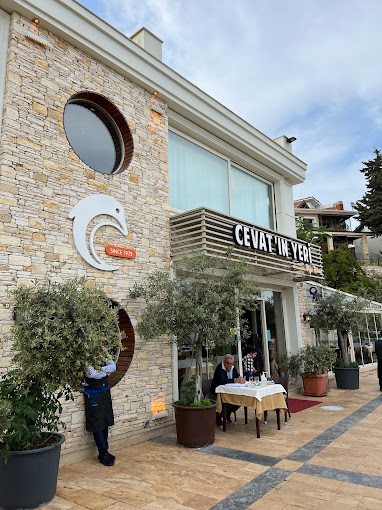 Perched in the heart of Çeşme, Cevat'in Yeri is a dining establishment that primarily focuses on serving a range of dishes, with notable offerings including sea bass, zeama, and tavë kosi. Patrons have also commended their halo-halo dessert, a unique treat on the menu. For those looking to complement their meals with beverages, the restaurant has a selection that includes good rakia and delicious rum.
Surrounding the restaurant are typical features of the Çeşme area, with its mix of local residences, shops, and pockets of green spaces. Due to its proximity to the coast, Cevat'in Yeri offers views that encapsulate the serene waters and,providing glimpses of local boats and marine activities.
.Address: Dalyan, 4226 sok no:45/A, 35930 Çeşme/İzmir, Türkiye
Conclusion
Cesme's dining scene is a fantastic blend of taste, tradition, and aesthetics. From the azure waters of the Aegean Sea to historic landmarks, the stunning views add an unforgettable touch to your meals. Whether you prefer traditional Turkish fare or global cuisine, there's a restaurant with a breathtaking vista waiting for you. So, on your next visit to Cesame, make sure to explore these places for an enchanting gastronomic adventure that goes beyond just food.