Edirne, a historical city in Turkey, is not just renowned for its rich heritage and architectural marvels but also for its restaurants that offer spectacular views. Nestled on the border of Greece and Bulgaria, this city presents an array of eateries where patrons can indulge in delightful Turkish cuisine while gazing at breathtaking panoramas. Whether overlooking the Meriç River, catching a glimpse of iconic minarets, or simply observing the vibrant city life, these restaurants provide an added visual treat to your mealtime. Dive into this exploration of Edirne's best restaurants with views, and discover where taste meets beauty.
5 Best Restaurants With View In Edirne 
#1. Hanedan Restaurant: Savor the Tastes, Embrace the Views!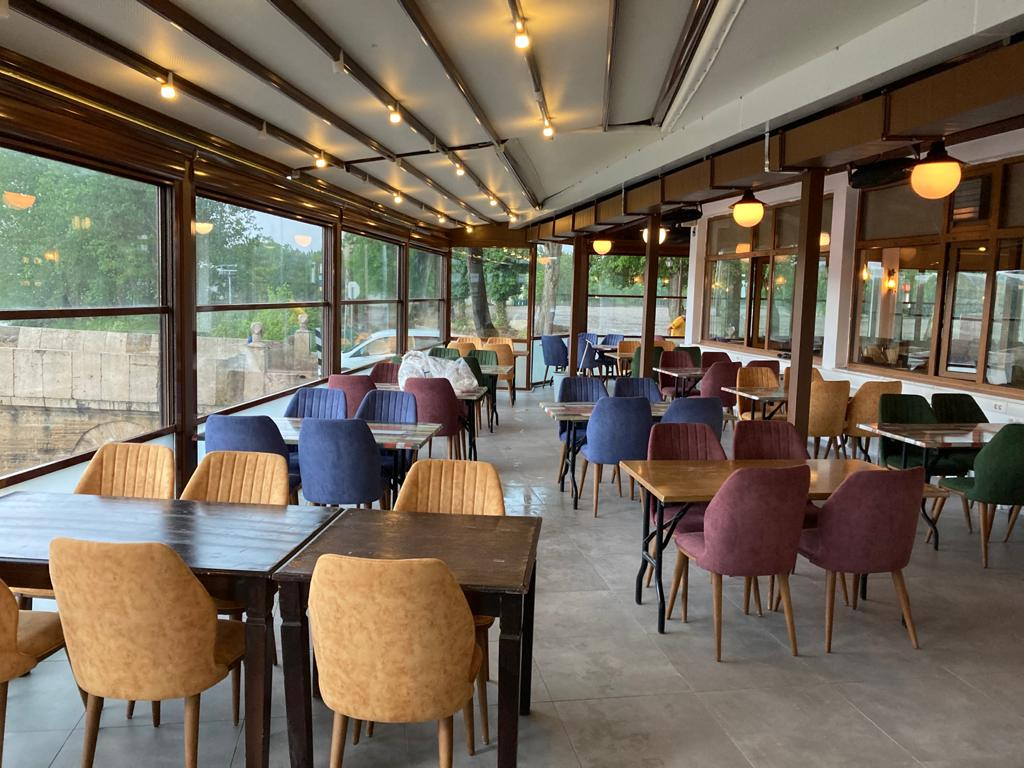 Nestled in Edirne, Rihtim Restaurant stands as a captivating waterfront dining destination. The menu is a celebration of Turkish flavors, presenting a diverse range of dishes that showcase the region's culinary heritage. From traditional kebabs to delectable seafood, Rihtim caters to various palates.
The restaurant presents diners with an unobstructed view of the Meriç River. The surrounding area, dotted with Edirne's notable landmarks and the lush, tree-lined streets of Karaağaç, adds to the overall ambiance. Hanedan Restaurant thus provides not just a meal, but also a visual feast, giving patrons a unique glimpse into both the flavors and sights of Edirne. Whether under the sun's warm embrace or the moon's gentle glow, the restaurant's location elevates each meal into a sensory delight.
Address: Karaağaç, 22100 Edirne Merkez/Edirne, Türkiye
#2. "Zindanalti Pub: "Timeless Tastes in Edirne's Subterranean Retreat."
Zindanalti Pub is a subterranean restaurant situated in Edirne, a city steeped in history and cultural significance. This eatery primarily serves dishes from Turkish cuisine, with zeama being one of the noted items on its menu.
Located on Saraçlar Cd., the heart of Edirne's vibrant pedestrian district, Zindanalti Pub enjoys a prime spot amidst the city's hustle and bustle. The street itself is a blend of modern retail outlets, traditional stalls, and quaint cafes, making it a favorite for both locals and tourists. As it's a pedestrian-only zone, the ambiance is relatively peaceful, allowing for leisurely strolls and unhurried meals. In terms of views, while the pub's subterranean nature might limit direct outside vistas, stepping out immediately immerses you in the dynamic atmosphere of the city. The proximity to key attractions, like the Edirne Buyuk Sinagogu and other historical sites, adds to its allure, ensuring there's always something to see and explore nearby.
Address: Talatpaşa, Saraçlar Cd. No:113, 22100 Edirne Merkez/Edirne, Türkiye
#3. "Sayende Restaurant & Pub: Where Palate meets Party – An Unforgettable Fusion!"
Discover Sayende Restaurant & Pub, an enchanting establishment located in the heart of Edirne, Turkey. The menu is a delightful fusion of traditional Turkish delights and international influences, catering to a wide range of tastes. Whether you're delighting in a flavorful local kebab or treating yourself to a modern culinary masterpiece, every bite is a testament to the dedication and richness of flavors.
As you step out of the establishment onto Atatürk Boulevard, you're greeted by a lively and vibrant scene that encapsulates the spirit of the city. Directly in front of Sayende Restaurant & Pub, Atatürk Boulevard stretches out before you, creating a picturesque vista that's alive with the energy of the city. During the day, the boulevard is a colorful tapestry of local life. To the left of the restaurant, a short walk down Atatürk Boulevard leads you to the historic central square of Merkez.
Address: Yancıkçı Şahin, Atatürk Blv No: 254, 22100 Merkez/Edirne, Türkiye
#4. "BandS Life By Zihni: Where Tastes Transcend, and Moments Unite!"
BandS Life By Zihni is enveloped by the charming Murat neighborhood in Edirne. When you sit at the restaurant, you can see the Selimiye Mosque's towers reaching up in the distance, especially pretty when the sun's setting. Nearby, the Tunca River flows quietly and you can spot the old Edirne Fortress.
The restaurant serves a diverse range of cuisine, blending traditional Turkish flavors with contemporary twists. From hearty local favorites to more innovative creations, BandS Life By Zihni aims to satisfy a wide range of culinary desires.
Address: 1. Murat Mah. Zübeyde Hanım Cad. 56 (Yılmaz Taksi Yanı) Edirne Merkez,, 22100 Merkez/Edirne, Türkiye
#5. "Cevizli Bahçe Kahvaltı Edirne: A Breakfast Oasis Amidst Tranquil Beauty!"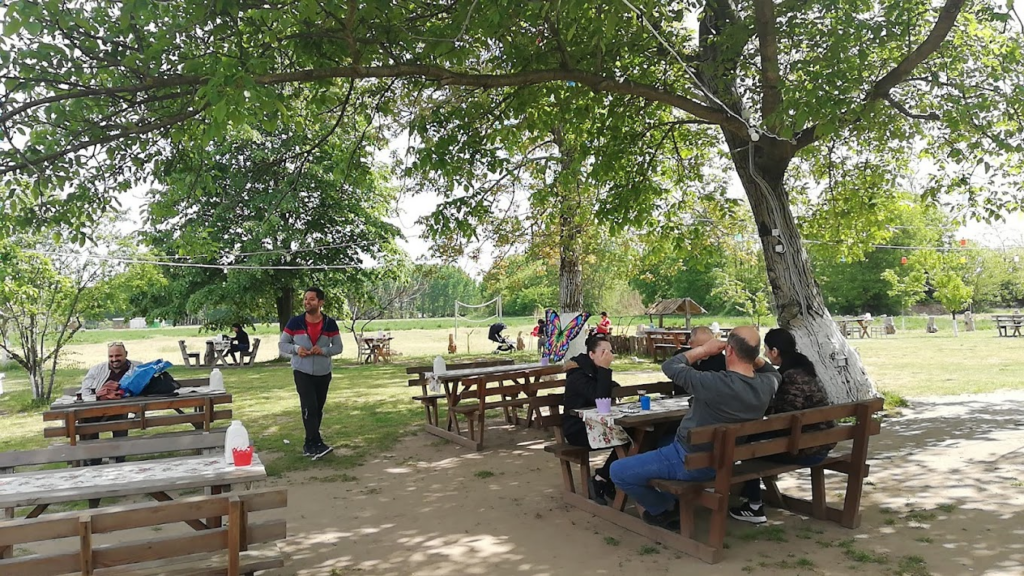 "Cevizli Bahçe Kahvaltı Edirne" is a breakfast restaurant located in Edirne, Turkey. This establishment offers a diverse breakfast menu in a tranquil and scenic setting. From traditional Turkish breakfast items like olives, cheese, tomatoes, and pastries, to more modern choices including omelets, yogurt bowls, and freshly baked bread, there is a wide selection to choose from.
The restaurant is nestled within a peaceful garden environment adorned with lush greenery, creating a delightful backdrop for guests to enjoy their meals. This natural oasis provides a refreshing escape from the hustle and bustle of the city, allowing visitors to relax and unwind while relishing their breakfast. The view isn't just limited to the greenery; the neighboring streets and buildings also contribute to the local ambiance.
Address: Karaağaç, 22100 Edirne Merkez/Edirne, Türkiye
Conclusion
Edirne's culinary scene goes beyond taste, seamlessly blending remarkable cuisine with captivating vistas. The city's restaurants with panoramic views not only satisfy your appetite but also provide a feast for the eyes. Whether you're gazing at the Selimiye Mosque's grandeur or enjoying the tranquil Meriç River, these restaurants offer a unique sensory experience. Edirne's historical charm and architectural marvels serve as a picturesque backdrop to these gastronomic adventures. As you indulge in delicious Turkish flavors, you're simultaneously immersed in the city's rich heritage. So, if you're seeking a dining experience that elevates both your palate and your perspective, Edirne's best restaurants with views are the perfect destination.