Experience the delightful fusion of exceptional food and stunning scenery at Didim, a hidden gem in Turkey's Aegean region. This resort town has a diverse culinary scene, from traditional Turkish meze to sophisticated international cuisine, served in eateries boasting breathtaking views. Overlooking azure seas, ancient ruins, and sunset vistas, Didim's restaurants offer more than just a meal, they provide a feast for all senses. Whether seeking a romantic dinner by the marina, a scenic rooftop brunch, or a beachfront barbecue, Didim will enchant you with its gastronomic offerings. Dive into this guide to discover the best restaurants with a view of Didim.
8 Best Restaurants With View In Didim
#1. Topkapi Restorant: Elevate Your Dining Experience with the Best View in Didim!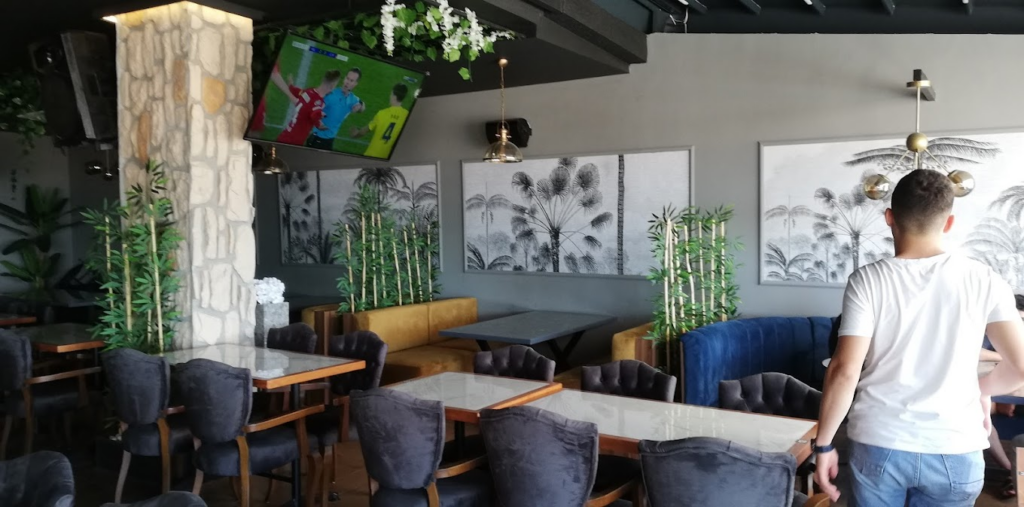 Topkapi Restaurant in Didim is a dining establishment specializing in Turkish and Mediterranean cuisine. The restaurant serves a variety of traditional Turkish favorites like kebabs and mezes, as well as an array of seafood dishes such as grilled fish and calamari, courtesy of its coastal location.
Nestled along the shores of Didim, it offers patrons the unique opportunity to dine with a panoramic view of the shimmering Aegean Sea. The locale particularly becomes enchanting at dusk, with the setting sun painting the sky with hues of orange and red, creating a mesmerizing backdrop for a leisurely meal. The restaurant itself is designed in a way that complements the natural beauty of its surroundings. With its open-air seating arrangement, guests are allowed an unobstructed view of the seascape while enjoying their meal. This combined with the gentle sea breeze , crafts an atmosphere that embraces both the surroundings and the cuisine.
Address: Altınkum, Yalı Cd. No:73, 09270 Didim/Aydın, Türkiye
#2. Mavi Kitchen & Bar: Where Culinary Artistry Meets Coastal Beauty.
Mavi Kitchen & Bar is a well-known establishment located in the vibrant coastal town of Didim. From savory Turkish classics to innovative fusion dishes, Mavi Kitchen & Bar is recognized for its culinary versatility.
The establishment is also famed for its striking location and breathtaking views. Positioned near the coast, it offers patrons unfiltered vistas of the beautiful Aegean Sea. The blue waters seamlessly merging with the sky serve as a captivating backdrop that truly enhances the dining experience. The bar's architectural design enhances this natural spectacle, incorporating large windows and outdoor seating options that allow guests to fully enjoy the scenery. Particularly during sunset, the environment turns magical, with the crimson hues of the setting sun reflecting off the water, offering an unmatched dining ambiance.
Address: Hisar, Fener Cd. 10/A, 09270 Didim/Aydın, Türkiye
#3. Sultans & Kings Restaurant: Where Every Dish Reigns Supreme.
Showcasing a fusion of Ottoman and Mediterranean culinary traditions, this eatery is known for offering an array of dishes which range from traditional mezzes, kebabs, and fresh seafood, to innovative plates inspired by various regional cuisines.
It's situated near the Aegean Sea, providing breathtaking vistas of the azure waters, the vibrant sunsets, and the twinkling lights of distant islands at night. Large windows and an outdoor seating area ensure that diners can enjoy these views year-round, weather permitting. Accessibility is another key attribute of this establishment. The restaurant is located in proximity to local attractions and amenities, making it an easily accessible spot for both locals and tourists.
Address: Altınkum Mah.Yalı Cad, 19. Sk. No:19/B, 09270 Didim/Aydın, Türkiye
#4. Ikbal's Restaurant: A Feast for the Senses, Set Against Spectacular Views."
Ikbal's Restaurant is a welcoming establishment that specializes in serving delectable Turkish and Mediterranean cuisine. Ikbal's Restaurant menu includes authentic dishes such as lamb kofta, freshly baked pides, succulent kebabs, and an array of local vegetarian dishes. Guests are encouraged to explore flavors beyond the main courses, with recommendations including delightful treats such as halo-halo, pudding and Turkish delight. As you dine, you'll have the chance to pair your meal with a selection of beverages like refreshing draft beer, house wine and flavorful strawberry daiquiris.
Nestled in the heart of Didim, it provides easy access to and from major tourist attractions and local landmarks. Despite its central location, the restaurant maintains a calm and serene ambiance, providing a peaceful retreat from the bustling town life. An interesting facet of Ikbal's Restaurant is its outdoor dining area, offering diners the chance to relish their meals under the stars during warm summer nights.
Address: Altınkum, Yalı Cd. No:65, 09270 Didim/Aydın, Türkiye
#5. FoodMood Cafe & Restaurant: Where Good Food Meets Great Vibes.
FoodMood Cafe & Restaurant is a dining establishment located in the coastal town of Didim, Turkey. Known for its versatile menu and exceptional views, this eatery is a popular choice for locals and tourists alike.
The restaurant's menu is a blend of Mediterranean, Turkish, and international dishes. Diners can expect to find a selection of seafood, pasta, grilled meats, vegetarian options, and traditional Turkish specialties. The highlight of FoodMood Cafe & Restaurant, however, is arguably its location and the scenic views it offers. Positioned near the Aegean Sea, the restaurant provides patrons with stunning waterfront views that complement their meals . Large windows and an outdoor terrace enable guests to fully appreciate the vista, whether they choose to dine indoors or al fresco.
Address: Çamlık, FoodMood No:140, 09270 Didim/Aydın, Türkiye
#6. Harabe Cafe, Bar & Restaurant: A Fusion of Flavors and Entertainment.
Situated as a welcoming spot after a leisurely stroll around the Temple of Apollo, Harabe Cafe, Bar & Restaurant presents a unique blend of culinary delights and relaxation. This restaurant offers a place to unwind and enjoy a diverse range of dishes in a comfortable setting. With a focus on Mediterranean and Turkish cuisines, Harabe Cafe offers a variety of dishes, including flavorful lamb cutlets, succulent lamb dishes, and the local favorite, zeama.
Set against the backdrop of lush landscapes and a gentle glimpse of the Aegean Sea, patrons are greeted with a visual harmony that perfectly accompanies their meal. The outdoor seating area further deepens this connection with the natural surroundings, inviting visitors to relish their dishes while fully embracing the serene atmosphere.
Address: Hisar, 09270 Didim/Aydın, Türkiye
#7. Key-f Restaurant & Cafe: Taste Elevated, Views Enchanted."
Key-f Restaurant & Cafe is a charming dining establishment that offers a blend of British and Italian cuisines. Nestled in a scenic spot, the restaurant offers captivating views that enhance your time here. The menu at Key-f Restaurant & Cafe features a delectable selection of dishes from both British and Italian culinary traditions. Notable items on the menu include expertly prepared ribeye steak, succulent prawns, and flavorful chicken dishes, showcasing the skillful culinary craftsmanship of the kitchen. In addition to the savory options, diners can indulge in the tempting chocolate soufflés that are a highlight of the dessert selection. Complementing the meal, the restaurant offers a selection of quality wines that pairs well with the diverse flavors of the menu.
The restaurant treats its patrons to a visual feast with its breathtaking views. Proximal to the Aegean Sea, the restaurant offers an extraordinary viewing experience Whether you're looking to unwind during a leisurely meal or seeking an unforgettable dining spot, the panoramic views provided by the restaurant adds a special charm to the dining occasion.
Address: Çamlık, D-Marin, 09270 Didim/Aydın, Türkiye
#8.  Upstairs Restaurant: Where Flavor Meets a Scenic Perspective.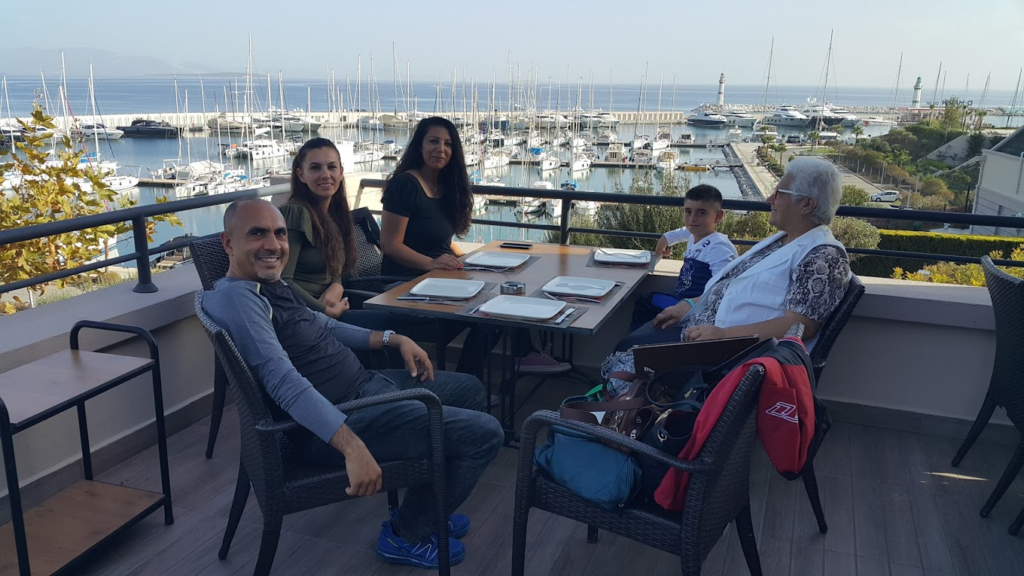 Upstairs Restaurant provides an unparalleled vista from its elevated position in the heart of Didim. Its signature feature is the sweeping panoramic views of the beautiful Aegean Sea that stretch out as far as the eye can see, with the deep blue of the water contrasting strikingly against the bright skyline. During the day, the sun glistens on the water, creating a serene backdrop for meals. In the evening, diners are treated to spectacular sunsets where hues of orange, pink, and red paint the sky, casting a warm glow that is both romantic and tranquil.
Apart from the coastal views, the restaurant overlooks the lively cityscape of Didim. The bustling local life, charming architecture, and meandering streets give diners a unique perspective of the town's energy and culture. The night view is particularly enchanting as the city lights twinkle beneath the starlit sky, creating a vibrant backdrop for a peaceful night out.
Address: Çamlık, D-Marin, 5028 Sokak No:9/A, 09270 Didim/Aydın, Türkiye
Conclusion
As our exploration of the best restaurants with a view in Didim concludes, it's clear this Aegean haven offers a rich blend of culinary delights and visual spectacles. From quaint sea-facing bistros to elegant rooftop eateries, every meal is enhanced by awe-inspiring panoramas. Whether you're savoring a plate of local delicacies while watching a mesmerizing sunset over the marina or enjoying an international feast amid ancient ruins, the restaurants of Didim guarantee a unique gastronomic adventure. Your visit will not just be a trip, but a sensorial journey that combines the best of food and scenery, leaving you with lingering tastes and unforgettable memories.