Kuşadası, a radiant Turkish destination embraced by the Aegean shoreline, is renowned for its unspoiled beaches, historical landmarks, and equally remarkable gastronomic ventures. This compilation highlights Kuşadası's premier dining establishments, where exceptional flavors intertwine with captivating panoramas. Within these venues, relish in the finest local and global dishes, all while being treated to the sight of the glimmering sea, vivid sunsets, or the town's entrancing allure.
9 Best Restaurants With View In Kusadasi
#1. Casablanca Restaurant: Where Breathtaking Views Meet Exquisite Cuisine in Kusadasi!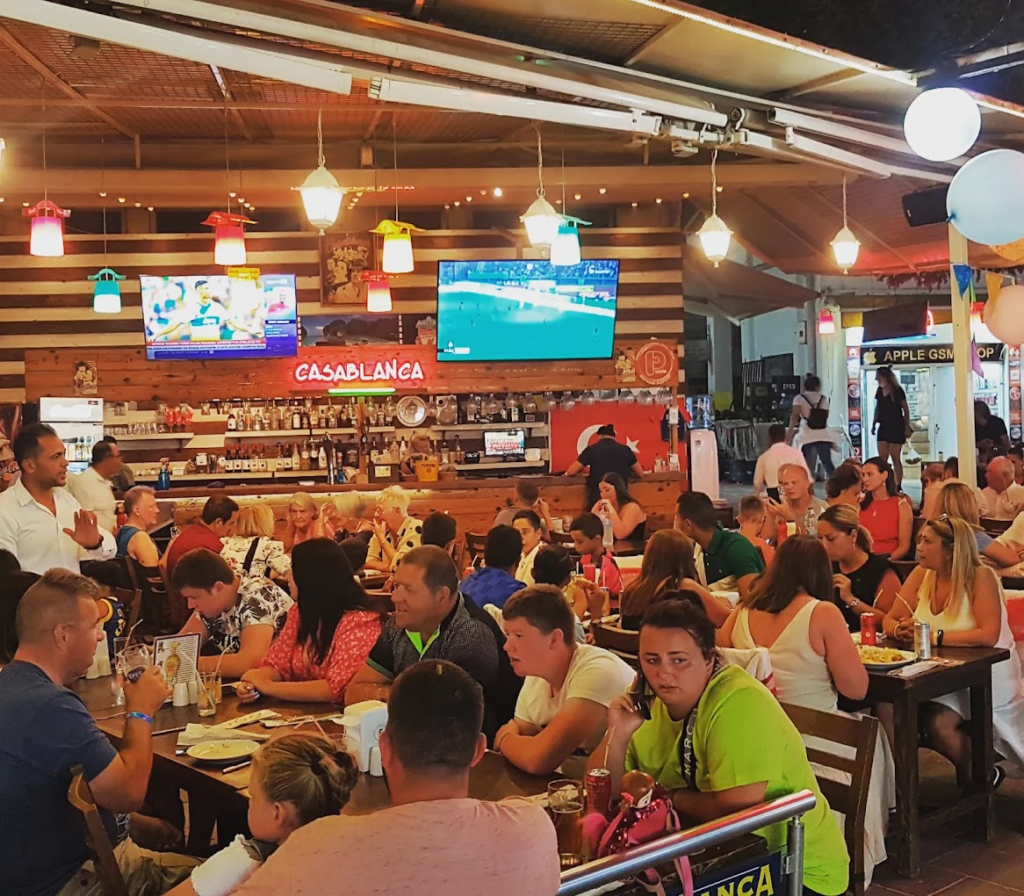 Casablanca Restaurant is located in the popular tourist destination of Kusadasi, Turkey. It offers a mix of international, Turkish, and Mediterranean cuisines.The menu at Casablanca Restaurant caters to various dietary preferences. It includes traditional Turkish dishes, such as kebabs and mezes, alongside a selection of Mediterranean specialities.
One of the defining features of Casablanca Restaurant is its striking location. Perched on a hill overlooking the city, this restaurant provides diners with a panoramic view of Kusadasi. The restaurant's vantage point offers a unique perspective of the town's harbor, dotted with yachts and local fishing boats. The scenic backdrop serves as a delightful visual treat, making any meal at Casablanca Restaurant Kusadasi worth remembering.
Address: Camikebir, Vahit Kutal Sk. no3, 09400 Kuşadası/Aydın, Türkiye
#2. Somewhere Else: Savor the Scenery, Taste the Perfection.
Located right on the waterfront in Kusadasi, Turkey, "Somewhere Else" is a restaurant that has garnered attention from both travelers and locals. Offering a casual dining atmosphere, it presents a menu infused with both international and local dishes. Popular items like beef and chicken skewers, sandwiches, and pastas are known to be generously portioned, offering good value for money.
Beyond its cuisine, what makes "Somewhere Else" stand out is its location. Patrons can enjoy their meals while overlooking the expansive Aegean Sea. The sight of boats in the harbor and the vastness of the sea provides a calming backdrop. The combination of its diverse menu and the serene views of the coastline make "Somewhere Else" a sought-after dining spot in Kusadasi for those looking to enjoy a meal amidst natural beauty.
Address: Kadınlar Denizi, Mahallesi, Kadınlar Denizi Cd. No:65/A, 09400 Kuşadası/Aydın, Türkiye
#3. Bottarga Restaurant: A Seafood Lover's Paradise with a Mediterranean View.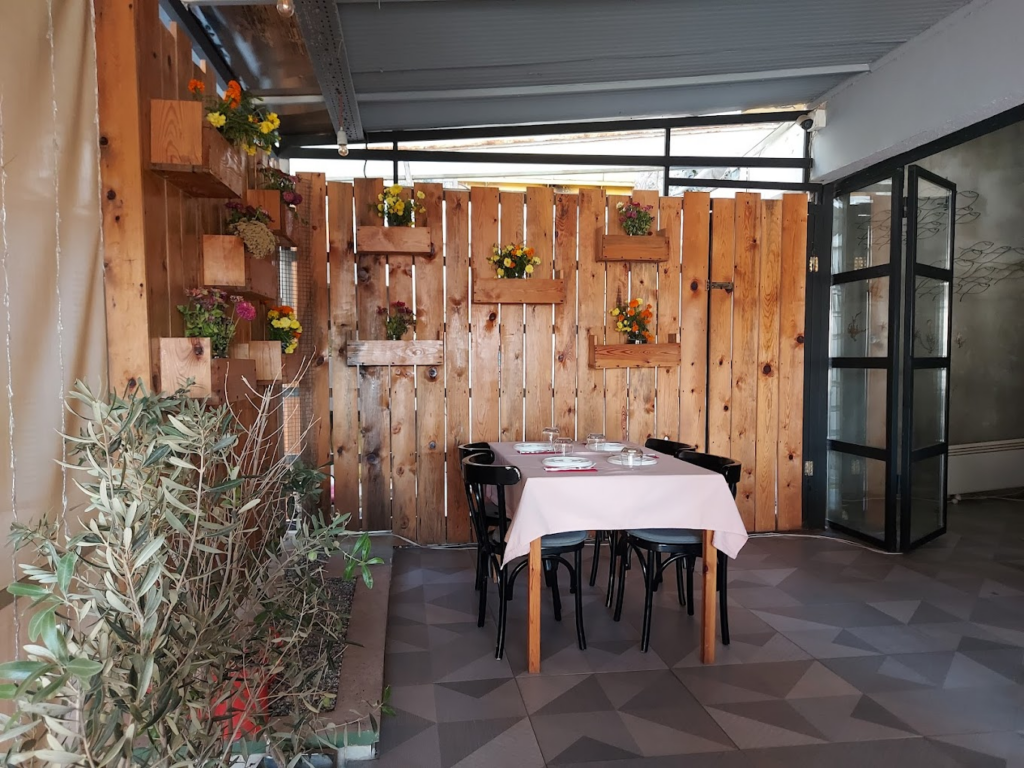 Bottarga Restaurant is a seafood-centric dining establishment that emphasizes seafood sourced from the surrounding Mediterranean waters. Specializing in dishes that highlight fresh catches, the restaurant provides diners with a range of seafood options like grilled seabass, calamari, and shrimp cocktails
The location of Bottarga Restaurant is undeniably part of its allure, as it sits by the Mediterranean Sea. This positioning allows guests to take in the calm, expansive views of blue waters, occasional passing yachts, and the play of light during sunset hours. The interiors of Bottarga are designed to complement the views, offering a relaxing setting for meals. Accessibility is relatively straightforward, with various transport options available to reach the restaurant. The combination of exquisite seafood, a warm Mediterranean atmosphere, and panoramic sea views makes Bottarga Restaurant a notable destination for any seafood lover.
Address: Türkmen, Sekerbank Yani, Atatürk Blv., 09400 Kuşadası/Aydın, Türkiye
'4. Palm Beach Cafe Restaurant-Bar: Where Waves Meet Flavors
Palm Beach Cafe Restaurant-Bar is a multifaceted dining establishment situated in the vibrant city of Kusadasi, Turkey. Primarily, Palm Beach Cafe Restaurant-Bar is celebrated for its culinary offerings. The restaurant specializes in Turkish fare, offering classics like "mezes" (starters), "kofte" (meatballs), and "baklava" for dessert. Additionally, its menu also boasts a variety of international dishes.
Overlooking the glistening Aegean Sea, this restaurant offers a panoramic vista that provides a feast for the eyes to complement the cuisine. The beachfront location enhances the dining ambiance with sights of boats in the distance and the gentle ebb of waves. As the day progresses, diners can also enjoy the tranquil hues of the sunset. Whether it's for a casual brunch, a romantic dinner, or a relaxing drink against the backdrop of a spectacular sunset, Palm Beach Cafe Restaurant-Bar in Kusadasi provides delicious food combined with an exceptional setting.
Address: Kadınlar Denizi, Kadınlar Denizi Cd., 09400 Kuşadası/Aydın, Türkiye
#5. Kiwi Restaurant: Where Freshness Meets Flavor in Every Bite.
Kiwi Restaurant is a prominent dining establishment located in Kusadasi, a bustling city on Turkey's Aegean coast. One of the defining features of Kiwi Restaurant is its dedication to serving a broad spectrum of dishes. The menu ranges from well-loved Turkish staples, such as succulent kebabs and fresh seafood, to globally favored dishes including steaks, pastas, and a variety of vegetarian options.
Kiwi Restaurant isn't just about the food and drink. It's also about the ambiance. Nestled amidst the city's vibrant streets, this restaurant provides a retreat where patrons can relax and enjoy their meal. The outdoors of the restaurant, on the other hand, immerses visitors in the lively spirit of Kusadasi. Outdoor seating offers a street view, allowing diners to soak in the city's lively atmosphere while they relish their meals. The evenings are especially captivating, as the city lights lend a magical ambiance to the meal.
Address: Kadınlar Denizi, Mahallesi, Kadınlar Denizi Cd. No:73, 09400 Kuşadası/Aydın, Türkiye
#6. La Terrazza Kusadasi: A Slice of Italian Delight with a View.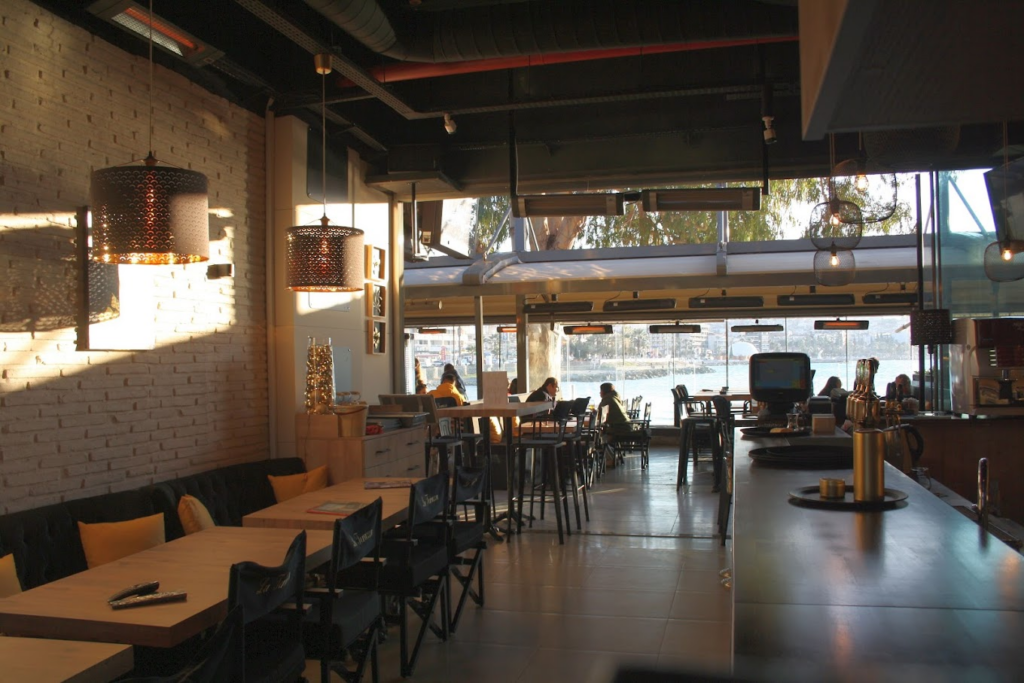 La Terrazza Kusadasi restaurant is well-regarded for its blend of Turkish and international dishes, appealing to a diverse palate. Despite the extensive food menu, the highlight of La Terrazza Kusadasi is not just what's served on the plate, but the breathtaking views that accompany the food. Situated on an elevated terrace, this restaurant provides a panoramic view of the Aegean Sea and the surrounding cityscape.
The position of the establishment makes it a perfect spot to watch the sunset while savoring a meal, offering a unique blend of gastronomic and aesthetic pleasure. Furthermore, the restaurant's design incorporates open-air seating, allowing customers to dine under the stars while enjoying the serene sea breeze. This atmosphere seamlessly blends the natural allure of the surroundings with the cosmopolitan vibe of Kusadasi.
Address: Setur Marina AVM 101, D:E, 09400 Aydın, Türkiye
#7. Tranche: Fine Dining, Finer Flavors.
Tranche Kusadasi is well-known for its delicious seafood and Mediterranean offerings. From sumptuous fish grills to delicately seasoned shrimp and calamari, patrons can indulge in an array of oceanic flavors, while those craving traditional Turkish flavors can indulge in kebabs and mezes. The restaurant also takes care to accommodate different dietary preferences with a selection of vegetarian and vegan options, ensuring that every guest finds something to enjoy.
The restaurant offers stunning views of the Aegean Sea, giving patrons a chance to take in the picturesque coastline while enjoying their meal. Whether seated on the terrace or by the large windows, diners are treated to sweeping vistas of the turquoise Aegean Sea and the charming town. To sum up, Tranche Kusadasi offers a splendid blend of delectable seafood and Mediterranean dishes, served in a relaxed environment with a backdrop of captivating sea views.
Address: Türkmen Mahallesi Setur Marina Avm, Atatürk Blv. No:101, 09400 Kuşadası/Aydın, Türkiye
#8. Ladies Beach Restaurant Cafe & Bar: Savor the Seaside Charm with Every Bite.
Situated on the picturesque Ladies Beach, the venue offers unobstructed views of the Aegean Sea. This makes it an ideal place for watching the sun dip below the horizon, painting the sky with vibrant hues. The open-air seating further enhances the experience, allowing patrons to enjoy their meals and drinks under the vast sky.
The restaurant section of Ladies Beach Restaurant Cafe & Bar specializes in an array of Turkish and international dishes. From traditional Turkish mezes to well-loved global staples such as burgers and pasta, the menu caters to diverse palates. As a bar, the establishment offers a range of alcoholic and non-alcoholic beverages, making it a preferred spot for those looking to unwind with a refreshing drink. Its beachfront location adds to the charm, offering patrons the opportunity to enjoy their food and beverages while watching the waves gently lap against the shore.
Address: Kadınlar Denizi, Kadınlar Denizi Cd. 47/B, 09400 Kuşadası/Aydın, Türkiye
#9. Oksa Marina Balık Restaurant: Delight in the Ocean's Bounty, Right by the Water.
Oksa Marina Balık Restaurant beckons seafood enthusiasts to indulge in a feast that showcases the ocean's finest offerings, all while enjoying an unparalleled waterfront setting. Dedicated to the art of seafood cuisine, Oksa Marina Balık Restaurant boasts a menu that spans a spectrum of flavors from the deep blue. From the succulent richness of grilled swordfish to the delicate flakiness of oven-baked sea bass, The menu is a fusion of traditional local catches and contemporary seafood creations.
The Oksa Marina Balık Restaurant is also famous for its unique location. It sits along the coastline, offering diners stunning panoramic views of the beautiful Kusadasi Marina. The outdoor seating area is also a distinct feature, allowing guests to enjoy their meals in the open air, surrounded by natural beauty. From this vantage point, one can observe the comings and goings of various boats and yachts in the marina, creating a dynamic and ever-changing backdrop. In terms of ambiance, Oksa Marina Balık Restaurant has a relaxed and inviting atmosphere.
Address: Türkmen, Gazi Beğendi Sk. no:3/1, 09400 Kuşadası/Aydın, Türkiye
Conclusion
Kuşadası offers a unique blend of culinary excellence and captivating scenery, making it a must-visit for any traveler. The featured restaurants truly stand out, combining excellent cuisine with breathtaking views, elevating your experience to a whole new level. Whether you are a food enthusiast seeking to explore local flavors or a traveler desiring a meal against the stunning backdrop of the Aegean coast, these Kuşadası restaurants will not disappoint. So, on your next trip, ensure to tickle your taste buds while soaking in the mesmerizing landscapes, crafting unforgettable memories of your Turkish escapade.