Welcome to the sublime world of dining in Pamukkale, a dreamy destination in southwestern Turkey, known for its cascading white mineral-rich terraces nicknamed "Cotton Castle". Imagine feasting your eyes on these ethereal thermal waters while savoring delectable Turkish delicacies. From casual bistros to high-end establishments, these eateries boast a fantastic panorama, creating an unforgettable ambiance. Enjoy the sun setting over the terraces, casting a kaleidoscope of colors while you relish your meal. Let the adventure begin!
7 Best Restaurants With View In Pamukkale
#1. The Asian Kitchen Landscape: Savor Asian flavors with a stunning natural backdrop in Pamukkale.
The Asian Kitchen Landscape is a dining establishment located in Pamukkale. As its name suggests, the restaurant specializes in Asian cuisine, offering a diverse menu that captures the essence of various regions from the continent. Diners can expect a selection of dishes representing flavors from countries like China, Japan, Thailand, and more. A haven for food enthusiasts, the restaurant presents an enticing menu featuring flavorful turkey, kebabs, and kimchi, paired perfectly with invigorating coffee.
After a visit to Pamukkale Thermal Pools, this eatery offers a satisfying reprieve. However, it's not just the menu that captivates patrons; the restaurant's backdrop of stunning views enhances the dining experience. Nestled against the picturesque Pamukkale landscape, diners can savor their meals while immersed in the serene surroundings. The terraces of Pamukkale, known for their mineral-rich thermal waters and white travertine terraces, serve as a serene and picturesque backdrop.
Address: Traverten Sk., 20190 Pamukkale/Denizli, Türkiye
#2. Mom Eve Restaurant & Pub: Where comfort food meets a vibrant nightlife experience.
Mom Eve Restaurant & Pub is situated in the heart of Pamukkale, a notable location known for its natural hot springs and unique terraces of carbonate minerals. In the restaurant section, patrons can delve into a variety of dishes, likely encompassing both local Turkish delicacies and some international favorites, giving them a taste of Pamukkale's rich culinary heritage and more.
From its vantage point, diners can relish not only the delectable offerings on the menu but also the splendid views that surround the establishment. The restaurant's proximity to Pamukkale's iconic thermal pools adds to its appeal, with the stunning terraces and natural formations creating a unique backdrop for your meal. Adjacent to the restaurant is the pub, which promises a more lively and informal atmosphere. Here, visitors can indulge in a selection of beverages, from traditional Turkish drinks to international brews and cocktails. The pub might also feature occasional live music or events, making it a potential hub for nightlife in the region.
Address: Hürriyet, Atatürk Cd., 20200 Pamukkale/Denizli, Türkiye
#3. Mehmets Heaven: A sanctuary of fine dining and delightful cuisine.
Mehmets Heaven Pamukkale is a dining establishment located in the vicinity of the famous Pamukkale terraces. The restaurant primarily serves traditional Turkish cuisine, offering dishes that reflect the rich culinary heritage of the region. The appetizer section beckons with a tempting array of options, from flaky borek pastries to vibrant salads and traditional mezes. Catering to all tastes, the restaurant offers a selection of vegetarian dishes that capture the essence of Turkish flavors through hearty vegetable stews, stuffed eggplants, and flavorful rice creations. To complement your meal, Mehmets Heaven presents an array of beverages, including traditional apple tea and rich Turkish coffee.
The immediate surroundings of Mehmets Heaven offer a remarkable juxtaposition of lush landscapes and the iconic travertine terraces of Pamukkale. Beyond the terraces, the restaurant's vantage point provides glimpses of the town of Pamukkale itself, allowing you to immerse yourself in the local ambiance. From bustling markets to glimpses of traditional Turkish architecture, the views offer a glimpse into the daily life of the region.
Address: 20190 Pamukkale/Denizli, Türkiye
#4. Teras Restaurant: Where Every Dish Comes with a Side of Spectacular Views"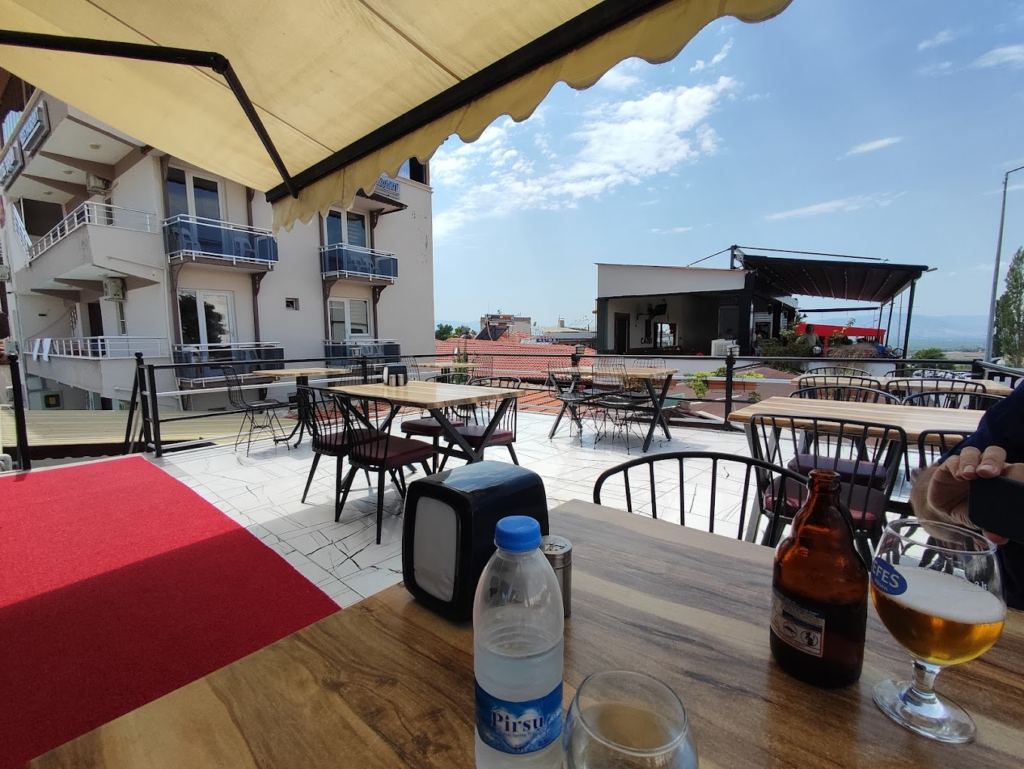 Teras Restaurant Pamukkale is situated in the heart of the iconic Pamukkale region. As its name "Teras" suggests, which means "terrace" in Turkish, the restaurant boasts elevated views of the renowned Pamukkale terraces, famed for their gleaming white mineral formations and therapeutic thermal waters.
This establishment offers an array of Turkish dishes. Patrons can expect to find Turkish staples such as gözleme, kofta, and a variety of mezes on the menu. However, it's arguably the unparalleled views that set Teras Restaurant apart. With its strategic positioning, diners can indulge in their meals while taking in the breathtaking landscapes of Pamukkale. The terraces, with their cascading pools of mineral-rich waters, create a tranquil and mesmerizing backdrop, especially when they reflect the hues of dawn or dusk.
Address: Memet Akif Ersoy Blv., 20190 Pamukkale/Denizli, Türkiye
#5. Aliş Restaurant: Where the art of kebab-making meets culinary excellence.
Aliş Restaurant is a Turkish cuisine dining known for its diverse menu and breathtaking views. Specializing in Turkish cuisine, Aliş Restaurant is renowned for its cooked kebabs, succulent lamb dishes, and traditional gozleme. From savory grilled meats to flavorful vegetarian selections, there's something to satisfy every palate.
Situated in close proximity to the renowned Pamukkale travertine terraces, the restaurant offers unobstructed views that are nothing short of breathtaking. The terraced landscape creates an intricate tapestry of white mineral deposits, reflecting the sunlight in ever-changing patterns. Whether you choose an indoor table or prefer the open-air seating, the restaurant's location guarantees an immersive experience. Beyond its immediate surroundings, Aliş Restaurant is the ideal starting point to explore the wonders of Pamukkale. The Hierapolis Archaeological Site and the Pamukkale Thermal Pools are just a stone's throw away, allowing you to continue your journey through history and nature after your meal.
Address: Mehmet, Memet Akif Ersoy Blv. no 25, 20260 Pamukkale/Denizli, Türkiye
#6. Cadde Steak House: Sizzling steaks, right off the grill.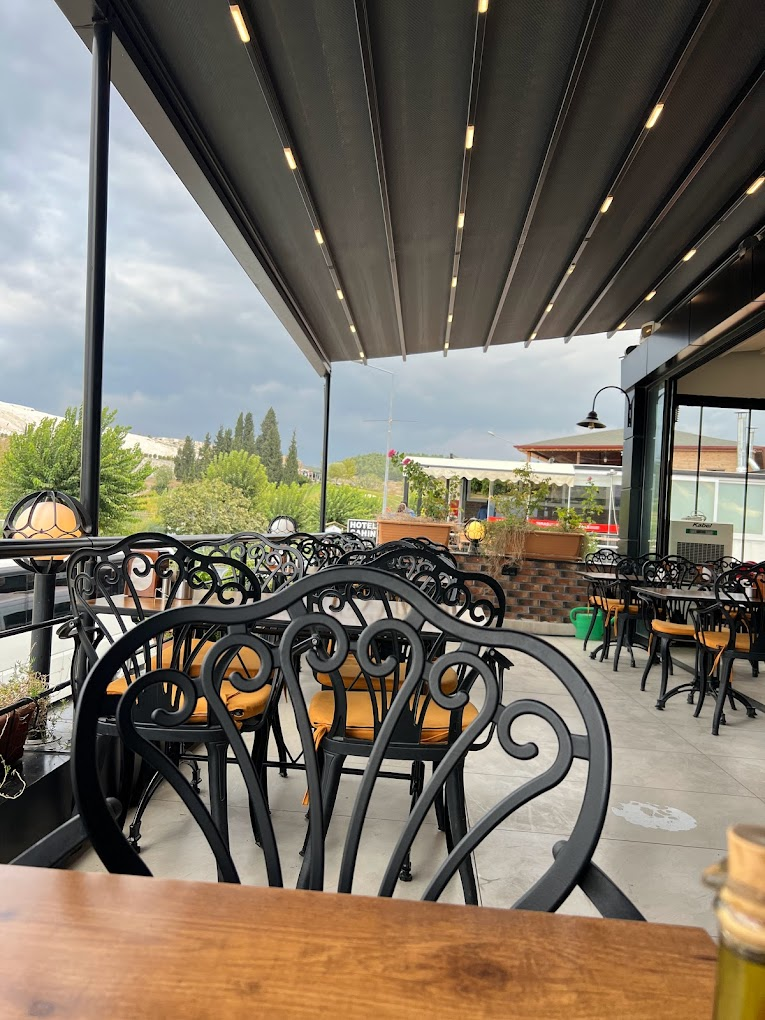 Cadde Steak House is a favored destination where patrons gather to relish impeccably prepared steaks, lamb cutlets, and turkey dishes. The restaurant's reputation extends to its beverage offerings, which include memorable choices such as delectable wines, rakia, and refreshing beers.
Cadde Steak House stands prominently in the scenic landscape of Pamukkale, renowned for its ethereal terraces and hot springs. From the vantage points within Cadde Steak House, diners can expect sweeping views of the surrounding area. Given its location, the restaurant offers sightlines to the famous Pamukkale terraces. These terraces, known for their white travertine formations created by calcium deposits, appear as cascading shelves on the landscape and often gleam brilliantly under the sun's rays. Throughout the day, as the sun shifts its position, these terraces present a dynamic display of light and shadow, adding to the visual drama.
Address: Memet Akif Ersoy Blv. no:65/A, 20260 Pamukkale/Denizli, Türkiye
#7. Kayas Wine House: Unwind and uncork the essence of fine wines.
The primary focus of Kayas Wine House is, unsurprisingly, wine. The establishment boasts a carefully curated selection of local and international wines, emphasizing the flavors and aromas that are unique to the Anatolian region. Patrons can relish the flavors of the region with offerings such as tasty trout, flavorful shish kebabs and enticing chicken with mushrooms.
As for the views, Kayas Wine House offers a splendid panorama of Pamukkale's terraces. The gleaming white travertine formations serve as the perfect backdrop for a glass of red or white. As diners sip on their chosen vintages, they can witness the terraces basking in different hues, depending on the time of day.
Address: Atatürk Cd. No:3, 20260 Pamukkale/Denizli, Türkiye
Conclusion
Exploring the dining scene in Pamukkale goes beyond savoring delectable Turkish dishes. It involves immersing yourself in the striking landscapes, witnessing the vibrant hues on the limestone terraces, and basking in the serene ambiance that envelops you. These featured restaurants offer not just exceptional food but a fusion of natural beauty and the diverse flavors of Turkish cuisine. Whether it's the terraces bathed in sunset's warmth or the starlit sky mirrored in thermal waters, these dining spots in Pamukkale provide an unparalleled journey.