The enchanting coastal town of Side, located in Southern Turkey, boasts a remarkable blend of ancient ruins, stunning beaches, and a lively tourist scene. Here's a look at the top 15 things you should absolutely not miss when you visit Side.
14 Things to Do in Side
1) Admire the Temples of Apollo and Athena
Start your journey in Side by visiting the mesmerizing temples of Apollo and Athena. Perched on the eastern edge of the Side peninsula, these stunning ruins of two of the ancient world's most significant deities offer unparalleled views of the Mediterranean Sea. As you explore these spectacular structures, you'll be swept back in time, visualizing the grandeur that once was.
2) Explore Side's Vast Roman Theater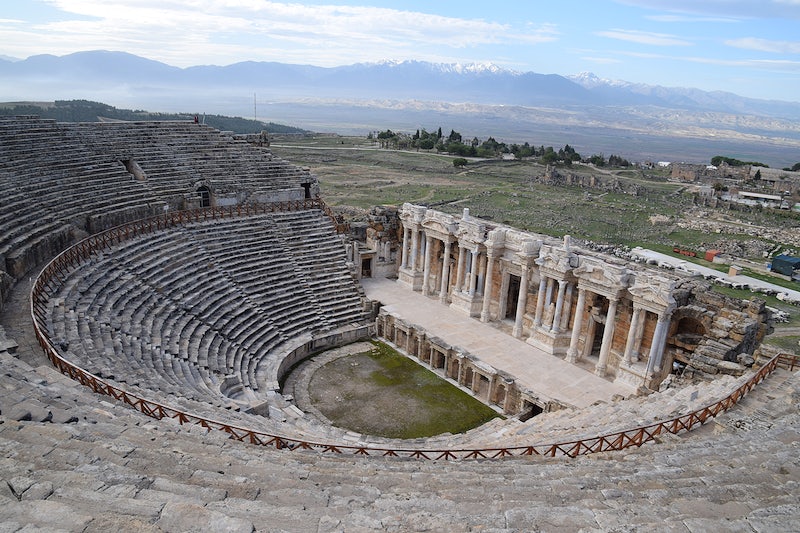 A trip to Side isn't complete without stepping foot in its colossal Roman Theater. Constructed in the 2nd century AD, the theatre could host a staggering 15,000 spectators. Its grandeur speaks volumes about the importance of Side in Roman times. Be prepared to be awed by its remarkable preservation and the intricate designs that are still clearly visible today.
3) Relax on East Beach
Credit: Source link
For a change of pace, head to the popular East Beach. Famous for its soft, white sands and crystal-clear waters, this beach is a paradise for swimmers and sunbathers. The beach is also lined with a variety of cafes and restaurants, making it an excellent place to spend an entire day unwinding.
4) Picnic at the Manavgat Waterfalls
Situated a short drive from Side, the Manavgat Waterfalls provide a perfect escape from the bustling tourist scene. The scenic beauty of the cascading water makes it an ideal spot for a picnic or a peaceful hike. Don't forget to take your camera – the waterfalls are a stunning sight to capture.
5) Exciting Side Tours
Side offers numerous tour companies, each offering a broad spectrum of thrilling activities. From adrenaline-pumping white-water rafting and ziplining to adventurous jeep safaris and quad tours, there's something for everyone's taste. These tours provide a unique way to explore the surroundings and immerse yourself in the local culture and landscape.
6) Visit Side Museum
Credit: Source link
Located in the heart of Side, this quaint museum houses an impressive collection of artifacts from the ancient city. It's a treasure trove for history buffs and a great place to learn about the rich past of the region. Despite its small size, the museum provides a deep insight into Side's historical significance.
7) Go on an Excursiongo Side Tour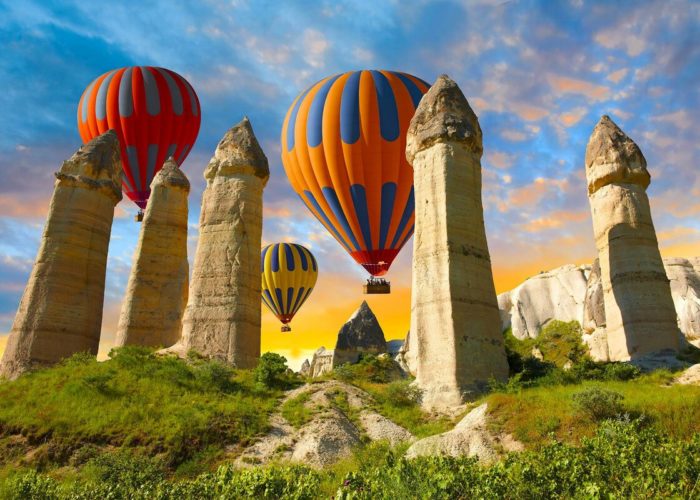 Credit: Source link
Excursiongo Side offers a variety of engaging activities for those seeking an active holiday. These include exciting boat tours, thrilling fishing trips, and unforgettable scuba diving adventures. Each tour offers a unique perspective of Side's coastal beauty.
8) Marvel at the Vespasianus Aniti
Situated just outside of Side, the Vespasianus Aniti is a historic tomb believed to have been constructed for a Roman governor. Its intricate design and structural integrity make it a worthwhile visit for history enthusiasts.
9) Experience the Greek Amphitheater
Located in the center of Side, the ancient Greek Amphitheater offers spectacular views of the sea. Imagine being part of an audience from centuries ago, all while being entranced by the beautiful sea view that forms the backdrop of this ancient site.
10) Snap Pictures at the Monumental Fountain
In the heart of Side, you'll find the Monumental Fountain, a famous photo spot for visitors. Its historic significance and aesthetic appeal make it a must-visit. Don't forget to bring your camera for some fantastic souvenir photos.
11) Enjoy Dolphins Island Cruise
Looking for an unforgettable family experience? The Dolphins Island Cruise is a fun-filled adventure that takes you to a nearby island. Here, you get a chance to swim with dolphins and enjoy a delicious barbecue lunch. This tour combines wildlife, adventure, and food for a great day out.
12) Go on a Jeep Safari Adventure around Green Canyon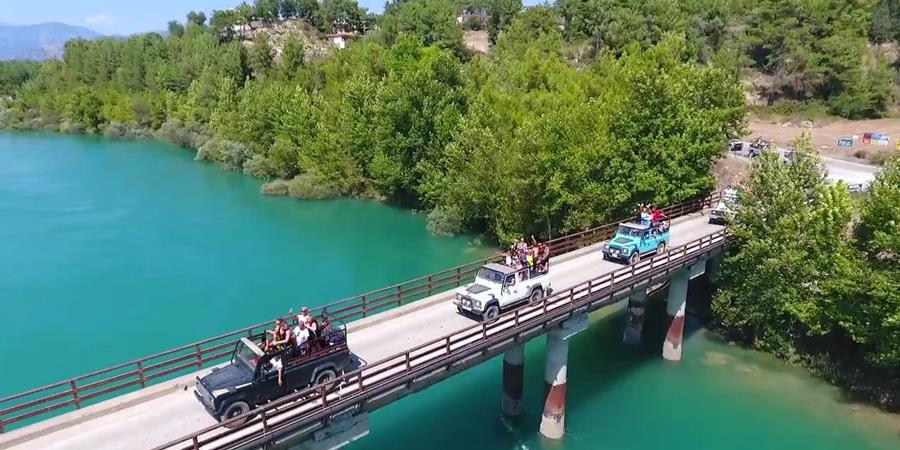 Credit: Source link
The Green Canyon Jeep Safari Adventure takes you on a journey through the stunning landscape of the Taurus Mountains. Along the way, you'll stop at scenic locations, including a majestic canyon, a tranquil lake, and a picturesque village. This tour offers a perfect blend of adventure and natural beauty.
13) Explore the Historic Side Harbour
Credit: Source link
Side Harbour, with its charming seafront promenade, is the perfect place to take a leisurely stroll and soak in the local atmosphere. With several cafes, restaurants, and shops, it's a vibrant spot to relax and people-watch.
14) Visit the Side Aquapark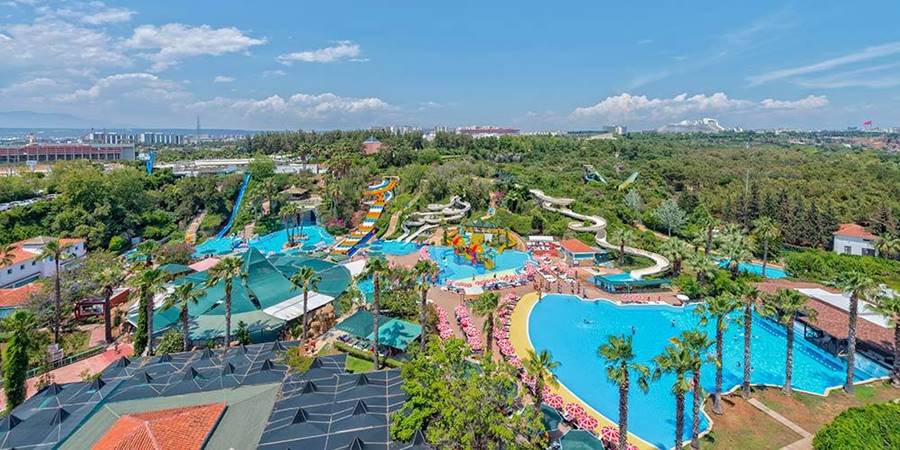 The perfect place for a fun family outing, Side Aquapark offers a wide range of slides and pools to keep everyone entertained. With areas for both adults and children, it's an ideal way to beat the summer heat and have a great day of fun.
Side, with its rich history, beautiful natural features, and an array of activities, truly has something for everyone. Whether you're a history buff, a nature lover, or an adventure seeker, you'll find plenty to explore and enjoy in this enchanting coastal town.
Frequently Asked Questions
Is Side a good place to visit?
Absolutely! Side is a fantastic destination for anyone interested in ancient history, stunning natural beauty, and coastal charm. It offers a variety of activities, ranging from exploring ancient ruins and relaxing on beautiful beaches to exciting adventure tours and a vibrant nightlife. So, whether you're a history buff, nature lover, adventure seeker, or simply looking for a peaceful getaway, Side has something to offer you.
Is Side part of Antalya
Yes, Side is part of Antalya. It's a small, picturesque coastal town located on the eastern part of Pamphylia, which is today known as the Antalya region. Side is about 75 kilometers east of the city of Antalya, and it's a popular destination for visitors to the region due to its rich history and natural beauty.
Is there a market in Side, Turkey
Yes, there is a market in Side, Turkey. The market, typically held on Saturdays, is a vibrant place where you can find everything from fresh local produce and spices to Turkish textiles, handcrafts, and souvenirs. It's a great place to immerse yourself in local culture, practice your haggling skills, and pick up unique items to remember your trip by.
Is it worth going to Side, Turkey?
Definitely! Side is well worth a visit for its stunning natural beauty, rich historical heritage, vibrant local culture, and wide range of activities. Whether you want to explore ancient ruins, relax on beautiful beaches, enjoy thrilling adventure tours, or soak in the local culture and cuisine, Side offers an unforgettable travel experience. Additionally, its proximity to Antalya and the surrounding attractions makes it a great base for exploring the wider region.