Embark on a captivating journey through history and culture with our guide to the top 15 things to do in Selcuk. From the remnants of ancient civilizations to modern attractions and natural beauty, Selcuk has something for everyone. Experience the past and present in harmony as you explore the stunning city of Selcuk. Now, let's dive in and discover the treasures that await you in this charming town!
15 things to do in Selcuk
1) Ancient City of Ephesus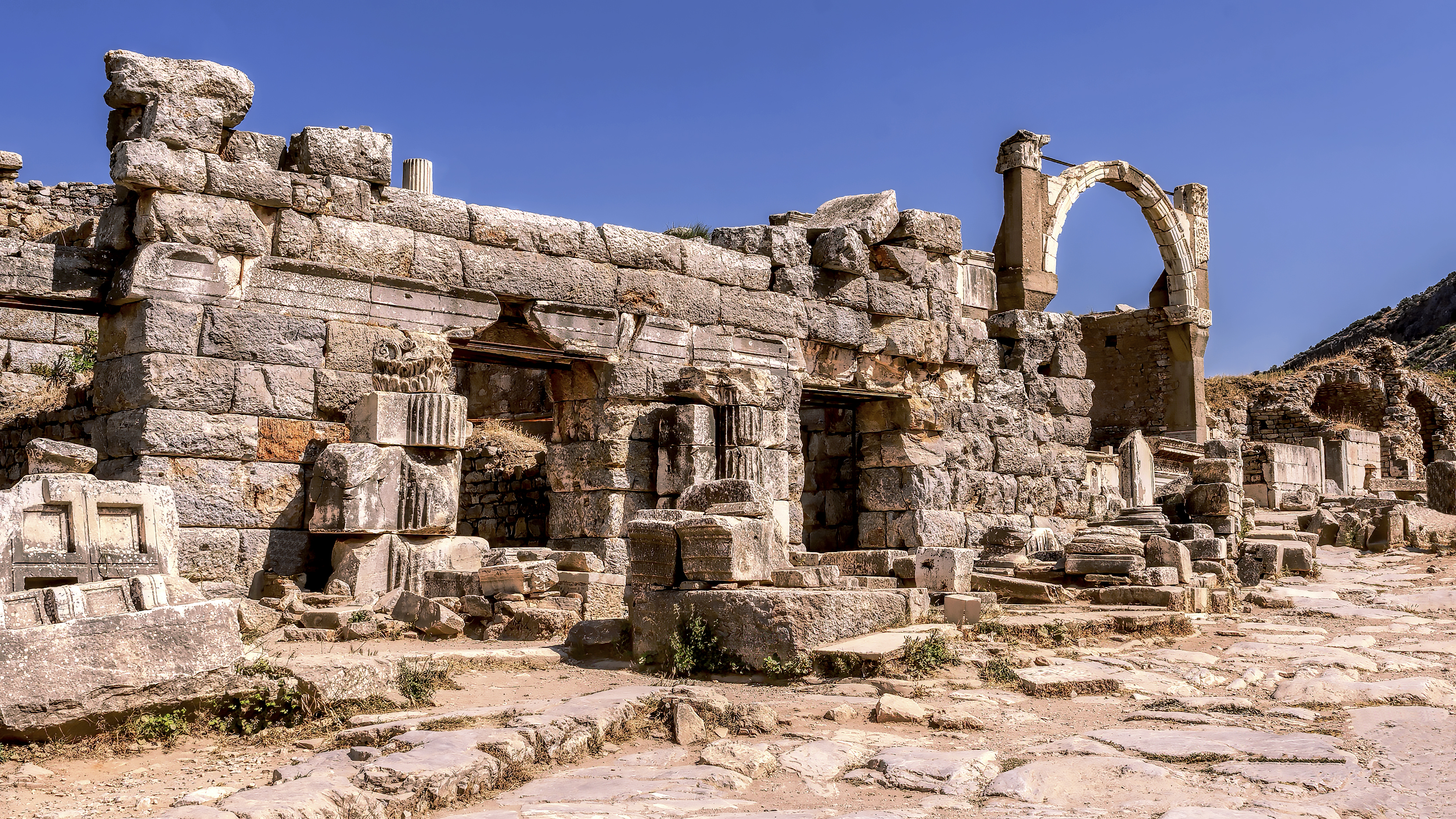 A trip to Selcuk would be incomplete without visiting the Ancient City of Ephesus. This is truly the highlight of the town, with ancient ruins that transport you back to the classical Greek era. Ephesus is among the most complete classical cities in Europe. The city was famed for the Temple of Artemis, and its grandeur still resonates today through the well-preserved architectural structures. A tour of this city is more than just sightseeing—it's a journey through history.
2) Ephesus Museum
The Ephesus Museum is a treasure trove of history and art. This museum houses more than 64,000 artifacts that date back to the Hellenistic, Roman, and Byzantine periods. Each artifact tells a unique story of the times and the people who once called Ephesus home. Marvel at the intricate designs and learn about the history and culture of this vibrant ancient city.
3) Bibliothèque de Celsus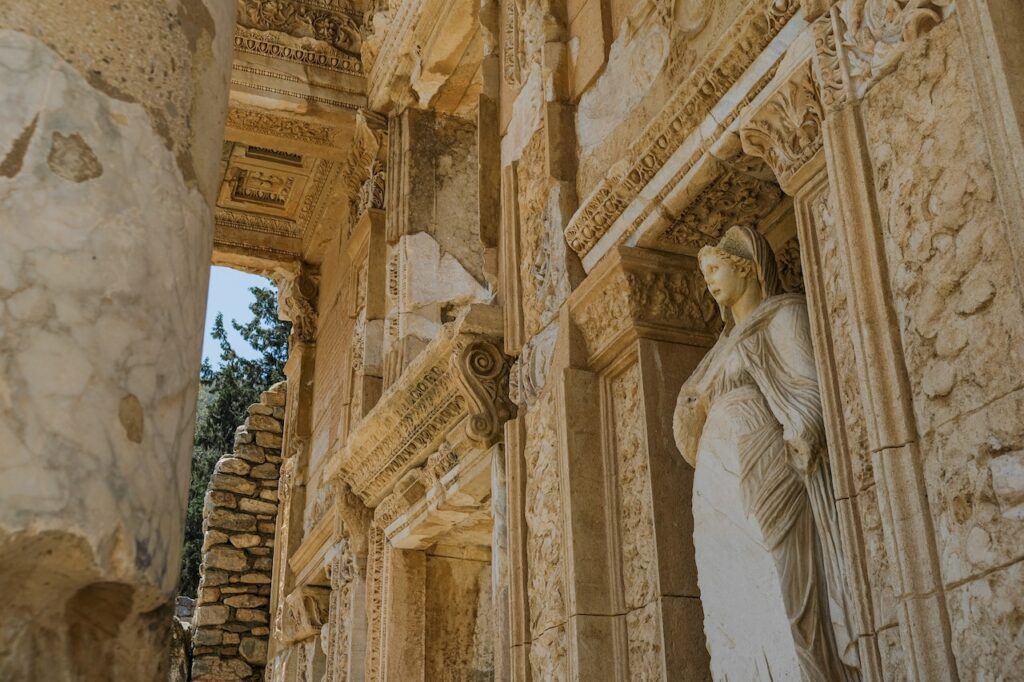 Among the architectural marvels in Ephesus, the Bibliothèque de Celsus stands out. This grand structure, with its two-story façade, was originally built to honor Roman Senator Tiberius Julius Celsus Polemaeanus, whose sarcophagus lies beneath it. It once held thousands of scrolls, a testament to the intellectual and cultural life of Ephesus.
4) Meryemana (The Virgin Mary's House)
Believed to be the last home of the Virgin Mary, Meryemana is a small, humble stone house located on a hillside near Ephesus. It's an important pilgrimage site, especially for Christians. The serenity and spiritual energy of the place make it a must-visit.
5) Efes Antik Tiyatro
The Efes Antik Tiyatro, a well-preserved ancient theater, could once seat up to 25,000 people. Its impressive structure allows you to visualize the grand performances and gatherings that took place here. Standing on the stage, you can almost hear the echoes of actors and musicians from centuries past.
6) Temple of Artemis (Artemision)
Though only one pillar of the Temple of Artemis still stands, its presence is a powerful reminder of its former glory as one of the Seven Ancient Wonders of the World. This sanctuary of the goddess Artemis was once the largest temple in the ancient world. Its historical significance makes it a key location in Selcuk.
7) Adaland Aquapark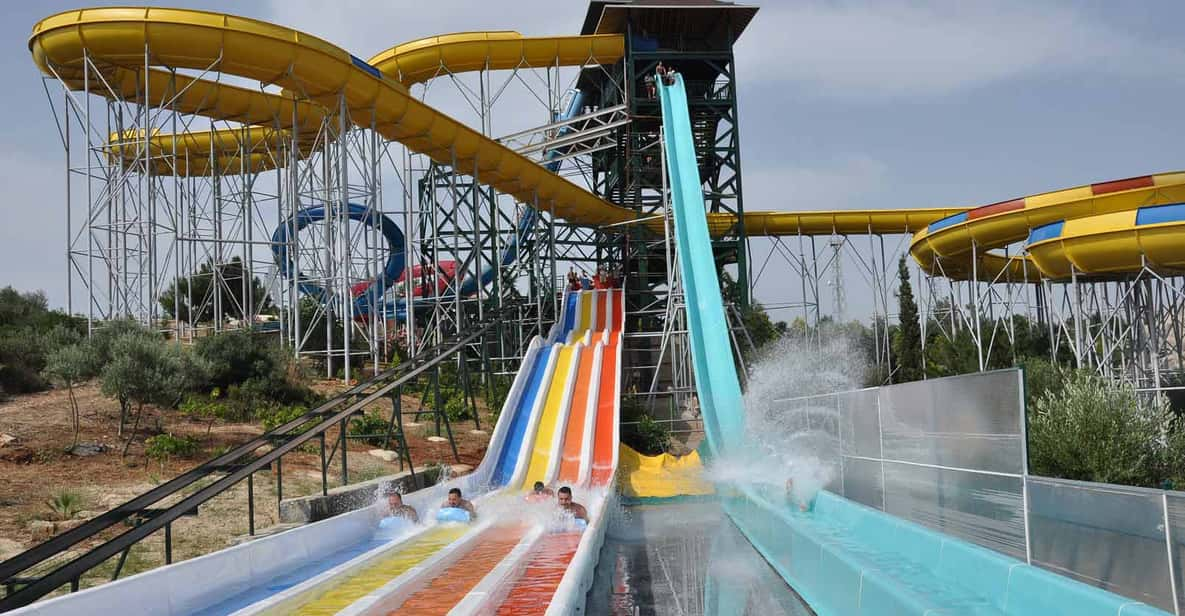 Credit: Source link
Adaland Aquapark is perfect for families and those looking for some fun in the sun. With a variety of slides, pools, and fun rides, it offers a refreshing break from historical exploration. The Aquapark is well-maintained and has facilities catering to all age groups.
8) Ephesus Terrace Houses
These well-preserved houses showcase the lifestyle of the wealthy citizens of Ephesus. Their intricate mosaics and frescoes are still visible, giving you a unique peek into the domestic life of the ancient Ephesians.
9) Cave of the Seven Sleepers
The Cave of the Seven Sleepers is shrouded in mystery and legend. It is said to be the place where seven young men slept for centuries, a miracle that was noted across many cultures. This site presents a blend of history and mythology that is sure to pique your curiosity.
10) St. Jean Church
The 6th-century St. Jean Church is believed to be the burial place of St. John the Apostle. The basilica, though in ruins now, is still an impressive sight. Its historical and religious significance, coupled with its architectural beauty, make it a must-visit site in Selcuk.
11) Ayasuluk Castle
Ayasuluk Castle stands as a testament to the strategic importance of Selcuk. The castle, which offers panoramic views of the surrounding area, paints a picture of the battles and conquests of the past.
12) Isa Bey Mosque
Isa Bey Mosque is a 14th-century mosque known for its intricate tile work. This grand mosque is an example of Seljuk architecture, blending various architectural elements from different cultures. The tranquility of the mosque and its beautiful courtyard offer a peaceful break from your day of exploration.
13) Ayasuluk Hill
Ayasuluk Hill offers a panoramic view of Selcuk and its surroundings. It is the perfect spot to enjoy the sunset and take some fantastic photographs. The views of the city's landmarks, nestled among the modern buildings, is truly breathtaking.
14) Çukuriçi Tumulus
Credit: Source link
Çukuriçi Tumulus is an archaeological site that dates back to the Bronze Age. Believed to be the burial place of a king, this site offers a peek into the burial customs of ancient civilizations. Archaeologists and history buffs will find this place particularly interesting.
15) Ramble through the streets of Selcuk
Finally, take some time to explore the streets of Selcuk. You can find hidden gems such as small shacks that serve delicious gozlemes, parks filled with cheerful, playing children, and lanes teeming with fruit-laden trees. Exploring Selcuk on foot lets you experience the city's charm up close.
Selcuk has many amazing hotels for every budget. It is ideal to stay in the city center, which is close to most of the attractions. From budget-friendly guest houses to luxury resorts, you can find the perfect accommodation to complement your Selcuk experience. Enjoy the historical, cultural, and natural beauty of Selcuk with this list of 15 must-do activities!
Frequently Asked Questions
Is Selcuk worth a visit?
Absolutely, Selcuk is definitely worth a visit! As the gateway to the ancient city of Ephesus, one of the best-preserved classical cities in the Eastern Mediterranean, Selcuk is a hub of historical and cultural richness. Beyond Ephesus, Selcuk boasts many other attractions like the Temple of Artemis, the Ephesus Museum, and the House of Virgin Mary, making it a must-visit destination for anyone interested in history, culture, and archaeology.
How long to spend in Selcuk?
The amount of time you should spend in Selcuk really depends on your interests. If you're a history buff or archaeology enthusiast, you could easily spend 2-3 days exploring the ancient city of Ephesus and other historical sites in and around Selcuk. If you're more of a casual traveller, a full day might be enough to see the main attractions. However, with its charming town centre, surrounding natural beauty, and unique cultural experiences, spending an additional day or two in Selcuk can provide a more relaxed and comprehensive experience.
Is it better to stay in Selcuk or Izmir?
Both Selcuk and Izmir have their unique appeals. Selcuk is a small, peaceful town with easy access to historic sites, which makes it ideal for those looking for a more relaxed pace and a focus on historical exploration. Accommodations in Selcuk often provide a more local, authentic experience. Izmir, on the other hand, is a bustling metropolis with vibrant nightlife, shopping, and dining experiences. It's a bit farther from Ephesus (approximately an hour's drive), but it provides more modern amenities and entertainment options. Therefore, whether it's better to stay in Selcuk or Izmir depends on your preferences. If your primary interest is in visiting Ephesus and enjoying a quieter atmosphere, Selcuk might be the better choice. If you prefer a lively city with more modern amenities, or if you plan to explore a wider region of Turkey, Izmir might be more suitable.
How do you get around Selcuk?
Getting around Selcuk is fairly easy due to its small size. Most of the town and its main attractions are easily walkable. For places a bit farther out, like the House of the Virgin Mary or Sirince, there are minibuses (called dolmuş in Turkish) that run regularly and are very affordable. Taxis are also available and convenient to use. If you prefer to explore at your own pace, consider renting a car or a bike, both of which are readily available in the town.