Kusadasi, a resort town nestled on Turkey's Aegean coast, offers an enchanting blend of vibrant culture, ancient history, and inviting beaches. Let's dive into the top 15 things you must do while in Kusadasi.
15 Things to Do in Kusadasi
1) Visit Dilek National Park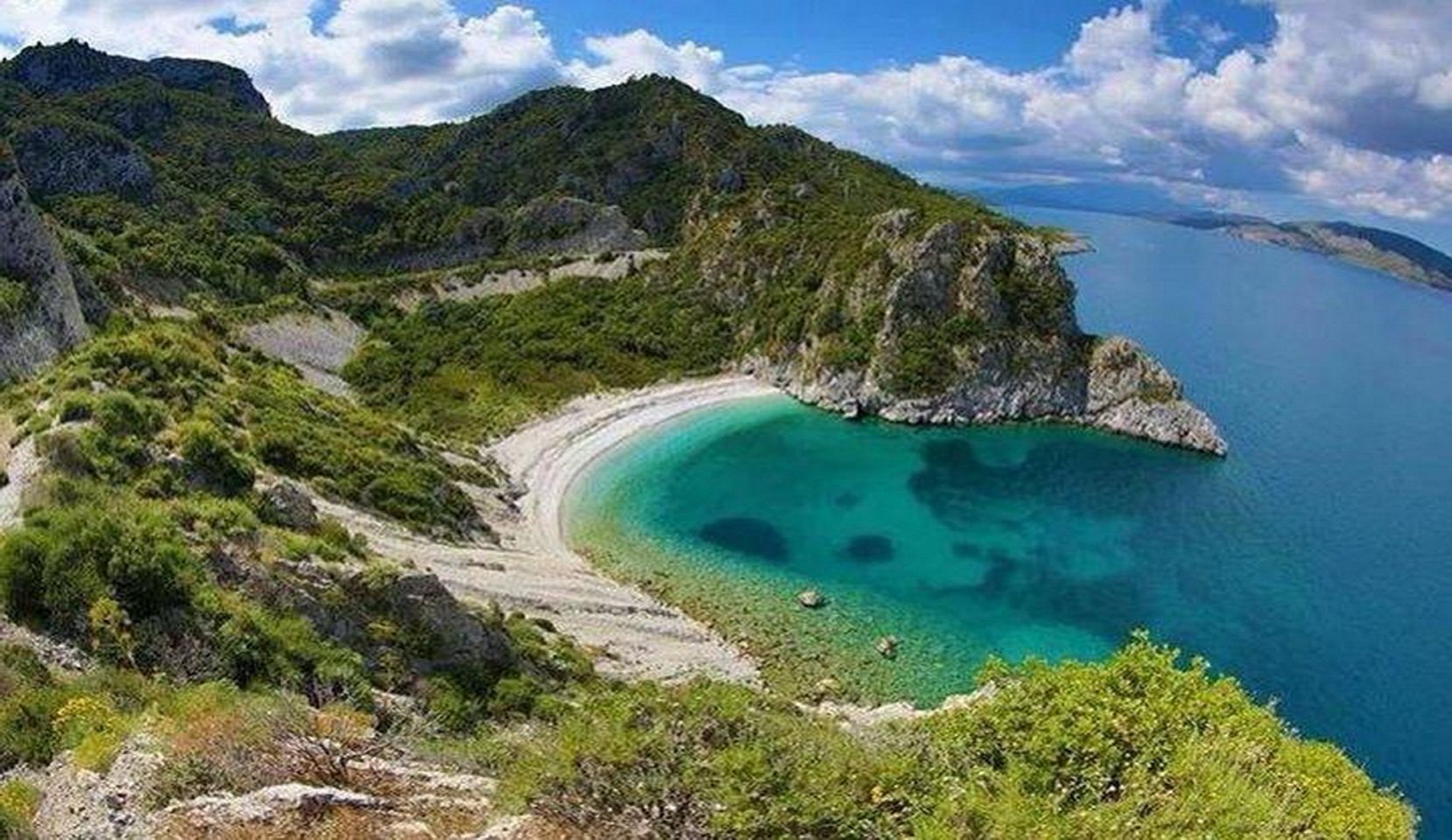 Credit: Source link
Dilek National Park, also known as Dilek Peninsula-Büyük Menderes Delta National Park, is a haven for nature lovers. You'll encounter diverse wildlife, breathtaking sceneries, and pristine beaches. Take the chance to hike, picnic, and spot rare animal species.
2) Explore Kusadasi Castle
The iconic Kusadasi Castle, located on Güvercinada (Pigeon Island), is a significant historical attraction. The castle's history, combined with the captivating views of the surrounding area, makes it a must-visit spot.
3) Spend a Day at Adaland
Credit: Source link
Adaland is one of the top water parks in Europe and a fantastic spot for families. The park offers a variety of water slides, a wave pool, and even a dolphin show, ensuring a fun-filled day for all.
4) Relax on Uzun Plaj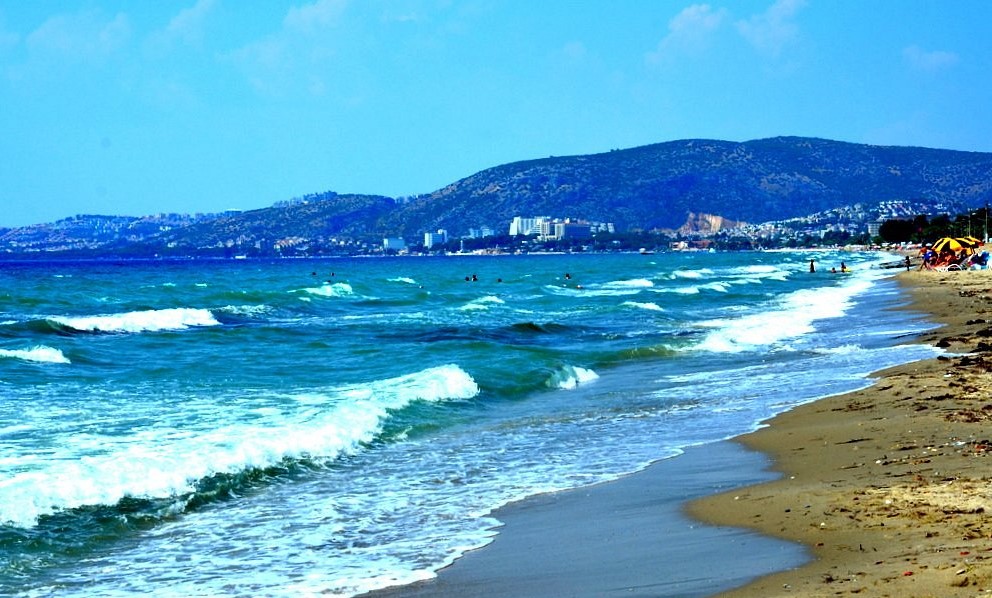 Long Beach (Uzun Plaj) is known for its golden sand and crystal clear water. You can simply bask in the sun or enjoy water sports such as jet-skiing or parasailing.
5) Shop at Kusadasi Market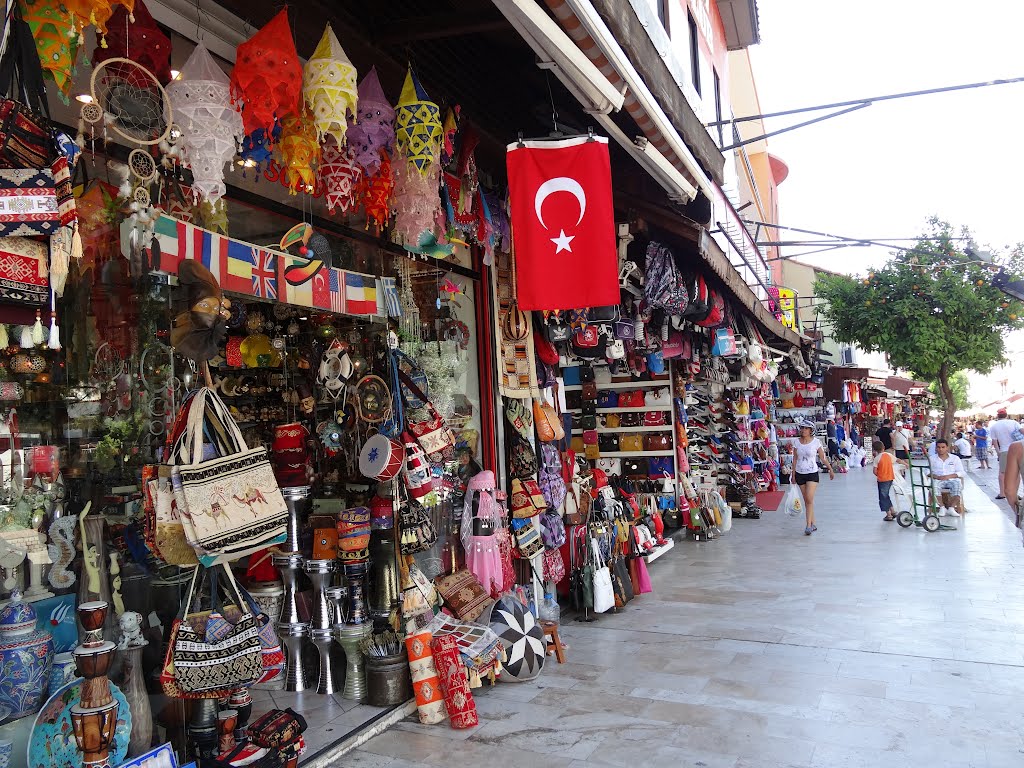 Credit: Source link
Immerse yourself in the bustling Kusadasi Market to shop for souvenirs, local handicrafts, spices, and textiles. Don't forget to haggle for the best price, it's part of the shopping experience!
6) Sunbathe at Ladies Beach
Credit: Source link
Ladies Beach is a hotspot for sunbathing and swimming due to its clean water and close proximity to the city center. The beachfront is lined with cafes and restaurants, offering an enjoyable day at the beach.
7) Have Fun at Tortuga Water Park
Credit: Source link
Another exciting water park in Kusadasi, Tortuga, promises a day of laughter and thrill. It offers a variety of slides and pools suitable for both children and adults.
8) Take a Boat Cruise
Credit: Source link
A boat cruise on the Aegean Sea is an ideal way to witness the stunning coastal landscapes of Kusadasi. Various cruises offer different experiences, such as sunset cruises, dinner cruises, or snorkeling trips.
9) Visit Ephesus
Ephesus, an ancient Greek city, is a UNESCO World Heritage Site that showcases the grandeur of the Roman Empire. Tour the ancient ruins, including the Celsus Library and the Great Theater, for an unforgettable history lesson.
10) Check out the Ephesus Archaeological Museum
To delve deeper into the history of Ephesus, visit the Ephesus Archaeological Museum. Here, you'll find various artifacts unearthed from the ancient city.
11) Visit Güvercinada (Pigeon Island)
Güvercinada, also home to Kusadasi Castle, is a picturesque island offering scenic walking trails and panoramic views of the town and the Aegean Sea.
12) Explore Dilek Peninsula-Büyük Menderes Delta National Park
Credit: Source link
Yes, it's worth mentioning twice! Hike through the different ecosystems, observe the wildlife, and enjoy the spectacular views this national park offers.
13) Watch the Sunset at the Harbor
Credit: Source link
The harbor in Kusadasi provides a perfect spot to watch the sun setting over the Aegean Sea. Enjoy a peaceful evening stroll, followed by dinner at one of the harbor's many waterfront restaurants.
14) Enjoy a Night Out at Sean's Karaoke Bar
Credit: Source link
For those seeking a vibrant nightlife scene, Sean's Karaoke Bar is the place to go. Sing your heart out and dance the night away with locals and tourists alike.
15) Visit the Temple of Apollo in Didyma
A short trip from Kusadasi will take you to Didyma, where the awe-inspiring Temple of Apollo awaits. This ancient sanctuary, once an important place of worship, is a testament to the architectural prowess of the ancients.
In addition to these activities, Kusadasi offers even more attractions, such as Aqua Fantasy Waterpark, Kusadasi Bazaar, and the sacred House of Virgin Mary. Plus, its beautiful beaches, including Ladies Beach, Long Beach, and Silver Sand Beach, make it a top destination for beach lovers.
Whether you're a history buff, a nature lover, a foodie, or a shopaholic, Kusadasi has something for everyone, making it an excellent choice for your next vacation.
Frequently Asked Questions
Is it Worth Visiting Kusadasi?
Absolutely! Kusadasi is well worth a visit. As a popular resort town, it offers a wide variety of experiences that cater to different interests. With its golden beaches, vibrant markets, historical landmarks, and thrilling water parks, there's something for everyone in Kusadasi. Not to mention, it's a great starting point for exploring the ancient cities of Ephesus and Didyma.
What is Kusadasi Famous For?
Kusadasi is famous for several reasons. Firstly, it's known for its proximity to the ancient city of Ephesus, which is one of the best-preserved Roman cities in the world. Secondly, Kusadasi is renowned for its beautiful beaches, such as Ladies Beach and Long Beach. The town also boasts lively markets where you can shop for local goods, and its water parks are some of the best in Europe. Moreover, Kusadasi's nightlife is quite vibrant, with many bars and clubs offering a great evening experience.
Is Kusadasi Expensive?
As with any tourist destination, the cost of visiting Kusadasi can vary significantly depending on your lifestyle and preferences. In general, however, Kusadasi is considered a relatively affordable destination compared to other European resort towns. Accommodation, food, and activities can be found to suit a range of budgets. Of course, high-end luxury options are also available for those who wish to splurge. It's always a good idea to plan your budget ahead of time and do some research on current prices for the time of your visit.