You probably heard about Cappadocia – one of the most famous touristic places in Turkey, which is located in the central part of Anatolia and includes such provinces as Nevşehir, Kayseri, Aksaray, and Niğde. Actually, there are other provinces as well, but they are not as popular with tourists.
Interesting that the region is located between three mountain peaks, and it is believed that they are still potentially active volcanoes: Erciyes Dağı, Hasan Dağı, and Göllü Dağ.
Volcanoes erupted about 60 million years ago, and the valleys filled with lava under the influence of the wind acquired an amazing, unearthly appearance.
Many attractions of this region are included in the UNESCO World Heritage List, and it is not for nothing that these natural areas are a unique phenomenon that you indeed will not find anywhere else in the world.
Cappadocia is a separate fabulous country inside Turkey connected with the history of Christian Byzantium and Muslim Turkey.
It is an amazing geological creation famous for its interesting lunar landscape and many temples. Here you can do both active recreation and study of antiquity.
In this article, I offer you 25 of the most popular things to do in this wonderful region that will surely please everyone.
1 – Take a balloon ride at sunrise or enjoy the view from the ground at Göreme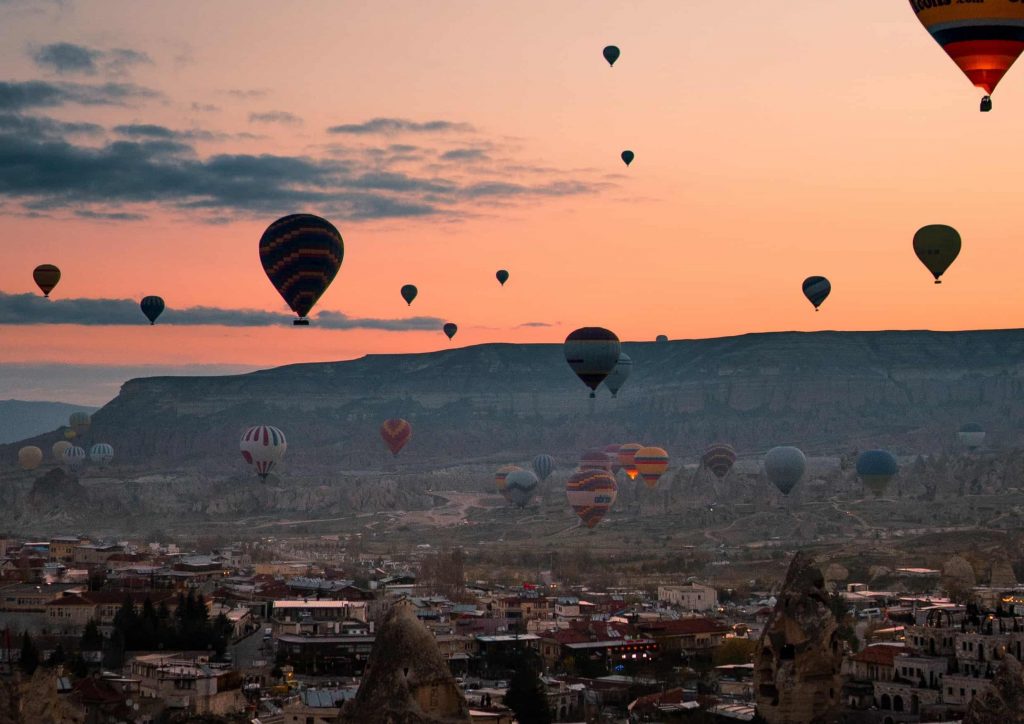 If we talk about Cappadocia, then you probably have seen pictures of impressive natural rocks of Göreme town (Nevşehir Province) surrounded by balloons that have flooded the Internet. Cappadocia has become a kind of symbol of tourist Turkey.
However, this spectacle is worth watching live: more than 200 balloons rise into the air at dawn together with the sun – a rather mesmerizing view. Especially, the nature of the place would leave you speechless.
Some people know it as the balloon festival Cappadox, but in fact, balloons are launched into the air almost every day.
The only rule observed is that the air temperature should not be below zero, and the weather should be favorable for the flight. So, not to miss this sight, keep an eye on the weather for the coming days.
As I said, the flights take place in the morning at dawn. If you decided to try it, you need to sign up and pay for a flight a few days in advance. If the flight did not take place due to the weather and you do not want to wait a day or two, the money will be returned to you.
It is very convenient because this entertainment is not cheap – 120 – 200 USD per person for about an hour of flight. There are also private flight options with a smaller basket and more in duration – up to 500 USD per person.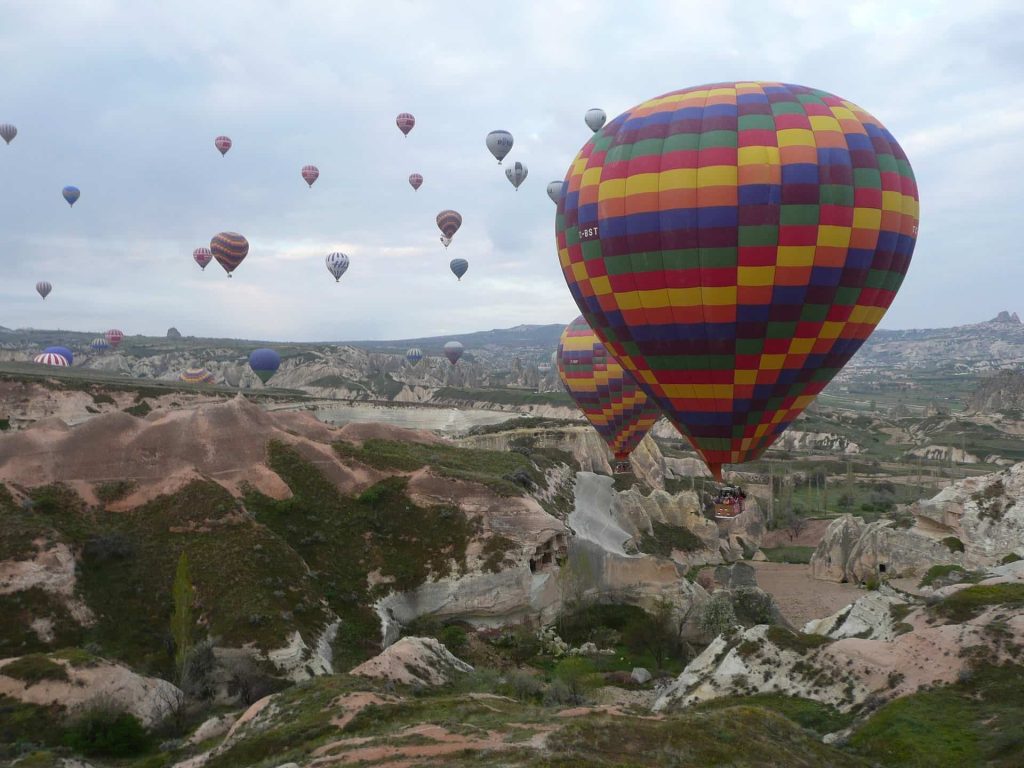 To book such a flight, contact one of the many travel agencies in Göreme, Ürgüp, Nevşehir, or any hotel in Cappadocia, including hostels. I advise you to choose proven companies such as Kapadokya Balloons, Cappadocia Voyager Balloons.
If you don't want to spend so much money on a balloon ride, then I suggest you to try the budget option – to watch this spectacle from the ground, almost any day from about 4 – 5 AM. Many travel companies also offer a sunrise photo session. However, even the very observation of this beauty is breathtaking.
The most suitable place to observe the flight of balloons in Cappadocia is the Göreme town and the high places in the vicinity of the town. Here you can see not only the start of the flight but also the process of preparing the balloons. There is also a good observation deck in the center of Göreme.
2 – Walk leisurely throughout the Göreme Open-Air Museum and view the ancient frescoes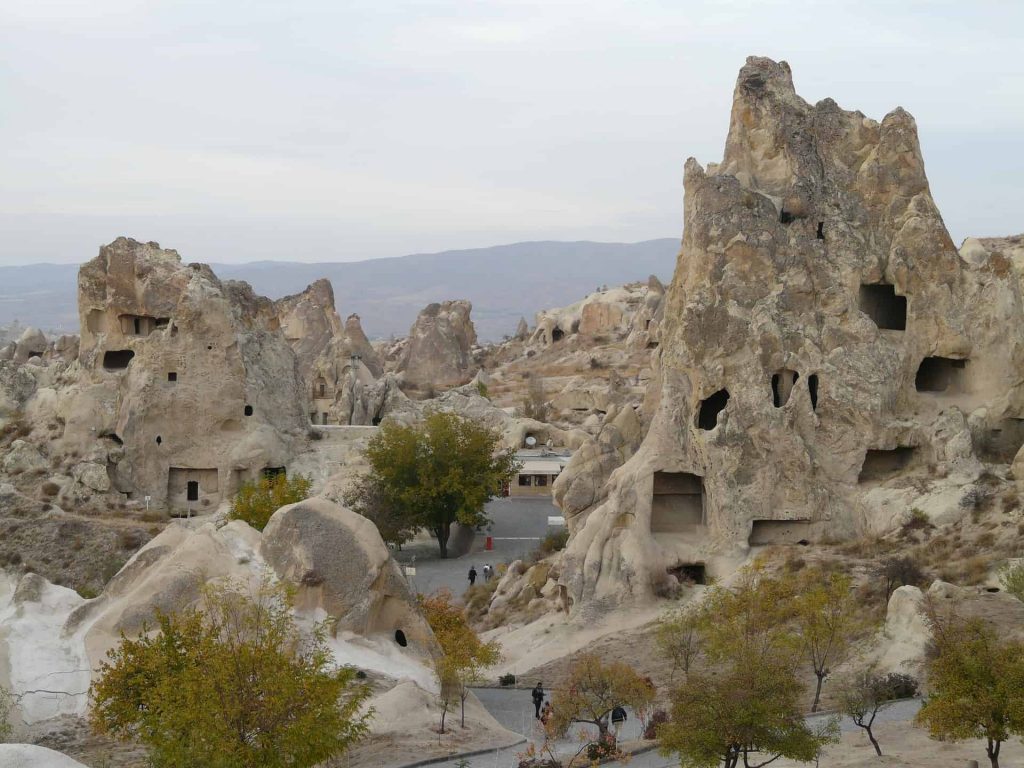 Göreme Open-Air Museum (sometimes called just Göreme) is perhaps the most popular attraction in Cappadocia, which is a UNESCO World Heritage Site.
The Göreme Open-Air Museum is a complex of two dozen rock-cut churches; unfortunately, only eight of them are available for visiting. The churches are carved into a soft rock called tuff.
Also, on the territory of the museum, there is a multi-story rocky convent (now closed to the public).
The well-preserved colorful frescoes of the 11 – 12th centuries are especially attractive to tourists. Don't forget to check beautifully restored frescoes in churches Tokalı Kilise, Karanlık Kilise, Elmalı Kilise, Azize Barbara Şapeli, Aziz Basil Şapeli, etc.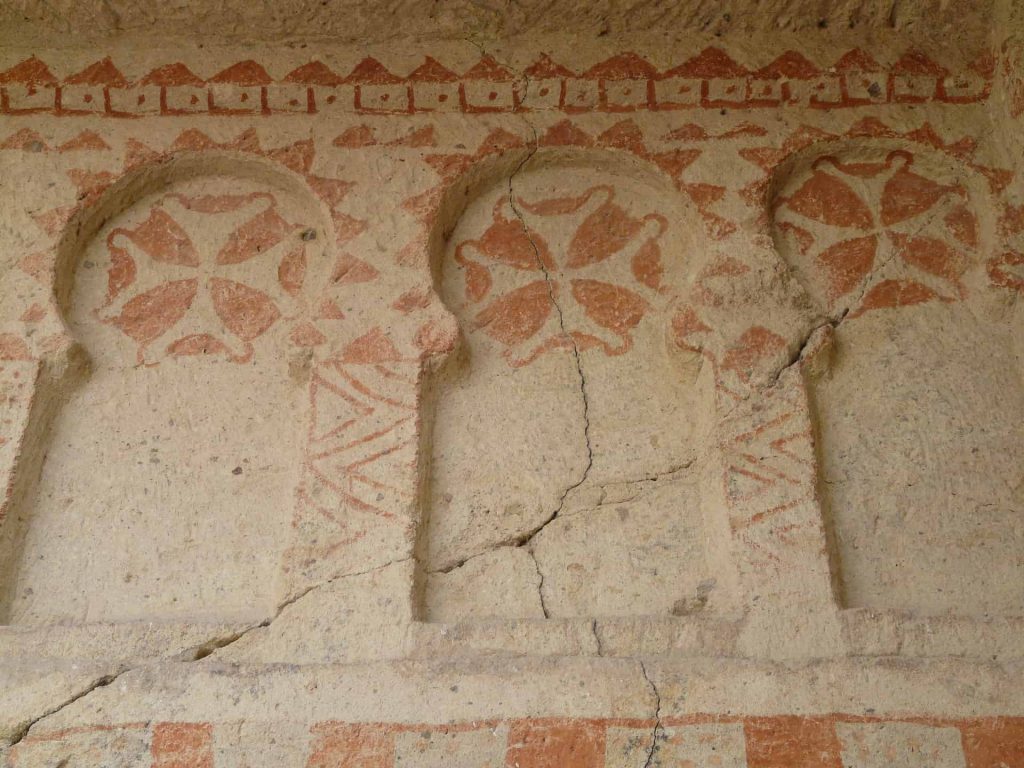 For your convenience, I advise you to come early in the morning. During the season, there are a lot of tourists who crowd the stairs and interfere with each other. And in the morning, you can explore all the sights of this museum without haste.
3 – Walk from Göreme to Üçhisar Castle, viewing incredible landscapes in the valleys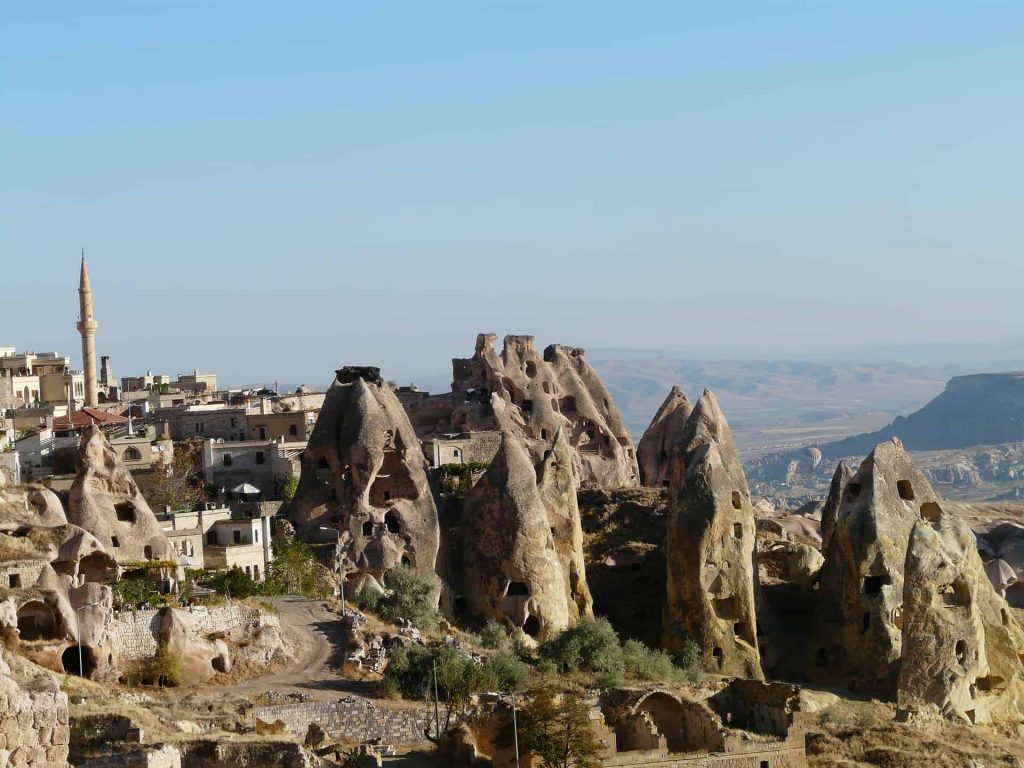 Besides the Üçhisar Castle (in Nevşehir Province), Cappadocia has several similar fortresses; nevertheless, this one is just the most famous.
Plus, Üçhisar is the closest to Göreme; therefore, you will not miss it. The area around it is replete with abandoned houses and dovecotes.
This castle is indeed very ancient and has been known since the Hittite period. Dozens of tunnels and interiors are carved inside the fortress.
Some of them were used for defense, while others have been adapted for residential and household needs.
Üçhisar was the tallest watchtower in historic Cappadocia. However, people eventually moved from here to the plains due to fear of the rocks' collapse as the population grew.
You can get to the Üçhisar Castle from Göreme town by bus or on foot. The entrance to the castle itself is also paid for about 1 USD but remember that you can only pay in cash.
4 – Visit Cappadocia's valleys, each of which has its own amazing peculiarity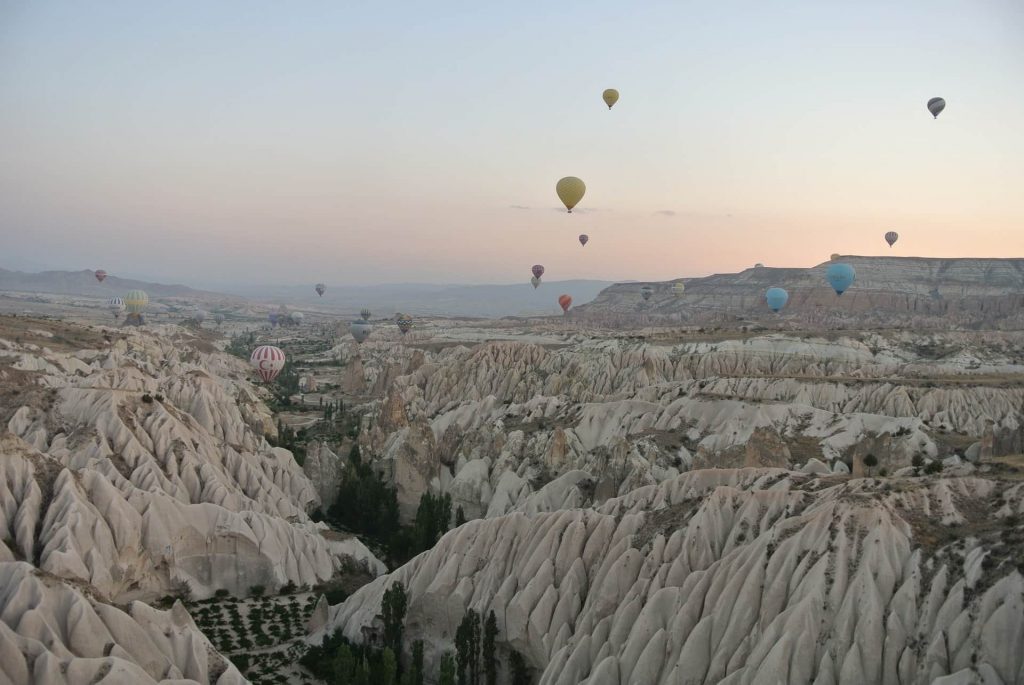 Cappadocia has completely unusual landscapes that are very difficult to confuse with anything else. This region, especially the vicinity of Göreme, is abundant in valleys, the most famous of which are the Love Valley (Aşk Vadisi), Red Valley (Kızıl Vadi, Kızıl Çukur Vadisi), White Valley (Akvadi), Pigeon Valley (Güvercinlik Vadisi, etc. Each of them is different in its own way.
Most of the valleys are within walking distance of Göreme. Therefore, you can move around these places not only by ATV, jeep, or horses but on foot, although it will take a lot of time and might exhaust you.
Let's start with the Red Valley, which is named so because of the reddish color of the rocks that makes it kind of mystical.
The observation deck offers stunning views of the surrounding valleys. Besides, there is a tradition among tourists to come here in the evening to watch the sunset.
White Valley, including the Honey Valley (Bağlıdere), is a picturesque and very popular one with a length of 4.9 km. It covers a small Honey Valley, the Love Valley, and, in fact, the White Valley itself, which is located between them.
Remember that there are actually two Love Valleys, and this one is more popular than the other one. Below (in a separate section), you will find information about the famous Love Valley, with finger/mushroom-shaped rocks, which is printed on all postcards and travel guides of Cappadocia.
Pigeon Valley is a fairly popular walking route. It is called so since the valley has the largest number of rock dovecotes.
The first part of the valley, more popular for walking, starts from Göreme and stretches to Üçhisar Castle, slightly wrapping around it. However, the most of dovecotes are in the second part of the valley, which tourists visit less often.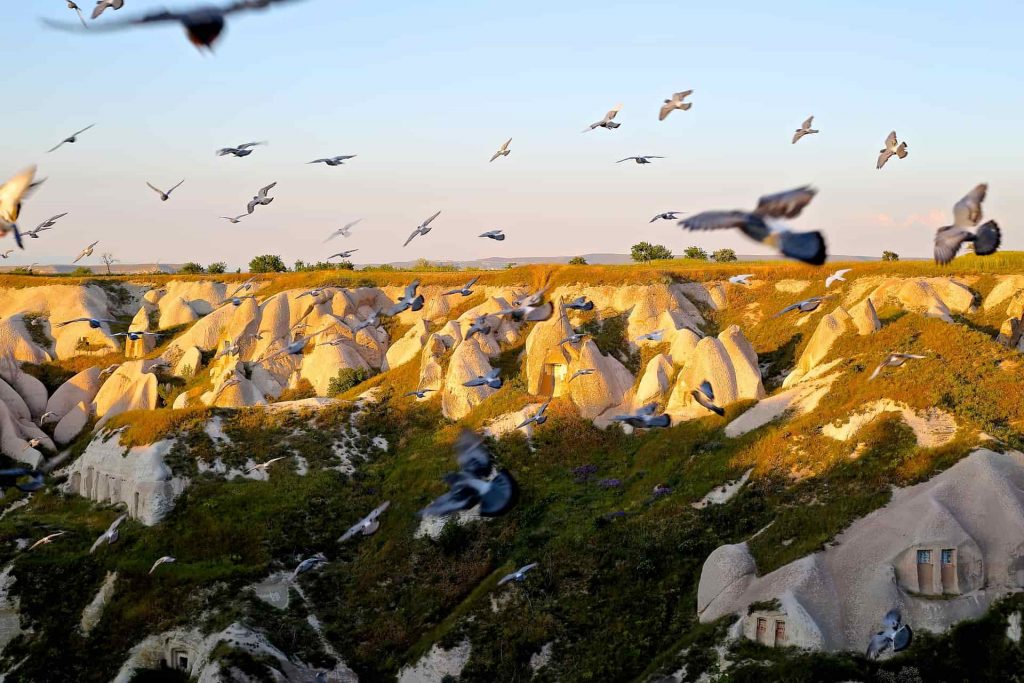 Personally, if you are traveling on your own, I advise you to start from the Pigeon Valley, then you can check the Üçhisar Castle behind it. Then turn towards the Göreme Open-Air Museum, and right behind it, you will find a path to the Red Valley and the White Valley.
5 – Visit the Love Valley – one of the symbols of touristic Cappadocia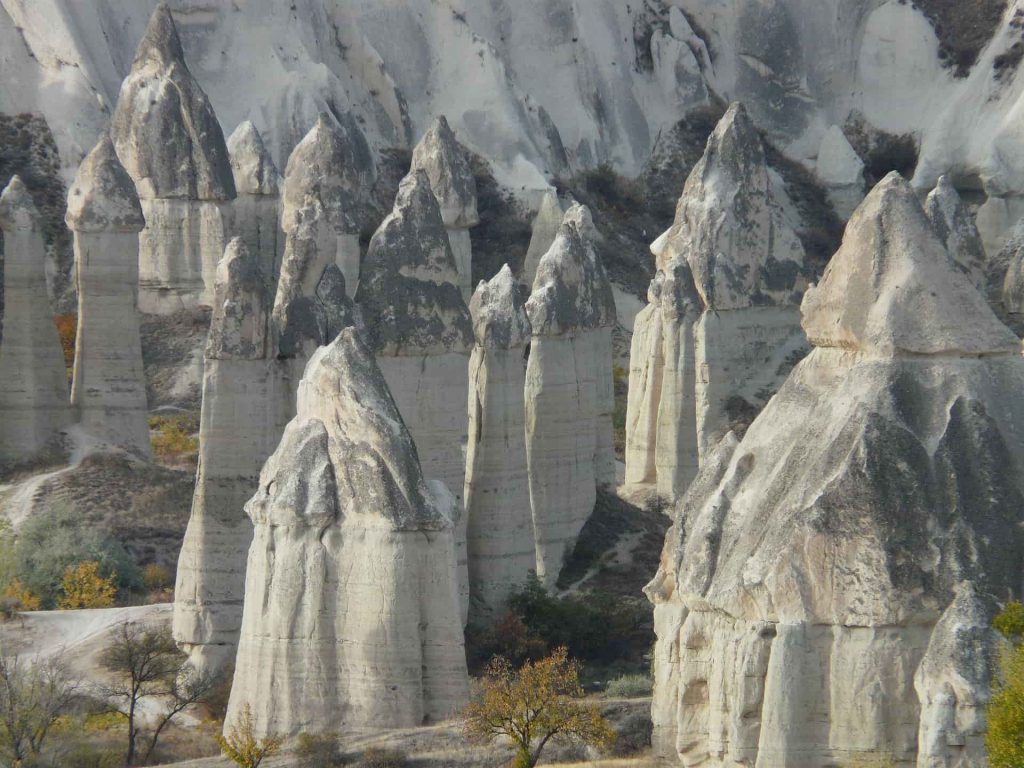 As you can see, there are many beautiful valleys in Cappadocia, but the most interesting and popular is the Love Valley. Here you can find the most unusual rock formations in the region.
Love Valley, together with the Honey Valley, are the parts of the White Valley; here, you can see bizarre cliffs that look like mushrooms or fingers.
It is not known exactly how they were formed: one of the versions says that before, this whole place was underwater, except for the tops that stuck out of it. The water washed away the lower part and eventually left, and the rocks remained standing on the peeled legs.
However, a more plausible version is about volcanic eruptions that flooded these places and, as a result, formed a solid rocky top that was not weathered, unlike the soft bottom tuff.
Indeed, it is literally the best place for making photoshoots since such amazing stones is a unique phenomenon, which will serve you a perfect background.
6 – Taste local testi kebap cooked in pots and special Cappadocian tandır bread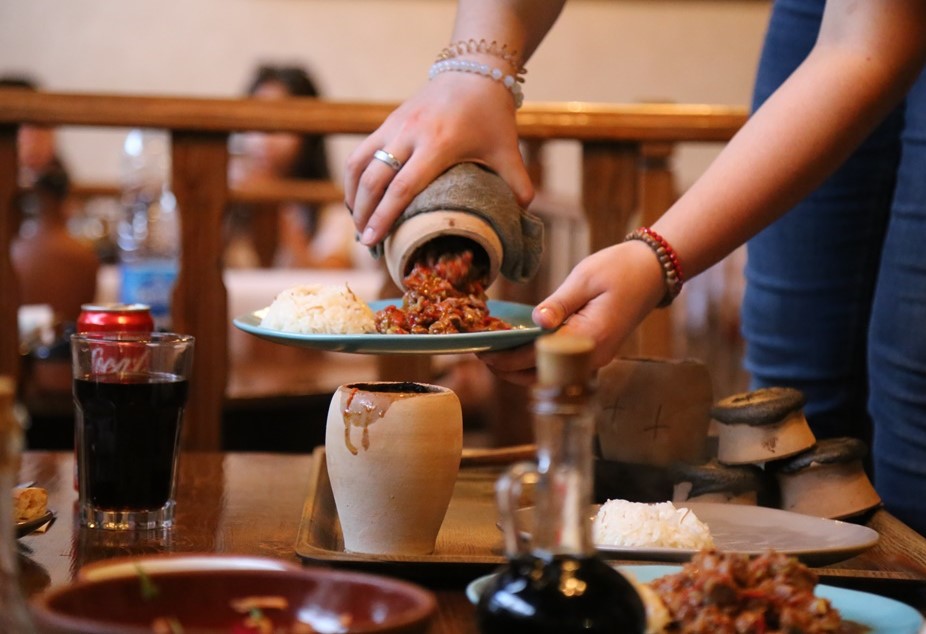 As you walk through the valleys, don't forget about the wonderful foods of the region. The cuisine of Cappadocia is a special cuisine that is very different from Turkish in general.
Since Cappadocia is a rather cold region with long and even snowy winter, meat dishes, all kinds of pots, and tandır (tandoor) are very popular here.
The real gastronomic attraction of Cappadocia is its testi kebap, or also called 'pottery kebab'. This dish is prepared in a tandoor in an earthen pot, which is smashed in half with a large knife before your very eyes on the table.
Inside, there is lamb with vegetables: juice flows from the dish, which remains in the rim of the pot and can be dipped into with the freshest bread, which is made according to a special Cappadocian recipe in the tandoor.
Altogether, this is a real hearty Cappadocian meal that will leave a wonderful experience.
Testi kebap is served in almost all cafes and restaurants, and you can also visit restaurants in the caves that create a special incredible atmosphere. Learn more about the top restaurants in Cappadocia here.
7 – Taste local wine, made according to ancient traditions of winemaking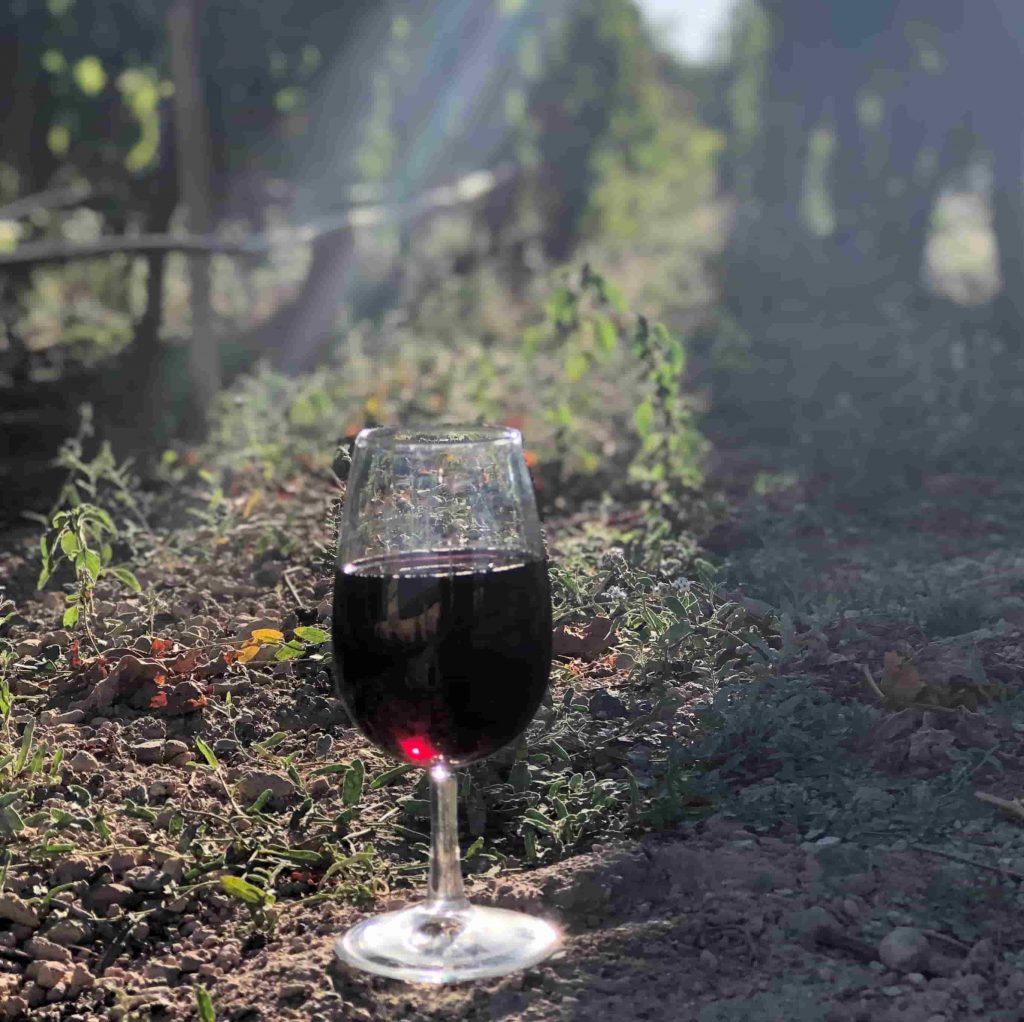 Cappadocian wines have been valued since ancient times due to the excellent natural conditions for growing rare grape varieties. The local vine is unsightly, but it doesn't need irrigation. Powerful roots themselves extract moisture from the soil.
Cappadocian wine is astringent. It is believed that the vineyards are fertilized with a special natural material; hence, it provides such a special rare taste.
Some wineries still make wine according to ancient traditions. You can visit Mahzen Sarap Evi, Kocabağ Winery, and Turasan Winery for a guided tour on local winemaking, or just try wines from Sarafin, Sevilen Group, Kavaklıdere marks.
8 – Watch an amazing 3D show and get acquainted with the history of Cappadocia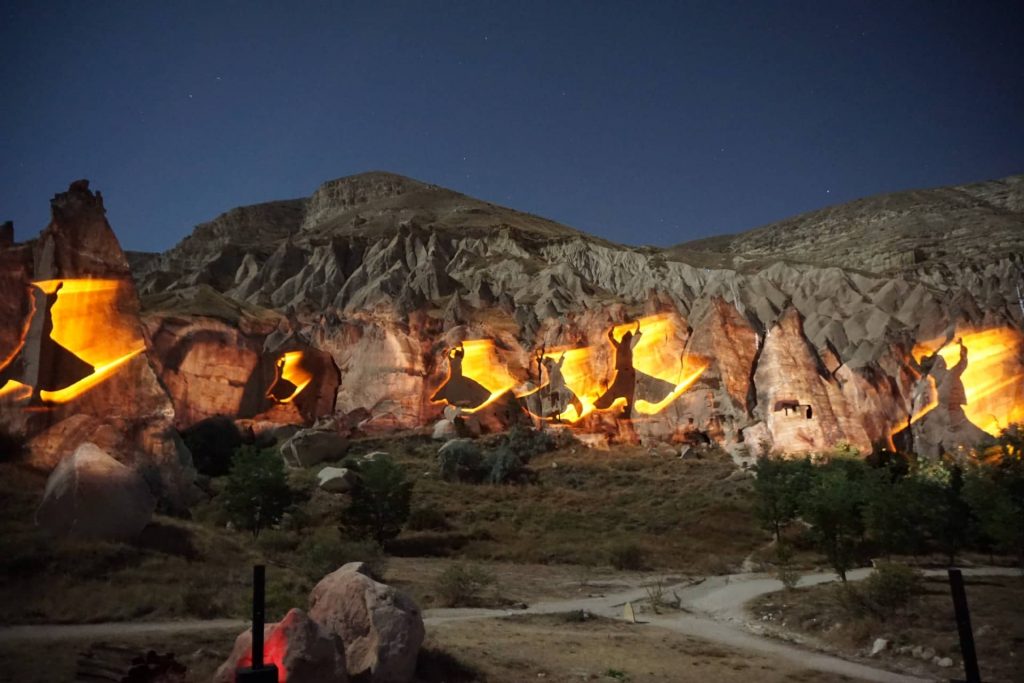 You already know that the valleys of Cappadocia are full of bizarre stone mushrooms, which, by the way, are also known as Peri Bacaları, which in Turkish means 'fairy chimneys'.
This name originated in the days when people used stone mushrooms as shelters.
The fire of a candlelit in the rooms of stone mushrooms, cut inside at night, gave out a little light. Those who did not know that there were people inside imagined that it was fairies, who conjured in their fireplaces, and stone mushrooms were their magic chimneys.
The Zelve Mapping company organizes an educational 3D show that introduces the history of Cappadocia right on Peri Bacaları.
Images are projected directly onto the rocks in the Zelve Valley, and the show itself tells the story of the civilizations that lived in the vastness of Cappadocia.
And believe me, this is a truly magical show in the evening light. If you decide to visit it, you can choose the date and buy a ticket in advance for 13 USD per person on their official website.
9 – Visit picturesque Selime Monastery on top of the rock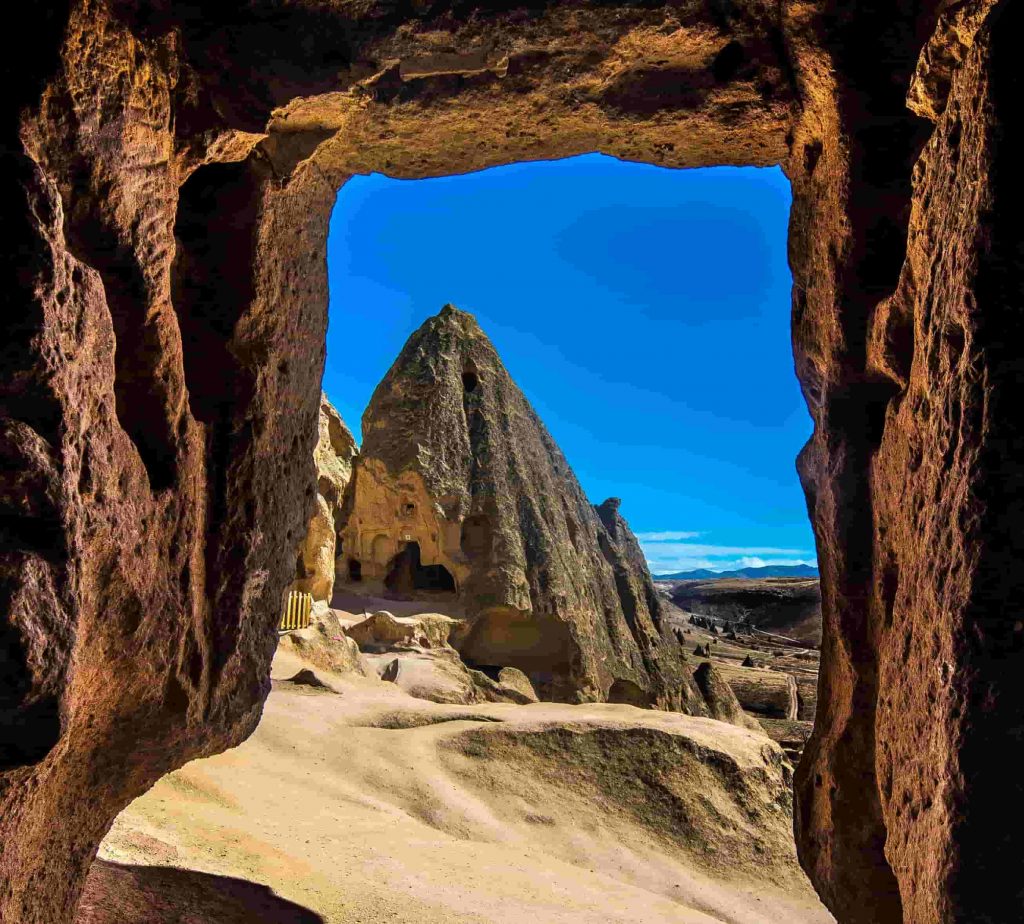 The small Cappadocian village of Selime is often mentioned in tourist brochures as one of the points from which tourists can get to the green Ihlara Valley (check below), famous for its churches. But a few know that the village also hosts Selime Monastery – the highest rock monastery in Cappadocia.
From my own experience, I can say that of all the places in Cappadocia, besides, of course, Göreme Open-Air Museum, the Selime Monastery impressed me the most.
Like many other landmarks of Cappadocia, Selime Monastery is carved into soft volcanic tuff. There are many frescoes in the monastery which date back to the 10 – 11th centuries. The dark arches and columns look very impressive, the soot gives them a medieval charm.
The monastery is located at a height, all its rooms are connected by curious passages and grottoes, so there is where to wander. The place is near the Ihlara Valley, in the province of Aksaray.
10 – Check the views and old temples of the Ihlara Valley for a closer look at the history of Cappadocia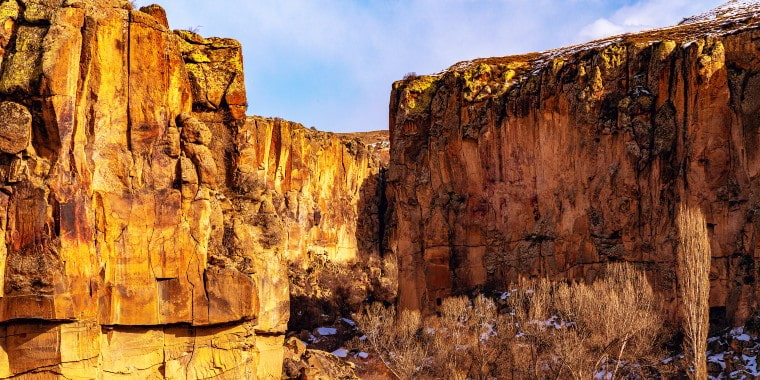 Not every tourist knows about the Ihlara Valley. It is located 70 km from Göreme, and therefore, not many tourists go there on their own. I advise you to come from Göreme with an overnight stay in one of the hotels and on the way to see the underground city of Derinkuyu.
Ihlara Valley, located near the village of Ihlara, is one of the most equipped and interesting valleys in Cappadocia. The entrance to the valley is paid – 6 USD. The trail runs along the bottom of a very deep and picturesque canyon, which contains a huge number of rock-cut churches with wonderful frescoes.
More than 100 churches here are now known, about 20 of which are available for visiting. Many cave churches have well-preserved wall frescoes. The frescoes are made in different styles: Syrian, Coptic, Armenian. Therefore, for more experienced tourists and history lovers, I sincerely advise visiting this place.
11 – Visit the mysterious multi-story underground cities of Cappadocia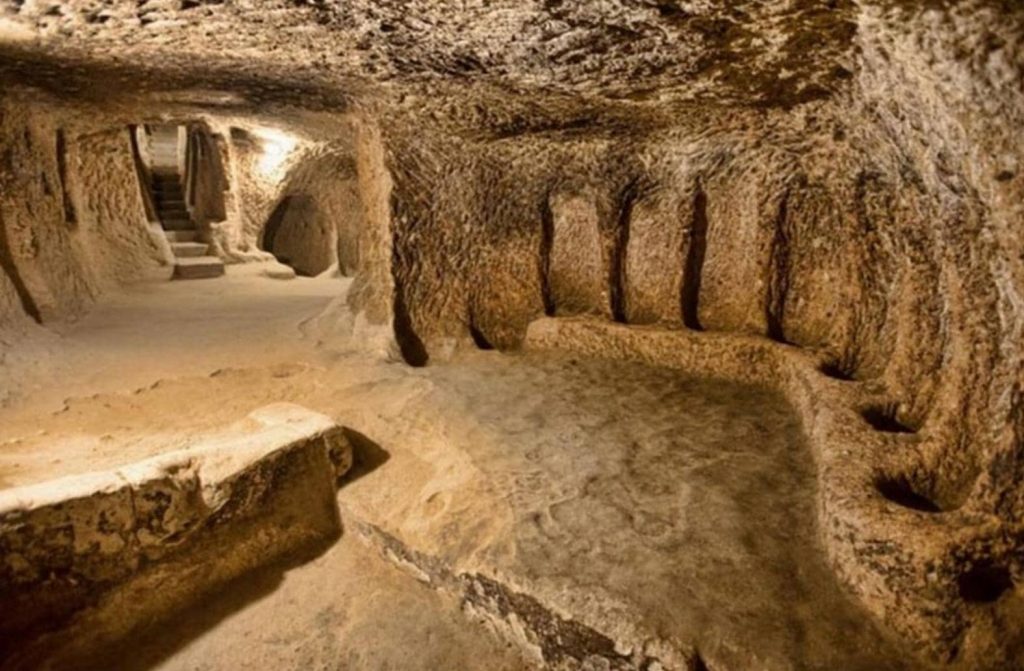 There are a lot of caves in Cappadocia. Excursions to one or another underground city are sold on every corner in Göreme. The most popular of all are trips to Derinkuyu and Kaymaklı. But of course, you can get there on your own (by bus transit through Nevşehir or, for example, by renting a car for a day).
Derinkuyu, for example, is very interesting: it has 8 underground floors, which housed living quarters, schools, churches, wine cellars, and much more.
To find Derinkuyu, you first need to get from Göreme to Nevşehir (to the final stop) and then change to a minibus that goes to the underground city. But if you are afraid of confined spaces, I strongly advise you not to put yourself at a risk.
12 – Stay in a real cave with all modern conveniences

By the way, did you know that in Cappadocia you can not only walk through the caves but also live in a cave? Where else can you find that? There are a lot of cave hotels in Göreme, and each of them is distinguished by its interesting design.
For a complete immersion in the atmosphere of old Cappadocia, this is a good chance, since this type of accommodation can be found in a few places in the world.
There are many hotels with good reviews, such as Cappadocia Cave Suits, Mithra Cave Hotel, Traveler's Cave Hotel, Kelebek Special Cave Hotel, etc. Check here for more hotels that we recommend.
An interesting hotel located in Ayvalı Village, which I recommend for eco-friendly tourism, is Aravan Evi. They indeed have a purely eco-friendly approach. The food is prepared with ingredients from their own garden, and which you can prepare yourself at the hotel. For lovers of the rustic flavor, it is a very pleasant place.
13 – Challenge your imagination at Imagination Valley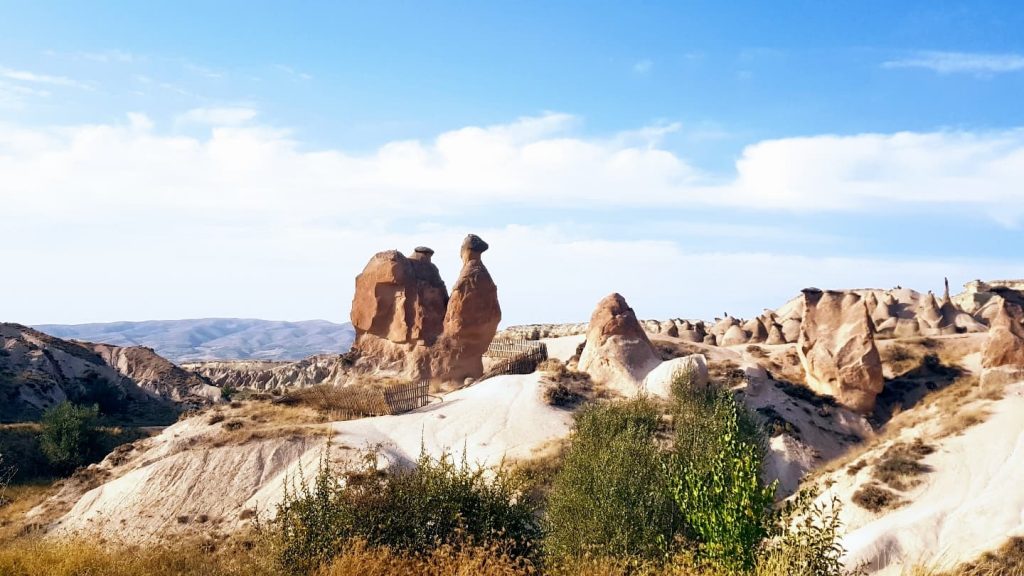 The Devrent Valley, also known as the Imagination Valley (Hayal Vadisi), is one of the most stunning valleys in Cappadocia. Although it has never been inhabited and does not have the cave temples and tombs inherent in the Cappadocian countryside, it is unique in its forms.
Nature itself took part in the creation of its bizarre reliefs, skillfully destroying and weathering the surface of the rocks for thousands of years. It is called so because by visiting it you can give free rein to your imagination and think about the many forms that the rocks have taken.
Due to natural features, the stone took on various forms resembling animals, people, and without much effort of imagination, in the rock formations you can recognize a camel, a brood hen, doves merged in a kiss, Napoleon, and even the Virgin Mary with a baby in her arms.
The Devrent Valley is located a 10-minute drive from Göreme, along the Ürgüp – Avanos highway.
14 – Walk under the moon through the unbelievable landscapes of Cappadocia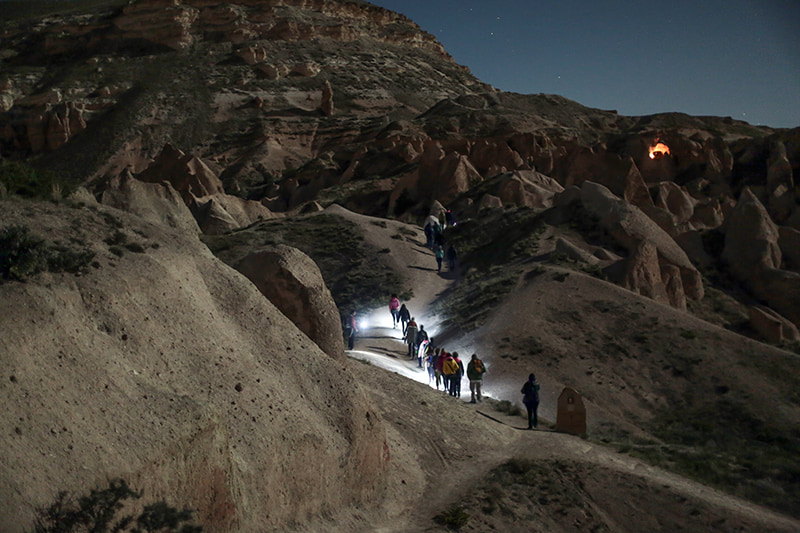 Hiking trails through the region's amazing valleys are very popular in Cappadocia. And walking in the light of the full moon among bizarre rock formations is an incomparable feeling. I would say this is a unique tour that only one company provides.
For the first time such tours were launched by travel agencies Uzunetap and Argos Culture and Arts in 2015, but they still work, and you still can enjoy amazing landscapes of Cappadocia with a full moon.
This 3-hour walking tour takes place once a month and only on the full moon. The tour begins in the Rose Valley (Güllüdere), from where the walking tour begins. During the tour, you can see Haçlı Kilise, Kolonlu Kilise, Red Valley, and many other sights.
It also includes a small atmospheric concert of classical and traditional music in the cave. The tour costs 50 euros per person but it really worths its money. I think at night you will have more opportunities to be convinced of the veracity of the legends about the fairy chimneys.
15 – Ride beautiful purebred horses and enjoy the amazing unearthly countryside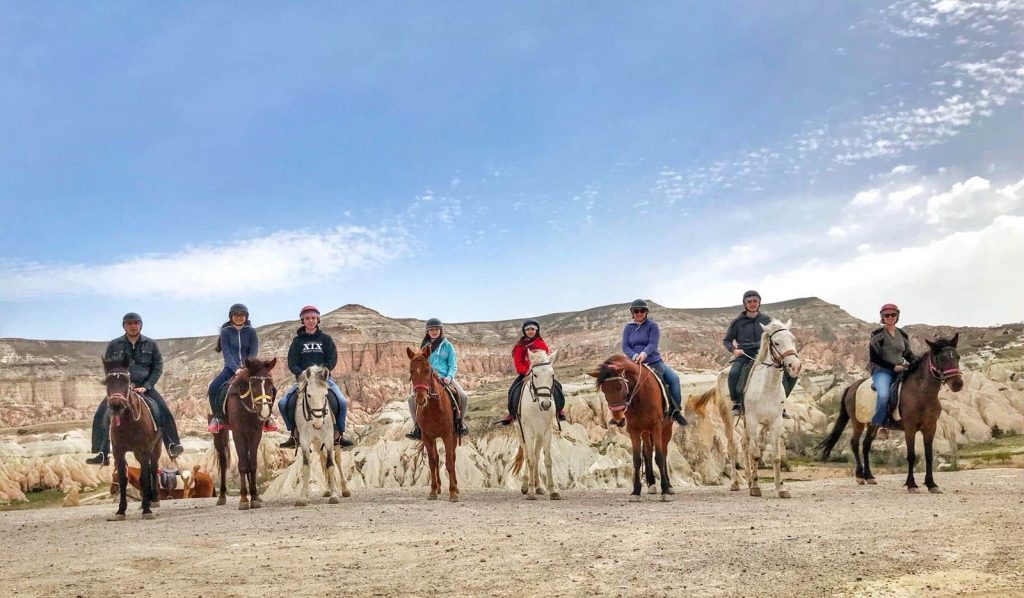 The word Cappadocia used in the language of the ancient Hittites means 'the land of thoroughbred horses', as the main treasure of Cappadocia was beautiful horses.
A horse tour through the magical valleys of Cappadocia is one of the most enjoyable activities in the region. In my opinion, taking a beautiful horse tour is also one of the best ways to experience the magical essence of the region and explore the unique beauty of Cappadocia.
Various ranches offer their services, but the most popular and trusting ones are Moonlight Horse Ranch and Cemal Ranch.
I recommend this tour for those who want to quickly walk through the main sights of Göreme and, at the same time, stock up on some great photos. Price starts from 60 USD per person, which includes 2 hours of horse tour, breakfast, a guide, and transfer to a hotel.
16 – Visit free pottery workshop on modeling clay pots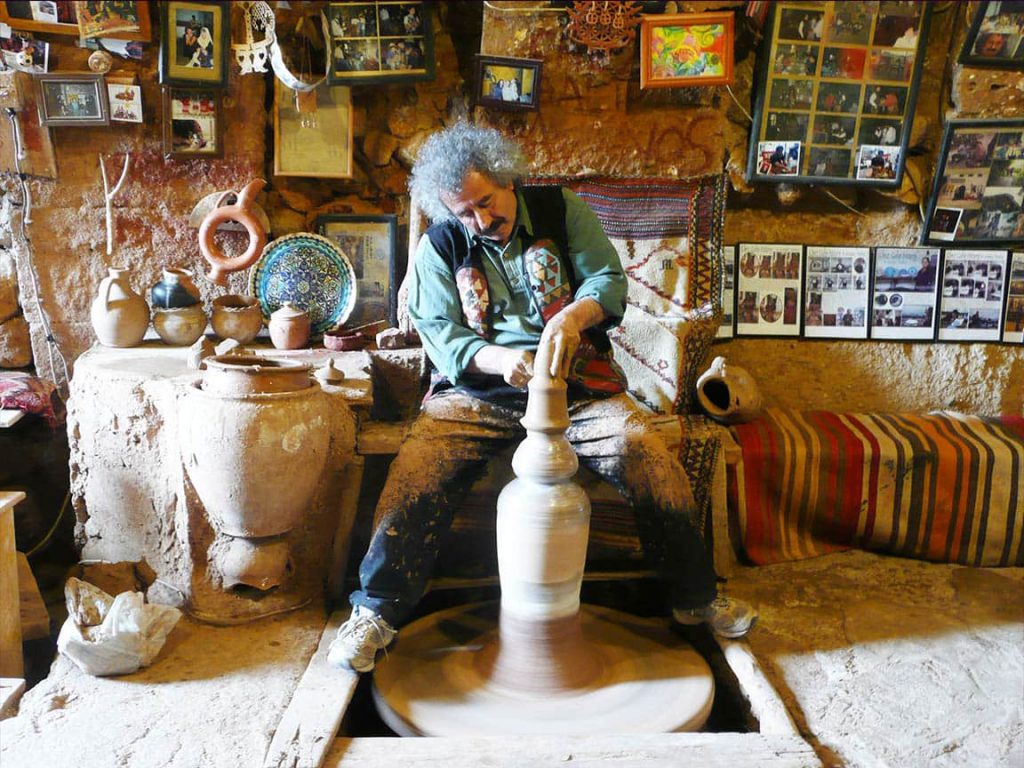 Pottery art in Cappadocia, namely in Avanos town (Nevşehir Province), has existed since the time of the Hittites. And this is not surprising since Avanos is located on the banks of the Red River (Kızılırmak), which is called so because of the abundance of clay.
So, there are all the conditions for the creation of beautiful hand-made pots, for which Cappadocia is famous.
A real celebrity also works here – the world-famous pottery master Chez Galip, who is also popular for his Hair Museum (see below). Chez Galip is the representative of the 6th generation of pottery masters of Avanos.
He also lectures around the world on pottery techniques and is revered for his great contribution to the preservation of Turkish pottery traditions.
I also advise you to pay attention to the local pottery shops, which are a lot, and where you can buy inexpensive dishes with a beautiful color finish as a souvenir. Some of these local pottery stores also give free workshops for tourists.
17 – Try your luck at the Hair Museum, included in the Guinness World Record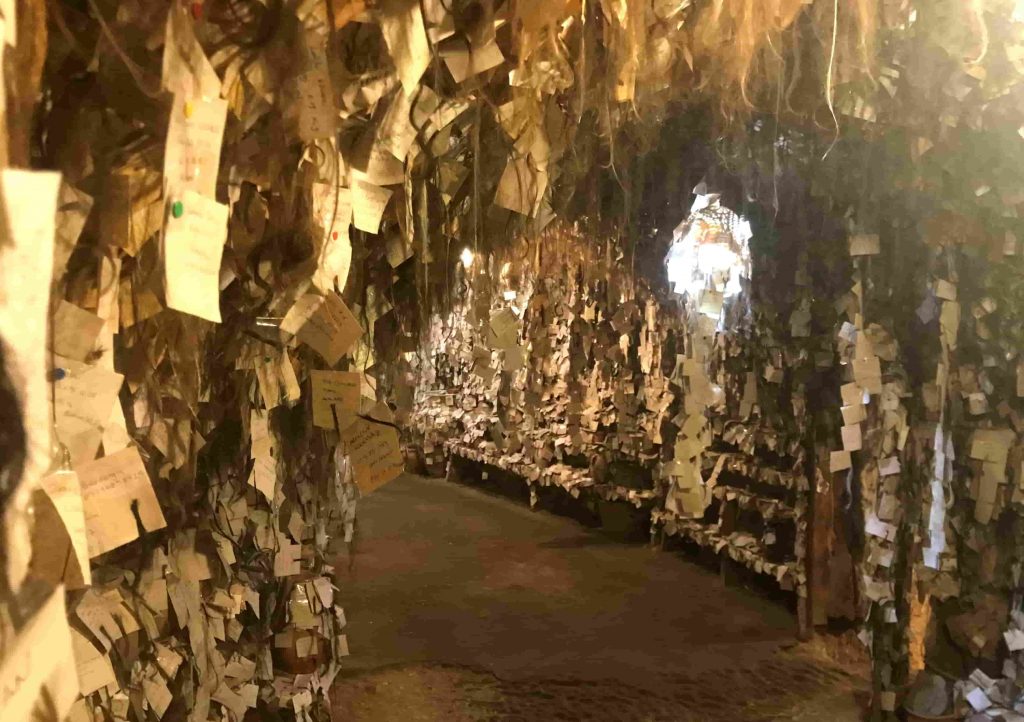 Chez Galip, which was already mentioned as a pottery master of Avanos, also opened his amazing museum of women's hair. The number of multi-colored strands of different lengths totals more than 16,000 copies.
Chaz Galip tells a half-legend-half-story about how 30 years ago, his French girlfriend, going to another country, left him a lock of her hair as a keepsake.
Seeing this strand tied with a ribbon, grateful visitors to Chez Galip's shop also began to leave their hair with notes and their contacts as a souvenir. So, the master has gathered a huge collection that is replenished by visitors to this day.
Besides, twice a year, in June and December, the master allows the first visitor to his pottery shop to choose 10 strands in the museum. So, if you are lucky enough, you may be one of the lucky ones whom later Chez Galip invites to take a free workshop, providing full board in his home.
18 – Buy a carpet that will remind you of the motives of Cappadocia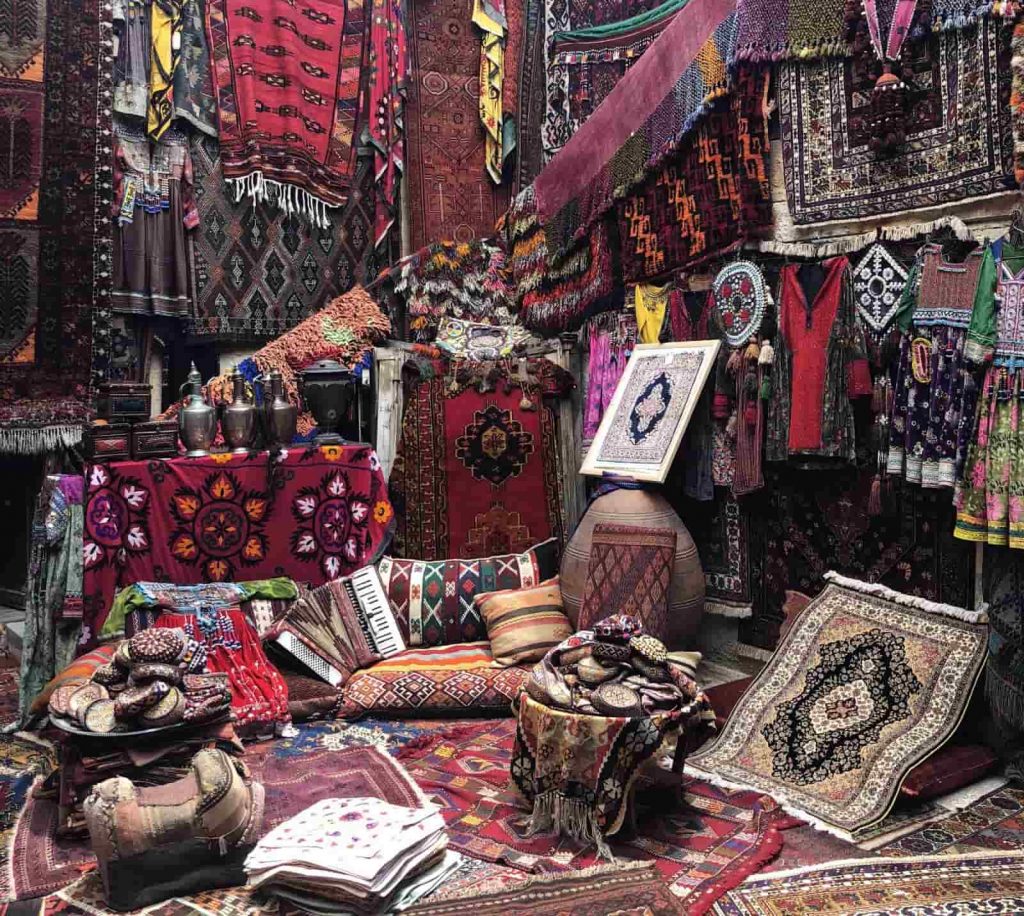 Carpet Galerie İkman is one of the most famous carpet stores in Göreme. And, of course, crowds of tourists flock here and line up for photoshoots.
However, this place is really very bright and picturesque. Payment for a photo session depends on time – from 6 USD. But I advise you to come here not only because of the beautiful photos, with which you can score your phone but also for pleasant shopping.
The carpets that are handcrafted at Carpet Galerie İkman will never fail to remind you of such attractive and vibrant Cappadocia on dark winter evenings. The prices here are, of course, quite high, but once you buy a carpet, it will serve you for a long time.
19 – Visit Cappadocia in winter for the Erciyes Ski Resort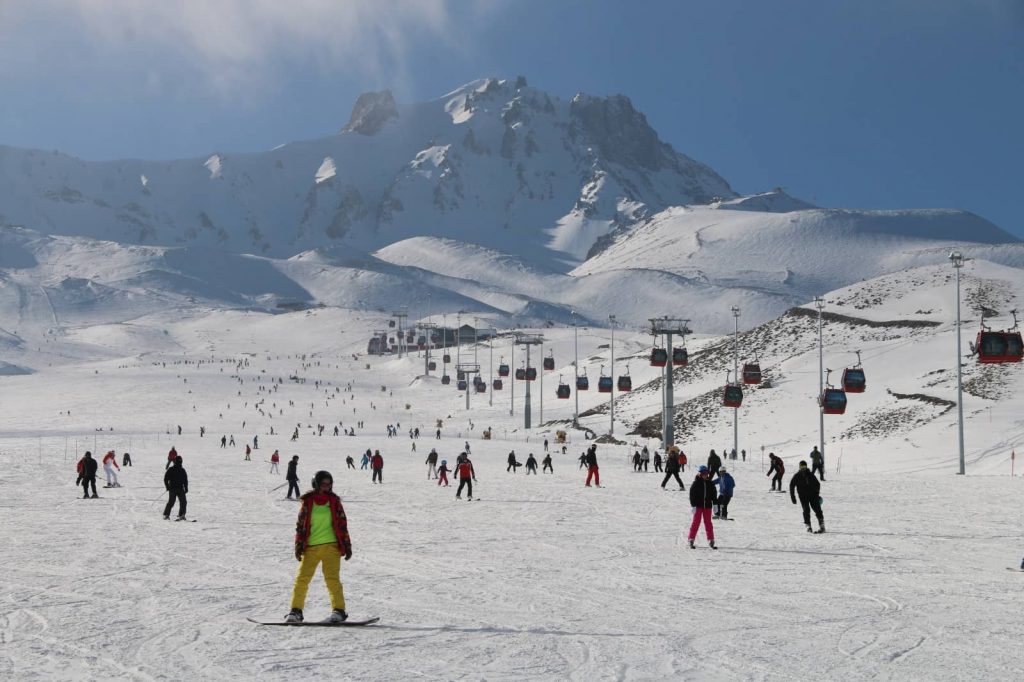 If you decide to come to Cappadocia in winter, then most likely you came to the Erciyes Ski Resort.
Erciyes is one of the most popular resorts in Turkey, where all the conditions for a comfortable ski holiday are created – a variety of trails for skiing and cross-country skiing, lifts, ski schools, and individual lessons with an instructor.
Erciyes is the only ski resort in the country on the slopes of the dormant volcano.
The resort is located in the southeastern Anatolian plateau in eastern Cappadocia on Mount Erciyes, 27 km from Kayseri Airport, which is easily accessible by taxi. There are also regular minibusses to Erciyes from the city center.
20 – Walk barefoot on Tuz Gölü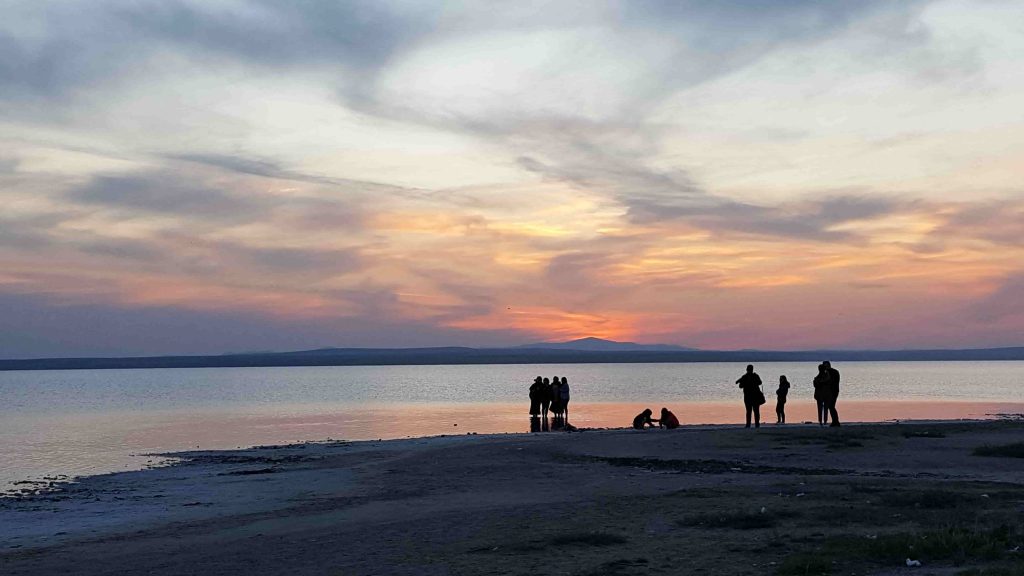 Tuz Gölü (Salt Lake) is the second largest lake in Turkey after Lake Van. At the same time, this lake is one of the saltiest lakes in the world.
Tuz Gölü is a natural wonder that will meet you on the border of the Aksaray Region. The snow-white salty expanses invite you to take off your shoes and walk barefoot to these unearthly places. The salinity of the lake water is very high that gives it a beautiful pink hue. Tuz Gölü is also home to pink flamingos.
This place is not quite a foreign tourist destination because it is located quite far from Göreme, practically, on the edge of Cappadocia. However, if you have the opportunity, be sure to check it out; it is definitely worth watching the sunset in this place. Get ready to enjoy gorgeous colors and a special atmosphere.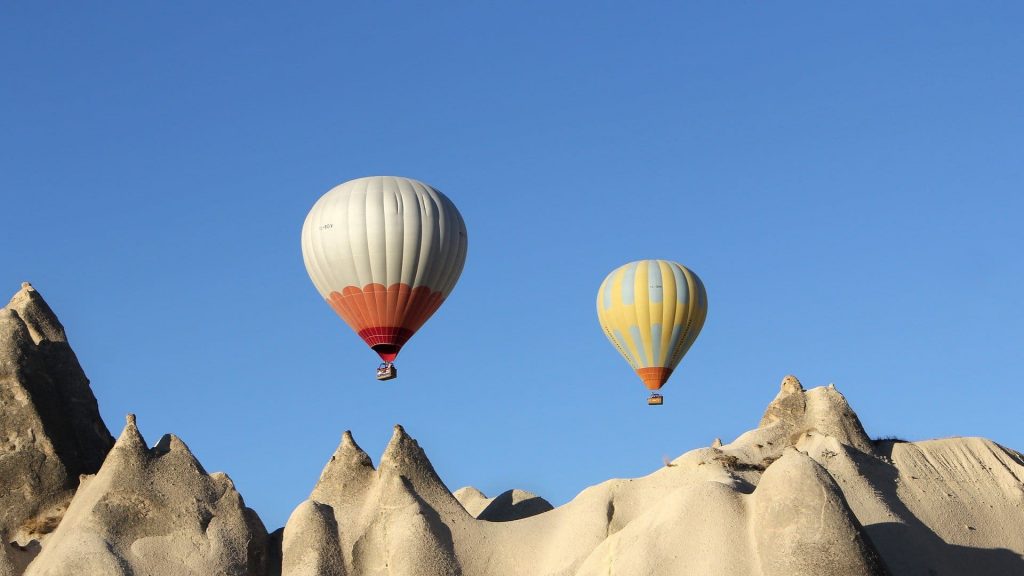 Once you decide to visit Cappadocia, you should remember that it is a huge region, and most of the sights described here may be far from each other. However, your efforts would definitely worth it as seeing these incredible landscapes and lunar terrain, as well as feeling the atmosphere of authentic Turkey with its eastern colors is the best entertainment that one could imagine.