Cappadocia, which is situated in the central Anatolia region of Turkey, is spread over a vast region belonging to 5 cities: Nevşehir, Aksaray, Niğde, Kayseri, and Kırşehir. However, the famous Cappadocia is mostly known for its four popular towns Göreme, Ürgüp, Uçhisar, and Avanos, which encompass the outstanding landscapes, narrowed rocky regions, fairy chimneys, rock-cut architectures, open-air museums, and many other natural wonders.
To find authentic cuisines and restaurants in such a gigantic touristic place is oft-times much difficult. Luckily, after visiting here a couple of times and with some good research, I am being able to present for you some quality dining hotspots along with the highlighted meals of central Anatolia.
Testi kebab, also known as 'Pottery kebab' and 'Terracotta kebab', is the traditional dish of Cappadocia cooked slowly in special clay pots sealed with dough. Along with the main ingredients like lamb meat, onion, tomatoes, and garlic, the clay pot is also filled with eggplant, mushrooms, and potatoes. The high temperature and pressure inside the sealed pots increase the flavor and tenderness of this dish.
Testi kebab is found almost in every restaurant in the region and is chiefly served by breaking it before your eyes. Although the clay pots are nowadays covered with dough or aluminum foils, the traditional Testi kebab is covered with potato pierced in the middle. The hole expands while cooking, the pot adds flavor and essence to the kebab like a pressure cooker.
Let us explore the list of best eateries in Cappadocia, focusing on its two most prominent towns, Göreme and Ürgüp, which serve the region's main touristic centers.
1 – Dibek Restaurant: a 475-year-old traditional building in the heart of Cappadocia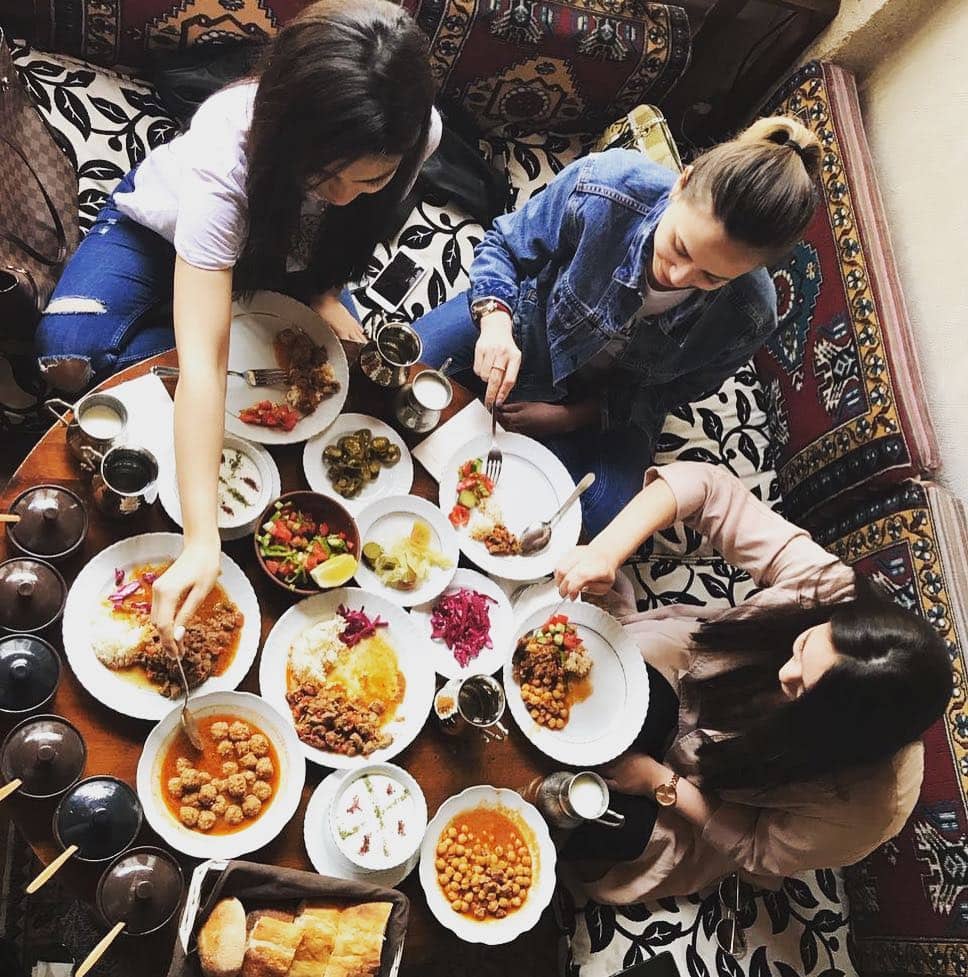 The first name that comes to one's mind while talking about Testi kebabs is the grand Dibek Restaurant, which is a 475-year-old traditional building located in the heart of the Cappadocia region. Testi kebabs here are served in three different varieties: meat, chicken, and mushrooms; and, depending upon your preference, at least a 4 hours prior reservation is required for its preparation.
This classic eatery, which was renovated in 2004, is a true blend of warm-ambient atmosphere owing to its fully traditional Turkish seating and charming décor. Besides, you can spend hours together enjoying the ultimate local cuisines. It is a take-your-time type place, where meals are served on low-height tables, and you enjoy the dishes sitting comfortably on cushions surrounding the table.
Over and above its flavourful Testi kebab, Dibek Restaurant has gained a lot of prominence from its homemade mantı (Turkish ravioli) and kuru fasulye (dried beans).
Moreover, the region of Cappadocia is a large producer of grapes with a centuries-old history of winemaking, and Dibek Restaurant is considered among the best places for serving high-grade homemade wine. Dibek Restaurant is genuine not only in its food but also in its excellent service without the exorbitant prices.
Address: Belediye Cad., Hakkı Paşa Meydanı, Cami Sk., No: 1, Göreme/Nevşehir Merkez/Nevşehir, +90 384 271 22 09.
2 – Top Deck Cave Restaurant: cozy family-run restaurant in a small cave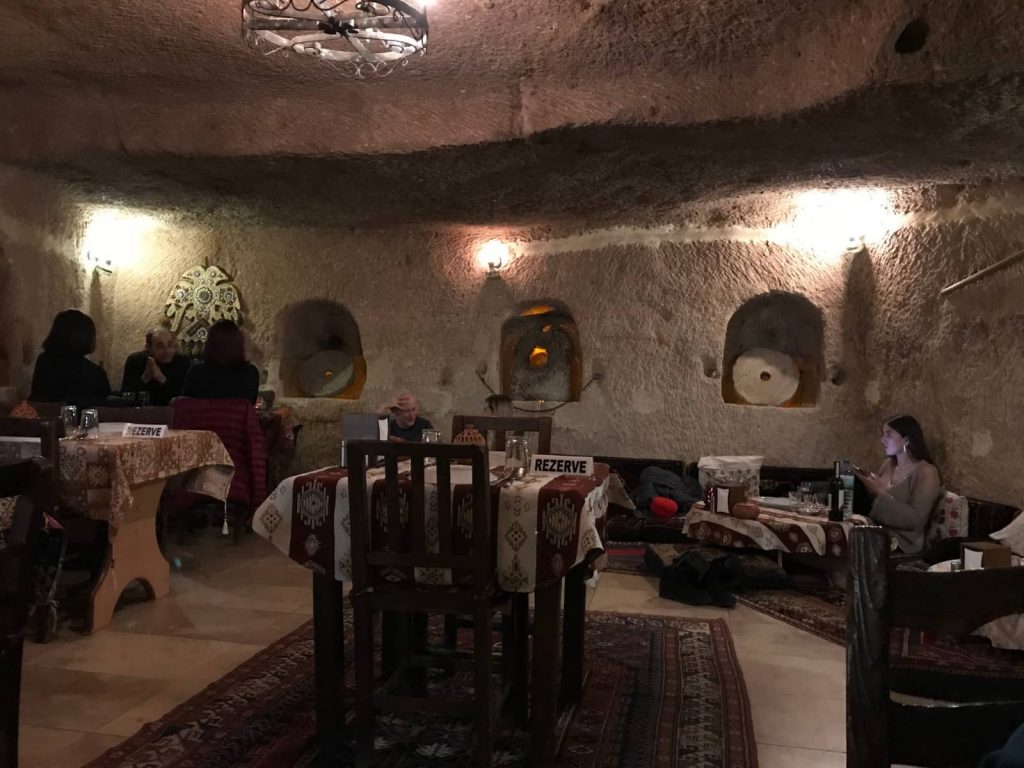 This family-run restaurant, which operates in a small cave, offers a super cozy atmosphere with its highly authentic setting and mouth-watering dishes. One of the most appealing things about the Top Deck Cave Restaurant is that with its open kitchen setup, you can watch your food being prepared by the owner himself.
The owner Mustafa is one of the renowned chefs of Göreme, and he is very keen and thoughtful about his food and service. With its ottoman-classic interior décor and amazing service by Mustafa and his wife (who really enjoy serving their customers), dining in Top Deck Cave Restaurant gives you a home-like feeling. All the dishes are made from fresh ingredients coming directly from local farms.
The menu of Top Deck Cave Restaurant is quite simple with four to five main dishes, a couple of soups, and a good variety of appetizers (meze).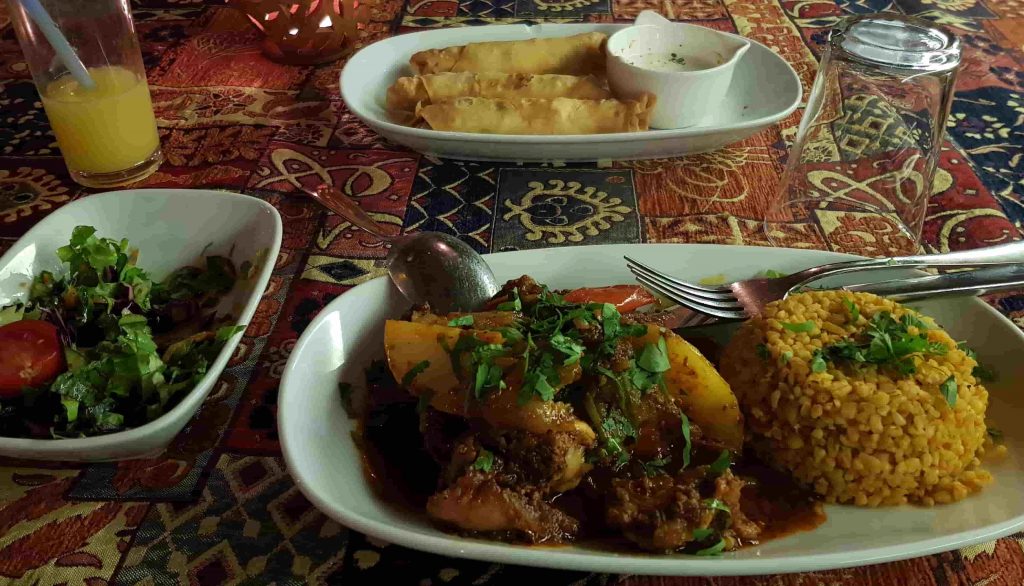 The eatery makes amazing deeply fried rolls (locally called Sigara Böreği) of three varieties: one filled with feta cheese and parsley, the second one with chicken, herbs, and parsley; and the last one, which is also my favorite, is filled with meat, mushrooms, onion, and parsley. All of them are served with a special yogurt sauce.
The place is quite small, with both sitting and table arrangements, and if you are planning to visit here in the peak summer season, I would recommend you make a prior reservation for a hassle-free dining experience.
Address: Hafız Abdullah Efendi Sk., No: 15, Göreme/Nevşehir Merkez/Nevşehir, +90 384 271 24 74.
3 – Enjoy the jaw-dropping views of landscapes and fairy chimneys at the Oscar Steak House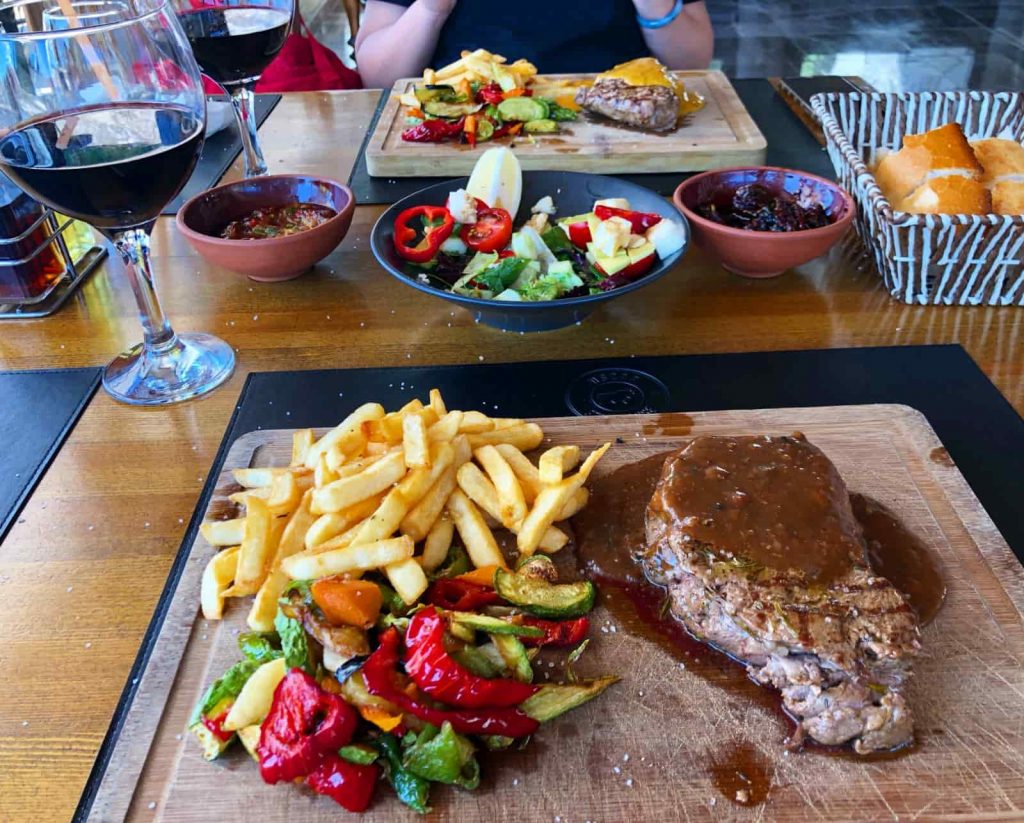 What is the point of eating in Cappadocia and just looking at your plate? Dine-in Oscar Steak House and enjoy the jaw-dropping views of landscapes and fairy chimneys, together with delicious beefsteaks and burgers.
With its perfectly spaced terrace offering amazing sunset views over beautiful Cappadocia, plus its cozy interiors, Oscar Steak House occupies a prime spot in the region.
I undoubtedly recommend you reserve a table here and relish the picturesque scenery and an amazing fine dining experience. The service is perfect, the place is clean, the foods are fresh and delicious, and above all, prices are up to the mark.
Oscar Steak House is a suitable place for family and friends gatherings, as you can opt for larger portions to share at a great price. The meat is of excellent quality, cooked properly, and served beautifully. The head chef Birkan Demircan which the mastermind behind the steakhouse concept, prepares unique appetizers (meze), and his steaks are literally a melt-in-mouth cuisine.
If you find yourself around the neighborhoods of Göreme and a little tired of traditional Turkish cuisines, desiring something different, consider stopping by Oscar Steak House, and it will never disappoint you. Such a delicious burger with high-quality cheese and meat is difficult to find around Cappadocia, for sure.
Address: Aydinkiragi Sokak, No: 1/2, Isalli Gaferli Avcılar Mahallesi, Göreme/Nevşehir Merkez/Nevşehir, +90 532 132 97 50.
4 – La Vida A La Carte: a perfect combination of delicious food, service, and quality, with highly professional staff
Looking for a place to taste typical Turkish foods, especially Testi kebab and ravioli, together with an ambient atmosphere and live music, La Vida A la Carte is definitely the place you should be heading to.
The eatery has two well-embellished rooms and a wonderful terrace; thus, depending upon your mood, the place offers both warm interiors, as well as panoramic sightseeing. The green covering over the tables and the antique chairs make the eatery extra vivid.
La Vida A La Carte is simply a perfect combination of service and quality, with highly professional staff, which are immensely attentive and welcoming. Order a delicious pottery kebab, and you will appreciate the way it is being served (pot standing in a plate full of fire flames) and then broken precisely on your table.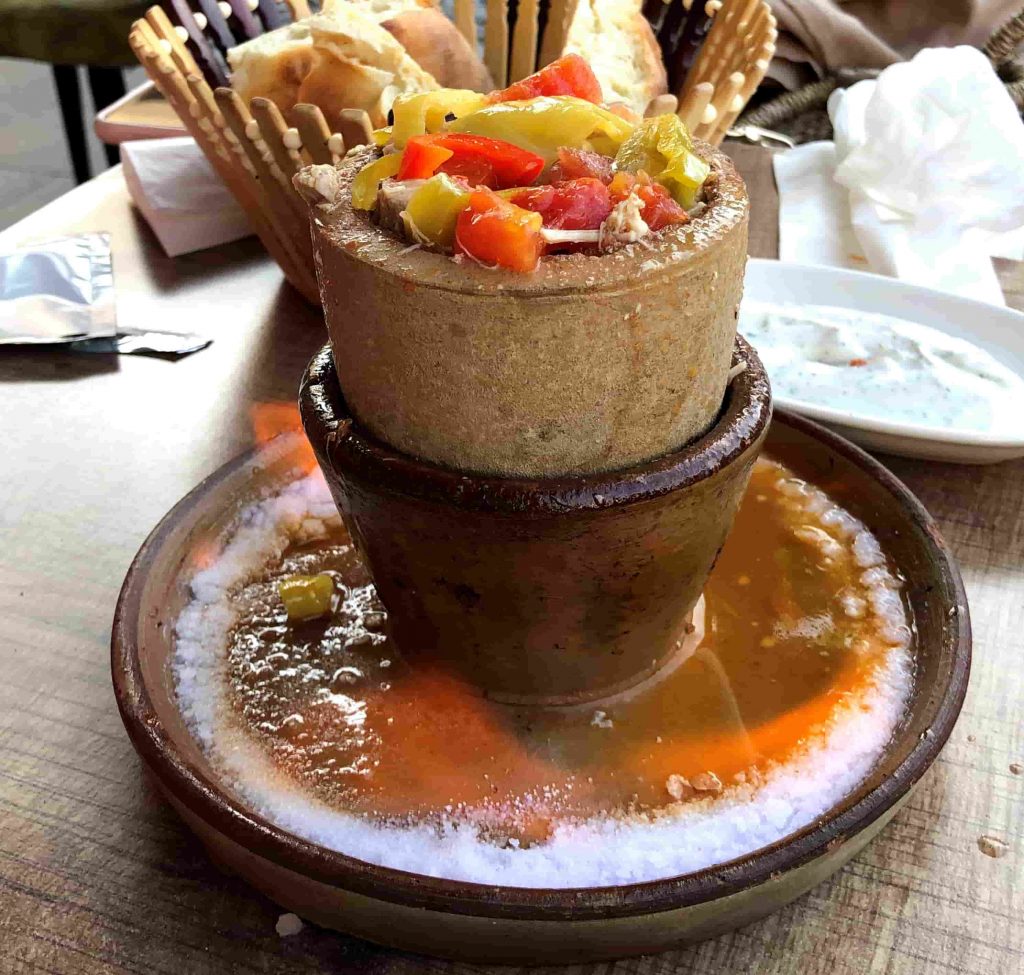 What can be more fascinating than listening to lively flute music played by one of the staff members and cherishing top edible fare alongside it?
From lunch to dinner, the menu leans towards dishes like Testi kebab (both veg and non-veg), Sultan kebab, Beyti kebab, ravioli, beefsteaks, Adana kebab, Turkish pizzas (pide), a variety of salads and appetizers, and amazing local wine to round it all off.
Address: Goreme Kasabası, Isalli Gaferli Avcılar Mahallesi, Hacı Derviş Efendi Sk., No: 1, Nevşehir, +90 384 271 29 28.
5 – Aysel'in Mutfağı: a good and affordable choice near the Göreme Open-Air Museum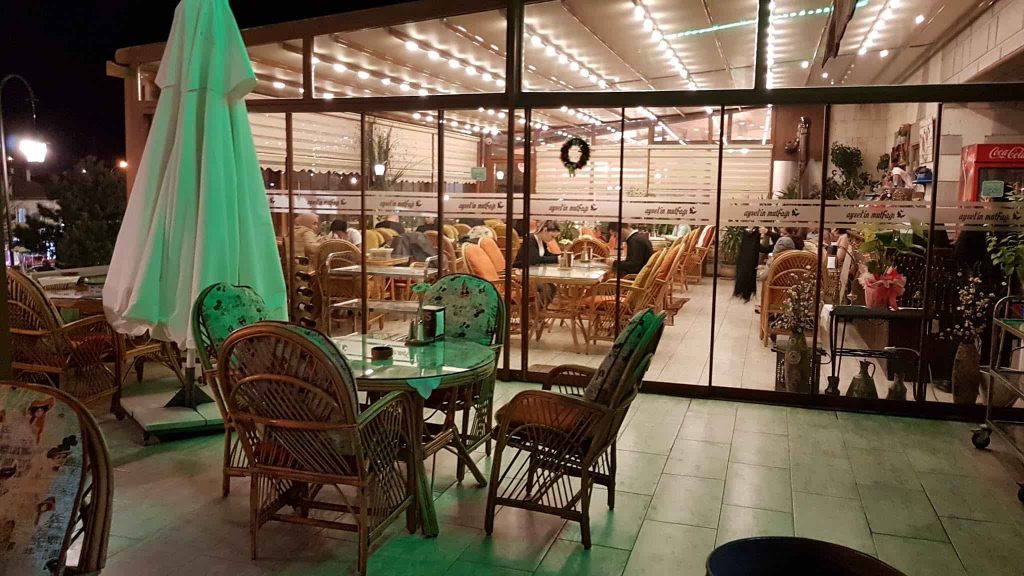 Aysel'in Mutfağı (Aysel's Kitchen) is located in the downtown area of Göreme, right on the road to the Open-Air Museum. With its two huge terraces, affording a view of outstanding landscapes, and dishes that go beyond excellence, the eatery not only gratifies your appetite but also guarantees you a good time.
The owner and the other staff are amazingly attentive in serving their visitors and always ready to give good suggestions in choosing the food. Aysel'in Mutfağı routinely changes its soup of the day and the dish of the day.
The prices are reasonably affordable, and food arrives fast, uniquely decorated over the plates. The ambient rooftop setting is a perfect place to feel the breeze and enjoy the blazing sunset over the magnificent Cappadocia. It is always stuffed with multi-lingual chats and laughter, especially during evening times, which makes the restaurant more charming.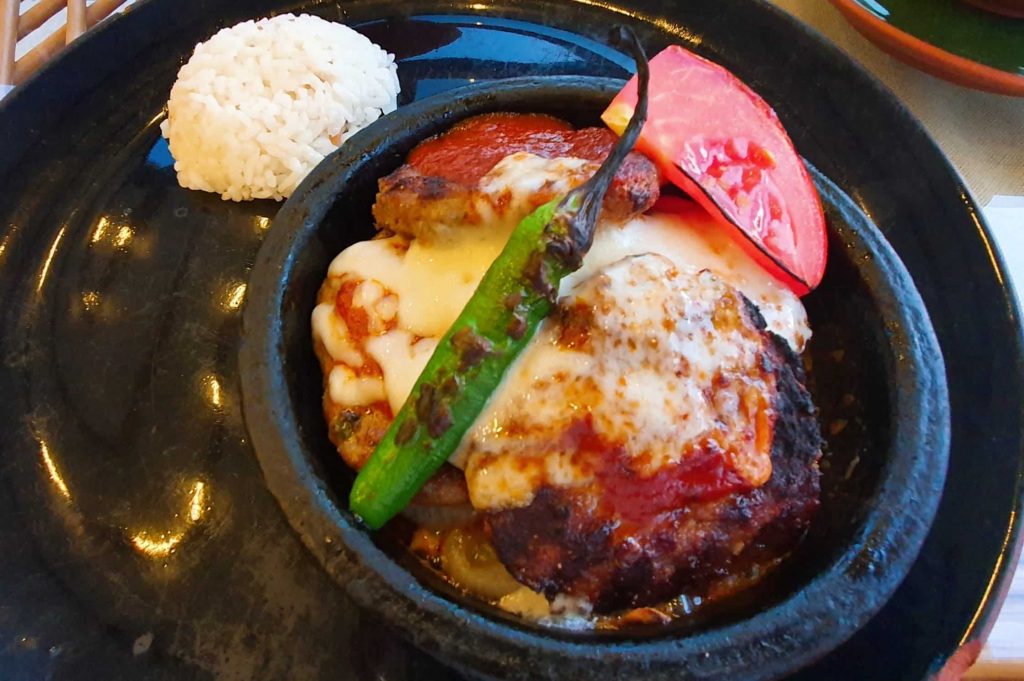 Besides the savory local dishes, Aysel'in Mutfağı is quite renowned for making light and crispy pizzas, Boston kababs, and a variety of deliciously fresh salads. Whether it is a slow-cooked eggplant dish (moussaka), which is served bubbling-hot in clay pots or the honey chicken, every dish at Aysel'in Mutfağı is the triumph of careful composition and texture. Stuffed zucchini, as well as stuffed grape leaves, are also must-try dishes here.
Aysel'in Mutfağı has a playroom and enough space for kids to play, which makes it a perfect place for family dining. The moment you set foot in this divine place, you would feel the aromas of delicious foods and a warm welcome to make your day.
Address: Muze Yolu Cad., Göreme/Nevşehir Merkez/Nevşehir, +90 535 747 99 34.
6 – Lagarto Restaurant: a pretty rooftop restaurant in Ürgüp with truly gorgeous views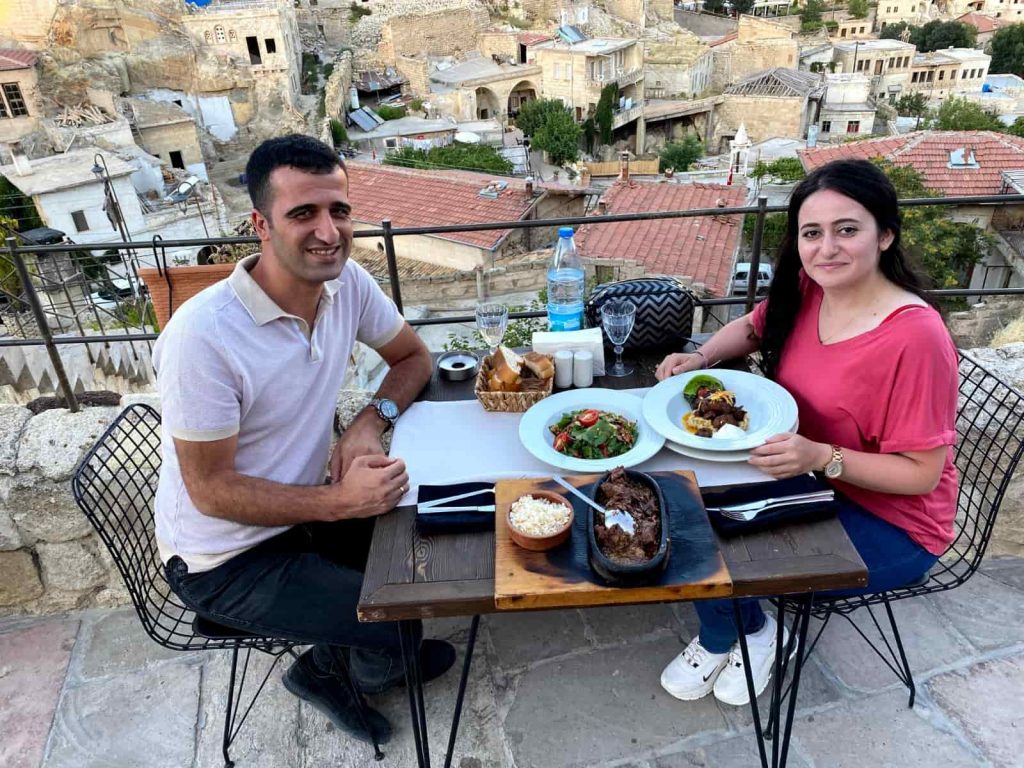 Offering some truly gorgeous views over the Cappadocia skyline, this pretty rooftop restaurant of Ürgüp region is serving up some equally stunning food and highly recommendable for some special occasion or a romantic dinner.
At Lagarto Restaurant just sit back and watch the sun go down before ordering one of the utterly delicious Anatolian cuisines. This place has a perfect rooftop area and a highly decorated cave with dim lighting and superb furnishing. Plus, its dishes, which elegantly match its astonishing surroundings, make a perfect combination. Lagarto Restaurant is a suitable spot both for summers, as well as cold winters.
The restaurant, which withholds the same location as the Dere Suites Hotel of which it is a part, provides a top-notch experience where you can feel comfortable without any pressure to order, eat or leave. Despite being a little tricky to find its location, the warm welcome and the amazing service the eatery provides are definitely worth it.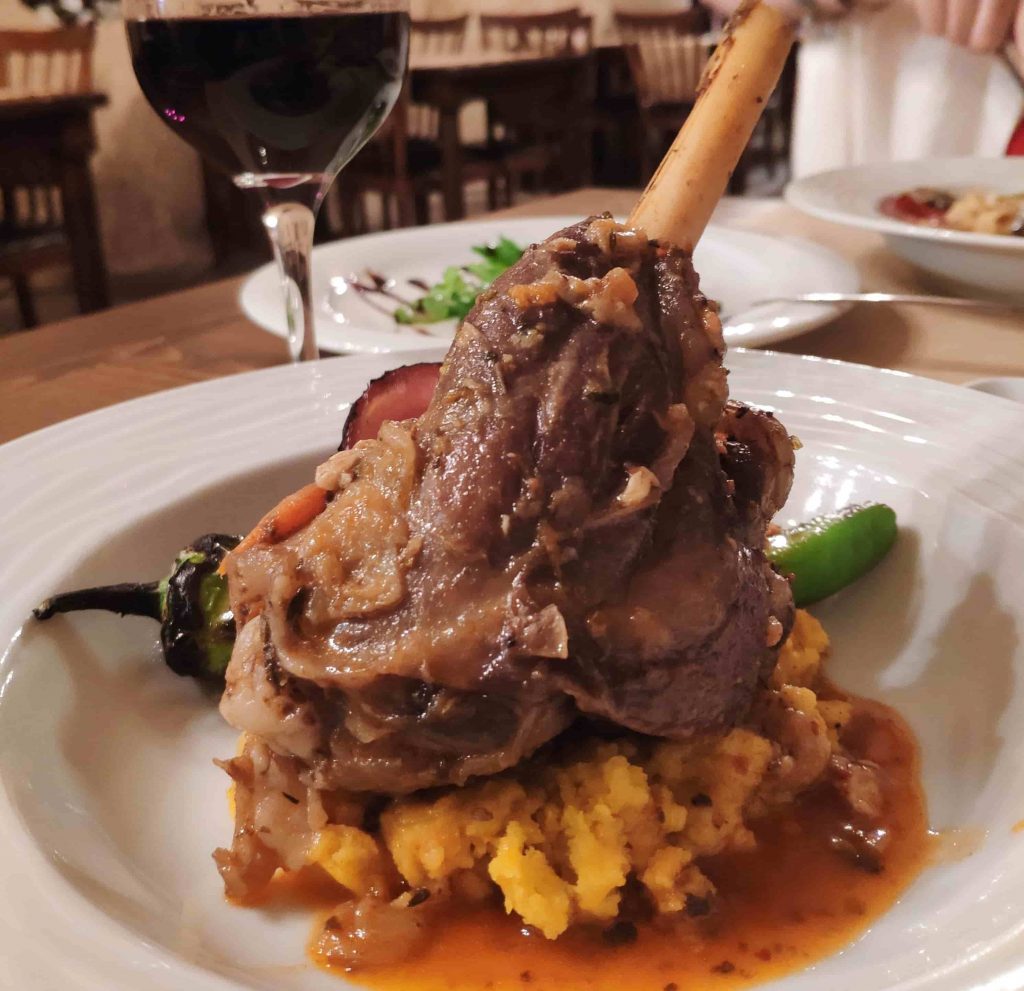 Before planning to visit Lagarto, I would recommend you make prior reservations as the restaurant, being a part of a hotel, has definite timings for every meal. A buffet breakfast is available from 08:00 to 10:00 every morning, lunch is served between 11:00 and 14:00, and dinner from 17:00 to 23:00.
Address: Dereler Mahallesi, Dereler Sok., No: 49, Dere Suites, Urgup, +90 384 341 30 51.
7 – Sofra Restaurant – highly renowned for its local cuisines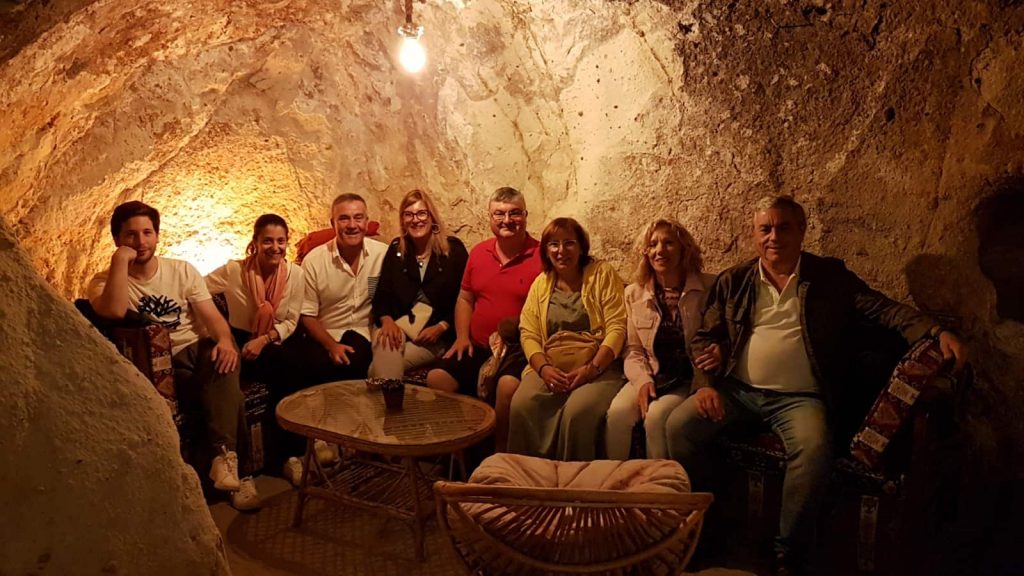 Sofra Restaurant is yet another family-run restaurant located in the heart of downtown Ügrup, highly renowned for its local cuisines, especially the savory Pottery kebabs, Beef Sofra with garlic, and mantı (Turkish dumplings filled with meat and served with yogurt).
The owner, as well as the staff members, are always determined to show excellent hospitality and step out to fulfill your requests and recommend their most popular dishes. The prices at Sofra Restaurant are cheap, the food is delicious and fresh, and more importantly, the eatery is open until late hours. Do not step out without trying their Apple Tree, which is considered a signature beverage of Sofra Restaurant.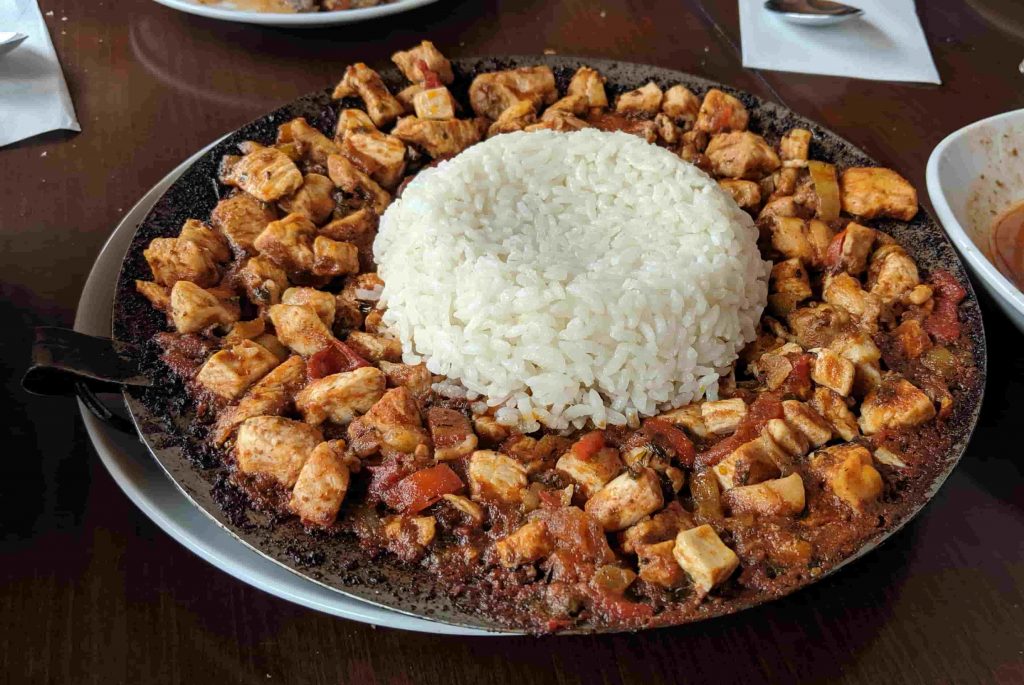 Even from the vegetarian perspective, Sofra Restaurant would not displease you. The menu consists of wholesome dishes, notably vegetarian casserole, and menemen (Turkish style scrambled eggs with chopped onions, tomatoes, and sliced green peppers), which are beautifully complemented with rice or Turkish pancakes (gözleme).
With its ultra-attentive service without any fake exaggeration, it is really worth going there. This tiny but intimate place is always busy with multilingual tourists and is obviously, the best place to meet new faces.
Address: Kayseri Caddesi, No: 25, Urgup/Nevsehir – Cappadocia, +90 384 341 43 33.
8 – Dünya İskender Kebap: fresh ingredients and mouth-watering authentic cuisines for you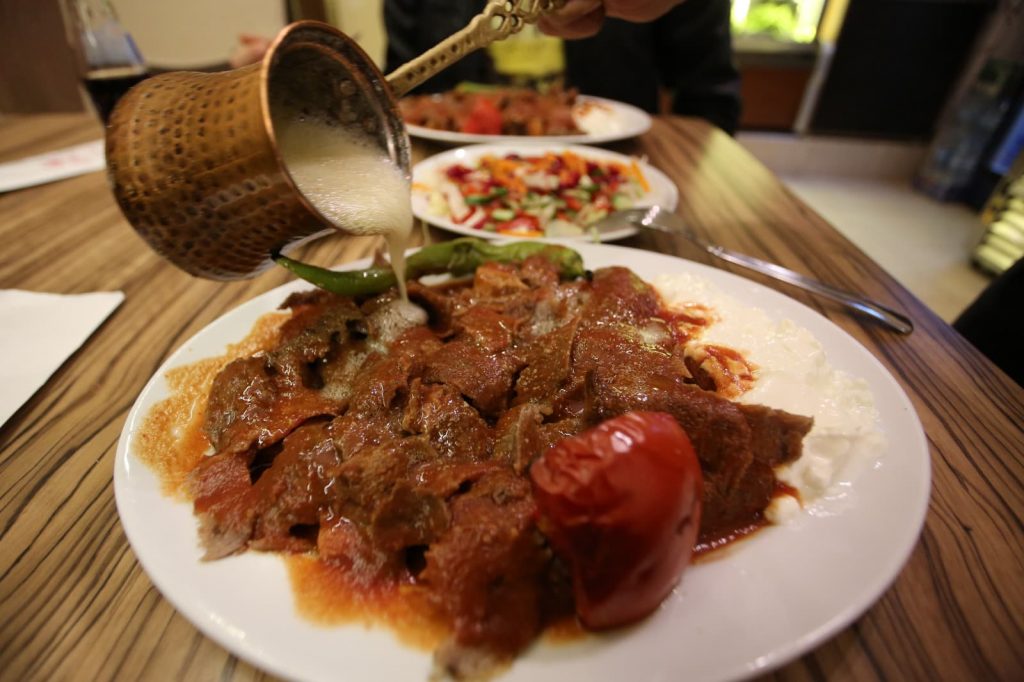 The main specialty of Üğrüp town is that it has an abundance of family-run restaurants where you can eat superbly. Dünya İskender Kebap is unique: the couple owning it devote all their time and effort to gather fresh ingredients and prepare mouth-watering authentic cuisines for you.
Hidden from the main touristy restaurants of Üğrüp, Dünya İskender Kebap is truly one of the best traditional restaurants offering a menu full of kebabs and barbecues, like their namesake İskender kebab, Adana kebab, Testi kebab, mixed-grills, Sac Tava (diced meat and mix vegetables cooked over the thin cast-iron pan), and so on.
Every meal that comes out of the kitchen from this meticulous family eatery gets full marks whosoever tastes it. The prices are cheap and cheerful, and one can have a full feast without breaking the bank.
Even though the highlighted dish, the İskender kebab belongs to the north-western part of Turkey, the way it is freshly prepared here and finished with butter sauce is simply par excellence. Rounding off your meal with a tasty künefe dessert (might take around 20 worth-waiting minutes to prepare) and bonus Turkish black tea will make you fully revitalized to roam around Cappadocia.
Address: Imran Mahallesi, Gulluce Caddesi, No: 3, Ürgüp Merkez, Urgup, +90 534 235 46 88.
9 – Aravan Evi – one of the top-rated restaurants in Ürgüp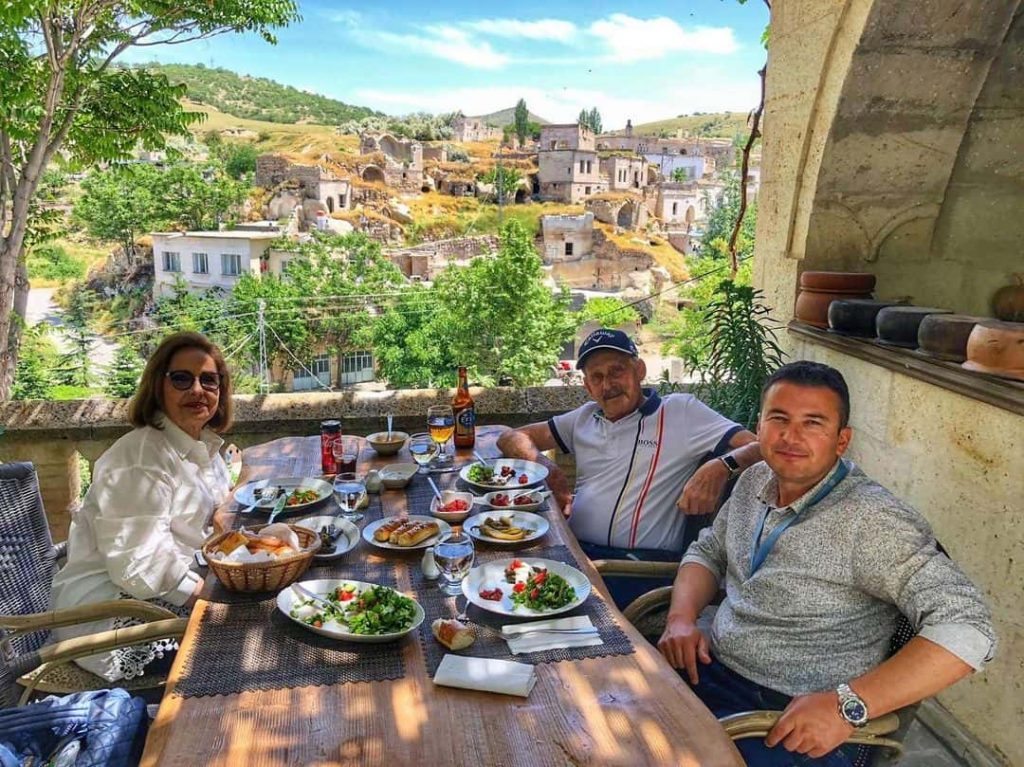 Aravan Evi, which is the family-run junction, is one of the top-rated restaurants in the Ürgüp region of Cappadocia, where visitors are greeted with love and hospitality. Aravan Evi is located in a peaceful and marvelous Ayvalı village, far from the busy tourist areas of Cappadocia.
The menu offers sets of accomplished dishes, like vegetable and meat casseroles, prepared with fresh organic ingredients. Products are grown in their own garden and cooked with love by the owner's mother Nurhayat hanım. The family strictly focuses on growing healthy and chemical-free vegetables and fruits in their eco-farm and supply clean well water for irrigation.
You can even get a chance to see their local underground oven called tandır, where food is prepared for hours to get absolute taste and flavor, and they can even share their family recipes with you. Do not miss to try their stuffed local apricots and sun-dried tomatoes (trust me, you will not taste better anywhere) and also make at least six hours prior reservation.
In addition to its cute terrace, there is also one outdoor table adorned with straggling grapevines over its top – inevitably perfect place to enjoy the traditional home-cooking cuisines.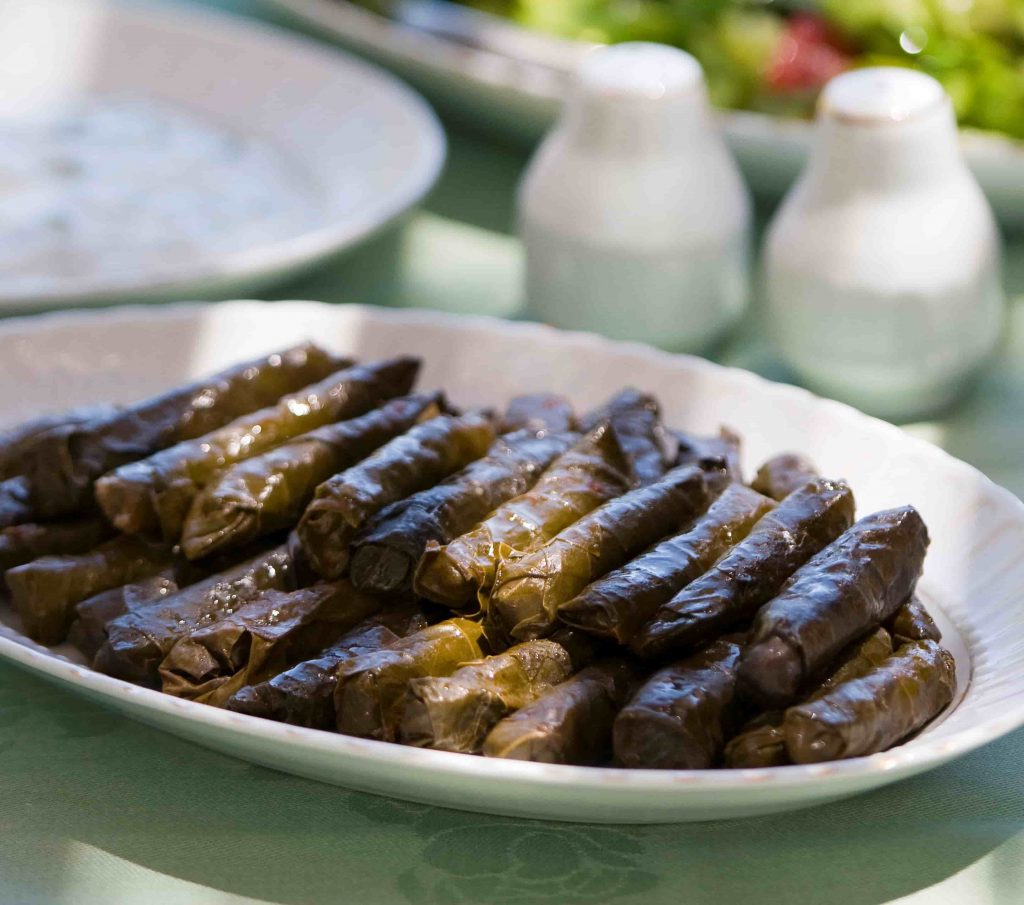 The owner, Okan is a very attentive host, speaks fluent English, and knows everything about Cappadocia. You can get better tips about nearby tourist attractions from him, and if interested, take his wonderful jeep tour and explore Cappadocia from a totally different perspective.
Address: Ayvalı Köyü İç Yolu, Ayvalı Köyü/Ürgüp/Nevşehir, +90 384 354 58 38.
Cappadocia is one of the great routes, where you can taste the rich cuisine of central Anatolia. Whether it is the legendary Testi kebab, Tandoori dried beans, or other region-special cuisines, dining in Cappadocia would not disappoint. From spectacular views to the cutting-edge dining experience, from family-owned to steak houses, we provided you with a comprehensive list of real gems, where you can experience the Turkish gastronomy perfected by their skillful chefs and prepared in traditional ways. I wish you a pleasant Cappadocia tour in advance.