Cappadocia is one of the most prominent places in Turkey, which dominates the bucket list of many travelers.
Packed with outstanding landscapes, Fairy Chimneys, rock-cut architectures, and amazing hot-air balloons floating in the sky, this Anatolian region is a magical wonderland with impressive nature all around the year.
Cappadocia is such a touristic destination, where you can expect a lot and will feel an unforgettable vibe for years to come. One of the most lusted experiences here in Cappadocia is to lodge in the sensational cave hotels.
These hotels carved out of rocks are highly comfortable, providing all the amenities you would expect from a premium hotel. If you have stayed in normal hotel rooms every time you went out for a vacation, without any change, why not try different this time.
I advise you to stay in authentic cave suites with wonderful rooms and daydream-worthy terraces overlooking the fairy chimneys glittering with sunset.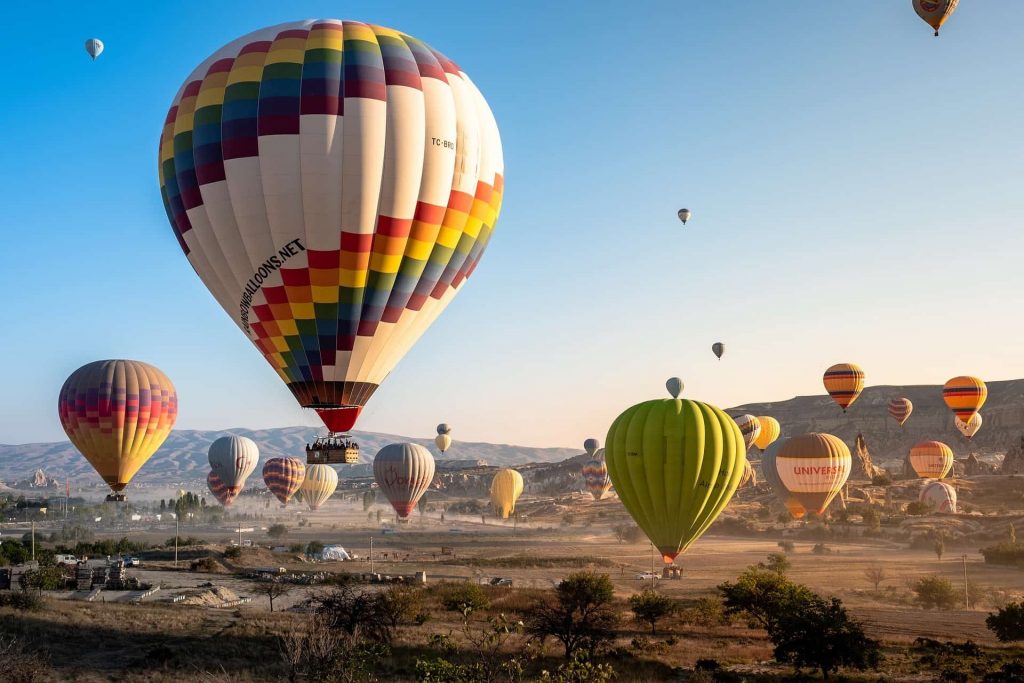 Most of these hotels are equipped with Turkish hammams (baths), private fireplaces, incredible buffet breakfasts, as well as modern amenities for proper relaxation and recreation.
The most amazing thing about these caverns is that they are awfully tranquil, plus warm in winters and cool in hot summers.
While the accommodation and pricing may vary from season to season, an early booking according to your schedule will help you find the best suite within a reasonable price range.
Generally, the prices are higher, and accommodation is quite difficult to find in spring and autumn as compared to summer or winter.
Whether to spend a memorable anniversary, celebrate a newlywed status, or plan for a gateway vacation, these Cappadocian boutique caves make great additions to your trip.
The most popular towns to visit in Cappadocia are Göreme, Ürgüp, Üçhisar, and Avanos; you can find an abundance of cave hotels scattered in these towns ranging from luxury to budget standards.
We have compiled for you a list of top-rated cave hotels in Cappadocia to narrow down the choice of picking one suitable to your taste.
1 – A Photography Wonderland – Sultan Cave Hotel (Goreme)
Sultan Cave Hotel is set high in the Goreme town overlooking the surrounding valleys, mountains, panoramic sky of Cappadocia filled with floating hot-air balloons, and the gorgeous Erciyes volcano in its background.
The hotel is a photography wonderland remodeled into a luxurious suite and decorated with traditional artifacts, reflecting the unique antiquity of the central Anatolian region.
The place has been built by skillfully converting and modernizing centuries-old cave dwellings into fine rooms while preserving the ancestral impression.
With its multiple terraces and rooftops offering breathtaking views, it is a perfect location for taking photographs with a delicious breakfast set on your table and floating hot-air balloons as a background. The hotel is so famous for its 'breakfast photos' that every morning the terrace is specially set-up for guests to enjoy photography.
Sultan Cave Hotel is ideal for couples or families looking for an unforgettable vacation. The place is quiet and peaceful, the rooms are really spacious, each with a sitting area and a modern bathroom.
The hotel offers a range of accommodations, like Classic Rooms, Junior Suites, Normal Suites, King Suites, Pasha, and Sultan Suites – some with separate fireplaces and others with a giant balcony overlooking beautiful Göreme town.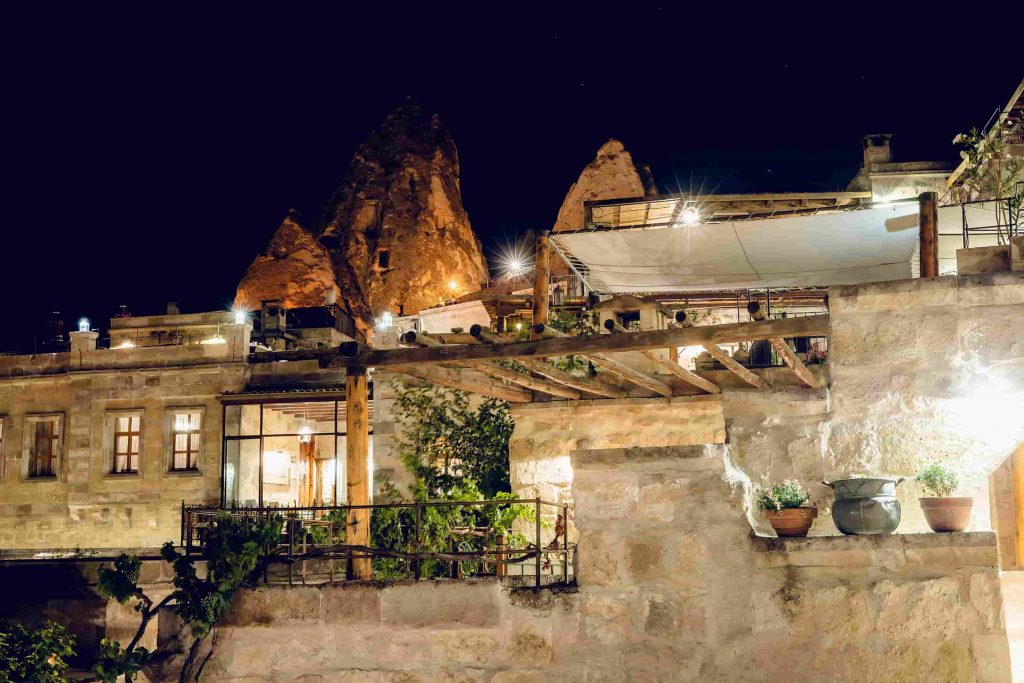 There is a well-furnished restaurant (called Seten) and Anatolian Cultural Center within this beautiful cavern. While Seten serves delish Anatolian cuisines, the Anatolian Cultural Center hosts local and international concerts, as well as art exhibitions, thus, preserving the traditional Turkish cultures.
In addition to their splendid terrace views, delicious buffet breakfasts, and music concerts, the hotel provides free shuttle services and can even arrange local trips, Turkish nights, Dervish shows, hot-air balloon rides, etc.
Sultan Cave Hotel also offers a Turkish bath through its sister hotel, Kelebek Special Cave Hotel, which is adjacent to it, and you can also get free access to its superb swimming pool. They offer various massages, traditional peeling services, and a sauna/steam room (sıcaklık) at an extra charge.
Address: Aydınlı Mah., Aydınlı Sokak., No: 40, Göreme/ Nevşehir, +90 384 271 30 23.
2 – Yunak Evleri Cappadocia (Urgup) – a Honeycombed Cliff-Carved Hotel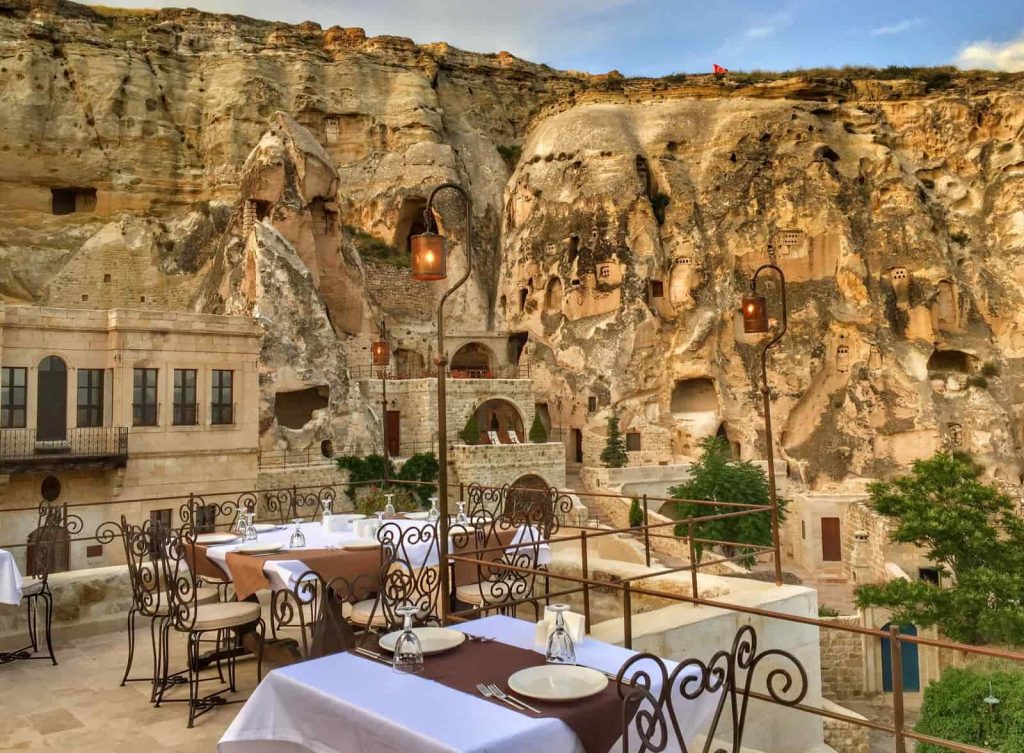 Yunak Evleri Cappadocia is a honeycombed cliff-carved hotel, located in Urgup town, where you can explore hidden cavernous churches, dramatic views of magical landscapes, and Fairy Chimneys.
This extensive place has 10 separate cave houses, with a total of 120 rooms, and a stunning 19th-century Greek mansion as its main building.
Dating back to the 5th and 6th centuries, these luxuries cave rooms have been redesigned to modern comforts whilst maintaining the ancient traditional decorum. The cave houses are beautifully embellished with rustic hand-carved furnishings and unique artifacts. 
Yunak Evleri Cappadocia is spotlessly clean; rooms are large and highly comfortable with separate bathrooms, as well as patios overlooking beautiful flat-top landscapes. There are maze-like pathways finely adorned with carved stone stairways that lead you to these charming rooms.
The hotel is named after its neighborhood, and the word 'Yunak' means an ancient fountain/washery, where women used to wash clothes accompanying long conversations.
Yunak Evleri has an elegant terrace where you can enjoy amazing sunset views while relaxing over soft Turkish pillows and a fireplace nearby.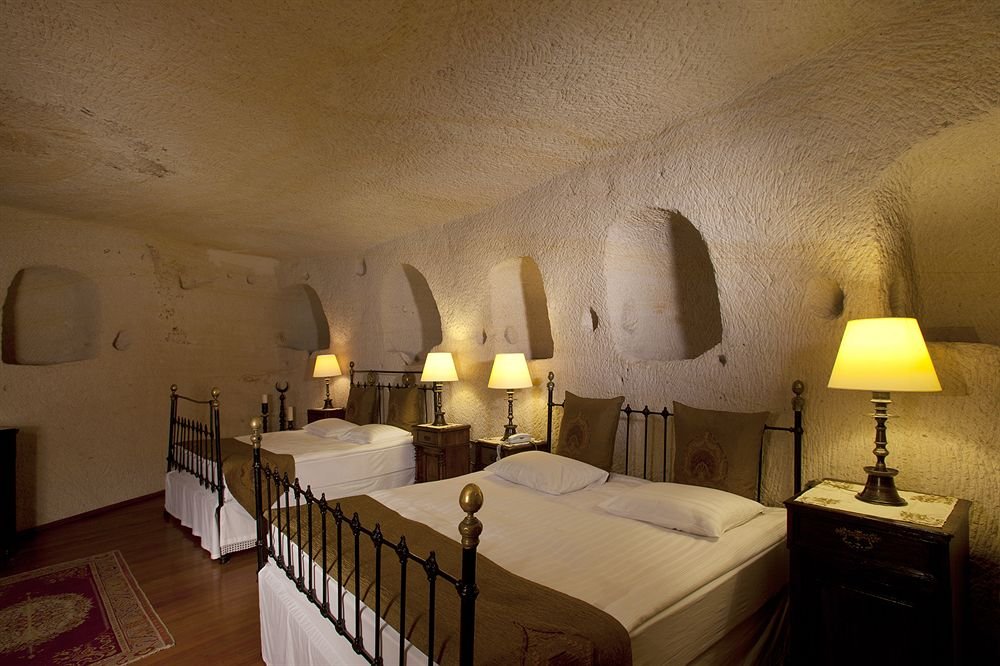 Yet another rooftop terrace with fantastic views is specifically kept for dinner and a free Turkish buffet breakfast.
Highly delicious local homemade foods are served, plus a memorable Candlelight dinner. There is a famous saying about Yunak Evleri – 'small enough to be intimate, yet large enough to offer you a privacy'.
Additionally, there are two outdoor pools with a lovely deck and a sophisticated indoor spa center, perfect for relaxation and romantic at the same time.
Within its main building, which stands at the foot of the cliff, you will find elegant meeting-cum-lounge rooms, an internet room, and a music room with a large collection of CDs.
Guests are always welcome to use any of the facilities here, and they can even take their favorite CDs and watch them in their rooms.
Address: Musaefendi, Balcı Sokak, Ürgüp/Nevşehir, +90 384 341 69 20.
3 – Superbly Renovated from an old Traditional Cave – Zara Cave Hotel (Goreme)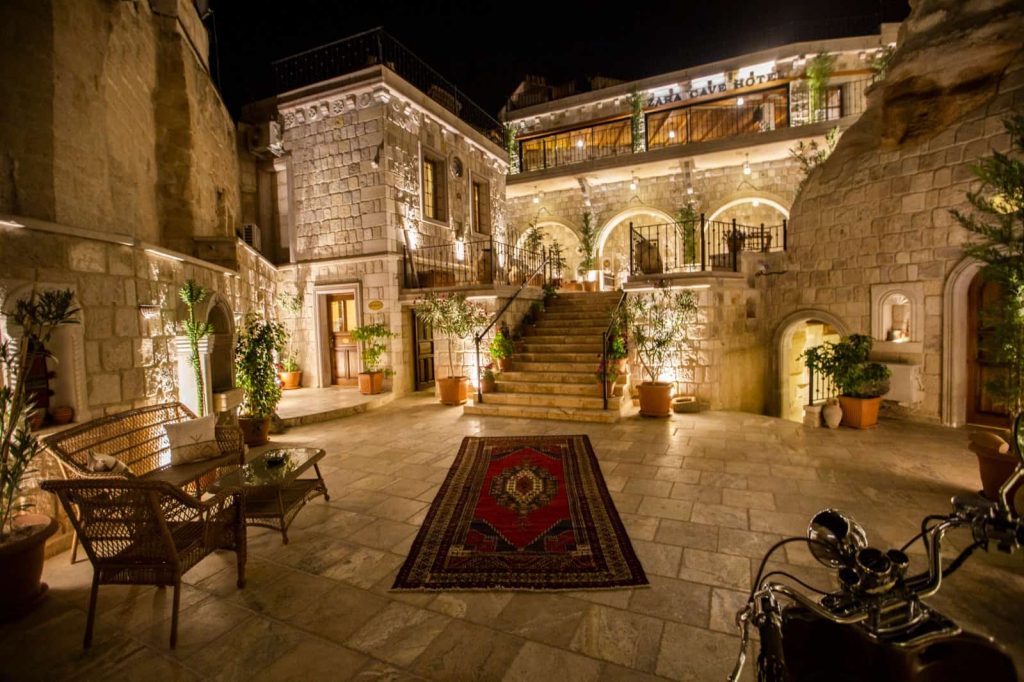 Located in the heart of Goreme town and a walking distance from Goreme National Park, Zara Cave Hotel is superbly renovated from an old traditional cave.
The restoration, which took about 5 years, has been performed delicately to give it a modern stroke in keeping with the sparse traditional cave look.
Zara Cave Hotel is a true blend of the contemporary present and traditional past, offering everything a modern caveman could desire.
This family-owned hotel consists of 10 cave rooms and 8 natural stone rooms, all incredibly spacious, nicely decorated, and with super-soft bedding for comfortable nights.
Besides offering splendid views of surrounding valleys and mountains, Zara Cave Hotels includes the famous rock-cut features of ancient cave dwellings within its premises. The hotel has a perfect location close to the center of Göreme and just 1.5 kilometers from the Open-Air Museum.
The staff is highly accommodating, showing a true example of philoxenia (an act of being hospitable to strangers).
This mid-range hotel boasts a shared lounge, a courtyard, a restaurant, and a beautiful terrace offering its guests comprehensive sightseeing of hovering balloons glittering with the sunrise.
The superb free breakfast service with a lot of choices is appreciated by almost everyone.
The hotel can also arrange local jeep tours, balloon rides, ATV quad bike tours, and horse-back tours to explore the surrealistic landscapes, churches, vineyards, and other cultural highlights of Cappadocia.
Address: Aydinli Orta Mah., Hamza Terzi Sokak, No: 3, Goreme, +90 384 271 22 40.
4 – Family-run Guest House Aydinli Cave Hotel (Goreme)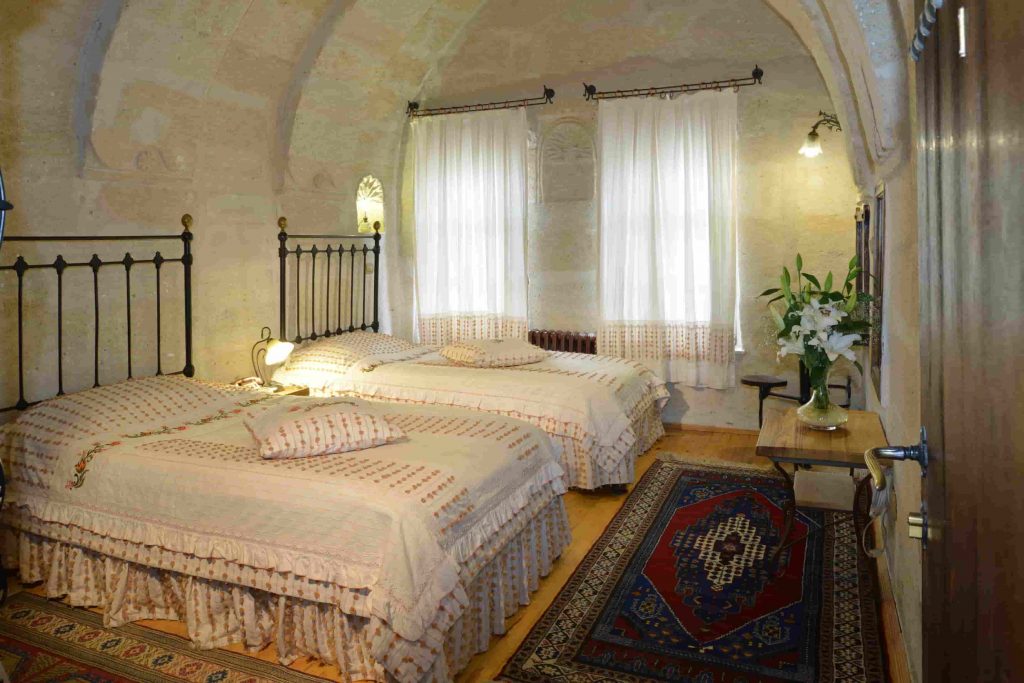 The cave rooms in this family-run guest house have been existing for remote ages and transformed into fully-equipped modern apartments.
Aydinli Cave Hotel has a total of 14 superior and executive rooms, very spacious and furnished traditional décor and local handmade carpets.
All the rooms feature a seating area with a cozy fireplace, coffee, and tea-making facilities, refrigerator, a wide flat-screen TV, safety deposit boxes, and finally, yet importantly, a spacious modern bathroom. Depending upon your taste and budget, you can choose from a standard room, suite room, family suite, king suite, and deluxe suite.
Some of the suites have an attached Turkish Hammam, while others have a private balcony where you can witness uninterrupted views of the Fairy Chimneys, the Rose Valley, and the famous Cappadocian sunset.
The hotel is well suited for honeymooners and families with kids, offering rooms that can accommodate large families for your hassle-free group travel. The French-styled beds plus upholstered pillows are highly comfortable together with ultra-luxe and clean linens.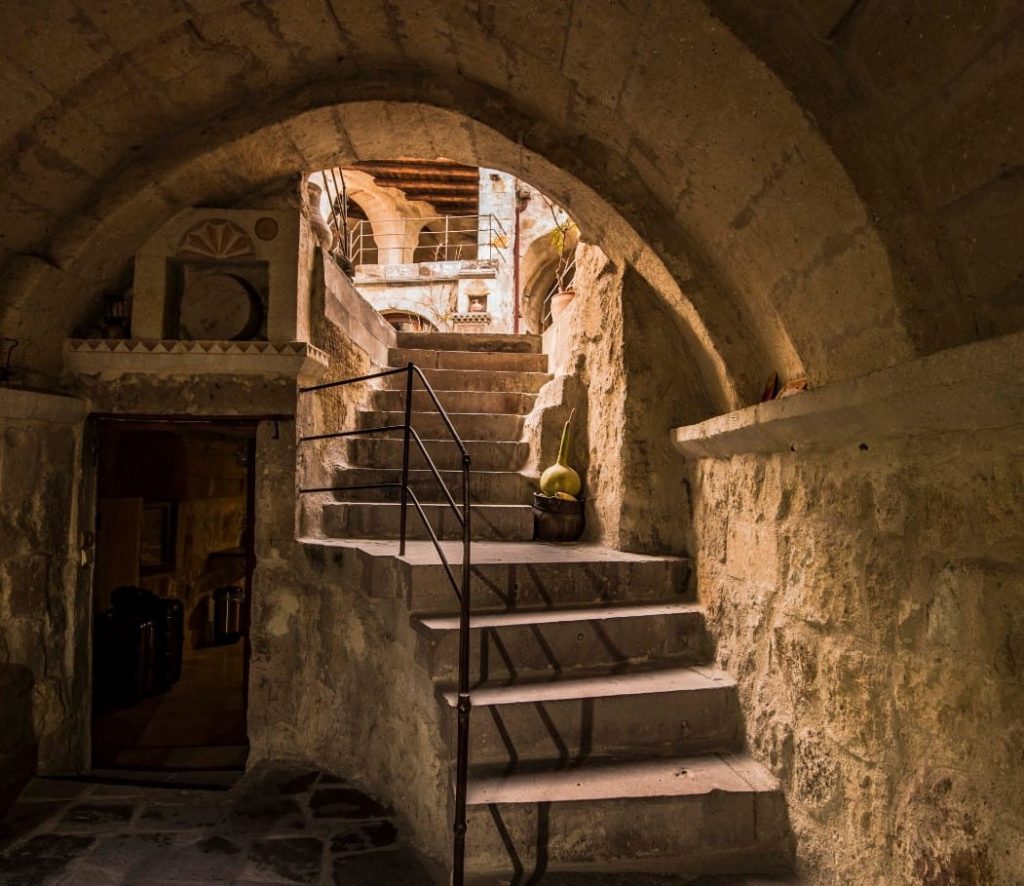 The hotel is located 5 minutes' walk uphill from the Goreme center and within a walking distance from Open-Air Museum, Pigeon Valley, Love Valley, as well as Zemi Valley.
Each morning you are sure to enjoy an open-buffet breakfast along with the breathtaking views of snow-capped Erciyes mountain and sky-filled hot-air balloons.
Aydınlı Cave Hotel also provides paid airport transfer services, a complimentary pickup from Goreme bus station, as well as scooter and car rental services.
There is a small arched stone room at the entrance of the courtyard called Yaz Odasi (summer room), which has an open-airy atmosphere perfect for summer nights.
Address: Aydinli Mahallesi, Aydinli Sokak, No: 12, Göreme, Nevsehir, +90 384 271 22 63.
5 – Kayakapi Premium Caves (Urgup): Medieval Rooms with the Real Central Anatolian Environment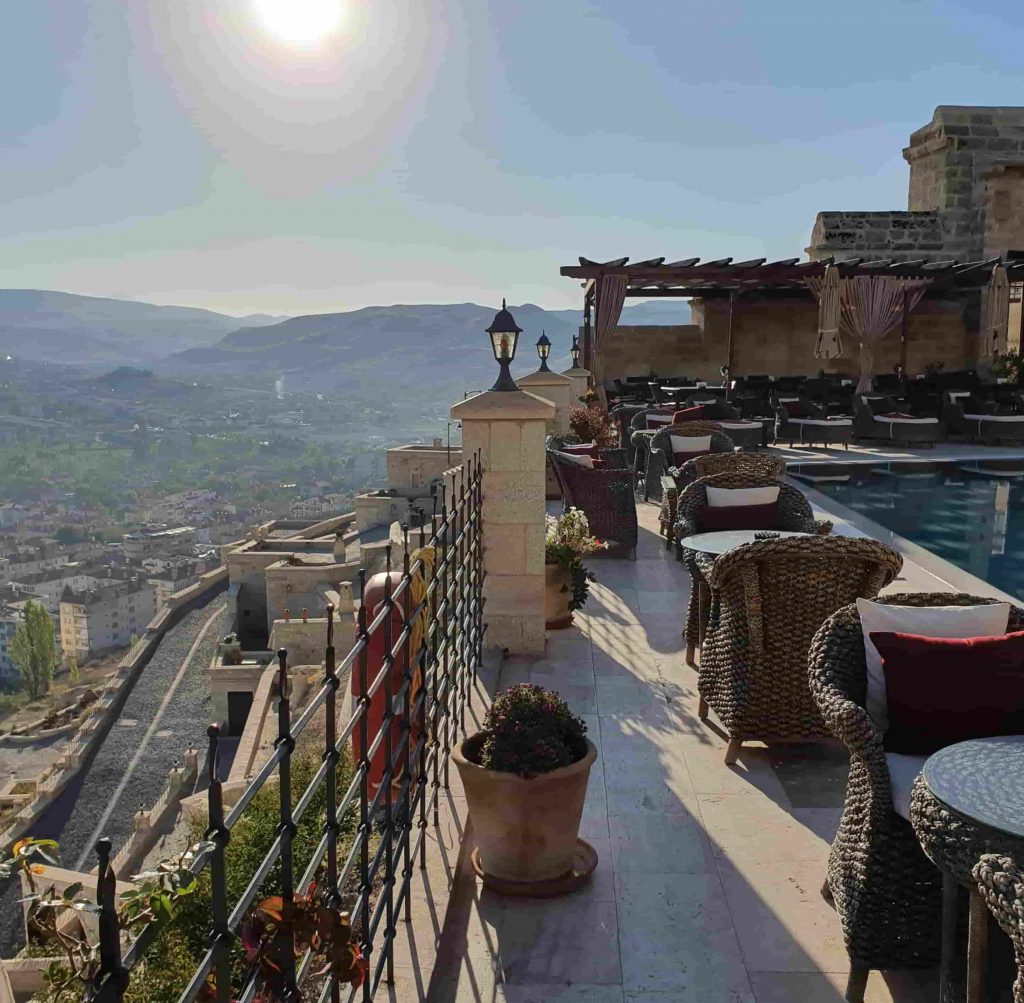 Stay in these medieval rooms carved skillfully from rocky features and luxuriate in the real Central Anatolian environment.
With its upscale interior décor, complemented with ornate stone murals, antique hand-carved furniture, and other local artifacts, Kayakapı Premium Caves is inarguably a perfect setting for a luxury vacation.
As the name itself speaks, this boutique hotel is one of the most premium cave places in Cappadocia, offering a broad range of accommodations starting from prime rooms, glorious cave suites, majestic cave suites, royal suites to entire lavish villas with private pools.
There are private Turkish hammams, as well as indoor pools in some of the bigger suites. The hotel also provides advantageous honeymoon packages – a special treat for newlyweds.
Make sure to take a copy of the marriage certificate as proof during check-in, as this package is only meant for honeymooners only.
The place has a prime location in the town of Urgup, just a few miles from major touristic attractions, like the Zelve Open-Air Museum and the infamous Al-Nazar Church.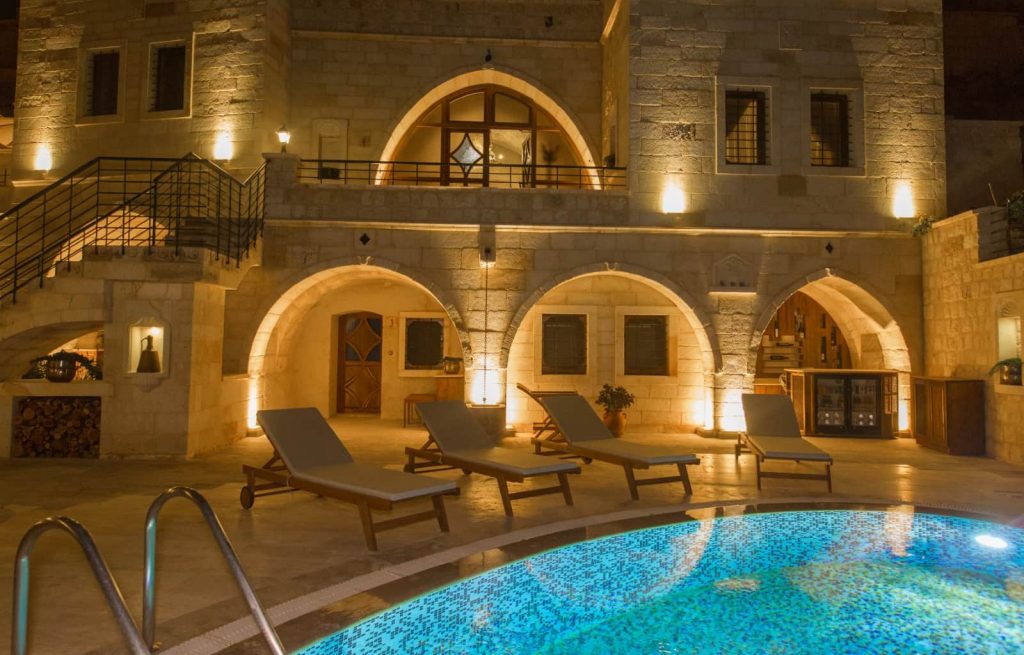 Besides its ultra-luxe cave rooms/suites, Kayakapi Premium Caves boasts well-designed and spacious four meeting halls ideal for business travelers and corporate trips.
These meeting halls are facilitated with dedicated event staff and equipped with the latest technological tools to turn your meetings more productive.
Guests also have free access to the outdoor swimming pool and Kayakapı Spa, which is located at the historical Davut Agha Mansion.
In Kayakapi Spa, which opens daily from 2 pm to 11 pm, you can enjoy a paid Turkish massage to revitalize yourself for exploring amazing Cappadocia.
Kayakapı Premium Caves can make all kinds of travel arrangements for you to make every moment at Cappadocia awfully special.
Some of the prominent services worth mentioning are a 24/7 reception help desk, room services, and a one-way free shuttle service to the city center.
Address: Kayakapi Mahallesi, Kuscular Sokak, No: 43, Urgup/Cappadocia, +90 384 341 88 77.
6 – Argos in Cappadocia (Uchisar) – One of the Most Authentic Suites in Uchisar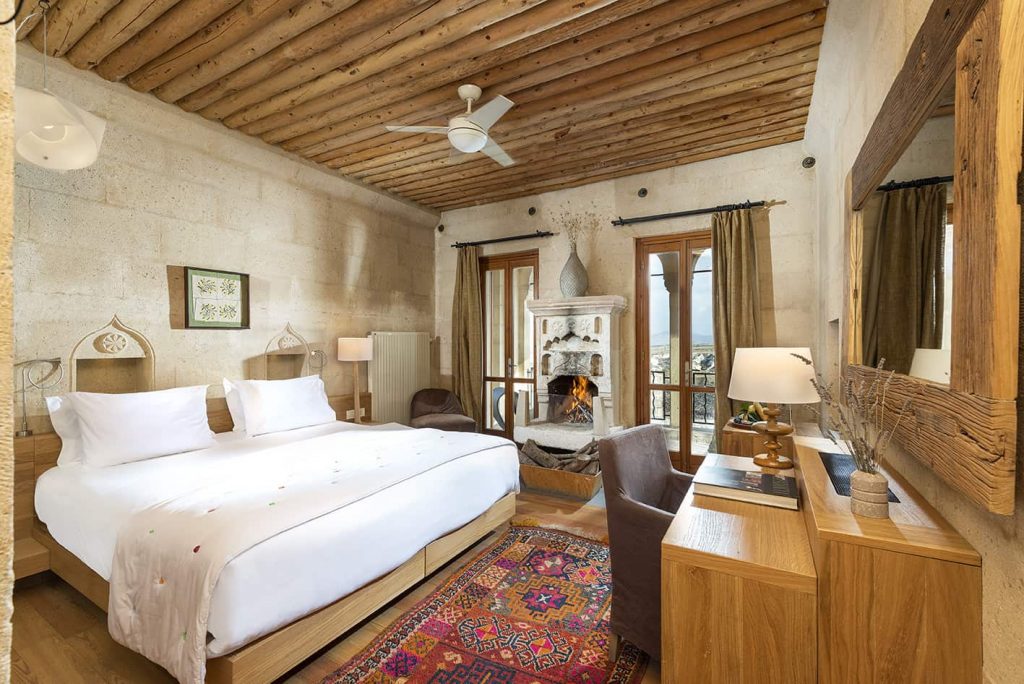 This is probably one of the most authentic suites in Uchisar. Argos in Cappadocia was built in 24 years by carefully converting a centuries-old monastery while sustaining the historical texture.
There is a total of 51 rooms spread over several stone buildings, each one uniquely designed and graced with local carpets and handicrafts to offer an unparalleled stay.
These luxurious rooms with detailed stone carvings demonstrate a perfect harmony of eye-catching classical architecture and modern furniture.
Even though the accommodation is divided into 4 different categories, from standard rooms to splendid suites, each room has a distinct aura and makeup; thus, promising 51 divine experiences to its guests.
Some of the suites have their private terraces or balconies, while others have a full private garden, overlooking the Pigeon Valley, Mount Erciyes, and splendid Fairy Chimneys.
There are also sophisticated fireplaces in some of the suites ideal for the winter season. The Argos in Cappadocia is recognized both locally and globally as the best romantic and wedding hotel in Cappadocia.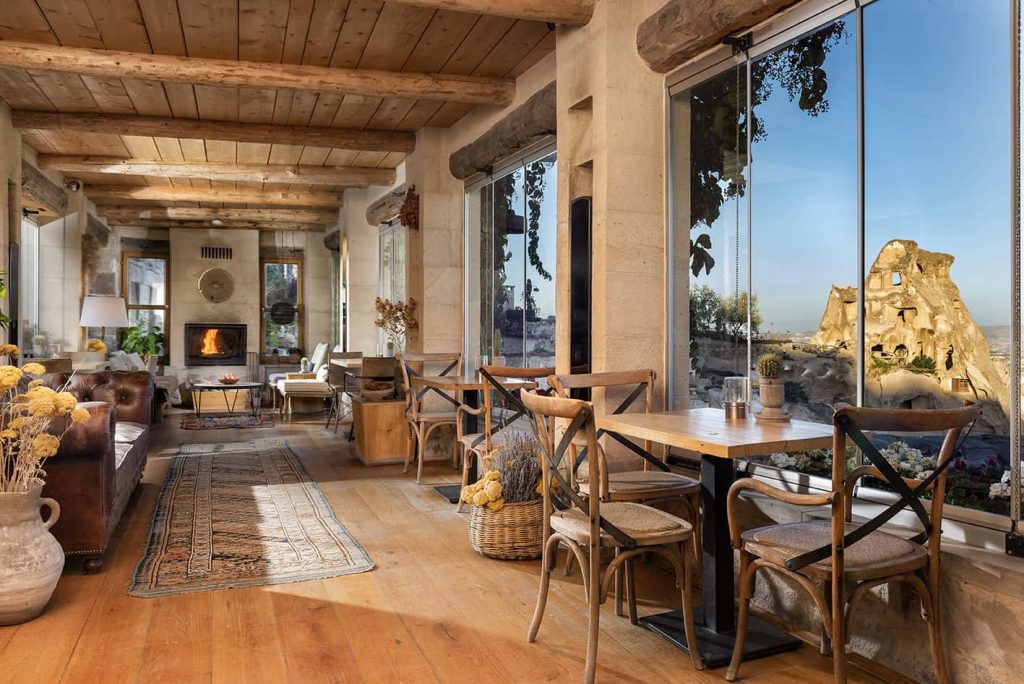 What is best about this place is its Seki Restaurant, which is the most popular restaurant in Cappadocia, serving the best Anatolian cuisines, whilst enjoying magnificent views from its green terraces.
Did I forget to mention about their supreme vineyards and gardens? Well, Argos in Cappadocia has its own vineyards where a variety of healthier grapes are cultivated from which tasteful local wines are produced and at Seki cellar, which has a capacity of over 70,000 bottles.
Moreover, the dishes prepared in Seki restaurant are made with fresh naturally grown ingredients, coming directly from their gardens.
From decoration to classic architecture, fresh dishes to fine local wines, comfy lounges to vivid terraces, Argos in Cappadocia has undoubtedly everything you could possibly dream of.
Address: Aşağı, Kayabaş Sk., Uçhisar/Merkez/Nevşehir, +90 384 219 31 30.
7 – Small Budget-Friendly Guest House Adanos Konuk Evi (Avanos)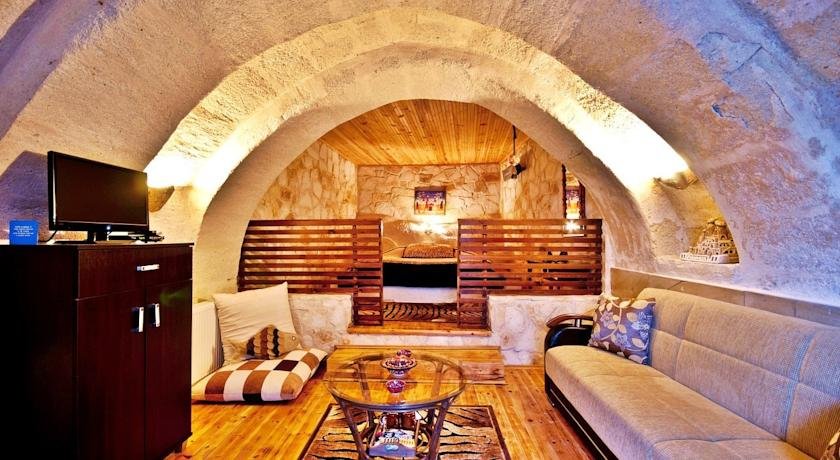 This small budget-friendly guest house located in the center of Avanos town is a 1st century-old resort redecorated carefully into three suites and a standard room (Zelve House), each furnished in local traditional styles.
These charming suites are named after famous towns of Cappadocia as Avanos House, Göreme House, Ürgüp House, and Zelve House.
Each suite consists of a private balcony, a fireplace, a full kitchen, and a terrace with swing chairs, comfortable seating, and a barbecue set up to give its guests a home-like environment.
Other amenities include a modern bathroom, a minibar, tea and coffee making arrangements, and a flat-screen TV, and, most importantly, plush French bedding for optimum comfort.
 The Adanos Konuk Evi is ideal for families – facilitating a playground for children to play freely.
Of course, you can enjoy spectacular views of Cappadocia valley and mount Erciyes right from your private balconies.
If you want any local tours, balloon rides, Turkish nights, or any other activities, Adanos Konuk Evi will easily arrange for you. Car rental services are also available for those who want a nice Cappadocian road trip.
Address: Alaaddin, 311. Sk., No: 32, Aktepe/Avanos/Nevşehir, +90 532 378 49 47.
8 – Small but Cozy Cave Hotel Rox Cappadocia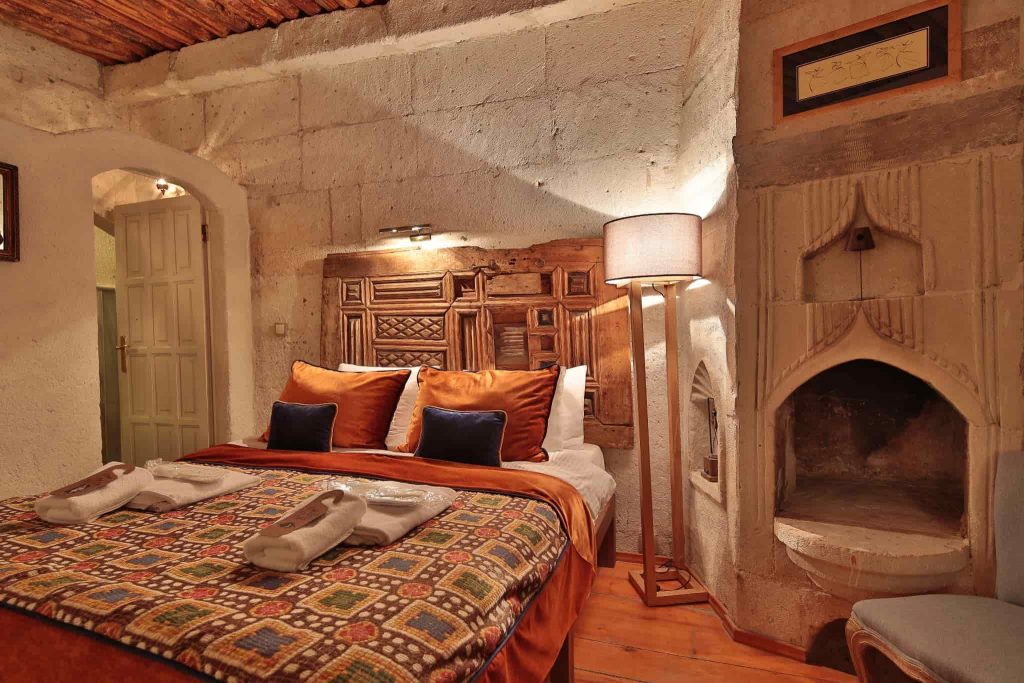 If you want to live a 2-minute walk from the Üçhisar Castle and a 1-minute walk to Göreme National Park, then Rox Cappadocia is the perfect choice for you.
This is a small but cozy cave hotel, in which you can experience all the comforts of a quality top class hotel. It is a rather idyllic and quiet place that will save you from the hustle and bustle of the tourist Cappadocia.
The hotel has a terrace, from which you can watch balloons' flight or sunbathe on sunny days. If you are looking to recuperate after tiring but rewarding hikes, the Rox Cappadocia would be just excellent. There are a lot of restaurants in the area, which is quite convenient for tourists.
This is a family-friendly and fairly affordable hotel with a choice of different rooms: Superior Stone Room, Deluxe Stone Room, Premiere Cave Suite, Cave Suite, which you can choose according to your taste and budget. The big plus of the hotel is that a delicious breakfast is included in the room rate.
If you want to feel yourself in a real cave, I advise you to choose the Premiere Cave Suite, as it really has no windows, but a distinguished copper bathtub. Besides, according to the hotel, this is one of the best rooms.
Some rooms can accommodate up to 5 people, which is comfortable for family travelers. For those who want to watch the balloons from their room, I recommend taking a slightly more expensive Deluxe Stone Room, with a private view of Pigeon Valley, Göreme, Ortahisar, Avanos, Erciyes mountain, and Great Red Valley.
Address: Kesek Sokak, No: 11, Uchisar/Nevşehir Merkez/Nevşehir, +90 384 219 24 06.
9 – Perimasali Cave Hotel: Fabulous Guest House in a Historical Mansion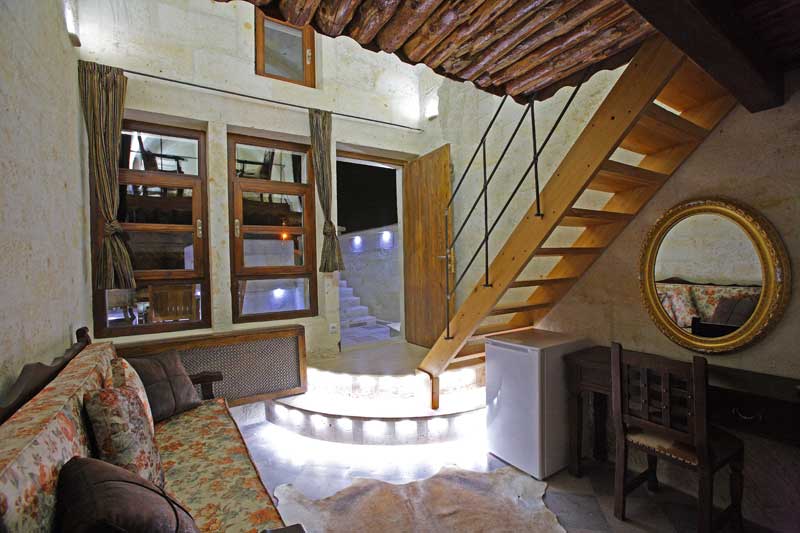 This fabulous guest house is the outcome of two years long masterly renovation of an old Greek house.
Premium comfort and aesthetics have been added to this historical mansion without spoiling its original texture and charm. As you enter inside, you will notice a classical fireplace and original stone arches still retained.
Perimasalı (Fairytale) Cave Hotel, located over a hill in Sinasos, overlooking the whole town, offers its guests a phenomenal view of Cappadocia.
Staying in these stone arched rooms meticulously enriched with thick velvety fabrics, you will find yourself as the hero of an endless fairy tale.
There is a total of 7 unique rooms and suites available for guests, all in a cave style. Each room has a private patio and a separate spa bath for a relaxing dip after a long trip.
The hotel is a pioneer project designed and operated by its owner to promote Sinasos culture and identify its ancient monumental architectures.
The staff is highly attentive and friendly, giving you a homey feeling. From room services to heavy luggage, local tours to rental cars, they will assist you beyond expectations to make your vacation remembered forever.
Almost all guests who stayed in this deluxe hotel have given impressive feedback for their impressive hospitality and service.
Address: Davutlu Mevkii, Şht. Aslan Yakar Sk., No: 6, Mustafapaşa/Ürgüp/Nevşehir, +90 544 570 00 50.
All of these beautiful cave hotels are adorned with hand-crafted furnishing and local carpets, drawing attention to the unique cultures and traditions of Cappadocia. Besides, they also offer a variety of accommodations to suit different styles and budgets.