Top 3 Food Tours We Recommend:
#1 – Best Overall – The Taste of Two Continents
#2 – Best Night Tour – Traditional Meyhane and Street Eats
#3 – Best Cruise Tour – Bosphorus Dinner
#1 Best Istanbul Food Tour: The Taste of Two Continents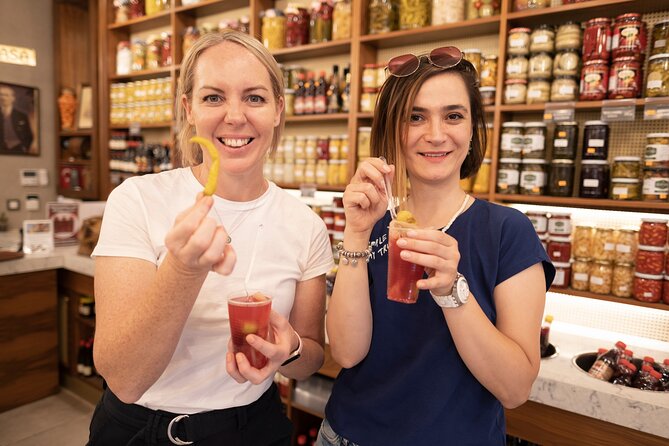 Discover the delicious Turkish cuisine on this intimate full-day tour across Istanbul's European and Asian quarters.
Start your gastronomic journey in Istanbul's historic center, with a day packed with scrumptious food tasting. Experience a vibrant spice market, enjoy a classic Turkish breakfast, and traverse the Bosphorus to the chic Kadikoy district. Throughout the day, savor diverse dishes, visit a range of eateries, and gain insight into Istanbul's iconic foods.
This small-group tour, capped at eight attendees, melds food, culture, and history into an unforgettable experience.
Why Join This Tour?
Explore Istanbul's Diversity: This tour takes you through both the European and Asian sides of Istanbul, including ferry tickets in the package.
Culinary Adventure: Sample a variety of Turkish dishes at different local eateries, markets, and cafes, accompanied by Turkish coffee and breakfast.
Immerse in Local Culture: Learn about local culinary culture, history, and traditions from a knowledgeable English-speaking guide.
Comprehensive Package: The tour includes tastings at 9 unique eateries and restaurants, friendly and passionate tour guides, a full day of culinary, cultural, and historical experiences, gratuities, and return ferry tickets.
Meeting and End Points: The tour begins at Brew Coffee Works Hobyar and concludes at the Kadıköy Ferry Terminal, with your guide assisting you to catch the return ferry.
Interesting Tour Stops: Visit historically significant areas of Istanbul, Misir Carsisi (Spice Market), Bosphorus Strait, Kadikoy Carsisi, Sureyya Opera House, and Kadikoy Iskelesi.
#2 Best Overall Private Food Tour: The 10 Tastings of Istanbul With Locals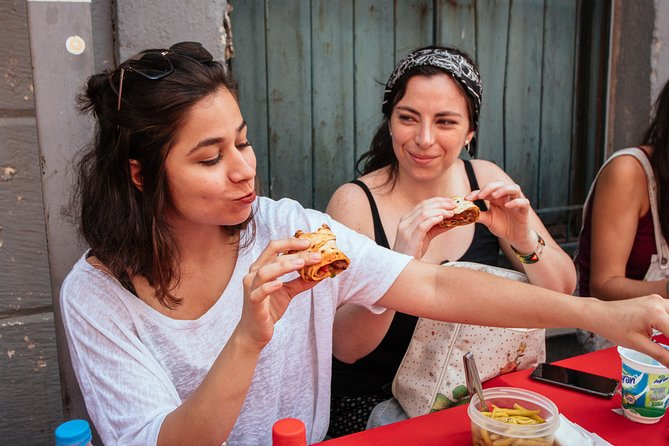 The Istanbul Private Food Tour: The 10 Tastings is a half-day culinary exploration. This private tour takes participants on a gastronomic journey, introducing them to 10 of Istanbul's most notable culinary delights while immersing them in the city's vibrant food culture.
Why this tour?
Unique Locations: The tour initiates from the Espresso Lab Cihangir and navigates through varied locales such as Cicek Pasaji, Avrupa Pasaji, and Aga Hamami, each reflecting a unique facet of Istanbul's culinary spectrum.
Culinary Delights: Participants get an opportunity to taste 10 of Istanbul's most celebrated culinary delights, presenting an array of flavors and food traditions.
Educational Insights: The tour is not only a feast but an educational journey as well, where participants learn about the history and cultural significance of the foods they taste, guided by an informed and engaging guide.
Private and Personalized: Being a private tour, it offers a more intimate and personalized experience, making every culinary stop a memorable one.
Flexible Group Sizes: The tour accommodates varying group sizes, adjusting the prices accordingly, making it a suitable choice for solo travelers, couples, and larger groups alike.
Cancellation Policy: The tour's cancellation policy allows participants to cancel up to 24 hours in advance for a full refund, providing added flexibility.
In essence, the Istanbul Private Food Tour: The 10 Tastings is a comprehensive way to delve into Istanbul's food culture. With an expert guide, a thoughtfully curated itinerary, and the benefits of a private experience, this tour provides a rich perspective on Istanbul's culinary landscape.
#3 Bosphorus Dinner Cruise: Born on the Bosphorus Authentic Istanbul Food Tour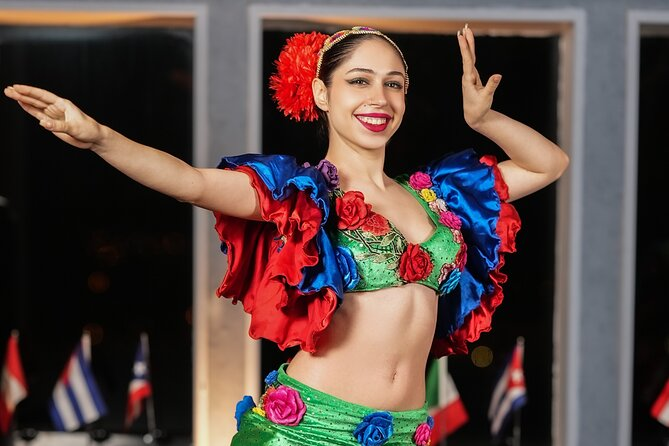 Discover the magic of Istanbul by night on this unforgettable dinner cruise aboard the city's only catamaran, a unique experience that combines exquisite dining and captivating entertainment. Cruise between Europe and Asia along the breathtaking Bosphorus Strait, taking in iconic palaces and the illuminated Istanbul skyline. Your evening will be punctuated by thrilling performances, from traditional Turkish to dynamic Latin dances, complemented by a live DJ to keep the energy high.
Why Join this Tour?
Culinary Delight: Feast on a delightful array of Turkish cuisine with your dinner, complemented by unlimited alcoholic drinks, offering you a taste of the local food culture.
Cultural Immersion: Experience traditional Turkish dances and enjoy a lively DJ performance, giving you a deep dive into the local entertainment scene.
Unparalleled Views: Cruise between Europe and Asia on the Bosphorus Strait, admiring the iconic palaces and the mesmerizing Istanbul skyline illuminated at night, providing a unique perspective of the city.
Convenience: With hotel pick up and drop off included in comfortable, air-conditioned vehicles, you can enjoy the evening without arranging your own transportation.
Unforgettable Experience: This tour combines food, entertainment, and sightseeing into one package, promising an unforgettable evening that will be a highlight of your Istanbul trip.
Join this tour for an enchanting evening aboard Istanbul's only catamaran dinner cruise and create memories that will last a lifetime. This unforgettable experience is more than just a dinner, it's a feast for all the senses.
#4 Savor Istanbul At Night: A Flavorful Journey through Traditional Meyhane and Street Eats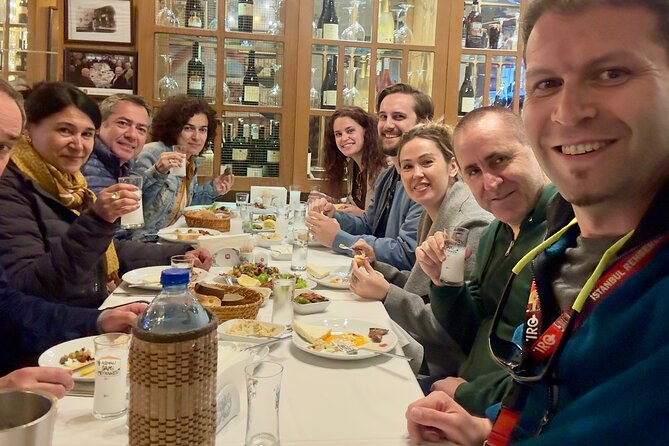 Experience a culinary journey through the vibrant Beyoglu (Pera) neighborhood with this immersive half-day food tour. Limited to just eight participants for a personal touch, you'll get to savor a range of Turkish delicacies, from mezes to kebabs and from baklava to the regional anise-flavored liquor, raki. Along the way, enjoy visits to lively markets, street food stalls, and restaurants tucked away in the backstreets, all while soaking up insights into Turkish culture and history from your professional guide.
Why Join this Tour?
Diverse Food Experience: Sample an array of Turkish dishes, from delicious mezes and kebabs to sweet baklava, offering an authentic taste of Turkey's rich culinary scene.
Local Spirits: Get a chance to try raki, a local anise-flavored liquor that is a staple in Turkish culture.
Cultural and Historical Insights: Learn about Turkish culture, history, and cuisine from your professional guide, enhancing your understanding of the region.
Intimate Group Setting: The tour is limited to eight travelers, ensuring a personalized and more intimate experience.
Explore Local Spots: Visit bustling markets, street food stalls, and backstreets, providing a closer and more local perspective of the city.
Don't miss this chance to eat, learn, and explore your way through Istanbul, leaving with a full belly, enriched knowledge, and unforgettable memories. Join this foodie tour to discover why Turkish cuisine is cherished worldwide, and find your new favorite dish in the heart of Istanbul.
#5 Best Food Combo: An Evening of Dining in Asia, Dessert in Europe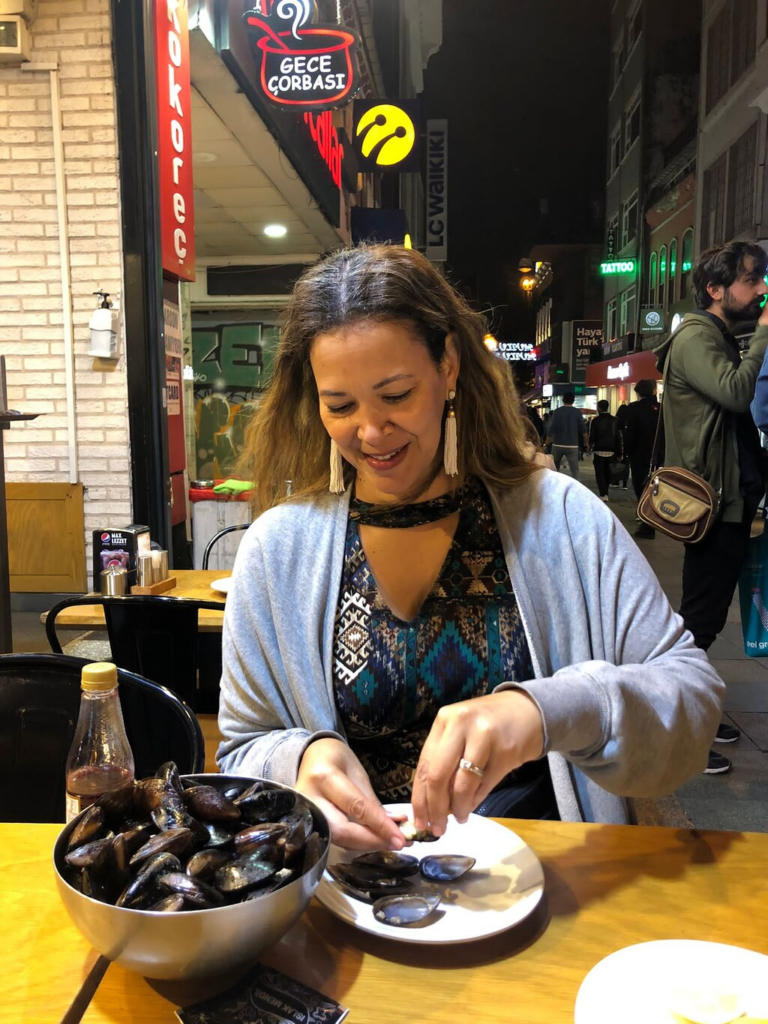 Indulge in Istanbul's diverse culinary scene with an enchanting evening walking and food tour that bridges both the European and Asian sides of this magnificent city. Start your gastronomic journey near the iconic Blue Mosque, then sail across the Bosphorus River to delve into the delicious offerings of the Kadikoy Carsisi market. Savor traditional Turkish specialties at a local restaurant, and indulge in rich baklava, aromatic coffee, and an optional hookah session as the evening unfolds.
Why Join this Tour?
Culinary Variety: Experience the incredible diversity of Turkish cuisine, from hearty meals to delectable desserts and invigorating drinks.
Cross-Continental Journey: Take a unique gastronomic adventure that spans both the European and Asian sides of Istanbul.
Local Experiences: Explore the Kadikoy Carsisi market and authentic local eateries, taking you beyond typical tourist experiences.
Small Group: Benefit from personalized attention and a more intimate experience with a group limited to eight people.
Knowledgeable Guide: Gain fascinating insights about Istanbul's food and culture from a professional, gourmet, English-speaking local guide.
From sampling traditional food in markets and restaurants to crossing continents over dinner and dessert, this adventure is a sensory delight. Whether you're a food lover, a culture enthusiast, or a traveler seeking unique experiences, this tour promises a memorable evening filled with delicious food, vibrant culture, and extraordinary sights. Take this journey and let Istanbul's flavors tell their own story.
#6 Best Private Guided: 'Taste of Istanbul' Food Tour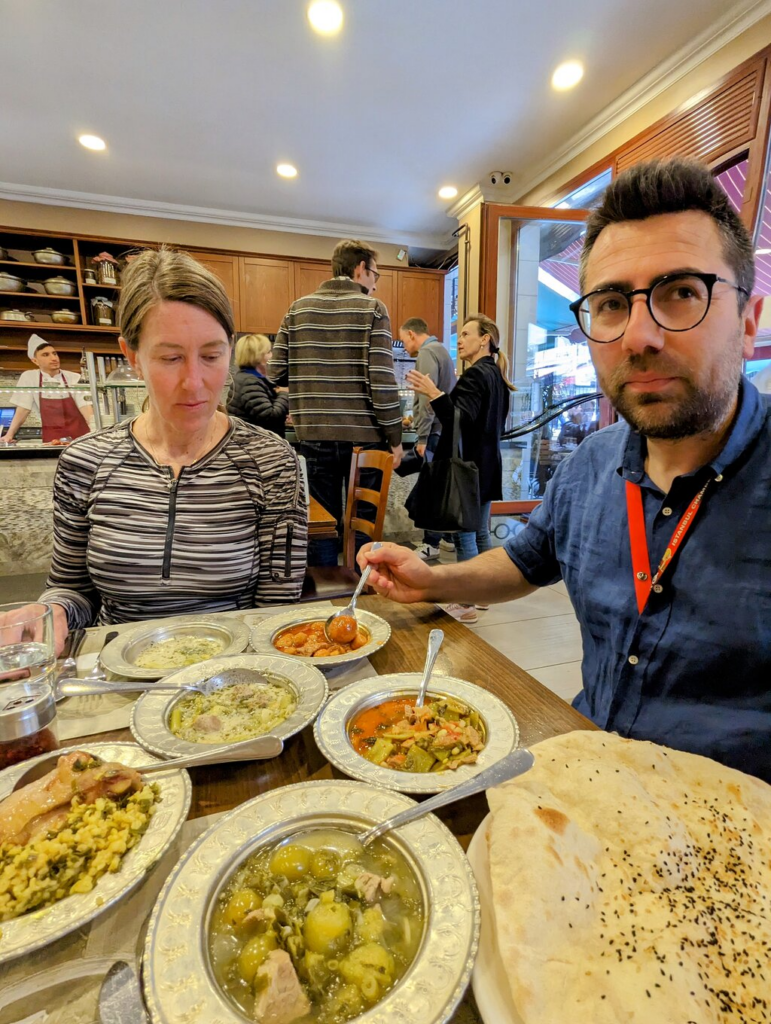 Get on a private, guided food tour that unravels the rich culinary tapestry of Istanbul. With a knowledgeable local guide, you'll savor a broad range of Turkish delights, from popular favorites to hidden gems known only to insiders. The tour is highly customizable to suit your preferences and dietary needs. With substantial walking and eating involved, don your comfy shoes and bring your appetite for a truly enjoyable Turkish gastronomic adventure.
Why Join this Tour?
Authentic Cuisine: Dive into Turkey's diverse culinary scene, tasting popular delicacies and lesser-known treats guided by a local foodie.
Private and Customizable: Enjoy the exclusivity of a private tour that can be tailored to your needs, preferences, and appetite.
Insider Knowledge: Benefit from your local guide's expertise, as they introduce you to food items you might not discover independently.
Comprehensive Package: Food tastings, beverages, and hotel pickups from certain areas are all included for your convenience.
Perfect for Groups: This tour makes an ideal experience for friends and family traveling together, creating shared memories.
It's more than a food tour – it's an intimate exploration of the culture, history, and tradition embedded in each dish. With the flexibility of customization and the benefit of a local guide, you'll gain a deeper appreciation for Istanbul's culinary landscape. Join this mouth-watering adventure and let Istanbul's cuisine captivate your senses in the most delightful way.
#7 Best 4-Course Meal: Food and Wine Pairing Experience at Karnas Vineyards, Bodrum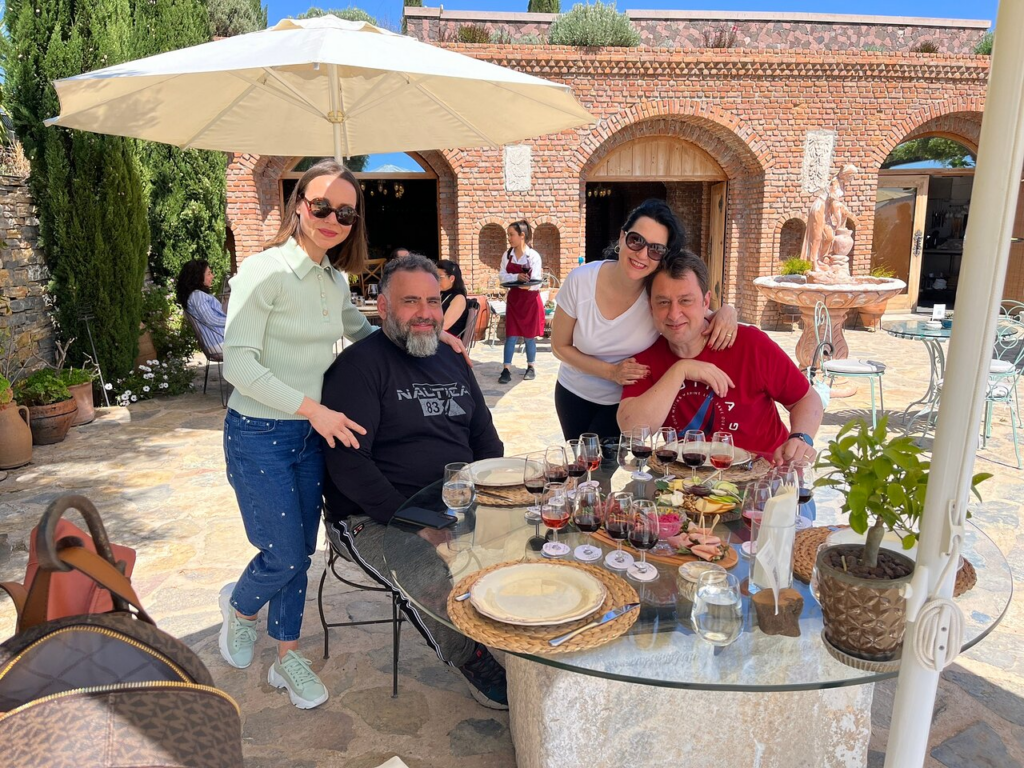 Introducing a 2- to 4-hour food and wine pairing dinner at the charming Karnas Vineyards in Bodrum. Delight in a scenic drive through the enchanting Turkish wine country, and upon arrival, enjoy a welcoming glass of Zinfandel. A tour of the cellar and a carefully curated 4-course meal awaits, with each dish perfectly paired with regional Turkish wines and showcasing local ingredients like olive oil, jam, and cheese.
Why Join this Tour?
Exclusive Wine Tasting: Savor a variety of regional Turkish wines, getting an authentic taste of the country's wine heritage.
Food and Wine Pairing: Learn the art of pairing food and wine through a meticulously crafted 4-course dinner.
Local Produce: Enjoy dishes made with locally-sourced ingredients, highlighting the richness of Bodrum's agricultural produce.
Scenic Vineyard Tour: Experience a picturesque drive through Turkish wine country and tour the cellar at Karnas Vineyards.
Convenience: Complimentary hotel pick-up and drop-off ensures a hassle-free and enjoyable experience.
Beyond just a meal, it's an educational journey into the world of Turkish wines and the art of pairing them with gourmet dishes. With the scenic backdrop of Bodrum's lush wine country, this tour promises not only unforgettable flavors but also enchanting views. Join this tour and raise a glass to the delights of Bodrum's culinary and viticulture scene.