Istanbul is a tremendously cosmopolitan city. From the west of the city to the east, there are residential areas and historical and cultural things to see. There are 16 million residents in Istanbul. Building a public transportation system in a city like Istanbul has always been a difficult task. 
But, do not worry! Istanbul has an easily learned, simple public transportation system in the central districts.
There are three types of public vehicles in Istanbul; railway systems including trains, subways, and funiculars, sea transportation including ferries and sea buses, and vehicles such as metrobuses and busses. 
Taking a cab is not always advantageous for a city like Istanbul, especially in crowded and popular places. In particular, the roads taking to Taksim, Besiktas, Karakoy, Eminonu, and Historical Peninsula are so crowded, and traffic is generally at a snail's pace! 
Well, surely, there is a lot to see in Istanbul; yet, sometimes places are not close to each other.
To move around the city, you will need an Istanbul Card (Istanbulkart) at a point so that you can use public transportation to shorten the distances and get rid of the traffic.
Istanbul Card is an electronic payment system for Istanbul's public transportation.
For example, if you'd like to see the Maiden's Tower after Topkapi Palace, you have to take the tram and then the ferry. More than a decade, Stambouliotes and tourists are using Istanbul Card instead of cash or one-pass tickets. 
There are two types of public transportation in Istanbul. The first one is run and managed by the Istanbul Cosmopolitan Municipality.
It includes ferries, subways, railways, Marmaray (train connecting European side to Anatolian), and busses. The second option is privately held dolmushes (minibusses) and sea busses. There are numerous taxis and sea taxis as well.
Istanbul card is used in Municipality owned transportation, which is ferries, all rail transportation, and busses. However, you have to pay cash to the driver in order to take dolmush. 
The card system is, in its fullest sense, easy. It is fast, practical, and safe. It is designed to use public transportation without paying cash. It is simply an electronic ticket system which allows you to save time and money.
1- How to Get an Istanbul Card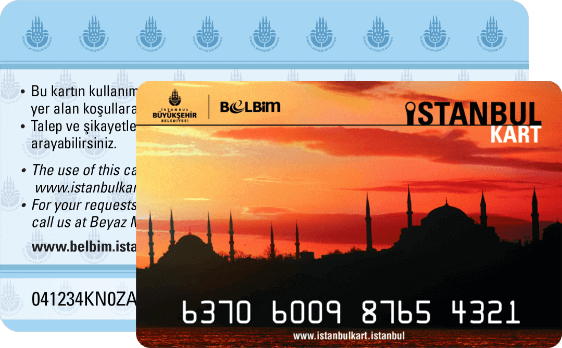 Let me first introduce where you can receive your Istanbul Card. There are a few options.
You may go to biletmatiks that are either yellow or blue machines in the airports, in every pier and metro station to receive a card and to load credit. In the morning and after work, there may be a line for biletmatiks so it is better to get your card after 10 am to 5 pm or after 7 pm. 
The other option is going to the Istanbul Card centers which are located in certain metro stations and piers. There are centers in Topkapi, Karakoy, Kadikoy, Uskudar, Princes Islands, Besiktas, and Taksim.  
There is also the third option. If you'd like to have your Istanbul Card ready when you arrive, you may choose the delivery option. This option is only available for personal Istanbul Cards. 
The final option is buying an Istanbul Card from the supermarket chain Migros. You may ask the cashier to give you an Istanbul card.
2- Different Types of Istanbul Cards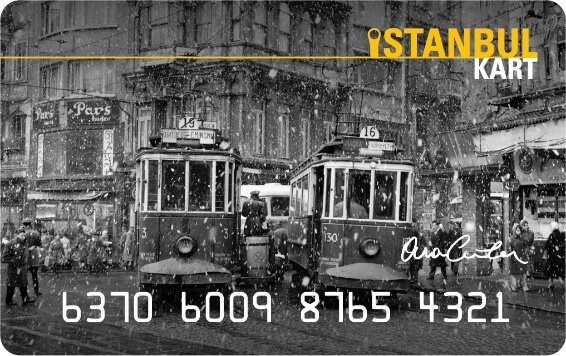 There are several types of Istanbul Cards you may get according to your preference and status. Some cards offer cheaper passing or different opportunities. 
If you are not planning to use public transportation more than a few times or you are so bad at keeping cards, restricted cards are ideal for you.
There are 5 kinds of restricted cards. One-pass (BİRgeç) card which brings single use is $0.80 Two-pass (IKIgec) is $1.40. Three-pas (UCgec) is $1.90, five-pass (BESgec) is $2.90.
The anonymous card (Anonim Kart) is the simplest version. You may receive it from the biletmatiks. It is quite cheap and ideal for visitors who stay for less than a month. It costs 6 liras. After receiving the card, you will need to load credit.
Also, you may want to receive a special design Istanbul Card which is changed and prepared periodically. They are used as transportation cards as well. Currently, in 2020, there are the Istanbul Card designs of Ara Guler's photos. He is a worldwide known photojournalist based in Istanbul. 
Another type of card is the blue card. Well, first of all, your name is written on the card! So, if you are a memoir collector like me, it is a perfect thing to add to your travel collection! Moreover, it provides several opportunities especially if your stay in Istanbul is going to be more than 3 weeks. 
Blue card is also $0.75. You may obtain it through an online application. You may also get your blue card from the Istanbul Card center. You should show your passport in order to get this type of card. 
There are also student cards and free cards but you have to be either a Turkish citizen or satisfy the strict conditions. If you are a student who is coming to Istanbul to study, you should definitely get a Student Istanbul Card because it is %50 cheaper than the normal pass.
If you have financial considerations, getting an anonymous card or blue card is the most suitable option rather than restricted cards which are kinds of expensive disposable tickets. 
3- How to Top up Credit to Your Istanbul Card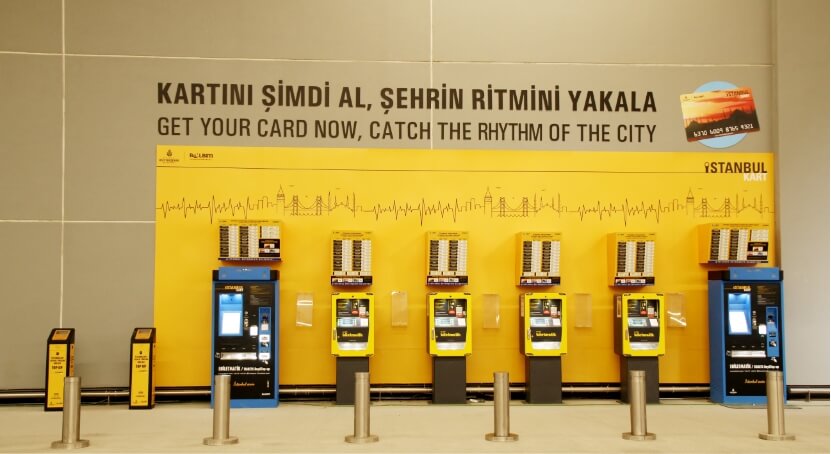 You may load credit by using biletmatiks, online applications, and Istanbul card agencies. As I mentioned, biletmatiks are on piers and subway stations. The agencies, on the other hand, are privately held small markets and kiosks. 
You may top up at least 5 liras and at most 300 liras to an anonymous Istanbul Card. 
Biletmatiks do not give the change. So, when you buy the Istanbul Card for the first time, the change is loaded as credit. For example, if you give 20 liras to the machine, 6 liras is the card fee and 3.5 liras are to use in transportation. 
The loading process is quite easy. You may follow the directions of the machines to load and reload. You cannot use coins to load credit in biletmatiks. Also, the banknotes should be clear and without tearing. 
The application is the easiest way! By downloading the Istanbul Card Mobile Application, you may load credit anytime, you may check the balance and see spending. The app is available in both Apple App Store and Google Play Store. 
Moreover, with the QR code, you may receive from the application, you may use public transportation in pilot areas including metrobuses, T1 and T4 metro lines, and intracity sea transportation. 
In kiosks, Migros supermarkets, and sometimes small markets you may ask the cashier to load credit. It is possible to use a credit card to transfer credit to Istanbul Card in Migros. 
4- Tickets and Fares in Istanbul Public Transportation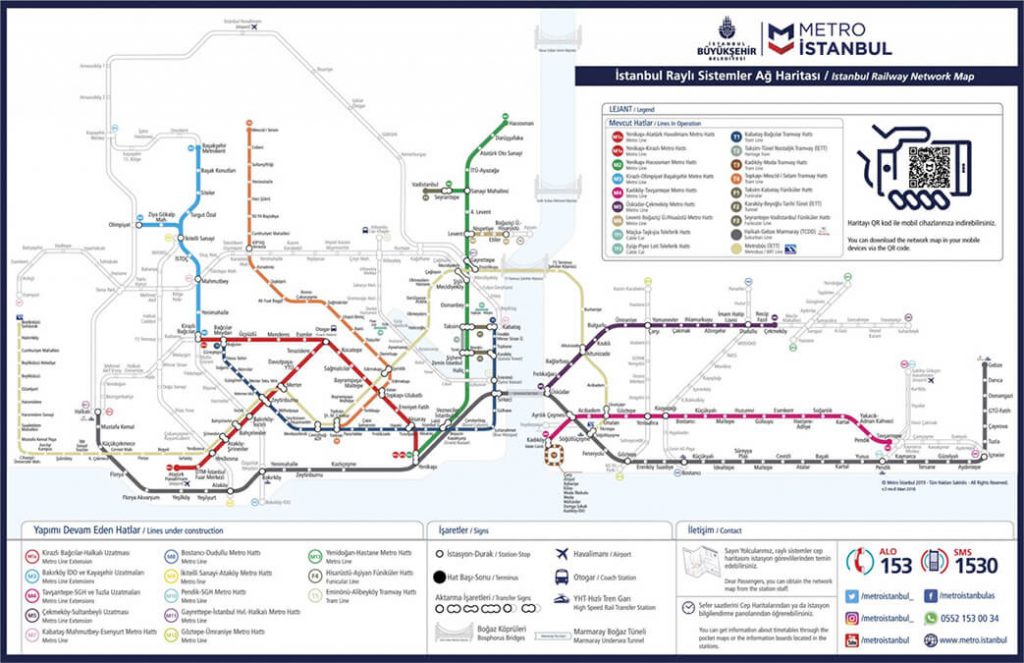 The prices are generally stable except for Marmaray and Metrobus. The fares below are for busses, subways, the nostalgic tram, lifts, and the tunnel.
By 2020, one pass by an anonymous or blue card is $0.40, the first transfer fare is $0.30, the second transfer is $0.25 and after that, it is $1.15. 
Keep in mind that, moving from one direction to the other may require at least two transfers sometimes. For example, if you'd like to see the Maiden's Tower after Topkapi Palace, you have to take the tram and then the ferry. 
There is a financial opportunity for blue card possessors. The monthly full fare that includes 200 passes is $35. 
As the Marmaray is a very long railway system, it takes $0.95. However, this fare is determined according to the first station to the terminal. So, you may receive some repayment after getting off. 
Student fares are much cheaper. It is $0.21 for the first pass and $0.21 for the first transfer. 
As I mentioned, there are tickets as well. All tickets are electronic, so after passing the turnstile or taking the bus, you may cast it away. 
5- Does It Really Worth It? 
Other than the financial benefits of the Istanbul Card, which reduces the price by almost 60%, Istanbul Card offers other opportunities.  
Other than being super handy in public transportation, Istanbul Card is used as a discount card in Migros supermarkets. If you have loaded more credit than you need to your Istanbul Card then you can even do shopping by it. 
Also, if call a cab from the iTaksi app, you may do the payment via Istanbul Card. I strongly advise you to download this application as it eases your life in Istanbul radically. It is an application completely developed by Istanbul Cosmopolitan Municipality. Although Uber is not available in Turkey, iTaksi provides a Uber-like system.
The design of the Istanbul Card is I think beautiful. It is one of the memoirs that will remind you of your Istanbul trip whether on your wallet or your memoir box.
When I visit a city, I always keep my tickets or public transportation-card to remember my trip. Moreover, there is no time limit for an Istanbul Card. You may use your card even years later. 
If you ask my opinion on the question on the title, I mean, does it worth it, yes!
It definitely worth it and I think it is one of the things you get as an Istanbul visitor. It's a part of our identity like eating simit on the ferry, listening to street musicians in Istiklal Street, or drinking ayran with kebab! 
6- Some Final Words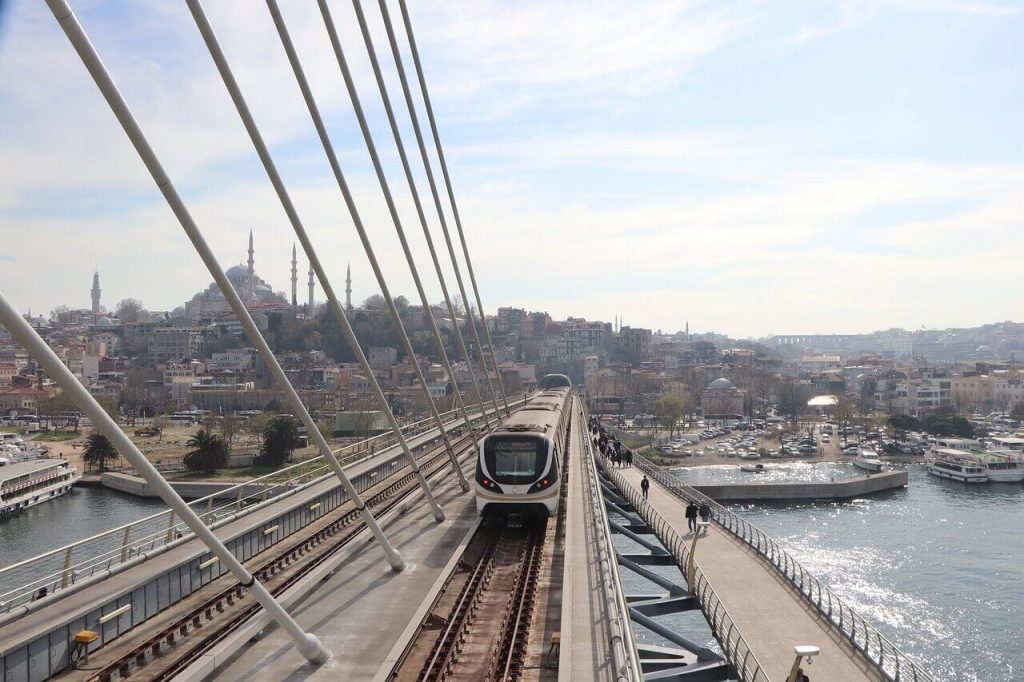 The public transportation in Istanbul does not only takes you from one direction to another but sometimes it gives you the opportunity to feel the city. 
If you take the lift from Taskisla -somewhere near to Taksim- to Macka -somewhere near to Besiktas- you will be able to see the Marmara Sea and the Macka Part during your short journey. 
If you take a ferry from either the Asian side to the European or vice versa, you enjoy an unforgettable experience of changing continents in 20 minutes! 
So, if you are planning to go everywhere by cap or car, I recommend you changing your plan and giving a chance to public transportation. 
Traffic is a problem for every global city, however, if you use a railway and seaway as much as possible you'll be able to prevent it from affecting your Istanbul trip.  
Every city has its own daily life details. One of ours is the sound we hear when the Istanbul card is used. It is a unique sound that is identified with Istanbul. Try to hear it, because it is one of the most known voices of our lovely city!