Top 3 Cappadocia day trips we recommend:
#1 Experience the Magic of Cappadocia: Private Day Trip from Istanbul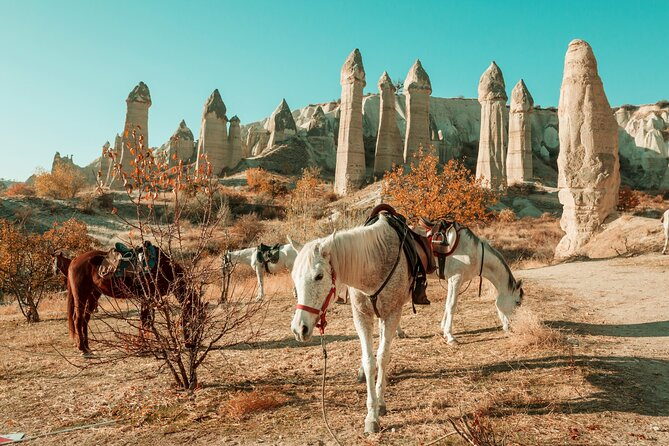 Unearth the hidden gems of Cappadocia on this meticulously crafted private day trip from Istanbul. This enchanting expedition delves into the heart of Turkey's ancient history and stunning natural landscapes, all within a single day. Your journey begins in Istanbul, from where you'll be whisked away by plane to Cappadocia's mesmerizing landscapes. Immerse yourself in the region's magical allure as you traverse through the UNESCO-listed Goreme National Park, famous for its unique rock formations and prehistoric cave dwellings. Delight in the spectacle of Pigeon Valley, known for its centuries-old pigeon houses etched into the cliff sides. The journey further burrows into the region's intriguing past with a visit to Kaymakli Underground City, an intricate subterranean network once used as a hideout by early Christians. 
Why Join this Tour?
Time-Efficient Exploration: With the convenience of round-trip flights from Istanbul, this tour allows you to avoid lengthy land travel, ensuring you get the most out of your day in Cappadocia.
Expert Guidance: Our experienced private guide offers in-depth insights into Cappadocia's unique history and geology, providing a richer understanding than guidebooks alone.
Personalized Itinerary: With the flexibility to tailor the tour to your interests, you're guaranteed a unique and unforgettable sightseeing experience that suits your pace and preferences.
All-Inclusive Package: With all costs covered – including flights, entrance fees, lunch, and ground transfers – this tour is a stress-free solution to exploring Cappadocia's key attractions.
Taste of Local Cuisine: Our tour includes a delicious local lunch, offering you the opportunity to experience the flavors of traditional Turkish cuisine, further enriching your cultural immersion.
Seamless Transportation: Door-to-door ground transfers ensure a smooth and hassle-free travel experience, allowing you to focus solely on the spectacular sights of Cappadocia.
The comprehensive itinerary, convenient transportation, and expertise of a private guide all contribute to creating a seamless and enriching experience. With the flexibility to tailor your journey, you're assured an adventure that's perfectly aligned with your interests and pace. Engage with the region's ancient past, soak up its stunning landscapes, and immerse yourself in its vibrant culture. Don't miss out on this extraordinary opportunity to dive deep into the enchanting world of Cappadocia within a single, action-packed day.
#2 Experience the Unseen: Discover Cappadocia's Hidden Wonders with the 2 Days Tour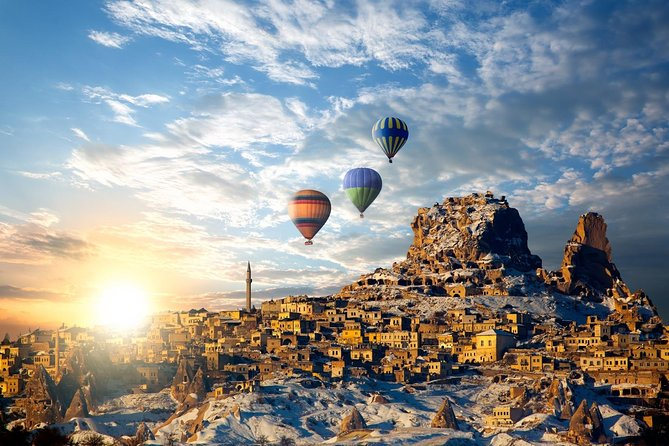 Embark on the captivating journey of 2 days tour to Cappadocia, specially designed for small, intimate groups. As part of this exciting adventure, you'll get to explore the ethereal landscapes and the rich history of North Cappadocia, one of the most enchanting regions in Turkey. This tour includes visits to UNESCO World Heritage sites such as Göreme Open-Air Museum and natural wonders such as Fairy Chimneys and Devrent Valley. Also on the agenda are excursions to the historic cities of Uçhisar and Avanos, famed for their intricate pottery and charming castles. With the added comfort of traveling with a small group, this tour promises a truly personalized and immersive experience.
Why Join the Tour?
Discover the History: Uncover the fascinating past of this region, from its early Christian settlements to its unique geological formations.
Explore UNESCO World Heritage Sites: Visit world-renowned locales like the Göreme Open-Air Museum, showcasing ancient rock-cut churches and frescoes.
Admire Natural Wonders: Be spellbound by the peculiar landscapes of Fairy Chimneys and Devrent Valley, the epitome of Cappadocia's unique topography.
Enjoy Local Crafts: Witness the age-old tradition of pottery-making in Avanos and have the opportunity to purchase handmade souvenirs.
Benefit from a Small Group Setting: Experience the intimacy and flexibility of a small group, fostering a more personalized tour experience.
Engage with Expert Guides: Gain insights from local guides with extensive knowledge about the history, culture, and geography of North Cappadocia.
Experience Authentic Turkish Cuisine: Savour the flavors of traditional dishes during lunch stops at local eateries.
The two days tour is more than a simple journey; it's an immersion into a magical landscape steeped in history and culture. It's an opportunity to engage with the spirit of North Cappadocia, from its ancient ruins to its geological marvels and rich traditions.  Join us to experience the vibrant history, stunning landscapes, and warm hospitality that make Cappadocia a gem in Turkey's crown. Your unforgettable journey awaits.
#3 Unveil Cappadocia: A Privately Guided Full-Day Adventure From Istanbul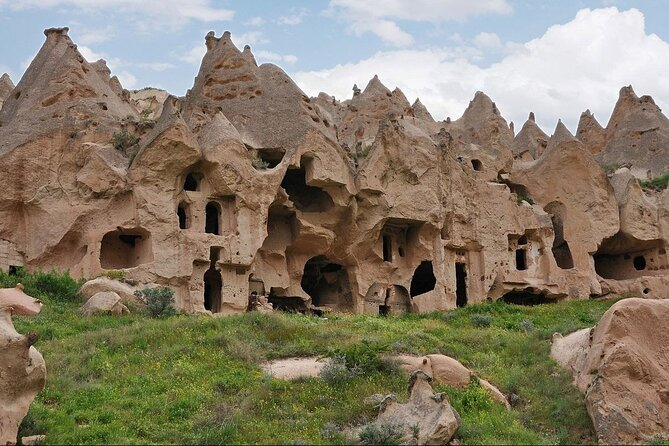 Immerse yourself in the otherworldly beauty of Cappadocia with the full-day tour. This all-inclusive experience provides unrivalled access to one of Turkey's most stunning and unique landscapes, a UNESCO World Heritage Site recognized for its distinctive fairy chimney rock formations, sprawling cave dwellings, and magnificent underground cities. With the expertise of a knowledgeable local guide and the comfort of a private car, you will navigate Cappadocia's highlights, making stops at its most iconic sights, along with hidden gems only locals know. This tour is tailored to provide a personalised journey through the region's rich history, unique geology, and fascinating culture, beginning at dawn and concluding with a breathtaking sunset view.
Why Join this Tour?
Personalized Exploration: The private tour offers a bespoke experience that accommodates your interests and pace, a stark contrast to standard group tours.
Cultural Immersion: Gain a deep understanding of Cappadocia's rich history and unique culture through the insightful narratives of our expert local guide.
Comfort and Convenience: Travel comfortably as it includes flight tickets, ensuring you enjoy the spectacular scenery.
Unrivaled Access: Discover Cappadocia's hidden gems, beyond the popular tourist routes, made possible with our knowledgeable guide.
All-Inclusive Experience: With all admission fees included in the package, there's no need to worry about extra costs.
Breathtaking Scenery: Experience the surreal landscapes of Cappadocia, from fairy chimneys and cave dwellings to underground cities and impressive rock formations.
Perfect Photos: Capture stunning photographs at every turn, creating lasting memories of your adventure.
With a blend of personalized exploration, cultural immersion, convenience, and unrivaled access to hidden gems, you'll witness the magic of Cappadocia and experience it on a level most tourists never will. Whether you're a history enthusiast, a culture lover, or a passionate adventurer, this tour promises a captivating experience and memories that will last a lifetime. Enrich your travel story with this not-to-be-missed opportunity to explore the magical world of Cappadocia.
#4. Fly by The Plane: The Ultimate Cappadocia Journey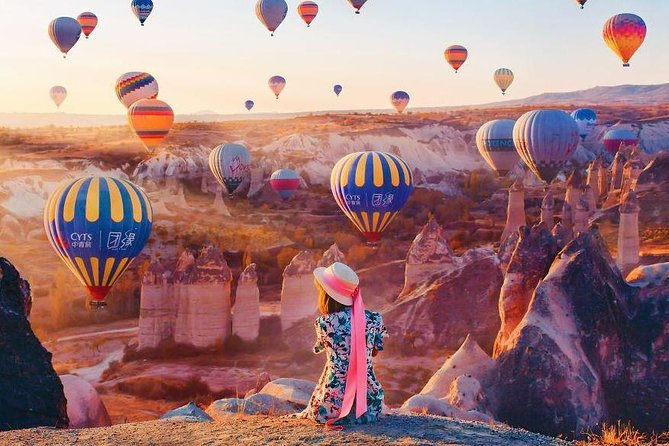 Experience the magic of Cappadocia on an immersive two-day adventure from Istanbul. This tour whisks you away on a journey across time, from the bustling metropolis of Istanbul to the ethereal landscape of Cappadocia, with a quick and convenient plane ride. Uncover the ancient mysteries of Uchisar Castle, immerse yourself in the awe-inspiring natural beauty of Pasabag, and explore the world-renowned Goreme Open Air Museum with its fascinating rock-cut churches and vivid frescoes. Delve deeper into the region's history with a visit to Derinkuyu Underground City, and lose yourself in the splendid sights of Pigeon Valley. Highlighting the trip is a breathtaking hot air balloon ride, offering panoramic views of the enchanting Cappadocian terrain. An overnight stay in a boutique hotel in Goreme will only add to the charm of your journey. With hotel pickup and drop-off in Istanbul, round-trip flights, and some meals included, this tour is an exquisite blend of exploration and convenience.
Why Join this Tour?
Wide Coverage of Highlights: This tour allows you to experience a multitude of Cappadocia's key attractions in just two days.
Hot Air Balloon Experience: A memorable hot air balloon ride will afford you stunning bird's-eye views of the unique Cappadocian landscape.
Boutique Accommodation: An overnight stay in a charming boutique hotel in Goreme enhances your immersive Cappadocian experience.
Comprehensive Travel Service: The inclusion of round-trip flights, hotel transfers in Istanbul, and some meals ensure a smooth and hassle-free adventure.
Rich Historical Excursion: Visiting sites like Uchisar Castle and Derinkuyu Underground City provides a deep dive into Cappadocia's rich history and unique geology.
Unmatched Scenic Beauty: The tour takes you through breathtaking landscapes such as Pasabag and Pigeon Valley, offering unparalleled photo opportunities.
In conclusion, the 2-day Cappadocia tour from Istanbul is a meticulously crafted adventure designed to explore this mesmerizing region in a compact timeframe thoroughly. You're set for an enjoyable and comfortable journey with a host of top-notch services, including round-trip flights, hotel transfers, some meals, and a boutique hotel stay. The carefully selected attractions offer a balanced mix of cultural immersion, historical enlightenment, and scenic beauty. Adding to the charm of the expedition is the unforgettable hot air balloon ride, which offers an extraordinary perspective on the striking Cappadocian landscapes. Embark on this rewarding journey to taste Turkey's rich history and remarkable natural splendors.
#5 Soar into Serenity: Cappadocia Day Tour From Istanbul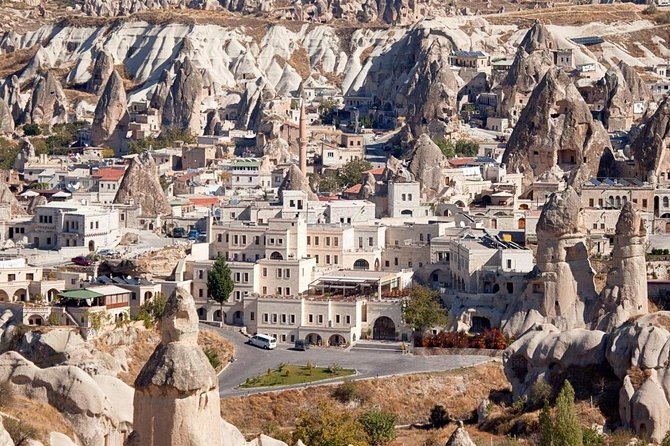 Escape the hustle and bustle of Istanbul and venture into the surreal landscapes of Cappadocia on this captivating small-group day tour. With round-trip flights and hotel transfers from Istanbul, this tour is a convenient and stress-free way to explore Cappadocia's marvels. Discover the region's unique geological wonders, from its fairy-tale chimneys to the moon-like plains. Explore the intricate cave dwellings and the multi-level underground cities that tell tales of ancient civilizations. Feast on a traditional Turkish lunch and meander through the enchanting town of Avanos, renowned for its exquisite ceramics. The tour culminates at the UNESCO-Listed Goreme Open-Air Museum, where you can marvel at the rock-carved churches and stunning frescoes. Catering to a maximum of 15 people, this tour guarantees a personalized and intimate experience.
Why Join this Tour?
Compact Exploration: This day tour allows you to explore the vast and diverse attractions of Cappadocia, making the most of your limited vacation time in Turkey.
Stress-Free Travel: With all-inclusive transportation, including round-trip flights and hotel transfers, you can travel comfortably and without any logistical headaches.
Small Group Experience: A group size capped at 15 ensures a personalized and intimate experience, enhancing your interactions with the guide and the region.
Cultural Immersion: By exploring ancient cave dwellings, underground cities, and the renowned town of Avanos, you can engage with the rich history and culture of Cappadocia.
Culinary Delight: The tour includes a traditional Turkish lunch, allowing you to experience the culinary heritage of the region.
World Heritage Site Visit: Visiting the UNESCO-Listed Goreme Open-Air Museum offers an invaluable glimpse into the region's artistic and religious history.
In a nutshell, the Cappadocia day tour from Istanbul offers an immersive journey through one of Turkey's most striking regions. Combining convenience, intimacy, and a rich tapestry of experiences, this tour ensures a comprehensive and hassle-free exploration of Cappadocia's gems. From the impressive geological formations to the rich cultural heritage of Avanos and Goreme, you'll return to Istanbul with a wealth of memories and a deeper understanding of Turkey's diverse landscape and history. Seize this opportunity to experience the wonders of Cappadocia within a limited timeframe, and embark on an unforgettable adventure.
#6 Journey Through Time: Istanbul to Cappadocia by Bus – Uncover the Wonders of Ancient Anatolia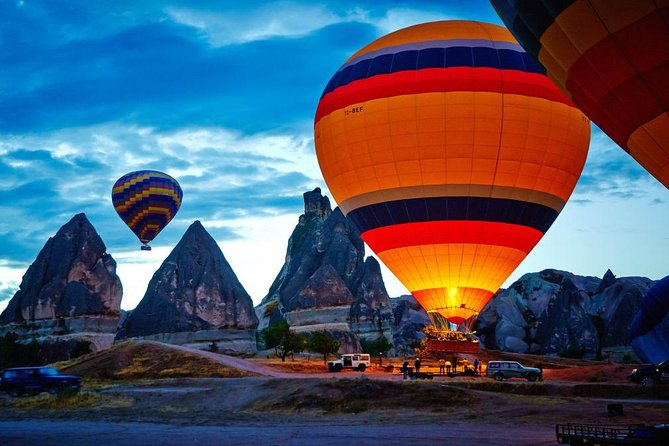 Embark on a scenic and historical journey from Istanbul to Cappadocia with this comprehensive two-day bus tour. Travel in comfort, soaking in the diverse landscapes of Turkey and engaging with expert commentary that sheds light on the region's rich heritage. Experience the ethereal charm of Cappadocia, with its striking Fairy Chimneys, the imposing Uchisar Castle, and the labyrinthine Kaymakli Underground City. Meander through the captivating Rose Valley and immerse yourself in history at the UNESCO-listed Goreme Open-Air Museum. Your experience is amplified with a night in a boutique cave hotel, where you can unwind in unique accommodations blending tradition and comfort. An optional upgrade offers the chance to behold Cappadocia's awe-inspiring landscapes from the sky. The tour includes all entrance fees, lunch, and round-trip bus transportation from Istanbul.
Why Join this Tour?
Scenic Bus Journey: Traveling by bus allows you to appreciate the breathtaking landscape of Turkey and engage with informative commentary.
Historical Depth: The tour covers significant attractions such as Uchisar Castle and Kaymakli Underground City, offering a deep dive into the region's past.
Unmatched Natural Beauty: From the iconic Fairy Chimneys to the vibrant Rose Valley, you will be introduced to Cappadocia's unique geological wonders.
Boutique Cave Hotel Experience: An overnight stay in a boutique cave hotel presents a unique opportunity to experience Cappadocia's traditional lifestyle.
Convenience and Inclusivity: With all entrance fees, lunch, and round-trip bus transportation included, you are ensured a seamless and inclusive experience.
Optional Sky Adventure: An upgrade provides the chance for a breathtaking hot air balloon ride over Cappadocia's stunning landscape.
The Cappadocia bus tour from Istanbul is an enriching expedition that seamlessly blends travel, history, and natural beauty into a memorable two-day adventure. From the comfort of your bus seat, you'll witness Turkey's diverse landscapes, unwind in a unique cave hotel, and explore the ancient wonders of Cappadocia. The optional hot air balloon ride adds a dash of thrill and a bird's-eye perspective on this enchanting region. With convenience at its core, this tour is perfect for those seeking to delve into the depths of Cappadocia's past and present, all while being swept away by its surreal beauty. Embark on this journey for an immersive and unforgettable Anatolian.