Top 3 day trips in Ephesus We Recommend:
#1 Unlock Ephesus: A Mini Group Adventure through Time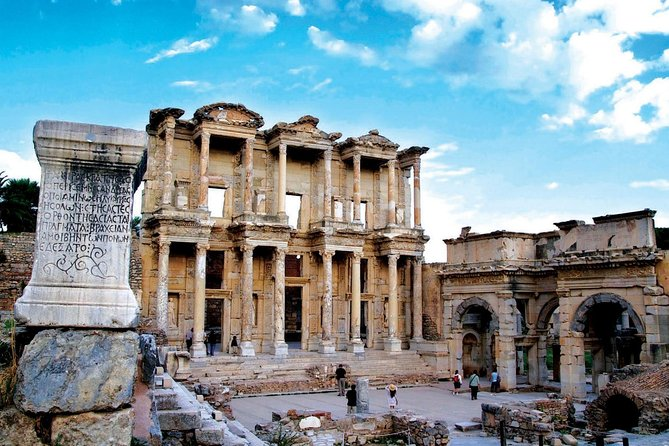 This is an all-inclusive journey back in time as you take a full-day trip from Istanbul to the stunning archaeological site of Ephesus. Starting your day with a flight to Izmir, you'll be transported in comfort to the UNESCO World Heritage Site, where you'll experience firsthand the grandeur and complexity of one of the best-preserved Greco-Roman cities in the world. Accompanied by a knowledgeable guide, your tour will reveal the mysteries and secrets of ancient structures like the Basilica of St. John and the Temple of Artemis. Further, your visit to the Ephesus Archaeological Museum will allow you to delve deeper into the rich past of this ancient city. The day will end with a delightful opportunity to shop for local crafts. This tour is designed to offer an enriched experience with its all-inclusive package including flights, transfers, entrance fees, lunch, and the services of a licensed guide. The choice to upgrade to a private tour adds the cherry on top, ensuring a custom-tailored journey in the footsteps of the ancient Romans.
Why Join this Tour?
Exclusive Experience: Our small group setting ensures a personalized and intimate excursion, offering the opportunity to engage more deeply with the guide and the site.
Expert Guidance: Led by knowledgeable guides, discover Ephesus's hidden secrets and fascinating stories that might otherwise go unnoticed.
Flexibility: The PRIVATE OPTION provides the privilege to tailor the tour to individual preferences, adjusting the pace and focusing on specific areas of interest.
Immersive History: Ephesus is not merely a historical site; it's a portal to antiquity. Its well-preserved structures provide an authentic glimpse into Roman civilization.
Scenic Beauty: Beyond its historical appeal, Ephesus is a sight to behold. Its majestic ruins set against the backdrop of the Turkish landscape create unforgettable vistas.
In conclusion, this full-day trip to Ephesus from Istanbul provides an extraordinary journey into the past, offering a blend of history, culture, and local traditions. This unique and comprehensive tour is designed to let you experience the magic of Ephesus without the worry of organizing individual elements like transport, entrance fees, or meals.
#2 Stepping Back in Time: A Fully-Inclusive, Aerial Journey from Istanbul to the Wonders of Ephesus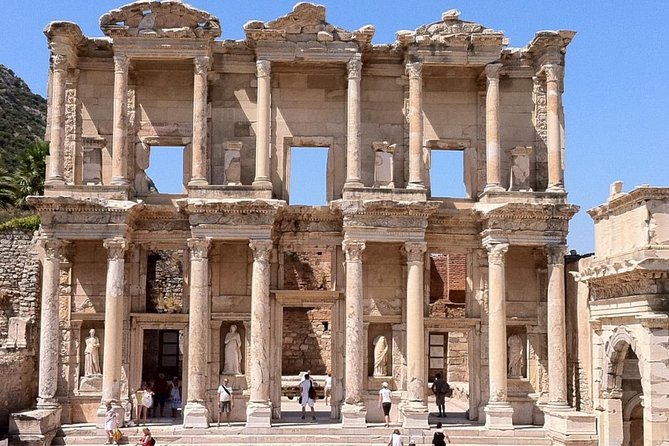 Embark on a six-hour, intimate journey into the heart of western Anatolia with this Ephesus tour from Istanbul. Offering convenience and efficiency, the trip starts with a plane ride from Istanbul, allowing you to maximize your time exploring. Wander through the ancient city where Saint John and the Virgin Mary are believed to have lived, and marvel at the remnants of temples, baths, and fountains that vividly portray the life of the ancient world. Once a wonder of the ancient world, the reconstructed Temple of Artemis awaits to enthrall you with its grandeur. Transportation is well taken care of, with comfortable air travel and minivan services to ensure a smooth journey, including two hours of immersive walking through Ephesus. This small-group tour guarantees a personal and thorough introduction to Ephesus for first-time visitors.
Why Join the Tour?
Pilgrimage Site: The tour includes visiting the House of Virgin Mary, an important Christian sanctuary and a site of deep spiritual significance.
Roman Luxury: Explore the opulent Terrace Houses, beautifully preserved examples of Roman domestic architecture filled with intricate mosaics and frescoes, providing insights into the lives of the wealthy Ephesians.
Sacred Architecture: Discover the majestic Basilica of St. John, built by Emperor Justinian as a tribute to the apostle. Its grandeur offers a distinct perspective on Byzantine architectural prowess.
Local Flavours: You can add a local lunch to your itinerary. Sample the mouthwatering local cuisine, providing yet another way to immerse in Turkish culture.
Reliable Transport: With convenient pick-up and drop-off at the port, this excursion eliminates the stress of transportation, ensuring a smooth and comfortable journey to and from Ephesus.
Unbeatable Value: Combining history, culture, spirituality, and natural beauty, this private shore excursion offers an exceptional experience worth every penny.
This unique journey is not only perfect for first-time visitors but also for those wanting to deepen their understanding of Ephesus' rich history. Whether you're a history buff or an intrepid traveler, this tour delivers a captivating exploration of the ancient world. Join us on this journey and step into the past to experience the ancient world like never before.
#3 Best Seller: Ephesus Day Trip from Istanbul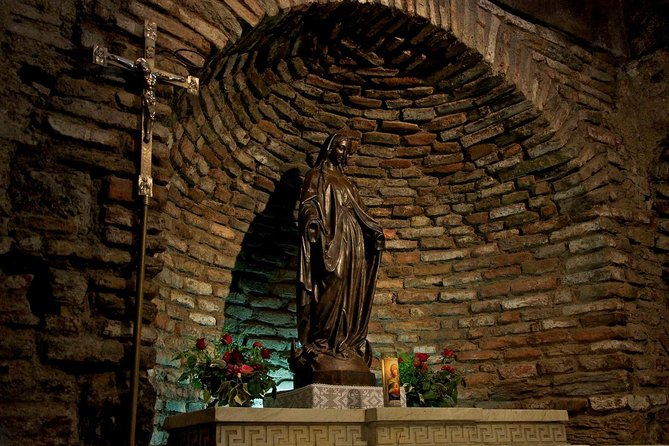 Uncover the rich historical tapestry of Ephesus on this group tour from Istanbul, offering seamless travel experiences encompassing flights, ground transportation, and expert guidance. Your journey begins with a flight from Istanbul to Izmir, followed by a scenic drive in a climate-controlled vehicle, ensuring your comfort and relaxation. Explore the ancient city of Ephesus, famed for its grandiose Roman-era landmarks, with a knowledgeable guide providing insightful commentary on its glorious past. Pause for a delightful local meal, introducing your palate to the exquisite flavors of Turkish cuisine. The tour culminates in a visit to Sirince, a charming mountainside village known for its traditional houses and beautiful vineyards.
Why Join the Tour?
Historical Immersion: You'll be venturing into one of the best-preserved ancient cities in the world. Ephesus is a testament to the architectural prowess of the Romans, boasting iconic structures like the Library of Celsus and the Great Theatre.
Expert Guidance: Our knowledgeable guides are passionate about sharing Ephesus' history and its hidden gems, providing a rich, immersive experience.
3. Authentic Culinary Experience: The tour includes a lunch at a local restaurant, giving you an opportunity to savor the traditional flavors of Turkish cuisine. This culinary interlude is not just about filling your stomach but also about introducing you to the diverse gastronomy of Turkey.
Visit to Sirince Village: The tour concludes with a visit to the charming Sirince Village, nestled amidst mountains. Famous for its traditional houses and verdant vineyards, this village provides a serene escape from the city's hustle and allows you to experience the rustic side of Turkey.
Ease of Travel: We arrange transportation from Kusadasi, allowing you to sit back and enjoy the picturesque Aegean region while we take care of the logistics.
Cultural Experience: This tour goes beyond historical sites, offering insights into the vibrant local culture. Enjoy authentic Turkish cuisine, meet the friendly locals, and immerse yourself in the unique Turkish atmosphere.
With flights included, this Ephesus tour from Istanbul provides an unparalleled opportunity to experience Turkey's rich history, diverse culture, and mouthwatering cuisine. Coupled with the commitment to your comfort and a highly experienced guide, the tour promises an immersive journey that leaves an indelible impression. From the ancient ruins of Ephesus to the idyllic landscape of Sirince, you will be transported to another world, promising experiences and memories that last a lifetime. 
#4 Spiritual Quest: Ephesus Tour from Istanbul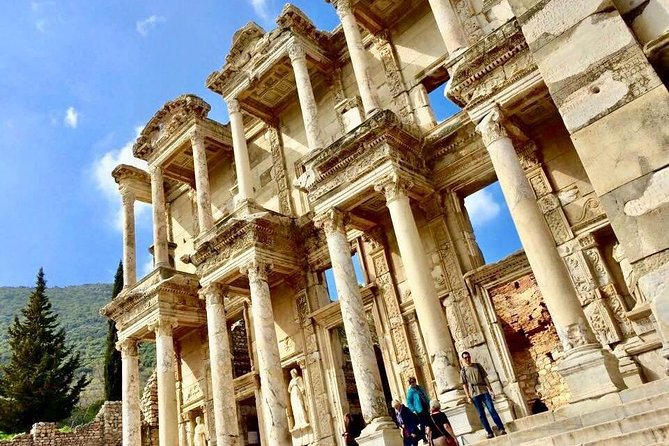 Discover the splendors of Ephesus on this comprehensive full-day tour from Istanbul, meticulously designed for an unparalleled VIP experience. Your journey, starting with door-to-door hotel transfers, takes you on a flight to the ancient cities of Ephesus. On this tour, every detail has been catered to, allowing you to delve into the beauty of this world-class archaeological site stress-free. Enjoy the comfort of an air-conditioned van that shuttles you between attractions. Relish a sumptuous Turkish lunch and take a leisurely break for traditional tea or coffee. This private tour ensures a personalized experience, offering a guided tour of the UNESCO World Heritage Site, Ephesus, without the need for an overnight stay.
Why Join This Tour?
1. Hassle-Free Experience: All the travel logistics are pre-arranged, allowing you to unwind and focus entirely on the historic marvels of Ephesus.
Private, Personalized Experience: As a private tour, you'll enjoy a customized experience tailored to your pace and interests.
All-Inclusive Package: The tour includes flights, guides, lunch, entry fees, and transportation, ensuring you receive the ultimate VIP experience without worrying about additional costs or planning.
Authentic Turkish Cuisine: A hearty Turkish lunch and a traditional tea or coffee break give you the opportunity to savor local flavors.
Expert Guides: The expert guides will enrich your visit with fascinating insights into the history and architecture of Ephesus, adding depth to your experience.
Door-to-Door Service: From your hotel in Istanbul to the ancient city of Ephesus, our door-to-door service ensures your comfort and convenience.
It's a curated journey that combines history, culture, gastronomy, and the comfort of a VIP experience, tailored to offer you a unique perspective of Turkey's ancient heritage. Be prepared to be captivated by the timeless charm of Ephesus, the comfort of our service, and the richness of Turkish culture. This unforgettable journey will leave you with memories and insights that will last a lifetime.
#5 Ephesus Revealed: Your Passage to the Ancient World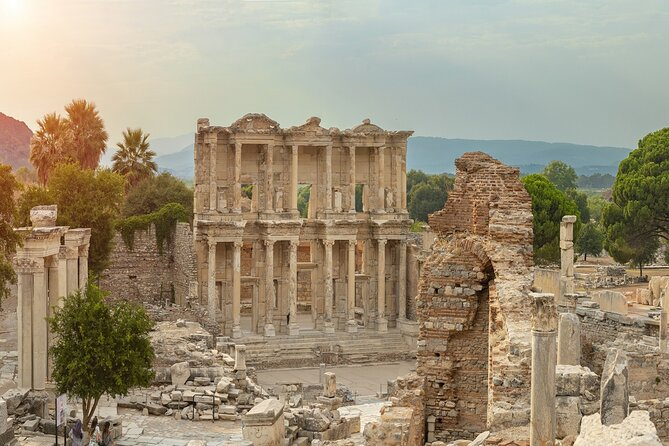 The Ephesus Sightseeing Tour is a meticulously designed journey, taking you through the heart of Turkey's ancient history and facing you with remnants of the past. Embark on a guided expedition of Ephesus, once a bustling seaport city and now one of the world's most remarkable archaeological sites. Your day will be filled with explorations of the Temple of Artemis, the awe-inspiring Library of Celsus, the Great Theatre, and the historic houses of the Terrace. This full-day tour will also provide you with an authentic Turkish lunch and numerous photo opportunities against these breathtaking ruins.
Why Join the Tour?
Comprehensive Historical Insight: Your knowledgeable guide will provide in-depth narratives of each landmark, bringing to life the ancient tales of Ephesus.
Luxurious Convenience: Flight tickets and lunch are included, ensuring a hassle-free, comfortable journey.
World-Class Attractions: Visit the UNESCO-listed archaeological site and marvel at its well-preserved artifacts.
Immersive Cultural Experience: Savour a traditional Turkish meal, further enhancing your understanding of local culture.
Professional Photography Support: Our tour guides are equipped to assist with capturing stunning photos at the best locations, helping you preserve memorable moments.
Time Efficiency: The tour is designed to optimize your day, covering all major sights without feeling rushed.
As you return home, you will carry a piece of Ephesus in your heart, memories of its grandeur etched in your mind, and a camera roll full of incredible snapshots. This is not just a tour but a trip back in time, a journey that transcends eras and evokes an unmatched sense of wonder. Join us and experience the magic and mystery of Ephesus.
#6 Sip, Sightsee, and Immerse Ephesus: Turkey's Uncovered Treasures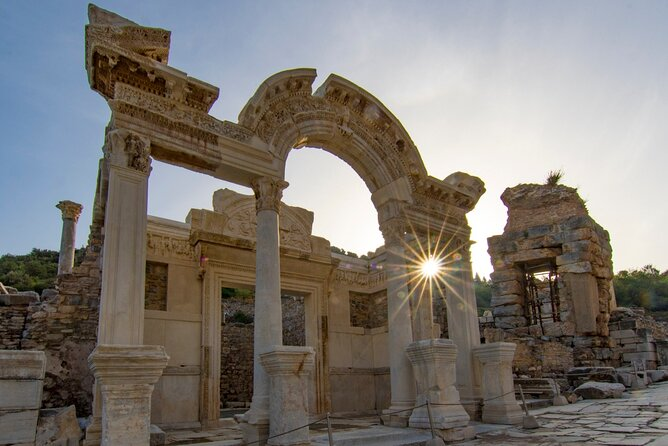 Explore the enchanting world of ancient Ephesus with this meticulously planned day trip from Istanbul. Dive into Turkey's vivid past as you marvel at the magnificent amphitheater in Ephesus, a city teeming with historical wonders. The journey continues with a visit to the revered house where the Virgin Mary is believed to have spent her final days, followed by a tour of the Isabey Mosque, a stunning example of Seljukian architecture. With return flight tickets included in the package and a delectable lunch arranged for you, this day trip to Ephesus promises to be a fascinating, worry-free escapade.
Why Join This Tour?
Time-Efficient Exploration: This day trip to Ephesus offers a comprehensive view of this ancient city, making the most out of your time in Turkey.
Historical Richness: The tour covers key historical landmarks, including the vast Ephesus amphitheater, the Virgin Mary's house, and the Isabey Mosque, each boasting unique historical significance.
Expert Guide: Benefit from the knowledge of a professional guide who is well-versed in the area's history, ensuring you gain deep insights into each site visited.
Hassle-Free Experience: All logistics, including insurance, return flight, and entrance fees, are taken care of, providing you with a stress-free experience.
Educational Journey: The tour offers an opportunity to learn about the importance of Ephesus from Roman times onwards, making it an enriching educational experience.
Inclusive Package: The tour price includes not only site visits but also lunch and return flights, ensuring a seamless and worry-free day.
The Daily Ephesus Tour from/to Istanbul is more than a simple outing; it is a voyage through time, unfolding Turkey's rich historical tapestry. This tour provides an immersive, educational experience, allowing you to dive into the heart of the country's ancient heritage. With every detail handled meticulously, from your flights to the knowledgeable guides and comprehensive insurance, you can focus on soaking up the wonders of Ephesus. Expect an unforgettable day filled with historical marvels, captivating narratives, and the comfort of a well-organized tour.