Selcuk, a historic town in western Turkey, offers rich cultural attractions and an impressive array of seafood restaurants that showcase the best of Aegean cuisine. Many of these establishments source their ingredients directly from the nearby sea, ensuring the freshest seafood dishes. Visitors can also explore smaller, family-run eateries like Seaport Fish House, which offers an intimate dining experience and a menu that changes with the daily catch. The seafood restaurants in Selcuk provide an unforgettable culinary experience that wonderfully complements the town's historic charm.
5 Best Seafood Restaurants In Selcuk
#1 Selçuk Balık Pişiricisi: Savor the Flavors of the Sea!
Selçuk Balık Pişiricisi when translated, means 'Selçuk Fish Cook,' a clear indicator of the restaurant's primary culinary focus, which is seafood. Their menu predominantly features a variety of seafood dishes, embracing the rich marine biodiversity of the Aegean Sea. Among the offerings, diners can expect to find a selection of freshly caught fish prepared in traditional Turkish styles. Choices may include grilled sea bream and sea bass, simmered octopus, and the popular calamari, each cooked to perfection by skilled chefs.
In addition to the main dishes, Selçuk Balık Pişiricisi also offers a range of mezes, the small Turkish appetizers that traditionally accompany a seafood meal. These may include delicacies such as haydari (thick yogurt with herbs), patlıcan salatası (eggplant salad), and various marinated olives. While the emphasis at Selçuk Balık Pişiricisi is on seafood, the menu also caters to different dietary preferences, with a select number of vegetarian options and meat dishes. However, it's the marine gastronomic experience that primarily draws locals and tourists to this Selçuk hotspot.
Address: Camikebir, Türkmen, Kemal Arıkan Sk. no:7, 09400 Kuşadası/Aydın, Türkiye
#2 Ayasoluk Restaurant: Where Passion for Food Shines.
This restaurant is housed in the Ayasoluk Hotel, a luxury boutique hotel with an emphasis on creating unique dining experiences for its guests. The key selling point of Ayasoluk Restaurant is its emphasis on using locally sourced, seasonal ingredients in the creation of their meals, delivering an authentic culinary experience with a nod towards sustainability.
Ayasoluk Restaurant offers a variety of seafood dishes influenced by Aegean cuisine. Guests can savor dishes such as Aegean-style grilled fish, prawn casserole, and calamari. All these dishes are expertly prepared, ensuring the seafood's freshness and natural flavors shine through. In addition to seafood, the restaurant's menu boasts a variety of other options. From succulent kebabs and lamb dishes that are a staple of Turkish cuisine, to an assortment of vegetarian and vegan dishes, there's something to suit all palates. Desserts at Ayasoluk Restaurant draw on the sweet traditions of Turkey, featuring treats such as baklava and the unique and chewy Turkish ice cream.
Address: Atatürk, 1051. Sk. No:12, 35920 Selçuk/İzmir, Türkiye
#3 Ejder Restaurant: Unleash the Flavors of the Orient
Ejder Restaurant is a dining venue in the culturally rich town of Selçuk, Turkey, named after the Turkish word for 'dragon'. Its menu does feature a number of seafood dishes that reflect the region's maritime influences. Guests can anticipate a selection of seafood prepared in various ways, such as grilled, fried, or served in a rich sauce. Offerings may include traditional Turkish favorites such as fried calamari, seafood casserole, and grilled fish, all sourced from the nearby Aegean Sea, promising freshness and quality.
In addition to seafood, Ejder Restaurant offers an extensive range of dishes that encompass broader Turkish cuisine. Visitors can relish a variety of grilled meats, including the renowned Turkish kebabs, along with a selection of vegetarian dishes and mezes, the traditional Turkish appetizers that add depth to any meal.
Address: Atatürk, Cengiz Topel Cd. 9 E, 35920 Selçuk/İzmir, Türkiye
#4 Tat Cafe Restaurant: A Taste Sensation!
Tat Cafe Restaurant is a family-run business situated in the historic town of Selçuk, Turkey. It serves a selection of seafood dishes that cater to the preferences of its diverse clientele. Visitors can expect to find options like grilled or fried fish, seafood pasta, and other dishes featuring the bounty of the Aegean Sea, which is located not too far from Selçuk. The restaurant's commitment to fresh, locally sourced seafood is noticeable in the flavor and quality of its dishes.
Complementing its seafood offerings, Tat Cafe Restaurant also serves an array of other dishes typical of Turkish cuisine. Diners can choose from an assortment of kebabs, both with meat and vegetarian options, as well as traditional mezes or appetizers, which are an integral part of Turkish dining culture. No meal at Tat Cafe Restaurant would be complete without a taste of their desserts. Turkish sweets, including the famed baklava and Turkish delight, are just some of the sweet treats guests can enjoy as a delightful end to their meal.
Address: Atatürk, Cengiz Topel Cd. 19 B, 35920 Selçuk/İzmir, Türkiye
#5 Efes Restaurant: Where Culinary Magic Unfolds.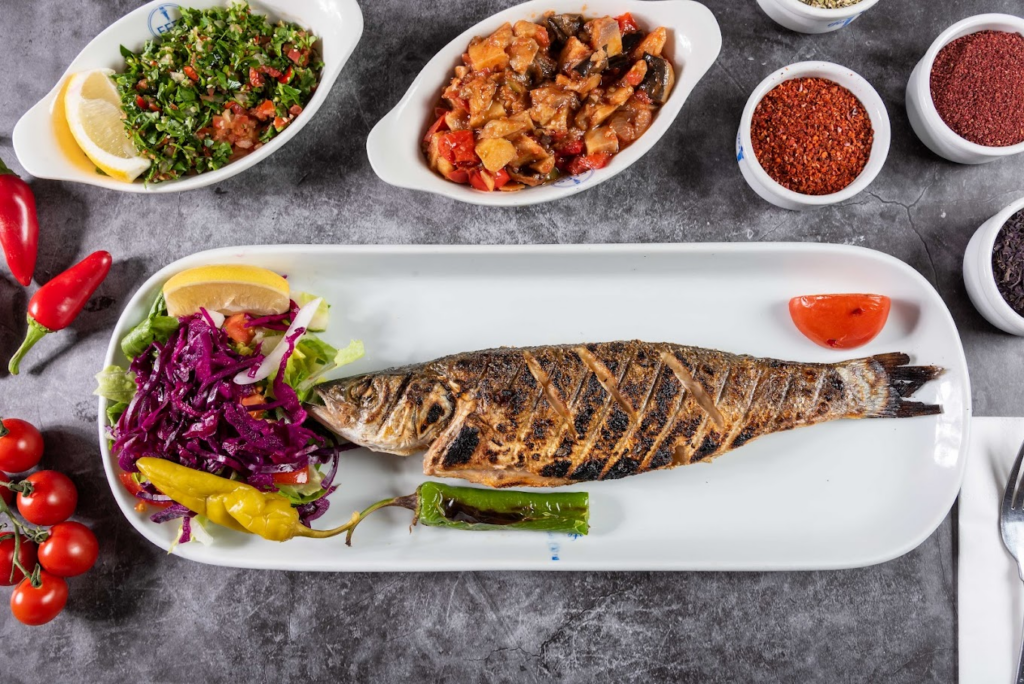 True to its location, this restaurant heavily features fresh seafood, sourced locally from the Aegean Sea. At Efes Restaurant, you'll find a diverse menu that draws upon the rich culinary traditions of the region. Its seafood selection, in particular, is expansive, allowing diners to explore a wide range of marine flavors. From grilled octopus and calamari to shrimp casserole and fish stew, the dishes are prepared using time-honored methods that showcase the natural taste of the seafood.
Seafood lovers can also enjoy a variety of fish dishes. Depending on the season, diners might find gilt-head bream, bass, and bluefish, among others. Each fish is prepared according to the customer's preference – grilled, baked, or fried – and served with a variety of side dishes such as fresh vegetables, rice, or potatoes.
Address: Atatürk, 1006. Sk. No:13, 35920 Selçuk/İzmir, Türkiye
Conclusion
Selcuk's seafood restaurants offer a gastronomic journey that goes hand-in-hand with the town's historical allure. From high-end eateries to intimate, family-run places, these establishments invite guests to experience the finest and freshest selections of Aegean seafood. Ali Baba Seafood Restaurant, Balıkçı Şükrü, and Seaport Fish House are among the top choices, each offering unique culinary experiences steeped in local flavors and traditions. Whether you're a seafood connoisseur or a curious food adventurer, Selcuk's seafood scene is sure to leave a lasting impression, further enriching your travel experience in this captivating Turkish town.