Welcome to a gourmet journey through Lara, Turkey, a Mediterranean haven that is home to a diverse culinary landscape. From traditional Ottoman cuisine to modern fusion fare, this list of the 12 best restaurants in Lara is your passport to a dining adventure. Whether it's enjoying a beachside seafood dish or indulging in delectable mezes at a local taverna, Lara's restaurant scene will satisfy all food lovers. Read on to uncover the hidden gems, local favourites, and the exceptional gastronomic experiences these 12 top eateries offer in this picturesque corner of Turkey.
Best Restaurants in Lara
#1. Günaydın Kebap & Kasap Steakhouse Antalya – Where Savory Delights Blend with True Turkish Flavours.
Located in Antalya, "Günaydın Kebap & Kasap Steakhouse " is a dining venue primarily focused on traditional Turkish and Western steakhouse cuisines. The restaurant's kebap selection is extensive, featuring iconic recipes such as Adana and Urfa kebab. These are traditionally made with finely minced meat, blended with an array of spices, and grilled on a skewer. Other variations, such as the Beyti kebap — ground beef or lamb grilled on a skewer and wrapped in lavash bread — can also be found on their menu.
Steaks, another key part of the menu, showcase the restaurant's fusion approach. Diners can enjoy classic cuts such as ribeye, sirloin, and T-bone, all prepared with care and skill. All steaks are sourced from their in-house butcher, ensuring high-quality, fresh cuts.
Additional menu items include a selection of mezes (small appetiser dishes), salads, and desserts typical of Turkish cuisine. Notably, the restaurant also offers a range of traditional Turkish beverages, alongside a selection of international wines and spirits.
Address: Çağlayan, Lara Cd., 07230 Muratpaşa/Antalya, Türkiye
#2. Torku Ziyafet Lara – A Feast of Flavors Awaits at Antalya's Culinary Gem.
Torku Ziyafet Lara distinguishes itself through a deep emphasis on traditional Anatolian cooking. This is reflected in its broad selection of dishes that cater to both meat-lovers and vegetarians alike.
Guests can choose from various soups, salads, and cold and hot starters to begin their meals. One of the standouts on the menu is their selection of grilled dishes, particularly the regional kebabs. Here, you can savour succulent varieties like the Iskender Kebap, which combines thinly sliced grilled lamb with tomato sauce and yoghourt over pieces of pita bread.
Moreover, Torku Ziyafet Lara offers a wide array of pides, which are boat-shaped flatbreads with various toppings. Popular options include the mixed cheese pide and the ground meat pide. The restaurant also has a range of house-special desserts, where traditional sweets like baklava and kunefe share the stage with lesser-known but equally delightful treats. In terms of beverages, Torku Ziyafet Lara provides a mix of classic Turkish drinks like ayran and Turkish tea, alongside an assortment of soft drinks and juices.
Address: Yeşilbahçe, Metin Kasapoğlu Cd. No: 28, 07160 Muratpaşa/Antalya, Türkiye
#3. "Arzum Döner – Where the Art of Döner Unfolds into a Taste Sensation."
Arzum Döner is a restaurant primarily known for serving döner kebap, a staple in Turkish cuisine. Döner, the restaurant's main offering, is a type of kebap made from meat cooked on a vertical rotisserie. Traditionally, this is made from lamb, but chicken and beef are also used. The meat is expertly seasoned, slow-cooked to perfection, and then thinly sliced. It can be served on a plate with accompaniments, stuffed into bread for a quick meal, or incorporated into other dishes.
At Arzum Döner, you can expect a variety of döner options. For example, some patrons might enjoy the simplicity of a döner sandwich, where the tender, flavorful meat is complemented by fresh vegetables and a selection of sauces. Others might opt for a döner plate, which typically includes rice or bread, salad, and sometimes grilled vegetables or yogurt.
Besides döner, the restaurant also offers a selection of other traditional Turkish dishes. You can find items like pilav (rice dish), Turkish pizzas, and a variety of mezes (small dishes served as appetizers).
Address: Yeşilbahçe, Metin Kasapoğlu Cd. No:34, 07160 Muratpaşa/Antalya, Türkiye
#4. "BigChefs Antalya Lara – Elevating Dining to a Whole New Level of Taste and Luxury."
BigChefs Antalya Lara is part of the BigChefs Cafe and Brasserie chain, which is known for its diverse menu blending Turkish and international cuisines.
The menu at BigChefs Antalya Lara offers an extensive variety of dishes, including appetisers, salads, main courses, and desserts. The appetiser section features both Turkish mezes, like hummus and tabbouleh, and international starters, such as bruschetta and quesadilla. Salads range from the classic Caesar to those with a Turkish twist, like the goat cheese salad with pomegranate syrup.
In terms of main courses, you'll find traditional Turkish options such as different types of pides (a kind of Turkish pizza), along with an assortment of pasta, sandwiches, and burgers. Meat lovers can enjoy dishes like grilled chicken, steak, and meatballs, while seafood options like grilled salmon are also available. There's a selection for vegetarians as well, including veggie pizzas and pasta.
Address: Fener, Lara Cd. 307/2, 07160 Muratpaşa/Antalya, Türkiye
#5. "7 Mehmet – Where Time-Honored Traditions Blend with Exquisite Tastes for a Culinary Journey Like No Other."
An emblem of Antalya's dining scene, 7 Mehmet stands out for its extensive menu centred on traditional Turkish cuisine with a distinctive focus on seafood. From the catch of the day to signature dishes, the menu at 7 Mehmet offers a broad selection of seafood options. These include grilled sea bream, calamari, and octopus, all prepared using traditional methods that allow the freshness of the ingredients to shine through.
However, the appeal of 7 Mehmet extends beyond seafood. The restaurant also offers a variety of classic Turkish dishes. From succulent kebabs and hearty meat dishes to an array of appetising mezes, there is something to satisfy every palate.
Not to be overlooked, the dessert menu includes traditional Turkish sweets, such as baklava and künefe, alongside a selection of more international treats. Complementing its culinary offerings, 7 Mehmet also boasts a diverse selection of local and international wines, along with traditional Turkish beverages.
Address: Meltem Mahallesi, Atatürk Kültür Parkı, Dumlupınar Bulvarı No:201, 07030 Muratpaşa/Antalya, Türkiye
#6. Ayar Meyhanesi – Savor the Essence of Turkish Delights in a Timeless and Enchanting Setting.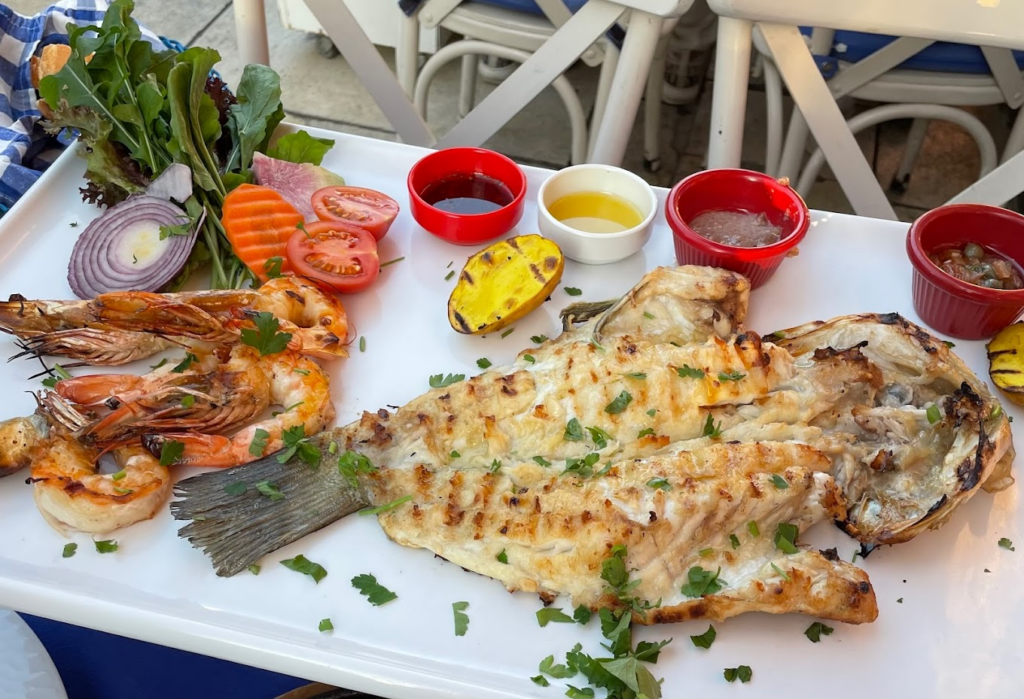 Renowned for its embodiment of the traditional "meyhane" experience, Ayar Meyhanesi offers its patrons an authentic taste of Turkish tavern culture. Emphasising a leisurely dining style, the establishment presents a vast array of mezes, small dishes served as appetisers, along with a selection of main courses and an extensive drink menu.
The meze offerings at Ayar Meyhanesi are diverse, ranging from simple dips like hummus and tzatziki to more complex dishes such as stuffed vine leaves and fried calamari. These appetisers are typically enjoyed alongside raki, the anise-flavoured national alcoholic drink of Turkey, in a social and convivial atmosphere.
For main courses, guests can enjoy a range of traditional Turkish dishes. Grilled fish and meat dishes are common, reflecting the country's rich culinary traditions. There are also vegetarian options, ensuring a satisfying meal for everyone. The drink menu at Ayar Meyhanesi is equally comprehensive, featuring a range of local and imported wines, beers, spirits, and, of course, raki.
Address: Kılınçarslan, Hesapçı Sk. No:59, 07100 Muratpaşa/Antalya, Türkiye
#7. Antalya Balıkevi – A Coastal Gastronomic Retreat, Embracing Freshness and Tradition in Every Bite.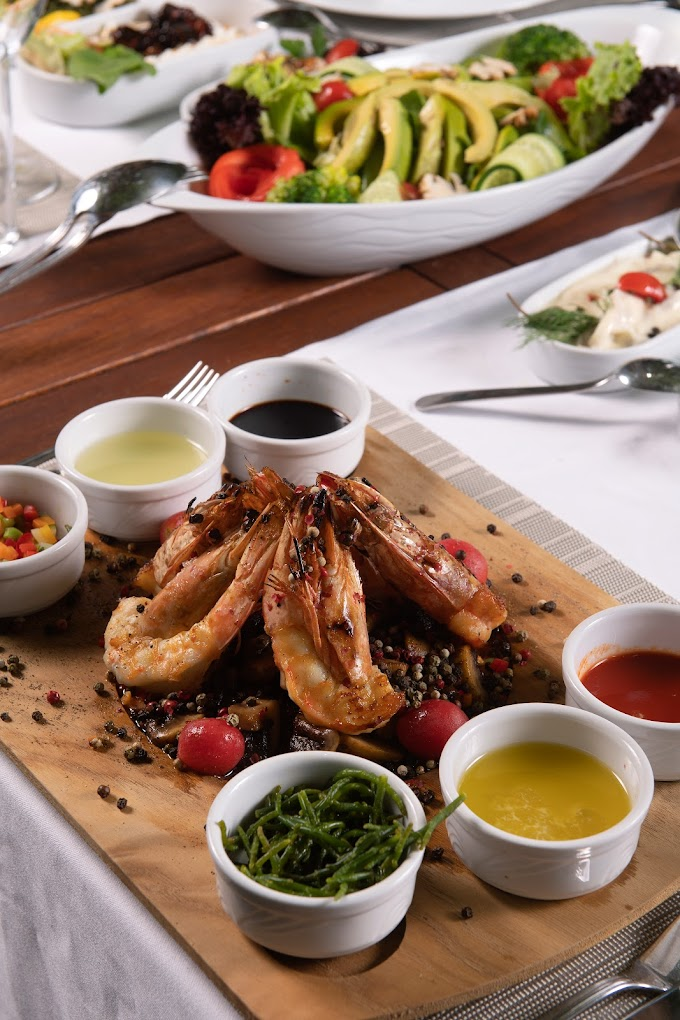 Antalya Balıkevi serves a variety of fresh seafood dishes, focusing primarily on dishes that are typical of the Mediterranean region. The menu includes options such as grilled fish, shrimp, calamari, and shellfish, as well as a selection of seasonal seafood specials.
The restaurant is known for serving local seafood, caught fresh daily. This means that the menu can vary depending on the season and the catch of the day, providing an ever-changing selection for customers to enjoy.
In addition to seafood, Antalya Balıkevi also serves a range of appetisers, salads, and side dishes. Typical Turkish mezes, like hummus, babaganoush, and tzatziki, can be found on the menu, as well as fresh Mediterranean salads. The sides include a variety of vegetable and rice dishes, complementing the seafood mains.Traditional Turkish sweets, such as baklava and Turkish delight, are regularly offered, alongside more internationally-known desserts like chocolate cake and fruit salads.
Address: Çağlayan Mahallesi Eski Lara Yolu &, 2057. Sk. No:2, 07230 Muratpaşa/Antalya, Türkiye
#8. FATMA SULTAN RESTAURANT (TÜRK MUTFAĞI) – Relish the Rich Flavors of Turkish Cuisine, Fit for Royalty.
With a focus on traditional Turkish cuisine, Fatma Sultan Restaurant (Türk Mutfağı) presents a diverse and authentic menu drawn from various regions of Turkey. The restaurant has taken its name from Fatma Sultan, an influential figure in Turkish history, and aims to combine this historical reverence with a modern dining ambiance.
The restaurant serves a range of meat dishes, including classics such as kebabs, köfte (Turkish meatballs), and various lamb dishes cooked in traditional styles. Alongside these, diners will find an array of poultry and vegetarian options, such as stuffed vegetables (dolma) and lentil-based dishes.
The menu also features a variety of mezze, which are small dishes served with drinks or before meals. These include popular options like hummus, cacık (a refreshing yogurt and cucumber dip), and various cheese and olive plates. Fatma Sultan Restaurant also offers a selection of fresh, homemade bread to accompany these dishes.
.Address: Haşimişcan, Arık Cd. no:20, 07100 Muratpaşa/Antalya, Türkiye
#9. Kaison – Where Exquisite Asian Fusion Meets Unforgettable Dining Experiences.
Kaison Restaurant is an Asian-fusion fine dining establishment that transcends the traditional sushi house experience. This intimate venue is known for its beautifully crafted sushi rolls and sashimi, as well as a range of steak and seafood dishes, all reflecting a contemporary take on Japanese cuisine.
The restaurant emphasises the use of organic and naturally raised ingredients in its menu, with each dish being thoughtfully prepared and exquisitely presented. Kaison is perfect for intimate gatherings or romantic dates, offering a subtly upscale atmosphere.
Besides the high quality of its Japanese and Chinese cuisine, Kaison is also known in Antalya for attracting celebrities and business tycoons. Despite this, the restaurant maintains a quiet and refined environment, ensuring that the focus remains on the culinary experience. In sum, Kaison offers a unique fusion of traditional and modern flavors, making it a must-visit destination in Antalya.
Address: Caglayan Mahallesi Lara Caddesi 269/1 Muratpasa, Antalya 07230 Türkiye
#10. Topcu Kebap – Savor the Timeless Art of Kebabs, Crafted to Perfection.
Topcu Kebap is a restaurant focused on serving a variety of traditional Turkish kebabs. At Topcu Kebap, the menu revolves around different types of kebabs, a culinary staple of Turkey. This includes popular dishes like Adana kebab, Urfa kebab, and doner kebab, among others. Each kebab is made from quality meat, typically lamb or beef, seasoned with Turkish spices and then grilled over a charcoal fire for an authentic taste.
Besides kebabs, Topcu Kebap also offers a range of traditional Turkish side dishes and appetisers. These might include mezes, such as hummus and babaganoush, fresh salads with local ingredients, and a selection of traditional Turkish bread.
For dessert, the restaurant may serve classic Turkish sweets like baklava or Künefe, offering a sweet end to a hearty meal.
Address: Elmalı, Kazım Özalp Cd. No:21, 07035 Muratpaşa/Antalya, Türkiye
#11. Dikkat Et – A Culinary Experience that Demands Attention, Indulging Your Senses.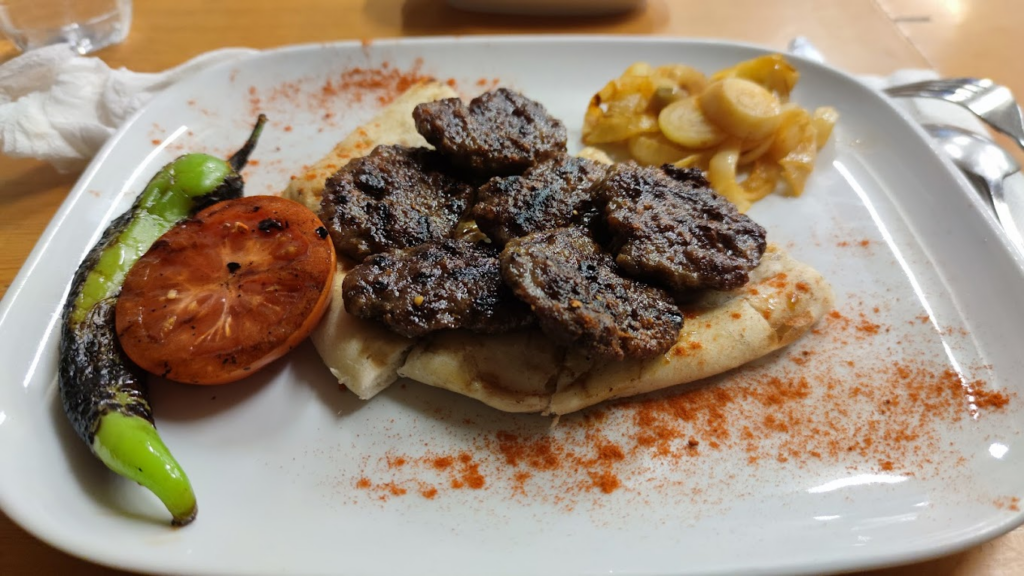 "Dikkat Et" is a Mediterranean and Turkish restaurant located in Lara, Turkey, focusing on serving wholesome and healthy meals. It offers an extensive menu with chicken curry, ravioli, and beef. They also have vegetarian and vegan options available, making it a suitable choice for guests with different dietary preferences.
One of the highlights of "Dikkat Et" is their beverage selection, where guests can enjoy a variety of juices including pomegranate juice, as well as traditional Turkish tea.
A distinguishing feature of the restaurant is its cosy atmosphere, offering a comfortable space for guests to unwind after a long day. The staff at "Dikkat Et" is noted for their excellent service, and the restaurant's dedication to ensuring a pleasant dining experience is evident in their attention to detail.
Address: Barboros Mh. Ataturk Cd 40 Uckapilar, Antalya Türkiye
#12. KOÇ CAĞ KEBAP Antalya – Savor the Legendary Flavor of Cağ Kebap, a True Taste of Anatolia.
Specialising in the traditional Cağ Kebap, Koç Cağ Kebap is an establishment situated in Antalya, Turkey. Cağ Kebap is a revered dish from the Erzurum region in Eastern Turkey and is recognized for its distinct preparation and flavor.
At Koç Cağ Kebap, this dish is traditionally prepared by skewering marinated cuts of lamb on a horizontal spit. The spit is then rotated slowly beside a wood or charcoal fire, allowing the meat to cook evenly. Once ready, the crispy yet tender meat is sliced off the spit, and served either on its own or with a variety of sides such as flatbread, rice, or salads. In addition to the Cağ Kebap, the menu at Koç Cağ Kebap likely includes other traditional Turkish dishes.
Address: Çağlayan, Alya Avm, Bülent Ecevit Blv., 07230 Muratpaşa/Antalya, Türkiye
Conclusion
As we've traversed the vibrant culinary scene of Lara, Turkey, we've discovered that its restaurants offer much more than just a meal. They provide a window into the region's rich culture, tradition, and heart. From local tavernas to upscale establishments, each of the 12 best restaurants in Lara offers a unique dining experience, promising an unforgettable gastronomic journey. Whether you are a food adventurer seeking exotic flavours, or a traveller looking for a taste of home, Lara's dining landscape has something for everyone. The next time you visit, be sure to indulge in these culinary delights and immerse yourself in the delicious diversity of Lara, Turkey.