Top 3 day trips we recommend:
#1 Best Overall: Gallipoli Day Trip from Istanbul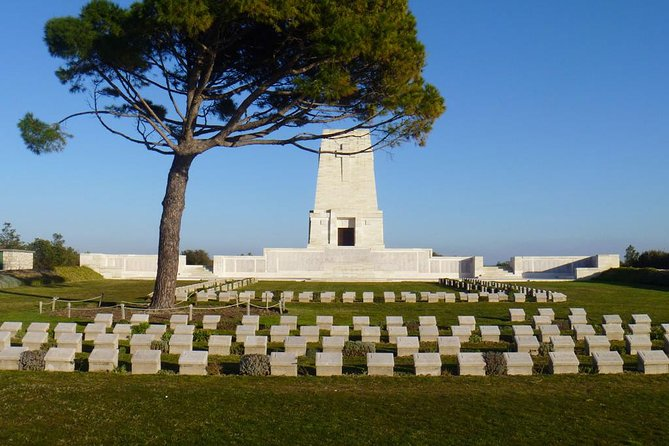 Embark on an unforgettable Gallipoli Day Trip from Istanbul and delve into the poignant history of this iconic World War I battlefield. This immersive tour takes you on a journey back in time as you explore the significant sites and learn about the sacrifices made by Australian, New Zealand, and Turkish soldiers during the Gallipoli Campaign. Departing from Istanbul, you'll travel to the Gallipoli Peninsula, where knowledgeable guides will provide detailed commentary and insights, bringing the stories and events to life. From the solemn beauty of ANZAC Cove to the imposing memorials and trenches, this tour offers a deeply moving and educational experience.
Why Join this Tour?
Historical Significance: Gain a deep understanding of the Gallipoli Campaign and its impact on World War I, as well as the enduring legacy it holds for Australia, New Zealand, and Turkey.
Expert Guides: Benefit from the expertise of knowledgeable guides who provide insightful commentary and historical context, enhancing your overall experience.
Iconic Sites: Visit key locations such as ANZAC Cove, Lone Pine Cemetery, Chunuk Bair, and the Nek, where important battles occurred, and pay your respects to the fallen soldiers.
Emotional Connection: Immerse yourself in the stories and personal accounts of the soldiers who fought in Gallipoli, creating a profound emotional connection to this historical event.
Scenic Beauty: Marvel at the Gallipoli Peninsula's stunning landscapes and natural beauty, with its rugged coastline and serene beaches, creating a striking backdrop for your journey.
Cultural Exchange: Engage in a cultural exchange as you interact with locals and gain insights into Turkish traditions and hospitality during your visit to the region.
With expert guides, iconic sites, and a deep emotional connection to the stories of the soldiers, this tour offers an unforgettable experience. The scenic beauty and cultural exchange also provide a well-rounded journey that immerses you in the Gallipoli Peninsula's historical significance and present-day charm. Join this tour to pay your respects, broaden your knowledge, and create lasting memories of this significant historical chapter.
#2 Uncover Ancient Wonders: From Istanbul to Ephesus, Embark on a Private Day Trip!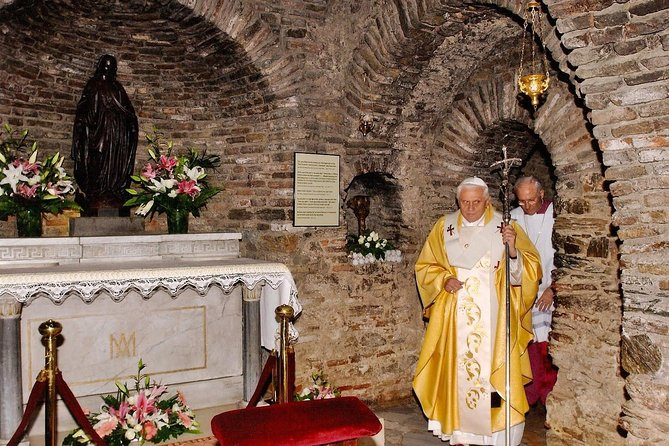 Explore Istanbul to Ephesus Private Day Trip that offers a captivating journey from the bustling city of Istanbul to the ancient ruins of Ephesus, providing a unique opportunity to explore Turkey's rich historical and cultural heritage in a single day. This exclusive private tour ensures personalized attention from an experienced guide, allowing you to delve into the fascinating stories and marvel at the well-preserved relics of the ancient world.
Why Join this Tour?
Time-Efficient Exploration: This day trip enables you to make the most of your limited time in Turkey by experiencing the highlights of Ephesus without the need for overnight stays or complex travel arrangements.
Tailored Itinerary: As a private tour, the itinerary can be customized according to your interests, allowing you to spend more time at the sites that captivate you the most, such as the Library of Celsus or the Terrace Houses.
Comfort and Convenience: Traveling in a private vehicle, you can enjoy a comfortable and stress-free journey from Istanbul to Ephesus with the convenience of door-to-door transportation.
Flexibility and Personalization: This tour offers flexibility in departure times and additional stops along the way, ensuring that your preferences and needs are accommodated to make the trip truly memorable.
Hidden Gems: The guide can take you to lesser-known spots within Ephesus, such as the Temple of Artemis or the Terrace Houses, allowing you to discover hidden gems and enrich your understanding of the ancient city.
Local Insight: Through conversations with your guide, you'll gain a deeper understanding of the local culture, traditions, and way of life as they share their personal stories and knowledge of the region.
With the convenience of private transportation, expert guidance, and the flexibility to tailor the itinerary to your preferences, this tour promises an unforgettable journey back in time. From the impressive ruins of Ephesus to the captivating stories shared by your guide, this experience will leave you with cherished memories and a deeper appreciation for Turkey's rich heritage.
#3 Best Private Day Trip: Cappadocia Trip from Istanbul
The Cappadocia Private Day Trip from Istanbul offers an unforgettable journey to one of Turkey's most mesmerizing regions. Departing from Istanbul, this day trip takes you on a scenic flight to Cappadocia, where you will discover a landscape straight out of a fairy tale. From ancient cave dwellings to unique rock formations and vibrant hot air balloon-filled skies, Cappadocia promises a truly enchanting experience. Led by an expert guide, you will explore the region's highlights, including the Göreme Open Air Museum, Uçhisar Castle, and the picturesque town of Avanos. Immerse yourself in Cappadocia's rich history, natural wonders, and captivating culture before returning to Istanbul, making this day trip a perfect escape from the bustling city.
Why Join this Tour?
Explore a UNESCO World Heritage Site: The Cappadocia region is renowned for its unique geological formations, which have earned it a prestigious place on the UNESCO World Heritage list. Joining this tour lets you witness the awe-inspiring landscapes up close and learn about the region's historical significance.
Expert Guided Tour: With a knowledgeable guide leading the way, you can gain a deeper understanding of the history, culture, and local traditions of Cappadocia. Their insights and expertise will enhance your experience and provide valuable context to the sites you visit.
Visit the Göreme Open Air Museum: This remarkable open-air museum houses rock-cut churches, chapels, and monasteries adorned with breathtaking frescoes. By joining this tour, you can explore these ancient treasures and marvel at the well-preserved artwork that dates back to the Byzantine era.
Discover Uçhisar Castle: Situated atop a hill, Uçhisar Castle offers panoramic views of Cappadocia's surreal landscape. Ascend to the top and soak in the stunning vistas while learning about the castle's fascinating history.
Experience the Town of Avanos: Known for its traditional pottery craftsmanship, Avanos is a charming town where you can witness skilled artisans creating intricate pottery using ancient techniques. Joining this tour allows you to immerse yourself in the local artistry and even try your hand at pottery-making.
Hassle-Free Travel: This private day trip handles all the logistics, including round-trip flights from Istanbul to Cappadocia, airport transfers, and comfortable transportation throughout the tour. Sit back, relax, and let the tour operator handle all the details, ensuring a hassle-free and seamless experience.
From its otherworldly landscapes and historical sites to its rich cultural heritage, Cappadocia promises an unforgettable adventure. With expert guidance, convenient logistics, and the opportunity to explore iconic landmarks such as the Göreme Open Air Museum and Uçhisar Castle, this tour offers a comprehensive and hassle-free way to discover the wonders of Cappadocia in just one day.
#4 Cappadocia in a Flash: Fly from Istanbul for an Unforgettable 1-Day Adventure!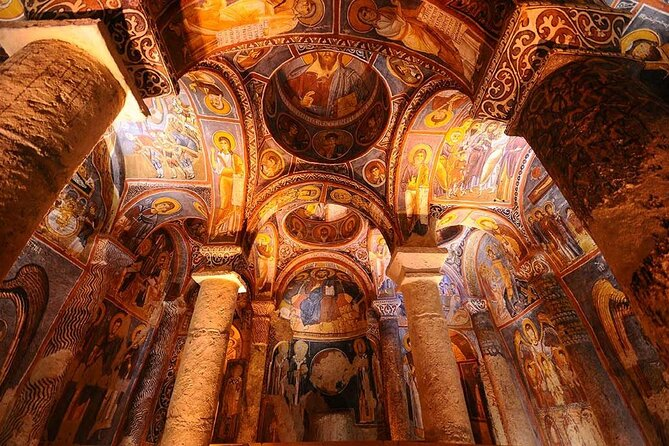 Experience the magical beauty of Cappadocia on an exhilarating 1-day trip from Istanbul. This exclusive tour offers a hassle-free adventure, including round-trip flights, ground transportation, and an expert local guide. Embark on a journey filled with stunning landscapes, ancient cave dwellings, and enchanting hot air balloon rides. Discover Cappadocia's rich history and unique geological formations, all in just one day.
Why Join this Tour?
Seamless Travel: Enjoy the convenience of round-trip flights from Istanbul, ensuring a stress-free journey without the hassle of organizing transportation yourself.
Expert Local Guide: Benefit from the knowledge and expertise of a professional local guide who will enhance your experience with insightful commentary, historical anecdotes, and cultural context.
Mesmerizing Landscapes: Marvel at the breathtaking scenery of Cappadocia, renowned for its distinctive fairy chimneys, lunar-like rock formations, and dramatic valleys. Immerse yourself in a surreal environment that feels straight out of a fairytale.
Ancient Cave Dwellings: Explore the underground cities and ancient cave dwellings that date back thousands of years. Learn about these unique structures' fascinating history and cultural significance as you navigate through their labyrinthine passages.
Hot Air Balloon Ride (Optional): Take your adventure to new heights with an optional hot air balloon ride over Cappadocia's surreal landscapes. Enjoy panoramic views and capture unforgettable moments as you soar above the enchanting valleys and rock formations (additional cost applies).
Local Cuisine and Culture: Indulge in the delectable flavors of Turkish cuisine during a traditional lunch at a local restaurant. Enjoy the vibrant local culture, interact with friendly locals, and discover the region's unique traditions.
Time Efficiency: Maximize your time by exploring the highlights of Cappadocia in just one day. This tour is perfect for travelers with limited time who want to make the most of their visit to this remarkable destination.
With round-trip flights, expert guidance, and unforgettable experiences, this tour offers the perfect blend of convenience, adventure, and cultural immersion. From the mesmerizing landscapes to the ancient cave dwellings, every moment of this trip will leave you with lasting memories. Don't miss the opportunity to witness the magic of Cappadocia on this exclusive day trip.
#5 Best Small Group Day Trip: Ephesus and The House of Virgin Mary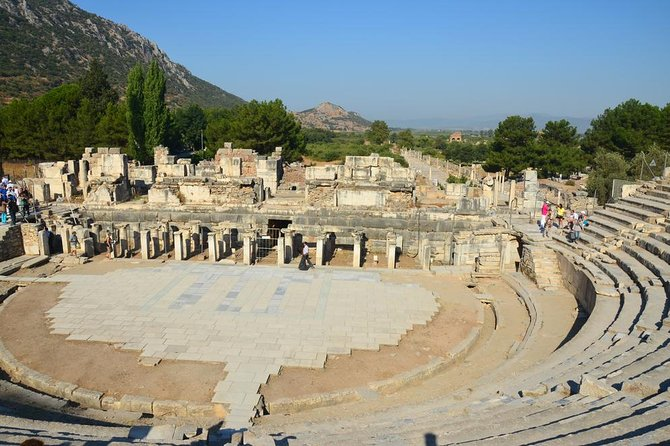 Discover a captivating small-group day trip from Istanbul to the ancient city of Ephesus and the revered House of the Virgin Mary. This guided tour offers an immersive experience into these remarkable sites' rich history and spiritual significance. Departing from Istanbul, you'll travel by air-conditioned vehicle to Ephesus, exploring the well-preserved ruins of one of the Roman Empire's most important cities. Walk through the famous Celsus Library, marvel at the Grand Theater, and discover the Temple of Artemis. Afterward, visit the House of the Virgin Mary, a place of pilgrimage believed to be the final resting place of the Virgin Mary. Immerse yourself in the peaceful atmosphere and soak up the spiritual aura of this holy site before returning to Istanbul.
Why Join this Tour?
Expert guidance: A knowledgeable guide will provide insightful commentary and enrich your understanding of the historical and religious significance of Ephesus and the House of the Virgin Mary.
Small-group experience: Enjoy a more personalized and intimate tour experience with a small group of fellow travelers, allowing for ample opportunities to interact with your guide and ask questions.
Convenient transportation: Relax and leave the logistics to the tour operator as you travel comfortably in an air-conditioned vehicle from Istanbul to Ephesus and back, ensuring a hassle-free journey.
Fascinating historical sites: Discover the extraordinary archaeological wonders of Ephesus, from the intricately designed Celsus Library to the awe-inspiring Grand Theater, offering a glimpse into the ancient Roman world.
Spiritual pilgrimage: Experience the profound serenity and spiritual atmosphere at the House of the Virgin Mary, a place of reverence for Christians worldwide, and take a moment for quiet reflection and contemplation.
In conclusion, this small-group day trip to Ephesus and the House of the Virgin Mary from Istanbul offers an incredible opportunity to delve into ancient history, explore magnificent ruins, and connect with your spirituality in a sacred setting.
#6 Journey to Mythical Lands: Unveil Troy on a Whirlwind One-Day Tour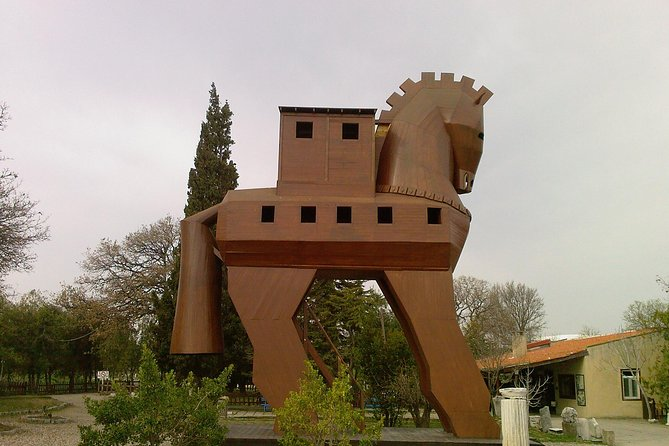 Departing from Istanbul, you'll travel to the ancient site of Troy, nestled in the picturesque Turkish countryside. This full-day adventure offers a remarkable opportunity to explore the archaeological ruins of Troy, walk in the footsteps of ancient heroes, and delve into the captivating tales of Greek mythology. Our expert guides will accompany you throughout the tour, providing insightful commentary and enriching your experience with historical and cultural context.
Why Join this Tour?
Immersive Cultural Experience: Discover Troy's rich history and mythology, a UNESCO World Heritage Site, as you explore its fascinating ruins and learn about the legendary Trojan War.
Hassle-Free Transportation: Enjoy the convenience of hassle-free transportation, with comfortable round-trip transfers from Istanbul included in the package, allowing you to relax and focus on the experience.
Scenic Turkish Countryside: Marvel at the picturesque landscapes of the Turkish countryside as you journey from Istanbul to Troy, offering a visual feast of rolling hills, olive groves, and charming villages.
Interactive Exploration: Get hands-on with history as you walk through the ancient ruins of Troy, including the reconstructed wooden horse, and imagine the epic battles that once took place within its walls.
Delicious Lunch: Indulge in a delightful lunch at a local restaurant, savoring authentic Turkish cuisine and regional specialties, providing a culinary highlight to complement your day trip.
Join Troy Day Trip from Istanbul and embark on a remarkable adventure to the ancient city of Troy. Immerse yourself in the rich tapestry of history and mythology as you explore the captivating ruins guided by our experts. Unveil the secrets of this ancient city and create memories that will last a lifetime on this extraordinary day trip from Istanbul.
#7 Full-Day Classic Tour: Blue Mosque, Hippodrome, Hagia Sophia, and Topkapi Palace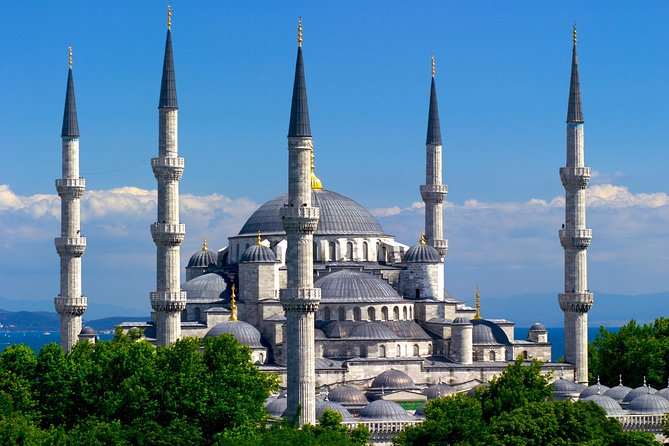 The Full Day Classic Istanbul Tour is an immersive journey through the ages, showcasing the rich history and fascinating culture of this cosmopolitan city. Beginning at the magnificent Blue Mosque, renowned for its cascading domes and six towering minarets, the tour proceeds to the Hippodrome, an ancient site which once throbbed with the energy of chariot races. Next, a visit to the Hagia Sophia, a stunning epitome of Byzantine architecture, followed by the Topkapi Palace, the lavish residence of Ottoman Sultans. The tour not only unlocks the historic secrets of Istanbul but also offers a wealth of insights into the Turkish lifestyle, art, and cuisine.
Why Join the Tour?
Historic Sites: Experience the awe-inspiring beauty and rich history of iconic sites like the Blue Mosque, Hippodrome, Hagia Sophia, and Topkapi Palace.
Knowledgeable Guides: Benefit from the expertise of our local guides who will narrate the intriguing stories and hidden facts about the monuments and the city.
Cultural Immersion: Dive deep into Turkish lifestyle, understanding the nuances of their traditions, arts, and culinary delights.
Comprehensive Coverage: Make the most of your time in Istanbul with a well-planned itinerary that covers key attractions.
Hassle-Free Experience: Enjoy the convenience of an all-inclusive tour, ensuring a smooth and worry-free trip.
Social Engagement: Meet like-minded travelers from around the globe, fostering new friendships and connections.
Photographic Opportunities: Capture the mesmerizing beauty of Istanbul's landmarks and create memories for a lifetime.
From standing beneath the arching domes of the Blue Mosque to walking the halls of Topkapi Palace, every moment in this tour brings the past to life in vivid detail. By choosing this experience, you're not merely visiting, but living Istanbul in its full glory. You're not just seeing the sites; you're stepping into a vibrant tableau of human history.