Kadıköy is one of the most populated areas of Istanbul, with hundreds of shops, cafes, restaurants, and historical buildings. Located on the Asian side of Istanbul, this place attracts millions of tourists every year. The new Istanbul Airport is located in Arnavutkoy, the European part of the city, so it will take more time to get to Kadıköy, whether by bus or taxi, as the distance is approximately 65 km, and it will take around 100-120 minutes to get there.
There are several options available to get to Kadıköy, such as Havaist Airport shuttle buses, rental cars, buses, and taxis. These options are briefly summarized in this post.
By Havaist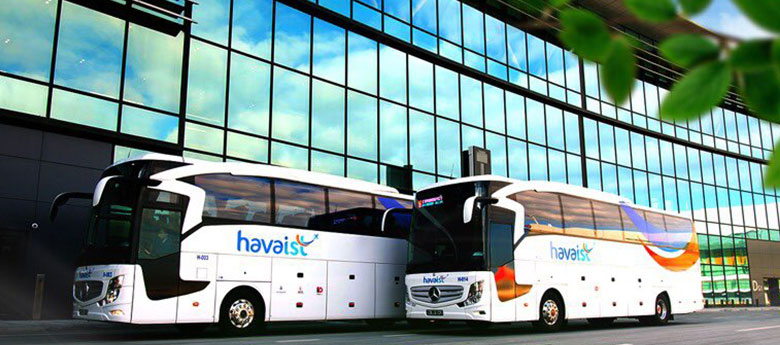 Havaist is the only shuttle bus service currently operating that will take you to the new Istanbul Airport. When you go outside after getting your baggage, head for the exit door. You won't miss it because it will be written with big letters in front of you. There are four or five elevators that go to Havaist and the bus stops. Press number two (2) and go outside to find many Havaist bus stops heading in different directions. Take IST-7.
Don't forget to buy your Istanbul transport card from the yellow machines before taking the bus. The price of a card is 6 TL ($1), and the shuttle bus is 25 TL ($4) per person. You will need to buy multiple cards if you are traveling in a group, but you can load your card and swipe it as many times as you want. You can use your Istanbul card on all kinds of public transportation, such as buses, ferries, metros, and trams in the city during your stay.
Havaist buses depart from the station every 30 minutes. From Istanbul Aiport to Kadıköy, it is 65 km, and the trip takes about 110-120 minutes, depending on traffic and weather conditions.
You can check schedules and prices at the website below.
https://hava.ist/sefer-saatleri
2. Rent a Car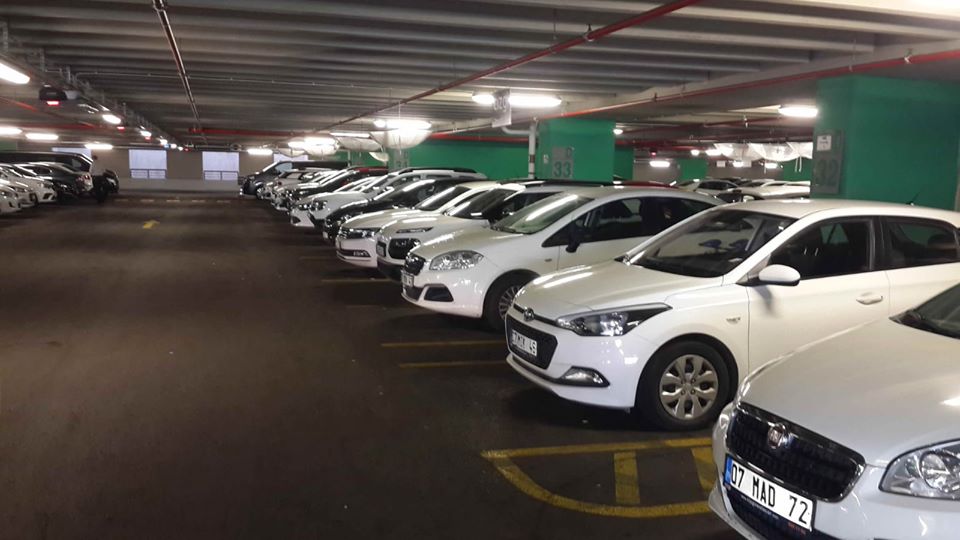 Despite being a relatively expensive option, a rental car could save your life during your stay in Istanbul. As you know, Istanbul is a huge city, and getting from one place to another could sometimes feel like torture. Actually, public transportation operates in every corner of the city, but they tend to take the long way around before arriving at your destination. This means that a 15 minute trip by car could take an hour by bus.
So, if you are going to stay a few days in Istanbul and want to save some time while protecting yourself from taxi scams that overcharge, renting a car is the safest way to go. All you need is to have a navigation program on your mobile phone. GPS is a must–there is no other way to find your way in this enormous city. If you need to procure a local number and Internet package, there are Turktelekom and Turkcell mobile operators' offices inside the airport. Before leaving the building, be sure to purchase an Internet package for your safe drive.
Car rental companies are located to the right of the exit door. Be sure to negotiate your prices and choose a new car so you won't have technical problems. We usually order cars made in the last two years. 
Prices start from 130 TL ($20) per day for diesel cars.
 Important Note: Remember that the process of renting a car will take at least 30-45 minutes, and don't forget your driver's license if you plan to rent a car. Without a driver's license, no company will lease you a car.
3. By Taxi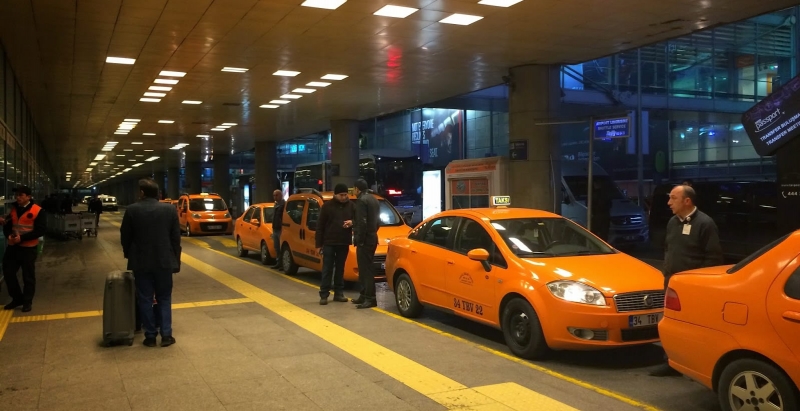 In case you can't spend the 45 minutes needed to rent a car or you want to completely avoid dealing with the city's heavy traffic, the best option is to take a taxi. Going by taxi to Kadıköy will take around 45-50 minutes, and it will cost 180-200 TL ($30-35). You can negotiate the price beforehand, but if they have a meter, you will have to pay what the display shows. Just be sure the driver doesn't take the scenic route!
4. By Bus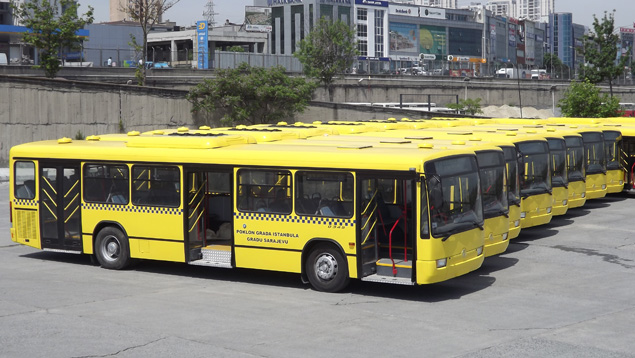 Buses also operate from the new airport, and they are the cheapest mode of transportation. You can get on board with your Istanbul card. Though it only costs 2.60 TL ($0.5), there isn't a direct bus to Kadıköy. If you missed Havaist and don't want to wait another 30 minutes, you can take a bus going to nearby Kadıköy and transfer to another bus there.
The H-1, H-2, H-3, H-4, H-6, H-7, H-8 buses go to Mahmutbey metro, Mecidiyekoy, Halkali, Mescid-i Selam, and Haciosman/Sariyer.
How far is Kadıköy from Istanbul Airport?
It's about 65 km, and takes about 45-50 minutes by car, depending on peak traffic hours. The Havaist shuttle bus should take about 110-120 minutes.
Which Airport is Closest to Kadıköy?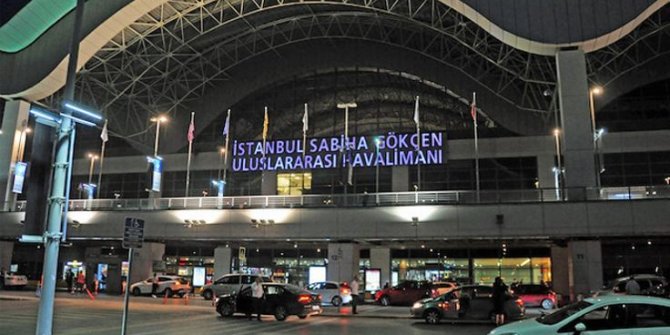 Since Kadıköy is on the Asian side of the city, Sabiha Gokce Airport is about two times closer, only 35 km, but it is 65 km from Istanbul Airport.
Options for transportation to and from new Istanbul Airport are temporarily limited as the huge facility has not yet been fully completed. Once it is, it will serve 200 million passengers per year, which is a lot of people! Unfortunately, for the time being, there isn't a metro that goes to the new airport, but the good news is that two different lines to the airport are being constructed. The metro will be the fastest and the cheapest mode of transportation, which will connect you to the city center in less than 30 minutes.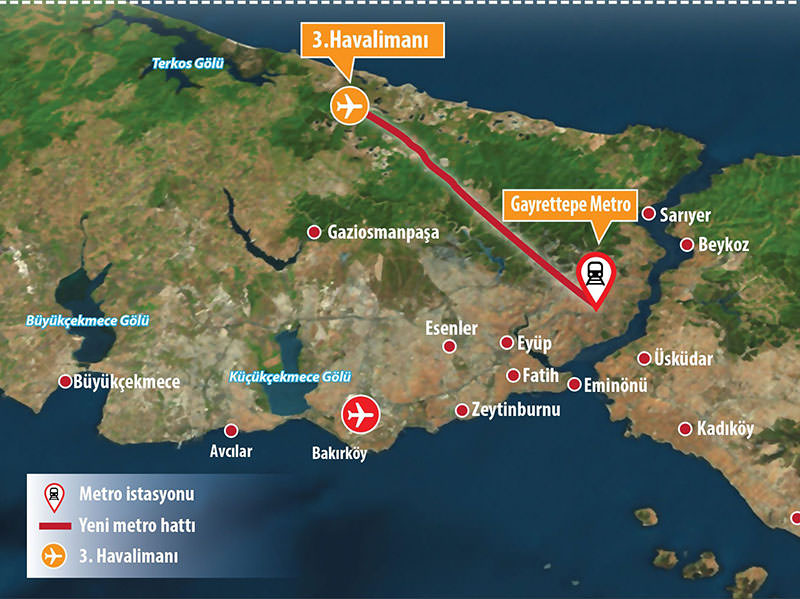 The first is the Gayrettepe-Istanbul Airport line, planned to open in October-November of 2020. The second is the Halkali- Istanbul Airport line, which will go to Bashakshehir, Metrokent, and Turkey's biggest hospital, the City Hospital.
By the way, there are also coffee shops, restaurants, cafes, a pharmacy, mobile operators, and a flower shop in the exit hall. You can grab a coffee from the Gloria Jean's Coffee Shop before taking the Havaist shuttle bus. Remember that it will take around two hours, and you might need a good, strong cup of coffee after your safe flight.