Nestled within the heart of Turkey's awe-inspiring Cappadocia region, Urgup is a treasure trove of natural wonders, historic gems, and rich cultural experiences. From hiking through picturesque valleys dotted with unique 'fairy chimneys', descending into ancient underground cities, to savoring local wines, Urgup offers something for every traveler. Here are 15 must-do activities that will ensure you make the most out of your visit to this enchanting town. Enjoy a deep dive into history, nature, and taste, and create memories that will last a lifetime.
13 Things to Do in Urgup
1) Visit Pasabag
Pasabag, also known as the Monks Valley, is home to some of the most striking fairy chimneys in Cappadocia. These towering natural formations, shaped by wind and water erosion over millions of years, are a sight to behold. Some even have hermit cells carved into them by early Christian monks, adding a touch of history to the already fascinating landscape.
2) Explore the Cappadocia Cave Dwellings
Step back in time as you visit the Cappadocia Cave Dwellings. These ancient homes, carved directly into the rock, provide a unique glimpse into the region's past. Wander through the rooms and corridors of these dwellings, and marvel at the ingenuity of the people who built them.
3) Check out the Cappadocia Art & History Museum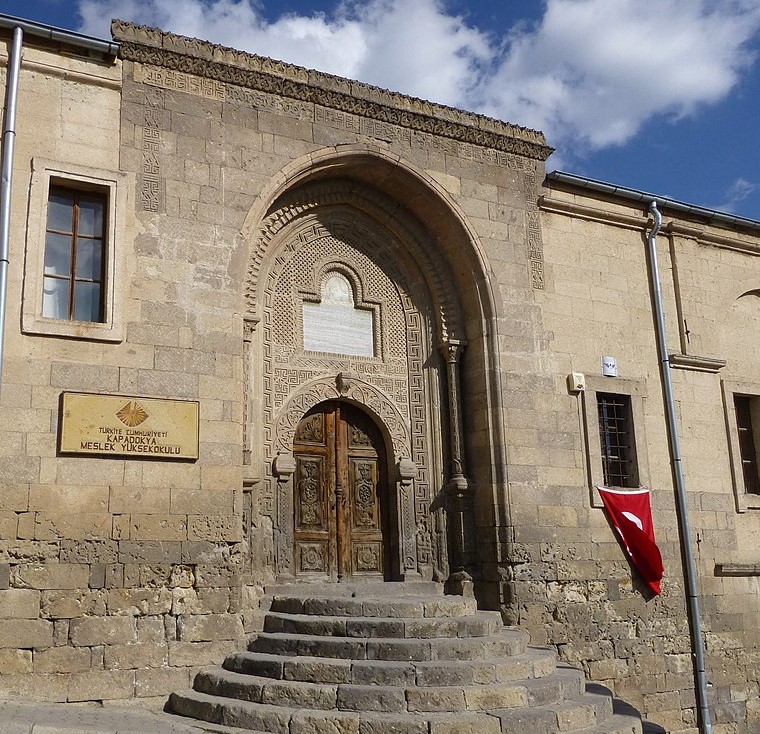 Credit: Source link
Immerse yourself in the rich cultural heritage of Cappadocia at the Art & History Museum. From fascinating artifacts to breathtaking artworks, this museum showcases the region's long and storied history. Make sure to catch a traditional pottery-making demonstration to truly appreciate the local crafts.
4) Descend into Mazi Yeralti Sehri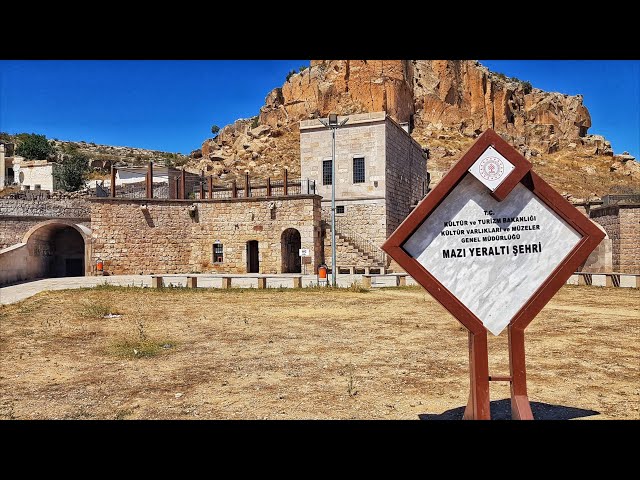 Explore the wonders of Mazi Yeralti Sehri, an underground city built by early Christians. As you descend into this subterranean labyrinth, you'll discover multiple levels of ancient living spaces, storage areas, and chapels, all expertly hewn from the rock.
5) Hike through Pigeon Valley (Güvercinlik Vadisi)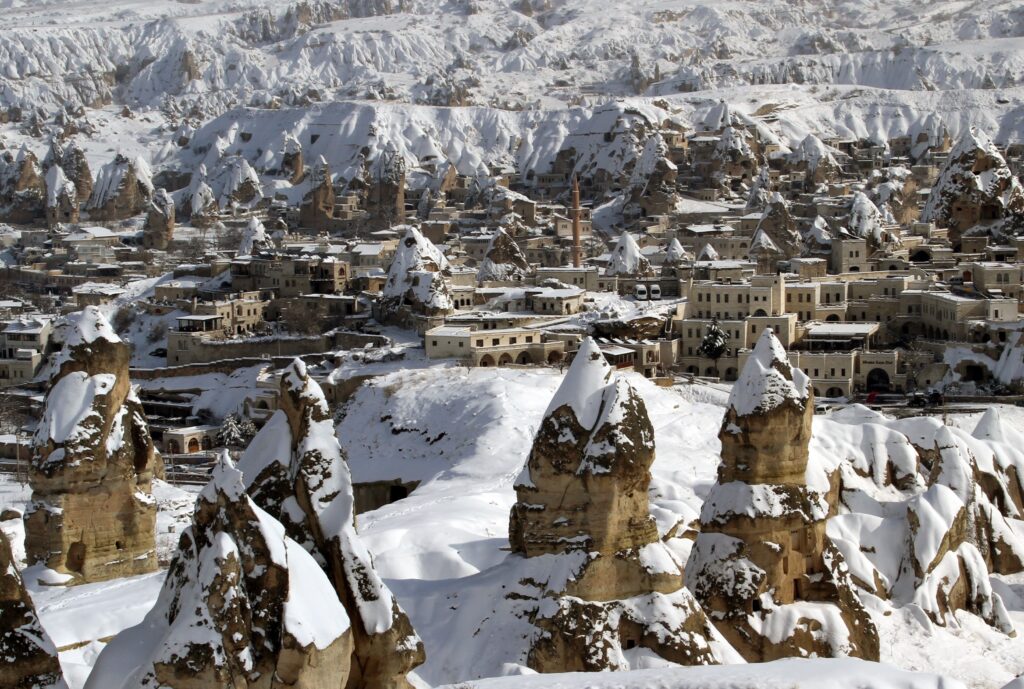 Enjoy a hike through the Pigeon Valley, famous for its fairy chimneys, ancient cave dwellings, and stunning vistas. Named after the thousands of pigeon houses carved into the rock, it's a perfect spot for nature lovers and photography enthusiasts.
6) Climb Uchisar Castle (Uchisar Kalesi)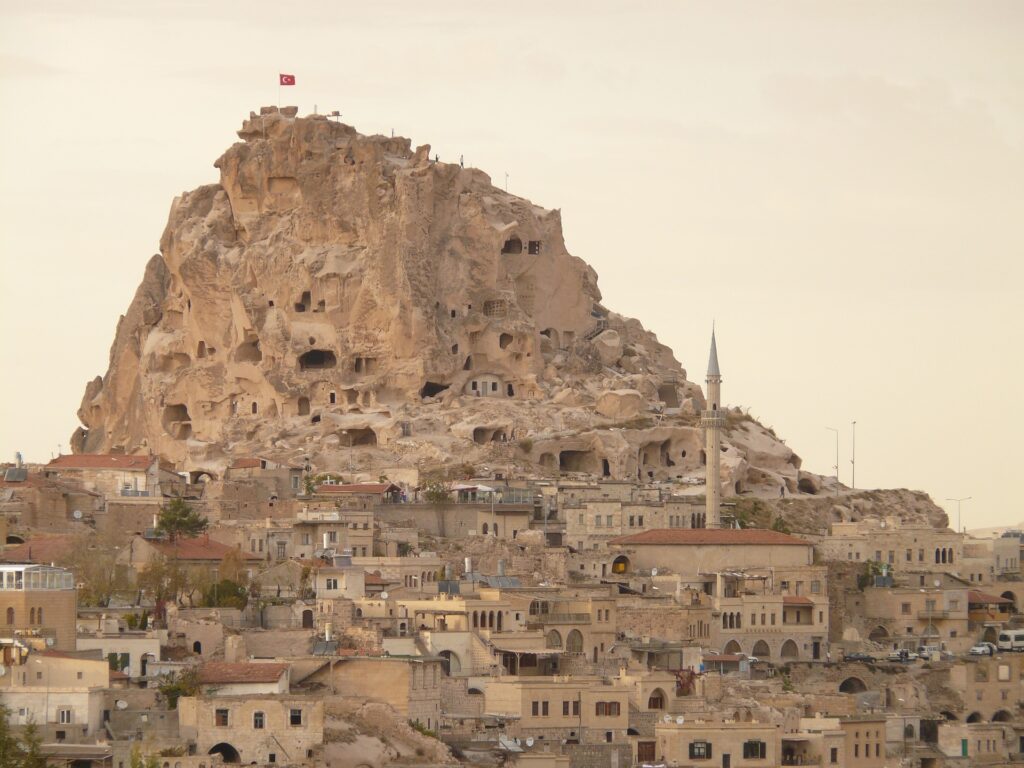 Reach for the skies as you ascend the Uchisar Castle. This natural rock formation, turned into a strategic fortress, offers panoramic views of the surrounding valleys. It's a bit of a climb, but the vistas from the top are more than worth the effort.
7) Visit Monks Valley (Pasabag Vadisi)
Take a trip to the Monks Valley, another site with unique rock formations and fairy chimneys. The valley is particularly famous for its hermit cells that were carved into the chimneys by monks in the Byzantine Era.
8) Explore the Zelve Open-Air Museum
Step into the past at the Zelve Open-Air Museum. This outdoor museum features an array of ancient cave dwellings and churches, offering visitors a chance to experience the region's history firsthand.
9) Check out the Rose Valley (Güllüdere Vadisi)
Bask in the beauty of the Rose Valley, named for its pink-hued rocks. Its picturesque landscape, adorned with ancient cave churches and hiking trails, is a must-see for every visitor.
10) Take a hot air balloon ride over Cappadocia
Credit: Source link
Experience Cappadocia from a whole new perspective by taking a hot air balloon ride. Float over the fairy chimneys, cave dwellings, and vineyards for an unforgettable aerial view of the stunning landscape.
11) Visit the Urgup Museum
Dive into Urgup's local history at the town's museum. Learn about the town's cultural heritage, local traditions, and the geological forces that shaped its unique landscape.
12) Watch the sunset from the Red Valley Observation Terrace
Credit: Source link
Savor the sight of a magnificent sunset from the Red Valley Observation Terrace. The dramatic play of colors across the sky and land is a visual treat you wouldn't want to miss.
13) Visit Mustafapasa Village and Ortahisar Castle
Finally, make a short trip to Mustafapasa Village and Ortahisar Castle. Both offer a glimpse of the local life and history away from the main tourist trail.
From hiking and exploring ancient ruins to sampling local cuisine, Urgup offers a plethora of experiences for every traveler. With a variety of accommodations to choose from, including budget-friendly options to luxurious mansions from the Seljuk period, it's a destination not to be missed.
Frequently Asked Questions
What is Urgup famous for?
Urgup is famous for its 'fairy chimneys', unique rock formations that were created through centuries of erosion. These formations, many of which have been converted into dwellings, hotels, and churches, provide a distinctive and fascinating backdrop to the town. Urgup is also known for its wineries and its historical sites, which include ancient underground cities and open-air museums.
What country is Urgup in?
Urgup is located in the Central Anatolia Region of Turkey. It's a part of the Nevşehir Province, which is home to the historical region of Cappadocia, known for its unique geological, historical, and cultural features.