Marmaris, located on the azure coastline of Turkey, is more than just a sun-soaked paradise. Besides its world-renowned beaches, this bustling town offers many historical and cultural experiences. Here are 12 must-do activities in Marmaris.
12 Things to Do in Marmaris
1) Sail along the Coast in a Yacht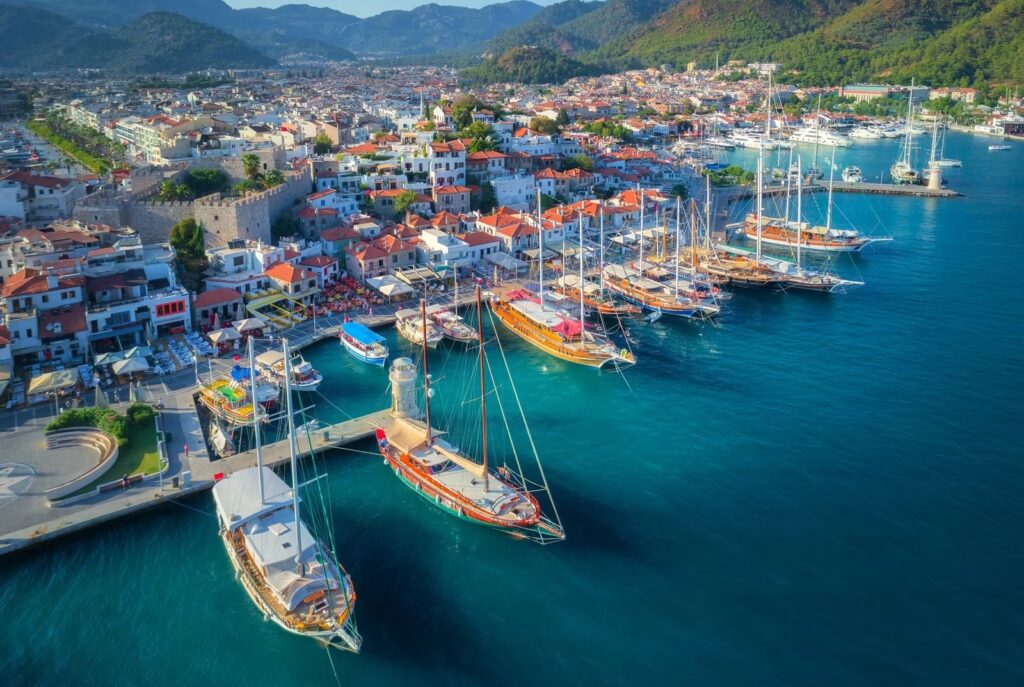 Credit: Source link
Nothing screams a holiday more than a serene yacht ride along the Turquoise Coast. Charter a private yacht or join a group and glide along the water, marvelling at the stunning shoreline with pine-covered hills. You might even anchor in secluded coves for a quick swim or snorkelling session.
2) Explore Marmaris Old Town & Castle
Walk through the narrow, winding streets of Marmaris Old Town, where charming Ottoman-style houses'll take you back in time. At the heart of the old town stands the Marmaris Castle, a 16th-century structure offering panoramic views of the city and the harbour. It also houses a museum showcasing fascinating archaeological artefacts.
3) Day Trip to Rhodes
Just a short ferry ride from Marmaris lies the stunning Greek island of Rhodes. You can spend a day here, exploring the medieval Rhodes Old Town, a UNESCO World Heritage Site, strolling through the Street of Knights, and visiting the magnificent Palace of the Grand Master.
4) Hit the Beach along Marmaris Bay
The Marmaris Bay is a 6-km stretch of golden sand and crystal-clear waters. It's perfect for a day of relaxation. Whether you want to sunbathe, play beach volleyball, or partake in water sports like jet-skiing and parasailing, this place has it all.
5) Cruise to Dalyan and Kaunos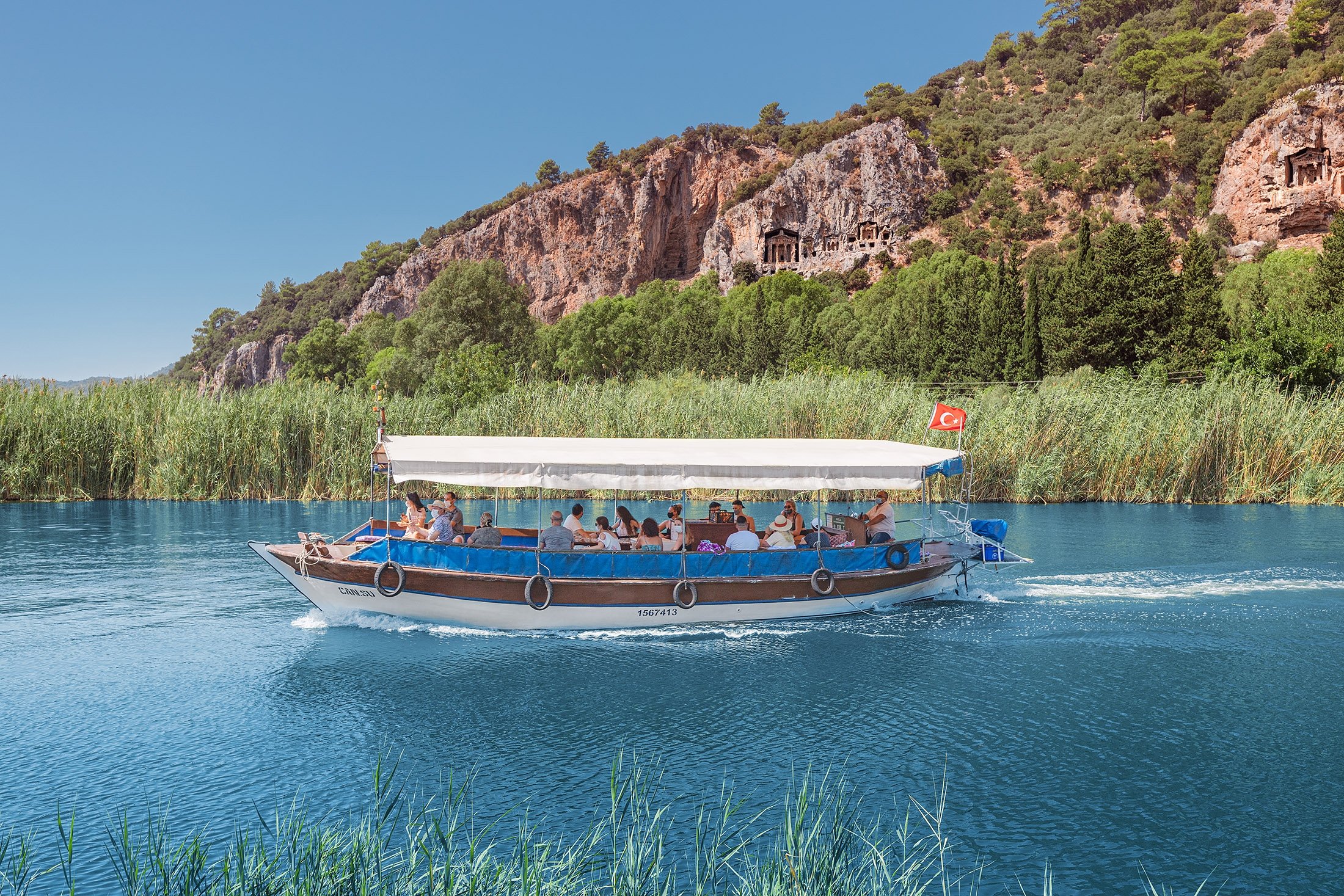 Credit: Source link
Take a day cruise to Dalyan and the ancient city of Kaunos. Here, you can enjoy a therapeutic mud bath, visit the remarkable rock-cut tombs, and spot endangered loggerhead turtles at Iztuzu Beach.
6) Visit the Marmaris Marina
Marmaris Marina is a hive of activity. Surrounded by chic cafes and fine-dining restaurants, you can enjoy a leisurely stroll, sipping a cocktail while watching the luxury yachts come and go. It's also a great place for shopping, with numerous boutiques selling designer labels and local handicrafts.
7) Take a Jeep Safari with Lunch
Credit: Source link
For an adrenaline-filled day, sign up for a jeep safari. This thrilling off-road adventure takes you through the picturesque countryside, visiting traditional Turkish villages, cascading waterfalls, and unspoiled beaches. It usually includes a lunch stop for a delicious Turkish meal.
8) Visit the Marmaris Museum
Credit: Source link
Located within the Marmaris Castle, this museum houses a rich collection of local artifacts dating back to the Hellenistic period. It's a treasure trove for history lovers, providing insights into the region's past through its various exhibits.
9) Visit the Marmaris Mountains
Head to the Marmaris Mountains for a breath of fresh air. You can go hiking, mountain biking, or simply enjoy a picnic amidst the lush greenery. The peaks offer spectacular views of the city and the Aegean Sea.
10) Visit the Iztuzu Beach (Turtle Beach)
Often called "Turtle Beach", Iztuzu Beach is famous for its loggerhead sea turtle nesting site. The 5-km sandy beach is a protected area, offering a unique combination of fresh water on one side and salt water on the other. It's a great place to enjoy nature and spot these endangered creatures.
11) Visit the Cleopatra Island
A boat trip to Cleopatra Island (Sedir Island in Turkish) is a must. According to legend, Cleopatra and Mark Antony swam here, bringing the sand over from Egypt. Today, visitors can swim in the azure waters and relax on the unique, squeaky sand.
12) Visit the Fethiye Lycian Rock Tombs (Tomb of Amyntas)
Lastly, don't miss the chance to visit the striking Lycian Rock Tombs in Fethiye, particularly the Tomb of Amyntas. These tombs, carved into the cliff face, date back to the 4th century BC and offer stunning views over Fethiye and the surrounding valley.
To sum up, Marmaris is a destination that combines history, culture, adventure, and relaxation. These 12 activities glimpse this beautiful town's heart, promising a memorable Turkish vacation.
Frequently Asked Questions
1) What is Marmaris popular for?
Marmaris is most famous for its beautiful coastline, clear turquoise waters, and golden sandy beaches. It's also well-known for its vibrant nightlife, with many bars and clubs offering various entertainment options. Additionally, Marmaris is a hub for water sports and sailing, boasting a sophisticated marina filled with yachts. Its rich history is reflected in the old town, particularly the Marmaris Castle and its museum.
2) Which areas are best in Marmaris?
The Marmaris Old Town is a must-visit for its historical charm, narrow winding streets, and the Marmaris Castle. Marmaris Bay and Iztuzu Beach are two of the best areas for beach lovers. The Marmaris Marina is ideal for those seeking chic dining options and boutique shopping. For nature and adventure enthusiasts, the Marmaris Mountains offer great hiking trails.
3) How to spend a day in Marmaris?
Start your day with a stroll around the Marmaris Old Town, visiting the castle and the museum. Head to Marmaris Bay for a relaxing afternoon on the beach, and maybe even try some water sports. As the evening approaches, visit the Marina for a nice dinner with a view of the yachts. Cap off your day with a visit to the lively Bar Street for music and dancing.
4) Is Marmaris Turkey worth visiting?
Absolutely! Marmaris has something for everyone. From history buffs to adventure seekers, beach lovers to foodies, everyone can find something they love in Marmaris. Its beautiful beaches, rich history, mouth-watering Turkish cuisine, and lively nightlife make it a destination worth visiting.