Turkey is a country with a rich history and diverse landscapes, and Kemer, located on the southern coastline, is no exception. From ancient ruins to beautiful national parks, there is something for everyone in this vibrant seaside town. Here, we present you with a list of 15 top things to do in Kemer, ensuring you make the most of your visit.
12 Things to Do in Kemer
1) Visit Mount Olympos (Tahtali Dagi)
Start your Kemer journey with an adventure to Mount Olympos, also known as Tahtali Dagi. This majestic mountain stands at over 2,000 meters and provides breathtaking views of the surrounding landscapes. Take the time to hike to the summit or opt for the comfortable cable car ride to enjoy panoramic vistas that you won't forget in a hurry.
2) Explore the Ancient City of Phaselis
Step back in time at the ancient city of Phaselis, a well-preserved archaeological site located just outside of Kemer. Wander the ancient streets, explore the old theatre, and admire the stunning harbour views. This site provides a fantastic insight into the region's rich history and is a must-visit for any history buff.
3) Spend a Day at Moon Light Parki
Credit: Source link
Moon Light Parki is more than just a park – it's a fantastic area to relax, with amenities such as cafes, restaurants, and a sandy beach. You can also rent a boat and take a trip around the bay. It's a great place for families and individuals looking to relax in the midst of nature and enjoy the sea views.
4) Discover Folklorik Yoruk Parki
Credit: Source link
At Folklorik Yoruk Parki, you can immerse yourself in Turkish culture. This park is a living museum that represents the nomadic lifestyle of the Yörük people, showcasing their traditional tents and customs. Here, you can also sample traditional Turkish foods, adding a tasty layer to your cultural exploration.
5) Splash Around in DoluSu Park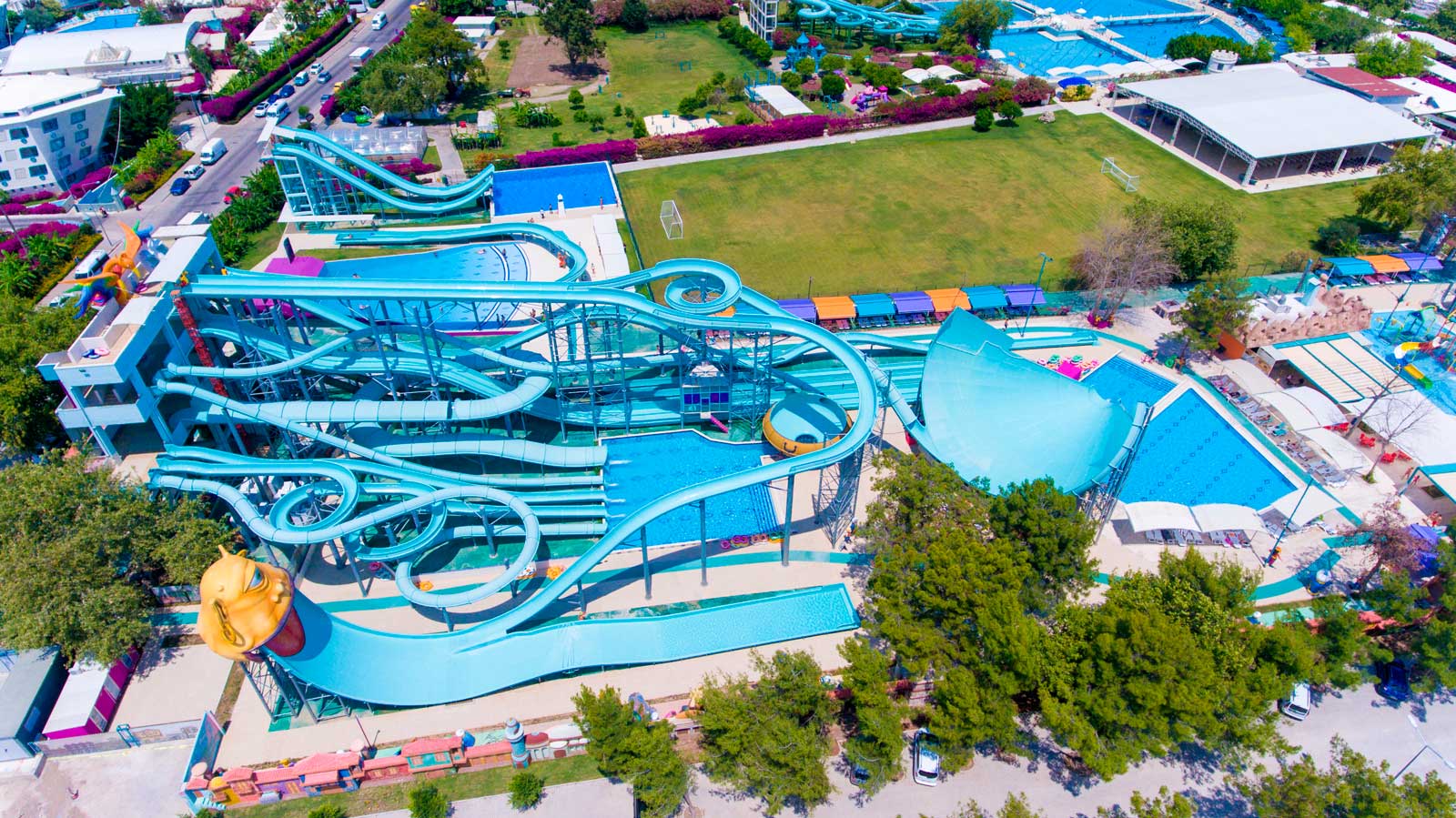 Credit: Source link
Looking for some water fun? Head to DoluSu Park, a popular water park in Kemer. With a variety of slides, pools, and even an artificial wave pool, it's a perfect location for a family day out.
6) Ride the Olympos Cable Car (Olympos Teleferik)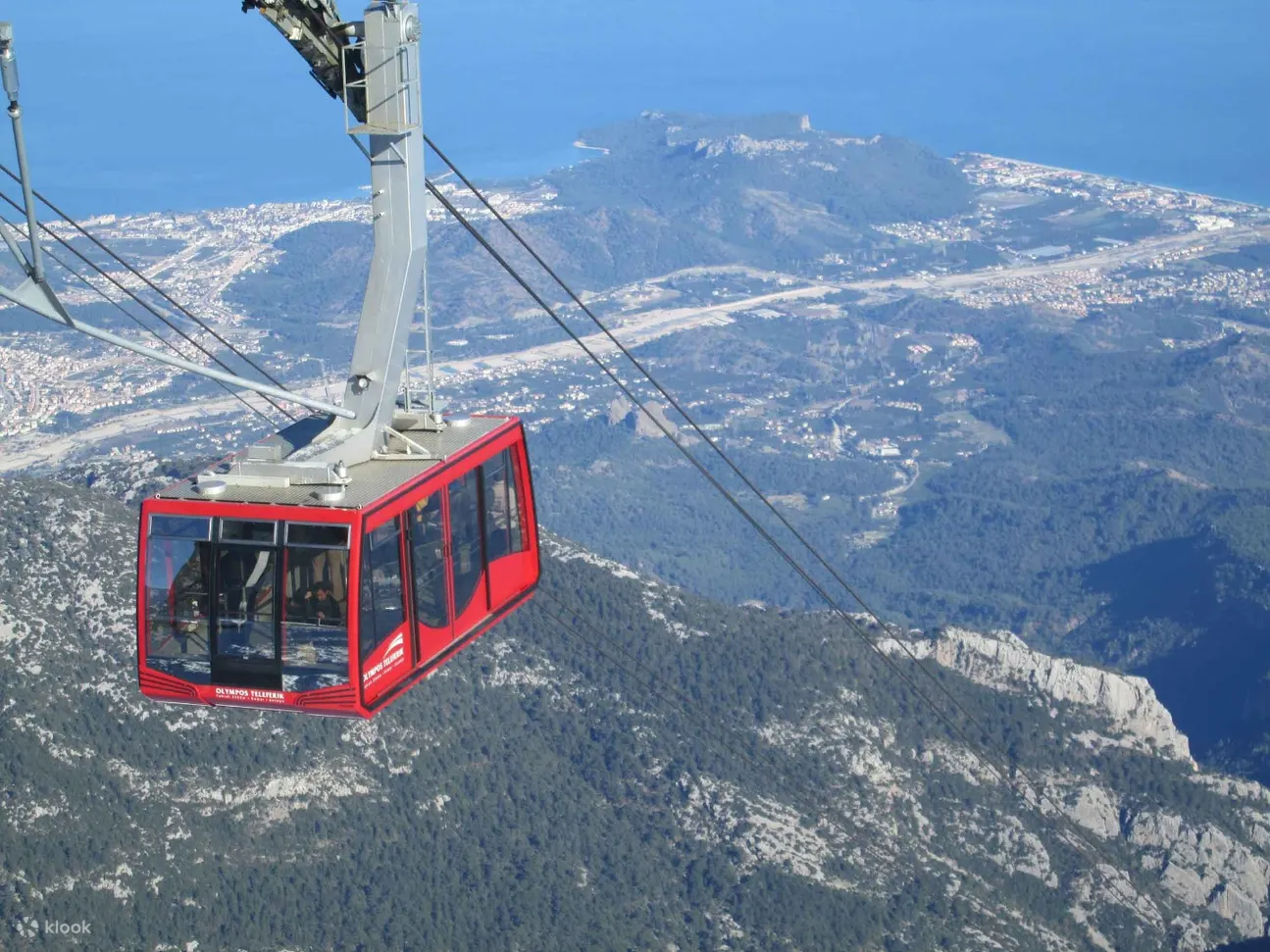 Credit: Source link
One of the highlights of visiting Mount Olympos is the Olympos Cable Car ride. The journey takes you up to the mountain's summit, offering incredible views of the Turkish coastline. The cable car operates year-round, providing different, yet equally stunning views each season.
7) Explore Olympos Beydaglari National Park
Embrace nature at the Olympos Beydaglari National Park, home to a diverse range of flora and fauna. Here, you can hike through the park, explore hidden coves, or simply relax and enjoy the beautiful surroundings. This park is a nature lover's paradise.
8) Walk Around Olympos
Visit the ancient city of Olympos, tucked away in a valley and home to a wealth of historical ruins. From the old city walls to the Roman theatre, there's plenty to explore. The city is also known for its stunning beach, where you can relax after your historical exploration.
9) Adventure in Goynuk Canyon
If you're looking for adventure, Goynuk Canyon is the place to be. Offering activities such as trekking, canyoning, and swimming, it's a fantastic location for those seeking some adrenaline. The canyon's crystal-clear water and stunning landscapes are worth the visit alone.
10) Marvel at the Chimaera (Yanartaş)
The Chimaera, also known as Yanartaş, is a fascinating natural phenomenon consisting of flames that burn from vents in the mountainside. These flames, fueled by natural gas seeping from the earth, have been burning for thousands of years. Visit at night for a truly mesmerizing experience.
11) Enjoy Nightlife on Bars Street
Credit: Source link
When the sun goes down, the Bars Street in Kemer comes alive. Filled with numerous bars and clubs, it's the perfect place to experience the town's vibrant nightlife. Whether you want to dance the night away or simply enjoy a cocktail, Bars Street has it all.
12) Daily Tours
Credit: Source link
Sign up for daily tours to explore the natural and historical wonders in and around Kemer. These tours are guided and often include transportation, making it an easy and convenient way to see the sights.
Frequently Asked Questions
Is Kemer Worth a Visit?
Absolutely! Kemer is definitely worth a visit. From the picturesque landscapes of Mount Olympos and the Beydaglari National Park, to the rich historical sites like the ancient cities of Olympos and Phaselis, Kemer has something for everyone. The town also offers a great blend of relaxation and adventure, with its beautiful beaches, vibrant nightlife, and various outdoor activities.
What is Kemer Known for?
Kemer is known for its unique blend of natural beauty and historical sites. It's home to Mount Olympos (Tahtali Dagi), where you can enjoy a cable car ride or a hike to the summit for breathtaking views. The ancient cities of Phaselis and Olympos are major attractions, offering a glimpse into the region's rich past. Kemer is also famous for its beautiful beaches, vibrant nightlife, and outdoor activities like hiking, canyoning, and boat tours.
What Day is Kemer Market?
Kemer's market day is typically on Tuesdays. It's an open-air market where you can find a wide variety of goods, including fresh fruits and vegetables, spices, textiles, clothing, and local handicrafts. It's a great place to experience local life and maybe pick up a few bargains. However, please verify the market day locally as schedules can occasionally change.