Izmir is also known as Smyrna, its old name. This word is written as Smurne in the old Ionic dialect and as Smryna in Attica (Athens) dialect. Today's Hellenes pronounce the word Smyrna in the form of Smirni. Although the word Smyrna is thought to be of Greek origin, it is actually of Anatolian origin.
Izmir is the third biggest city in Turkey. It is located in the western part of the country and the Aegean region. 
Approximately half of Izmir's population of over 4 million consists of young people who are 30 years old and under. Of course, this makes the city rejuvenated and makes it a very vibrant and dynamic city.
In addition, due to its Mediterranean climate, it is a very successful region in the production of products such as olives, figs, grapes, and cotton. It is especially famous for its seafood and olive oil dishes. Also, herbs specific to the region are grown here.
I am from Izmir, so I'm a local here. Some of the places listed here are the local places you can explore. The guide will consist of the places you have to see here.
Let's start exploring!
1- See this historical beauty: Clock Tower
The Clock Tower is located in Konak Square, the center of Izmir. This tower is very important and valuable for Izmir. Clock Tower is also known as the symbol of Izmir.
The history of the Clock Tower goes back to Ottoman times. This is to celebrate the 25th anniversary of the ascension of the Ottoman Sultan Abdulhamid II in 1901; It was built by the commission consisting of Izmir Governor Cypriot Kamil Pasha, Bahriye Mirliva Said Pasha, and Mayor Esref Pasha.
The Clock Tower has a height of 25 meters. It is also in the form of a four-story tower and an octagon. The columns inside the watch carry the North African theme. The clock inside the tower was also given as a gift by the German Emperor Wilhelm II at that time.
In the Clock Tower, which was celebrated as a celebration of the 25th anniversary of the Sultan, there is an octagonal pool with 25 taps following this year.
The Clock Tower was damaged in an earthquake with a magnitude of 5.2 in Izmir in 1974 and the clock of the tower stopped at 02.04, the time of the earthquake. Within two years after that, they repaired the tower again. Now the clock is working correctly.
It is kind of the symbol of Izmir. That's why the Clock Tower is one of the most important and tourist places in the city. The Clock Tower has an amazing view during sunsets, you can take some pictures at that time of the day!
2- Best sightseeing spot is Historical Elevator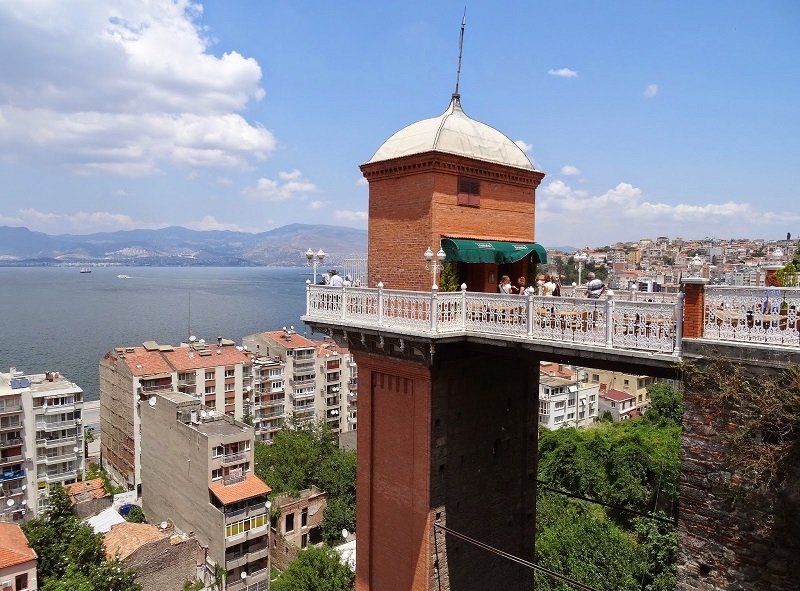 Izmir's Karatas region has been used as a quarry throughout history. Therefore, the coastline and the Güzelyalı district above are separated by cliffs.
Between these two places, the stairs called the "Karatas Stairs" by the Turks and the "Devidas' Ladder" by the Jews living in the district above were built.
At the top of the stairs was the house of the Devidas family, and the biggest house below was the house of Nesim Levi, one of the famous merchants of that time. According to the story, the father of the Devidas family fell from these stairs one day and broke his leg.
Thereupon, it is told that his friend Nesim Levi got into the idea of ​​building an elevator similar to what he saw in Europe and that the elevator was made for this reason.
The tower of the elevator is made of bricks brought from Marseille. The construction of the tower was completed in 1907 and it was sold in 1942. Until this date, its income was used to cover the expenses of the Karatas Jewish Hospital.
It is written in Hebrew on the elevator entrance door. In addition, there is an inscription "Ascenseur Construit Par Mon. Nesim Levi 1907" written in French.
At the destination at the top of the elevator, it has a wooden balcony. The cast-iron railings of this balcony decorated with the most beautiful motifs of the period.
Today, the use of elevators continues and on the upper floor, it creates a pleasant environment with its cafeteria and a small viewing balcony.
You can watch the whole city from a bird's eye view from this balcony, the view is magnificent!
3- A historical shopping place: Kemeralti Bazaar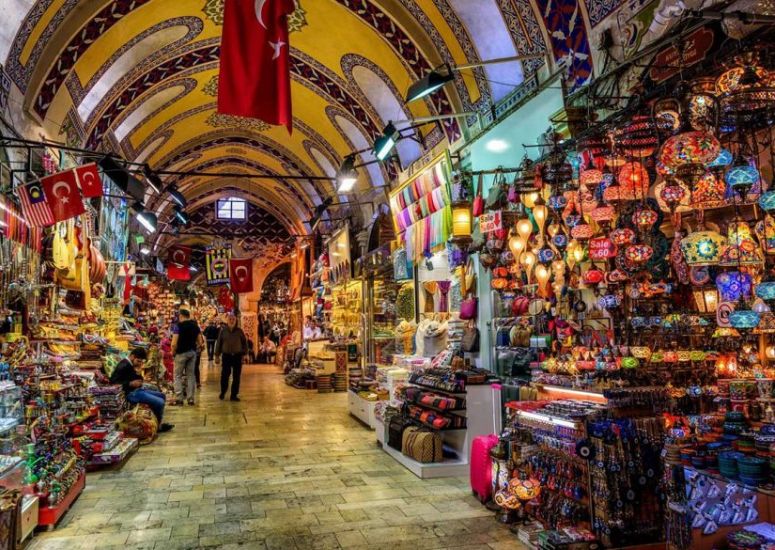 Kemeralti is a historical bazaar in Konak Square with an area of ​​270 hectares. The main street of Kemeralti Bazaar is Anafartalar Street. The bazaar draws a big curve from this street. The reason he draws this curve is that the street has circled the inner harbor that existed in the past centuries.
The most colorful and largest shopping temple of Izmir, Kemeralti took its name from the arches called "arasta" that decorate the main street at intervals. Very few of these arches have survived.
Today, some of the small streets opening perpendicular to the bazaar are also covered with vaults. Along with other alleys opening to these, there are also artifacts. There are many inns in the bazaar.
Kemeralti Bazaar is still one of the largest open-top bazaars in the world. You can see inns, baths, inscriptions, burial, pavilion, mansion, mosque, mosque, synagogue, a public fountain, fountain, fountain, covered bazaar, and old street textures in this bazaar.
Kemeralti Bazaar used to be the most important shopping center in Izmir and still maintains this influence. Even though the number of its old shops is decreasing considerably over time, its streets with modern business centers, shops, cinemas, and cafeterias maintain the appearance of a site where you can make all kinds of shopping.
You can find all kinds of traditional Turkish handicrafts such as ceramics, tile panels, wooden products, fabrics, carpets and rugs, and leather products in this bazaar, which consists of indoor and outdoor spaces.
Walk to the end of Kemeralti and I strongly recommend you to stop by the historical Havra Street, where you can find the freshest of all kinds of food. There are many synagogues that are unique and even intertwined with each other.
Kemeralti is a region that is in change and transformation today. The place is getting more popular each passing day. You can find many pieces of stuff now for your hobbies such as stitching, jewelry design, and etc.
Kemeralti included in the World Heritage Tentative List as part of UNESCO's heritage site creation under the name of "Izmir Historical Port City" in 2020.
4- Discover our tradition in Kizlaragasi Inn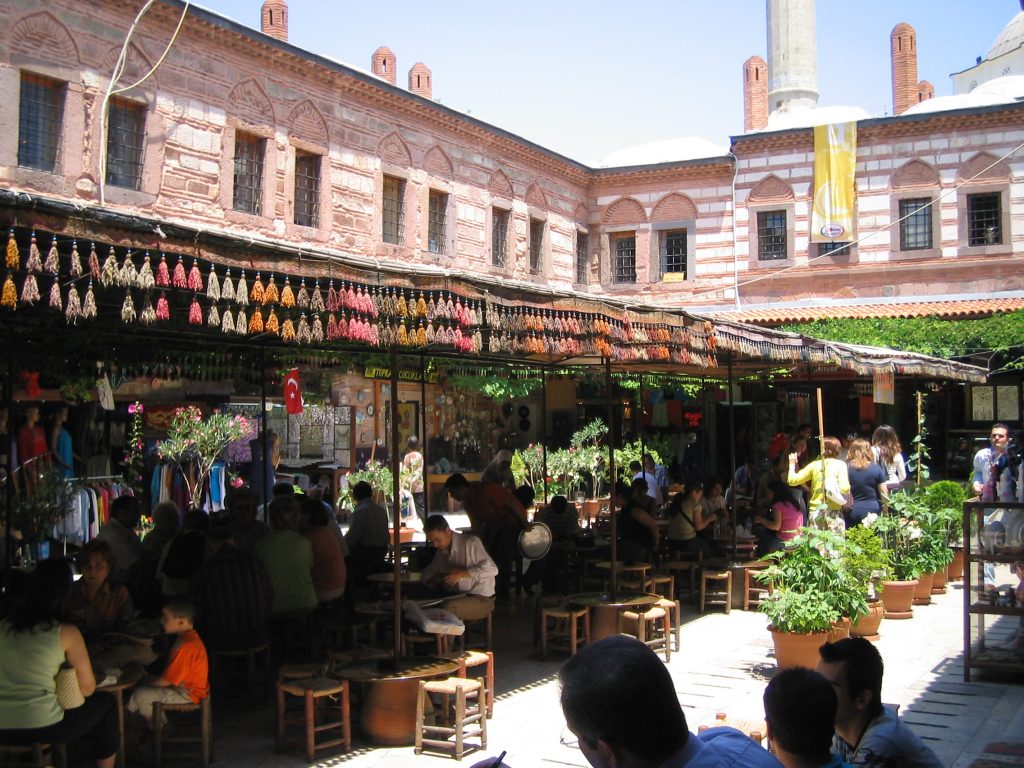 Image Credit: Yolcu360
During the Ottoman period, Haci Besir Aga later built the Kizlaragasi Inn in 1744 due to the storage of goods transported while passing through Izmir and the accommodation requirements of the merchants.
One of the rare Ottoman monuments left in Izmir is the Kizlaragasi Inn. This inn built in a square shape but has a large rectangular courtyard.
In the courtyard, there were rooms where merchants stayed at that time. Kizlaragasi Inn was built on two floors, as it was a long-distance merchant inn.
The ground floor of the inn is the meeting point of merchants and brokers trading camels, cargo, and the upper floor is for accommodation.
Kizlaragasi Inn is the most important surviving example of the old inns built in Izmir. In 1989, Kizlaragasi Inn was closed for restoration purposes. You can see its renewed version today.
The biggest and most magnificent of the inns in Izmir is Kizlaragasi. In addition to having a monumental feature, it is the only example in terms of its architectural feature and is unique among other Ottoman inns.
In the cafe located in the middle of the inn, you can drink tea or "Turkish Coffee cooked in a cup" specially made for Izmir and enjoy yourself.
5- Sit on the grass and enjoy the view: Kordon Coast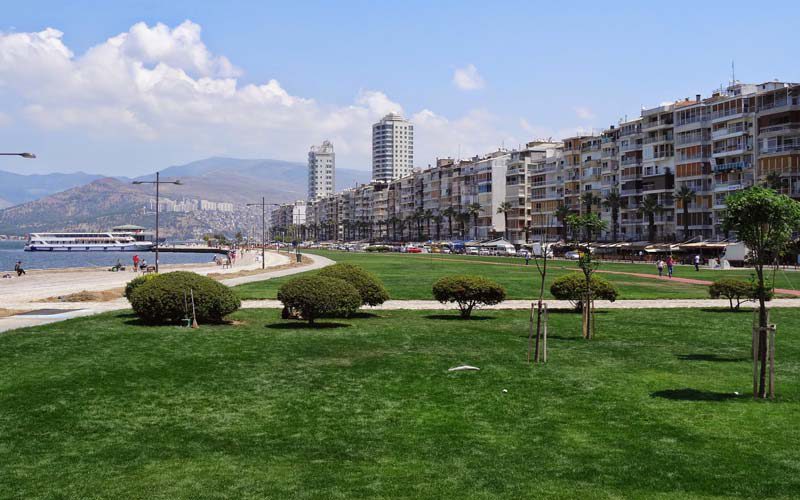 Kordon is a place where everyone has a pleasant time on the lawns, has hiking and cycling trails, and hosts concerts, festivals, and various rallies. This place is in the Alsancak district, which is the center of Izmir, on the coastline.
Today's Kordon, one of the most important places in the city, was unfortunately thought of as a place to build a 6-lane road 16 years ago. However, this road construction project of the municipality was stopped by a court decision and it has reached its present form.
Today, Kordon is a popular area where more intense young people go and sip their beers, chill their seeds and chat and get the sea air. There are mostly some ladies who would just give you flowers and attempt to look at your fortune, do not believe in them!
You can get on the ferry from Alsancak Ferry Pier, which is located here, and go to the Karsiyaka-Bostanli line, which is on the other side of the city.
There are also some pubs, cafes, and stores in Kordon's area. Kordon is around 1 kilometer long, it starts from Alsancak Harbour and ends in Passport Pier.
6- Have a boat trip from Passport Pier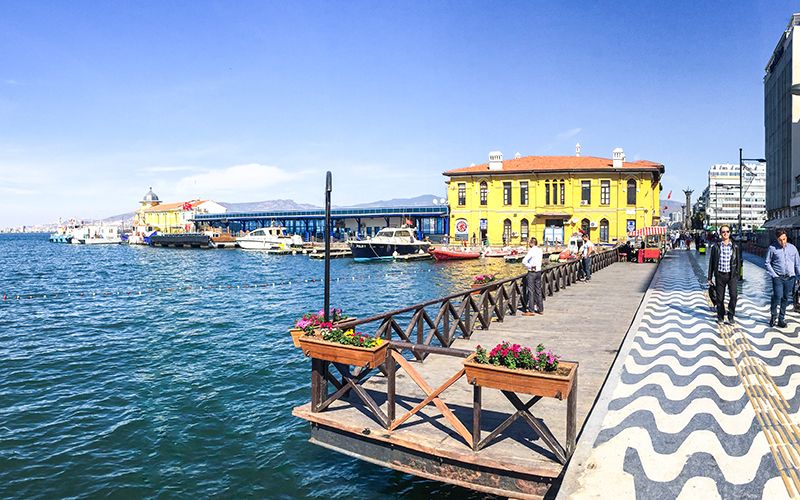 Passport Pier, one of the oldest customs buildings in Izmir, is located between Cumhuriyet Square and Konak Pier shopping center. There are also many cafes and restaurants by the pier.
It lost its flamboyant structure in the big fire that took place in 1922. Although it lost its importance after the port was moved to Alsancak, it continues to function as a public unit and pier after this period.
Passport Pier is a ferry pier used today. The pier, which is used by those who have a job in Izmir city center to make a more enjoyable and comfortable journey, is quite busy at all hours of the day.
This place is also one of the places where the sunset can be watched as the most beautiful in Izmir. Besides, if you are into fishing, there are lots of people who enjoy fishing near the Passport Pier.
With the opening of the Alsancak Port, you can also go to Karsiyaka, Bostanli, Goztepe, Bayrakli, and Alsancak from this pier, although it is not as active as before. Alsancak is within walking distance from here though, so I think you should walk.
For most of the voyages from Passport Pier to Karsiyaka and Bostanli, ferries stop at Alsancak Pier either before or after, because it is also a very busy pier.
You can sit on the benches in front of this pier and watch the sunrise or sunset.
7- Take a walk inside Izmir International Fair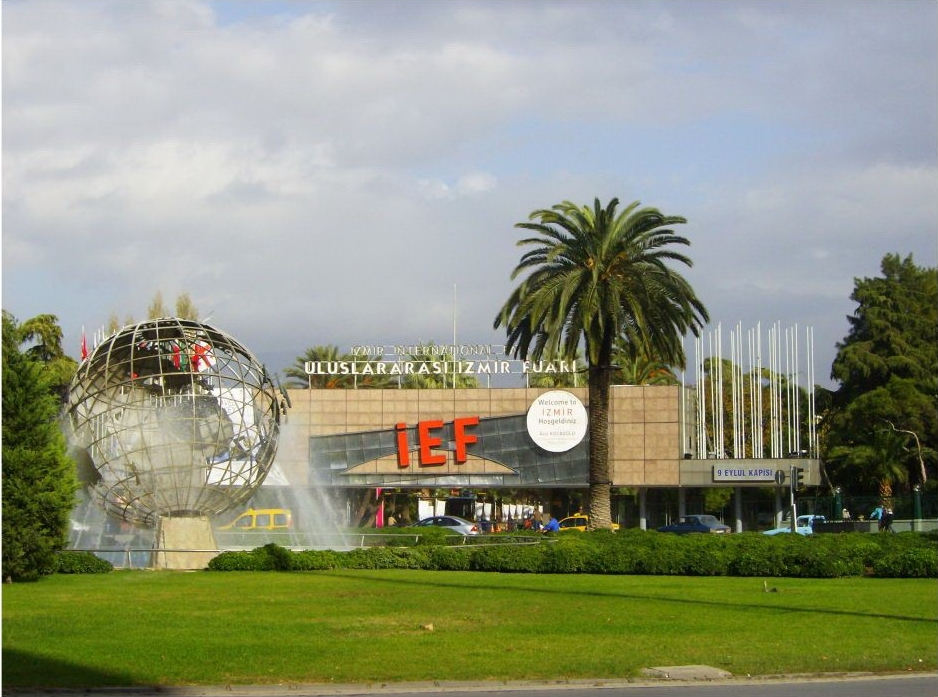 The story of the Izmir International Fair goes back to the 1923s. While the Republic was not declared yet, the Izmir Economy Congress, which was held in Izmir on the order of Mustafa Kemal Ataturk, was held here.
A commercial products exhibition was held here with the Economics Congress. Here, handlooms and small industrial products; many kinds of products such as carpets, oil products, soaps, pasta and bakery foods, export cotton, shoes, furniture, leather products, etc. were exhibited.
The organization of the Izmir Fair was carried out by the Mayor of Izmir. It was completed under the leadership of Dr.Behcet Uz in 1936 and was opened on September 1, 1936. Izmir, Kulturpark, and Fair have almost become synonymous.
The area we refer to as Kulturpark is also an area within the fair. Nowadays, there is even a club in this area where you can play tennis.
Izmir International Fair has a great contribution to the economy of the region and the country. Trade is also Turkey's "window to the world" slogan in the promotion of the country and plays an important role in the development of bilateral trade relations.
Fairs are held here at certain times of the year. People from many sectors such as automotive, electricity, electronics, construction equipment, food, and leather sectors find the opportunity to connect with these fairs.
Apart from that, there is a very pleasant and green walking area in this region. It's a good choice to get some fresh air or go for a morning run.
8- One of the well-known streets in Izmir: Kibris Sehitleri Street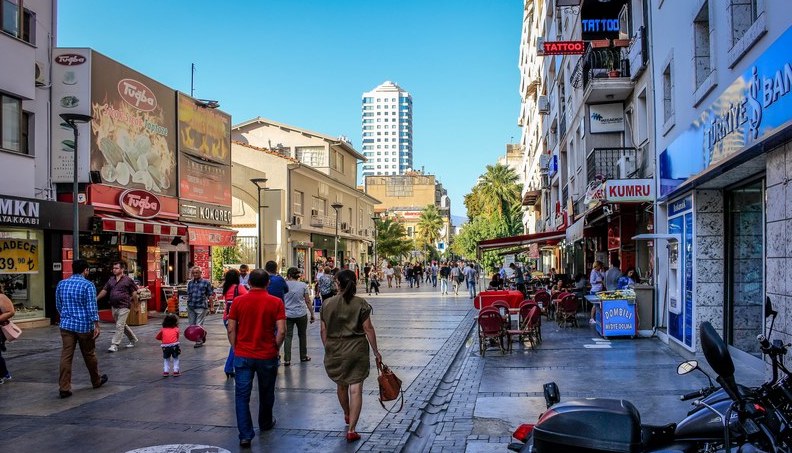 Kibris Sehitleri Street is one of the most well-known streets in Izmir. This street starts from Sevinc Patisserie, the meeting point of the locals, and continues until the port of Alsancak. This distance corresponds to roughly 1 km.
There is an American Passage right next to Tugba Kuruyemis, at the beginning of Kibris Sehitleri Street. Here you can buy products such as tobacco and alcohol sold abroad.
However, this street is also famous for fortune-telling cafes that start from the middle of now. You know, we love to read fortune-telling with Turkish coffee in Turkish culture. There are fortune tellers in fortune-telling cafes here and they check your fortune for a fee.
There are also bookstores, restaurants and cafes, clothing stores, and personal care shops on this street. In addition, Gazi Kadinlar Street, which is an indispensable point in Izmir's nightlife, is located on a side street of this street.
9- Wander around the city's famous shopping district: Gul Street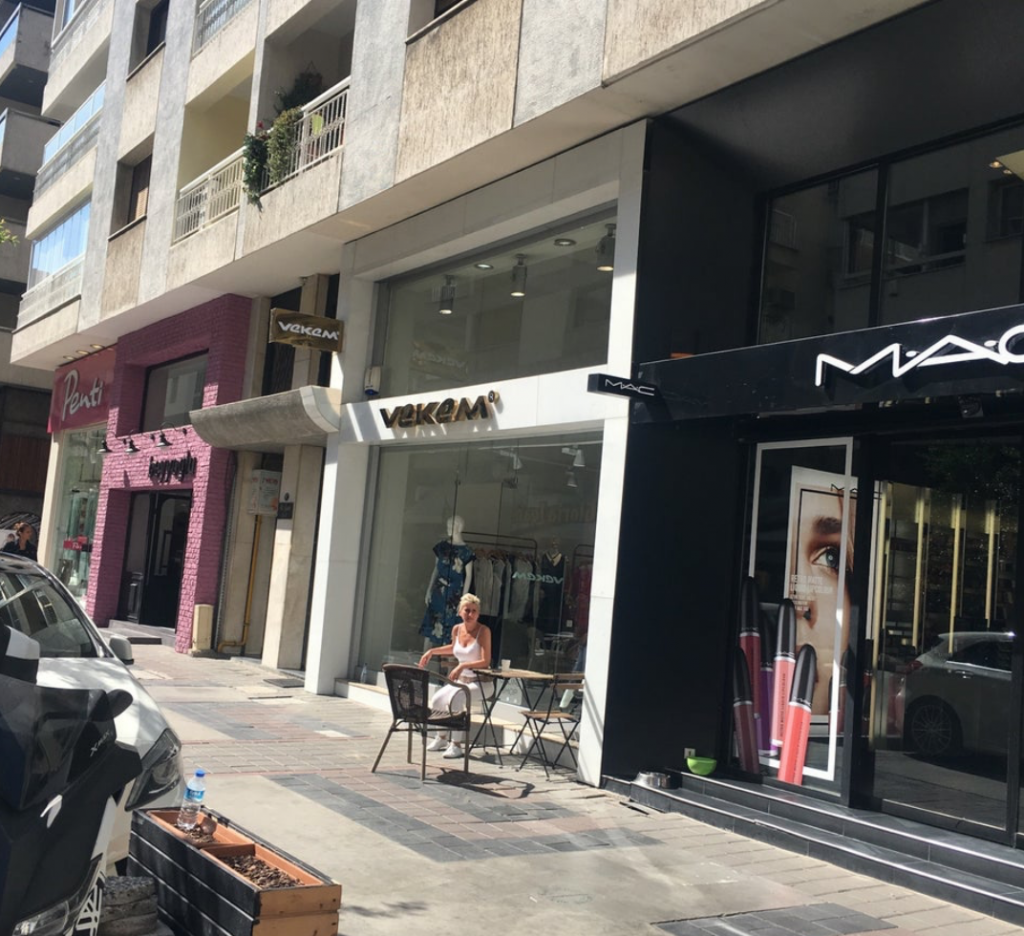 Gul Street is a favorite spot especially for young people from Izmir. In a way, this place can be described as Izmir's shopping street. It has many shopping stores that are both affordable and expensive.
It is a great choice not only for shopping but also for dining, drinking tea and coffee and just sightseeing. The cafes here are very popular. I am sure that at least one of these cafes with different concepts will attract you.
There are many cafes on this street that are unique only to Izmir. But all also available in Turkey and loved the cafes. This street is also located in Alsancak, that is, in the center of the city. This is one of the most elite regions of Izmir.
The restaurants here are a bit more expensive than the restaurants on Kibris Sehitleri Caddesi. So, if you want to eat at affordable prices, Kibris Sehitleri Caddesi is a more logical choice for you.
But if you say, let me have joy when I already came to Izmir, it is certain that you will have the best pleasure here.
10- Watch the sunset on Bostanli Coast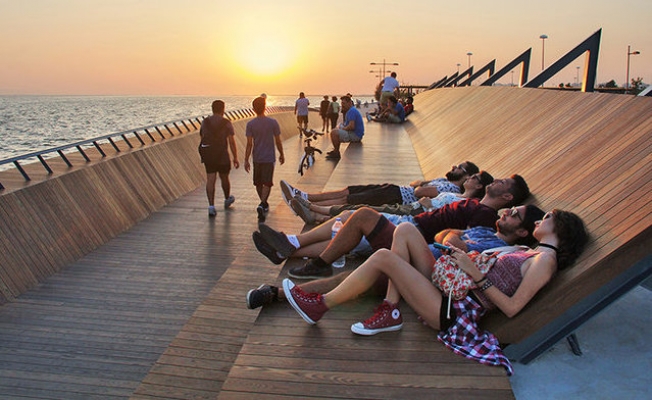 Here is Bostanli, another choice of young people from Izmir. This is a region that is considered as Alsancak's rival. Because the young population here is also quite high.
In fact, we, the people of Izmir, argue about which area is more beautiful. You might have guessed that the people living in Alsancak are defending Alsancak, and the people living in Bostanli are defending Bostanli. This has been the case for years.
Here, there is a lively nightlife similar to what you can find in Alsancak. It has nice cafes like Alsancak. But this place has a great advantage, though it was built in recent years, but okay; platforms where you can watch the sunset while lying down … It is very enjoyable.
Apart from these, there is also a ferry dock in Bostanli. You can also buy fresh fruits and vegetables from "Bostanli Bazaar", which is set up every Wednesday. Another name for this market is "Society Market". Especially the part of this market where clothes are sold is very popular.
11- Do some shopping in Mavibahce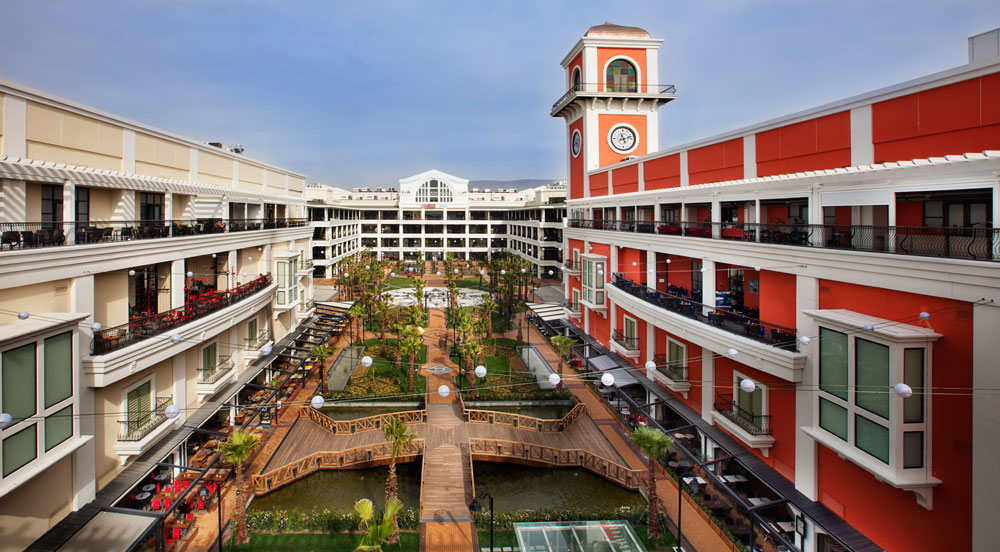 We have come to the shopping area, which is one of my favorite parts of our Izmir tour, dear friends. And of course, my favorite in this regard is Mavibahce, located in the Mavisehir region of Izmir.
Mavisehir is a little far from the city center. You have to drive for 30 minutes to reach here. But it is a very colorful and lively place. Mavisehir is a residential area. Mavibahce is located in the immediate vicinity of these sites.
There are many places in Mavibahce, such as all kinds of restaurants, cafes, patisseries, clothing stores, home goods stores, markets, cinema. I especially like the design of this place.
The mall is usually open and in a square shape. You may lose yourself while wandering around this quadrant. There are so many stores! There are also many options for eating.
Mavibahce seems like a different world to me, rather than a casual shopping center. The building of the mall is colorful and different from any other shopping mall design.
Mavibahce, like all other shopping centers, is open every day from 10 AM to 10 PM. Only the cinema and parking lot are open after 10 PM, all shops are closed.
12- See the whole city with Cable Cars in Balcova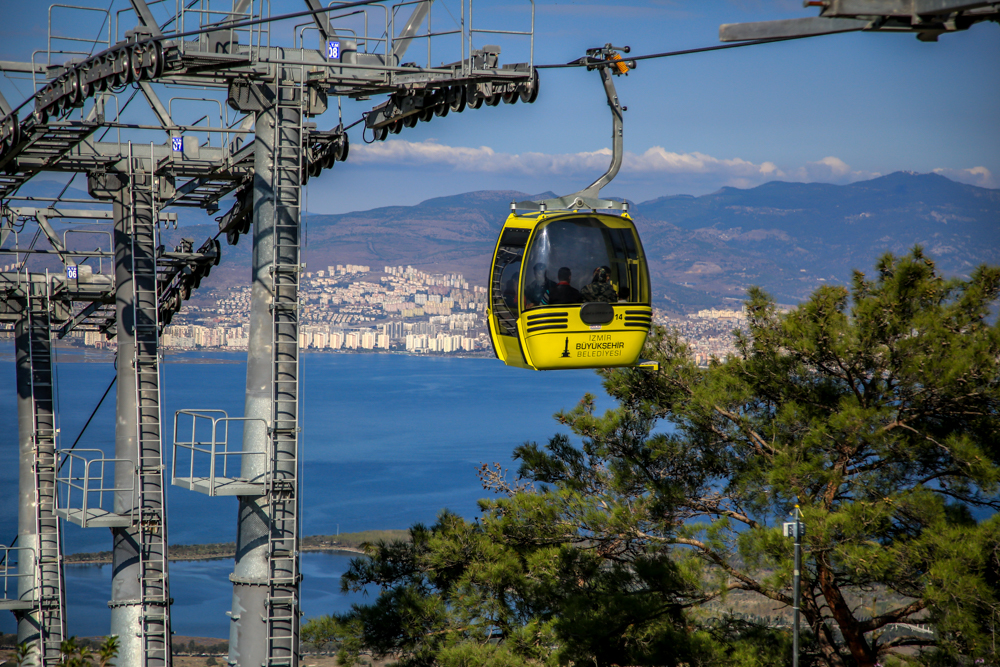 Who wants to see the city from the sky without flying? Here is your thing; cable cars. Izmir Cable Car is located in Balcova district. Balcova, which is one of the most populous districts of Izmir, also has many places such as shopping malls, hotels, and water parks.
But the most enjoyable among all these places is definitely this cable car, which will allow you to see Izmir from above.
Balcova cable car was opened in 1974. After many years of use, it has become neglected and worn over time.
For this reason, Izmir Branch of the Chamber of Mechanical Engineers decided that the ropeway was dangerous, maintenance and repair work carried out and the ropeway was closed for use for a while, and the ropeway was put into use again in 2015.
If you do not want to encounter a busy queue when you go to the cable car, you will have to go early. But don't worry, the tail is running fast. So, even if it is a turn, it will decrease considerably in a few minutes. The officers there guide you and take you to the cable car very quickly and regularly.
You can go up by the cable car for about 3 minutes. You can get on a cable car in groups of up to 8 people. It is very enjoyable and exciting to watch around while you are up. Still, I wouldn't recommend it for those who are afraid of heights.
Who is ready for some good sightseeing? Another amazing thing about the cable car is that you just sit and enjoy the view.
About the entrance fee and ticket sales;
There are ticket sales at Izmir Balcova Cable Car is between 10 AM and 9 PM. The cable car is open for use between 10 AM and 10 PM. The place is only closed on Mondays, and 0-5 years old can ride it free of charge. The cable car has an entrance fee of $2.5.
Address; Fevzi Cakmak, Sakarya Cd. No:154 D:154, Balcova/Izmir
13- A differently constructed shopping center: Konak Pier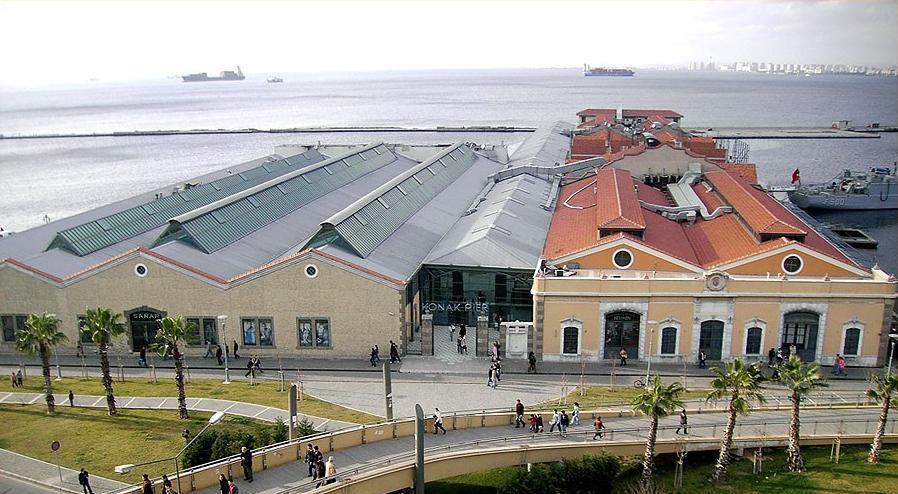 Konak Pier was built in 1867 to be used as a customs building in Izmir. The project of the building is thought to have been drawn by the famous French architect and civil engineer Gustave Eiffel. You heard wrong, Gustave Eiffel, the architect of the Eiffel Tower.
The building was built on a coastline close to Konak Square. In the past, the Konak Pier building was used as a customs building, then it was transformed into a fish in the 1960s. The fish market preserved its function until 1987.
In the first half of the 1990s, it was used as the office of ESHOT, Izmir's main bus operator. With the restoration arrangements made between 1996-2002, Konak Pier turned into a shopping center as we know it today.
Although this place is counted as a shopping center, I think it is a complex that only has restaurants and a cinema. Because the variety of stores is unfortunately very low. I already suggested more beautiful places for shopping.
If you go to Konak Pier to have a meal or enjoy tea or coffee by the sea, you will be very pleased.
14- Treat yourself a little in Balcova Thermal Hotel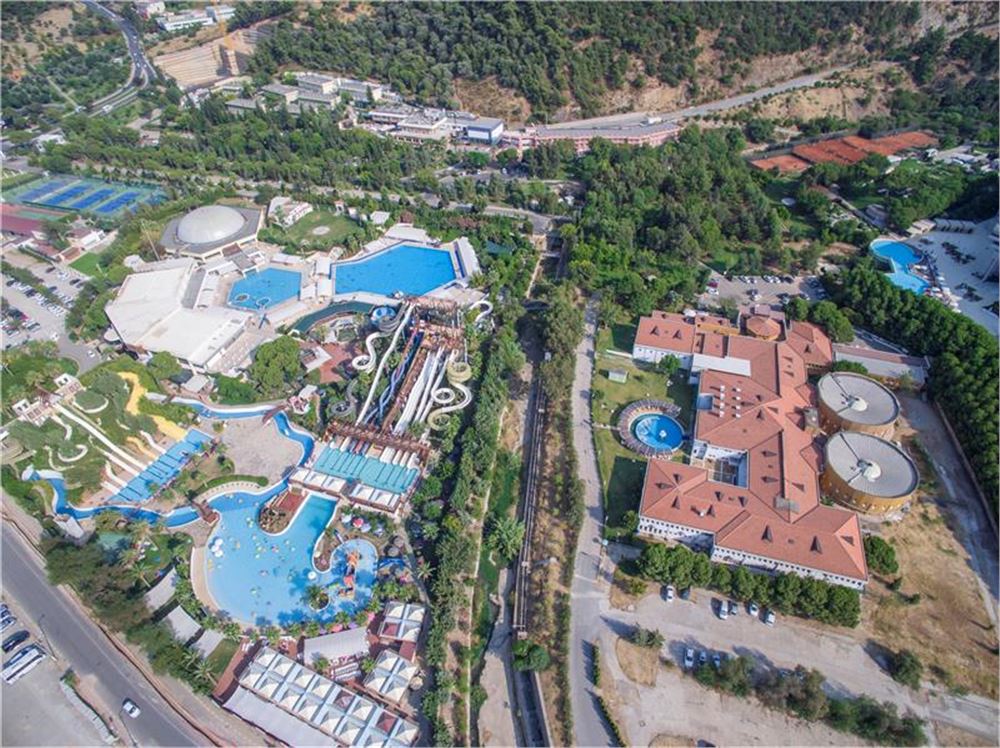 In the 1200s BC, Agamemnon, the famous commander of the Trojan War, sent his soldiers to the region closest to the battlefield, known today as Balcova, during the 10-year war.
When Agamemnon sees war-injured soldiers recover and return in a short time, he discovers that the spa water is healing.
According to another narration; Agamemnon's daughter's face and body covered with wounds, and after she heals and becomes beautiful by washing in these waters, Agamemnon believes that this region is a healing place.
This region is known as Agamemnon Hot Springs in history. In the future, baths, closed cells, disinfection structures, and mud and water pools built in this area.
The usage of hot springs will cost you around 8$ per person. Not that expensive, it is worth it believe me.
As it is known, the hot springs date back to very old history. Nowadays, people go to these hot springs to find healing and relax. It is a fact that hot springs are especially good for the elderly. I think you are ready in Izmir, go and have pleasure while you are in place!
15- Visit Ciceklikoy for a great picnic and hiking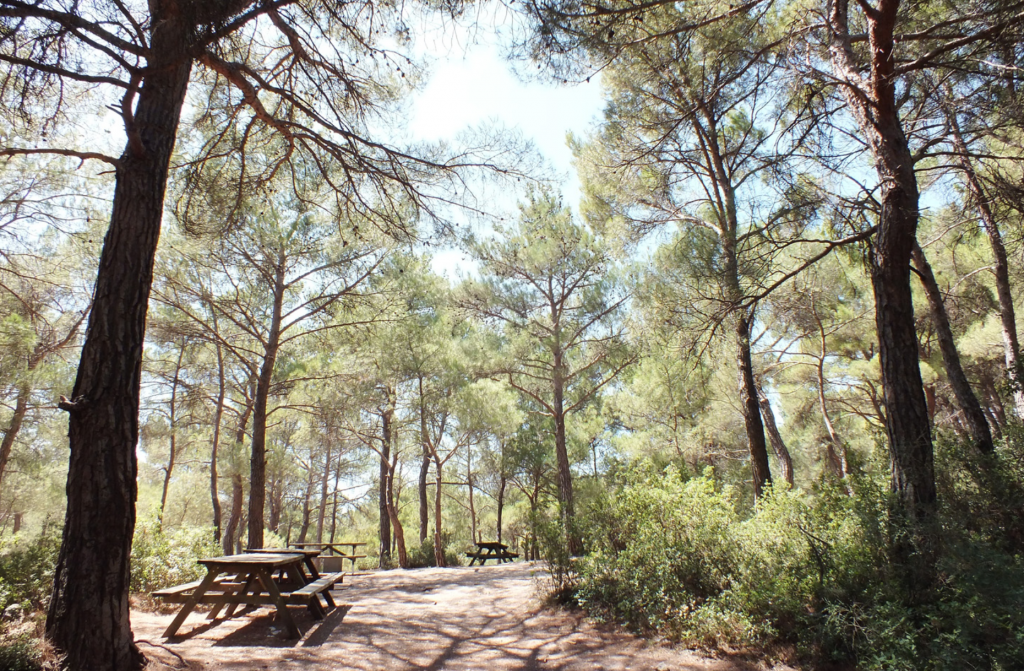 Ciceklikoy is located in Bornova district, half an hour away from Izmir city center. With its clean air, pine trees, colorful flowers, breakfast rooms, and picnic areas, it is one of the ideal points of the city for day trips. It is also quite secluded except for the weekend.
Everyone wants to get away from the tiredness and stress of the day and spend a pleasant and peaceful time. We started to prefer places where natural texture is preserved for a peaceful time.
At these times, we want to go to villages, which are the center of day trips and weekend getaways, such as Ciceklikoy, with their location close to the city but far from the hustle and bustle of the city.
When you leave Bornova and continue on the road to Manisa, the sign you will see on the right takes you to Ciceklikoy. The name of this village in ancient times was Hamidiye.
However, the name of this place changed to Ciceklikoy as it is surrounded by colorful flowers every spring.
The most famous part of Ciceklikoy is its breakfasts. The most delicious of butter, cheese, olives, and bread is located in Ciceklikoy. There are also many barbecue places in the village that serve as a "self-catering" concept. So it is a pleasant place in the evenings.
Ciceklikoy offers ideal areas, especially for hiking, cycling, and camping. Here you can ride a horse among the lush green trees.
Address; Cicekli, Camlık Cd. No:38, Bornova/Izmir
16- Visit the beautiful animals in Izmir Natural Life Park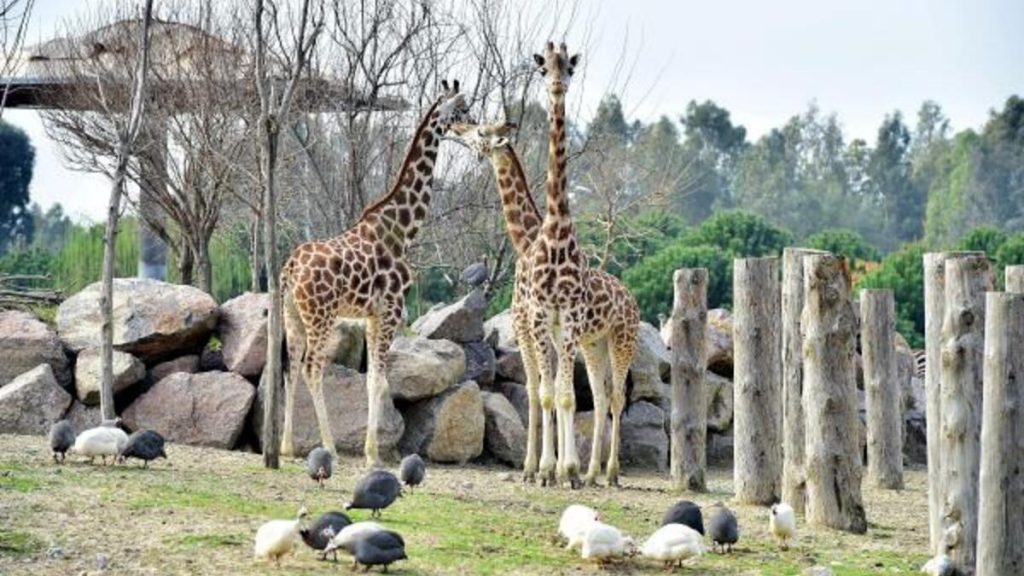 Gather animal lovers! I came up with a suggestion that will warm you up. Our furry friends of many breeds are waiting for us at Izmir Natural Life Park.
There are 1500 animals of 125 species in Izmir Natural Life Park, which has an area of approximately 425 thousand square meters. Although I am against the zoo and the animals being closed, my spirit rises every time I visit them.
This park was opened by the Izmir Metropolitan Municipality on 30 November 2008. Izmir Natural Life Park was in Izmir International Fair years ago. I used to go a lot when I was little, I even cried for the dead elephant Bahadir for days.
They made a mausoleum for Bahadir in Izmir Natural Life Park, and I was so happy when I heard. Besides elephants; they have lions, various kinds of fish, tigers, birds, and even lemurs.
This park is also a member of the European Association of Zoos and Aquariums.
Izmir Natural Life Park is open every day from 9 AM to 4 PM. There is a small entrance fee which will cost you around 2$. Isn't it so heart-warming to see our furry friends?
Even though I tried to gather all kinds of things to do in your Izmir trip, there is still more to do. In my opinion, you need to spare around 4 or 5 days only to explore the whole city of Izmir.
This city and the people of the city really seems like Europe. People from Izmir are known for their coziness. They are mostly chill about every situation and also they are mostly cheerful. I think the city's beauty reflected in people's faces.
Those are the things what you can do in Izmir, in general. Remember, there is still more to do and explore. I hope you enjoyed reading. Until next time, cheers!